The last few weeks have been very busy:
The Good: vacations and I have on a new coaching client (yay!)
The Bad: Studying for my Anatomy & Physiology II final (I passed so not too bad)
The Ugly: I lost everything I had on 2 of my computers and backup drives because of a virus
Now that I'm settling back into a regular routine I needed a way to get some healthy meals in without too much fuss. I wanted to share one of the ways I get myself back on a healthy eating track. What I do is use the same ingredients a few time in a week so I have everything on hand and don't have to do a whole lot of shopping for the week. I also like to prep some of the veggies or buy pre-cut veggies to make my life easier.
Firstly, I choose a theme/cuisine and then shop for ingredients that I think will work well together and I can use in a number of different ways. For example, this week I decided to do Asian based meals and make summer rolls, a rice bowl aka Bunny Bowl, and a soup.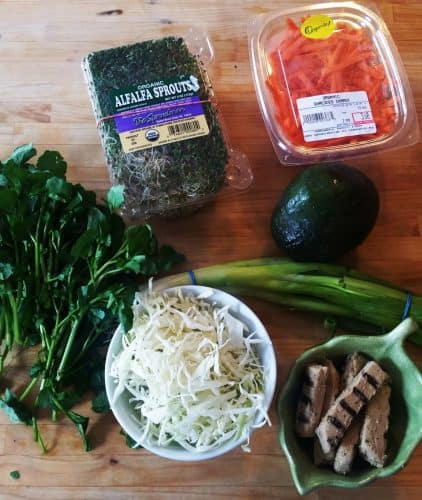 A few of the ingredients that I'll use throughout the week.
My main ingredients
I'll use these in all of my recipes:
chopped cabbage
scallions
watercress
shredded carrot
sprouts
The bases
These will be my carbs etc and will keep the meals from being too similar:
rice paper wrappers
brown rice
soba noodles
The sauces
I like to switch these up as well to make things different too:
A creamy Sriracha dipping sauce
A peanut sauce
Quick Asian broth
The Protein
Beyond Meat chicken-less strips
Tofu
And here are the finished dishes: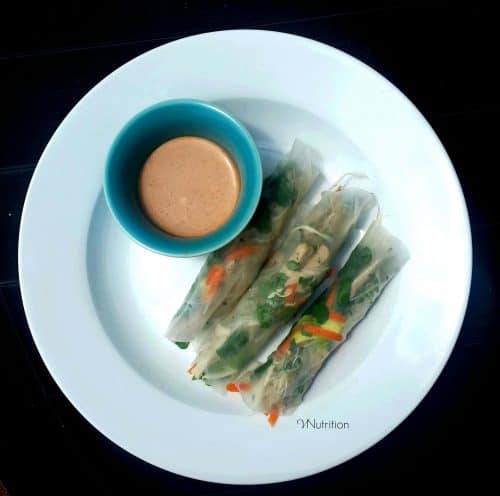 Summer wraps
The extra ingredients I used for this dinner are the rice paper wraps, Beyond Meat chick'n strips, and avocado. I made a creamy hot dipping sauce using Just Mayo and sriracha.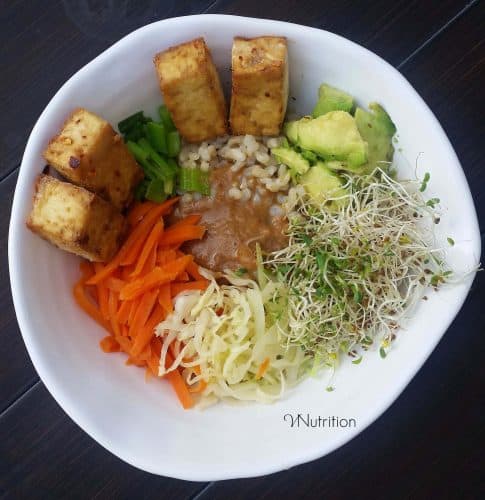 Asian Bunny Bowl
This time I added brown rice, avocado, and tofu. I used my miso sauce and added a little peanut butter to it to make it a bit thicker.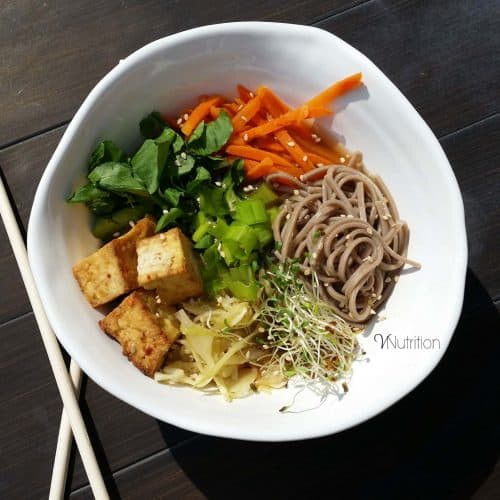 Asian Noodle Soup Bowl
I was in the mood for soup even though it's been so hot. I used my Quick Asian Broth to make a nice base for this soup and I added soba noodles and tofu.
What do you think about reusing some ingredients for the week?
Which ingredients would be some of your favorites to use?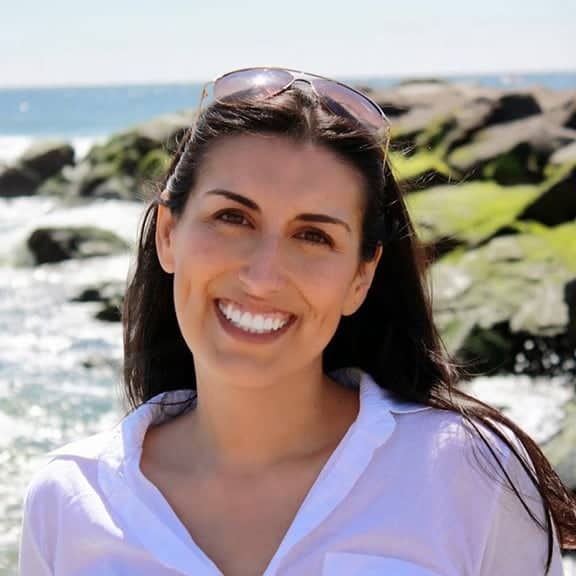 Mary Ellen Valverde MS, CNS, LDN is a Licensed Nutritionist and Certified Nutrition Specialist helping people thrive on a plant-powered diet. Mary Ellen offers a completely holistic and science-based approach to designing a healthy, plant-based life.
When she's not working with clients or creating new meals for her blog, you can find Mary Ellen doting on her two rescue shih tzus, creating the perfect vegan mac & cheese, or exploring the world with her husband.