This Popcorn Tofu is crispy and much healthier than deep-fried nuggets because no oil is used when air frying or baking the tofu. It's a fun option for dinner or an appetizer for kids (or the young at heart!).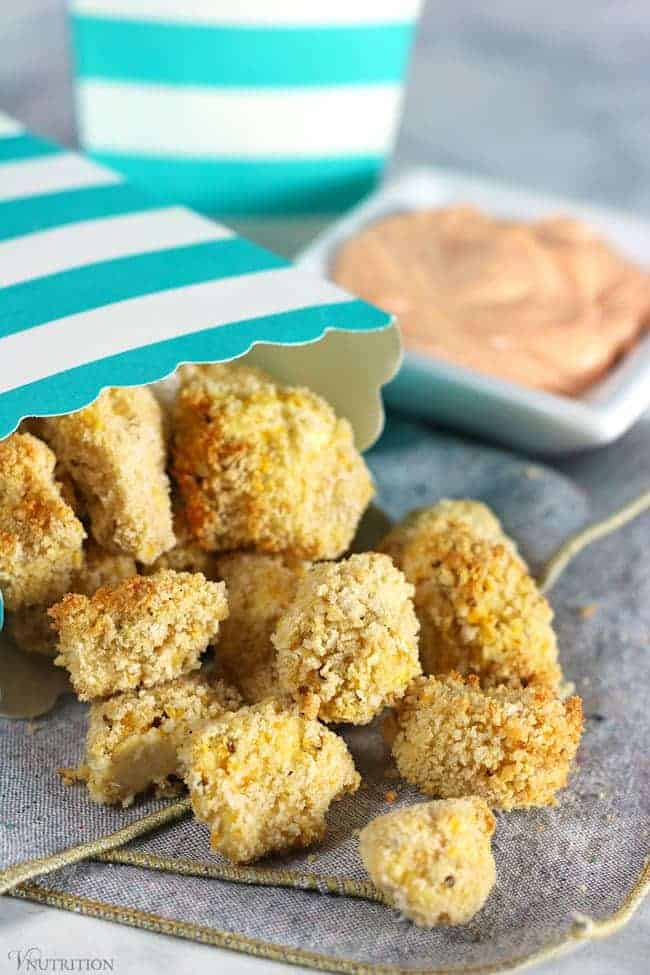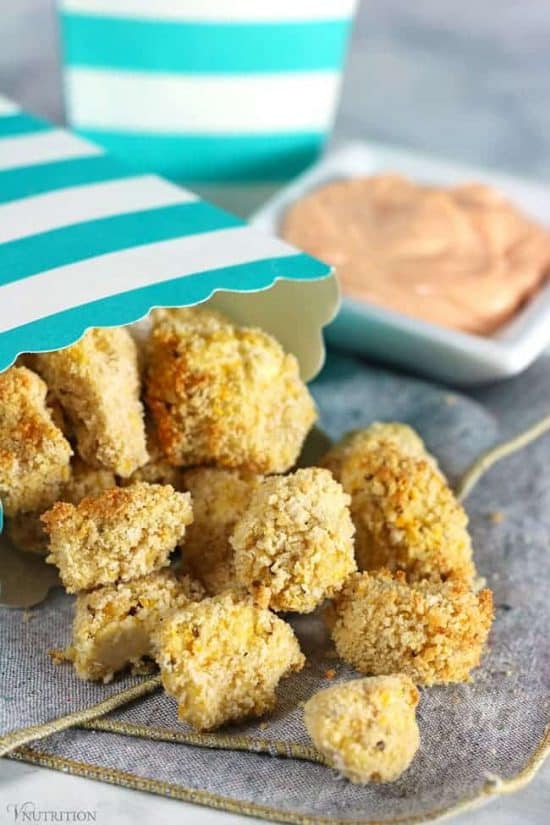 I know there are some people that are not fans of tofu. Maybe you're even one of them. If you've only tried tofu without the water pressed out and unseasoned, there's no way you'd ever like it – I know I sure wouldn't partake in anything like that either.
Tasty tofu is all about how you prepare and cook it because tofu itself has no real distinct flavor. It takes on the flavors of the marinades and sauces which is why it's so versatile.
For instance, my Baked Tofu is one of the most popular recipes on my blog because it's prepared well and is topped with a delicious sauce and my Simple Tofu Scramble is so easy to make for a quick and yummy breakfast.
I have another fun and tasty tofu for you to try today – my Air Fryer Popcorn Tofu. Matt and I love hanging out with our pups and watching sports together.

Tofu – the Perfect Snack or Meal Addition
I'm always looking for snacks that would be good finger foods for gameday to go along with our other favorites like my Vegan Queso and Buffalo Quinoa Balls. Popcorn tofu sounded like a perfect addition to our repertoire.
Great for the Kids or Those Young at Heart
While they'd be great for sports or movie night I think the popcorn tofu bites would be a fun idea as dinner for kids too.
You could serve the popcorn tofu with your favorite dipping sauces such as:
BBQ
Ranch
Ketchup
Vegan "honey" mustard
Or my Siracha mayo (recipe below)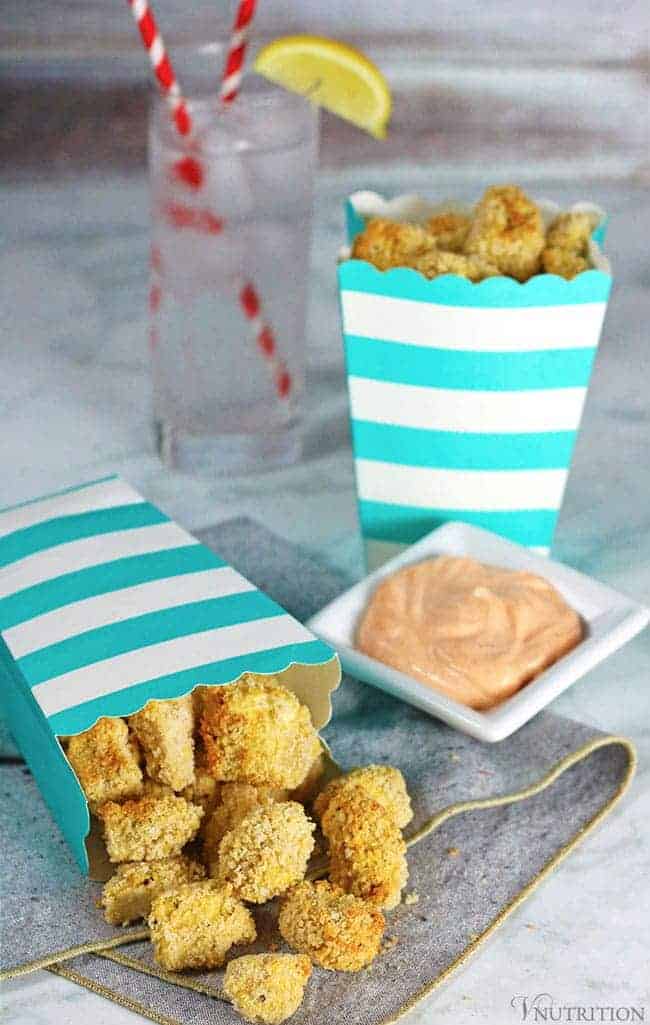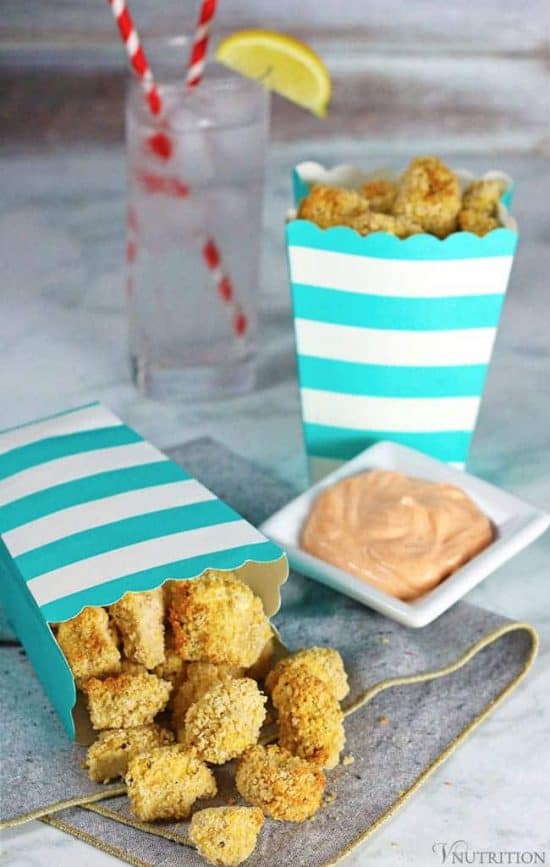 Tofu in the Air Fryer?
I got an air fryer for Christmas and I have been really enjoying it. The food comes out crispy like it would in a regular fryer but without all the oil.
Now don't get me wrong, sometimes I love a fried treat but it's nice to have the option to use the air fryer to get a similar crispy effect.
Besides the crispiness, another thing I like about the air fryer is that I don't have to use the oven on hot days. When it's too hot I don't like being in the kitchen, never mind having the oven on in July or August.
The air fryer is a great alternative to an oven because only the back of the fryer gets a little hot but the room itself won't.
Oven-Baked Popcorn Tofu
No air fryer? No problem!
My recipe tells you how to bake the popcorn tofu if you don't have an air fryer. They'll still crispy and tasty!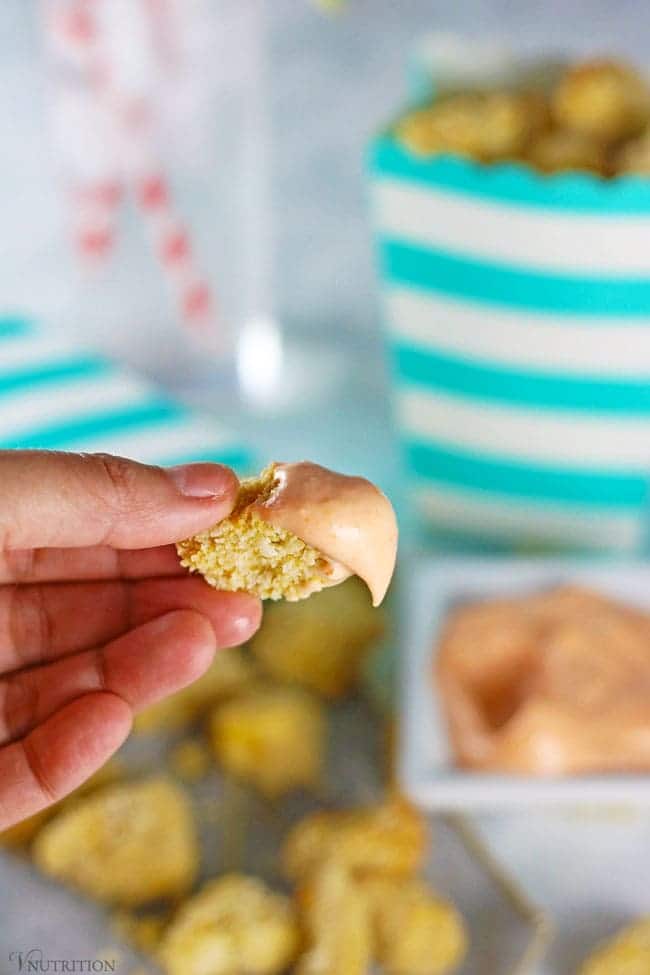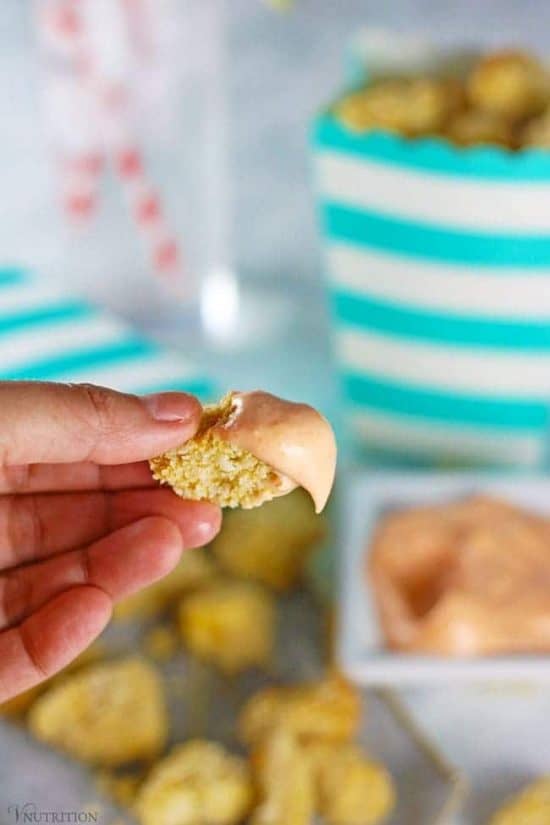 Popcorn Tofu Extra Tastiness
I used some cornmeal and panko breadcrumbs to make them crispy yet gluten-free and Better Than Bouillon Vegetarian No Chicken Base to give the batter a little extra flavor.
This was my first-time "coating" something in one of my recipes so it took me a while to get the batter the way I wanted it.
If you make this Popcorn Tofu, let me know what you think by ★ star rating it and leaving a comment below.
Popcorn Tofu
This Popcorn Tofu is the perfect snack for game day or movie night. It's a fun option for a healthy dinner because no oil is used when air frying the tofu.
Instructions
Rip the pressed tofu into bite-size pieces.

Add flour, cornmeal, nutritional yeast, better than bouillon, mustard, garlic, onion, salt, pepper, and milk into a large bowl and mix until combined. The consistency should be like a pancake batter. Add more milk if needed to thin it out.

Add panko breadcrumbs to separate bowl.

Dip tofu pieces into the batter, then into breadcrumbs, and then place in the basket of air fryer. * (see recipe notes for baking tofu)

Air Fryer Directions: Set air fryer at 350 degrees for 12 minutes. Shake the basket 1/2 way through.

Oven Directions: Bake the popcorn tofu for 18-20 minutes at 400 degrees.
Sriracha Mayo
Mix vegan mayo and sriracha together and serve with popcorn tofu.
Notes
I enjoy the tofu both baked and in the air fryer so no need to fret if you don't have an air fryer!
Nutrition
Calories:
261
kcal
|
Carbohydrates:
37.5
g
|
Protein:
16
g
|
Fat:
5.5
g
|
Fiber:
4.8
g
|
Vitamin A:
350
IU
|
Calcium:
212.5
mg
|
Iron:
2.7
mg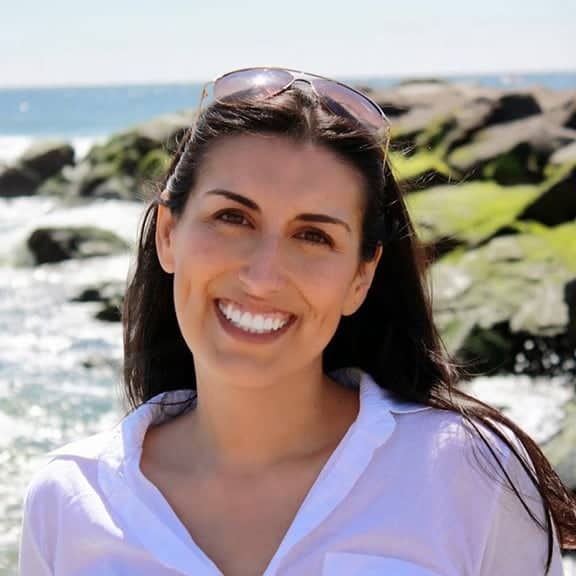 Mary Ellen Valverde MS, CNS, LDN is a Licensed Nutritionist and Certified Nutrition Specialist who helps vegans find ways to make mealtimes easier (and healthier).
When she's not creating new recipes for her blog, you can find Mary Ellen doting on her two shih tzus or exploring the world with her husband.