My avocado toast is a quick and healthy anytime breakfast.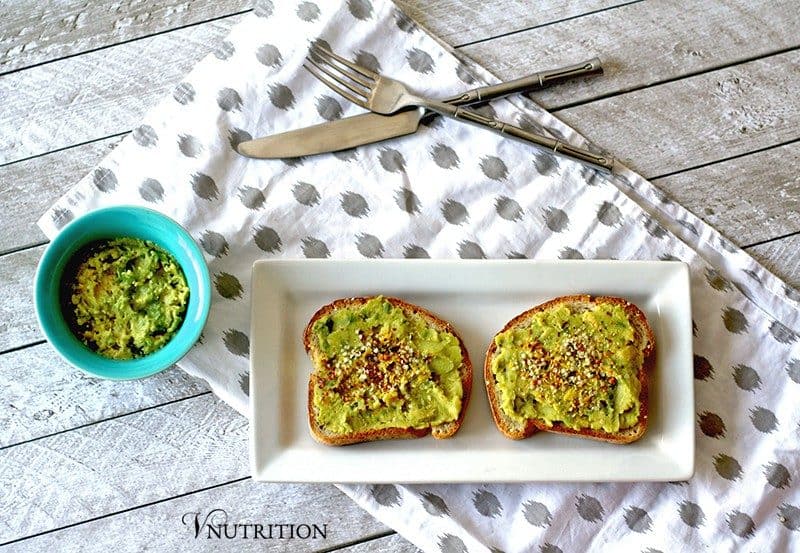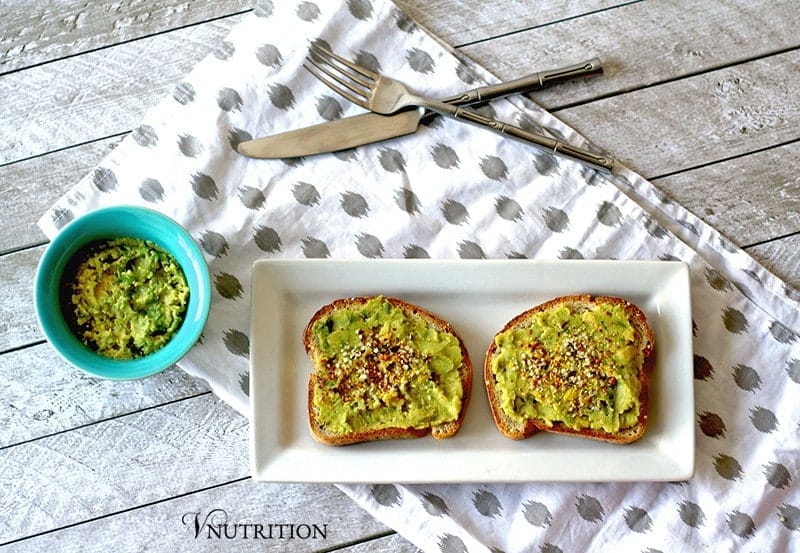 While breakfasting last week, I realized that I haven't yet shared one of my all-time favorite meal ideas with you – avocado toast!
The first time I ever had avocado toast was at a brunch in NYC a few years ago. I was looking over the menu and the only thing on there that was fully vegan was this toast. I figured it basically just toasted with avocados on it – which sounded okay – so I figured I'd try it. Plus the real reason I wanted brunch anyway was to have a mimosa (or 2) so if I didn't like the toast, it didn't matter too much to me. Well turns out, the toast was just as good as my mimosa and I fell in love right there!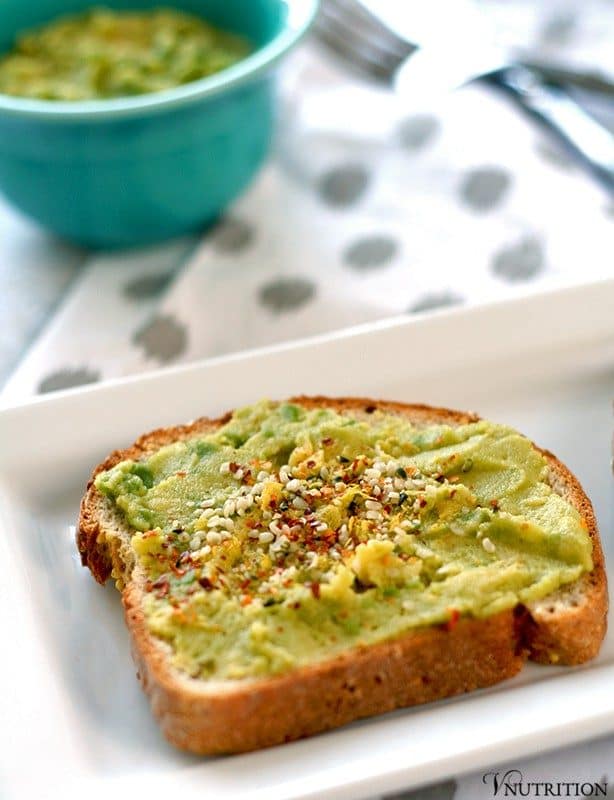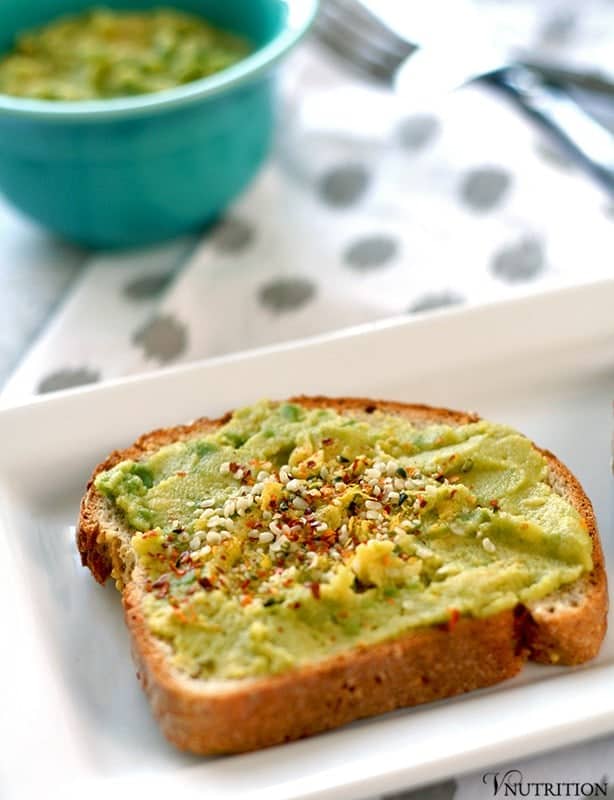 Avocado Toast
Avocado toast is so easy to make – just toast bread, smash avocado and add toppings.
My normal toppings are some kind of nut/seed, nutritional yeast, red pepper flakes, a squeeze of lemon, and a pinch of sea salt…but really, the toppings are endless. I've also used sliced veggies, sprouts, vegan cheese shreds, my vegan parm, tomatoes, salsa – you name it.
This tasty toast is not only for breakfast. Anytime I need a quick and satisfying snack, I break out the bread, avocado, and fixings. I can make some toast and take it with me when I'm in a rush – like the last time I was running to the airport and knew I needed something to hold me over for the flight.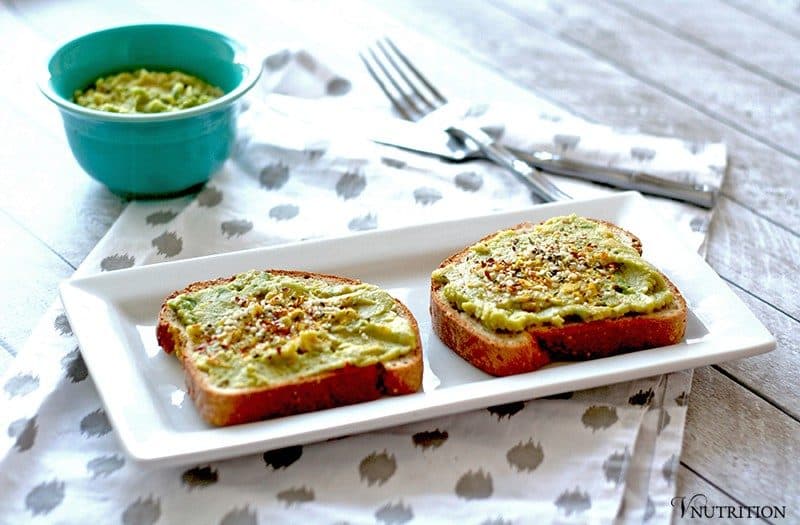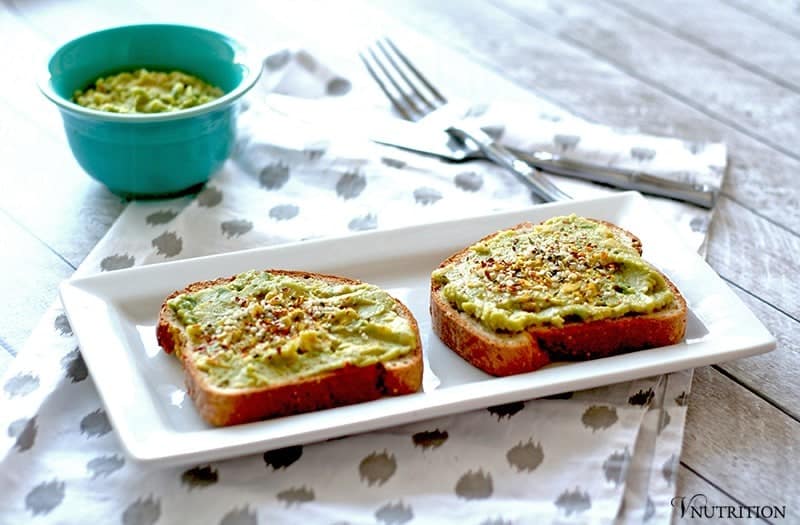 This green toast does not only taste good, it also packs a nutritional punch. Although avocados are high in fat, it's monounsaturated fat. These are good fats that can help reduce the LDL ("bad" cholesterol) levels in blood which in turn can lower your risk of heart disease and stroke.
Avocados are also a great source of dietary fiber, potassium, vitamin C and many of the B vitamins.
When having an avocado or making avocado toast, I usually use a full avocado but only eat half. That way I get a good serving of healthy fats without going overboard. Plus I refrigerate the leftover mash and it's all ready for me the next morning for breakfast!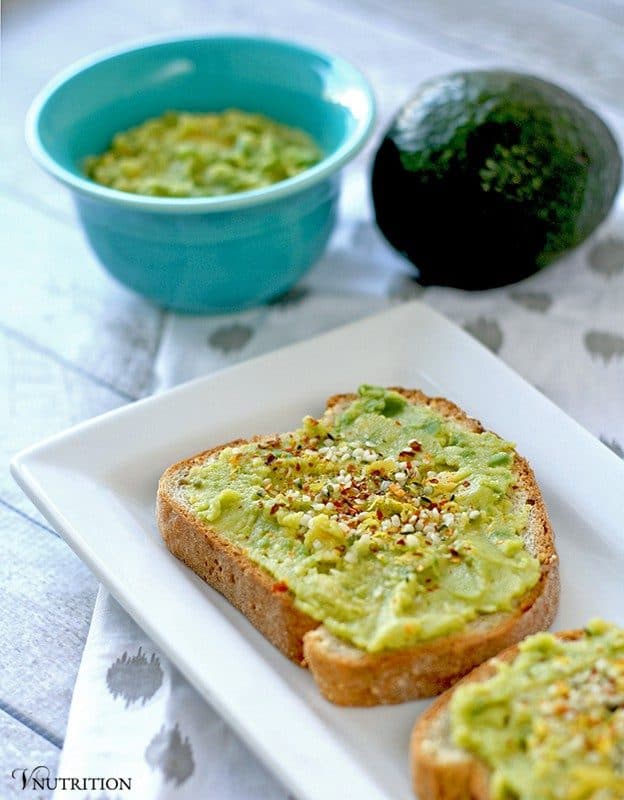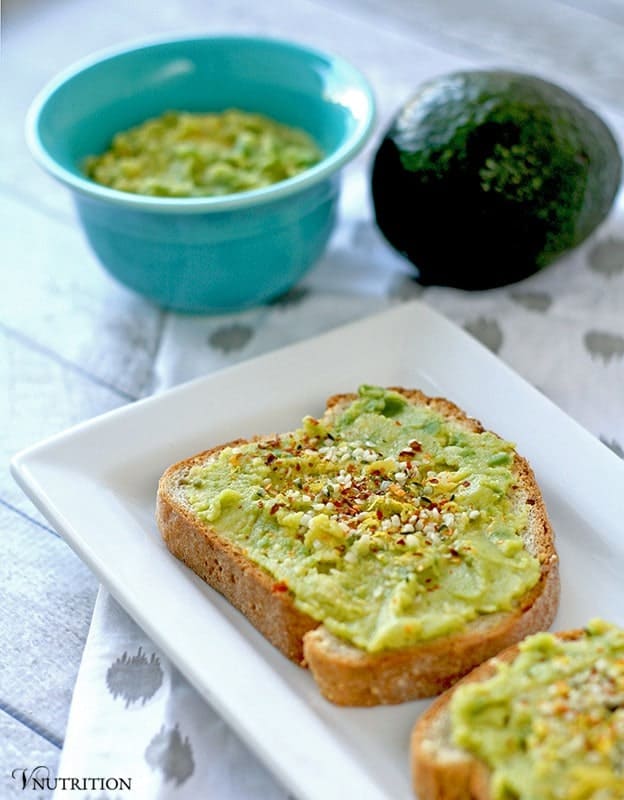 Avocado Toast is a healthy and satisfying breakfast or snack!
Click To Tweet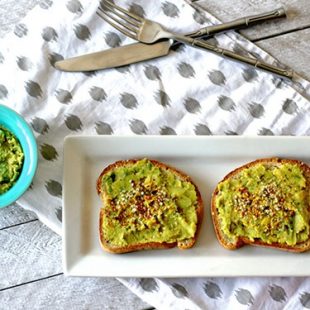 Avocado Toast
Ingredients
2

slices

of bread*

1

Avocado*

Juice half a lemon

Tsp

nutritional yeast

(optional)

Pinch of sea salt

1/2

tsp

hot pepper flakes

(optional)

1

Tb

hemp seeds
Instructions
Toast 2 pieces of bread.

Slice and scoop out avocado. Place in bowl and mash with a fork.

Add lemon juice and nutritional yeast to mashed avocado and mix.

Spread on toast (I usually only use about half of the mixture and save the other part for breakfast the next day).

Add toppings like sea salt, hot pepper flakes, and hemp seeds.