These Coconut Kahlua Balls are a perfect sweet treat for the holidays. Chocolate, coconut, and the coffee flavor of Kahlua are a delicious combination. They're vegan, dairy-free, gluten-free and so easy to make!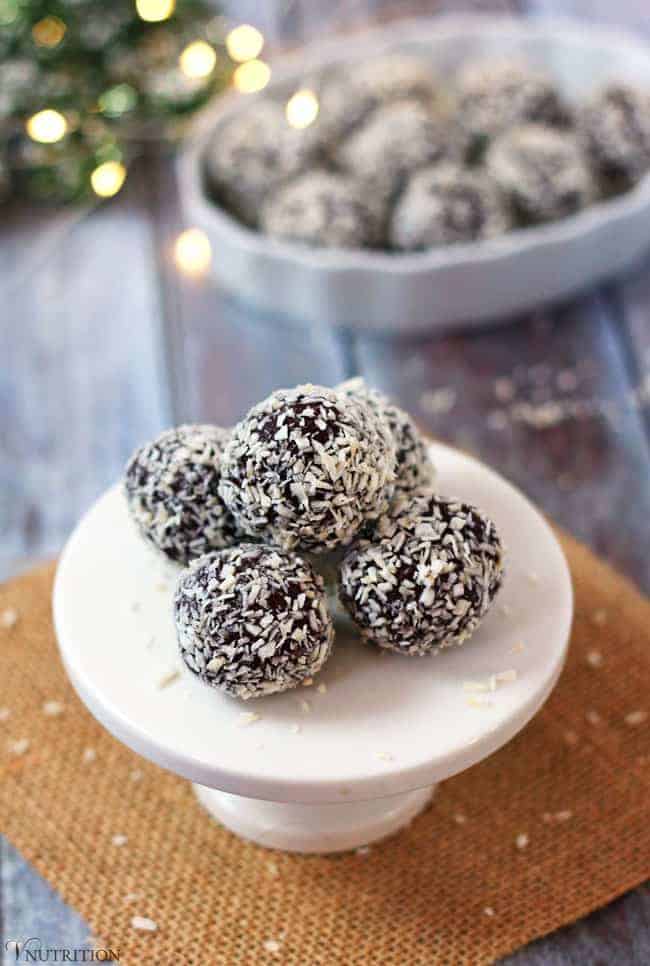 During the holidays there are so many treats around, many of which I cannot eat. It's the whole dairy-free, gluten-free, egg-free thing I've got going on.
For Christmas this year I thought I'd make something special that myself, as well as others that have dietary restrictions, could enjoy. If you don't have as many restrictions, check out all these fun recipes and movie favorite of my blogger friends.
My Chocolate Coconut Kahlua Balls are free of dairy, gluten, and refined sugar but are full of flavor. The Kahlua adds that hint of coffee that really makes the whole ball come together.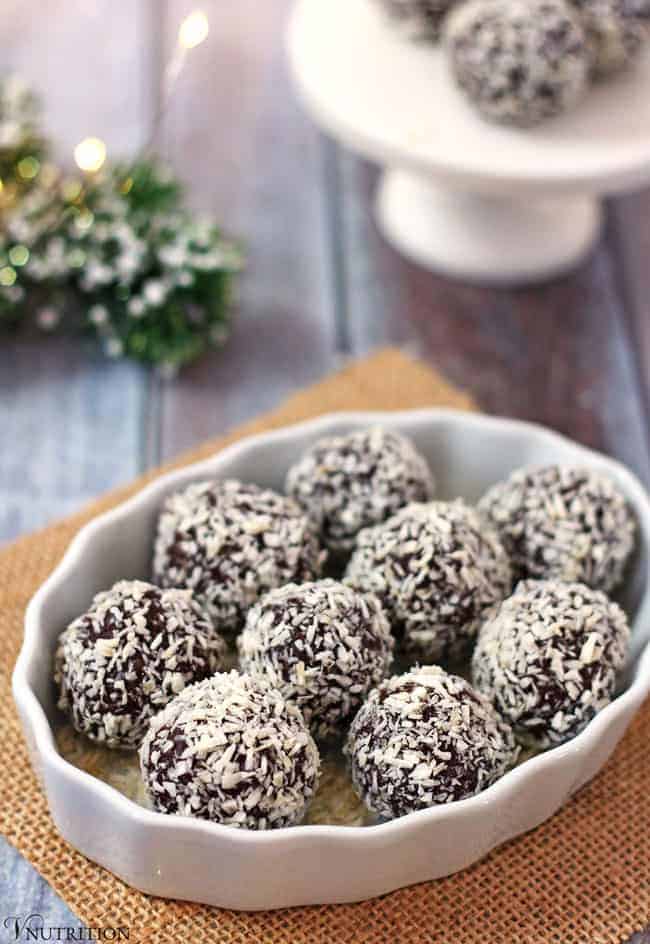 Easy to Make Sweet Treat
I actually made these Chocolate Coconut Kahlua Balls a number of times and forgot to take pictures so last night I needed to get them together fast. They're so easy to make I was done them in about 15 minutes and that's including washing the food processor after I was finished.
Basically, all you do for these Kahlua balls is mix everything up in a food processor. I do recommend processing the walnuts first but other than that, just dump it all in, process, and roll in coconut.
These look like little snowballs to me so you don't have to limit these to Christmas. I'll be making another batch for New Year's Eve because…well why not? Everyone would like a little taste of Kahlua to ring in the new year right?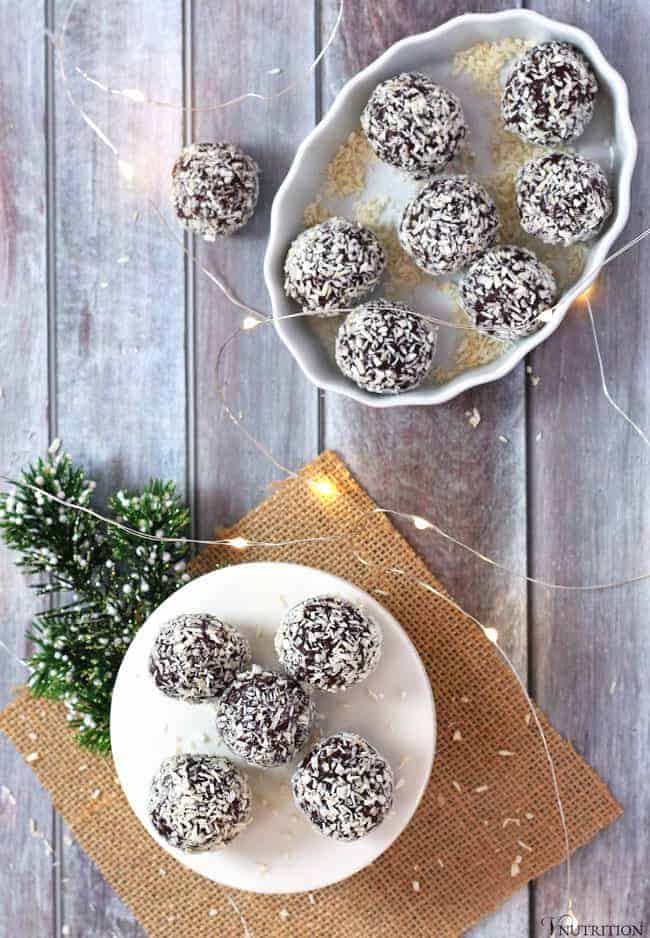 Healthier Option to Candy
I guess you could call these candy or truffles (though I looked up truffles and I think they need to be made with some kind of milk to be an actual truffle but I don't know that anyone would know that unless they're a fierce dessert maker).
I like to make my dessert a bit healthier than normal but without sacrificing flavor. In this recipe, I use maple syrup and cocoa powder instead of white sugar and chocolate. There's still some sweetness but without refined sugars.
To make this gluten-free and add more protein, I used almond meal. It's been my go-to for my gluten-free treats.
I also added some healthy fat with walnuts and coconut oil. The fat helps keeps me satiated so don't need too many of these bad boys at one sitting (I've been known to polish off a bag of candy in my day).
And if you're looking for another tasty yet healthy dessert, check out my Snickerdoodle Dip!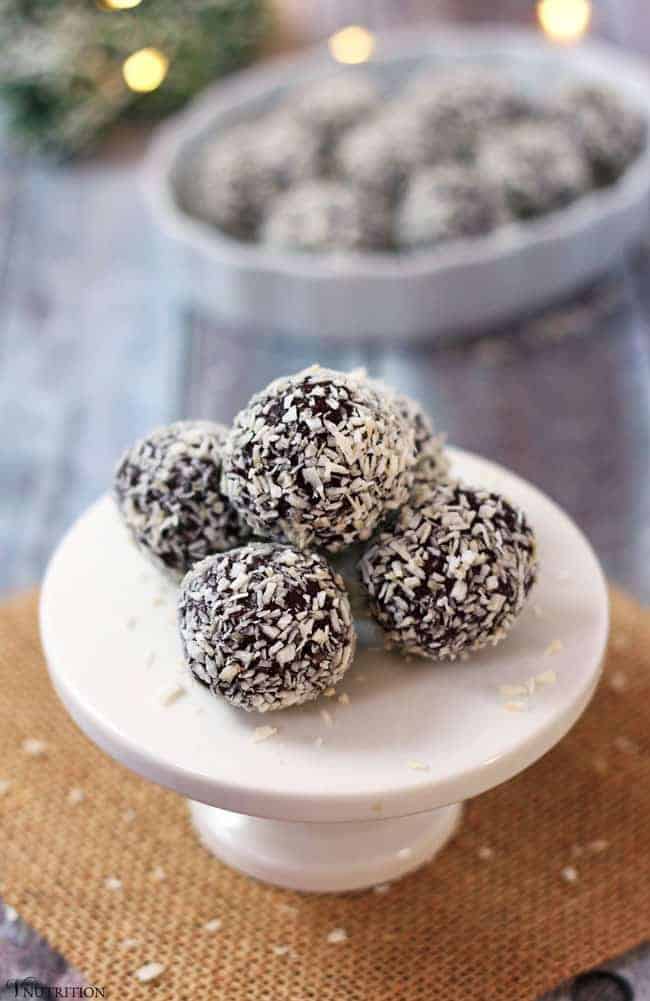 Coconut Kahlua Balls
I hope you enjoy my Kahlua balls and will share them with loved ones this holiday season. Like I said above though, Christmas is not the only time these would be tasty.
Here are are a few other occasions to make my Chocolate Coconut Kahlua Balls: 
 New Year's Eve
holiday parties
bachelorette parties (I know you ladies want a fun treat with some extra alcohol)
housewarmings
anytime you need a sweet treat
If you make this recipe, let me know what you think by ★ star rating it and leaving a comment below.
Share your pictures of any of my recipes on Instagram and use #vnutrition or tag @maryellenvalverde so I won't miss it!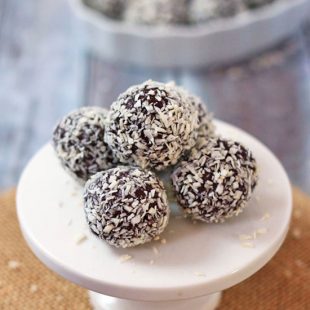 Coconut Kahlua Balls
These Coconut Kahlua Balls are a perfect sweet treat for the holidays. Chocolate, coconut, and the coffee flavor of Kahlua are a delicious combination. They're vegan, dairy-free, gluten-free and so easy to make!
Instructions
Add walnuts to food processor and process until they become small pieces.

Add rest of ingredients (except the coconut) and process until ball forms.

Roll dough into 1 inch balls.

These will keep in the fridge for 5 days.
Recipe Notes
If you'd like an alcohol free version, you could substitute the Kahlua for the same amount of strong coffee with an extra tsp of maple syrup. 
Nutrition Facts
Coconut Kahlua Balls
Amount Per Serving
Calories 118
Calories from Fat 90
% Daily Value*
Fat 10g15%
Carbohydrates 6.5g2%
Protein 3g6%
Calcium 30mg3%
Iron 0.8mg4%
* Percent Daily Values are based on a 2000 calorie diet.
You may also enjoy...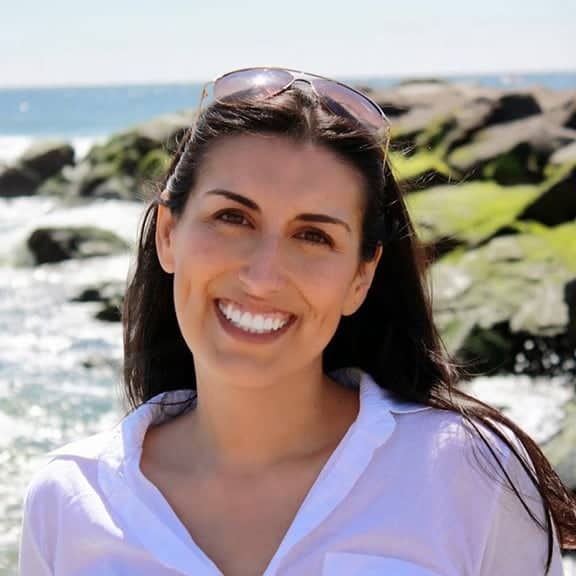 Mary Ellen Valverde MS, CNS, LDN is a Licensed Nutritionist and Certified Nutrition Specialist helping clients thrive on a plant-based diet. Through her functional nutrition coaching, Mary Ellen offers a completely holistic and science-based approach to designing a healthy, plant-based life.
When she's not working with clients or creating new meals for her blog, you can find Mary Ellen doting on her two rescue shih tzus, creating the perfect vegan mac & cheese, or exploring the world with her husband.