I totally get that you...
Need help with getting nutritious meals on the table fast because weeknights are always so hectic
Are looking for easy ways to add more veggies & fruits to your meals... because that 1 banana a day just isn't cutting it
Want to stop your reliance on that un-nutritious, processed food (even if it's vegan)
Are confused about what a "healthy" vegan diet actually consists of because there's so much conflicting info
I've heard from so many readers, like you, who were searching for something similar so I created my Healthy Vegan Meal Plan!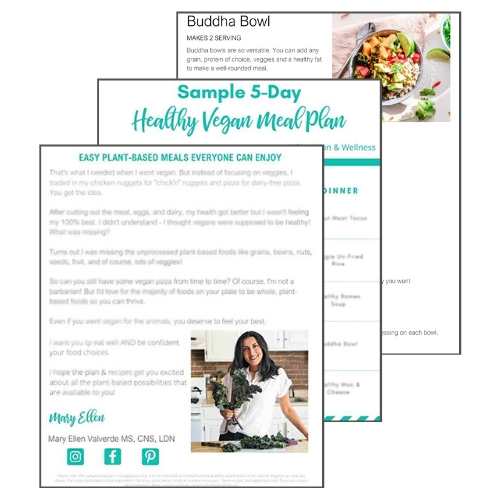 How my Meal Plan Can Help
As a Licensed Nutritionist, my passion is helping people eat well & feel good without being restrictive or having a "diet" mentality.
The meals in my plan are created to be nutritious but also comforting and delicious - because who wants to boring bland food? I sure don't.
With my Healthy Vegan Meal Plan you'll:
Get tasty meals (that the whole family will enjoy) on the table fast
Add more veggies and fruits to your day
Limit your reliance on processed foods
Start eating balanced yet tasty meals without feeling confused or guilty about what you're putting in your mouth
Here are a few comments from those who have done the plan:
I'm in LOVE with the meal plan! It's so simple, delicious, and nutritious! I appreciate the meal plan so much as it's well thought out and easy to follow. All the recipes are very healthy with lots of veggies and they taste heavenly! Thank you for making this and saving my time while satisfying my whole family! - Kanna Laird
I've seen lots of vegan meal plans, but this one really appeals to me since it is designed by a Licensed Nutritionist. The recipes are not only delicious and nutritious, but they are also easy to make. In addition, the meal plan is structured so that you won't feel like you are spending all your free time cooking. I highly recommend this meal plan for anyone who wants to learn what to eat on a plant-based diet for optimal health and satisfaction. - Amy Katz
The Nitty Gritty
You might be thinking, "Mary Ellen, this all sounds great but actually what's included in this amazing meal plan?" Well, let me tell you the deets...
In this guide, you'll get:
A 5-Day Sample Meal Plan for those busy weekdays
Meal Prep Tips to get the recipes on the table fast
Shopping list to make shopping a breeze
3 Easy Breakfast Recipes
9 Lunch & Dinner Recipes
---
FAQ
Why do you include foods like pasta into some of your recipes?
I don't believe in restriction or "diet" mentality. I think a vegan lifestyle (when the person is generally in good health) can include things like pasta, bread, or crackers, at times. But our main focus should be the colorful produce we put on our plates.
Eating lots of nutritious plants while limiting larger amounts of processed food, will do wonders for our bodies and minds.
Why is the meal plan only 5 days and not 7 (...or 14, or 30)?
This is an intro plan. My clients have always found it easiest to go slowly so they don't get overwhelmed. A 5-day plan is very doable and will give you the tools you need to start planning your own meals.
If you like the meal plan, do another 5 days! Plus there are plenty of recipes on my blog to start making your own meal plan once you get the hang of this one!
Are the recipes gluten-free?
All of the recipes are gluten-free or have gluten-free options.
Are the recipes oil-free?
All of the recipes can be made oil-free or are naturally oil-free.
Are the recipes soy-free?
No, tofu is used in two of the recipes but you can easily sub in beans for the tofu.
---
Ready to learn how to incorporate healthy, tasty, & easy vegan meals to your week?