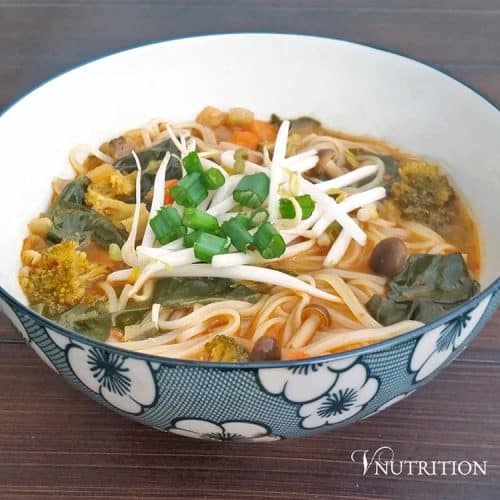 This week has been rough. The pups had a virus last weekend and most of the week so Matt and I were so busy taking care of them. Knowing more about electrolyte balance, I wanted to make sure they didn't get too dehydrated so we were giving them SmartWater and Pedialyte which I think really helped. I wasn't feeling great either – though that might have been brought on my the stress of worrying about my little ones. I also had some family concerns as well as stressing out about if I had to drive a few hours to my classes in a snowstorm this coming weekend. Everything is going much better today (pups are good, family is good, and classes were cancelled) so I wanted to take some time to share a simple soup I made to keep warm this week.
[bctt tweet="This leftover veggie noodle soup is easy to make & cleaned out my fridge!"]
I wanted to keep this Leftover Vegetable Noodle Soup very simple because I didn't have time to go to the grocery store this week so I used any veggies I had left over in the fridge and my Quick Asian Broth. Turns out, the soup was pretty tasty. Feel free to cater to your own liking with this soup and use any veggies you have on hand.
Leftover Vegetable Noodle Soup
2 tsp coconut or olive oil
1/2 an onion, chopped
1 tsp Minced garlic
1 tsp Minced ginger
3 cups Quick Asian Broth (I doubled my recipe and saved some for later)
3 cups of veggies. I used kale, carrots, broccoli, and mushrooms.
4-6 oz of your favorite noodles. I used rice noodles.*
Optional toppings: Scallions/green onions and bean sprouts
Add the oil to a large soup pot with the onion, garlic, and ginger. Once the onion is cooked (about 3-5 mins), add the broth and all of the veggies.
Cook vegetables in the broth for about 10 minutes or until they are almost to your liking.
*If you are using rice noodles, add noodles to pot and cook for another few minutes until noodles are al dente. If you are not using rice noodles, cook your other noodles in a separate pot while the veggies are cooking and add them to the veggie soup pot afterwards.
**Notes on rice noodles
Rice noodles cook faster than regular noodles so you will only need to cook them for a few minutes
If you are planning on having leftovers for this soup, I would use other noodles besides rice noodles as rice noodles do not keep well as leftovers in broth.