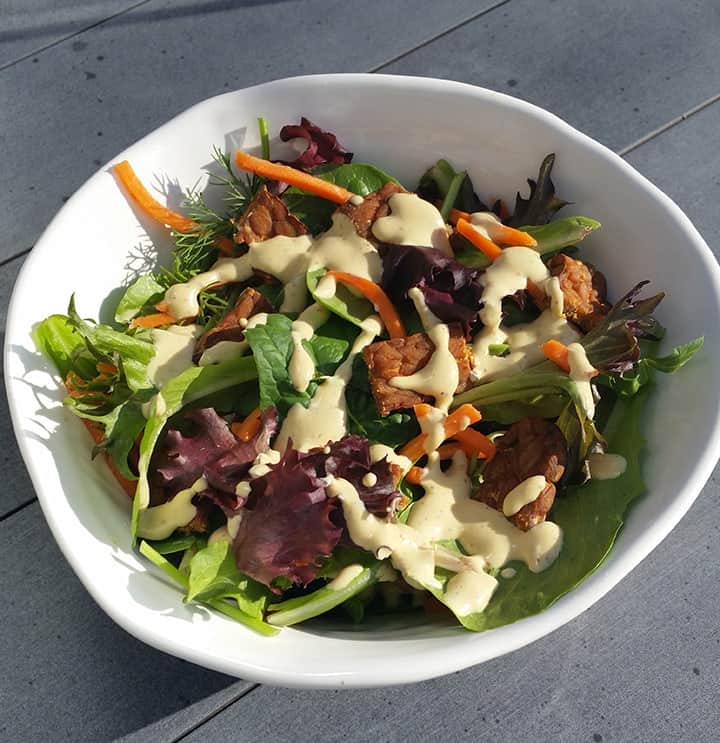 I love Caesar salad dressing but can't usually eat it because the regular version is made with eggs and cheese. I found a way to kind of mimic the taste of the dressing without using any of those ingredients – and my version has no cholesterol! I used nut or seed butters to fill in for the egg to add creaminess and nutritional yeast to give it that little cheesy flavor.
For my salad, I basically threw some carrots in with organic mixed greens. I wanted to add a bit of protein to my as well so I heated up some tempeh bacon in a skillet and threw that in there too.
Organic tempeh bacon – much easier than making it myself! 
I had this salad a couple times in the last month or so and I've really enjoyed it. 
Caesar Dressing
2 tb cashew butter or sesame seed butter (tahini)
2 tb nutritional yeast
2 tb veg broth or water
juice of about 1/2 a lemon
1 tb soy sauce
1 tb Dijon mustard
1/2 ts garlic powder
1 ts apple cider vinegar (optional)
pinch of sea salt and black pepper
Just throw it all in a bowl and whisk or mix a little blender (to have it mixed really well). If you want a more thin consistency, add a bit more water.
I also some times heat up this dressing a bit and use it as a sauce on vegetables. Yum!
Mary Ellen Valverde MS, CNS, LDN is a Licensed Nutritionist and Certified Nutrition Specialist helping clients regain their energy, confidence and health through a plant-based diet. When she's not reading up on the latest nutrition research, you can find Mary Ellen doting on her two rescue shih tzus, creating the perfect vegan mac & cheese, or exploring the world with her husband.