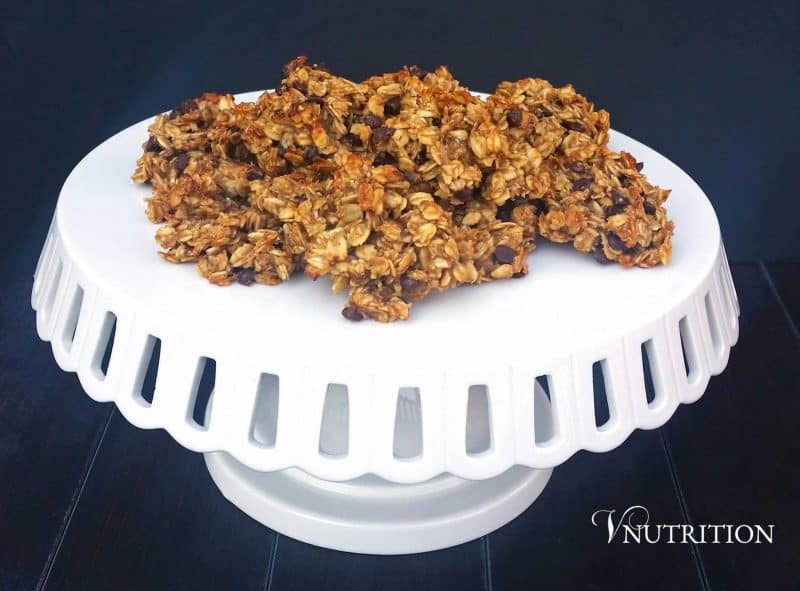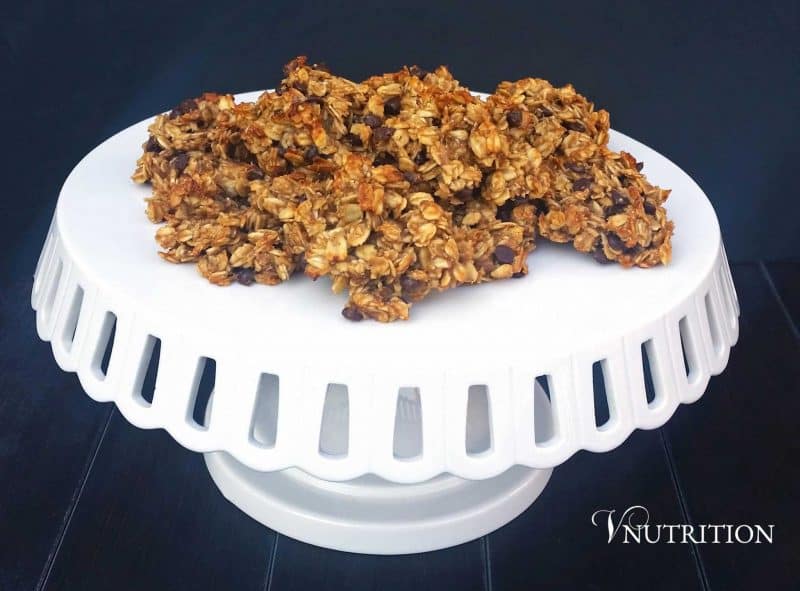 I'm no chef, but I like to share easy and healthy recipes that you might enjoy. I'm always looking for quick yet nutritious snacks to have on hand when hunger strikes between meals or after a workout.
Although I've been very busy lately with starting school again and keeping my life in balance, I don't feel as overwhelmed this week. I've been playing around with a few recipes for things I can eat on the go because life can get hectic and the last thing I need is to be so hungry that decide to go to get some french fries at a drive-through (this has happened more times than I want to admit). If I do have a french fry/bagel/(insert other easy to grab but no nutritional value food here), I never feel good about the choice and although I get full at the time, I'm hungry not long after. Plus I don't like putting those foods into my body often so I'd rather have healthy snacks I can grab to satisfy my hunger and at the same time aid in my health.
These aren't just any cookies, they're tasty but are made with whole foods and do not contain any white sugar or high fructose corn syrup like most processed cookies do.
Some nutritional info on the ingredients:
Rolled Oats – fiber and carbohydrates
Peanut Butter – protein
Banana – fiber as well as vitamins and minerals such as potassium, Vit C, and Vit B-6
Why not try these with your kids for a healthier alternative to regular cookies? Since there are no eggs in the recipe, you don't need to worry about salmonella with the kiddos so they can help with the prep work. It will be a easy, fun activity and kids will probably be more likely to enjoy the cookies since they helped to make them!
I made some of these cookies this weekend and gave them to my niece, Mae, and nephew, Thomas, and they both seemed to like them.
This pic of Thomas finishing up his cookie speaks for itself.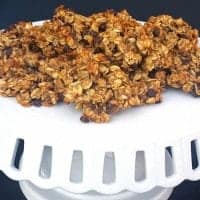 Peanut Butter Oat Chocolate Chip Cookies
Ingredients
2.5

cup

old fashioned rolled oats

(can use gf)

4

Tbsp

peanut butter

(or any nut/seed butter if allergic to peanuts)

2

tablespoons

maple syrup

2

mashed up ripe banana

5

tablespoons

vegan mini dark chocolate chips
Instructions
Heat oven to 350 degrees.

Spray cookie sheet with coconut oil spray (we have this one) or you can use parchment paper

Combine all ingredients in a bowl and mix.

Take a tablespoon and scoop and drop the mix onto a baking sheet.

Bake for 15 mins (or more depending on how big your cookies are) until edges start to get brown.
Mary Ellen Valverde MS, CNS, LDN is a Licensed Nutritionist and Certified Nutrition Specialist. By uniting her functional nutrition education with her passion for plants, Mary Ellen offers a completely holistic and science-based approach to designing a healthy, plant-based life.
When she's not working with clients or creating new vegan meals for her blog, you can find Mary Ellen doting on her two rescue shih tzus, creating the perfect vegan mac & cheese, or exploring the world with her husband.