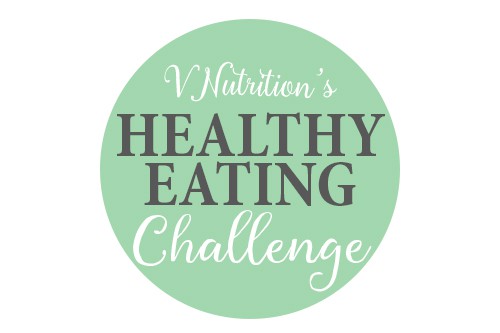 I've decided to do a Healthy Eating Challenge for the month of September and would love you to join me if you'd like to get in on a month of eating healthy too.
I'm going to be honest even though I'm very embarrassed about it; I have been a slacker in the healthy eating department most of the last year.  Although I have a healthy vegan website and I'm studying nutrition, during the past year I have gained weight and have not been exercising as much as I should.
I think it all comes down to stress. Things have been so overwhelming for me since starting my classes last August: having a full time job, attending classes and being away from home at least once a month, my website/blog/social media duties – not to mention trying to see my family and friends (which has seemed to be put to the back burner sometimes). With all this, it's hard to fit in working out and cooking well – plus stress eating comes into play with me too.
The thought of having a healthy blog and then not living up to the image I put out there has been so disheartening. I've been down about this for a while. I'm sharing this with you so you know that everyone has setbacks and struggles with eating (even people you many not think would). Although I've been very upset lately, I am determined to start feeling better and eating right becasue I know how much food can affect our health.
I decided to do start fresh in September after all the vacations and traveling have settled down so I could really focus on eating well. I was hesitant to even call it a challenge but getting back on track will actually be a kind of a challenge for me – plus I wasn't sure exactly what else to call it. I'm hoping others might want to get in on my healthy month of eating and we could support each other.
Please Note: this is not a diet or detox. I'm focusing on eating real, whole foods and cutting out junk, not restricting calories or anything like that.

Feel free to tweak these guidelines to your liking. This is not a strict challenge, it's more of a way for me to focus on eating healthy but if I don't put some guidelines in for myself, I'll be all over the place.
Here's what I'll be limiting:
Cutting out processed foods: pasta, pizza, bread, crackers, frozen meals, etc.*
Only 1-2 glasses of alcohol a week (I'll be having wine)
Trying to limiting going out to eat or ordering food. If I do, I'll stick to healthy, real foods – no pasta, pizza, or sugar laden sauces.
Dessert: Mostly banana ice cream/shakes (see desserts below on how to make it)
*For things like veggie burgers, so long as the ingredients look like real wholesome food, I might still have a few during the month. I'm planning to make my own most of the time but feel free to use your judgement.
Here's what I'll be focusing on:
Lots and lots of veggies
My pasta substitute: zucchini noodles!
For protein: beans, nuts, seeds, tofu, tempeh, & also seitan if you're not gluten sensitive
Homemade veggie burgers
Making my own vegan cheese spreads (I'll let you know how that goes!)
Whole grains: brown rice, quinoa, etc
Awesome sauces to top all this tasty food
Using fresh herbs – makes food extra tasty
I'm allowing myself 1 small homemade personal pizza a week – I will make the dough and cheese myself – becasue what's life without a little pizza?
Remember to check out my Recipe Page! Many of my recipes are whole foods based. And even the pastas you could substitute veggie noodles!
Here are some ideas for each meal:

Breakfast: Smoothies/Smoothie Bowls,  Overnight Oats,  Tofu Scramble
Snacks: Edamame & Pea Pesto Dip, Chocolate Protein Balls , hummus & veggies, fruit, nut butters
Lunch: Chickpea & Tomato Soup, Collard Green Wraps, Chickpea Salad
Dinner: Southwest Quinoa, Kimchi Fried Rice, Green Curry with Baked Tofu, Miso Zucchini Noodles (add some beans to make it a whole meal),
Dessert: Frozen Creamy Chocolate Bars, Fruit, Banana "Ice Cream" –  mix frozen bananas, a little dairy-free milk and then flavors like cocoa powder, berries, fruit, etc. You can enjoy it like that or put in a bowl in the freezer to harden up like ice cream. Be careful of anything you purchase that says "sugar-free" it is not your friend!
If you'd like to join me, I'll be starting on Thursday September 1st. That's right before Labor Day and you might have some BBQs that weekend so feel free to start on the following Monday/Tuesday if that works better for you.

If you're on Facebook/Twitter/Instagram, I'll be posting my good eats as frequently as I can and I'll use the hashtag #EatHealthyChallengeVN all month (VN for VNutrition and so it doesn't get mixed up with other people's challenges).
Feel free to use the hashtag and check in with me! I can use all the support I can get!
So who's with me in this Healthy Eating Challenge?