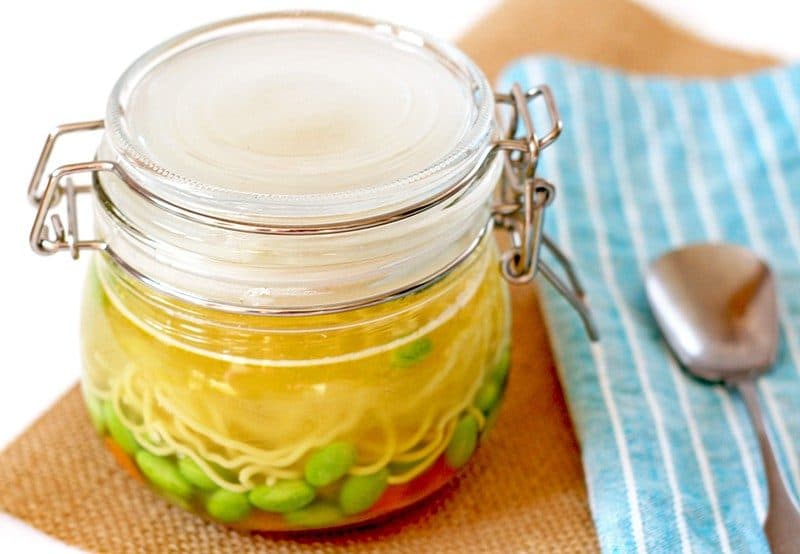 Lunch can be the hardest meal of the day for me if I'm not prepared, so I'm always looking for new ideas for easy healthy lunches to bring to work.
I used to be obsessed with ramen noodle packets, cup o' noodles, or any other instant noodle soup. They were so easy to make and wonderfully cheap which I loved at a college student, but even in my younger days I knew these were not the best things to be putting in my body. My healthy new take on ramen is "Soup in a Jar" which is based on a recipe I found from Serious Eats.
What you do is take your ingredients, layer them in a glass jar, add water when you're hungry, and mix. How easy is that?
One of the best parts of these lunches for me is that I don't have to use microwave (which I try to avoid when possible but it's not always possible) – I can just add hot water to heat it up!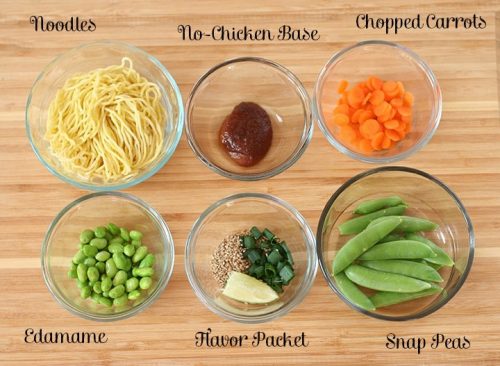 Soup in a Jar – What you need:
A seal-able glass jar – I've used 16oz mason jars and one pint flip lid jars.
3 tsp Soup Base Options (for flavor): veggie stock paste (I like Better than Bullion No-Chicken or Vegtable), veggie cube, miso paste, curry paste…
1 tsp of extra flavor: spices/seasonings, kimchi, fresh minced garlic and/or ginger, soy sauce, Asian chili paste…
1/2-3/4 Cup Vegetables (pre-cooked/steamed if you'd like): carrots, kale, spinach, broccoli, corn, mushrooms… the list is endless! Frozen veggies can work too though be sure they are thawed by the time you add water so the soup stays hot.
2-3 oz Protein: chickpeas, beans, edammame, cubed tofu, pre-cooked tempeh, sesame or other seeds
1/2-3/4 Cup Noodles: cooked al dente pasta or noodles of choice such as : udon, ramen, spaghetti, fettuccine, shirataki noodles…you can also use thin dry rice noodles (they will cook with the hot water though it may take a few more minutes), or veggie noodles (like my zucchini noodles)…
Flavor packet: fresh herbs, lemon/lime wedges, scallions, capers, sliced chili peppers, bean spouts
Basic Directions
1. Add the flavor base to jar.
2. Layer denser veggies, then the more fragile ones on top of them.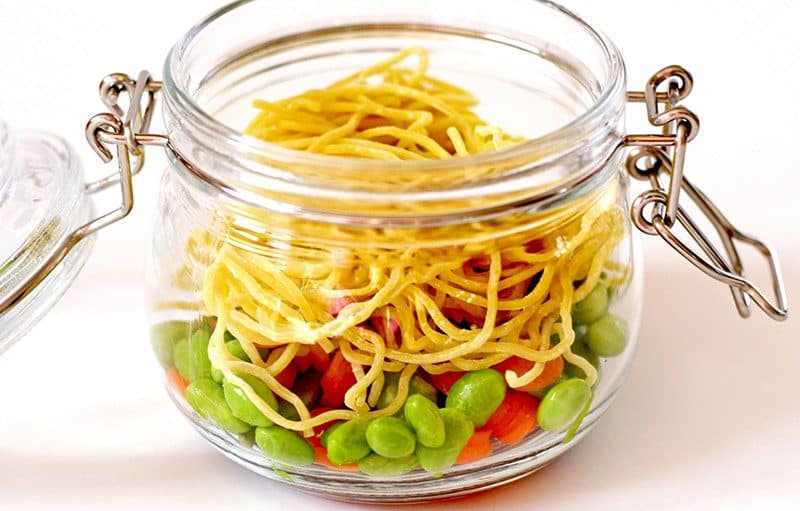 3. Keep noodles at the top so they don't get soggy.
4. Wrap flavor packet ingredients tightly in saran wrap (or plastic baggie) and place at the very top.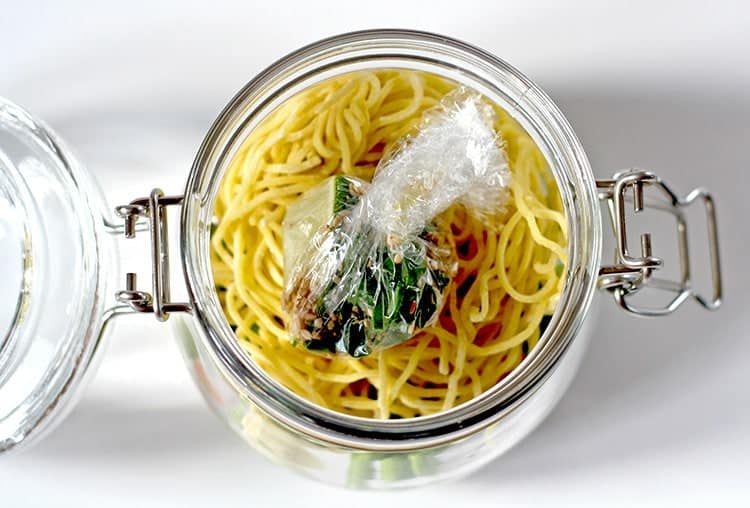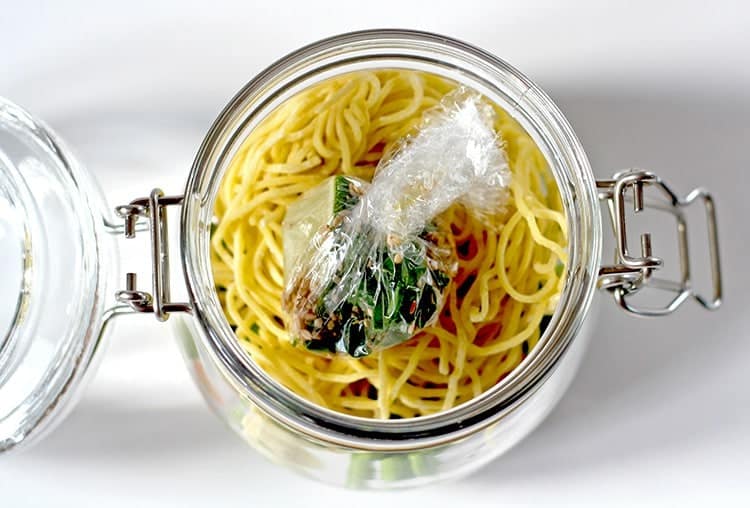 5. Refrigerate until almost ready to eat. I like to take my jar out of the fridge about 10 minutes prior so that the jar and ingredients are not too cold and do not offset the hot water heating the food.
6. Add hot water to the jar*.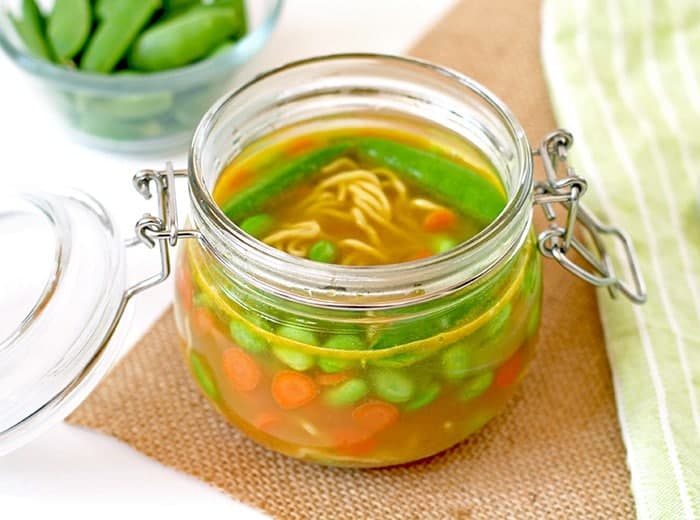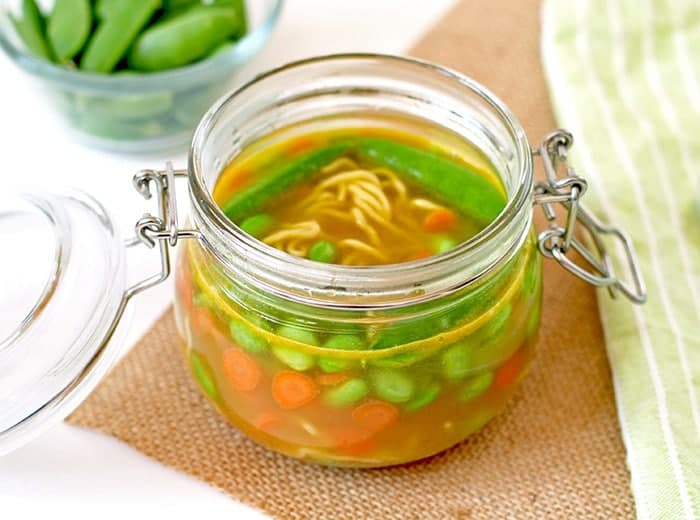 7. Wait about 3 minutes, add the flavor packet ingredients and enjoy!
*Note that by adding the hot water, you're not really cooking the food, just heating it, so any veggies you add will be basically raw unless you pre-cooked/steamed them. I like some veggies pre-cooked especially in colder weather but it's your preference.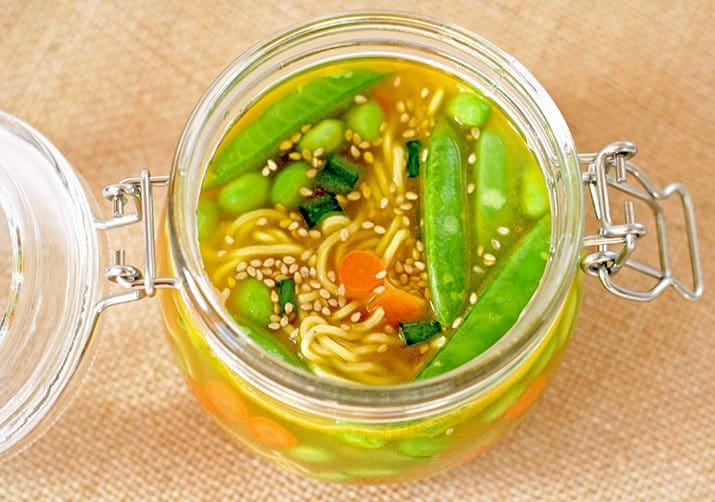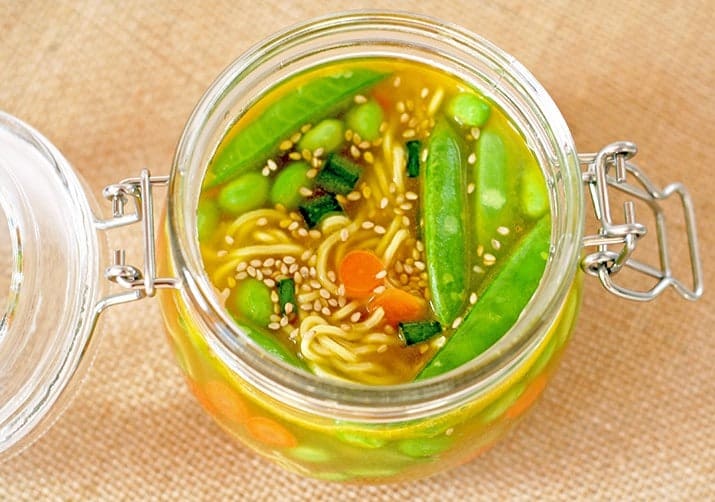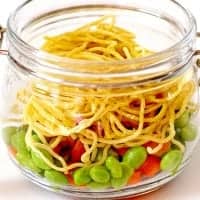 Healthy Soup in a Jar
This healthy soup in a jar is perfect for a quick lunch at work or when you're on the go.
Print
Pin
Rate
Ingredients
1

Tb

Better Than Bouillon No-Chicken base

1/4

cup

carrots

1/4

cup

snap peas

2

oz

edamame

1/4-1/2

cup

pre-cooked noodles

toasted sesame seeds

chopped scallions

lime wedge
Instructions
Add ingredients in the order listed up to noodles.

Add sesame seeds, scallions, and lime wedge to saran wrap or zip lock bag (be sure to squeeze all the air out).

Place bag on top of noodles and seal jar.

When ready to eat* remove flavor packet and add hot water.

Reseal and let sit for 3 mins.

Open and stir the soup so that the flavor base is fully mixed.

Top with flavor packet ingredients and squeeze in lime.

* I like to take my jar out of the fridge 10 mins ahead of time to let the jar come close to room temperature.
Get your FREE Vegan Made Easy Guide!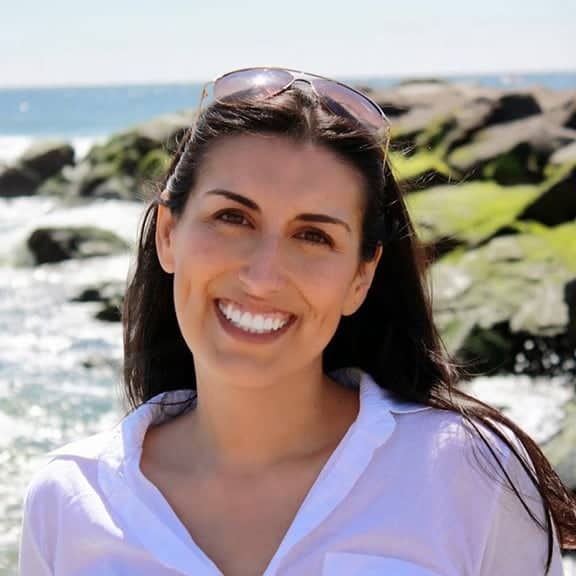 Mary Ellen Valverde MS, CNS, LDN is a Licensed Nutritionist and Certified Nutrition Specialist who helps vegans find ways to make mealtimes easier (and healthier).
When she's not creating new recipes for her blog, you can find Mary Ellen doting on her two shih tzus or exploring the world with her husband.