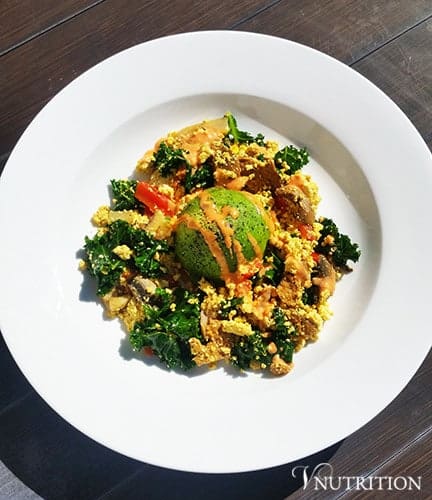 As you might have seen from my Instagram account , my husband made me a delicious breakfast and I wanted to share the recipe with you today in case you wanted to make a fabulous brunch for your loved one(s).
Matt doesn't use set recipes often, he kind of just makes things that he think will work together and he's almost always right. He knows his food and he's my official taste tester because he's so good at it.
[instagram url=http://instagram.com/p/8tD-yqiY5P width=500]
I want to mention that Matt doesn't use recipes often so that you know that this recipe might not be exact. He told me basically what he used for the Tofu Tempeh Scramble from what he could remember when I asked him right after we ate. Hopefully the recipe is as tasty as what he made!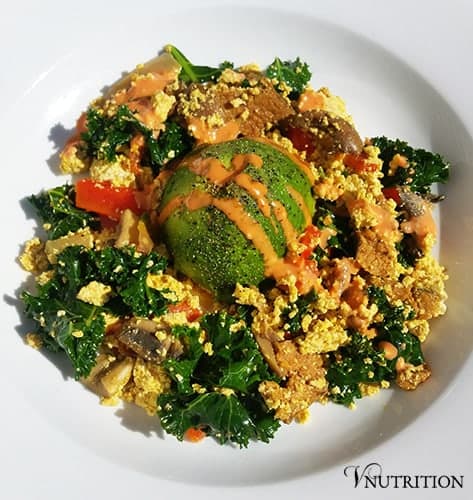 Tofu Tempeh Scramble with Baked Avocado
This recipe serves 2 with some scramble left over – I took the extra to work the next day for breakfast.
For Tofu Scramble
1 tbs coconut or olive oil
seasonings: salt, pepper, garlic powder, paprika (to taste)
1 block of firm organic tofu in water
1/3 onion, chopped
6 baby portabellos, chopped
1 red pepper, chopped
1/2 a tomato, chopped
small bunch of kale, chopped
water or veggie broth (about 1/4 a cup or more)
1/2 package of tempeh bacon
1/2 tsp of turmeric
For Avocado
1 avocado
enough coconut or olive oil to coat baking pan
drizzle of olive oil
salt, pepper, and garlic powder to taste
For Creamy Sriracha Sauce
Sriracha
Vegan Mayo (we use Just Mayo)
Directions
Heat 1 tbs coconut oil in a large skillet and add salt, pepper, garlic powder, paprika to your liking (Matt said he just threw some in).
Add the onions, mushrooms, and pepper until mostly cooked (about mins).
Then add the tomato and cook for a few more minutes.
Add the kale with a bit of water or veggie broth to cook.
Crumple the tofu into pan and add tempeh bacon. Use more water when necessary. Matt said the tofu needs moisture so that it does not stick to the pan. Heat cook until heated through.
While cooking tofu, halve the avocado. Put enough olive or coconut oil on a backing pan so the avocado won't stick to it. Drizzle a tiny bit olive oil on top with a bit of salt, pepper, and garlic powder. Bake at 300 degrees F for about 5 minutes until warm.
Mix about 2 tbs of vegan mayo with some sriracha (as much as you like so that it tastes good to you!).
Plate the dish by adding scrambled tofu, then the avocado, and top with creamy sriracha sauce!