No animals were harmed in the making of this burger, but all of your taste buds will party at the first bite. The recipe for this Vegan BBQ Burger is from the new cookbook Vegan Burgers & Burritos by Sophia DeSantis.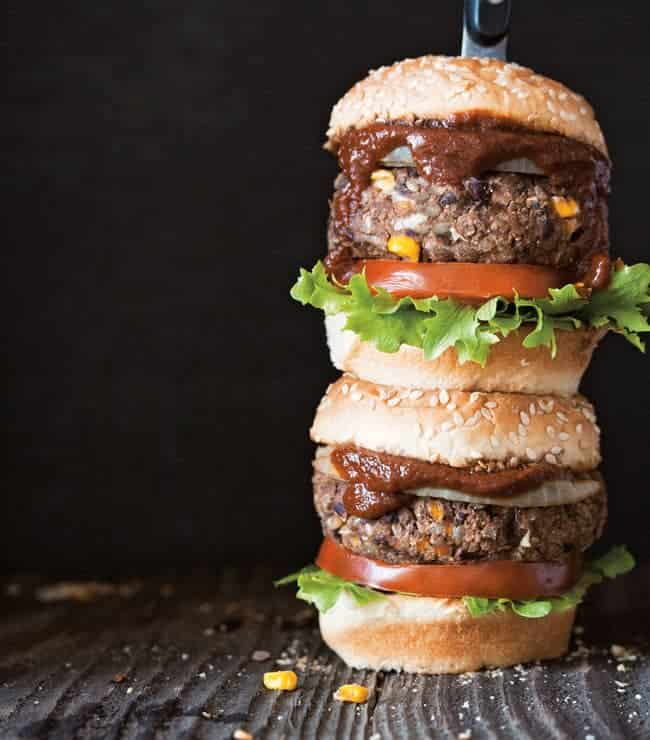 © Sophia DeSantis
I'm excited today to share a recipe from new cookbook Vegan Burgers & Burritos by Sophia DeSantis! You may know Sophia from her blog Veggies Don't Bite. I've been reading her blog for a while and all of her food is amazing! She shares plant-based, gluten-free, and refined sugar-free recipes that are still full of flavor.
I'm such a fan of homemade burgers and burritos but have not had many on my blog yet (well except my Sriracha Burger). That's why I'm so glad Sophia has allowed me to share this delicious burger with you!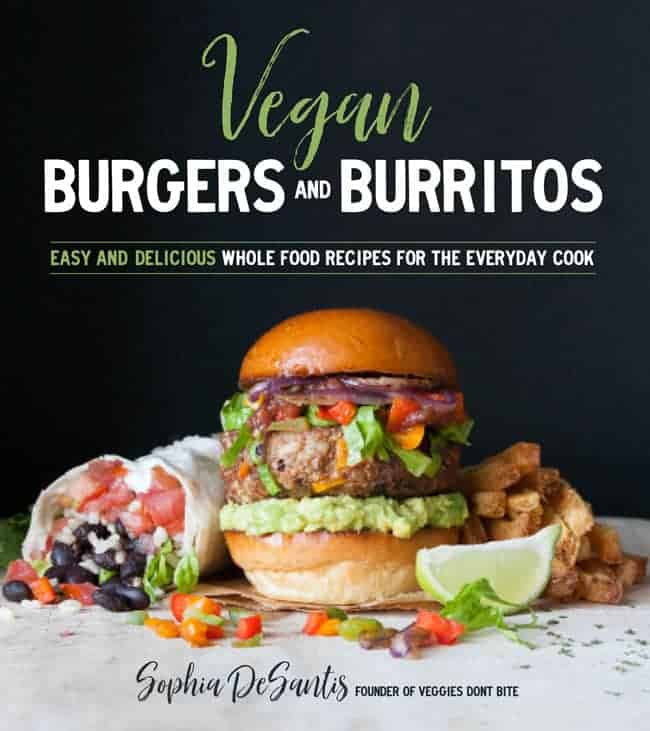 © Sophia DeSantis
Vegan Burgers and Burritos
All the recipes in Sophia's book are so yummy looking! These veggie burgers and burritos are fun and delicious, and approachable for any cook.
Vegan Burgers & Burritos includes burgers, burritos, lots of sauces and even a few sides – so many goodies!
All of the recipes in the book are:
plant-based
gluten-free
refined-sugar free
There's also a section at the end of the book that includes troubleshooting if a dish didn't turn out exactly right.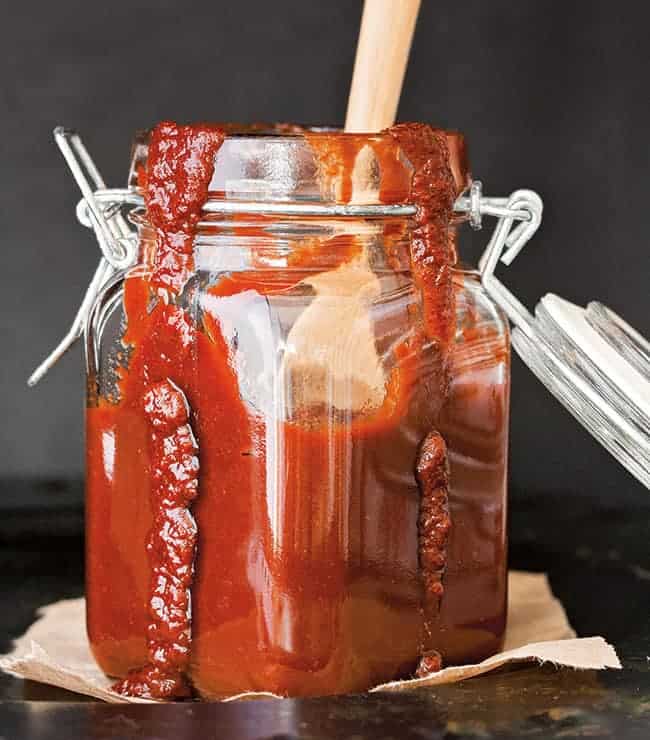 © Sophia DeSantis
Very Saucy
Sophia's recipes are made from whole food ingredients and have a sauce to go with each one. Sauces are usually my main
Some of the other recipes I'm excited to try are:
Veggie Packed Pizza Burrito
Sweet Potato Enchilada Burger
Crispy Buffalo Burrito
Hawaiian Teriyaki Burger
The S'mores Burger
*Reprinted with permission from Vegan Burgers and Burritos by Sophia DeSantis, Page Street Publishing Co. 2017. Photo credit: Sophia DeSantis; Lifestyle Photos by Chris Nelson Photography*
Down Home Vegan BBQ Burger
Ingredients
1

cup

cooked brown rice

1

cup

cooked or canned black beans

drained and rinsed

1/2

cup

chopped sweet or yellow onion (see notes)

1/4

cup

cooked chopped potato (see notes)

2

TB

cornmeal

1

TB

Easy Homemade BBQ Sauce

(recipe below)

2

tsp

garlic powder

2

tsp

chili powder

1.5

tsp

liquid smoke

1

tsp

sea salt

1

tsp

maple syrup

1/4-1/2

cup

cooked frozen corn (defrosted to room temp) or fresh corn (add less or more per your preference)
To Serve
4-5

buns

Lightly grilled rings of sweet or yellow onion

Lettuce

Tomato
Instructions
Place the rice, beans, onion, potato, cornmeal, BBQ sauce, garlic powder, chili powder, liquid smoke, salt and syrup into a food processor. Pulse a few times until chunky. Add the corn and pulse a few more times. Don't overpulse or the mixture will get too soft and diplike.

Place the mixture into a bowl, and put it in the fridge for at least 20 minutes; an hour is best. Making this the day before and letting it sit overnight is optimal. This helps all the flavors marinate and leads to a sturdier burger.

To cook, shape the mixture into patties. If you're not using a nonstick pan, then you may want to prepare the pan by brushing it with a tad of oil to avoid sticking. Place the patties in a pan on the stovetop over medium heat for 15 minutes on each side. Pans and stovetops vary, so begin to check the patties at 10 minutes. If you try to slide your spatula under a patty and it won't give, then it isn't ready and needs to cook longer.

You can also bake the patties on a parchment-lined cookie sheet at 375F (191C) for about 20 to 25 minutes on each side. Allow the patties to cool and set for 5 to 7 minutes.


Serve on buns with the toppings of your choice.
Notes
Save some rings of onion to use as an optional topping. Cook the onion after you sauté the burger ingredients. Any type of starchy potato works—I use red. Sweet potato is not recommended as it is not starchy enough. Cook the potato in the microwave or oven. I don't recommend boiling it because it makes the potato too wet. Measure the potato by mashing it into the measuring cup.
Kids: Make patties into a smaller slider size or into nuggets. Serve sauce on the side as a dipper.
Easy Homemade BBQ Sauce
Whip up this homemade sauce in no time. It's way better than the bottled version and much healthier. You can even add more sweet or tang to meet your BBQ sauce desires. My newfound favorite snack is dipping fresh, crisp fries into this sauce. Get out a bowl and pile it on, cowboy!
Instructions
Put the tomato paste, broth, maple syrup, molasses, vinegar, liquid smoke, chili powder, salt and garlic powder in a bowl and mix well until smooth.

Notes
People have many different opinions when it comes to the kind of BBQ sauce they like. If you fall in the spicy camp, then add more chili powder ¼ teaspoon at a time to get the level of spice you like. If you are in the sweet camp, add more maple syrup ¼ teaspoon at a time until you get the sweetness you like. But if you are in the tangy camp, add more vinegar. teaspoon at a time until you get the tang you like. This is a good middle-of-the road BBQ sauce, the perfect average mix of sweet, spicy and tangy, according to what I like and the opinions of those who've tried it.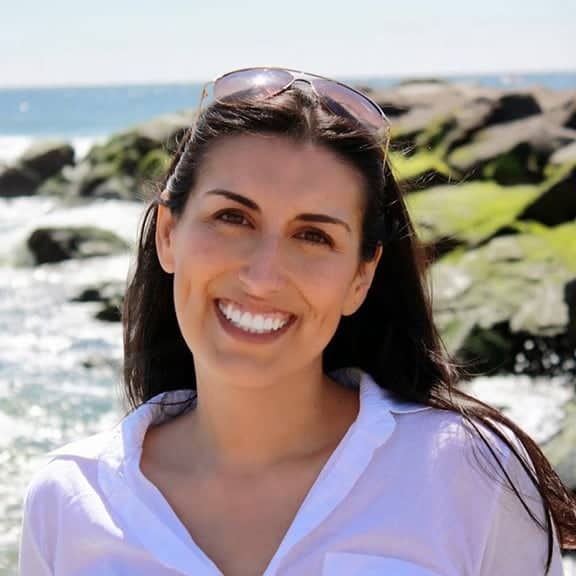 Mary Ellen Valverde MS, CNS, LDN is a Licensed Nutritionist and Certified Nutrition Specialist who empowers vegans to feel confident creating sustainable habits that align with their values and health goals. She shares easy plant-powered food to nourish your body + satisfy your tastebuds. Mary Ellen's recipes and nutrition info have been featured on Yahoo News, Parade, VegNews, LIVESTRONG, Dr. Axe, Greatist, LIVEKINDLY, Brit+Co, Well+Good, and more. She lives in NJ with her husband & two sweet shih tzus, Firenze & Sophie.