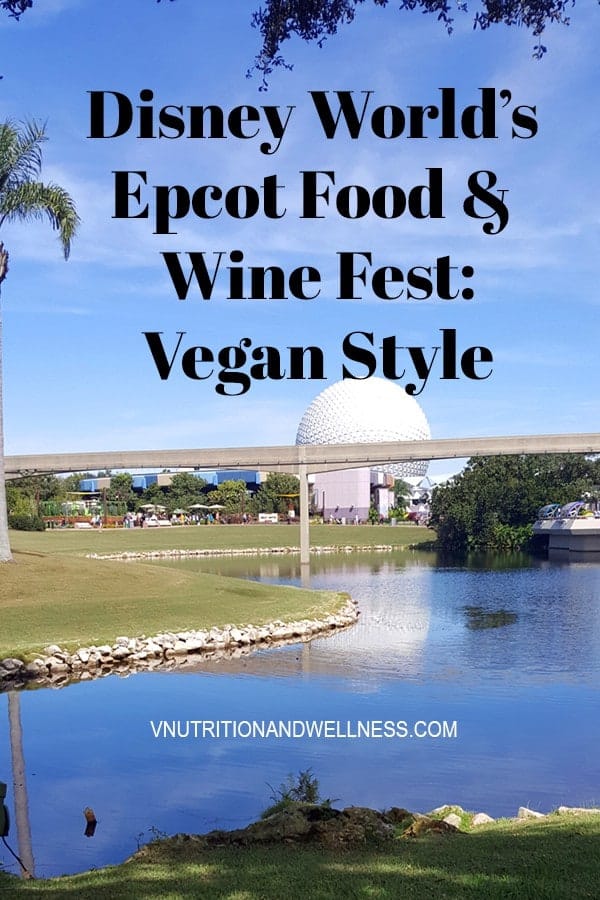 Last month I headed down to the Walt Disney World Epcot Food and Wine Festival with some of my family and friends for a ladies trip. Want some vegan travel tips? Check out my post Vegan Travel: What I Bring to Eat.
We stayed at the Disney Beach Club because it's actually attached to the back part of Epcot so you can easily walk right to the park. We (as in my mom and aunt) are Disney Vacation Club members so we always get rooms with kitchens. It helps out with the food situation becasue we always have breakfast in the room and sometimes other meals as well.
My mom and I had a later flight than everyone else so after getting settled, taking my mom to church, and having some dinner, we met the other ladies at Disney Springs (a huge area for restaurants and shopping) for a cocktail on the water at Jock Lindsey's Hanger Bar. Below you can see us toasting to the start to our vacation.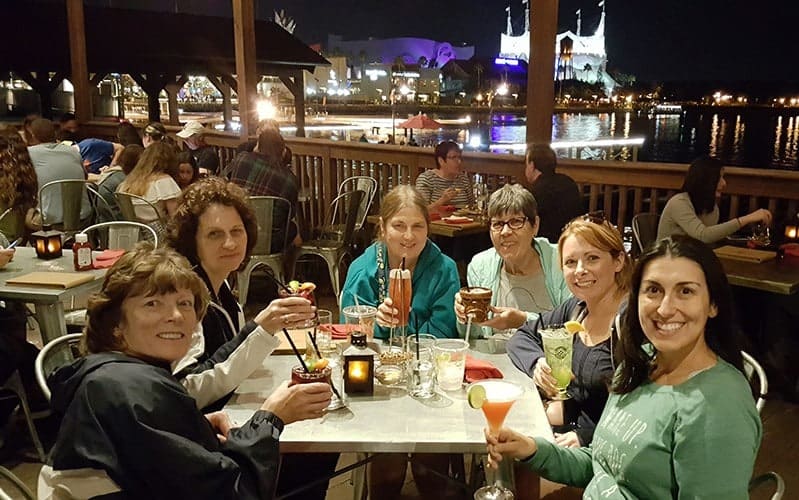 The next morning my mom, cousin Denise, and I headed out to the Animal Kingdom. Denise and I wanted to get on Expedition Everest early so we ran over there and were actually the first ones on the ride for the day! Even after getting off the ride there was no line so we hopped back on for a second trip. Below you can see us posing for the camera during the big drop at the end of the ride.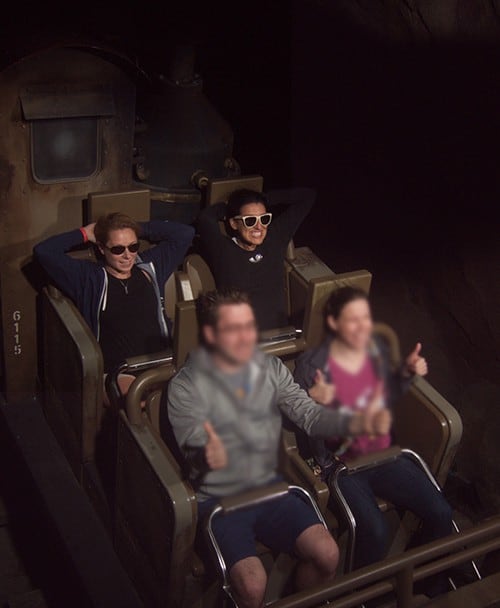 After a few more rides we headed over to Epcot to partake in the Food and Wine Fest. I checked online beforehand and found out  that there were 2 vegan food options available for me to enjoy.  I would have definitely liked more but 2 wasn't so bad. The countries offering these treats were Greece an South Korea so I knew I wanted to hit those up. Although there weren't many vegan options, I think were was at least one vegetarian option at each booth so vegetarians were in luck! Hopefully more people will ask for vegan options so we can all eat at every booth in the future.
The festival takes place all around the World Showcase part of Epcot which features areas of different counties. For the festival they set up extra food and drink booths so even more countries are featured. Here's a map if you've never been to the World Showcase and want to know what I'm talking about. The Greece and South Korea booths weren't exactly near each other so I didn't really mind if I couldn't get to both in one day.
They had different demonstrations and exhibits on food and wine. I thought this was a cool picture (below) of the colors of wines.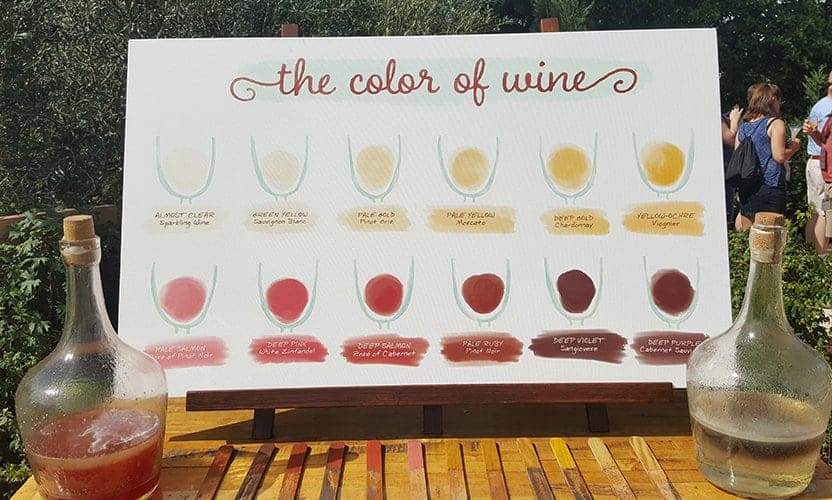 First up was getting me a Dole Whip which is a soft serve pineapple treat. I'm obsessed with Dole Whips (as seen by my shirt below) so I was happy to see that for the fest, they even offered them with a shot of rum on top – perfect for 11am. Don't judge, I was on vacation!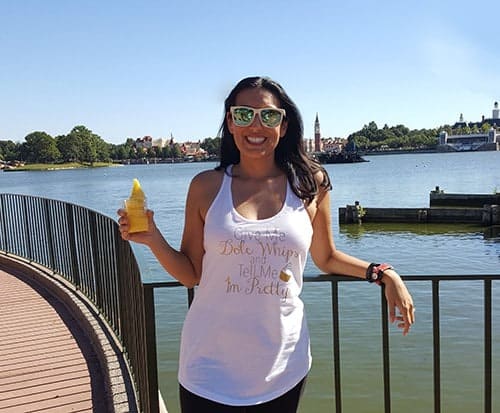 I also had a glass of champagne. After that I knew I needed something to eat becasue I was feeling a little toooo good and hadn't eaten anything since the fruit and bar I had for breakfast at  like 7am.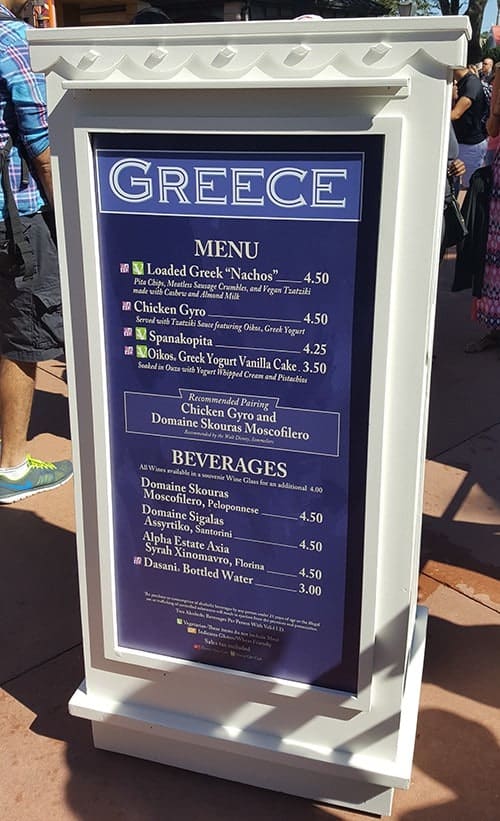 Here is what the sign for Greece looked like. There is a small green V which means vegetarian but anything that's vegan will actually say "vegan" in the title. I got the vegan Greek nachos which consisted of pita chips, lettuce, tomatoes, olives,  meatless sausage crumbles and vegan tzatziki sauce. It was really good. I went back and got another one a few nights later.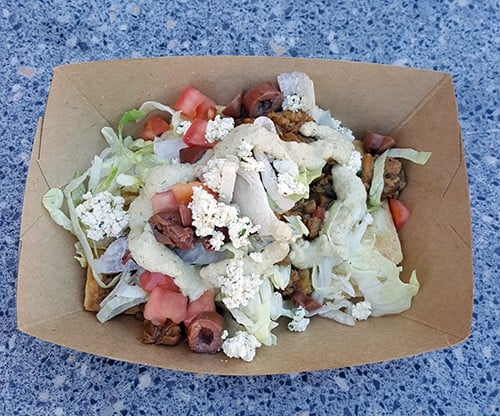 We did some more walking around both the front part of Epcot that has more of the rides and the back part for another drink or so. Here's my mom with a nice glass of wine. M y mom would like me to note that most of the alcoholic beverages were smaller than a regular glass of wine.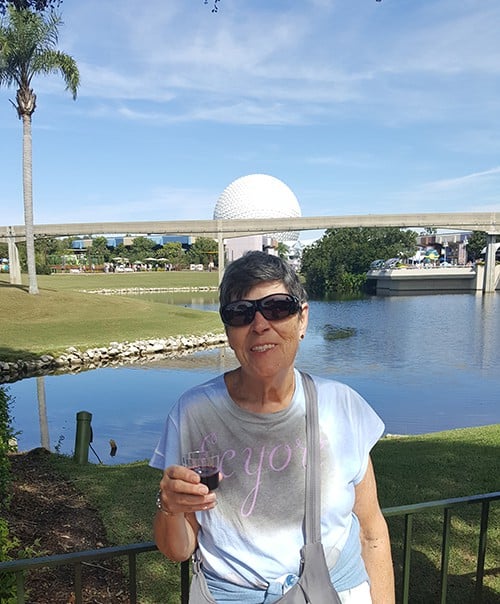 Me, my aunt Mel, and my mom hanging around Epcot.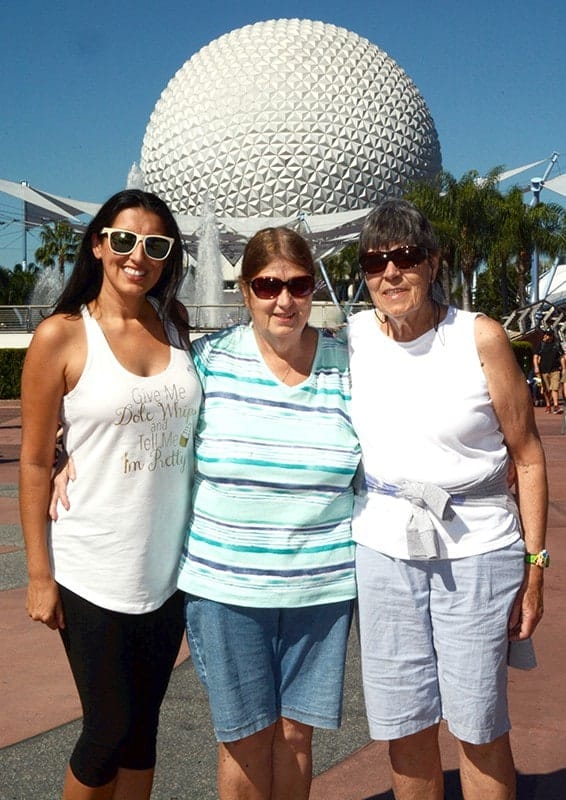 For dinner we met up with the whole group of ladies. We had reservations at Via Napoli in the Italy part of World Showcase. I called beforehand and spoke to the chef. He was so nice and made sure that I was able to have pizza with vegan cheese. Below is my pizza with mushrooms, artichokes, olives and vegan cheese.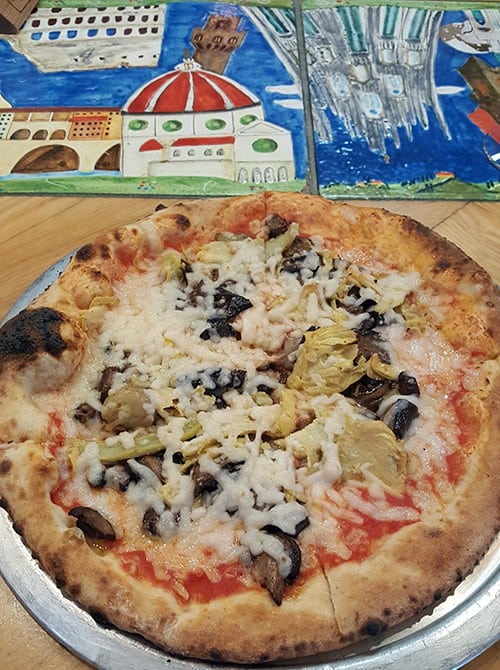 After dinner we did a little more walking around and picture taking before watching the fireworks and heading back to the room – it was a long day!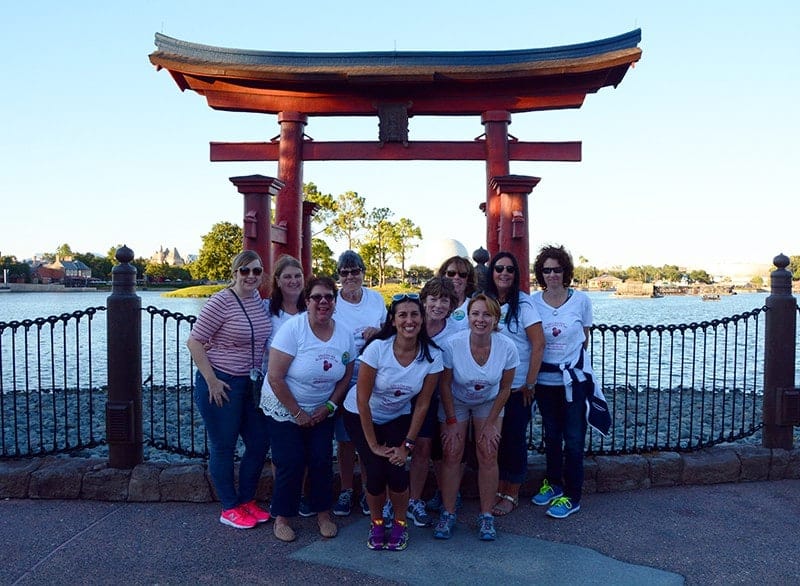 The next morning most of the ladies were doing one of the Disney Parks but my mom and I only had tickets for 2 days so we decided to relax a bit…well by relaxing I mean go for a run. Disney and New Balance have put running trails up around the resorts so you know how far you're going. I don't always stick to the trails because I know my way around but it's nice that they put them up especially for newcomers.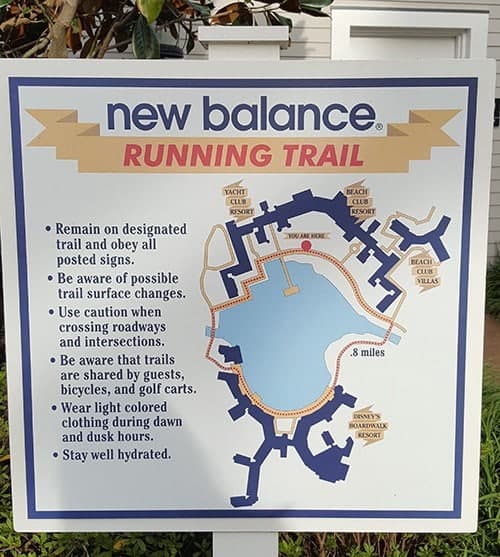 How can you beat this view? It was the happiest run I've had in a while – warm-ish and a little breezy – perfect!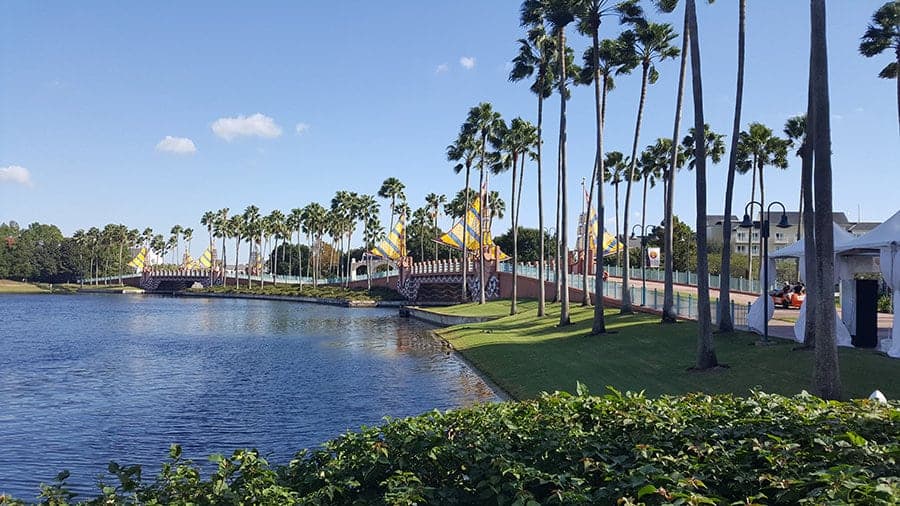 After the run my mom and I did a little walking and shopping around the Beach Club area. There are a few hotels that are considered Epcot hotels becasue they are walkable to Epcot – the Beach Club and Boardwalk (both owned by Disney) and the Swan and Dolphin which are not. It was a really relaxing morning to spend some quality time with my mom.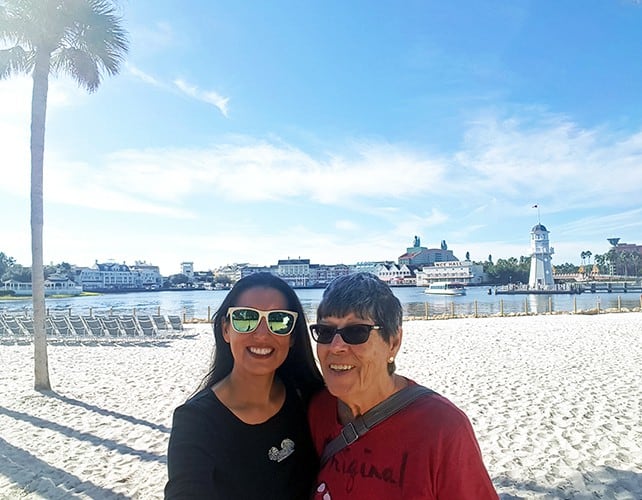 That afternoon we headed over to the Grand Floridian for afternoon tea – fancy, I know! I called beforehand to make sure they knew that I was vegan and my mom was vegetarian so that had some special treats for us.
We got the extra fancy (I like that word) tea option with a glass of champagne.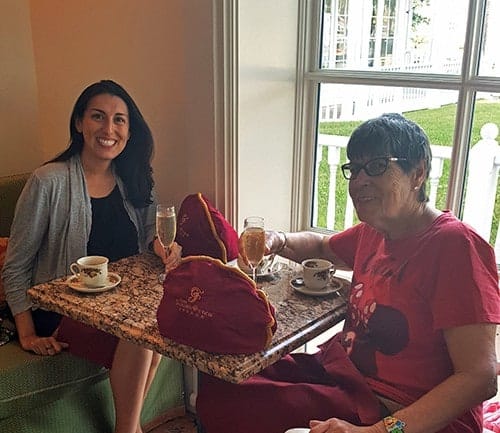 They gave us little tea cozies (is that how you spell that?) to keep our tea pots warm. I just realized that I don't actually have a picture without the cozies.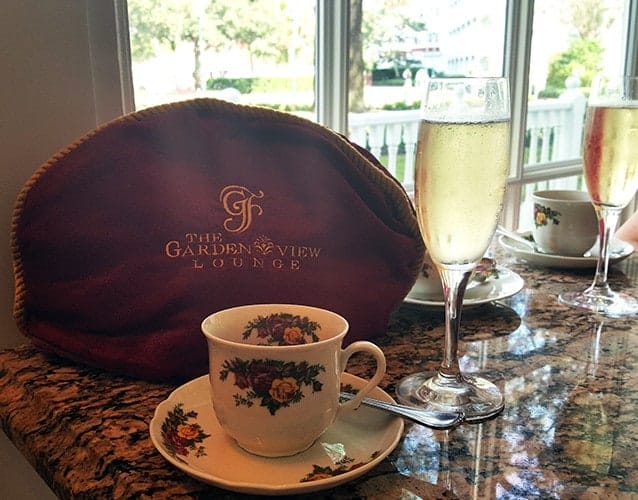 Our first course was finger sandwiches. I love how they cut the crust off, I've never been a crust kind of gal. They served us 3 with tofu cream cheese: tomato, cucumber, and golden beet (my fav).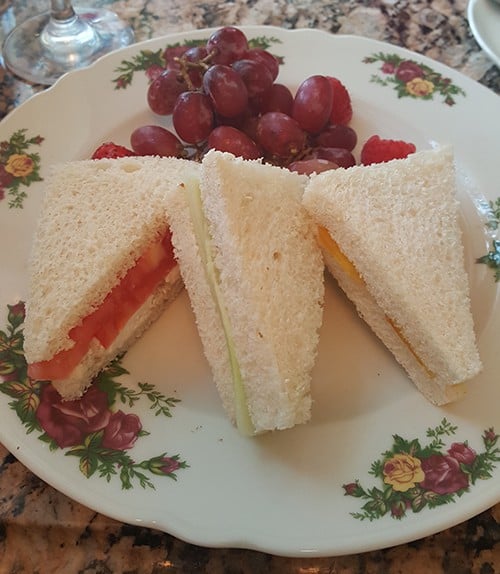 My next course was vegan banana bread from vegan BabyCakes served with a orange kind of marmalade and jams.
I got two desserts (because I'm special – my mom says so) the first was a berry pyramid sort of thing which was delicious.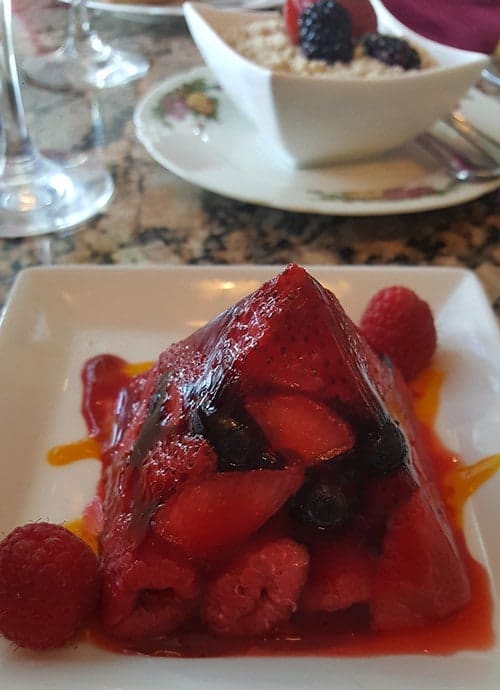 My second dessert was a fruit crumble which was also delicious. I couldn't finish both but I sure did try.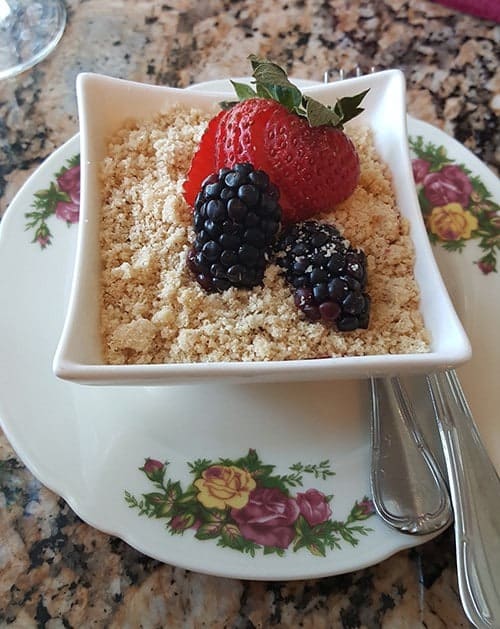 And here's my mom peaking out the window at a little squirrel friend.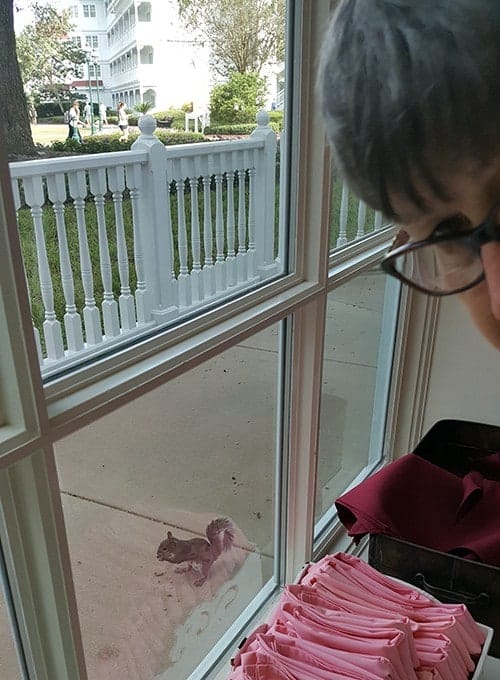 We were so stuffed from tea that for dinner we just had some snacks at the room and then we headed back down to Disney Springs for a cocktail. One of the waiters from the Grand Floridian recommended The Boathouse for a nice drink on the water (FYI this is not the place to eat if you're a vegan – it's a seafood restaurant). It was such a nice relaxing spot if you go all the way to the back. They have little lounge nooks and we found a table right next to the water.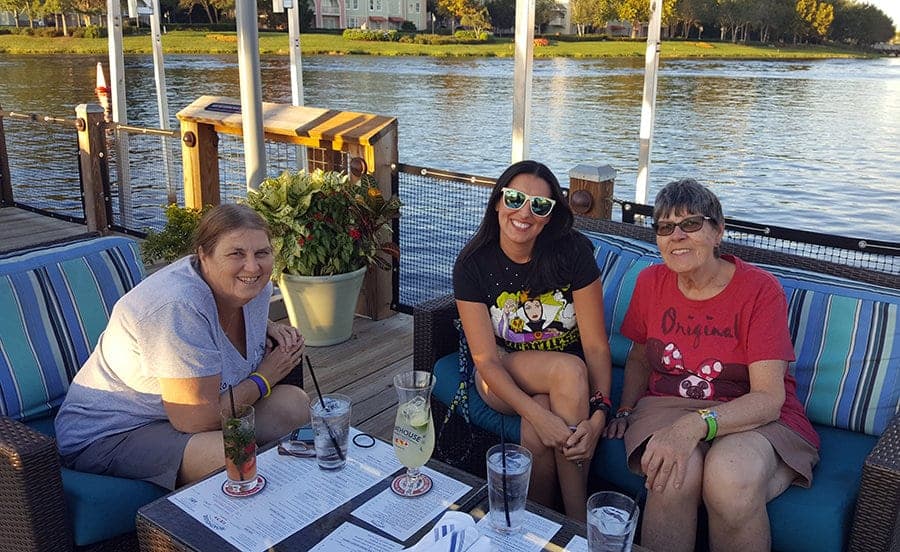 I had to add this picture of a floating boat that you can take out onto the water. How cool?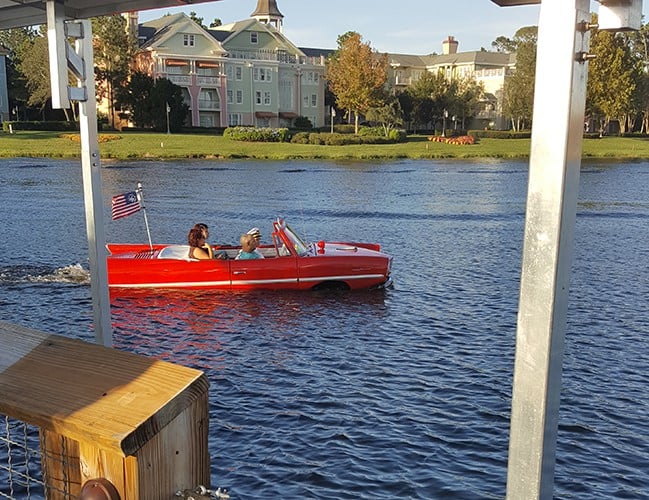 The next morning we made our way to Epcot. My cousin Denise had to leave the day before so I was all alone going on the "scary" ride.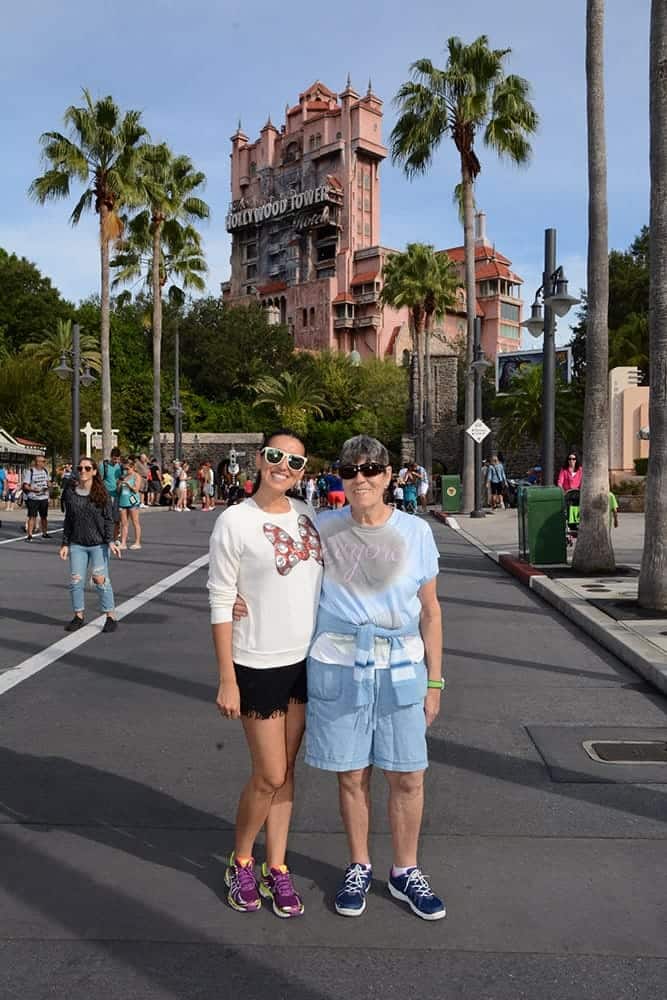 After that and going on the Toy Story ride (sooo fun!), my mom and I headed over to the Coral Reef Restaurant in Epcot. It's very relaxing and tranquil in there.
We both ordered the vegan chick'n plate with roasted vegetables and forbidden rice. This was the best meal I've probably ever had at Disney. My mom is not the best vegetarian (as she doesn't like to eat many vegetables) but even she snarfed up every last bite.
I'm sorry to say that only a few days after we ate there, they took the chick'n off the menu and replaced it with the Gardein crab cakes. While I do like the crab cakes, the dish was perfect how it was. The only reason I could see for the change was that the restaurant was mostly seafood and they wanted to keep that theme going. Bring back the chick'n Disney, bring it back!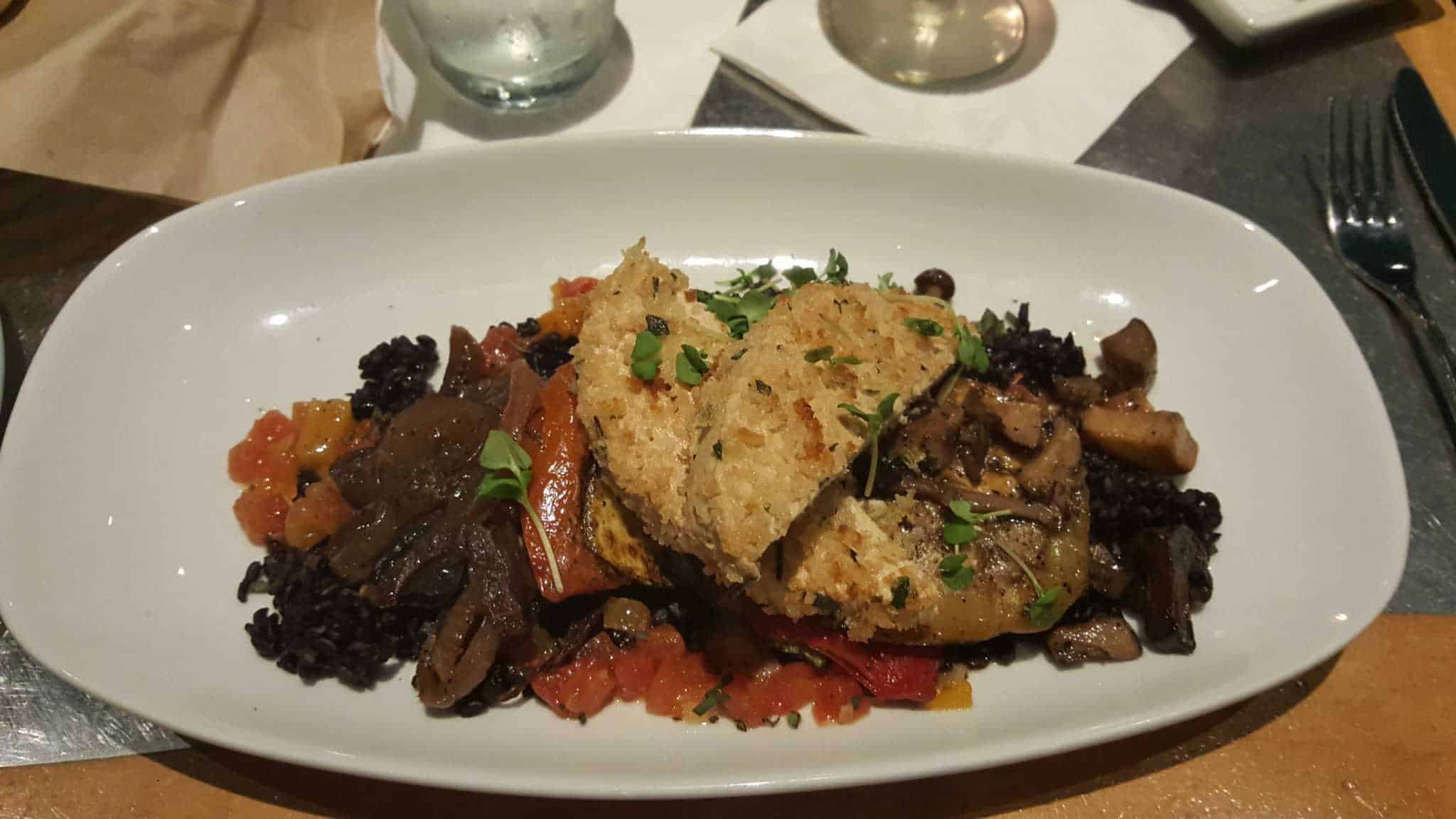 Later that evening we went back to Epcot and the Food and Wine Fest for some more treats. Here's my aunt and I in front of the Spaceship Earth ball. It's so pretty lit up at night.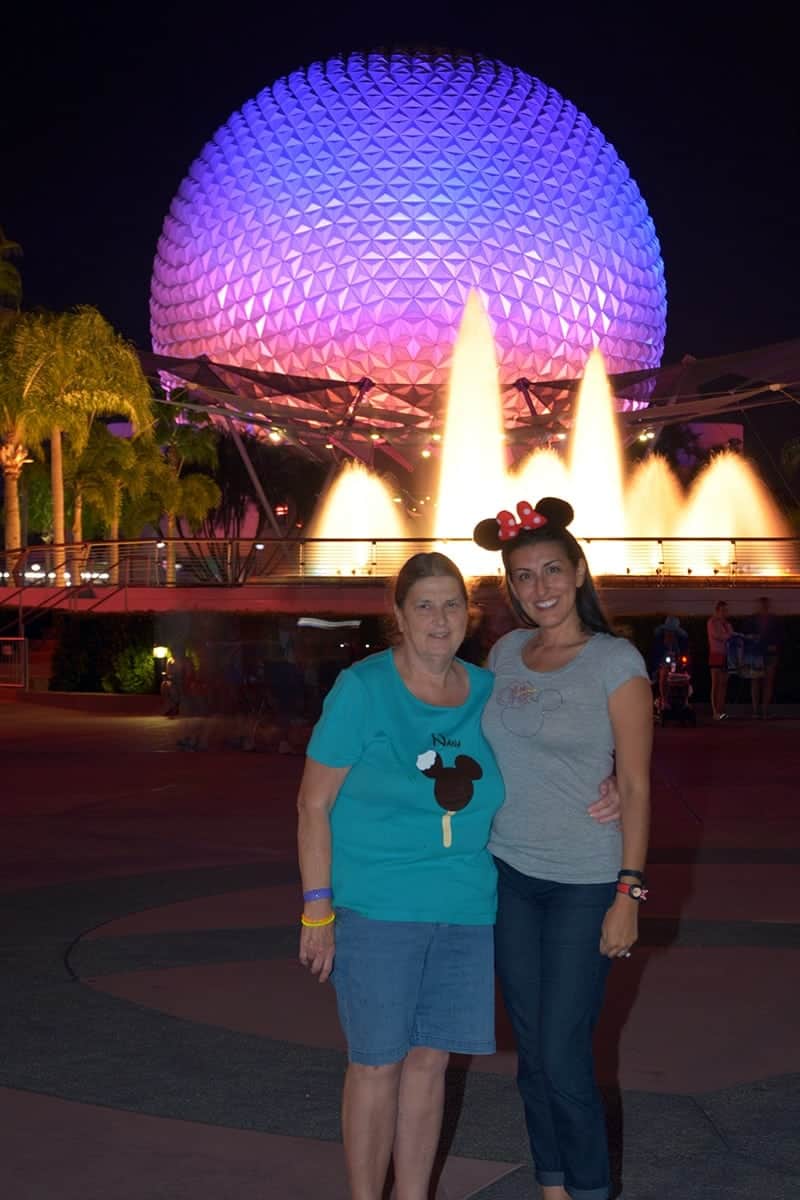 I finally was able to ge to the South Korea booth and try the Korean BBQ. It had steamed white rice, cucumber kimchi, and Gardein vegan beef. It was so delicious I got two!  Sorry my picture isn't the best, it was dark.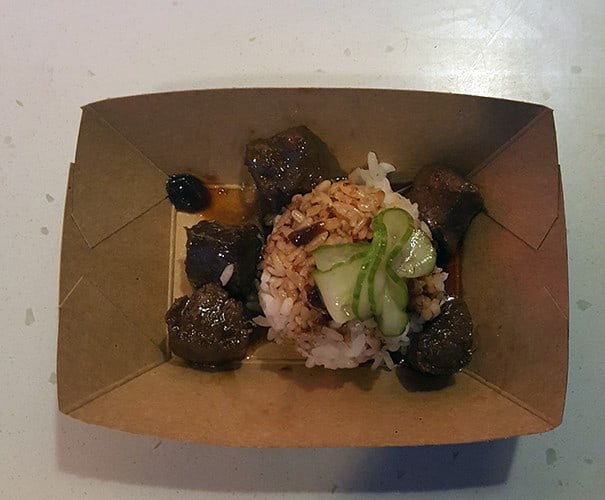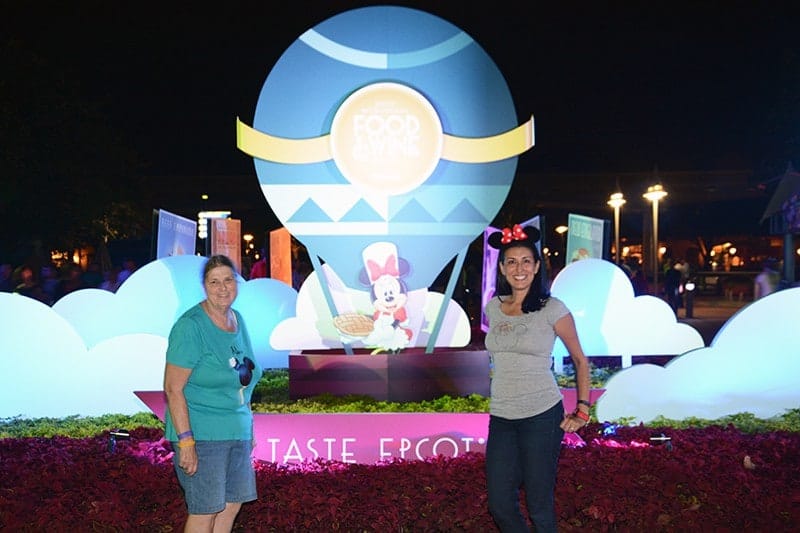 So that was my little trip to the vegan food and wine fest at Disney. If you have any questions, I consider myself a Disney expert (I'm usually there at least once a year) so feel free to send any questions my way!
My big tip as a traveling vegan is to make sure you make reservations ahead of time and make sure you tell them you're vegan. Be sure to explain what that means too, just in case. I also like the All Ears site for Disney info. They have a special list of vegan/vegetarian options at restaurants as well. I also bring along lots of snacks just in case.
Want some more vegan travel tips? Check out my post Vegan Travel: What I Bring to Eat.
Have you been to Disney before? What are some of your favorite vegan treats? 
You may also like…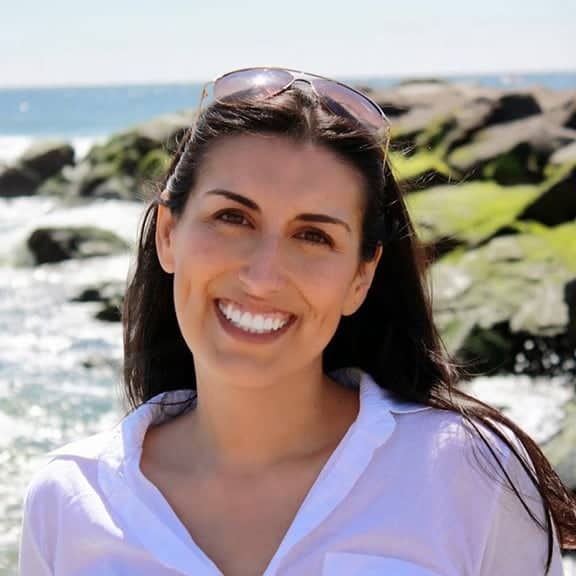 Mary Ellen Valverde MS, CNS, LDN is a Licensed Nutritionist and Certified Nutrition Specialist helping clients thrive on a plant-based diet. Through her functional nutrition coaching, Mary Ellen offers a completely holistic and science-based approach to designing a healthy, plant-based life.
When she's not working with clients or creating new meals for her blog, you can find Mary Ellen doting on her two rescue shih tzus, creating the perfect vegan mac & cheese, or exploring the world with her husband.