This Baked Vegan Pumpkin Mac and Cheese is so creamy and delicious. It's the perfect dairy-free comfort food for dinner and a great dish for the holidays.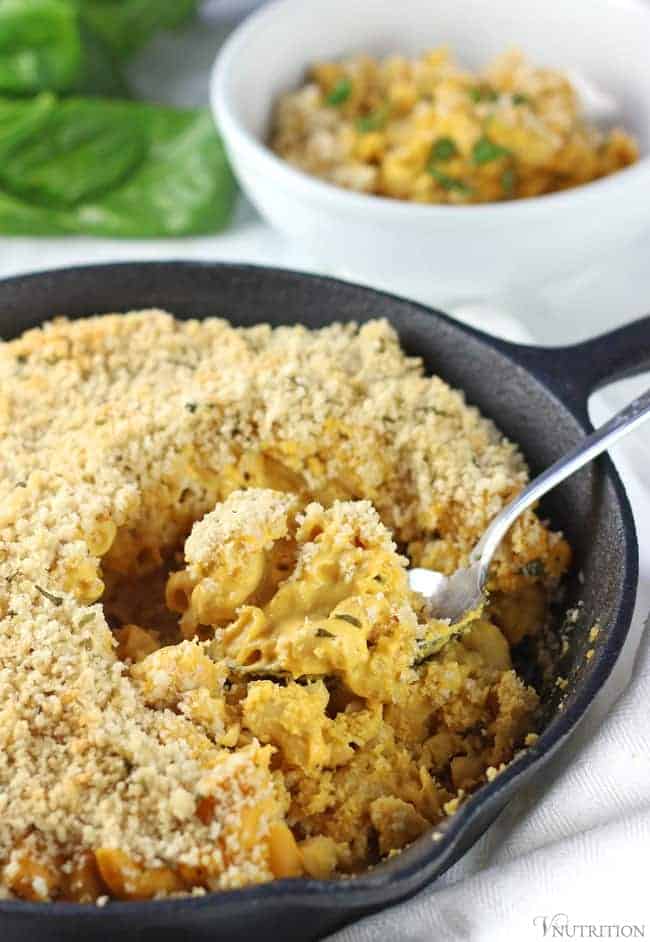 Oh yes, you heard that right, I made some Vegan Pumpkin Mac and Cheese! I took my basic vegan mac and cheese that I make with sweet potatoes (that reminds me I need to put that recipe up soon) and pumpkin-ized it for fall!
I'm pretty much pumpkin obsessed, which I'm sure you can tell if you've seen my Vegan Pumpkin Pasta and Pumpkin Vegetable Casserole.
This recipe one is totally different than my other pumpkin pasta because it's baked and has some extra cheesy flavor…if you're into that sort of thing (and I'm sure you are if you're reading this post).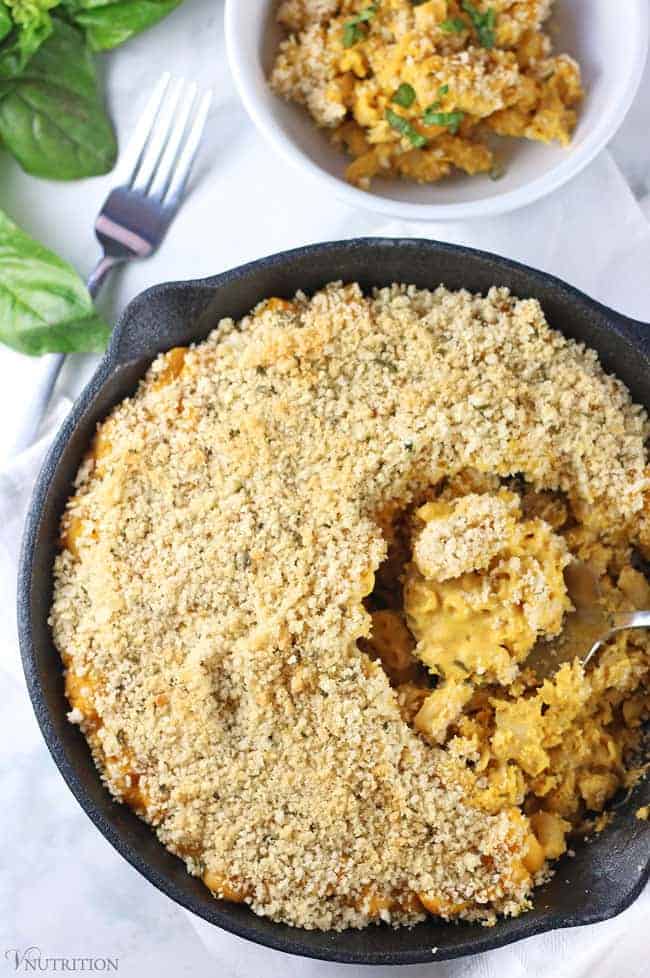 Creamy and Delicious Comfort Food
When there's a bit of a chill in the air, all I want are cozy things like sweaters, fuzzy socks, hot cocoa, and creamy pasta. They're warming and comforting and I can't get enough.
I used to think that I should always be eating salads or smoothies because they're "healthy" food. But I never felt good after putting something cold into my already cold body in the chilly weather.
Nowadays, I am more in tune with my body's cues so when it's cold out and I feel like I need something warming, I give my body what it's craving like this vegan pumpkin mac and cheese or some other vegan pasta recipes like my vegan vodka pasta, butternut squash mac and cheese, or cashew mac & cheese recipes.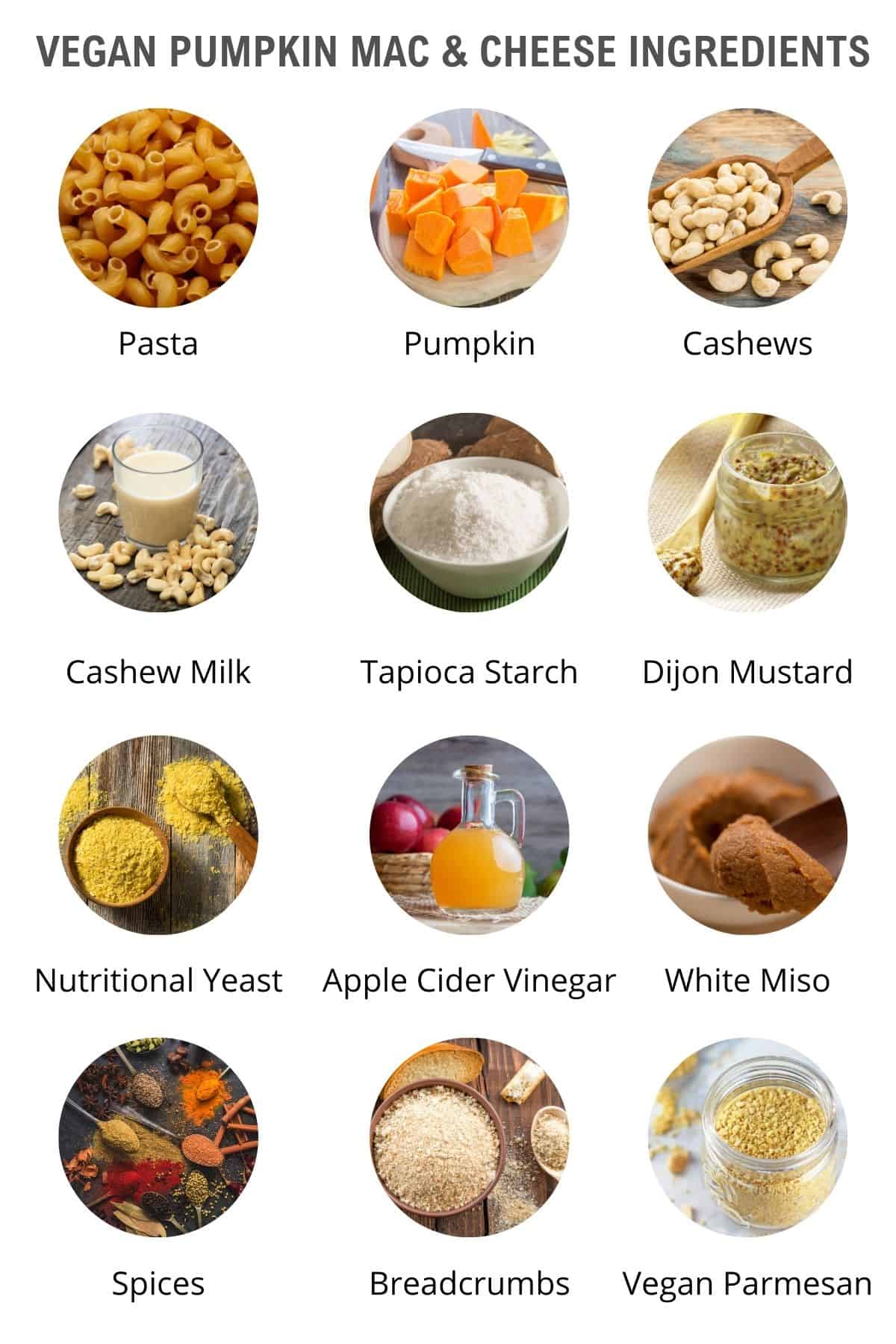 How to Make the Sauce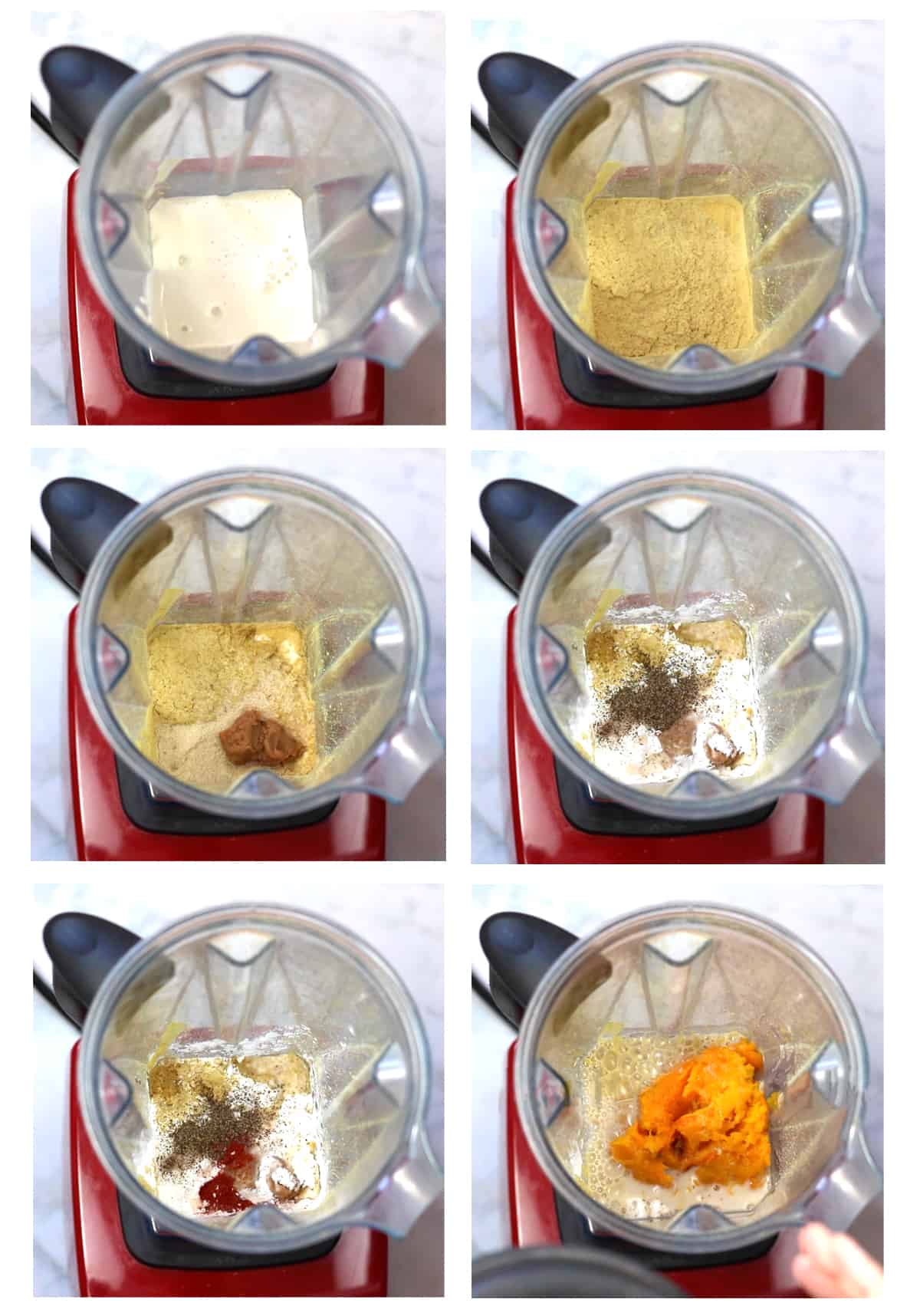 Baking the Mac & Cheese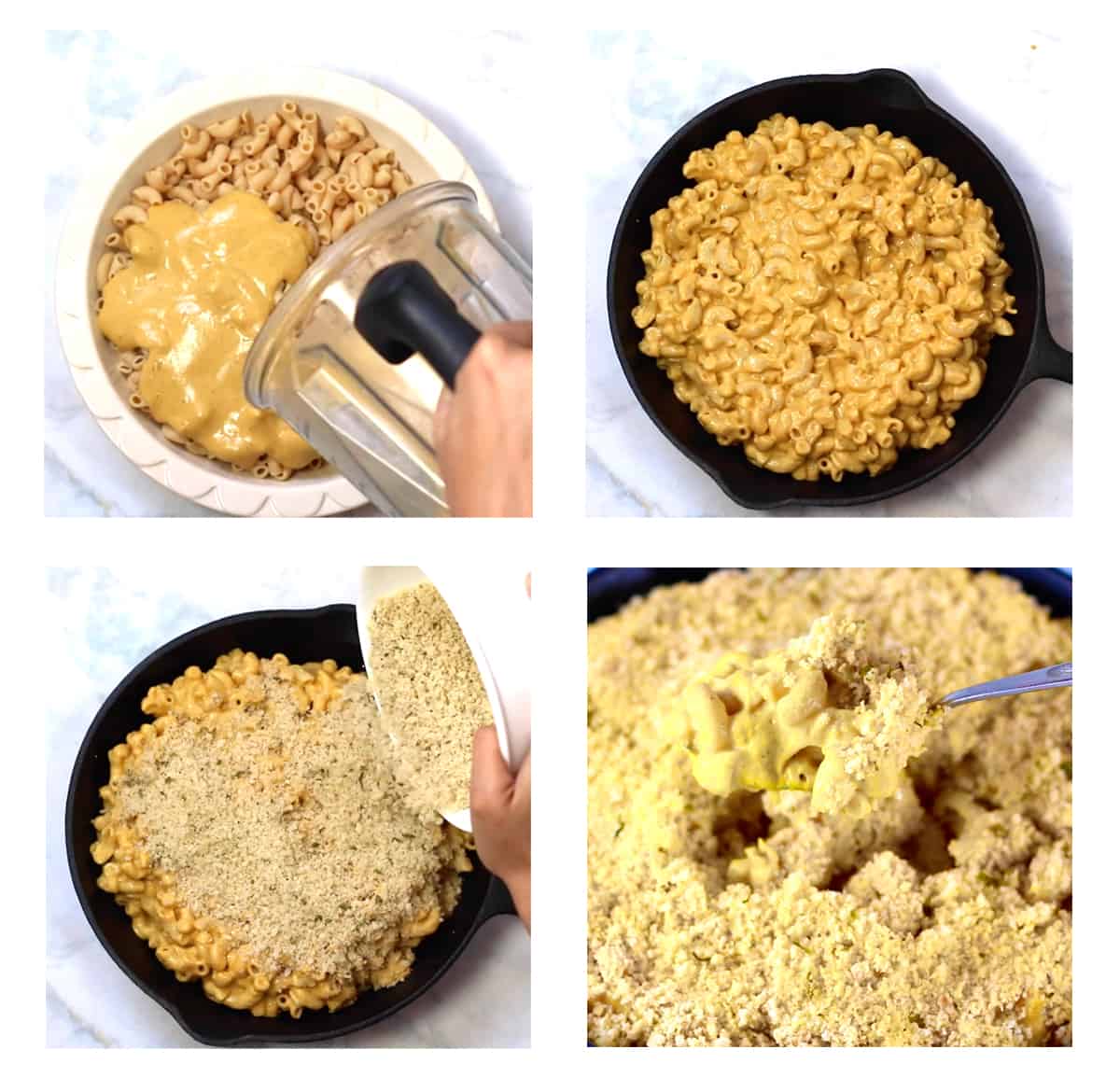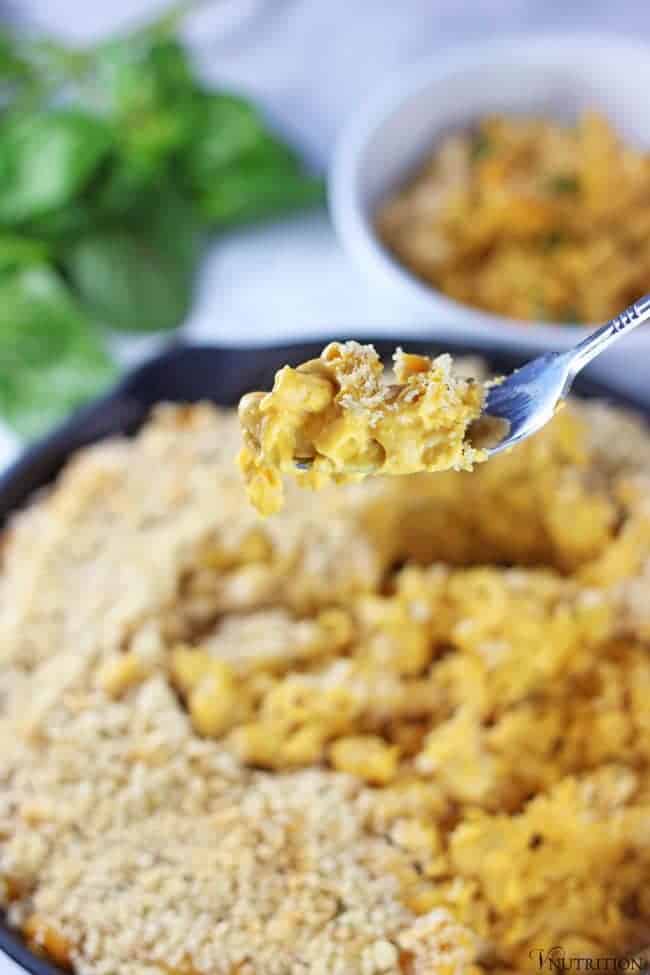 Healthy Vegan Pumpkin Mac and Cheese
This vegan Pumpkin Mac and Cheese is one of my favorite things to eat right now. I've' tested this so many times and I still can't get enough.
You could use canned pumpkin if you don't have (or don't feel like using) fresh pumpkin. Japanese pumpkin (aka kabocha squash) is a great one to use in this dish. While I recommend the roasted pumpkin because it adds more depth, flavor, and creaminess, sometimes we're in a rush and don't have time to roast a pumpkin so the canned pumpkin is still good.
I usually roast the pumpkin during my regular Sunday meal prep if I know I'm making the my pumpkin mac and cheese that week. FYI, for more info on my meal prep tips, check out my Vegan Meal Prep post.
My mac and cheese is healthier than any store-bought kind. It's dairy-free, gluten-free, and delicious!
The pasta is best eaten right out of the oven so grab a bowl, put on the Great Pumpkin Charlie Brown, and dig in!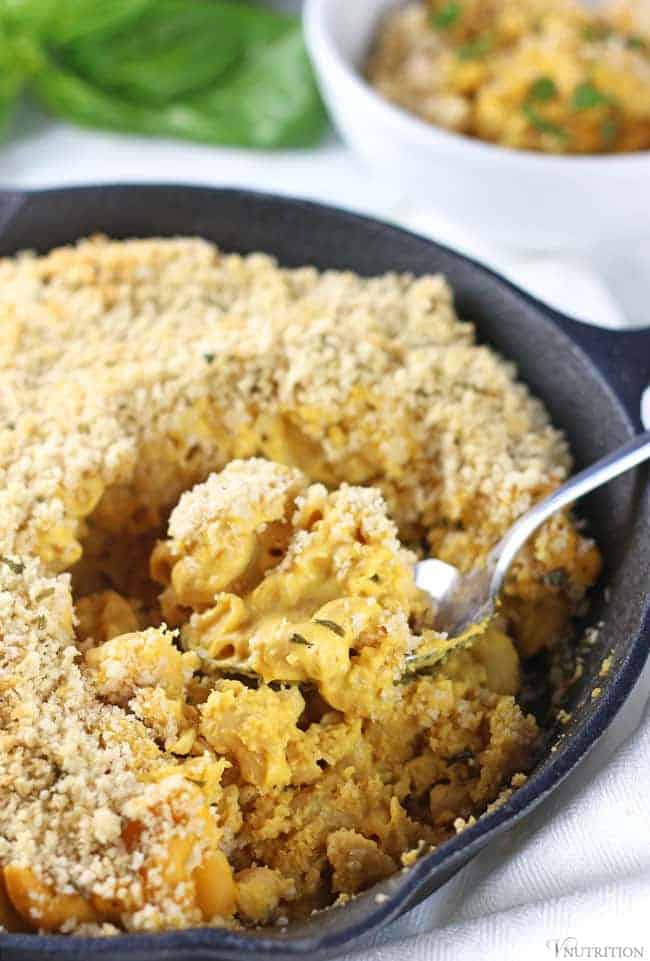 Okay if you really need a few more reasons to try this bake vegan Pumpkin Mac and Cheese (and I doubt you do), here they are:
it's healthier than regular mac and cheese
it's not overly pumpkin flavored so those that aren't pumpkin-crazy will like it too
it's kid-friendly
it would be a great dish for Thanksgiving
pumpkin is high in vitamin A
it's gluten & dairy-free
it's vegan pumpkin mac and cheese! who doesn't want that!?
Meal Prep Tip: Bake the pumpkin the weekend before so it's ready to go when you're making this mac and cheese!
Be sure to check out my other vegan pumpkin recipes if you can't get enough pumpkin!
If you make this recipe and LOVE IT, please give it 5 stars ⭐⭐⭐⭐⭐!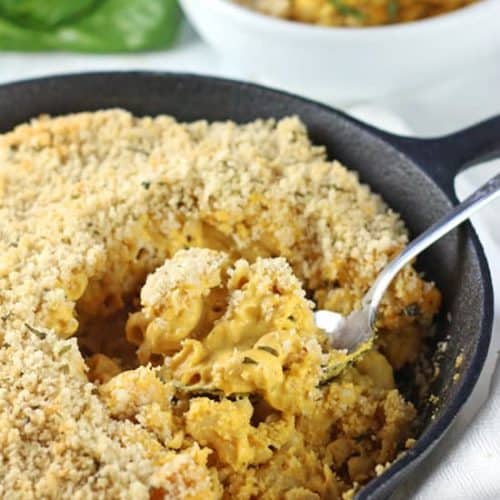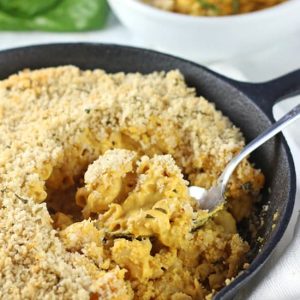 Vegan Pumpkin Mac and Cheese
This Baked Vegan Pumpkin Mac and Cheese is so creamy and delicious. It's the perfect comfort food for fall and a great dish for the holidays.
Instructions
Preheat oven to 350 degree

Cook pasta according to package directions until al dente, then rinse.

Meanwhile, add cashews and water and blend in a high-speed blender*.

Add rest of sauce ingredients to a blender and blend until smooth.

Add pasta and sauce to oven safe pan or casserole dish.

Bake for 20 minutes or until breadcrumb topping is browned.
Notes
* I use a high speed blender like a Vitamix when blending the cashews.
Nutrition
Calories:
362
kcal
Carbohydrates:
48
g
Protein:
21
g
Fat:
36
g
Vitamin A:
7300
IU
Vitamin C:
5
mg
Calcium:
120
mg
Iron:
6.3
mg
Please Note: The nutritional information is a computer generated estimate so these numbers should be used only as a guide.
Tried this recipe? Let me know + share it!
Leave a comment and ⭐ rating below so I know you enjoyed the recipe! Tag @v.nutrition on Instagram with the hashtag #vnutritionandwellness so I can feature you!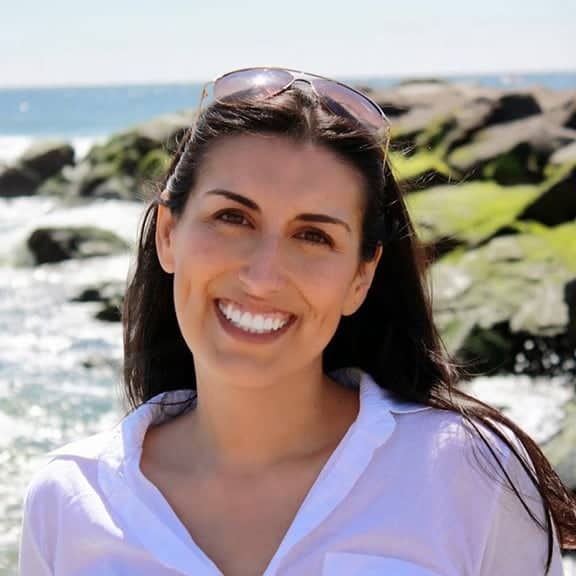 Mary Ellen Valverde MS, CNS, LDN is a Licensed Nutritionist and Certified Nutrition Specialist who empowers vegans to feel confident in creating sustainable habits that align with their values and health goals. She shares easy gluten-free plant-powered food to nourish your body + satisfy your tastebuds. Mary Ellen's recipes and nutrition info have been featured on Yahoo News, Parade, VegNews, LIVESTRONG, Dr. Axe, Greatist, LIVEKINDLY, Brit+Co, Well+Good, and more.