Today I'm going to share my vegan travels through Berlin and Potsdam – the first part of my European Adventure. For some idea of what to pack to eat while traveling, check out my Vegan Travel: What I Bring to Eat post. You can find the second part of my trip in my
You can find the second part of my trip in my Vegan Viking River Cruising: The Elbe post and the third part in my Vegan River Cruising: Czech Republic & Prague post.
Airport/Plane
First up is the airport! Many people hate hanging around the airport but Matt and I don't mind it much (as least when going to our destination – it's a whole other story going home when we're tired lol). I like relaxing with a drink and then checking out what vegan options there are avialable in our terminal. Our home airport is Newark, NJ and I was happily surprised with what I found.
First, we had some rose wine at one of the little bars to relax and talk about how excited we were for our trip. Next I did a little walk to a few stores to see what kind of vegan options they had. I was excited to see that at Cibo Express the vegan options were clearly listed. I bought a mushroom wrap for Matt and I to split as we probably wouldn't get our meal on the plane for a few more hours.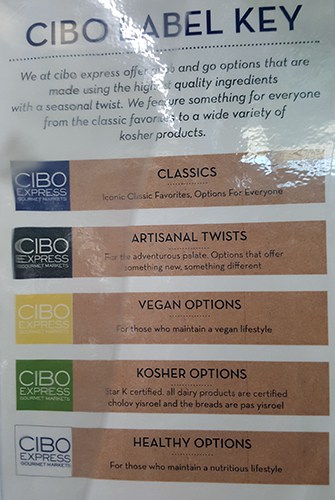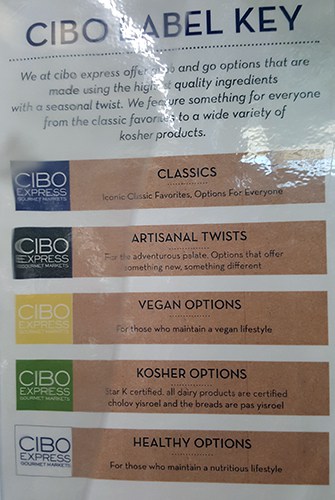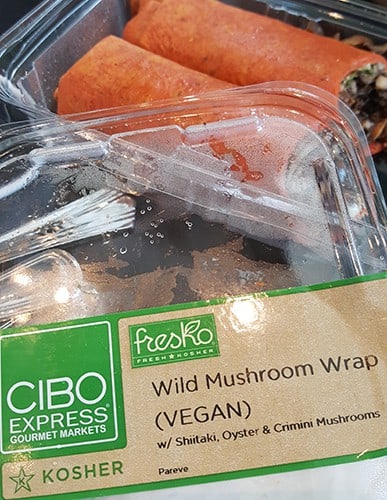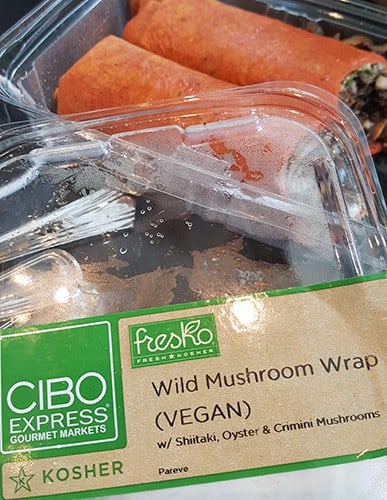 I had to order my vegan meal in advance from United (be sure to do that online when you're traveling to make sure you get something to eat). On the flight our vegan meals were delivered before anyone else's (which was awesome). They gave us an Indian inspired dish of rice, chickpeas and some curried veggies along with a farro salad. I was pleasantly surprised how tasty everything was.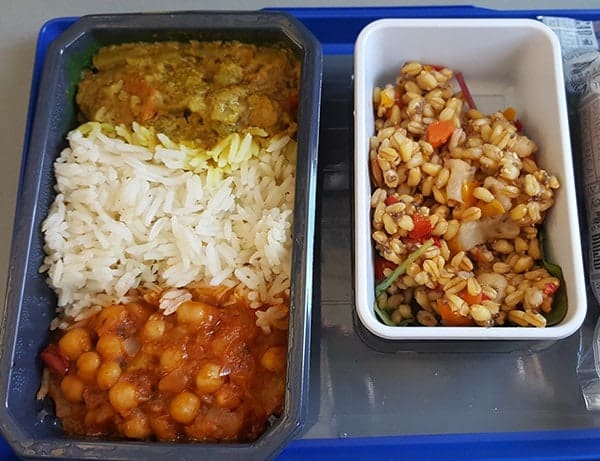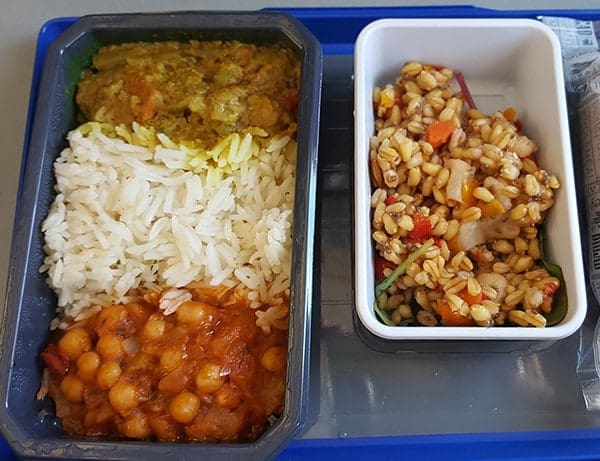 Berlin
Matt and I have traveled to Germany a few times before but have never been to the capital city. I heard that Berlin was the "vegan capital of Europe" so I had high hopes for finding lots of food. We only had one full day in Berlin so we wanted to make the most of it. After a little nap at our hotel (we stayed at the Grand Hyatt which I highly recommend) we headed out to see the city. Checkpoint Charlie was our first destination as it wasn't too far away.
I really wanted to find a Veganz grocery store to get a few snacks for the ship so that was our next stop. Luckily the Veganz we found was located in a little marketplace (Marheineke Markthalle) that had a vegan restaurant called Goodies because I was starting to get a little hangry. Any time I find a full vegan place to eat I go a little overboard. Matt had to slow me down a bit so I didn't order the whole menu. We ended up getting a tofu Caesar wrap, a bbq pretzel bagel, and some kind of Asian veggie stick. Everything was so tasty!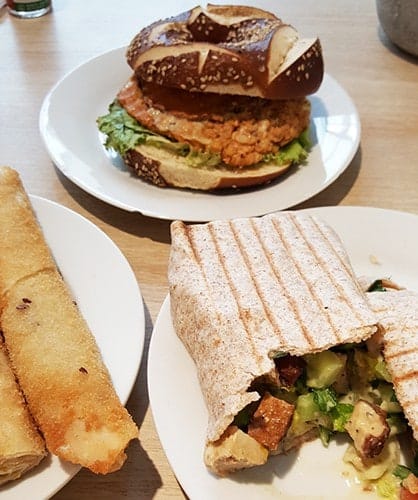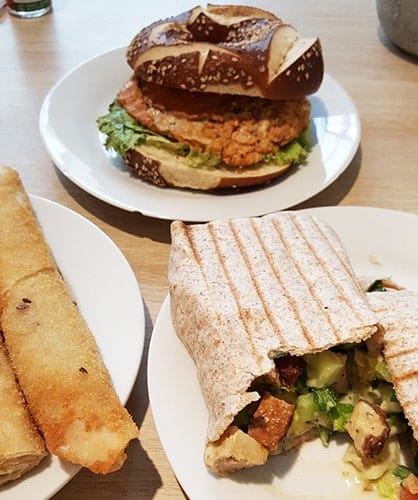 Veganz did not disappoint. Everything there was vegan and cruelty-free – my dream store! Again, Matt had to hold me back but I did get a few things that I thought would be good snacks for the rest of the trip and a few things I could take home to use to remind me of Veganz.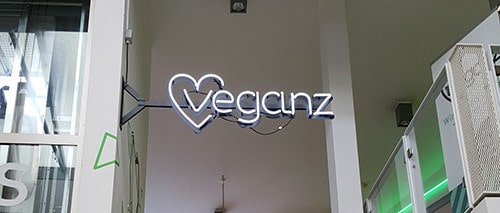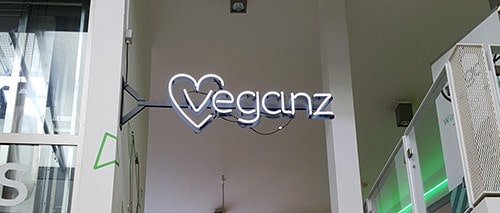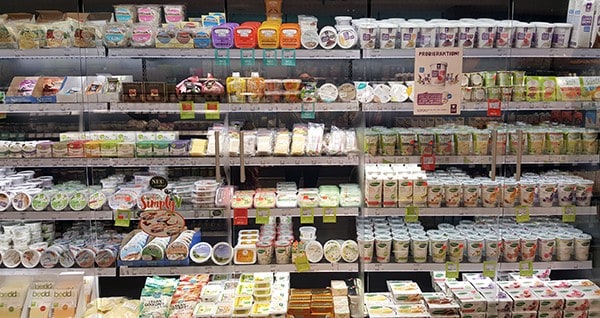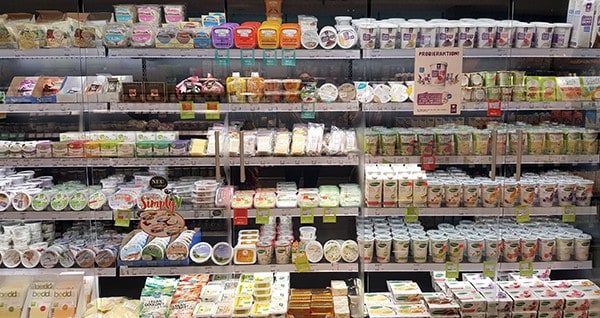 Refrigerated section – come to me vegan cheeses!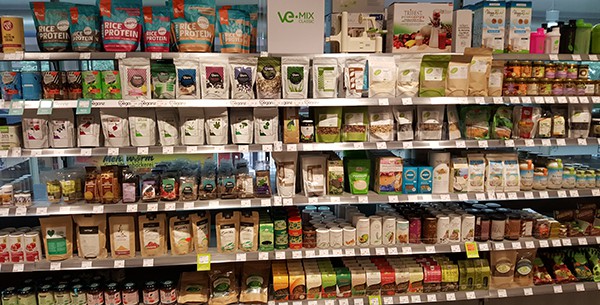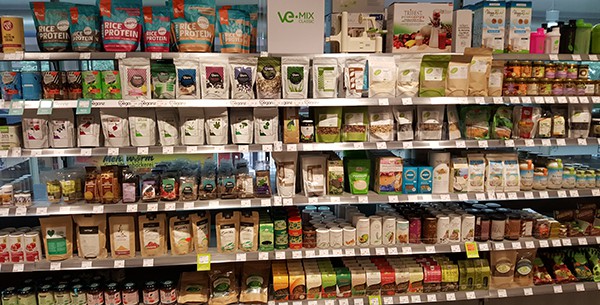 Really cool stuff – I had to stop myself!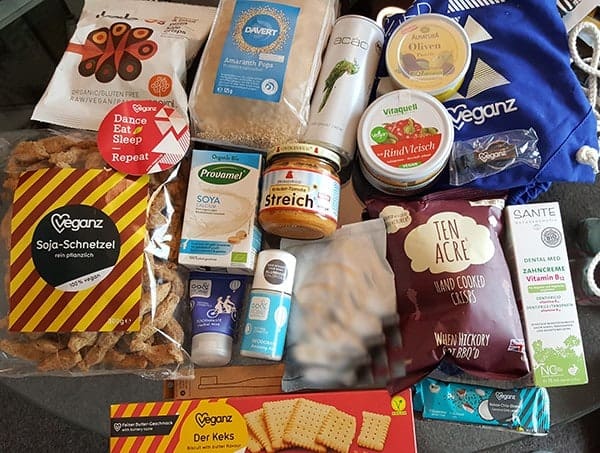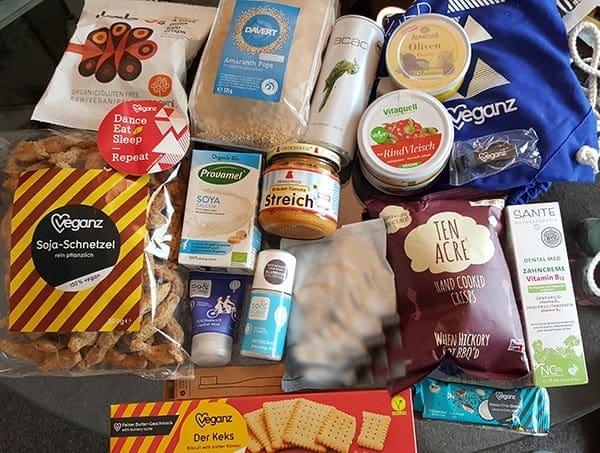 My haul – love the "cheesey" spreads and can't wait to try the vegan schnetzel!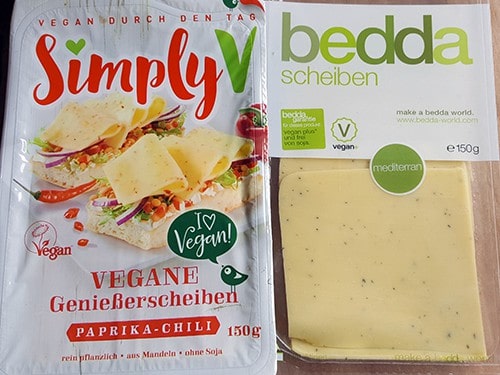 And of course I got some cheese (our ship kept it in their fridge for me!)
After heading back to the hotel for another little nap (we were really tired from all that walking and travel), we went out to see the Brandenburg Gate. It was just as amazing and thought-provoking as I thought it would be.
We were so tired after all of our walking that we stayed local for dinner (even though there were so many vegan restaurants I wanted to try). Right across the street from our hotel there was a sort of little lake/water area with tables from a few restaurants next to it. I thought that would be a lovely place for dinner (I've been throwing around the word lovely lately and have been into it).
One of the restaurants had a few vegan options (yeah Berlin!) and I decided to go with the green tofu curry. I loved it so much I think I'm going to try to recreate it for the blog soon!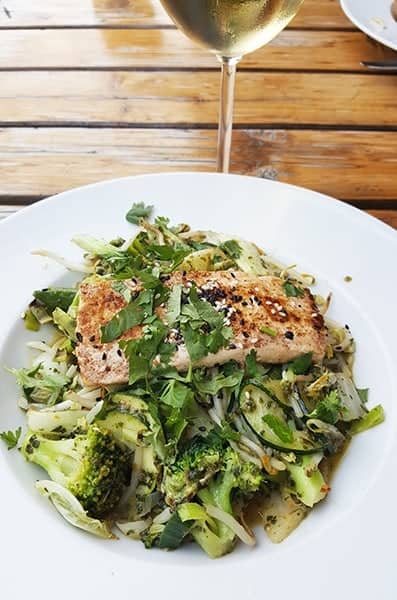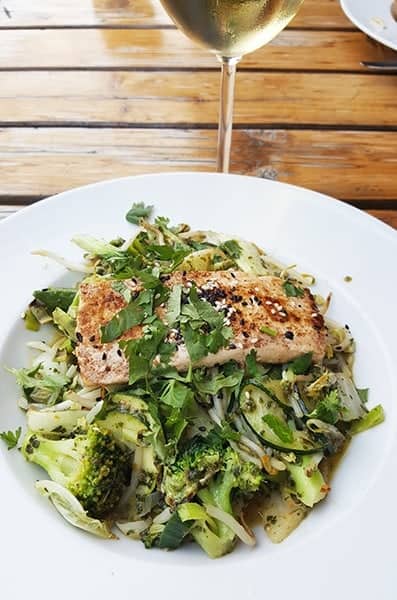 And that was our whirlwind day in Berlin! Here are a few other pictures that we took.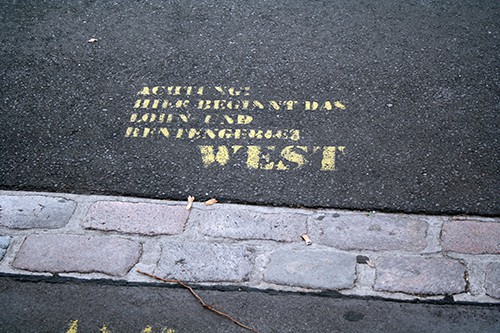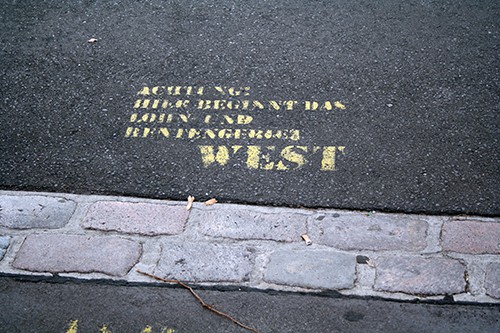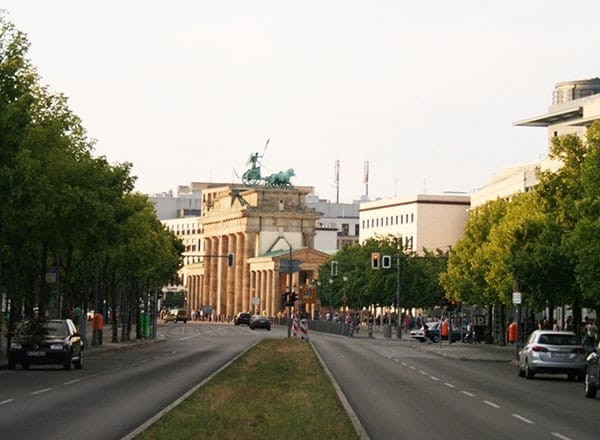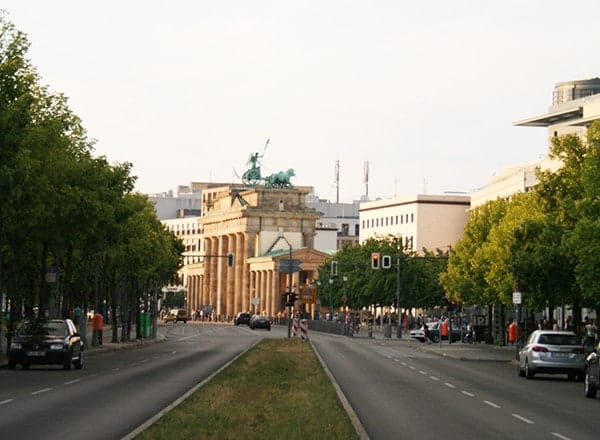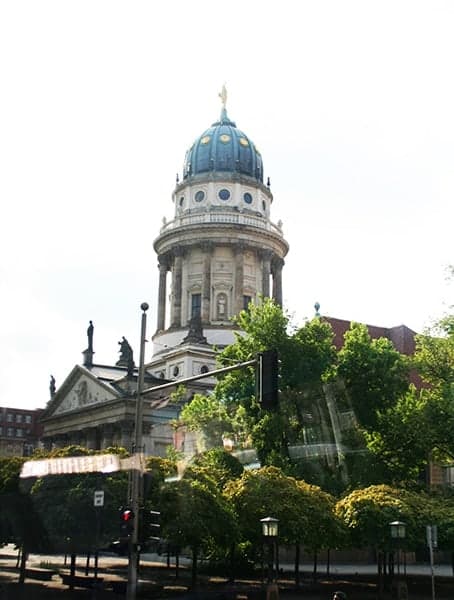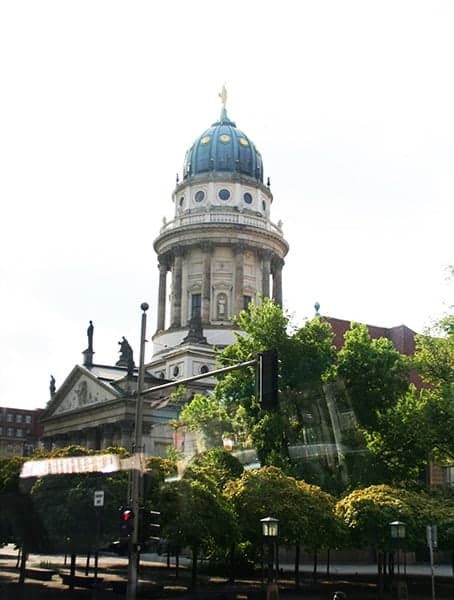 Breakfast the next morning was great. I had bought some soy milk for breakfast but as you can see (at left called soja), they had some ! Plus lots of cereal and fruit for me!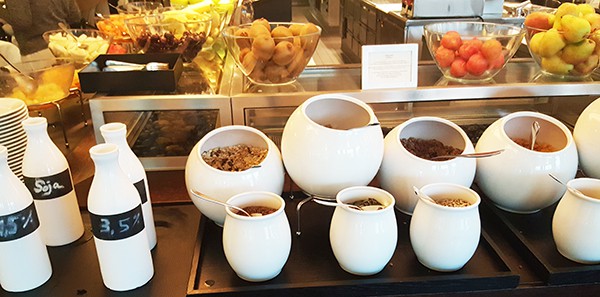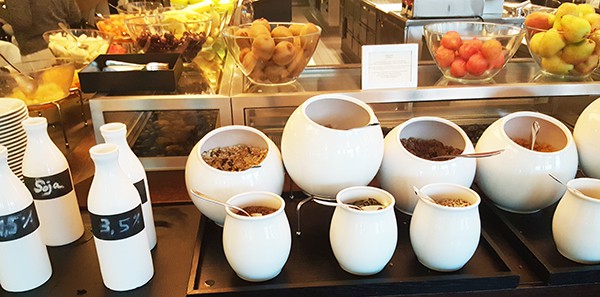 A bear is Berlin's mascot and there was so many differently decorated bears like this across the city. I wish I was able to take pictures of more of them. This one in our hotel lobby was a pretty silver but lots of others were themed with flowers or dressed as waiters etc.
After breakfast, we left Berlin and headed to Potsdam. We stopped on the way to visit the Glienicke aka "Spy" Bridge and Sanssouci Palace.
This bridge was the border between West Berlin and East Germany and used to exchange captured spies and thus became known as the Bridge of Spies.
Sancucci Palace is the former summer palace of Frederick the Great, King of Prussia.
The palace grounds were so pretty!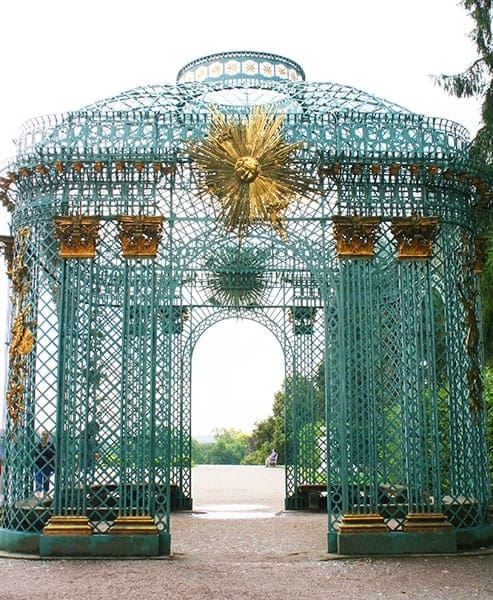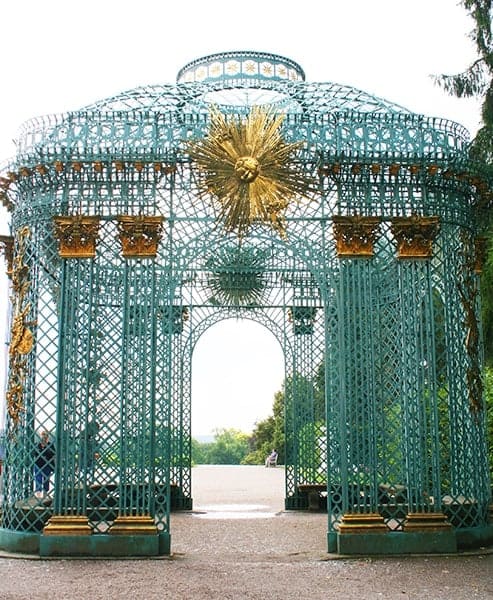 Then it was on to Potsdam. I hadn't heard too much about Potsdam before visiting but the city was so nice and quaint with lots streets and lanes of restaurants and shops. Here's Matt taking it all in.
And we found a little marketplace that sold all sorts of fruit, veggies, and flowers.

For lunch we were on our own so I was excited to find a veggie restaurant on Happy Cow. Unfortunately it was closed… but fortunately I saw a little grab and go kind of place that had vegan signs in the window. I chose a vegan schnitzel sandwich and Matt got a sun dried tomato one. Both were really good and the whole lunch (including drinks) was like 8 euro (so less than $9).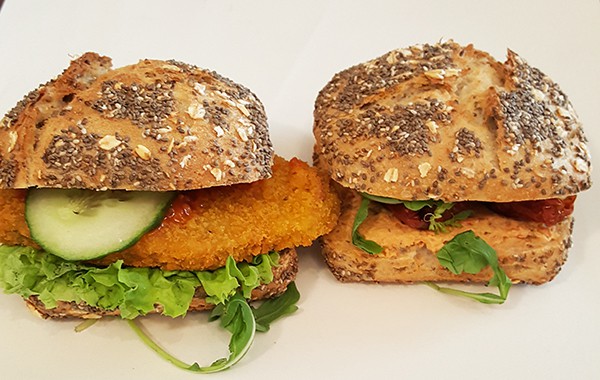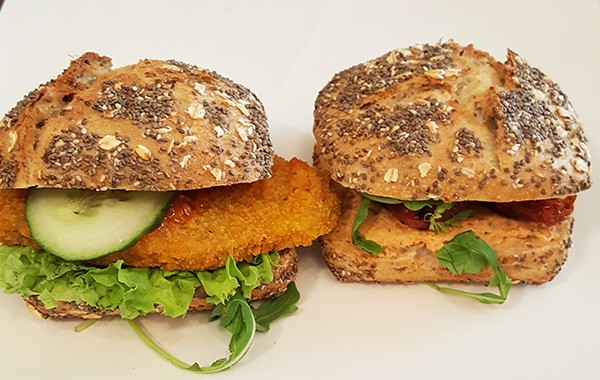 Right after this picture was taken I left my good Cannon camera in the eatery. I didn't notice till after we left Potsdam. Needless to say, I was very upset. After making a fool of myself for a while, my camera was actually found! One of the buses from our tour was staying later in Potsdam and was able to run back for my camera. My gratitude to all those that helped me get it back!
So that's basically the first part of my trip!
See part two of my vegan travel adventures in my Vegan Viking Cruising: The Elbe post!
You may also like….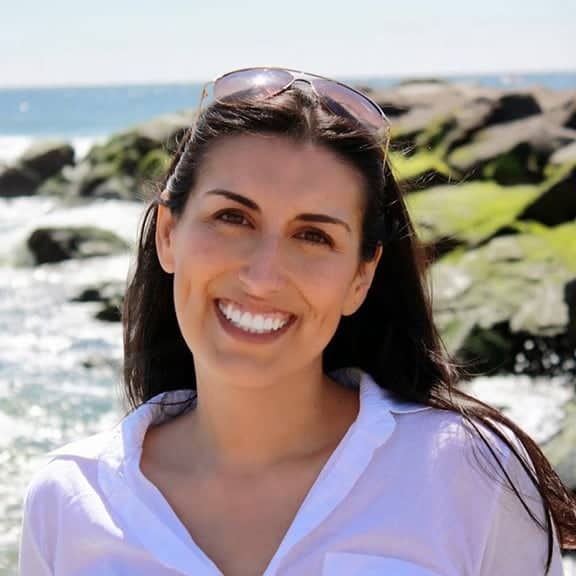 Mary Ellen Valverde MS, CNS, LDN is a Licensed Nutritionist and Certified Nutrition Specialist who empowers vegans to feel confident in creating sustainable habits that align with their values and health goals. She shares easy gluten-free plant-powered food to nourish your body + satisfy your tastebuds. Mary Ellen's recipes and nutrition info have been featured on Yahoo News, Parade, VegNews, LIVESTRONG, Dr. Axe, Greatist, LIVEKINDLY, Brit+Co, Well+Good, and more.