These walnut meat tacos are a great alternative to beef and pack a punch of protein. They are so easy to make and the walnut taco meat is so tasty that even omnivores will want second helpings!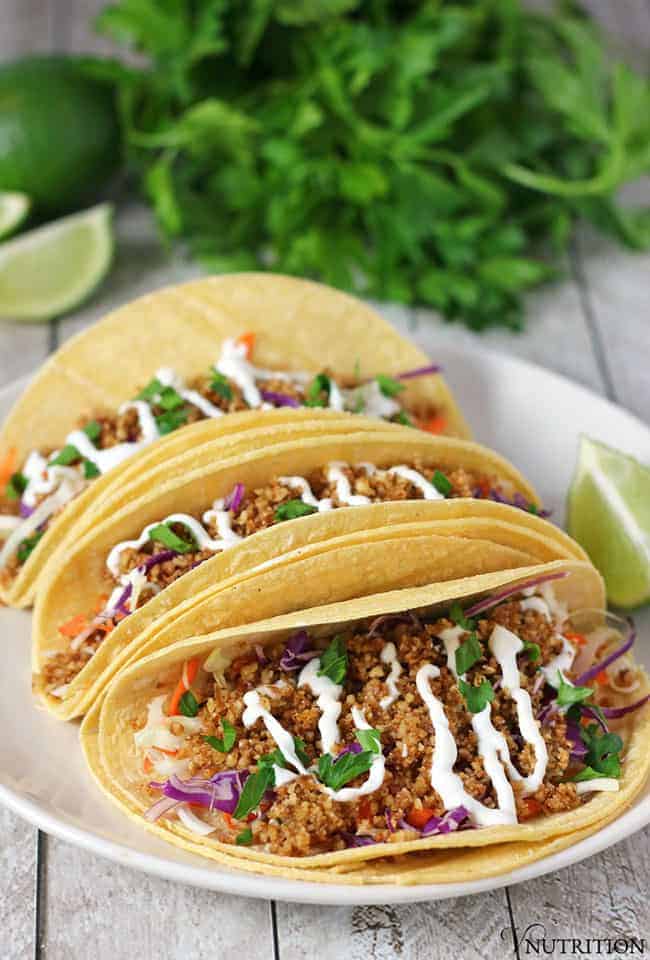 Growing up I didn't try many new foods. I was never that into meat, especially ground meat which is found in most tacos, so I never really cared about trying tacos.
I didn't realize there was a whole world of non-meat tacos for me to try. Now that I know, I have made so many different tacos like my teriyaki tempeh tacos, breakfast tacos, and buffalo chickpea tacos to name a few).
I love making tacos because they are so easy. Most of the time you can prep the walnut taco meat filling and toppings. That way dinner is easy to get on the table.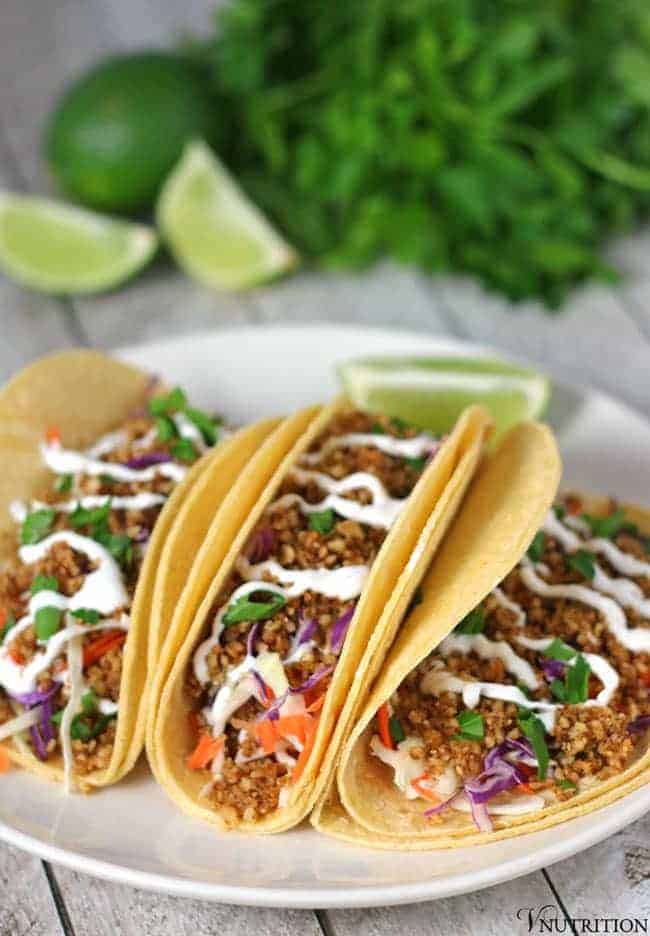 Now that my mind has been opened to the goodness of tacos, I wanted to recreate a vegan version for myself that I could have on Taco Tuesdays.
Although I eat soy a few times a week, I decided to switch things up and create a vegan meat alternative for those that are not into tofu.
I was thinking of doing lentils but I ran out last weekend (mental note to get some) so after fishing around my cabinets, I found some walnuts. I've ground walnuts before for tart/pie bases and it looks sort of like meat so I figured I'd go with it.
Turns out, walnuts make a tasty meat alternative! I love my walnut meat tacos and have been sharing them with everyone lately.
How to Make Walnut Meat
Step 1: Add ingredients to a food processor. Add walnuts, garlic powder, cumin, chili powder, and tamari to a food processor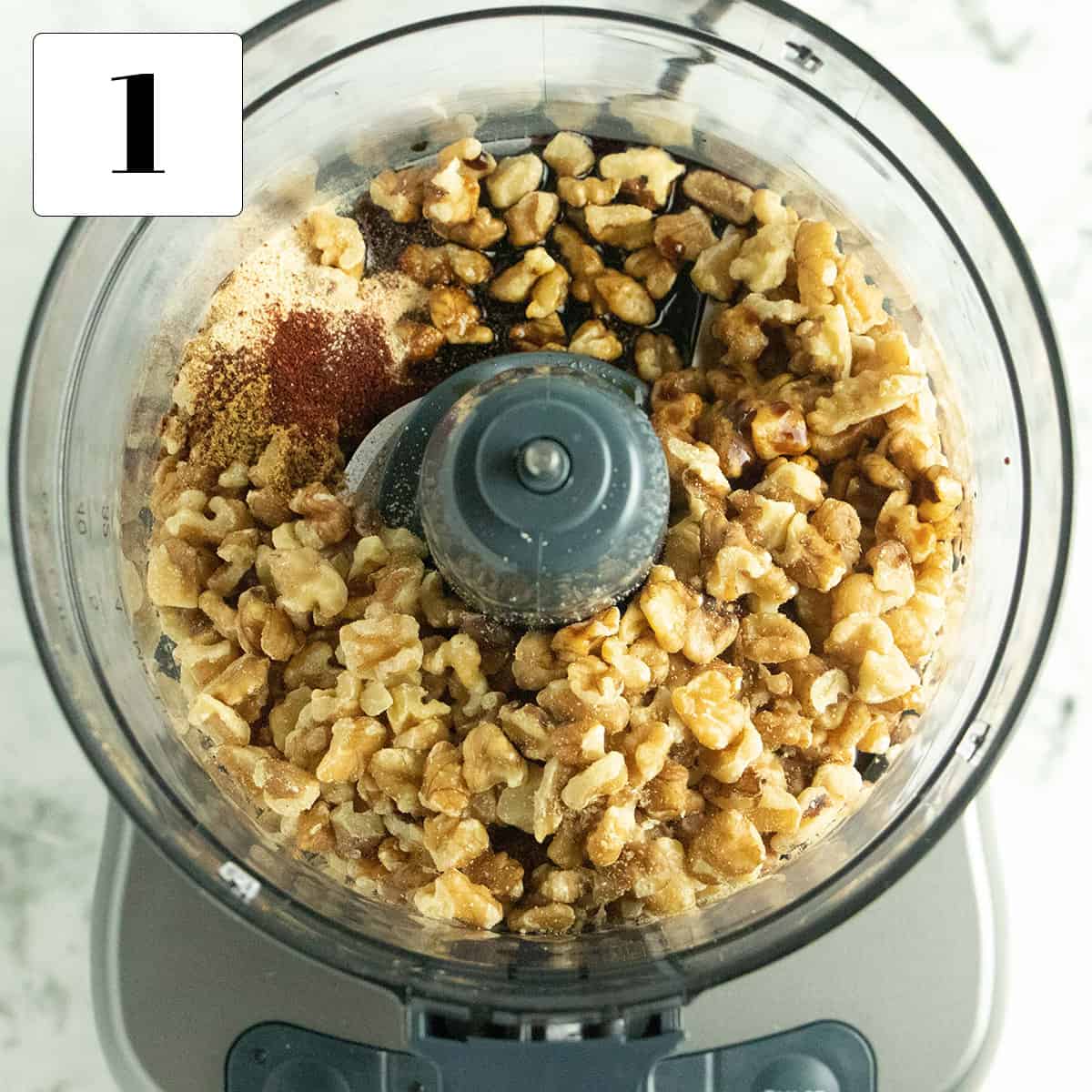 Step 2: Chop. Process the walnut mixture until it is chopped finely but not pureed.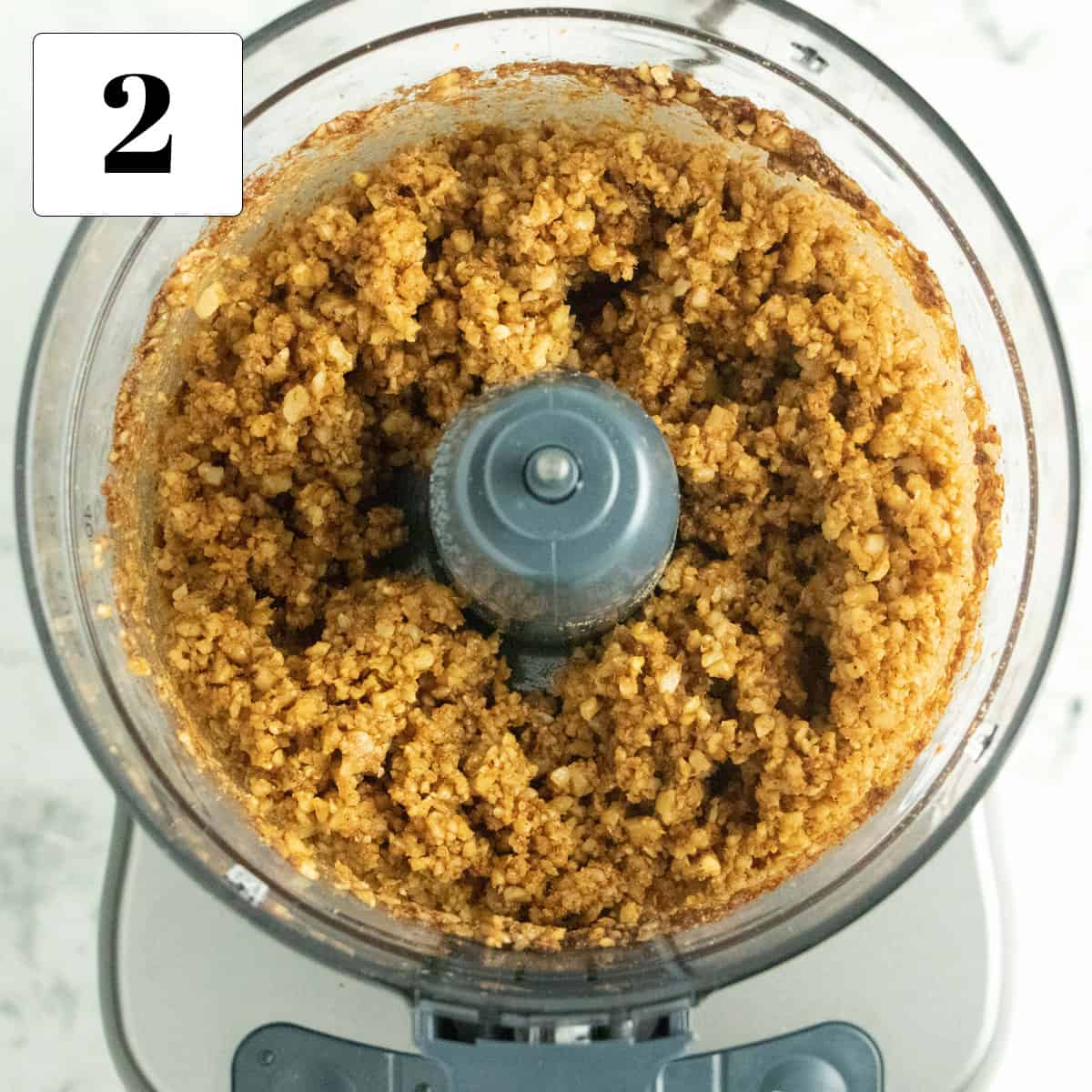 Step 3: Make Cashew Lime Sour Cream. Add all the ingredients for the sour cream to a high-speed blender and blend until smooth.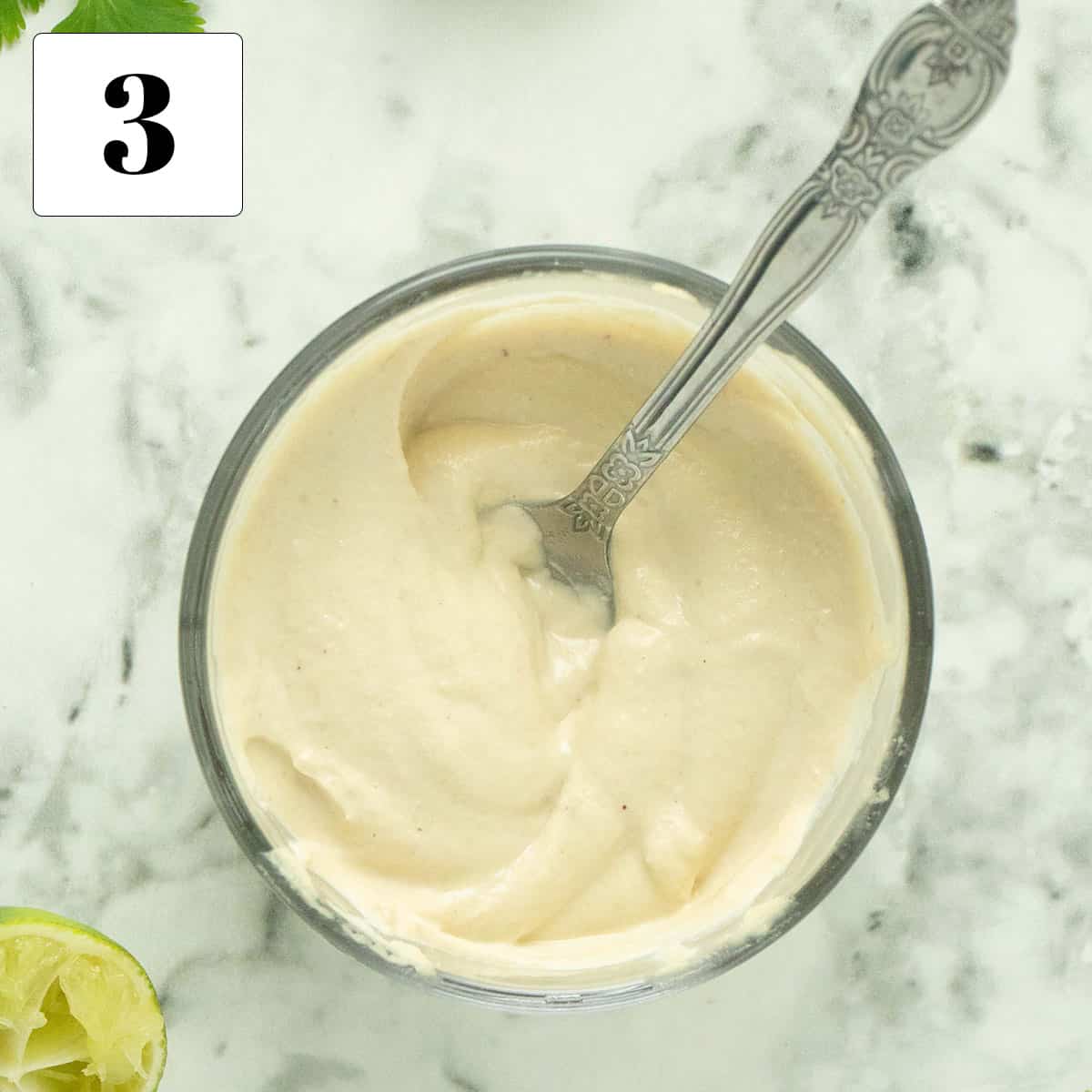 Step 4: Fill Tacos. Add the walnut meat to the tacos and top with toppings of choice.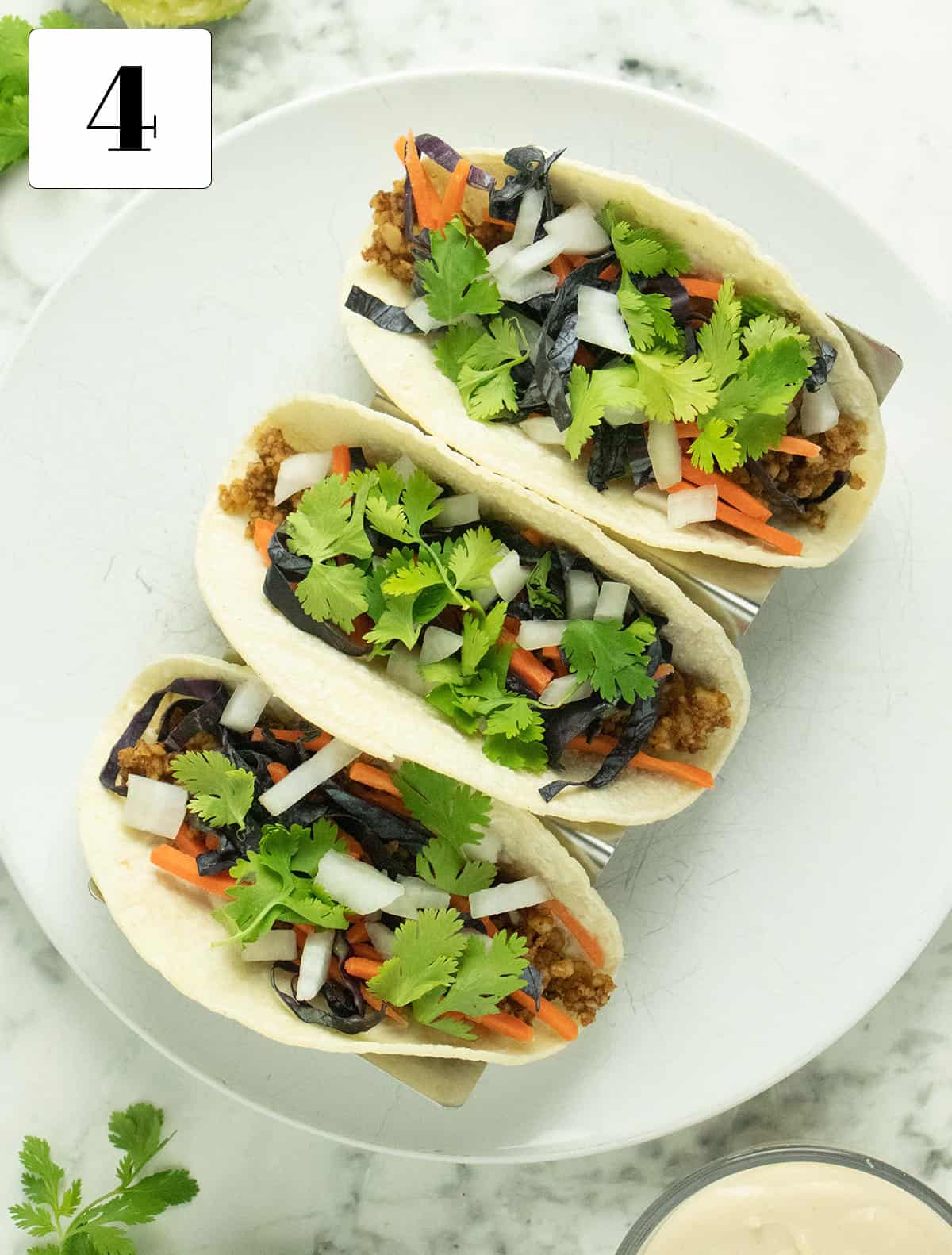 Step 5: Add the vegan sour cream. Dollop on that tasty sour cream and enjoy!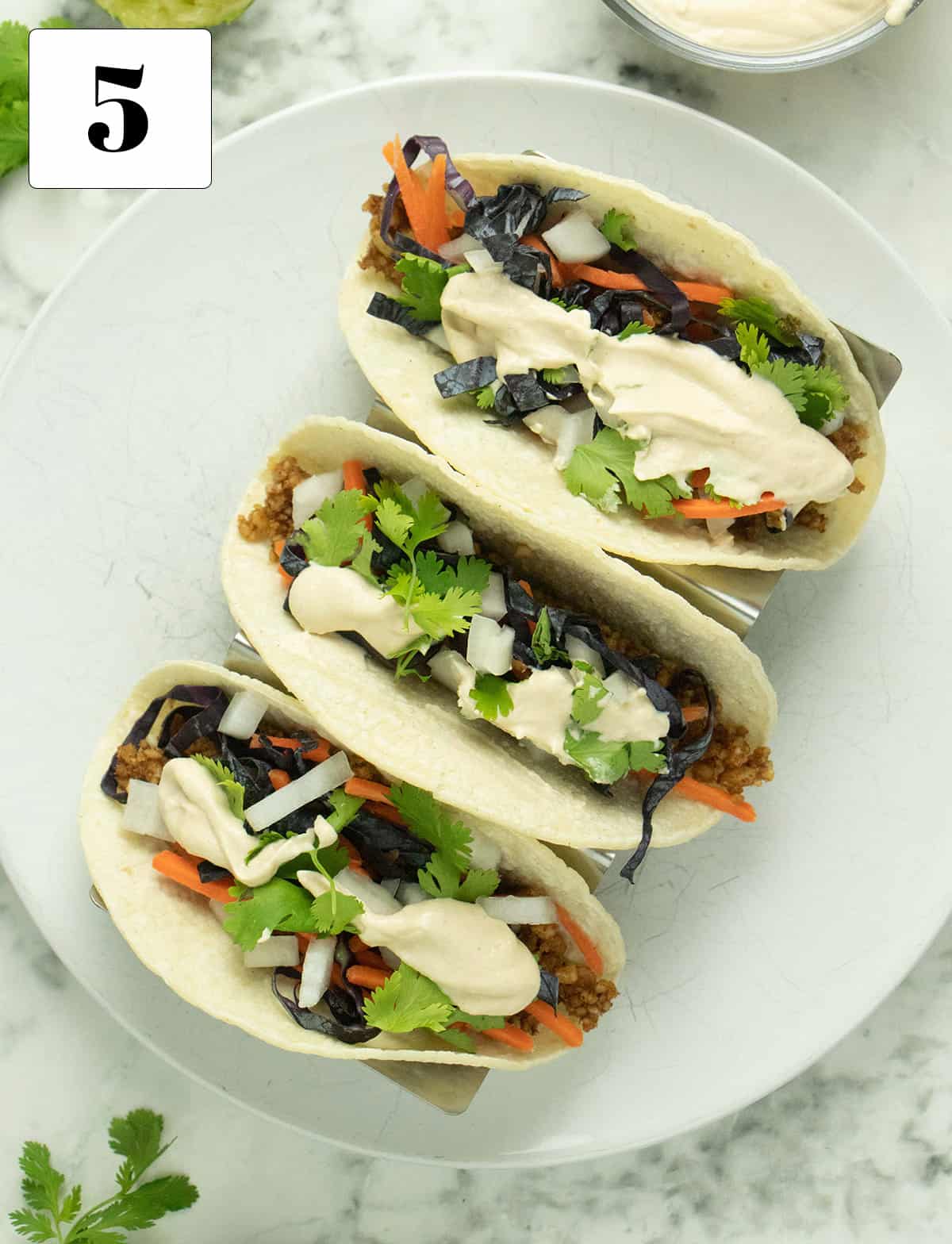 Does the Walnut filling really taste good?
Short answer – yes! I have made these countless times and every time I get so many compliments. My omnivore cousin really loves these and now makes them for herself.
I think the trick to making the walnut meat extra delicious is the seasoning. The cumin, chili powder, and tamari give the walnut filling a sort of "meaty" flavor (without any meat).
Walnut meat can be used in these tacos but I've also used them in my Walnut Meat Vegan Taco Wraps.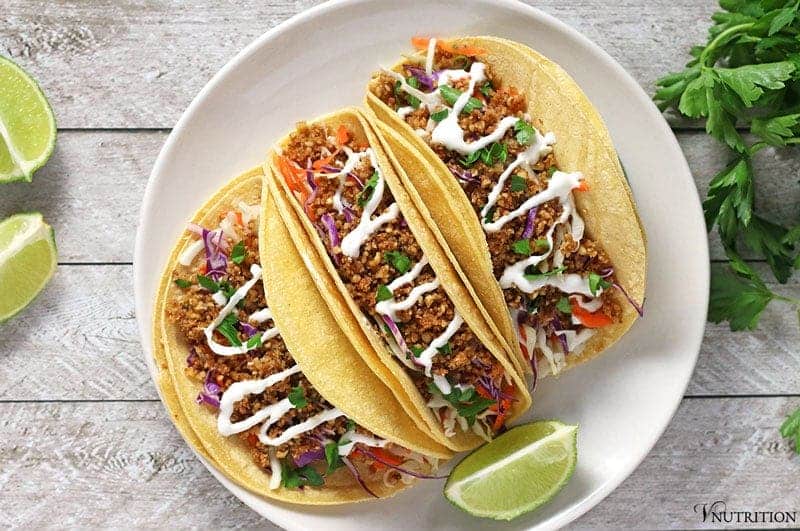 Walnut Nutrition
Nutritionally walnuts offer us healthy fat (including omega-3 fatty acids). Fatty Acids are the main component of our cell membranes. Omega 3s can also have a beneficial effect on cardiovascular disease and depression.
Walnuts are a great source of plant-based protein and contain vitamin B6, magnesium, and fiber.
Looking for more tasty tacos? Check out these out:
Meal Prep Tip: You can pre-make the walnut taco meat a few days before so they can be made in minutes when you have a hectic day!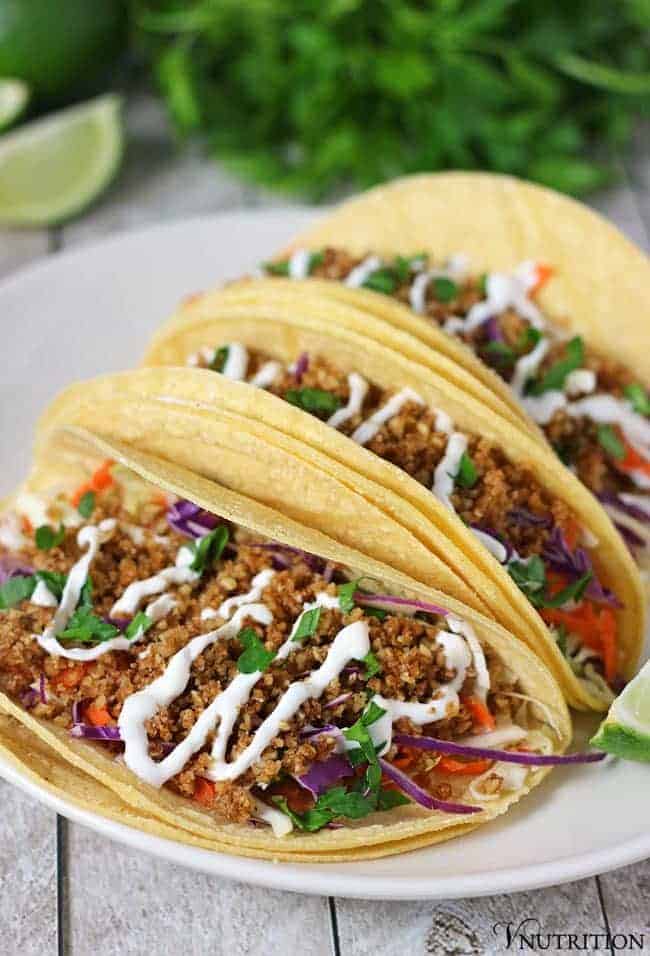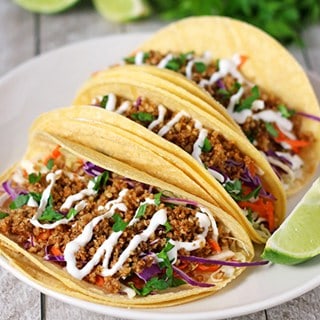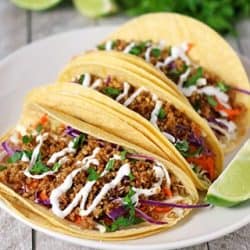 Walnut Meat Tacos
These walnut meat tacos are a great alternative to beef and packs a punch of protein!
Ingredients
WALNUT TACOS
1.5

cups

de-shelled walnuts

1

tsp

garlic powder

½

tsp

cumin

½

tsp

chili powder

1

Tb

tamari

( can use soy sauce if not gf or coconut aminos if you do not do soy)

6

Taco shells

(I used organic & gluten-free)
Toppings
1

cup

carrots

chopped

1

cup

red cabbage

chopped

1/4-1/2

cup

onion

chopped

cilantro

chopped
LIME CASHEW SOUR CREAM
1

Cup

cashews soaked overnight

(or soaked at least 10 mins in boiling water)

1/3-1/2

cup

water

(and more if needed)

2

Tb

lime juice

1

TB

apple cider vinegar

Pinch of salt
Instructions
Add walnuts, garlic powder, cumin, chili powder, and tamari to a food processor and process until mixture is chopped finely but not pureed.

Fill taco shells with walnut mixture and top with toppings of choice.

To make the lime cashew sour cream put all the ingredients in a high-speed blender and blend until smooth. Add more water if needed to get a sour cream consistency.

Top tacos with sour cream and enjoy!
Notes
Walnut meat and sour cream will last in the fridge for about a week.
Nutrition info includes 1 taco shell per taco and 1 TB of cilantro sour cream.
Nutrition
Calories:
333.1
kcal
Carbohydrates:
19.4
g
Protein:
8.3
g
Fat:
22.7
g
Fiber:
4.5
g
Vitamin A:
8115
IU
Vitamin C:
18.6
mg
Calcium:
47
mg
Iron:
1.3
mg
Please Note: The nutritional information is a computer generated estimate so these numbers should be used only as a guide.
Tried this recipe? Let me know + share it!
Leave a comment and ⭐ rating below so I know you enjoyed the recipe! Tag @v.nutrition on Instagram with the hashtag #vnutritionandwellness so I can feature you!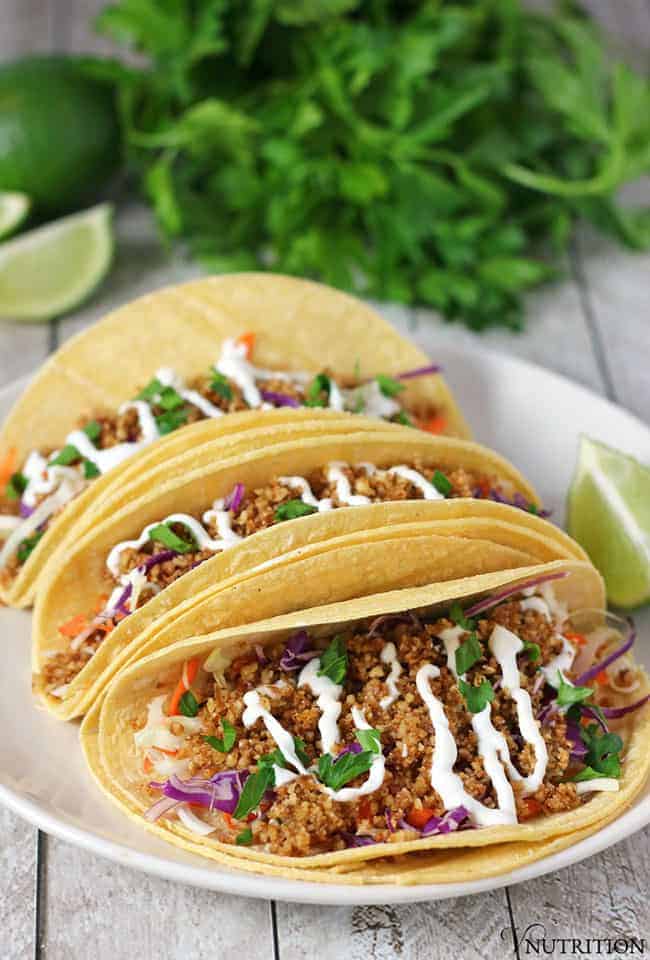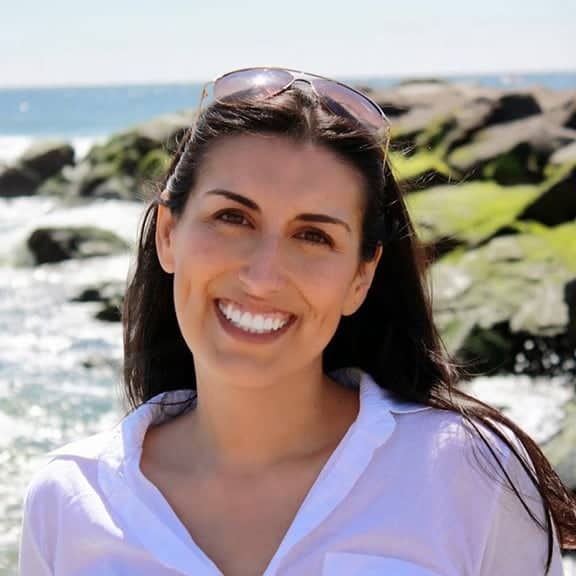 Mary Ellen Valverde MS, CNS, LDN is a Licensed Nutritionist and Certified Nutrition Specialist who empowers vegans to feel confident in creating sustainable habits that align with their values and health goals. She shares easy plant-powered food to nourish your body + satisfy your tastebuds. Mary Ellen's recipes and nutrition info have been featured on Yahoo News, Parade, VegNews, LIVESTRONG, Dr. Axe, Greatist, LIVEKINDLY, Brit+Co, Well+Good, and more.