This raw, vegan walnut meat for tacos is a yummy, healthy alternative to Tex Mex beef that still packs a punch of protein. It's ridiculously easy to make and are so tasty that even omnivores will want second helpings!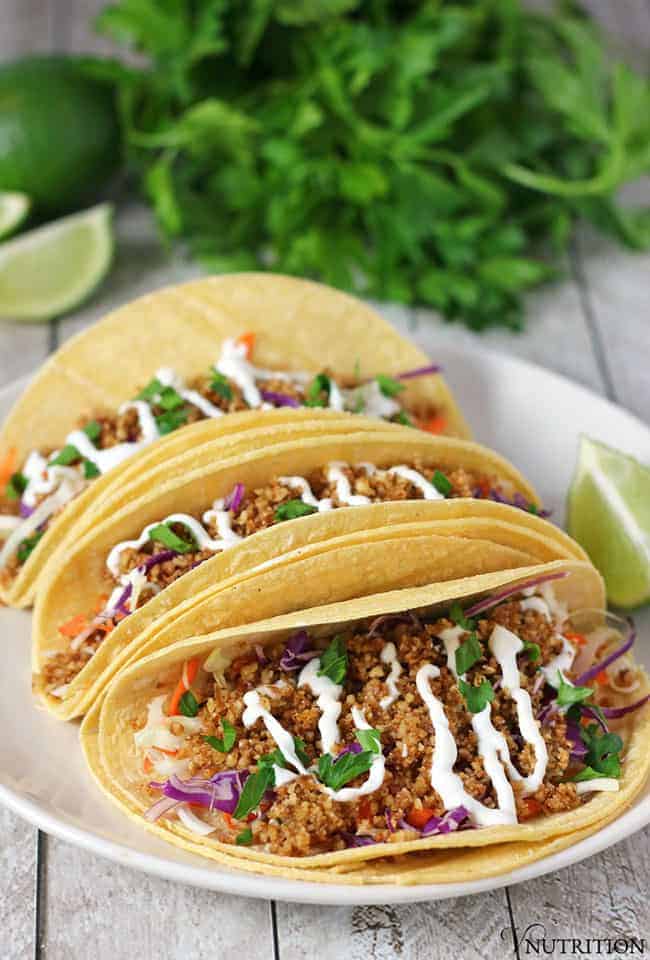 As a vegan convert, I am still astounded at how some plant-based foods can mimic animal products so closely. This vegan walnut meat is one of those crazy, trippy swaps that I never would've thought of before going vegan. Especially considering that you don't have to cook anything to make them!
How Can Walnuts Turn Into Meat?
The nuts are blitzed in a food processor until they are in small pieces. When combined with some spices and seasonings, the walnuts magically transform into something that honest-to-goodness actually tastes like taco meat!
If you've been having a hankering for some Tex-Mex but haven't known how to scratch your itch, THIS is the recipe you need in your life. My walnut taco "meat" is incredibly versatile, super delicious, and packed with healthy fats and protein to keep you full.
Once you make a batch of this vegan meatless ground "beef," you can use it in tacos (obviously), but also in burritos, buddha bowls, nachos, or Walnut Meat Vegan Taco Wraps. You can even stir it into a batch of my vegan queso for a plant-based choriqueso that's sure to bring the house down!
Still on a taco kick? Check out my teriyaki tempeh tacos, breakfast tacos, and buffalo chickpea tacos for your next Taco Tuesday menu.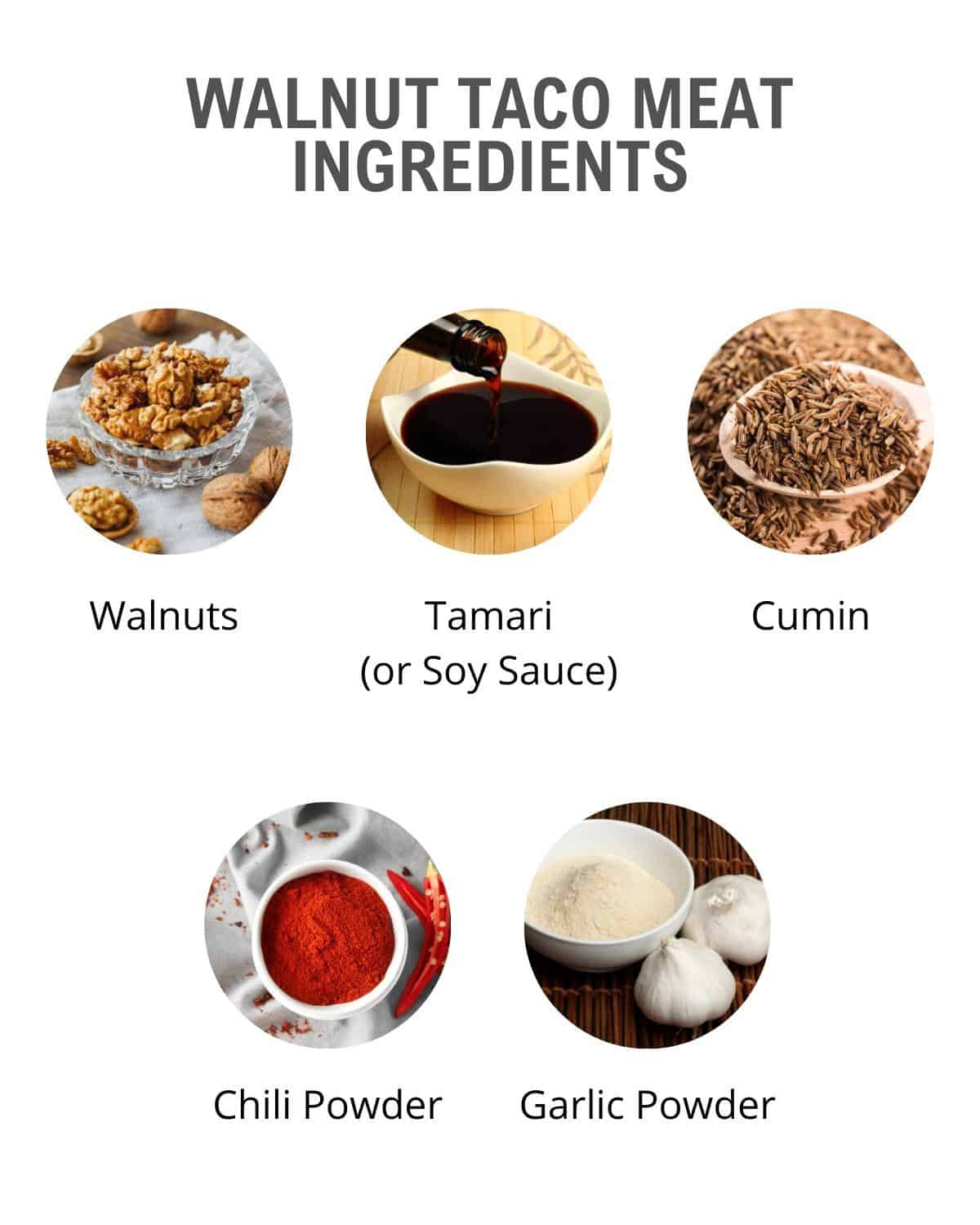 What's in Walnut Taco Meat?
Making vegan walnut meat for tacos is incredibly easy, and it only takes five (5!!!) ingredients:
Walnuts – This is the base of your "meat," and I honestly haven't found another nut alternative. That said, feel free to save some money and buy walnut pieces rather than halves; they're going to get pulverized either way!
Garlic Powder – This is one of my favorite pantry ingredients because it adds a ton of flavor without needing to chop or peel garlic.
Cumin – You can use ground cumin here, or feel free to use cumin seeds instead. Toasting cumin seeds prior to use will release even more of the flavorful oils.
Chili Powder – Feel free to opt for something spicier like cayenne or hot smoked paprika if it's in your wheelhouse to do so.
Tamari – I try to remain gluten free, but if that isn't a concern for you, soy sauce will work just as well. If you are avoiding soy, feel free to swap in liquid aminos or coconut aminos instead.
What Else Do I Need?
Since the "meat" portion is so easy to make, there's still plenty of time to get fancy with the toppings. My secret sauce – a lime cashew "sour cream" – takes these vegan tacos over the top. You'll need:
Raw Cashews – Be sure to grab raw, unsalted cashews for your vegan pantry, and creamy goodness will never be far from reach. These can either be soaked overnight (if you planned ahead) or soaked at least 10 mins in boiling water (if you didn't).
Water – When blended with soaked raw cashews, you can have a vegan cream sauce at the ready.
Lime Juice – Fresh is generally best when it comes to citrus. To extract the most juice from your fruit, give it a firm roll on the countertop for about 10-15 seconds prior to cutting.
Apple Cider Vinegar – If possible, get the kind that still has the "mother" floating in it; you'll get the most gut-friendly probiotic boost if you do.
Salt – Seasoning is king. Don't forget to add some salt to make this really taste like sour cream!
Finally, you'll need everything to assemble your tacos. Grab your favorite tortillas (gluten-free if needed) or hard taco shells and whatever veggies sound good to you. I used carrots, cabbage, onions, and cilantro, but feel free to swap in your favorites.
Other possible veggies include: bell peppers, tomatoes, green onions, corn, zucchini, or radishes. You can also feel free to add extra fiber and protein with some refried or stewed beans.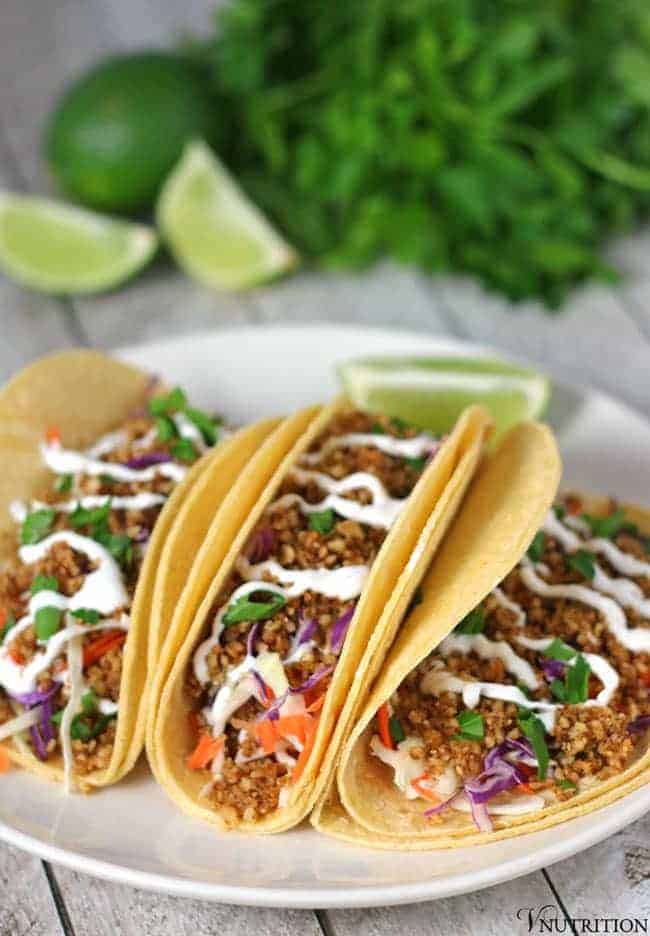 Does Raw Vegan Taco Meat Taste Good?
Short answer – yes! I have made these nut meat tacos countless times and every time I get SO MANY compliments. Even omnivores really love this dish.
I think the trick to making walnut meat extra delicious is the seasoning. The tamari gives the walnut filling a sort of umami, "meaty" flavor, and the cumin and chili powder give it all the taco vibes.
Optional Customization
If you want to make another variation on this raw vegan meat, feel free to swap in other herbs and spices. Be sure to keep the tamari in the equation no matter which variation you prefer.
Give it Italian sausage vibes with some Italian seasoning and fennel seed. You can even add in some sun-dried tomatoes in place of the soy sauce.
Get your curry on with garam masala, turmeric and ginger.
Go Mediterranean with some oregano and cinnamon. And then maybe load it into pita shells with some vegan feta?!?
Or go for a simple vegan hamburger helper flavor using just garlic and onion powder.
You can also customize the walnut meat tacos by swapping in your favorite veggies or trading out your tortillas. Here are a few ideas:
Choose soft corn or flour tortillas, or opt for hard taco shells or tostadas instead.
Swap in shredded lettuce for the cabbage.
Use some spicy salsa to amp up the Mexican vibes, or make your own pico de gallo to keep things mild.
Add some vegan cheese for a little richness.
Grab a larger wrap and stuff in some brown rice and refried beans for a vegan burrito.
The options here are pretty endless, so feel free to get as creative as you want! If you come up with any winning combos I should know about, be sure to let me know in the comments below!
How to Make Nut "Meat"
Step 1: Make the Meat. Add all the "meat" ingredients – walnuts, garlic powder, cumin, chili powder, and tamari – to a food processor.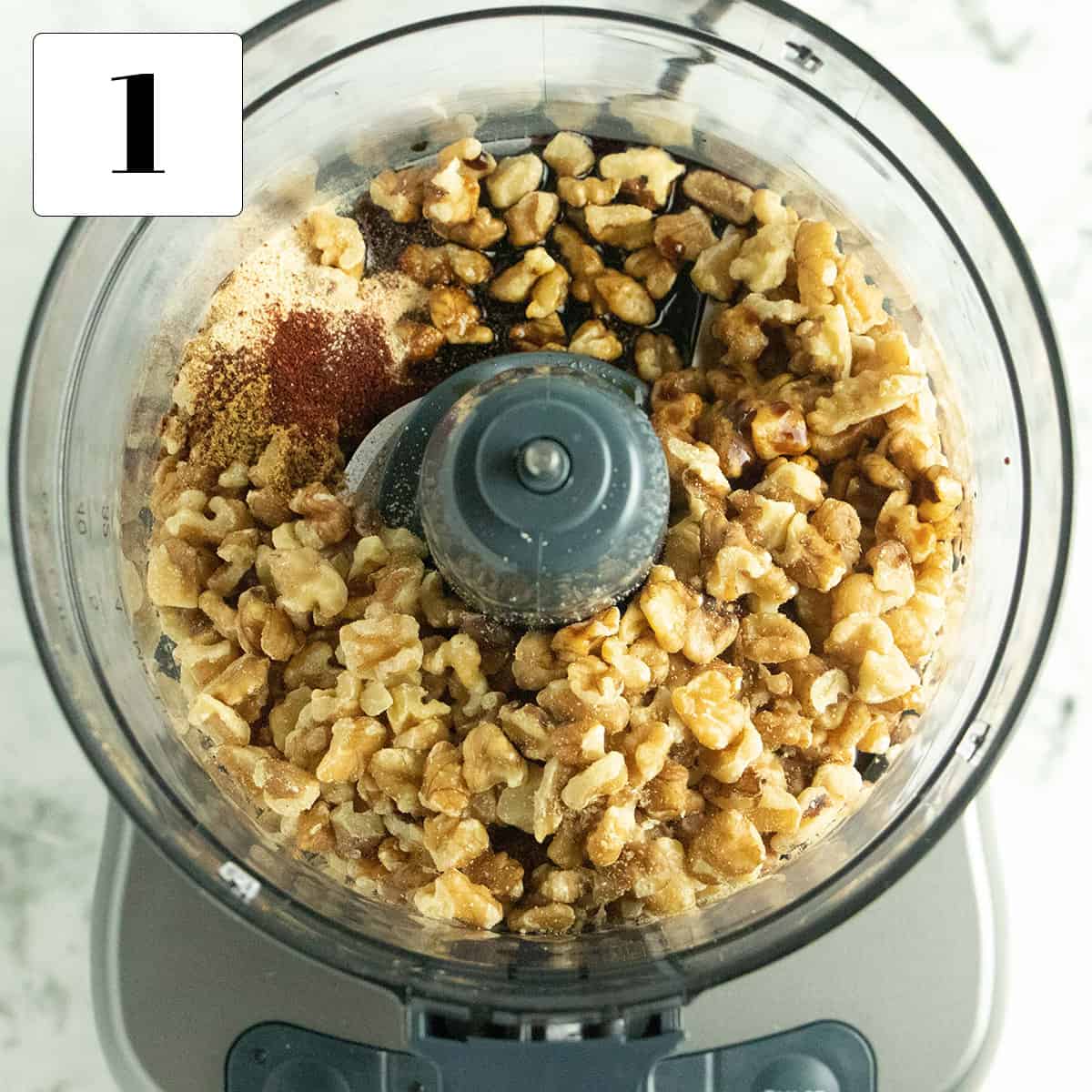 Step 2: Chop. Process the walnut mixture until it is finely chopped, but not puréed.
Meal Prep Tip: You can pre-make the walnut taco meat a few days before so they can be made in minutes when you have a hectic day!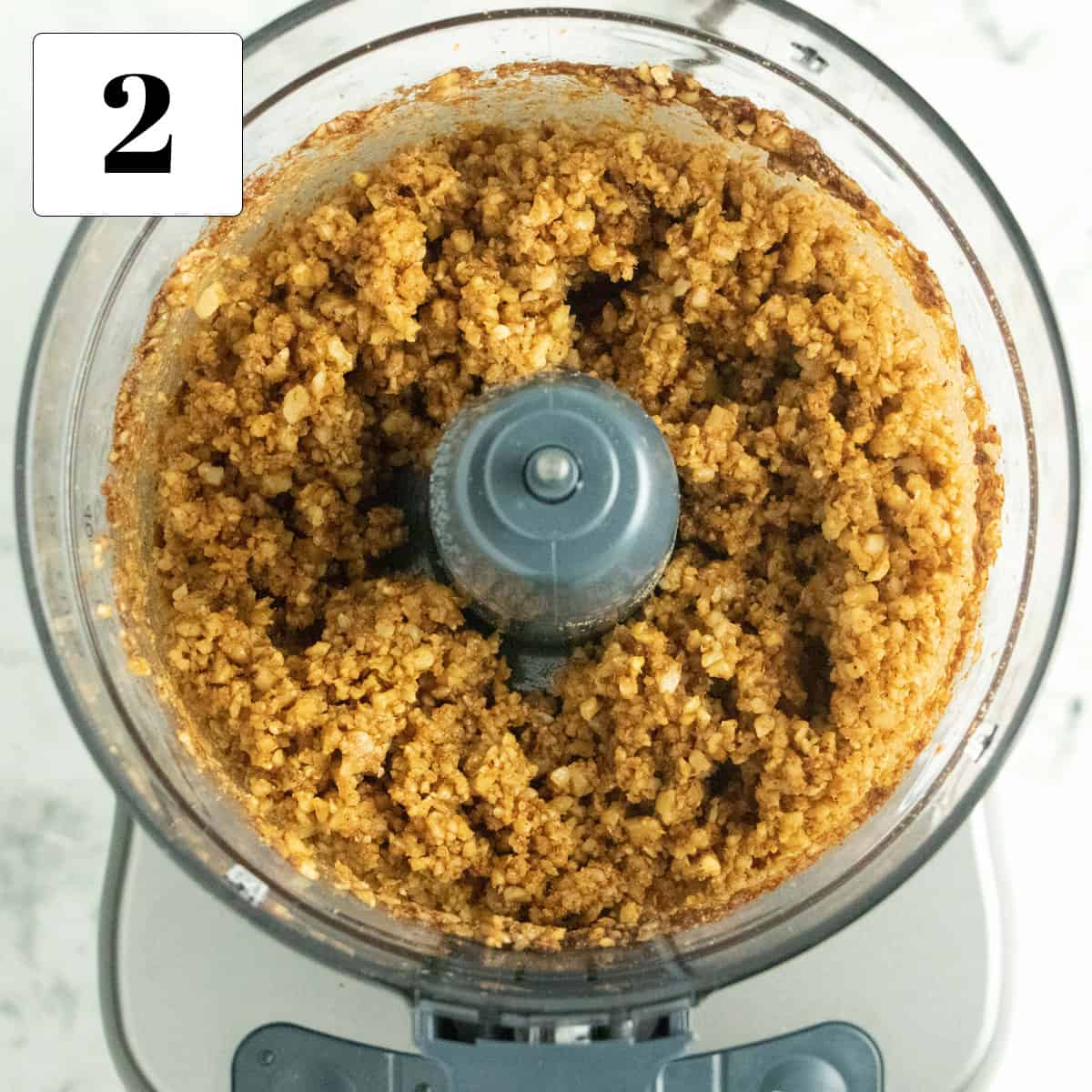 Step 3: Make Cashew Lime Sour Cream. Add all the ingredients for the sour cream to a high-speed blender and blend until smooth.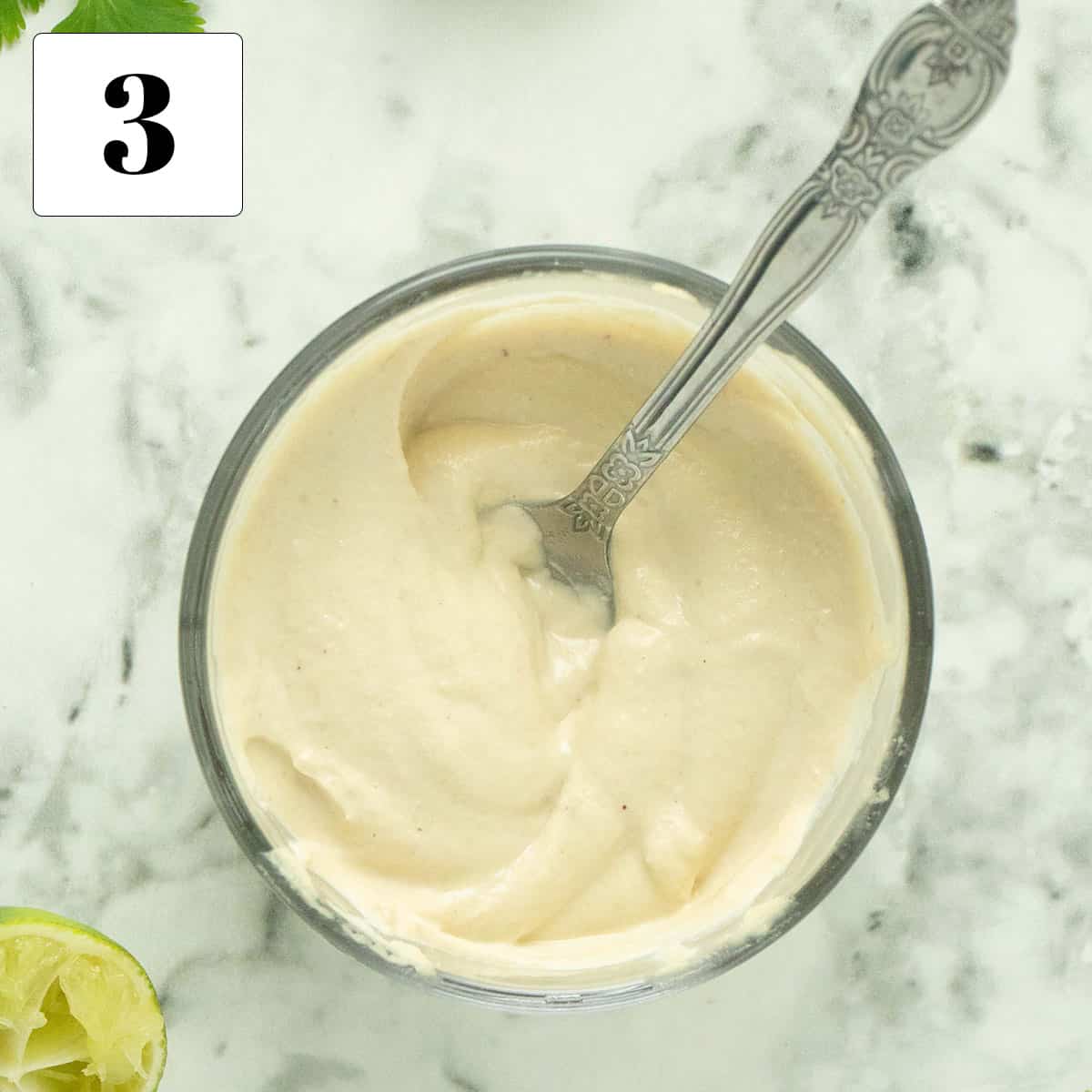 Step 4: Fill Tacos. Add the walnut meat to the tacos and top with toppings of choice.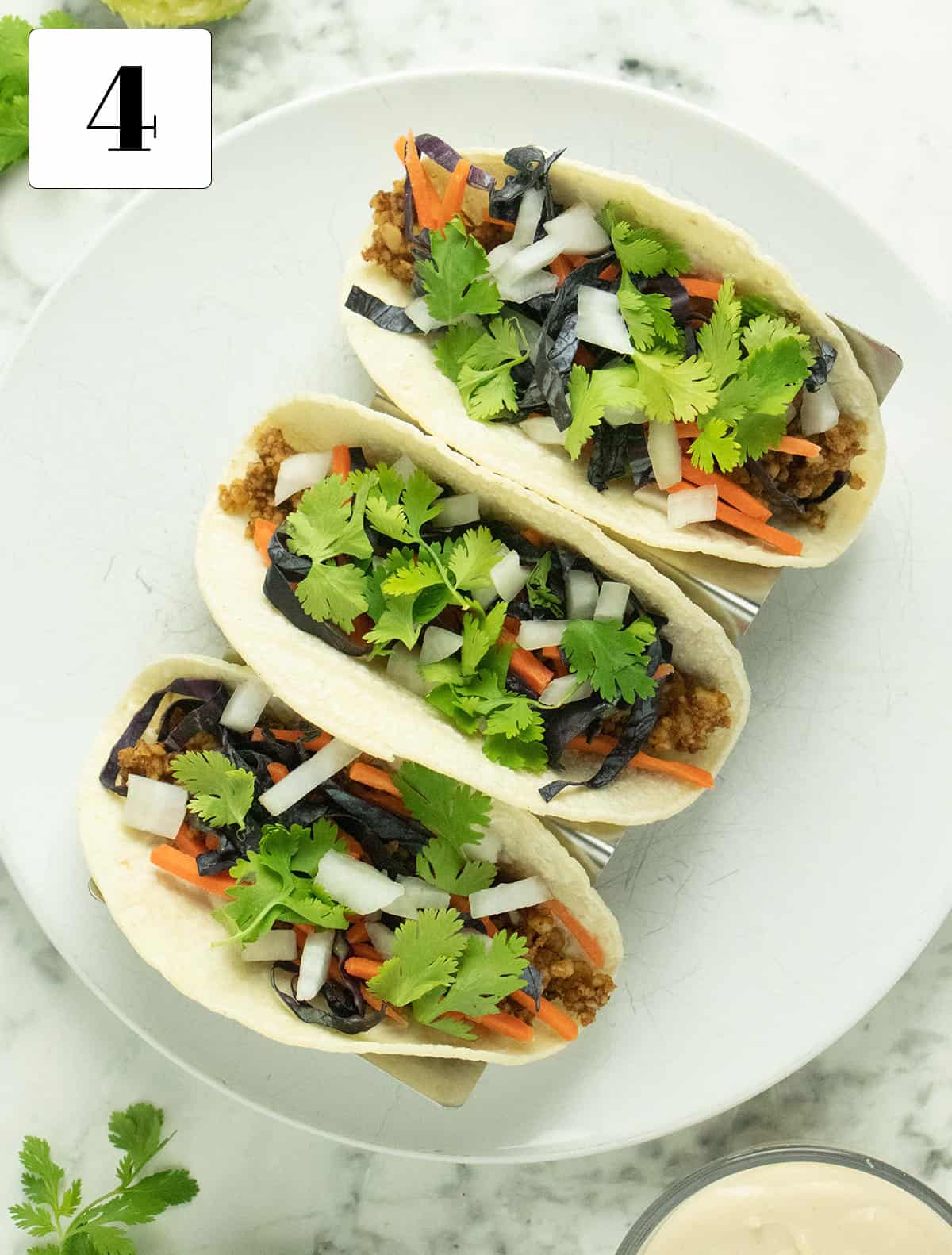 Step 5: Add the vegan sour cream. Dollop on that tasty sour cream and enjoy!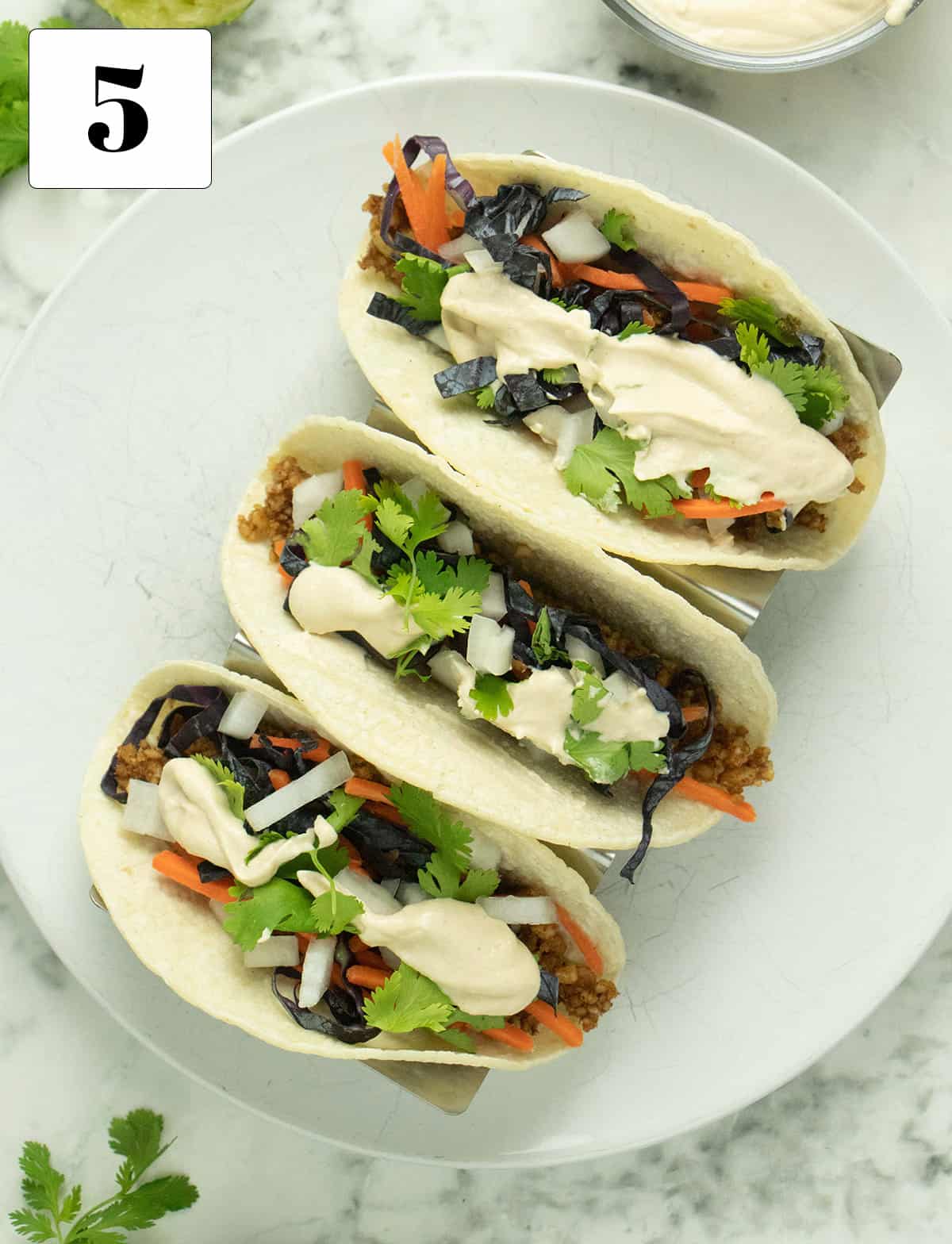 How to Serve
Once you've made the walnut taco meat, feel free to use it however you like. I love adding it to tortillas and eating like tacos, but you can also use this "meat" in myriad other ways. Here are some ideas:
Topping on burrito or buddha bowls
Added to nachos
Stuffing in burritos
Added to vegan queso for a vegan choriqueso dip
Tossed with rice and stuffed into bell peppers
The options are nearly endless! Simply use this walnut taco meat as you would the ground beef counterpart and revel in all the good you're doing for your body and the environment.
Walnut Nutrition
Walnuts are often touted as being a super food, and with good reason. These little nuggets have been associated with improved brain and heart health; decreased cancer risk; and the reduction of inflammation.
Walnuts are an excellent source of healthy fat including omega-3 fatty acids. Fatty Acids are the main component of our cell membranes. Omega 3s can also have a beneficial effect on cardiovascular disease and depression.
Walnuts are also a great source of plant-based protein and contain vitamin B6, magnesium, and fiber. Don't believe me? Here's yet another article listing over a dozen ways walnuts are good for you.
FAQs
Do I need to heat the meat?
Nope! The walnut meat is a raw, vegan meal, making it perfect for taking anywhere. Because of this, it is great for picnics or packed lunches. It's also great for making taco salads.
How long will the walnut meat last?
Once made, the taco "meat" should last for up to a week in the fridge, or up to a month in the freezer.
I'm allergic to nuts – what other meat substitutes can I use?
While walnuts might be off the table, there are still lots of options for you. Try using sunflower seeds. Or go a totally different route and use tofu crumbles, tempeh crumbles, jackfruit, lentils, or chickpeas instead!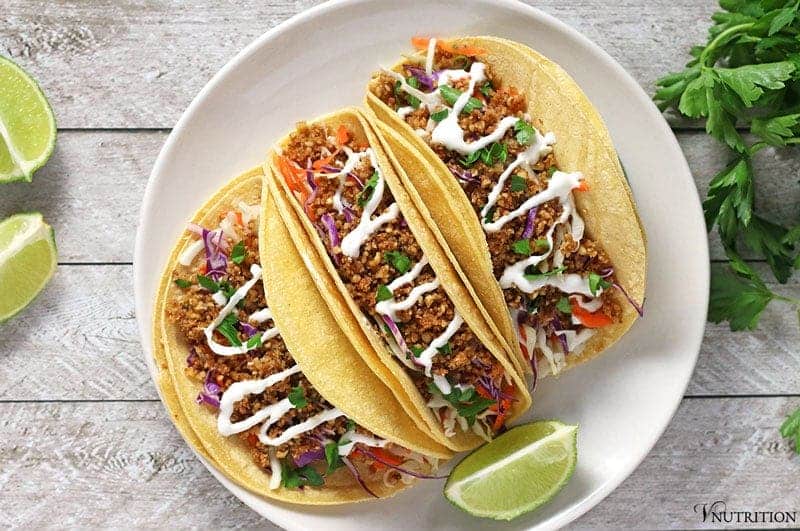 Need more Taco Tuesday inspiration?
Check out some of my other favorite recipes: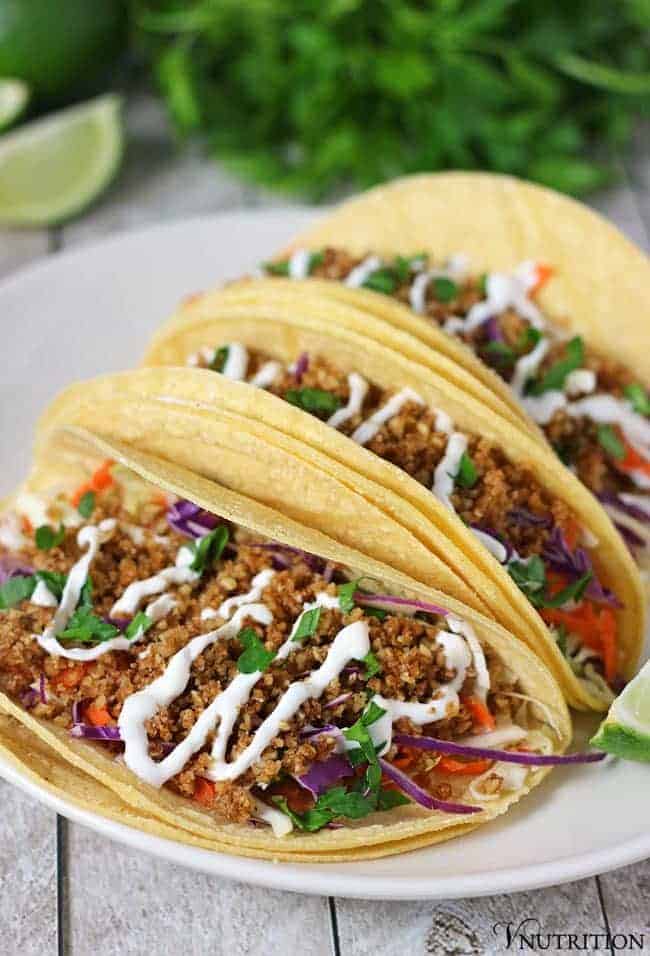 If you make this recipe and LOVE IT, please give it 5 stars ⭐⭐⭐⭐⭐!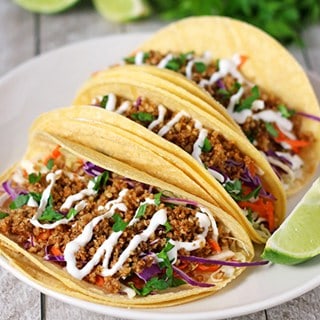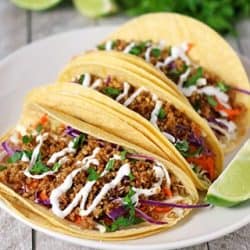 Walnut Meat Tacos
These raw vegan walnut meat tacos are a great alternative to beef and packs a punch of protein!
Email Recipe & Ingredients
Ingredients
WALNUT TACOS
1.5

cups

de-shelled walnuts

1

teaspoon

garlic powder

½

teaspoon

cumin

½

teaspoon

chili powder

1

Tablespoon

tamari

( can use soy sauce if not gf or coconut aminos if you do not do soy)

6

Taco shells

(I used organic & gluten-free)
Toppings
1

cup

carrots

chopped

1

cup

red cabbage

chopped

¼-1/2

cup

onion

chopped

cilantro

chopped
LIME CASHEW SOUR CREAM
1

cup

cashews soaked overnight

(or soaked at least 10 mins in boiling water)

⅓-1/2

cup

water

(and more if needed)

2

Tablespoons

lime juice

1

Tablespoon

apple cider vinegar

Pinch of salt
Instructions
Add walnuts, garlic powder, cumin, chili powder, and tamari to a food processor and process until mixture is chopped finely but not pureed.

Fill taco shells with walnut mixture and top with toppings of choice.

To make the lime cashew sour cream put all the ingredients in a high-speed blender and blend until smooth. Add more water if needed to get a sour cream consistency.

Top tacos with sour cream and enjoy!
Notes
Walnut meat and sour cream will last in the fridge for about a week.
Nutrition info includes 1 taco shell per taco and 1 TB of cilantro sour cream.
Nutrition
Calories:
333.1
kcal
Carbohydrates:
19.4
g
Protein:
8.3
g
Fat:
22.7
g
Fiber:
4.5
g
Vitamin A:
8115
IU
Vitamin C:
18.6
mg
Calcium:
47
mg
Iron:
1.3
mg
PLEASE NOTE: Nutritional information data is computer generated and only an estimate so it should be used only as a guide.
Tried this recipe?
Leave a comment and ⭐ rating below or tag @v.nutrition on Instagram with the hashtag #vnutritionandwellness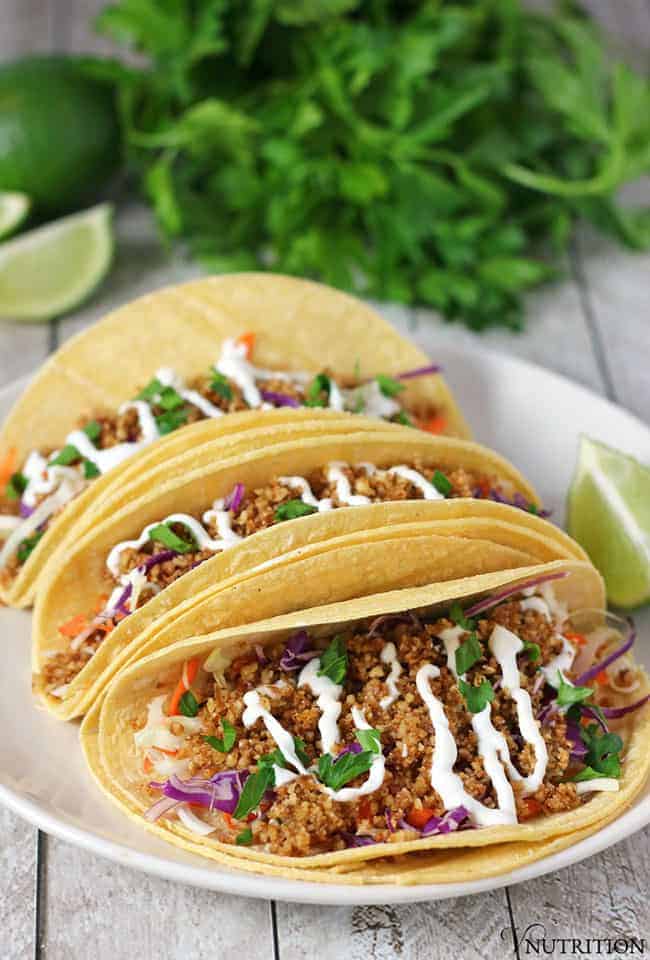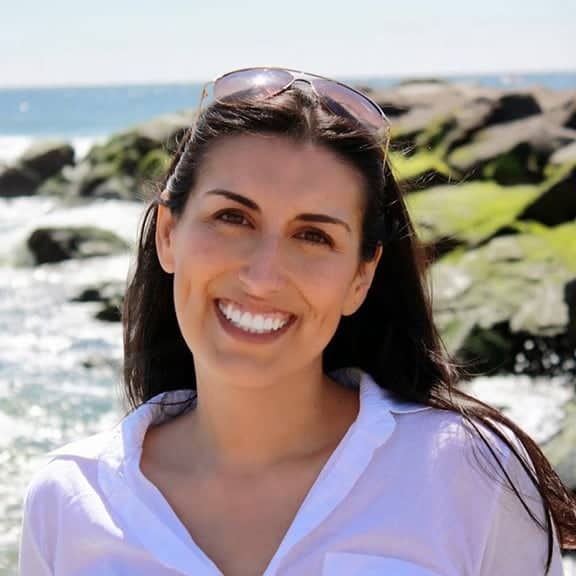 Mary Ellen Valverde MS, CNS, LDN is a Licensed Nutritionist and Certified Nutrition Specialist who empowers vegans to feel confident in creating sustainable habits that align with their values and health goals. She shares easy gluten-free plant-powered food to nourish your body + satisfy your tastebuds. Mary Ellen's recipes and nutrition info have been featured on Yahoo News, Parade, VegNews, LIVESTRONG, Dr. Axe, Greatist, LIVEKINDLY, Brit+Co, Well+Good, and more.