Ever wonder what histamine is? Know someone that has a histamine intolerance and need some guidance? This post explains what histamine is, what foods to avoid, and a vegan histamine book review.

What is Histamine?
Histamine is a neurotransmitter (which communicates messages between your body and your brain) and a component of stomach acid (which is what helps you break down food).
Histamine is also the chemical compound that is involved in allergic responses. We release histamine when our immune system tries to neutralize/eliminate anything it perceives as a treat such as things in our environment like pollen, dust, animal dander, toxins or heavy metals. High histamine levels can also be caused by IgE reactions (allergies), leaky gut, small intestinal bacterial overgrowth (SIBO), and an excess of histamine-rich foods.
Some people have an intolerance to histamine itself or are prone to higher histamine levels, due to genetic factors that affect the enzymes responsible for breaking down histamine, like the DAO (Diamine Oxidase) enzyme.

Common symptoms of excess histamine include:
Headaches or Migraines
Flushing, redness, swelling puffiness, inflammation
Hives, rash, itching, eczema or edema
Nasal congestion, sneezing
Sore throat
Anxiety
Dizziness
Sleeplessness
Abdominal pain or cramps, or menstrual cramps
Nausea/vomiting
Irregular menstrual cycles
Histamines in Food
Certain foods have higher levels of histamine than others.
Everyone is different so what may cause a reaction in one person, may not in another. Find out what works best for your body and go from there.
This is not a complete list but a place to start if you have issues with histamines.
Foods higher in histamine are:
aged, canned, pickled, and fermented foods
alcohol
avocado
banana
cheese (especially fermented)
citrus fruits
cocoa/chocolate
milk
dried fruit
eggplant
eggs
fish
mushrooms
nuts: cashews, pecans, walnuts
papaya
pineapple
processed meats & other foods
red beans
smoked fish
shellfish
spinach
soy (tempeh, miso)
strawberry
tomato
vinegar
yeast
yogurt
While this may seem like a big list, remember there are so many other foods out there for you. Don't focus on the foods you should avoid, focus on what you can enjoy.
If you do have issues with histamines, try cutting these foods out for a few months and then you can test them individually and see how your body reacts. Working with a nutritionist could be beneficial if you're unsure where to start.
Histamine also accumulates in leftovers, so eating freshly cooked foods is always best for those with histamine issues. Freezing food right away can also be a big help if you have leftover food.

Low-Histamine Vegan: TOTAL RESET
Today I also wanted to talk to you about a new cookbook from my friend Randi at Bohemian Vegan Kitchen. Randi has had histamine issues herself and understands what foods to limit and which to enjoy.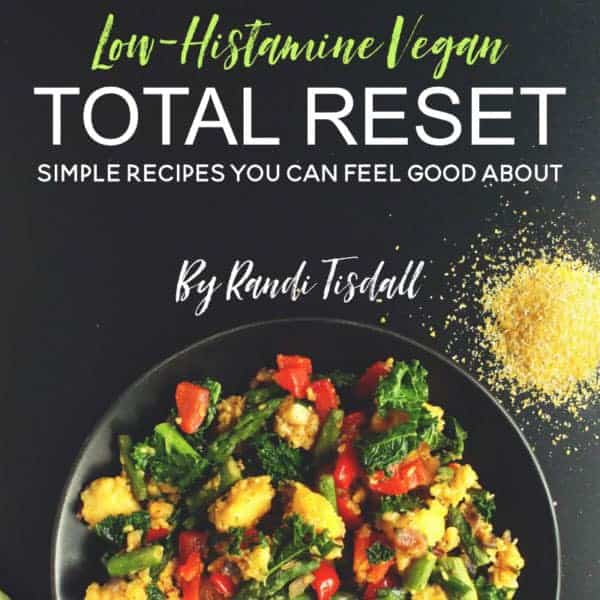 Randi lives a vegan lifestyle and needed foods to cook for herself and her family. When she was searching for recipes, she couldn't find many out there so Randi, being the brilliant and resourceful woman she is, decided to make a cookbook to help others in a similar situation and the Low-Histamine Vegan: Total Reset was born!
I love how Randi highlights so many delicious foods that those on a low histamine plan CAN eat and doesn't focus on the restrictions. Just look at all these tasty meals!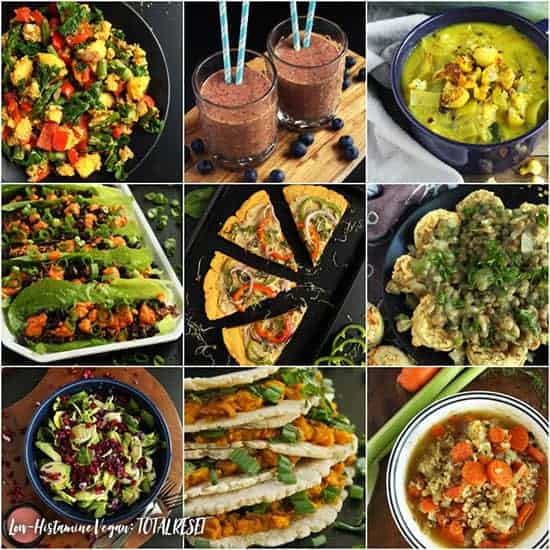 Recipes included in the book are breakfasts, entrees, snacks, and staples. She also includes a list of web resources for nutrition information.
Each recipe has a picture, which is always something I look for in cookbooks. Who's with me?
Some of the recipes that have caught my eye are:
Polenta Veggie Scramble
Blueberry Breakfast Bars
Gluten-Free Biscuits + Lentil Gravy
Gluten-Free Sweet Potato "Hummus" Pizza
Butternut Squash Gluten-Free Quesadillas
Healing + Warming Kitchari
So if you're interested in a vegan low-histamine source for tasty food, be sure to check out the Low-Histamine Vegan: Total Reset!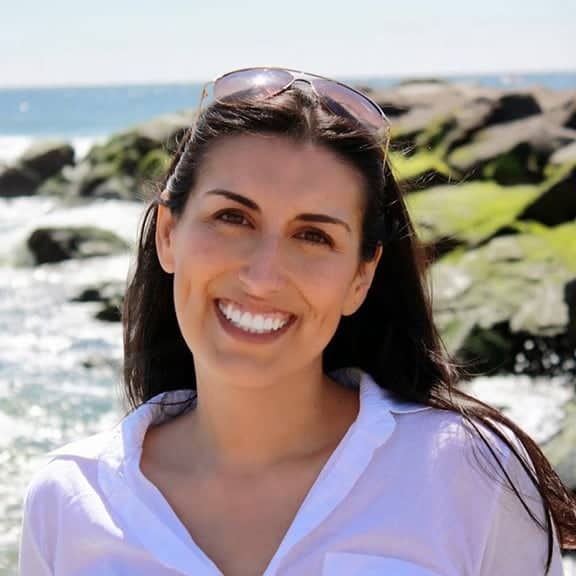 Mary Ellen Valverde MS, CNS, LDN is a Licensed Nutritionist and Certified Nutrition Specialist who empowers vegans to feel confident in creating sustainable habits that align with their values and health goals. She shares easy gluten-free plant-powered food to nourish your body + satisfy your tastebuds. Mary Ellen's recipes and nutrition info have been featured on Yahoo News, Parade, VegNews, LIVESTRONG, Dr. Axe, Greatist, LIVEKINDLY, Brit+Co, Well+Good, and more.