This is by far the best Teriyaki Tempeh recipe! Tempeh makes a delicious protein addition to any meal. Think you don't like tempeh? Try this recipe before you give up on it!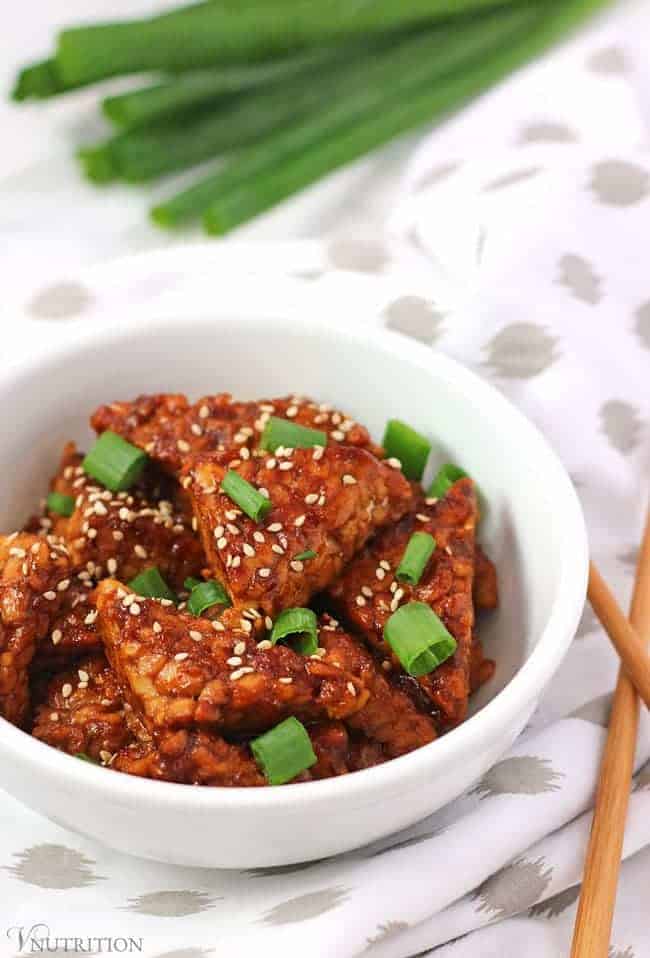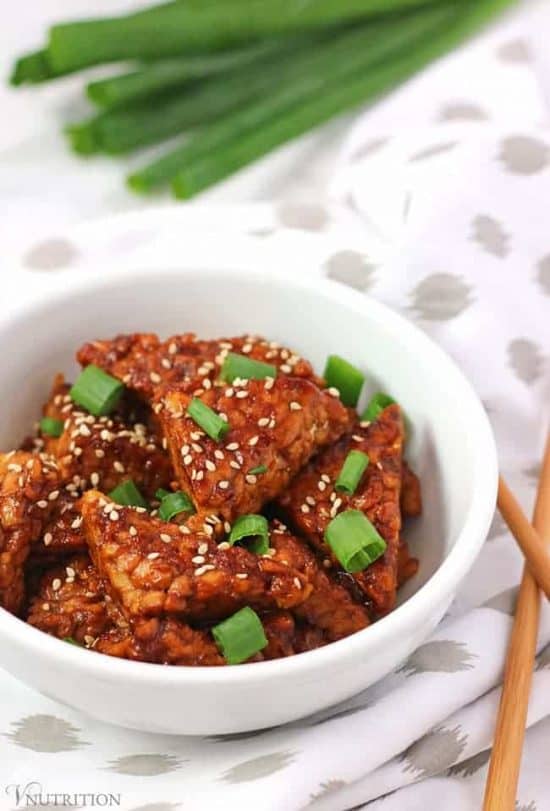 Before going plant-based I had never heard of tempeh. Actually, before going vegan, I hadn't heard of a lot of things.
I stuck to my basics of pasta, pizza, soup and then some more pasta. Not that I don't eat those every once in a while (check out my tasty cashew mac & cheese) but a whole new world opened up to me when I decided not to solely rely on those foods anymore.

Tempeh though was one of the last vegan "staples" foods I tried.
When I finally did try it, I was not impressed. I thought it tasted bland. I tried few more tempeh recipes and decided "nope, tempeh is not for me".
My husband is actually the one who changed my mind. He ordered it at a restaurant and liked it so he made me try it again.
And you know what? It was really good! I realized then that it's all about how you prepare and cook the tempeh.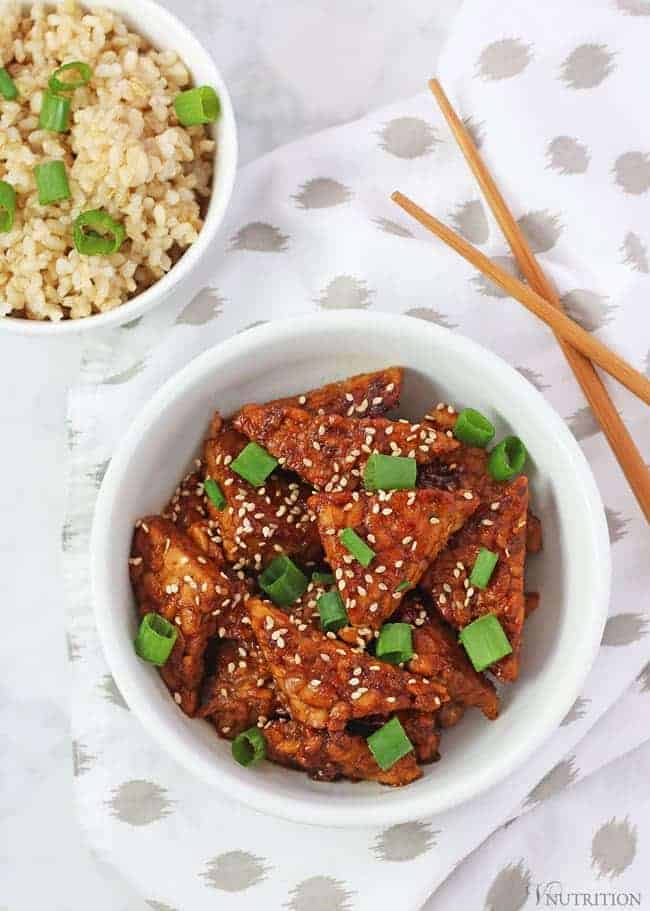 What is this Tempeh You Speak of?
So you might be saying to yourself, "okay we get you like tempeh, but tell me what tempeh actually is".
Well, tempeh is fermented soybeans that are formed into a sort of cake/loaf. It's originally from Indonesia and still used in many Asian countries.
Believe me, I did not think I'd like tempeh but I urge you to give it a try. It can be delicious (if cooked correctly) and another great protein to add to your recipes like I did in my Spicy Sesame Noodles.
Tempeh actually contains more fiber and protein than tofu because it is less processed. Tempeh also is a good source of potassium, magnesium, vitamin B6 and iron.
Most health food stores such as Whole Foods sell tempeh and many large mainstream grocery stores are starting to carry it now – I have even found some at my local Stop and Shop.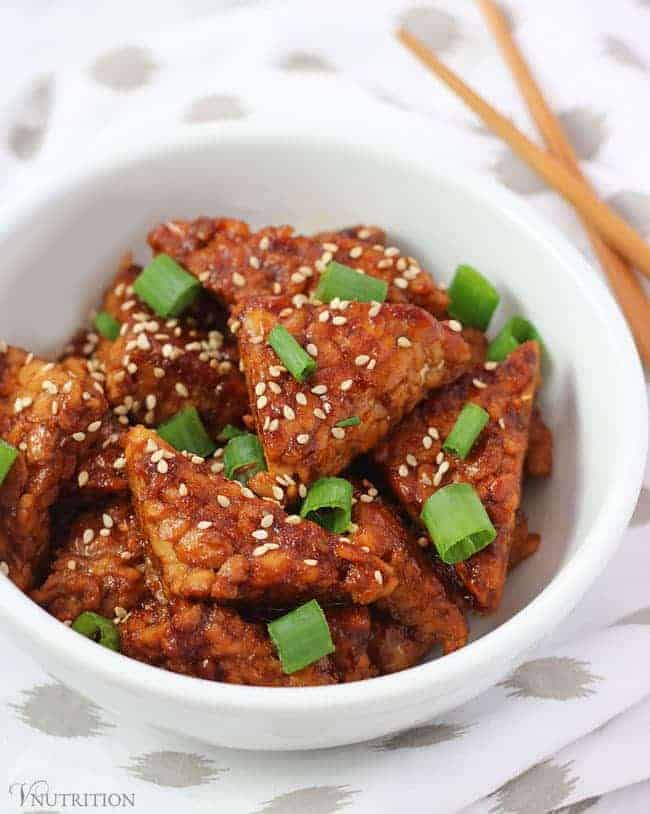 Teriyaki Tempeh – The Best Tempeh Recipe!
I've been playing around with tempeh for a while now and have come up with an extra tasty version for you, my teriyaki tempeh.
Like I said, good tempeh is all about how you prepare and cook it. Firstly, I steam the tempeh. While this is not mandatory (and I sometimes don't have the time to do it) – the steaming process seems to take out any extra bitterness.
After steaming, I make a tempeh marinade, marinate the tempeh, and then cook it. Sometimes I'll steam the tempeh the night before and marinate overnight through the next day if I know I'll be making it for dinner the next night (now that makes for some extra tasty tempeh).
After cooking the tempeh, I add the sauce, and voilà, the best tempeh recipe ever! You can even use it in tacos – check out my Teriyaki Tempeh Taco recipe if you want some Mexican fusion!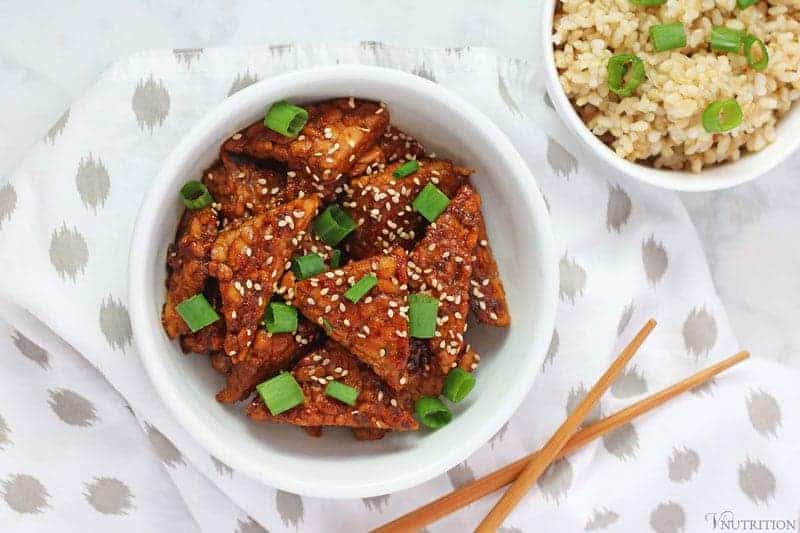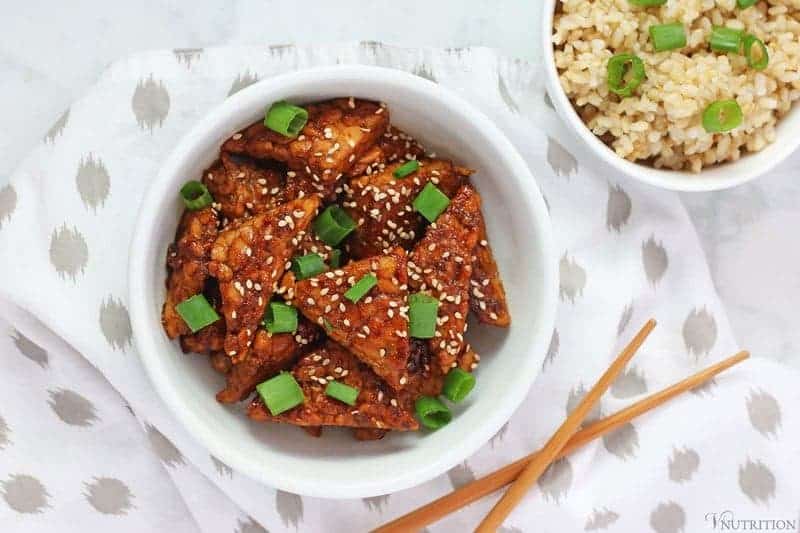 Looking for other vegan tempeh recipes? Here are some of my other favorite ways to use tempeh:
If you make this recipe and LOVE IT, please give it 5 stars ⭐⭐⭐⭐⭐!
Teriyaki Tempeh
This Teriyaki Tempeh makes a delicious protein addition to any meal.
Ingredients
1

8 oz

package organic tempeh

1

TB

olive or coconut oil
Instructions
Cut tempeh into triangles or squares and steam in a steamer basket for 10 minutes (optional but makes the tempeh extra tasty).

Add all ingredients for marinade into bowl and whisk together.

Place tempeh into dish and pour marinade over. Marinate for at least 20 mins.

Place olive or coconut oil in a pan and sear the tempeh 3-5 minutes on each side until crispy.

Mix teriyaki sauce ingredients in large bowl.

Once tempeh is cooked, add tempeh to teriyaki sauce, covering the tempeh.

Take tempeh out of the sauce (leaving the extra sauce in the bowl) and add back to pan.

Heat tempeh again for about 30 seconds on each side to caramelize the sauce on the tempeh.

Turn off heat and pour the remaining sauce over the tempeh in the pan. Leave for about a minute for the rest of the sauce to thicken a bit.

Serve and top with sesame seed and scallions (optional).
Nutrition
Calories:
211
kcal
|
Carbohydrates:
14
g
|
Protein:
14
g
|
Fat:
11
g
|
Fiber:
2
g
|
Calcium:
70
mg
|
Iron:
4.9
mg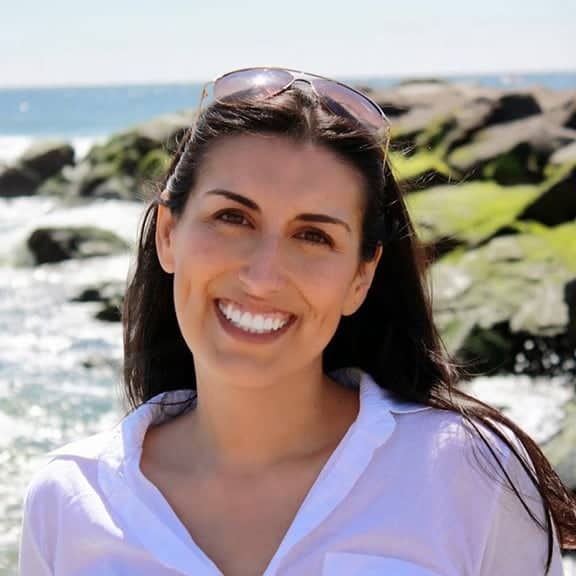 Mary Ellen Valverde MS, CNS, LDN is a Licensed Nutritionist and Certified Nutrition Specialist who empowers vegans to feel confident creating sustainable habits that align with their values and health goals. She shares easy plant-powered food to nourish your body + satisfy your tastebuds. Mary Ellen's recipes and nutrition info have been featured on Yahoo News, Parade, VegNews, LIVESTRONG, Dr. Axe, Greatist, LIVEKINDLY, Brit+Co, Well+Good, and more. She lives in NJ with her husband & two sweet shih tzus, Firenze & Sophie.