This Teriyaki Tempeh makes a delicious protein addition to any meal. Not sure what tempeh is? Read on to find out! 
Before going vegan I had never heard of tempeh. Actually, before going vegan, I hadn't heard of a lot of things; I stuck to my basics of pasta, pizza, chicken nuggets and more pasta. A whole new world opened up to me when I decided not to rely on those foods anymore.
Tempeh though was one of the last vegan "staples" foods I tried. I'll be honest about why: I thought it looked weird. When I finally got the courage to try it, I was not impressed. I thought it tasted bland. I had it a few more times and decided "nope, tempeh is not for me". My husband is actually the one who changed my mind. He ordered it at a restaurant and liked it so he made me try it again. And you know what? It was really good! I realized then that it's all about how you prepare and cook the tempeh.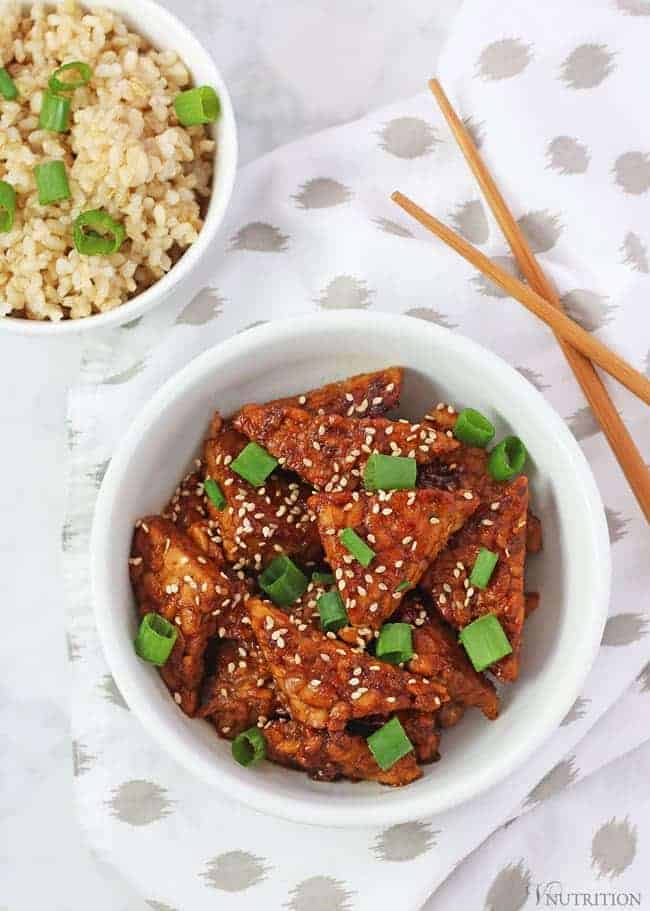 What is this Tempeh You Speak of?
So you might be saying to yourself, "okay we get you like tempeh, but tell me what tempeh actually is".  Well, tempeh is fermented soybeans that are bound into a sort of cake/loaf form. It's originally from Indonesia and still used in many Asian countries.
Believe me, I did not think I'd like tempeh but I urge you to give it a try. It's good and another great protein to add to your recipes (like I did in my Spicy Sesame Noodles – another tasty tempeh recipe!).
Tempeh actually contains more fiber and protein than tofu because it is less processed. Tempeh also is a good source of potassium, magnesium, vitamin B6 and iron. Most health food stores like Whole foods sell tempeh and many large mainstream grocery stores are starting to carry it now – I have found some at my local Stop and Shop.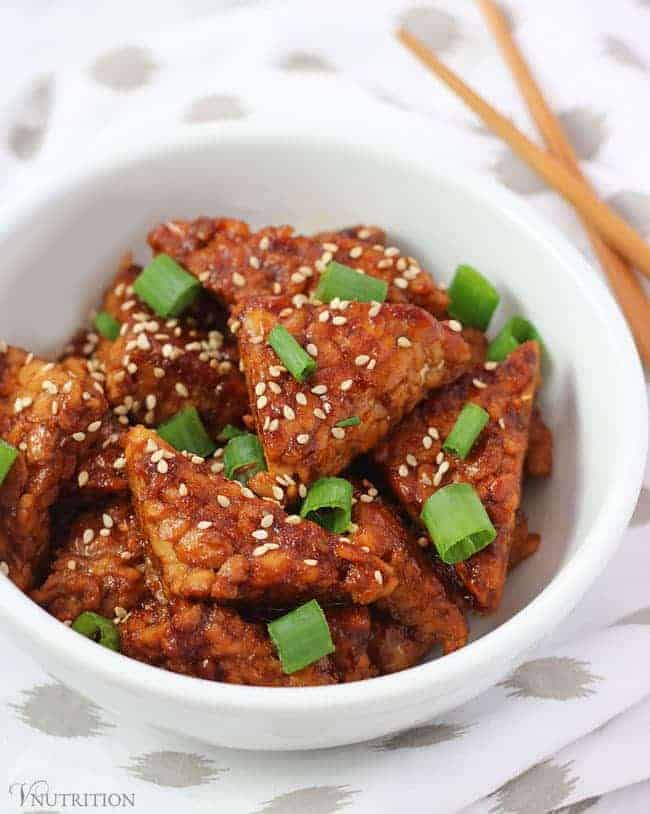 Teriyaki Tempeh
I've been playing around with tempeh for a while now and have come up with an extra tasty version for you, my teriyaki tempeh.
Like I said, good tempeh is all about how you prepare and cook it. Firstly, I steam the tempeh. While this is not mandatory (and I sometimes don't have the time to do it) – the steaming process seems to take out any extra bitterness. After steaming, I marinate and then cook. Sometimes I'll steam the tempeh the night before and marinate overnight through the next day if I know I'll be making it for dinner the next night (now that makes for some extra tasty tempeh). After cooking I add the sauce, and voilà, teriyaki tempeh for you to enjoy!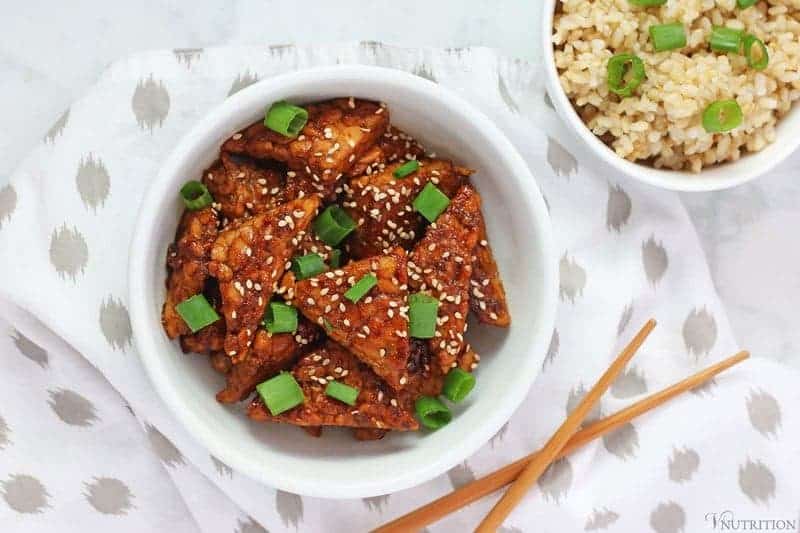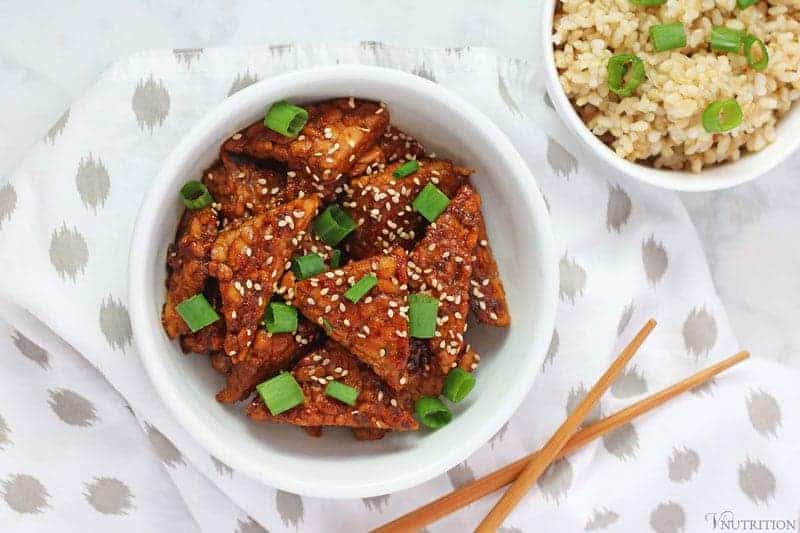 This Teriyaki Tempeh makes a delicious protein addition to any meal.
Click To Tweet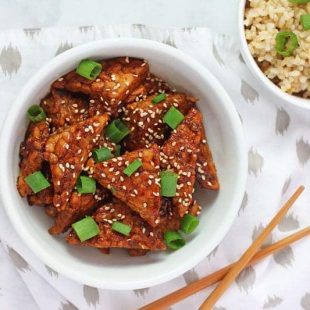 Teriyaki Tempeh
This Teriyaki Tempeh makes a delicious protein addition to any meal.
Ingredients
1

package organic tempeh

1

TB

olive or coconut oil
Instructions
Cut tempeh into triangles or squares and steam in steamer basket for 10 minutes (optional).

Add all ingredients for marinade into bowl and whisk together.

Place tempeh into dish and pour marinade over. Marinate for at least 20 mins.

Place olive or coconut oil in a pan and sear the tempeh 3-5 minutes on each side until crispy.

Mix teriyaki sauce ingredients in large bowl.

Once tempeh is cooked, add tempeh to teriyaki sauce, covering the tempeh.

Take tempeh out of the sauce (leaving the extra sauce in the bowl) and add back to pan.

Heat tempeh again for about 30 seconds on each side to caramelized the sauce on the tempeh.

Turn off heat and pour the remaining sauce over the tempeh in the pan. Leave for about a minute for the rest of the sauce to thicken a bit.

Serve and top with sesame seed and scallions (optional).
Nutrition Facts
Teriyaki Tempeh
Amount Per Serving
Calories 190.8
Calories from Fat 97
% Daily Value*
Total Fat 10.8g 17%
Total Carbohydrates 14g 5%
Protein 12.4g 25%
* Percent Daily Values are based on a 2000 calorie diet.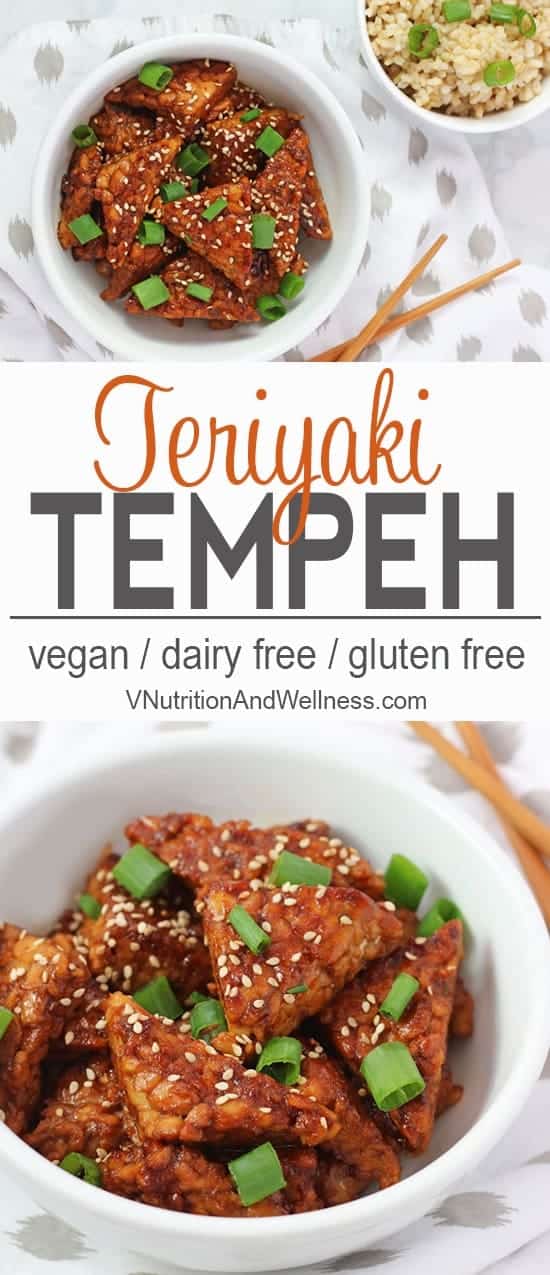 You may also enjoy...
Like my teriyaki tempeh recipe? It would be so wonderful if you could give it some love by sharing!