Plant-Based Nutrition Simplified
You've tried so many ways to feel better but nothing has worked. With all the fad diets and conflicting health info out there, no wonder you're confused.
You've seen your others struggle with chronic conditions like type 2 diabetes and obesity and you don't want to go down the same path. You want a healthy life for yourself and your family.
You've heard a plant-based diet can help but you don't know where to start; nutrition is just too confusing.
Let me tell you…I understand, I've been there too…and I'm here to help.
---
I believe that a plant-based diet can be healthy, easy, AND delicious.
And yes, you'll get enough protein.
---
VNutrition is here to teach you:
How a plant-based diet can aid with overall health as well as chronic disease
How to make healthy food choices – you just need a little guidance on what will work for you
How to create delicious plant-based meals even when you are short on time
You can be healthy & confident in what you're eating, and I can show you how.
---
What others are saying…
Oh my goodness….(your recipe) is crazy delicious! I almost never follow recipes, and I can't remember a time that I followed a recipe and turned around and made it again! I will certainly be delving into the rest of your recipes. Thanks for an EASY and delicious vegan meal! – Beth
This was so good! More importantly – my husband loved it. It is VERY rare for my husband to love a vegan dish, so thank you!! – Devorah
Wow! Thank you for this recipe! This is the first vegan mac & cheese I have tried, and I loved it. I only have been eating vegan WFPB for a month and feel great, these kind of tasty, familiar recipes make it easy to keep going. My husband liked it as well and he is a dairy lover. – Carrie
---
Imagine waking up every day feeling good, knowing which foods to eat to keep your body healthy.
When you become a member of the VNutrition community, you'll learn how a plant-based diet can give you more energy and better health without sacrificing taste, time, or nutrients…and maybe even ditch some of those medications you've been on for years. Yes, it really is possible.
---
Mary Ellen's Journey
The summer before my junior year in college, I had such bad stomach aches that I couldn't get out of bed for about a week. I had struggled with some digestion issues for years before but this experience was excruciating. After lots of testing and trips to different specialists, the doctors were still confused with my symptoms. They said I could have anything from diverticulitis to IBS and pushed different medications on me…but the meds didn't work, they actually made me feel worse. I was constantly hurting after every meal but no one could help me get to the root of the problem.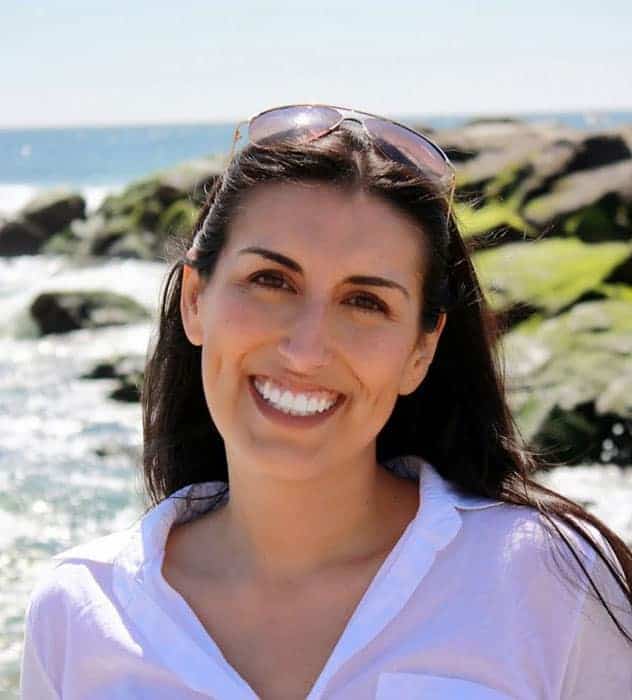 I wanted to look for a way to resolve my issues more naturally than popping medications but I didn't know how to start on a healthy path. I did things I thought would help like low fat and low carb diets but nothing ever seemed to work. Nutrition was confusing and there was so much conflicting evidence out there – where was I supposed to turn for guidance?
After years of constant struggling, my sister encouraged me to watch a documentary on the benefits of a plant-based diet and the horrors of factory farming and dairy/egg production. I grew up eating a SAD (Standard American Diet) filled with pasta, takeout, and soda, however, going plant-based made me focus on foods I have never thought about eating before like whole foods and lots and lots of veggies. After doing some nutritional testing, I found out that I had other food sensitivities so I cut those foods from my diet as well. And guess what? I started to feel better! With good nutrition and finding what worked for my unique body, the pain I had experienced all of my life was basically gone.
I went from sick and frustrated to living a life of wellness! After healing myself through plant-based foods, I decided to help others who are struggling by earning my master's in nutrition. (You can check out my education and nutrition philosophy here).

You CAN change your health! Walk with me on YOUR wellness journey!
---
Need a little help to get started?  Here are some of my favorite posts that might be helpful to you when starting out on your healthy plant-based journey:
Be sure to check out my recipe index too which has a variety of recipes with different options for foods because we are all bio-individual. Our biochemistries and genetic makeup differ from person to person, which means not every food will not be perfect for everyone. What might work for you, might not work for someone else – even in your own family. Most of my recipes are gluten-free because wheat gluten can be a problem for many people (including myself). I also offer substitutions (like oil-free options) and share diverse meals and ingredients to cater to a wide variety of food allergies, sensitivities, and restrictions.