Easy, Tasty Vegan Meals & Support
You're interested in adding more plant-based meals to your life

- for our animal friends AND your health.

You're tired restrictive eating. You crave tasty food that's good for you without feeling limited or being stressed over what to eat.
You want a realistic lifestyle instead of a "diet". Okay sure you're vegan but that doens't mean you need to eat bland rabbit food (no shade bunnies).
At VNutrition, I show you that you can enjoy easy-to-make delicious meals that nourish your body + satisfy your tastebuds.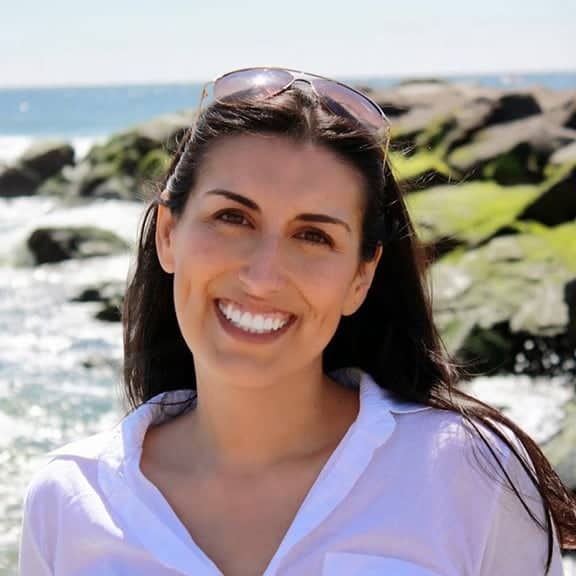 Hi, I'm Mary Ellen. A Licensed Nutritionist who empowers vegans to feel confident creating healthy habits that align with their values and health goals.
---
Mary Ellen's Nutrition Journey
My Beginnings
Imagine not having to eat vegetables when you were a kid. Well, that's exactly how I grew up. My mom didn't like to cook and she definitely hated vegetables with a passion, so most of my diet was filled with pasta, microwave dinner, takeout, and soda (which was totally fine with me and my sister).
We'd have bowls of pasta with jarred tomato sauce or (my fav) mac & cheese and plop in front of the TV while we ate every night. The only time I ever had to eat vegetables was when I went to my Nana's house or visited my friend for dinner (where I tried to feed the veggies to her dog).
Throughout high school and college, I struggled with digestion issues to the point that it was normal for me to feel bad after eating. My "tummy trouble" (as my family affectionately started calling it) was constant and even after seeing a number of doctors about it, I still did not have any answers.
Animal Lover & Veggie Eater
After a number of years, I decided to go vegan because I've always loved animals. So I stopped consuming meat, cheese, milk, and eggs, and immediately a weight was lifted.
I felt MUCH better taking out the animal-based products from my diet (both mentally and physically) BUT I still wasn't feeling 100%. Turns out, just taking the chicken nuggets and replacing them with vegan chick'n nuggets, dairy pizza with vegan pizza and keeping all that other processed food in wasn't cutting it.
So instead of only focusing on processed replacements for animal products, I started incorporating real plant-based foods such as vegetables, fruit, whole grains, legumes, nuts, seeds, and healthy fats. And that made me feel SO much better.
Gaining More Knowlege to Help Others
Once I started my more veggie-based diet and noticed how great I felt, I decided to go back to school and invest in my education to truly understand the role food plays in our health.
I earned my master's degree in Human Nutrition from the University of Bridgeport. After graduating, I completed a vigorous functional nutrition residency at the prestigious Sandy Hook Clinic with Dr. Kara Fitzgerald, a leader in Functional Medicine. I am a Certified Nutrition Specialist ® (CNS), the gold standard for advanced nutrition professionals, and a Licensed Nutritionist.
Check out my Professional Bio for more info.
Going Gluten-Free
Throughout my years of schooling and clinic work, I learned all about how each of us has a unique biochemistry and how food can affect both our physical and mental wellbeing. Food allergies and sensitivities have been increasing in our world and I've helped many clients navigate eating with them.
I also found that I feel my best when I limit my gluten intake so I always cook gluten-free. Almost all the recipes you'll find on NVutrition are gluten-free or have gluten-free substitutions. Because I do not have a true allergy (only a sensitivity), I might have a little gluten when traveling or if I want to have a special treat but in general, my diet is mostly gluten-free.
Credentials & Education
Master of Science, Human Nutrition | University of Bridgeport
Certified Nutrition Specialist | Board of Certified Nutrition Specialists
Licensed Dietitian Nutritionist |Maryland Board of Dietetic Practice

Functional Nutrition Resident | Sandy Hook Clinic, Dr. Kara Fitzgerald
Master of Information & Library Science | Rutgers University
Bachelor of Arts, English | Saint Joseph's University
Certified Holistic Health Coach | Institute for Integrative Nutrition
Board Certified & Accredited Health Counselor | American Association of Drugless Practitioners
---
Media
Mary Ellen's recipes and nutrition information has been featured in a variety of media outlets. Contact Mary Ellen about media opportunities and be sure to check out her collaborations page.
She was also recognized as one of the Top 50 Plant-Based Food Blogs of 2021.
---
Podcasts
Mary Ellen has been a guest on podcasts speaking on a number of plant-based nutrition topics. If you'd like to have her on your show, contact her to discuss topics and dates!
A few more things about me if you're interested...
I am extremely passionate about helping people feel their best because I understand what it's like to struggle with health
The V in VNutrition is for both "vegan" and my last name Valverde
I consider myself a vegan mac & cheese connoisseur
I am obsessed with all animals, especially my two sweet angel-faced shih tzus, Firenze & Sophie
I'm not ashamed to say I love me some murder mysteries (Agatha Christie's my girl)
Even when I'm on vacation, I'm planning my next vacation #wanderlust
I love all sparkly/shiny/glittery things. I wish nifflers were real because I think we'd get along well
The Miami Dolphins make me cry (Hootie knows)