This Blueberry Chia Jam is delicious, easy to make, and refined sugar free. Add it to toast, smoothie bowls, oatmeal, or overnight oats for a tasty pop of flavor!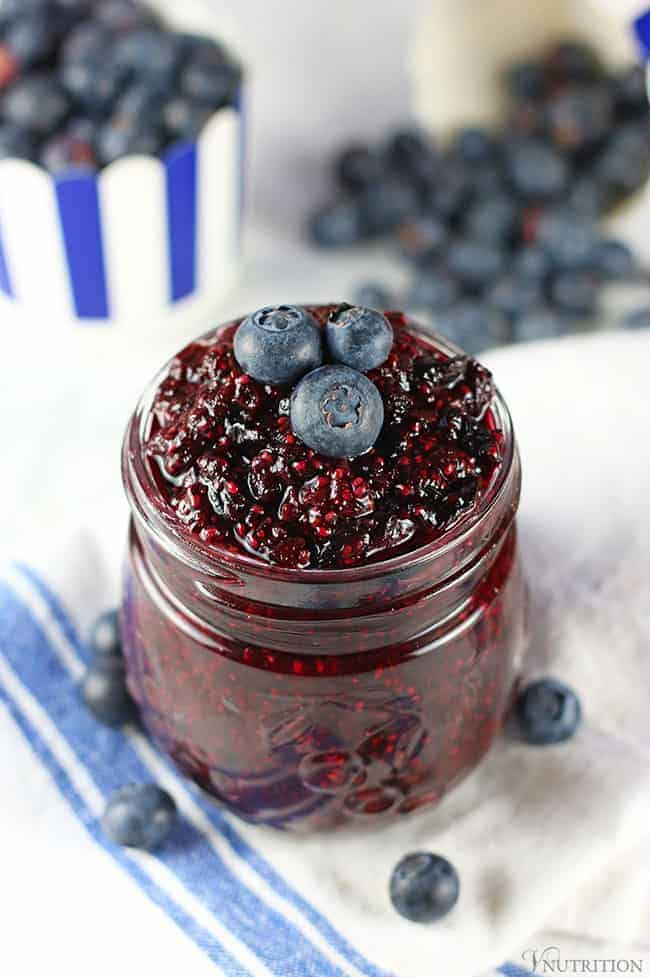 Jam used to be my jam when I was younger (do you like that little joke? I try to be witty though it fails most of the time). Anyway, I loved putting strawberry or grape jam/jelly on my toast in the mornings. I'd take peanut butter and jelly to school every day for lunch too – those were the days before so many peanut allergies.
Since I'm vegan, I'm more careful with jam/jelly now because some of them contain gelatin. Many also contain sugar or high fructose corn syrup which I try to avoid as much as possible (more on HFCS below).

Chia jam is my easy and tasty alternative to store-bought varieties. I love chia jam so much, I made a Strawberry Chia Jam too so I can switch up the berry flavors every few weeks.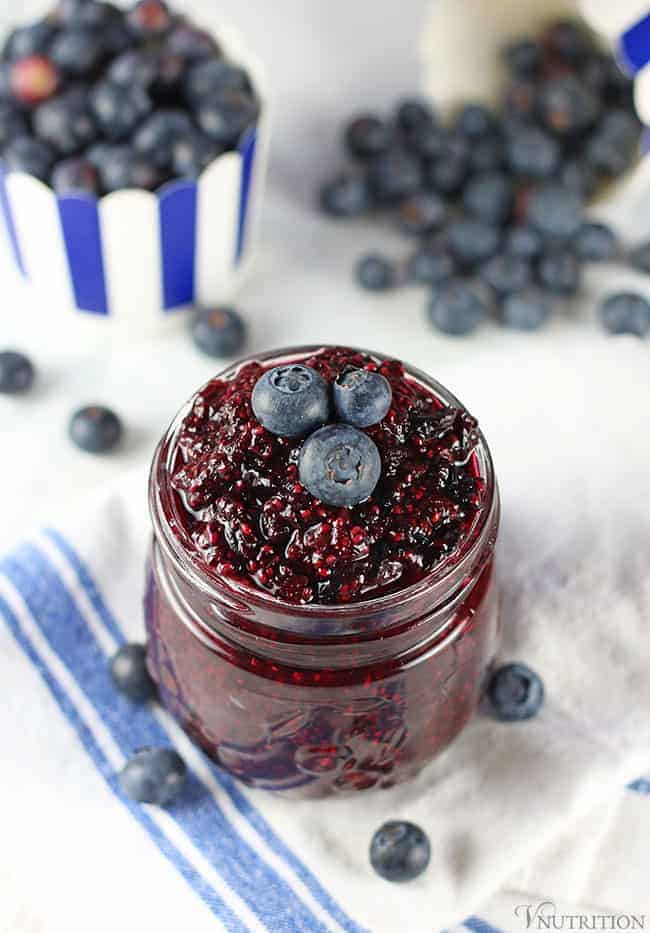 A Healthy Jam Alternative
Did you know that most commercial jams and jellies have a good amount of sugar or high fructose corn syrup (HFCS) in them?
Excess sugar and HFCS consumption create large spikes in insulin (our body's major fat storage hormone) contributing to changes in a person's metabolism which can then lead to a number of health problems including obesity, type 2 diabetes, etc. (1, 2, 3, 4, 5, 6)
Fruit is sweet on its own so I only use a little maple syrup and I'm good to go.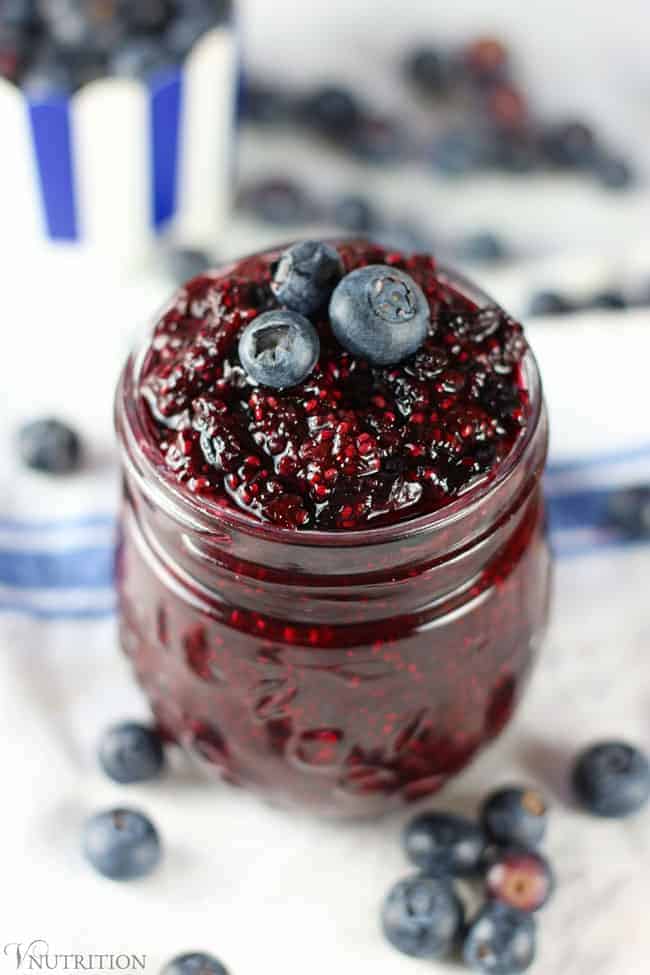 Chia Seeds
Chia seeds are fun to use – not only in the form of chia pets, but also in cooking. They're one of my kitchen staples.
When chia seeds are a put a liquid environment they form a gel which makes a great base for jam. I also use them in baked goods to replace eggs and in my overnight oats as a thickener.
Chia seeds are high in omega-3s which and also contain fiber, protein, phosphorus, and calcium.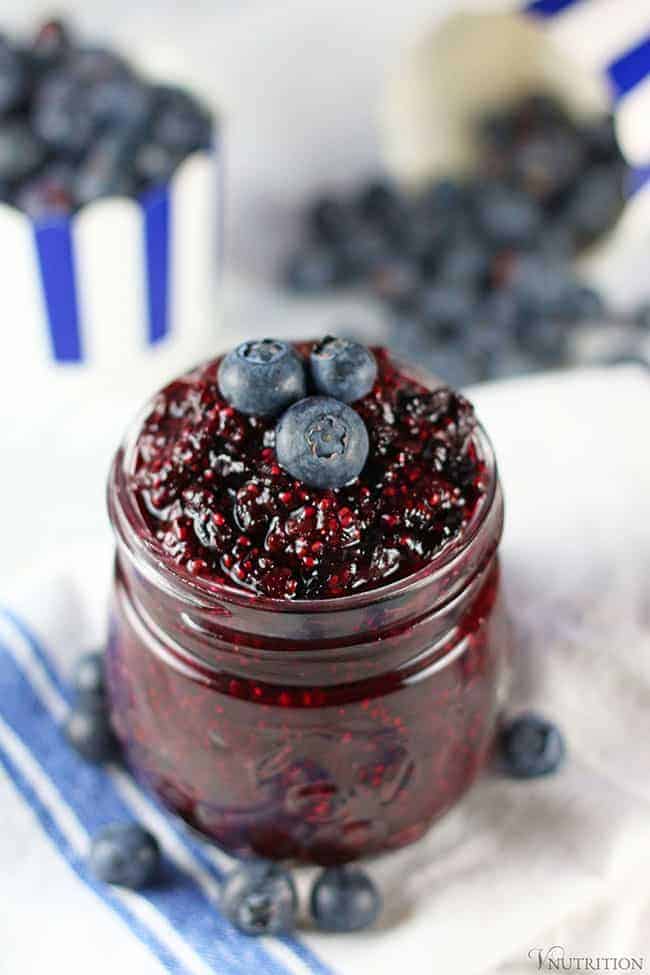 Easy Blueberry Chia Jam
I can't tell you how much I've been loving my chia jam. I make a big batch each week and use it on/in:
smoothie bowls
toast
yogurt
You can also switch up the berry if you'd rather have strawberries, raspberries, or blackberries. I've tried each and they all work really well.
If you make this easy blueberry chia jam recipe, let me know what you think by ★ star rating it and leaving a comment below.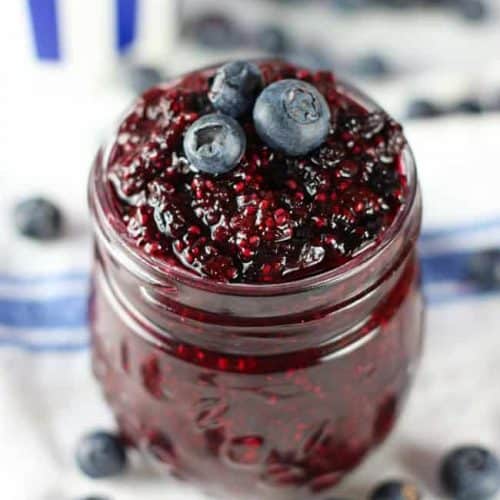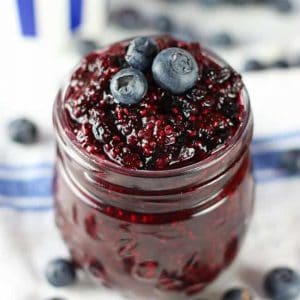 Easy Blueberry Chia Jam
This Blueberry Chia Jam is delicious, easy to make, and refined sugar free. Add it to toast, smoothie bowls, oatmeal, or overnight oats for a tasty pop of flavor!
Instructions
Add blueberries to a saucepan and cook on low for about 5-10 mins, stirring occasionally. Mash them with a fork while they are cooking to break them up.

Take the blueberries off the heat and stir in maple syrup, lemon juice, and chia seeds.

Let stand until cooled, then transfer to glass jar for storage.
Notes
Jam will last about 2 weeks in the fridge.
1 serving = 1 TB
Nutrition
Calories:
16
kcal
Carbohydrates:
3.3
g
Protein:
0.2
g
Fat:
0.5
g
Iron:
2.2
mg
Please Note: The nutritional information is a computer generated estimate so these numbers should be used only as a guide.
Tried this recipe? Let me know + share it!
Leave a comment and ⭐ rating below so I know you enjoyed the recipe! Tag @v.nutrition on Instagram with the hashtag #vnutritionandwellness so I can feature you!
What would you put chia jam on?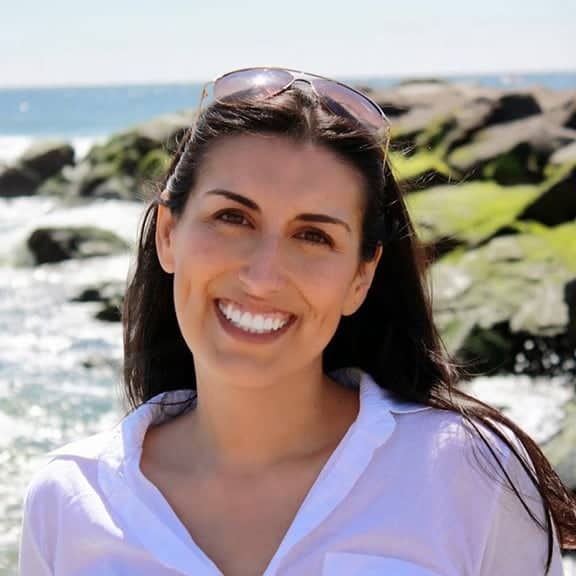 Mary Ellen Valverde MS, CNS, LDN is a Licensed Nutritionist and Certified Nutrition Specialist who empowers vegans to feel confident in creating sustainable habits that align with their values and health goals. She shares easy plant-powered food to nourish your body + satisfy your tastebuds. Mary Ellen's recipes and nutrition info have been featured on Yahoo News, Parade, VegNews, LIVESTRONG, Dr. Axe, Greatist, LIVEKINDLY, Brit+Co, Well+Good, and more.