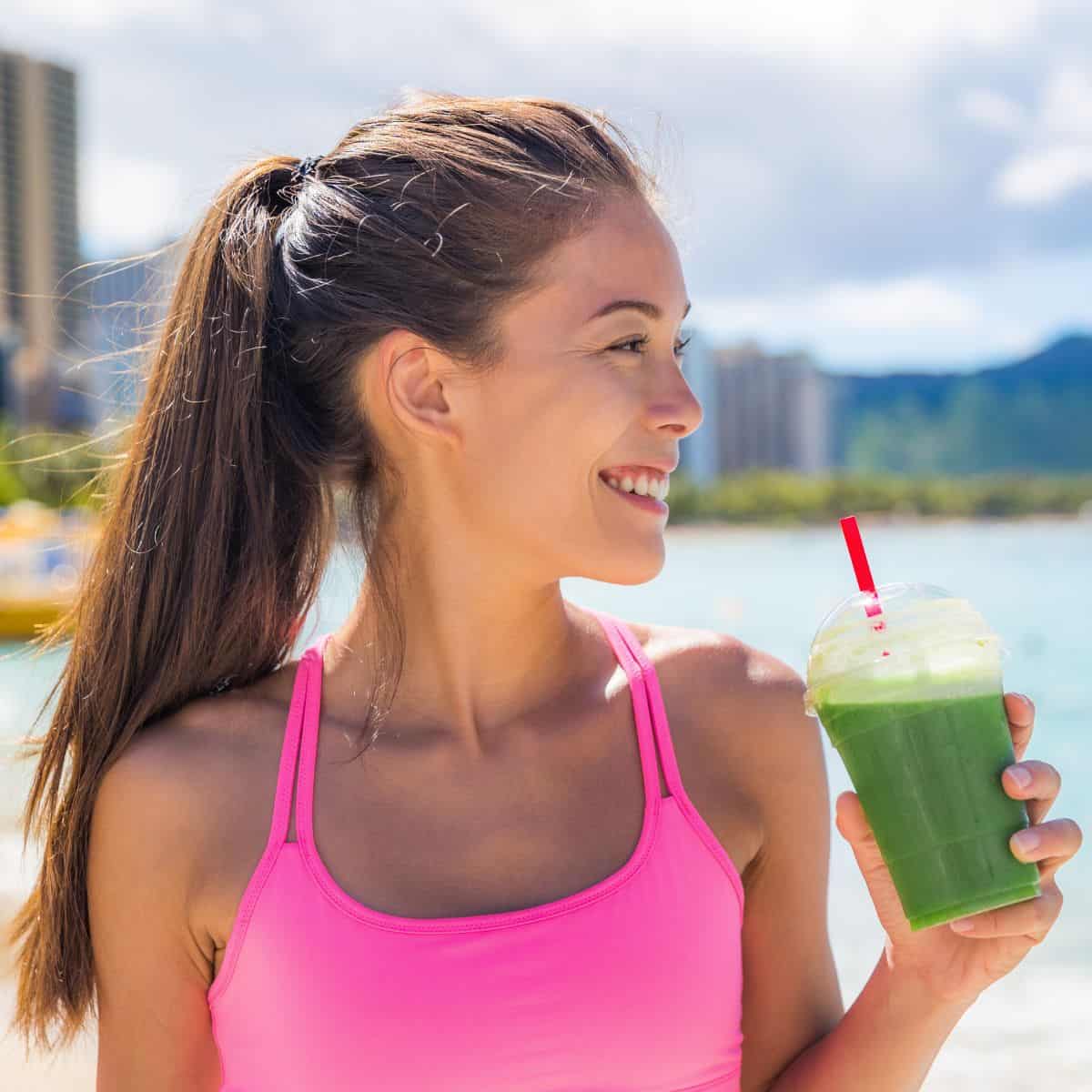 While Athletic Greens (AG1) is a well-known brand with science-backed ingredients, its cost can place the greens powder out of reach for many people. Luckily, plenty of alternatives to Athletic Greens deliver the same excellent quality of nutrients—just at a lower price.
If you want to try super greens but aren't sure if AG1 is right for you, the following list showcases the best greens powders you might consider as alternatives. In this guide, we'll explore each powder's pros, cons, and benefits, as well as why they might make an excellent alternative to Athletic Greens.
What Is Athletic Greens AG1?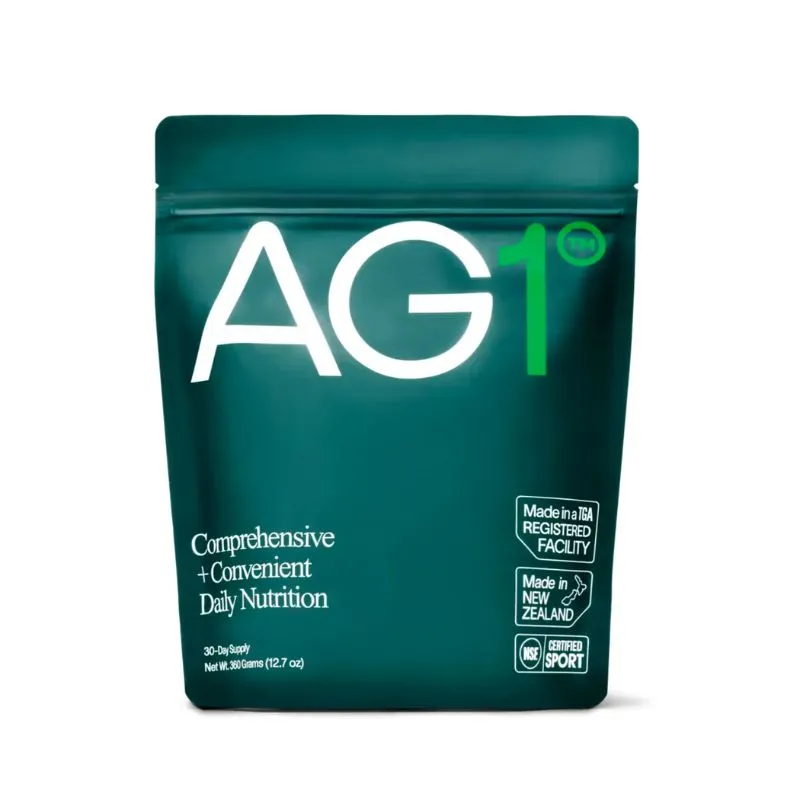 Athletic Greens (now known as AG1) is a super greens powder made from a proprietary blend of 75 superfoods, probiotics, digestive enzymes, and adaptogens. Like all super greens powder, AG1 is formulated to provide unique health benefits, enhancing the value of each ingredient by combining them into a carefully-balanced mixture.
The proposed advantages of Athletic Greens include:
Better energy levels.
A stronger immune system.
Improved focus.
Better post-exercise recovery.
As with many proprietary blends, specifics are vague about how much of each ingredient is actually in AG1. For this reason, many people decide to look for Athletic Greens alternatives with more transparent formulas.
Best Athletic Greens Alternatives
These eight super greens powders are our top choices for alternatives to Athletic Greens' formula.
1. Ensō Supergreens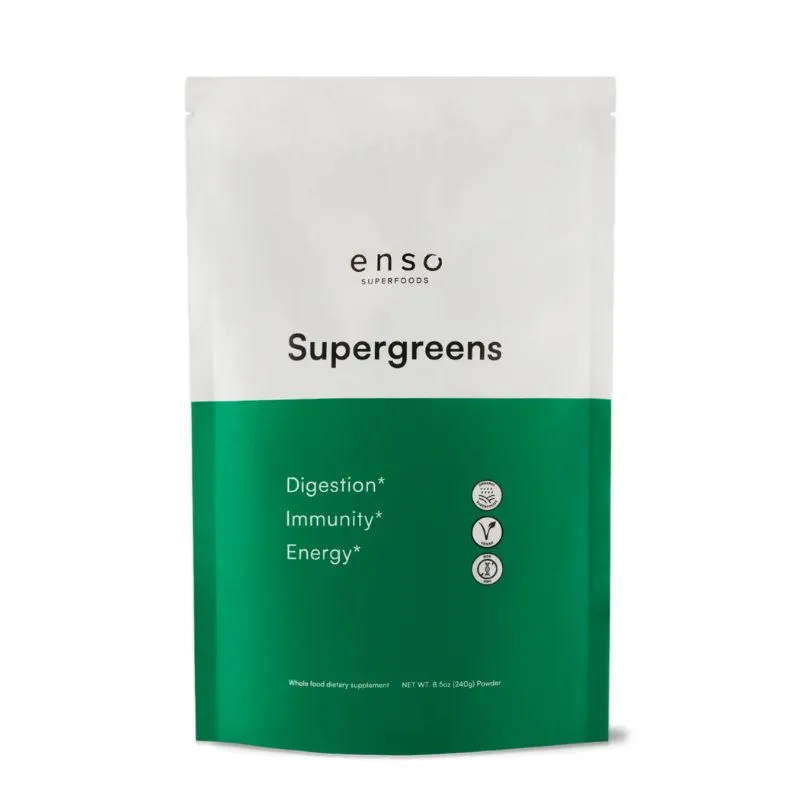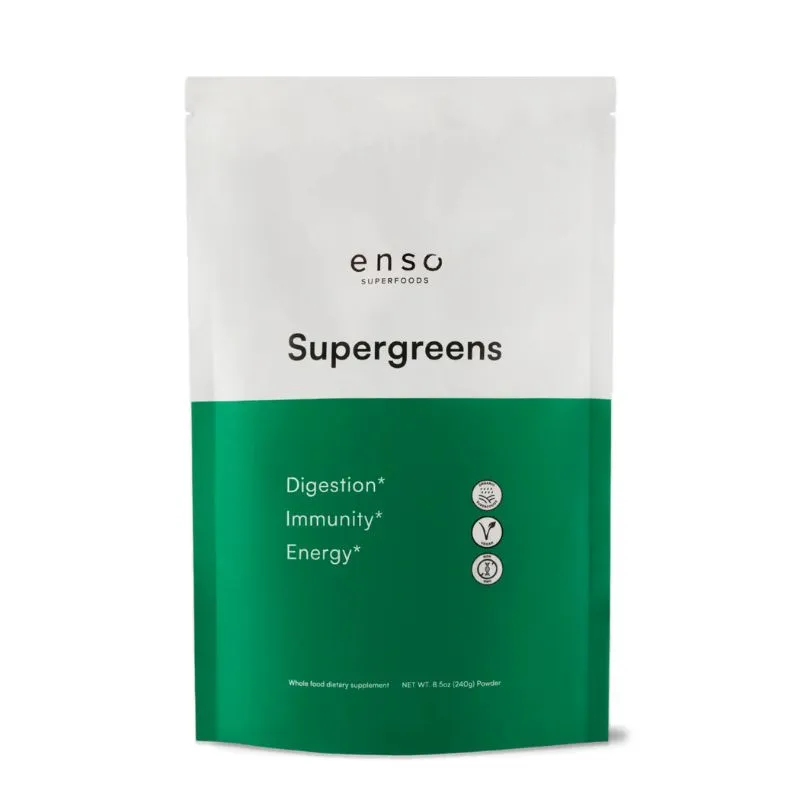 Supergreens from Ensō Superfoods is an Insider top pick for the best supergreens blend on the market. It is dietician-recommended and third-party tested, ensuring it delivers maximum health benefits to consumers.
The blend comprises more than twenty organic ingredients and includes probiotics and digestive enzymes that promote better gut health and faster absorption. The 100% organic formula is sourced locally in the USA, and one scoop replaces a daily serving of greens.
Using science-backed ingredients to develop its formula, Ensō Supergreens delivers substantial quantities of vitamins A, B1, B2, B3, B6, B9, C, and K, folic acid, amino acids, and antioxidants. It's an all-in-one superfoods blend that goes beyond typical greens powders to promote greater health and wellness, higher energy levels, and a stronger gut biome.
No gluten, dairy, artificial sweeteners, or flavorings have been added to the blend. Because of this, Ensō Supergreens offers a refreshing, natural taste that isn't overly "green."
In terms of cost, one order of Ensō Supergreens costs $59.99, which comes to $1.33 per serving. Compared to $2.48 per scoop of Athletic Greens, this makes Ensō a far more affordable alternative.
Pros
USDA-certified organic
One full serving of greens per glass
Smooth, sweet taste that isn't grassy
Cons
Only available online
Sometimes sells out due to high demand
Bottom Line: Ensō Supergreens is the best super greens powder alternative to AG1 thanks to its comprehensive blend and nutrient-dense formula. The inclusion of probiotics and digestive enzymes is an added perk that leads to greater immunity and stronger gut health. It's also 100% vegan and GMP-certified.
Start living a healthier life! Try Ensō Supergreens today – BUY NOW
2. Amazing Grass Greens Blend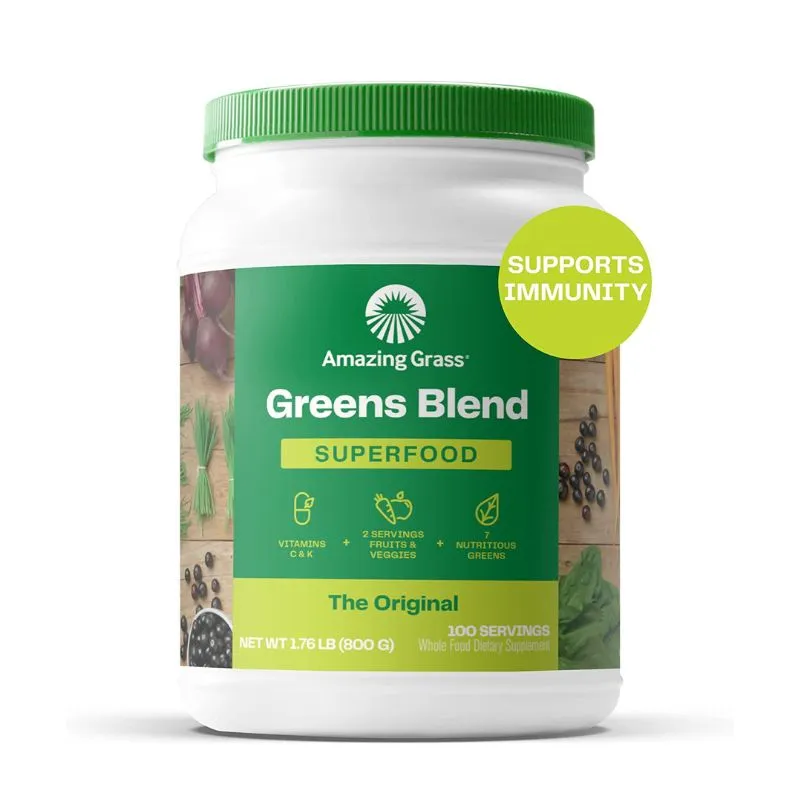 The Amazing Grass supplement is an excellent alternative to Athletic Greens if you're looking for a vegan greens powder. The sugar-free, soy-free formula includes just seven organic ingredients: wheat, barley, and alfalfa grasses, as well as spinach, spirulina, chlorella, and broccoli.
Each serving of Amazing Grass features just 30 calories, making it an excellent option for anyone looking to use greens powders for weight loss management. Another advantage of the Amazing Grass Greens Blend is that each serving equals two servings of fruits and vegetables. It's a good source of vitamins C and K and fiber.
As far as taste goes, Amazing Grass offers an original mix, berry blend, and chocolate flavors. Despite the variety, some users still report a prominent grassy taste, so you may want to mix yours into a smoothie if this bothers you.
In terms of cost, one container costs $46.89, which equates to just $0.78 per serving.
Pros
Transparent, simple ingredient list
Good source of vitamin C and K
Costs less than $1 per serving
Cons
Bottom Line: Amazing Grass has a broad line of products, including their simple Grass Blend. The short, clear ingredient list is a significant plus, and it offers a good pick-me-up boost of vitamins C, K, and fiber. However, the lower content of other nutrients and a lack of probiotics and digestive enzymes make the blend less potent than some alternatives. Nonetheless, it is still a good sugar-free, vegan greens powder.
3. Garden of Life Perfect Superfood Greens Juice Blend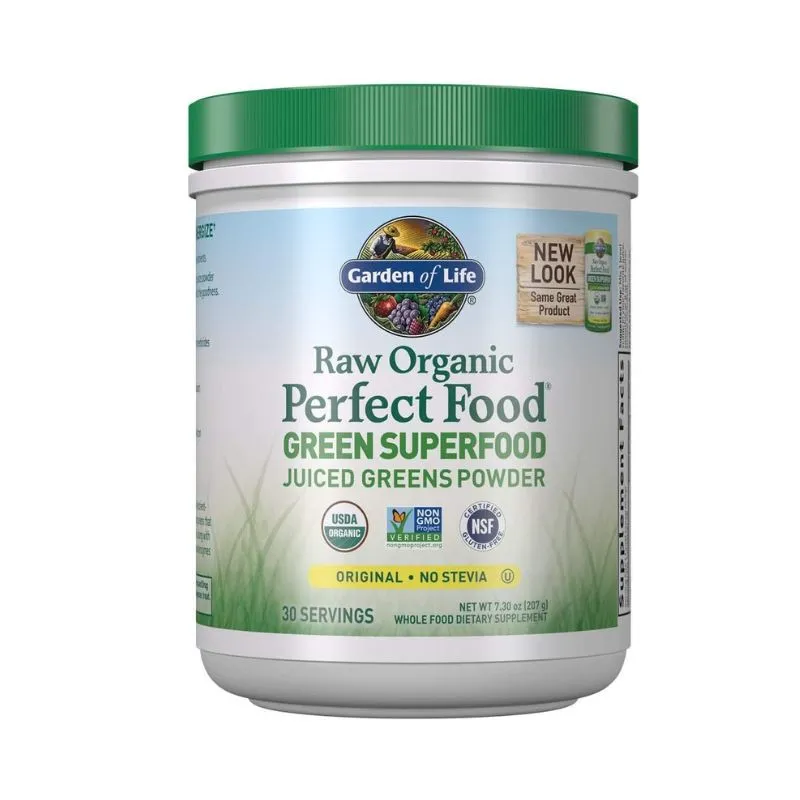 Garden of Life's formula is one of the best for gut health, thanks to its over 1 billion probiotics. The powder is a powerful antioxidant, immunity-boosting blend that supports both strong digestion and healthy detox.
The brand offers several varieties of superfood blends, and the greens juice formula features 34 organic ingredients, including barley grass juice, oat grass juice, and kamut grass juice. There are just ten calories per serving, and it contains zero added sugars or gluten.
Garden of Life Green Juice is also vegan and a non-GMO product made in compliance with environmentally friendly practices. It's an excellent source of green superfoods without any synthetic additives.
A container of powder costs $39.19, which comes to $1.30 per serving.
Pros
Eco-friendly manufacturing
Simple but effective ingredient list
6x more concentrated than whole-leaf powders
Cons
Formula lacks the depth of Ensō's blend
Flavor is known to be bitter and slightly salty
Bottom Line: Garden of Life is an essential super greens powder emphasizing raw ingredients. It detoxifies the body while strengthening the immune system through 34 greens and vegetables.
4. Bloom Greens and Superfoods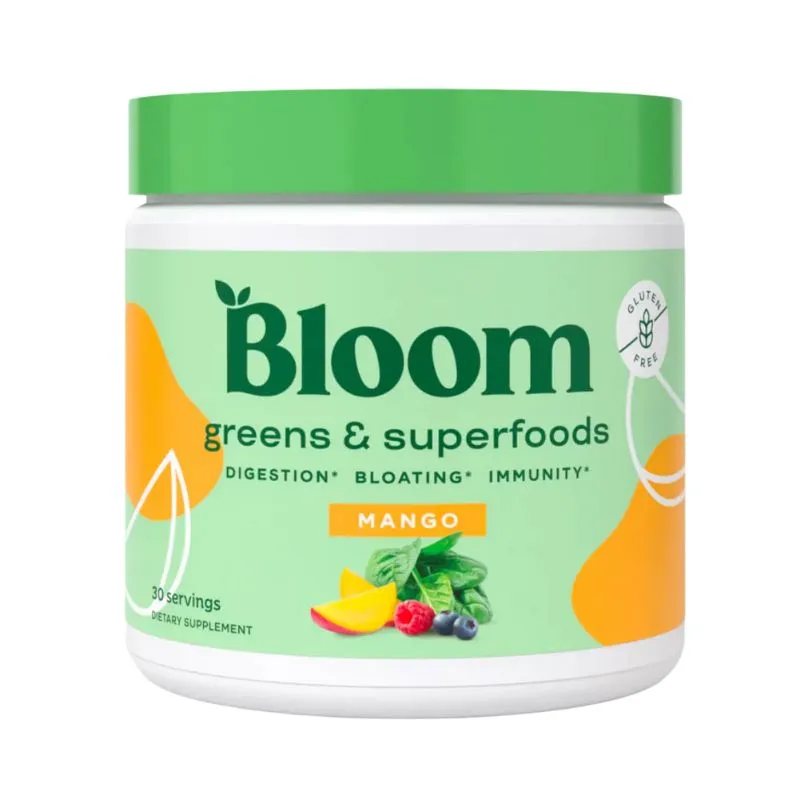 Bloom offers a greens and superfoods blend in five fruity flavors and an original formula with more of the traditional earthy greens taste. With over 30 nutrients, dairy-free probiotics, and digestive enzymes, it boosts your daily nutrition and relieves bloating.
Through barley grass, spirulina, and wheatgrass, the blend works to boost immunity while supporting greater energy levels.
The easy scoop-and-stir prep method allows you to incorporate Bloom's Greens and Superfoods into a juice, milk-based drink, or smoothie. In addition to ordering online, you can also find the product in Target stores. A jar of powder for 30 servings costs $40 ($1.33 each), and a jar of 60 servings costs $74.99 ($1.25 each).
Pros
Healthy gut support
Gluten-, sugar-, and soy-free
Five flavors to choose from if you don't like the taste of most greens powders
Cons
Not third-party tested
Not 100% organic
Bottom Line: Bloom delivers its health benefits through whole food extracts and is sweetened with stevia instead of sugar. It's a good supplement in a healthy diet, and the optional flavors make it a good alternative for anyone who dislikes the grassy taste of many super greens powders.
5. Beyond Greens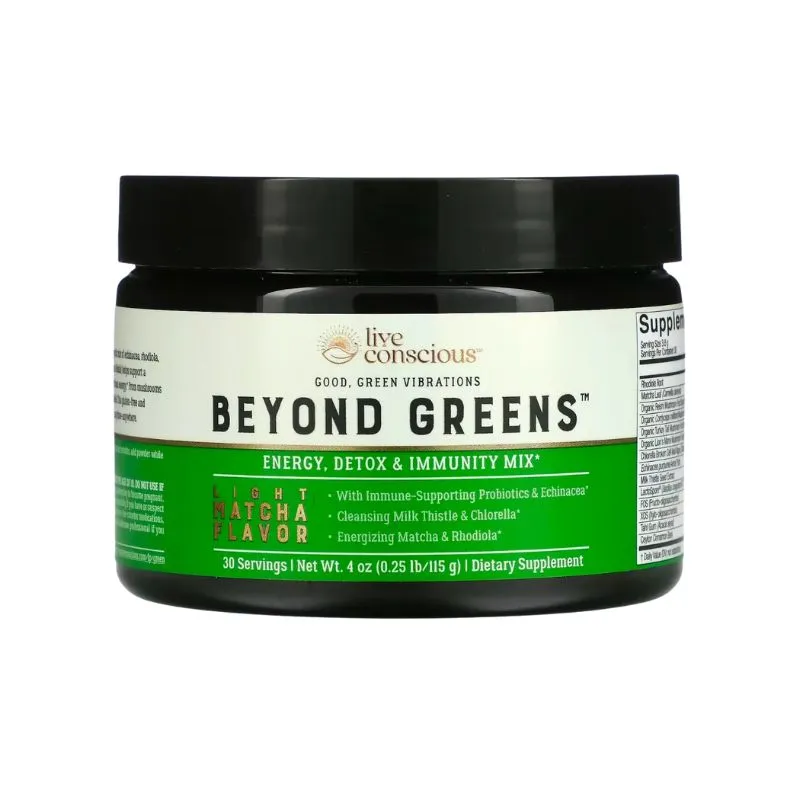 Beyond Greens by Live Conscious promotes benefits similar to AG1, but it comes at a much lower price. One container of Beyond Greens costs $24.99; this comes out to $0.83 per serving compared to $2.48.
Unique to Beyond Greens is a mushroom blend of four species of fungi, which help support your immune system, gut health, and total-body detoxification. You'll also find probiotics and enzymes to aid digestion and promote deeper absorption of the formula's nutrients.
Other notable ingredients in Beyond Greens are milk thistle, echinacea, and chlorella. Milk thistle can improve liver function; echinacea strengthens the immune system, and chlorella is algae containing every essential amino acid.
In terms of flavor, expect a green juice with a pleasant undertone of matcha.
Pros
Unique proprietary blend with ingredients uncommon in most greens powders
One of the most affordable Athletic Greens alternatives
Extra attention paid to your gut's microbiome to support energy levels and immune function
Cons
Lacks third-party testing certification
Does not contain a significant amount of its ingredients
Bottom Line: Beyond Greens is an affordable alternative to Athletic Greens that also contains some unique ingredients, like a mushroom blend, to aid digestion, immunity, and overall health. Its taste is earthy with a hint of matcha flavor and contains stevia as a natural sweetener. In addition to being gluten-free, it's also vegan and keto-friendly.
6. Organifi Green Juice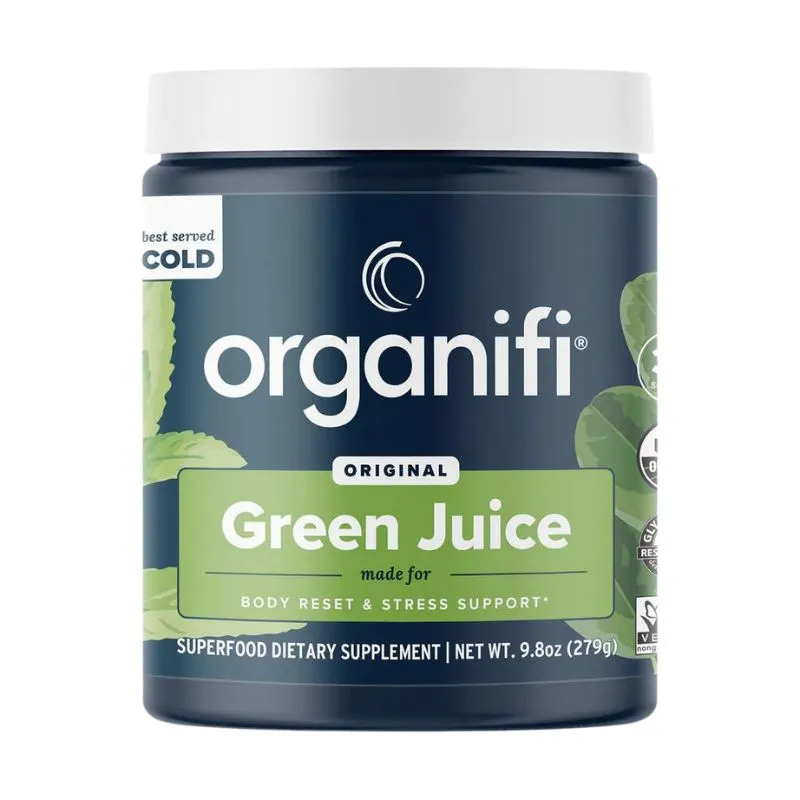 This USDA-certified organic blend features adaptogens and superfoods ingredients. Its certification means that at least 95% of its formula is organic, gluten-, soy-, sugar-, dairy-free and suitable for vegan and keto diets.
The minty, sweet flavor of this green juice powder can be a great alternative to Athletic Greens in terms of taste.
In terms of cost, you'll pay $69.99 for a jar with 30 servings. At $1.99 per serving, there are cheaper Athletic Greens alternatives than this, but it still saves you around $0.50 per glass.
As for nutrition, Organifi's formula focuses on balancing the body's pH levels and regulating hormones while improving hydration. The results can include lower cortisol levels and greater overall health.
Another noteworthy feature of Organifi Green Juice is that one serving contains a clinical dose of ashwagandha, a shrub believed to reduce stress and anxiety.
Pros
USDA-certified organic formula
Focus on lowering stress and total-body wellness
Minty-green flavor that can go well in smoothies
Cons
Doesn't contain any probiotics or enzymes
Proprietary blend that doesn't reveal total ingredient quantity
Bottom Line: Organifi emphasizes clean energy and health through its vegan, organic blend. As a greens powder, their Green Juice formula doesn't deliver a high range of vitamins, but it does offer good herbal supplements for lowering stress and supporting weight loss through reduced cravings.
7. Your Super Super Greens Mix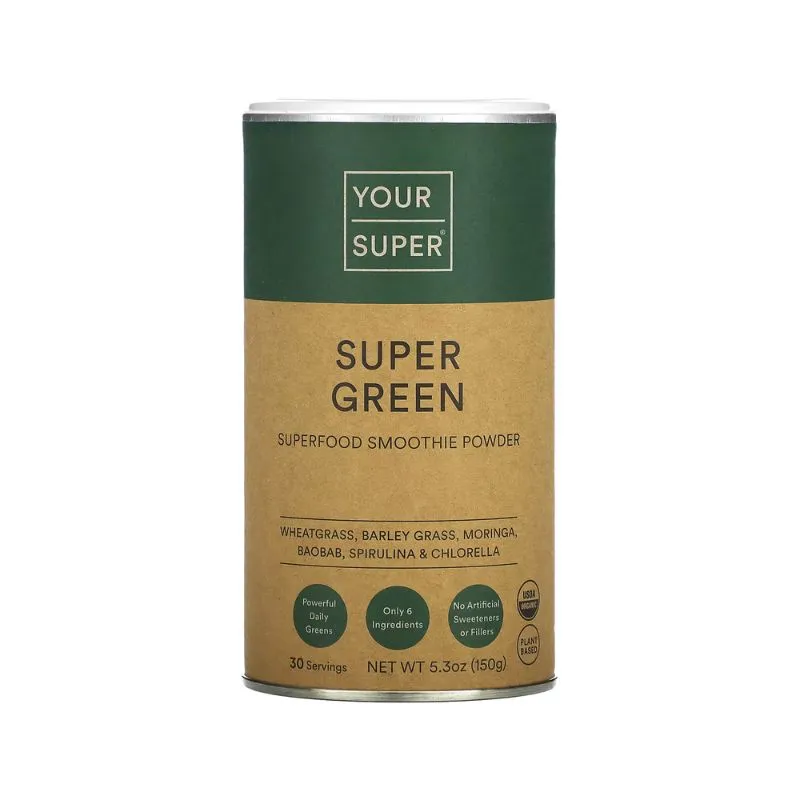 As an "easy greens" blend, Your Super's formula uses just six natural ingredients: barley, baobab, chlorella, moringa, spirulina, and wheatgrass. One serving is two teaspoons, and the company says the best way to enjoy it is by incorporating your daily dose into a smoothie.
Speaking of servings, each one costs $0.99, making it a great greens blend for those new to juicing who want an affordable option before investing more heavily.
The product is USDA-certified organic, gluten-free, and entirely plant-based. While it may have a shorter ingredient list than other greens powders, Your Super Super Greens does feature some unique additions, like gut-nourishing baobab and antioxidant-rich moringa.
You might enjoy Your Super's product if you are searching for a scaled-down, ultra-green vegan alternative to Athletic Greens.
Pros
USDA-certified organic
Much more affordable than AG1 ($30 for 30 servings)
Uses ingredients not common in other greens powders
Cons
Lacks staple super greens like broccoli and spinach
Not a good source of daily vitamins
8. Vibrant Health Green Mix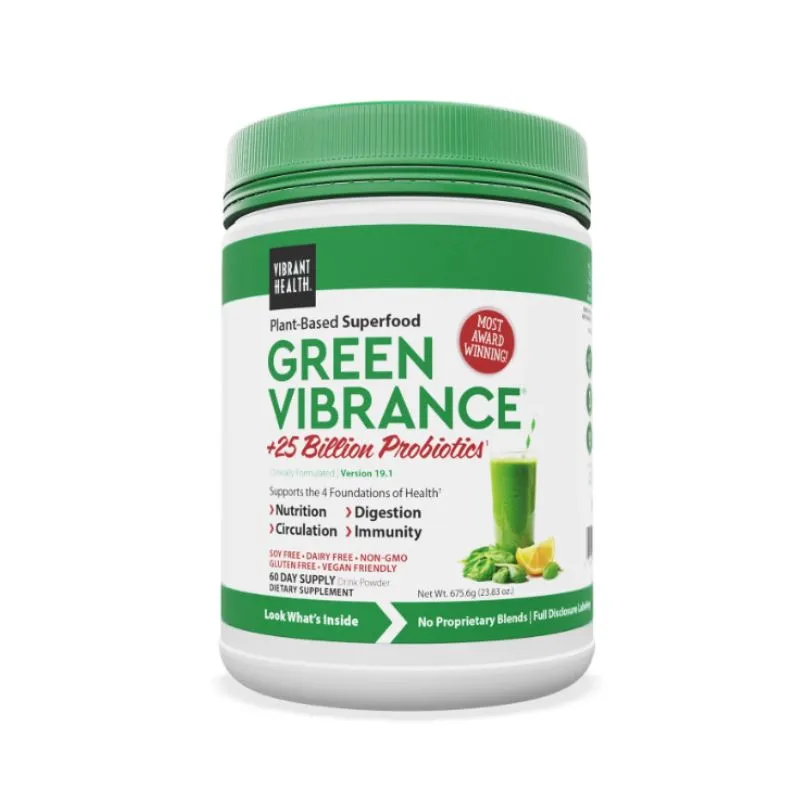 Vibrant Health's Green Vibrance blend has over 70 ingredients, including probiotics, enzymes, herbal extracts, and prebiotics that stimulate the growth of good gut bacteria. Green Vibrance has been available for over 30 years, making it one of the most popular and trusted formulas available.
The blend supports nutrition, digestion, circulation, and immunity. Despite its health benefits, however, the taste leaves much to be desired. Compared to some other super greens powders out there, most people find the taste of Green Vibrance to have a strong grassy flavor.
A large jar with 60 servings costs $82.40. At $1.37 per serving, it's over 50% less than one order of Athletic Greens.
Pros
Less expensive but nutritionally comparable to AG1
Contains prebiotics and probiotics for good gut support
Brand has a good reputation and trusted formula
Cons
Clinically significant doses of each ingredient are not included in a single serving
Key Considerations for Super Greens Powder
Nutritional Value
By definition, super greens should be nutrient-dense. Even a non-super greens powder should offer a good dose (at least 10% or more) of essential vitamins and other nutrients you may not always get through a regular diet.
You may notice that some greens powders have barely any vitamins or an extremely low nutrient count. It's best to avoid these blends, as they regularly fail to deliver significant results, even when taken daily.
You also want to avoid accidentally consuming too many fat-soluble vitamins (A, D, E, and K) because they can build up in the body and cause serious health problems in high amounts. Water-soluble vitamins, like vitamin C and the B group, are safer because they are flushed out of your body through the urine.
Nonetheless, you should always pay close attention to how many nutrients you consume daily, including vitamins, minerals (like iron and calcium), and amino acids.
Always follow the recommended serving and avoid combining any greens powders. When it comes to supplements, remember that more is not always better.
Organic Ingredients
A product labeled organic simply means it was made without harmful chemicals or fertilizers. Despite this, the name organic can mean different things depending on the company. Because of this, it's always helpful to look for brands that are USDA-certified. This way, you can be confident that they meet the Department of Agriculture's standards for organic produce.
Product Sourcing and Labeling
The best super greens powders will be open about where they source their ingredients, and it will be easy to understand precisely what's in the product by reading its label. Local sourcing supports a healthy ecosystem and economy; imported greens may not be grown following the same practices as the states, so quality can vary.
Furthermore, factory-made greens that are white-labeled and shipped out as original formulas can contain impurities like heavy metals. Certified third-party testing is the only way to know for sure whether a product has been approved as clean.
Taste
Let's face it—many greens powders are known for having a strong, grassy taste and thick consistency that people don't like. Earthy notes are inevitable, but the final taste of the greens juice will come down to its formula.
Avoid any greens powders that have sugar added for flavor. Natural sweeteners, like fruit juices or even some stevia, are okay in small quantities. The best way to enjoy a greens juice is either in a glass of water or, if you find the taste too strong, blended into a smoothie.
Additives or Artificial Flavoring
Additives include artificial colors, flavors, and GMO ingredients. You want to avoid these at all costs. Thickening agents are also not uncommon in some greens powders; you may see them as carrageenan, xanthan gum, guar gum, collagen, and pectin, among others.
It's best to opt for products with no additional ingredients, as they can impact how many nutrients your body can absorb from the product.
Probiotics and Enzymes
The inclusion of probiotics and digestive enzymes can promote greater absorption and stimulate your gut's microbiome. Probiotics are naturally occurring beneficial bacteria that assist digestion, create vitamins, and improve immunity.
Digestive enzymes help your body break down food faster and absorb greater nutrition. Although your pancreas naturally produces these helpers, a good greens powder can provide a secondary source of these enzymes, further supporting your digestion.
Final Thoughts
Greens powders are an excellent way to ensure you receive all the essential vitamins and micronutrients your body needs daily. Keep in mind, however, that they are not a substitute for a healthy diet, so you should only consume them when you're already eating a balanced diet rich in fiber, protein, carbohydrates, fruits, and vegetables.
You should also speak to your doctor before adding any supplement to your diet, especially if you have high blood pressure, diabetes, or other underlying medication conditions.
Remember, closely screening a greens powder label will help you learn more about what's inside and whether its ingredients are natural. Aim for whole, pure foods with zero additives for maximum benefits.
Start living a healthier life! Try Ensō Supergreens today – BUY NOW