If you're looking for plenty of healthy vegan Thanksgiving recipes, this list is for you! Take the stress out of your Thanksgiving meal with these dishes that are all meat, dairy, egg, and gluten-free!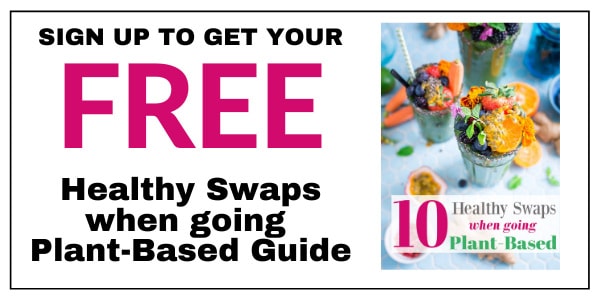 Thanksgiving cooking doesn't have to be stressful even if you're trying to build an entirely vegan Thanksgiving dinner or you are trying to accommodate the special dietary needs for all your guests.
It might be difficult for a meat-lover to imagine a plant-based festive dinner. Nevertheless, I can assure you these days we have a richness of ingredients and recipes to choose from, many of which are healthy, vegan versions of classic favorites.
Vegan mac and cheese, mashed potatoes, casseroles, shepherd's pie, and other traditional Thanksgiving recipes are included in this list but also many other healthy Vegan Thanksgiving recipes packed with nutritious ingredients.
You will find plenty of allergy-friendly recipes with both gluten and nut-free options. Last but not least, the desserts are sweetened only with natural ingredients. Let the feast begin!
Vegan Thanksgiving Salads
There are so many interesting textures and flavors in this salad! I'm sure if you give it a try, you won't hesitate to serve it on Thanksgiving!
Cranberry Pecan Brussels Sprout Salad from avirtualvegan.com
Quinoa is an excellent source of plant-based protein, the tangy & sweet dressing is to die for, and the pomegranate makes this salad look very festive.
Butternut Squash Quinoa Salad from flavorthemoments.com
Here's another hearty quinoa salad that also packs a generous amount of spinach. Who said you can't celebrate Thanksgiving with healthy food?
Quinoa Spinach Salad With Butternut Squash & Apple from veggieinspired.com
Thanksgiving is usually celebrated with heavier foods, which is why this light and healthy salad made with shaved Brussels sprouts and maple mustard dressing is just the dish you need to accompany them.
Shaved Brussels Sprout Salad With Maple Mustard Dressing from diannesvegankitchen.com
This kale and farro salad has so many autumn flavors it's definitely worth making and I'm sure it would look stunning on any Thanksgiving table.
Fall Kale Farro Salad from themostlyvegan.com
Vegan Thanksgiving Sides
Even as a vegan you can still enjoy a classic dish like mac and cheese thanks to some clever ingredients. The pumpkin flavor doesn't overpower this salad so even those who are not crazy about it will enjoy this comforting dish.
Vegan Pumpkin Mac And Cheese from vnutritionandwellness.com
Garam Masala flavors nicely complement roasted squash paired with a flavorful lemon tahini sauce and some crunchy pepitas and pomegranates for a bit of texture.
Garam Masala Roasted Squash & Lemon Tahini Sauce from vnutritionandwellness.com
Cauliflower mashed potatoes are super creamy and thanks to the cauliflower you will have a lighter, healthier and more nutritious side dish compared to the classic recipe that uses only potatoes and generous amounts of butter.
Creamy Vegan Cauliflower Mashed Potatoes from vnutritionandwellness.com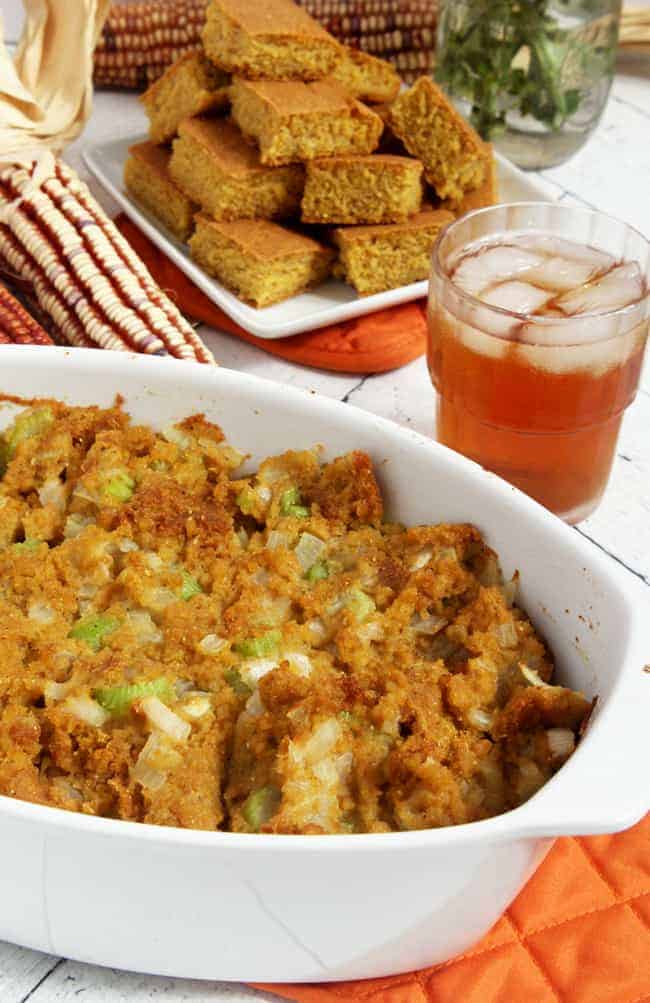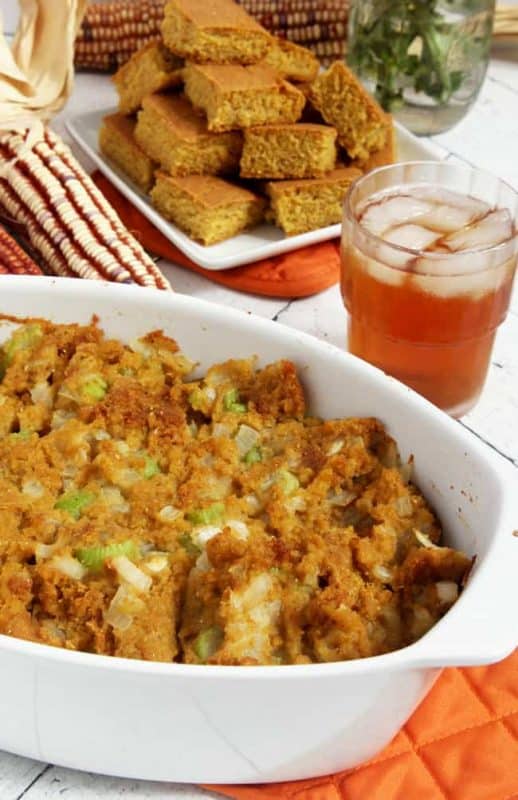 This cornbread stuffing is free of refined sugars and naturally gluten-free and tastes absolutely delicious, guaranteeing a win at any Thanksgiving table.
Gluten-Free Vegan Cornbread Stuffing by Bohemian Vegan Kitchen.
Spinach gratin sounds so delicious and this side dish will add a bit of color and nutrition to your Thanksgiving table.
Creamed Spinach Gratin With A Seedy Crumb Topping from quitegoodfood.co.nz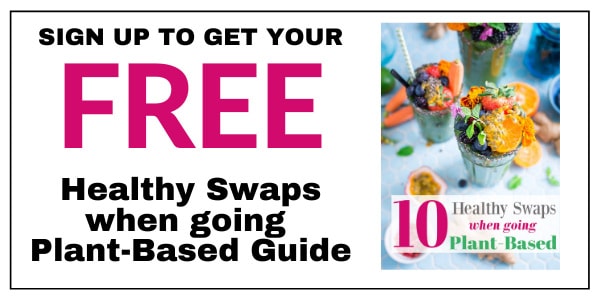 Vegan Thanksgiving Casseroles
Baked veggies & pumpkin are absolutely delicious and no one will realize they're actually eating a healthy meal!
Pumpkin Casserole With Veggies from vnutritionandwellness.com
This vegan cheesy casserole really makes the cauliflower flavor shine and you can definitely add it to your list of easy Thanksgiving casseroles.
Vegan Cheese And Parsley Baked Cauliflower from kiipfit.com
Those who enjoy sweet side dishes will surely appreciate this amazing sweet potato casserole that uses only applesauce as a natural sweetener.
Healthy Sweet Potato Casserole from joyfoodsunshine.com
A nutritious and low-carb recipe that's super easy to make and a real crowd pleaser!
Vegan Scalloped Cauliflower from veggiesdontbite.com
While this dish would be perfect for Thanksgiving, it's also an easy and comforting meal you can eat any day of the week.
Hashbrown Casserole from contentednesscooking.com
Vegan Thanksgiving Gravy/Sauce
Gravy is a must-have on any Thanksgiving table. This particular recipe uses shiitake mushrooms for amazingly flavorful results.
Shiitake Mushroom Gravy from vnutritionandwellness.com
If you prefer a richer tasting gravy you should check out this recipe using red wine, shallots, and mushrooms for a deep, savory dish that will pair well with almost anything.
Vegan Red Wine Gravy from frieddandelions.com
Thanksgiving cooking can take a lot of effort and if there is no more time on your schedule for your favorite gravy try this one instead. It's no-cook, ready in 5 minutes, and miso is a probiotic food, so there are no compromises made health-wise.
No-Cook Miso Gravy In 5 Minutes Flat from glueandglitter.com
Simple recipes are always the best. This gorgeous, thick cranberry sauce is made using only 3 ingredients and it's not just vegan, it's also paleo and Whole30-approved.
Homemade Cranberry Sauce from eatthegains.com
SOS stands for Salt Oil Sugar and this gravy was developed for an SOS-free diet. It's delicious and ready in under 30 minutes, so what's not to like?
SOS Free Carrot Gravy from veggielexi.com
Vegan Thanksgiving Mains
Stuffed acorn squash is such a festive dish to have on the Thanksgiving table. The best part is, anyone can make it!
Vegan Stuffed Acorn Squash from veggiessavetheday.com
While you shouldn't expect this chickpeas & lentils meatloaf to taste exactly like meat it's close enough and just as yummy.
Vegan Meatloaf With Chickpeas & Lentils from jessicainthekitchen.com
I can't decide what excites me more about this recipe: the Portobello 'steaks' or that amazing whiskey peppercorn sauce!
Portobello Steaks With Whiskey Peppercorn Sauce from connoisseurusveg.com
If there's any vegan recipe that will be enjoyed by your meat-eating friends it's definitely worth making. These vegan 'meatballs' are a wonderful plant-based main, perfect for Thanksgiving dinner.
Vegan Thanksgiving 'Meatballs' from makingthymeforhealth.com
I love this spin on the classic Sheperd's Pie that replaces the ground beef that's used traditionally with lentils. A truly nutritious vegan meal packed with veggies and healthy fats.
Sweet Potato Shepherd's Pie from emilieeats.com
This lentil quinoa loaf is super easy to make and will definitely be appreciated by your guests.
Vegan Lentil Quinoa Loaf from veganricha.com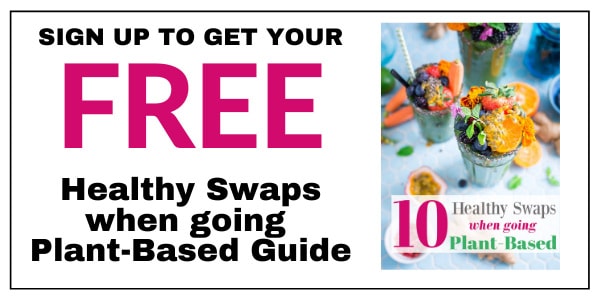 Vegan Thanksgiving Desserts
Can hummus really be a dessert? I say yes and even more: it's also a healthy one. This sweet pumpkin hummus is the perfect allergy-friendly treat.
Sweet Pumpkin Hummus from vnutritionandwellness.com
Pecan pie bars seem like a more practical alternative to a large pie and while these are vegan they are also super decadent. However, Thanksgiving is the perfect time to indulge, at least a little.
Paleo Pecan Pie Bars from allergyfreealaska.com
This apple pear crumble is a super easy dessert that looks very attractive and is also refined sugar-free.
Grain-Free Apple Pear Crumble from tastingpage.com
I can't imagine any dessert lover would be able to turn down this wonderful cake. It's flourless and interestingly, also freezer-friendly.
Vegan Applesauce Cake With Cinnamon Maple Frosting from countryhillcottage.com
Crumbles are super easy to make in general, and this apple one is made only with healthy, whole ingredients and gluten-free. I sweetened it with dates and topped it with coconut cream for a truly comforting treat.
Easy Vegan Apple Crumble from vnutritionandwellness.com
Enjoyed these healthy vegan Thanksgiving recipes? You might also like…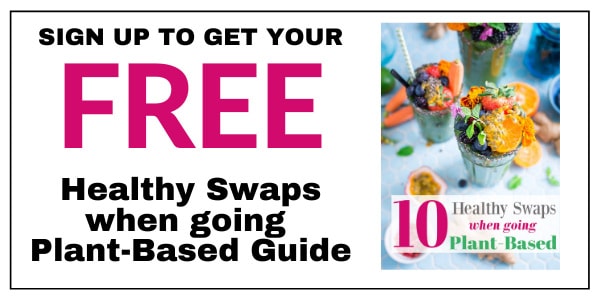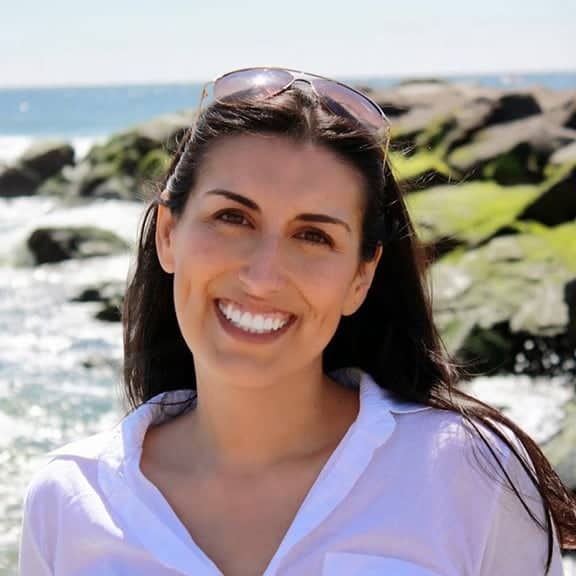 Mary Ellen Valverde MS, CNS, LDN is a Licensed Nutritionist and Certified Nutrition Specialist who empowers vegans to feel confident creating sustainable habits that align with their values and health goals. She shares easy plant-powered food to nourish your body + satisfy your tastebuds. Mary Ellen's recipes and nutrition info have been featured on Yahoo News, Parade, VegNews, LIVESTRONG, Dr. Axe, Greatist, LIVEKINDLY, Brit+Co, Well+Good, and more. She lives in NJ with her husband & two sweet shih tzus, Firenze & Sophie.