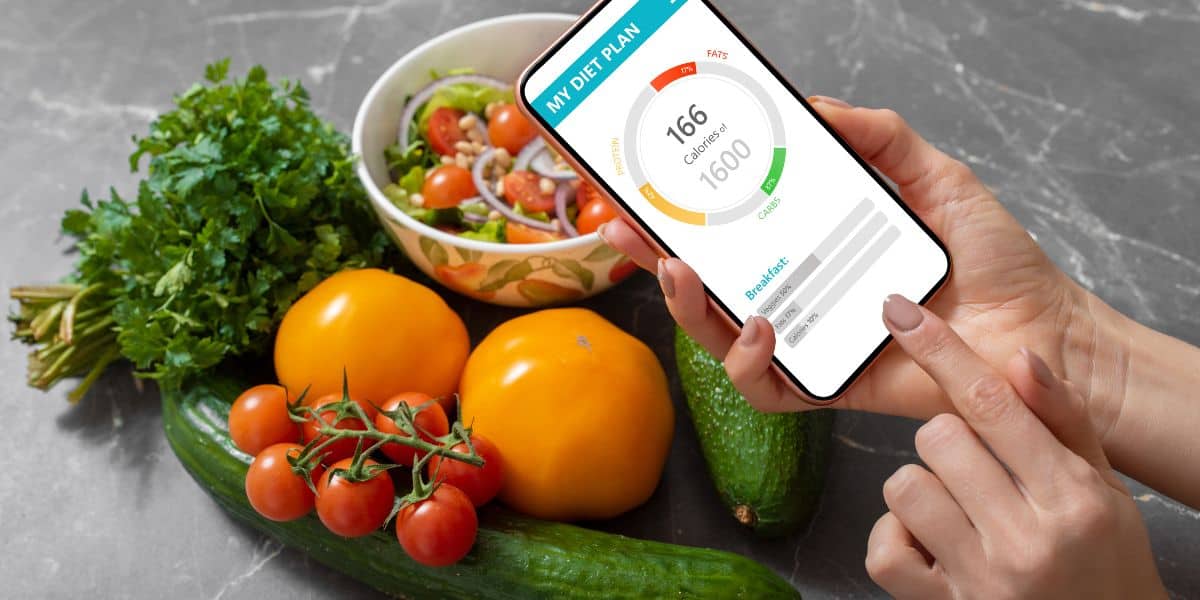 Starting the keto diet for the first time can feel overwhelming, especially during the first few days as your body adjusts. While it takes hard work, determination, and grit to make it through ketosis, nothing says you must endure it alone. Amidst all the keto diet apps available, Keto Cycle is the one I decided to use for my keto journey due to its affordability, educational resources, and simplicity. This Keto Cycle review showcases my experience, from the initial sign-up to navigating my personalized meal plan, and why I ultimately recommend the Keto Cycle app to others.
KETO CYCLE REVIEW: KEY TAKEAWAYS
Designed for dieting newcomers and experts alike, Keto Cycle takes all the guesswork out of the keto diet. After filling out a brief health questionnaire, Keto Cycle calculates your optimal calorie intake and creates a personalized meal plan based on your ingredient preferences and desired cooking time. In addition, Keto Cycle users can access a private community support group, receive grocery lists for weekly planning, and explore a complete keto diet guide for beginners.
Best Features:
Delicious and easy personalized keto recipes
Customizable grocery lists
Private keto diet community
Progress tracker and calendar
Cheatsheet with keto-friendly snacks
Keto guide for beginners
What I Liked:
Daily personalized meal plans
Accurate nutrition calculation
Educational and motivational resources
Affordable subscription plans
What Could Be Improved:
Clarify the Keto Cycle pricing plan structure
Make the beginner's guide more mobile-friendly
The Bottom Line (4.8/5 stars):
Keto Cycle has made my experience with the diet far easier than I anticipated. It takes the guesswork out of daily meal planning, ensures I consume the right foods, and monitors my progress across several metrics. All in all, I'm a satisfied user and plan to keep relying on Keto Cycle.
WHAT IS KETO CYCLE?
Keto Cycle is a ketogenic diet app designed to help users through the entire keto process, from start to finish. Not only does Keto Cycle help make ketosis manageable with tracking tools, calorie counters, and keto calculators, but it also makes ketosis enjoyable. Users are given thousands of tasty and easy-to-prepare recipes to meet their dietary requirements.
To top that off, Keto Cycle even provides users with printable grocery lists to help with meal prep and a cheat sheet with snacks they can safely consume to meet their health goals. Through their daily motivational tips and private keto community, Keto Cycle also offers moral support to users who need an extra boost of encouragement on hard days.
HOW DOES THE KETO CYCLE APP WORK?
Keto Cycle lives up to its mission of creating a "think-free, ultra-personalized, and easy-to-use keto program." Combining education, tracking, and support into a single app, Keto Cycle has everything you need to safely and efficiently embark on your low-carb diet. Here's how my experience went and what you can expect if you decide to try it.
TAKE THE HEALTH ASSESSMENT
I visited Keto Cycle's website to take the initial assessment. It asked about my familiarity with the keto diet, how much time I have to prepare meals, which ingredients I like and dislike, and various questions about my health and activity levels.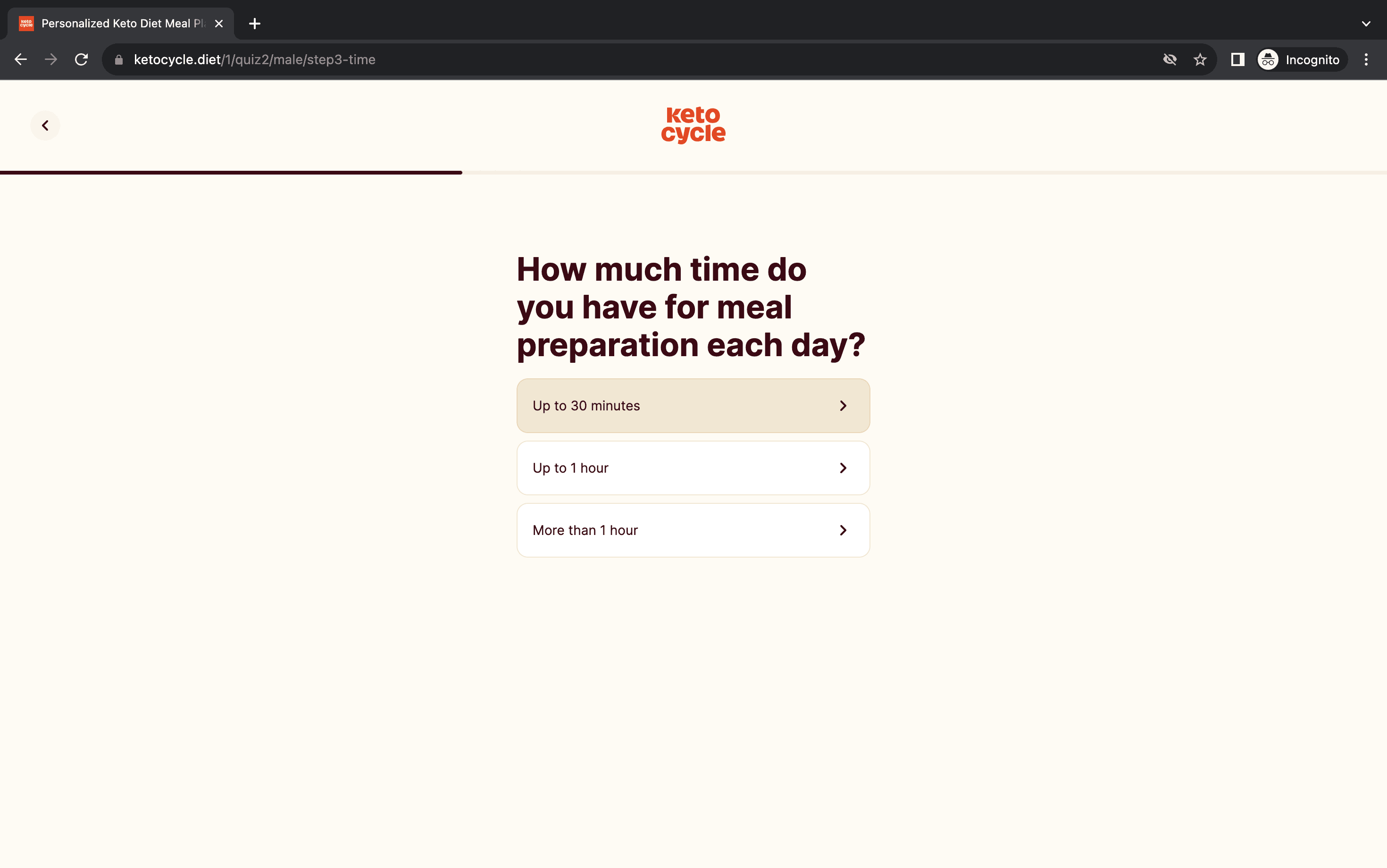 After I entered my body measurements, Keto Cycle prepared my personalized meal plan and provided me with a summarized version, which included my BMI assessments, estimated daily calorie intake, and where my body will likely experience the most significant changes.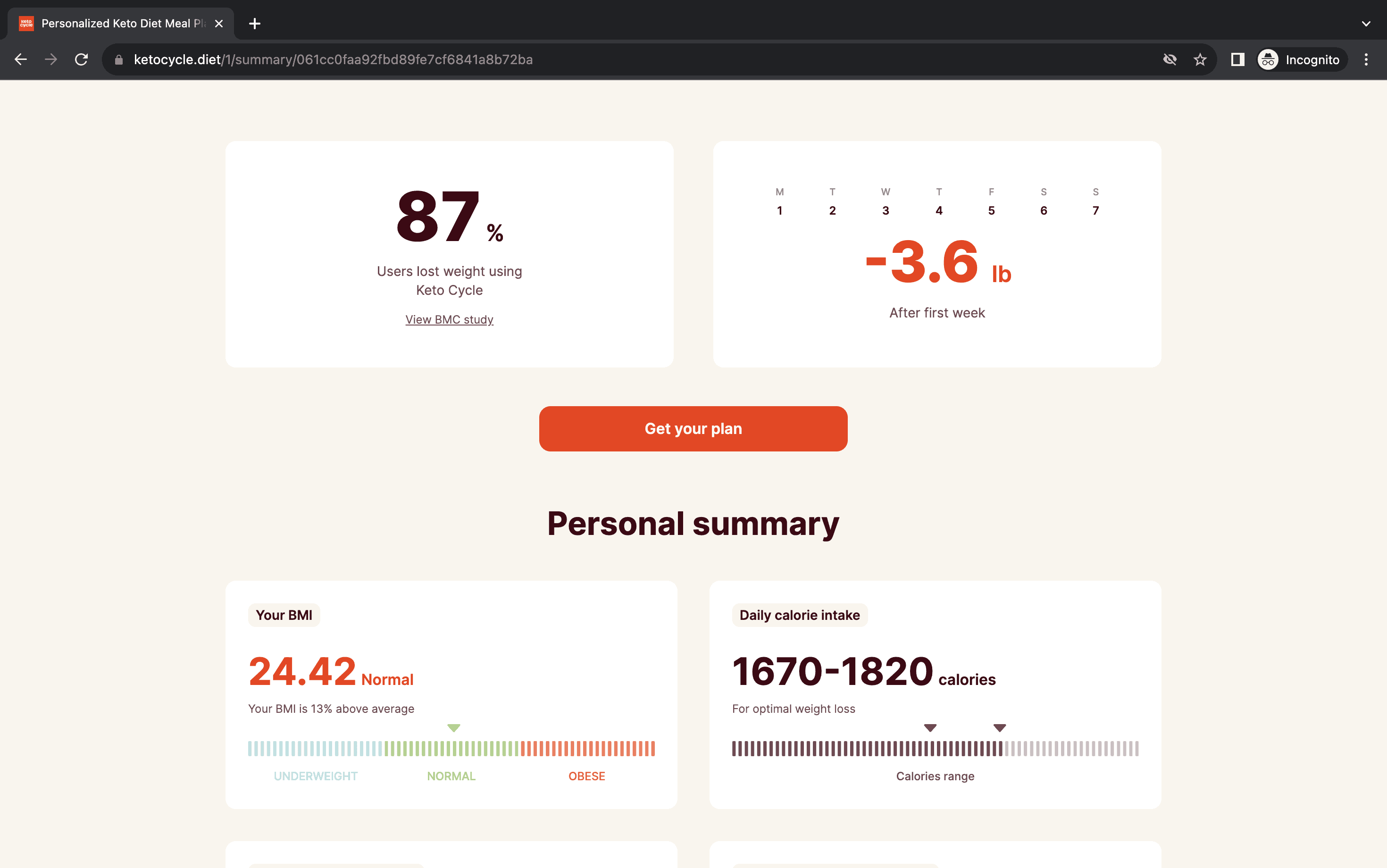 CHOOSE A SUBSCRIPTION OPTION
At the time of my purchase, I could select one of three subscription plans:
Two-month plan (billed every two months): $3.81/week
Four-month plan (billed every four months): $2.65/week
Six-month plan (billed every six months): $2.54/week
I purchased the two-month option for $33, but I plan on changing to the four- or six-month plan once it expires, depending on my overall progress. I considered the total cost fair for what comes with my plan, and it takes the guesswork out of my daily meal planning.
REVIEW THE PERSONALIZED NUTRITION PLAN
After I subscribed, I downloaded the Keto Cycle app (available on the App Store and Google Play). Once I signed into my account, I could access my keto meal plan and see my daily recommended recipes. The app also has progress charts, additional guides and resources, and several paid features to simplify the keto journey.
Along with viewing my macronutrient intake requirements, I can track hydration, weight loss, ketone levels, and daily symptoms to log my progress. I also like the automatic grocery store list feature that compiles all the ingredients I need for the week, allowing me to prep on the weekends and ensure I have everything I need.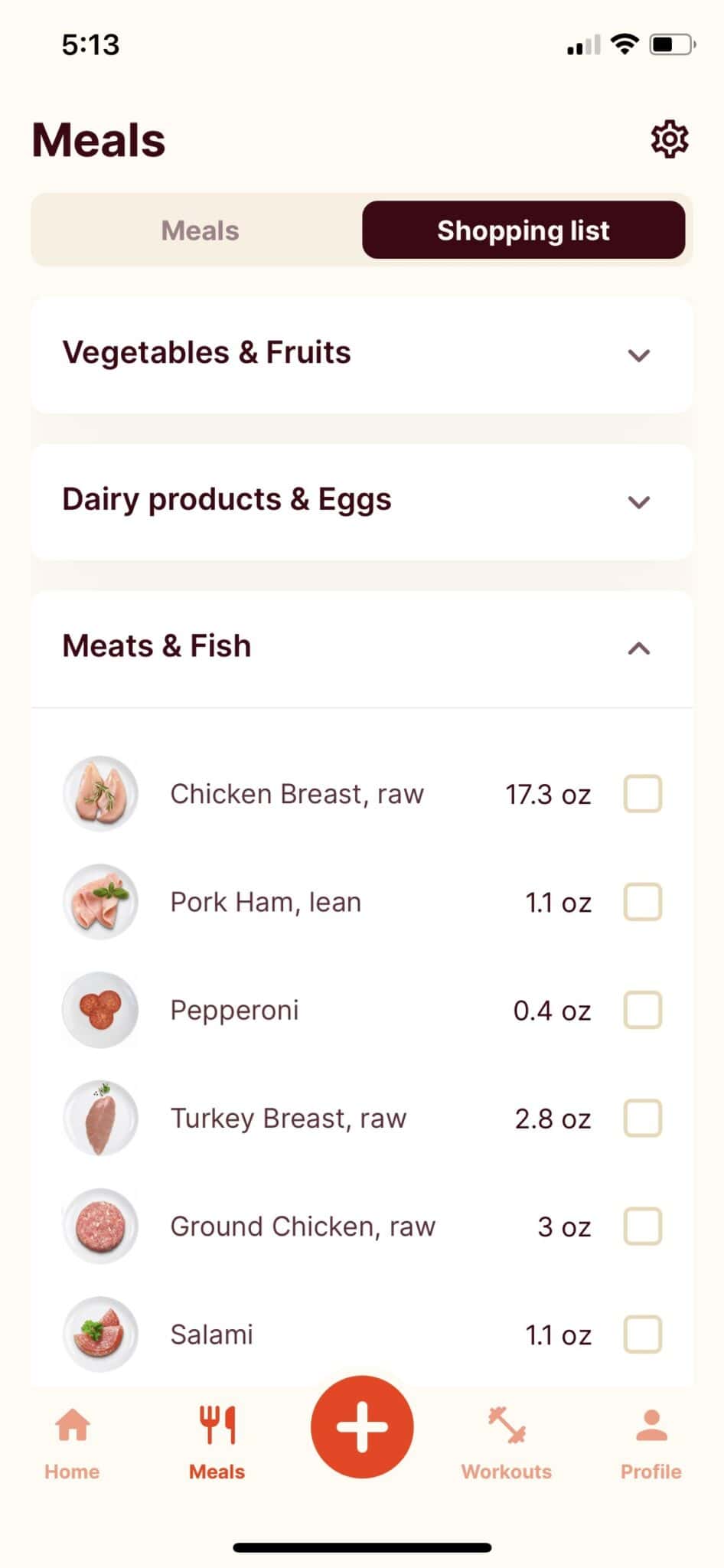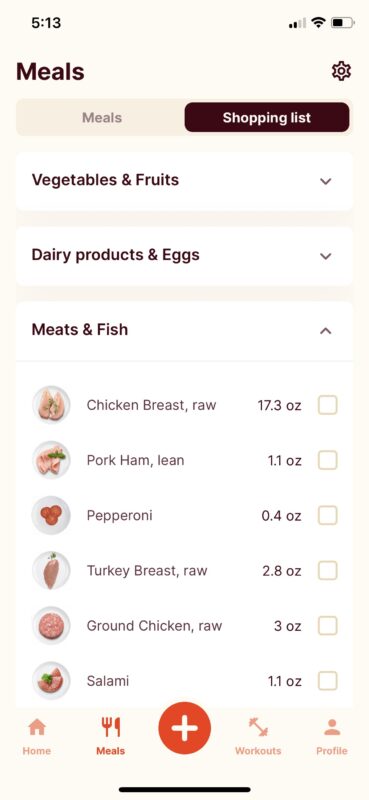 START DIETING AND MONITOR PROGRESS
Once I reviewed my meal plan, the only thing left was to start the diet. So far, I've had a positive experience with Keto Cycle and find it easy to use on a daily basis. I have yet to use any other resources or tools to figure out if I'm on the right track since it has everything I need in one place. From reviewing recipes to inputting my daily metrics, Keto Cycle has been my one-stop shop for everything related to my keto diet.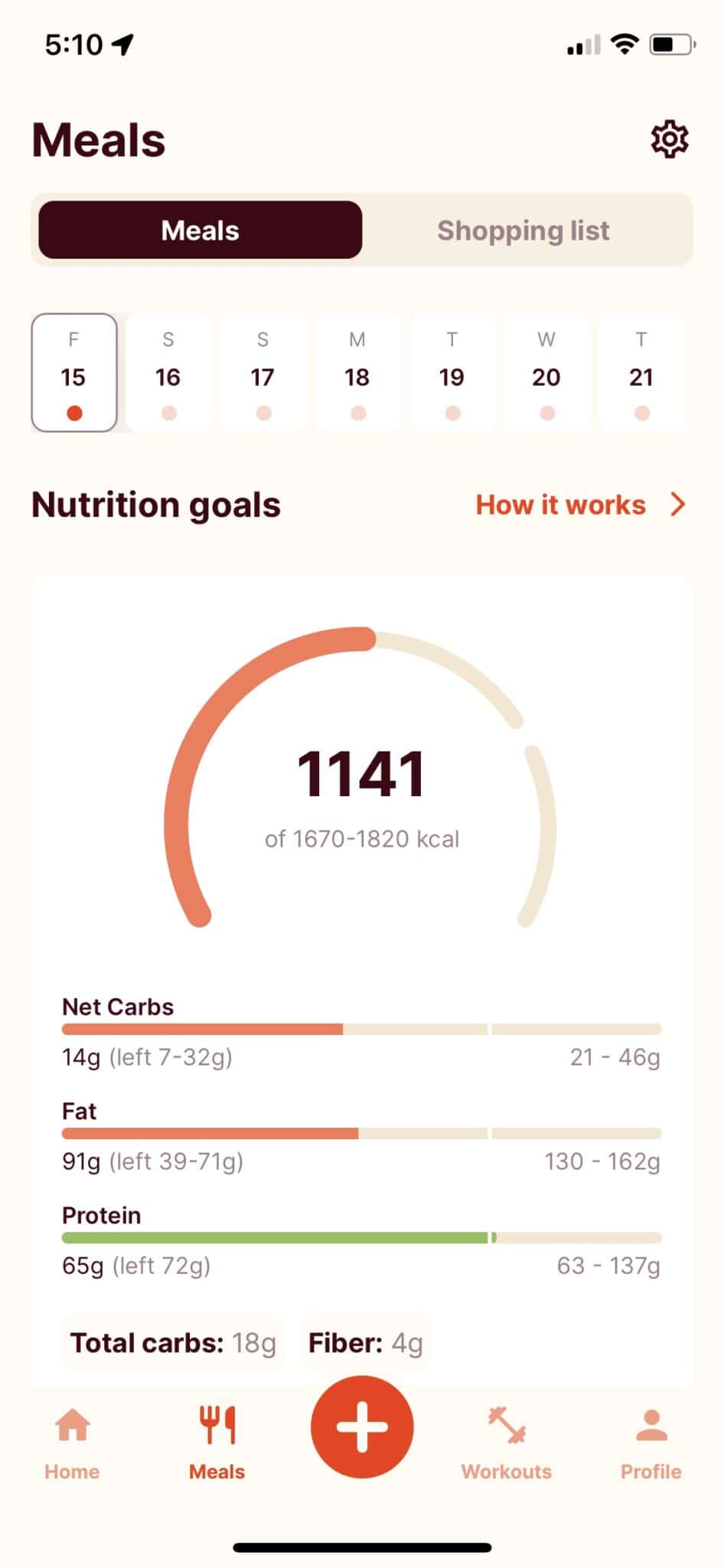 WHAT DOES THE KETO CYCLE PLAN COMPRISE OF?
All Keto Cycle subscriptions include a customized keto meal plan with thousands of recipes that satisfy the user's daily macronutrient intake requirements. Keto Cycle recommends three meals each day, plus keto snacks and desserts. All are simple, convenient, and filling keto recipes that update daily to ensure users have plenty of variety in their daily diets.
Users can take advantage of the provided grocery lists, which can be customized and printed. If you are new to this diet, the meal plans also include a complete keto guide for beginners to help transition from regular to keto diets.
MY TOP KETO CYCLE APP FEATURES
From my personalized keto meal plan to the extra perks, these are my favorite Keto Cycle app features and what I liked best about them.
PERSONALIZED KETO MEAL PLAN
Based on my lifestyle, body measurements, and fitness regime, Keto Cycle provided information on what I should eat for breakfast, lunch, and dinner every day of the week. These plans guarantee that I will stay on track and do everything I need to meet my weight loss goals. I also like the healthy snacks and desserts that make the process more rewarding and fun.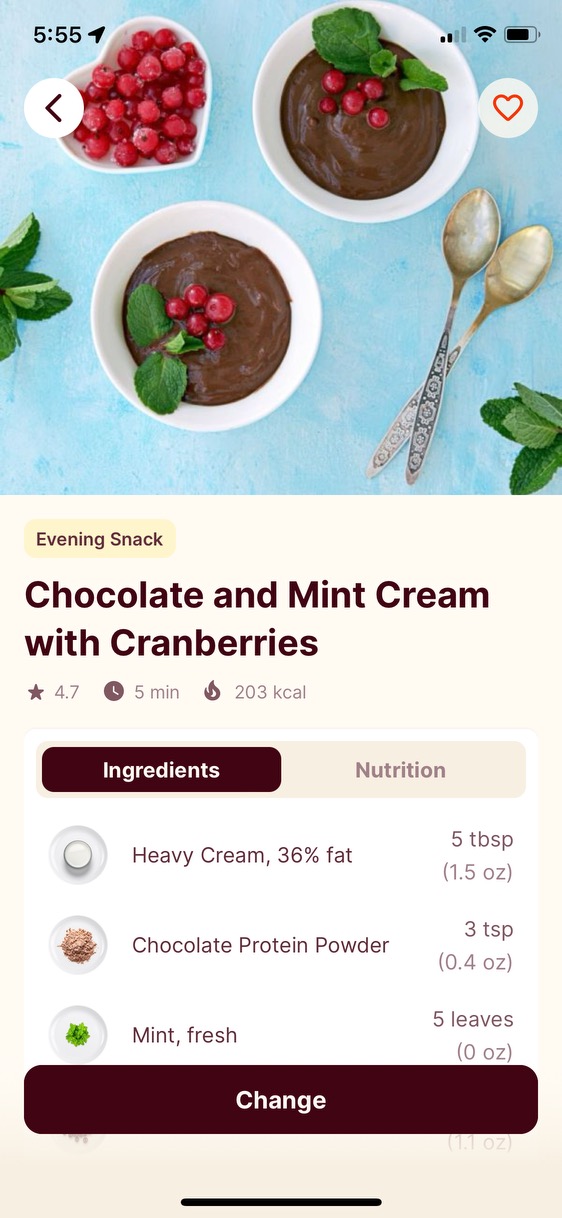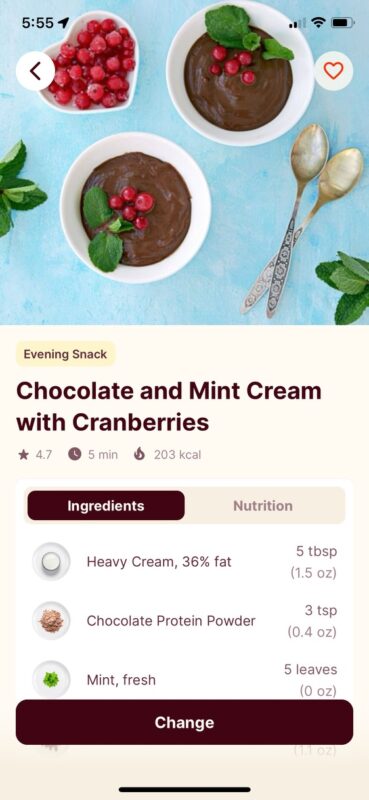 As a part of the personalized keto meal plan, the app recommends hundreds of recipes tailored to my dietary preferences. I can also create a shopping list for weeks ahead and do my grocery shopping all at once. While it's possible to figure out all of this information independently, Keto Cycle makes it more straightforward and manageable for a long-term commitment.
CUSTOM WORKOUT ROUTINE
For an extra $14.99, the Keto Cycle diet app created a personalized workout regimen tailored to my exercise habits and fitness goals. Developed by fitness experts, Keto Cycle offers videos and written instructions to maximize each workout. They range from 15-45 minutes and optimize weight and fat loss results, all of which can be done from the comfort of your home with minimal to no equipment needed.
KETO DIET BEGINNERS GUIDE
Keto Cycle includes a guide to the keto lifestyle and diet with every subscription plan. It's a comprehensive overview of everything I needed to know, including calculating macronutrient counts, dealing with common side effects, and stocking my pantry. While you can probably find most of this information online, I appreciated having a single guide with all the essential parts of the diet in one place, but I wish it was more mobile-friendly (it's like a brochure-style PDF that looks better on a computer screen).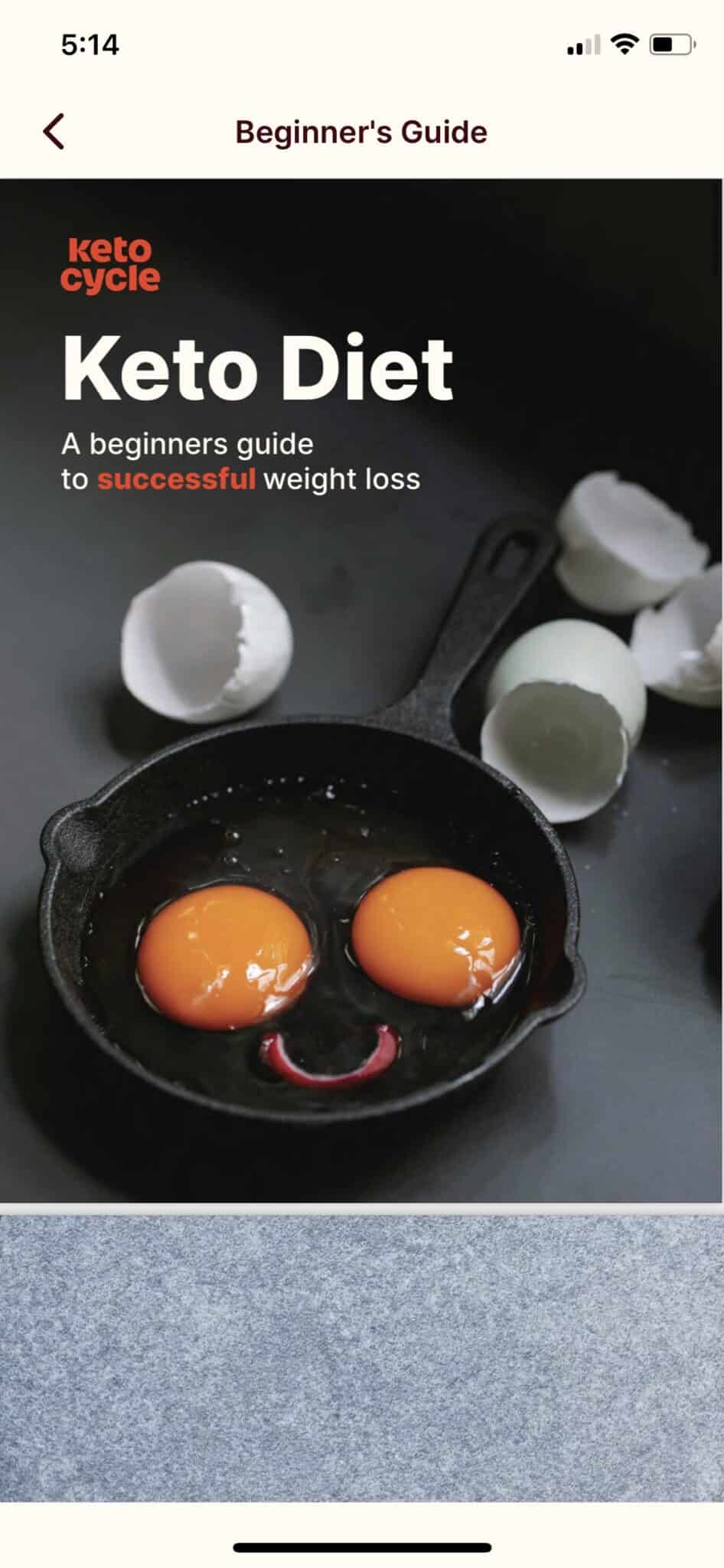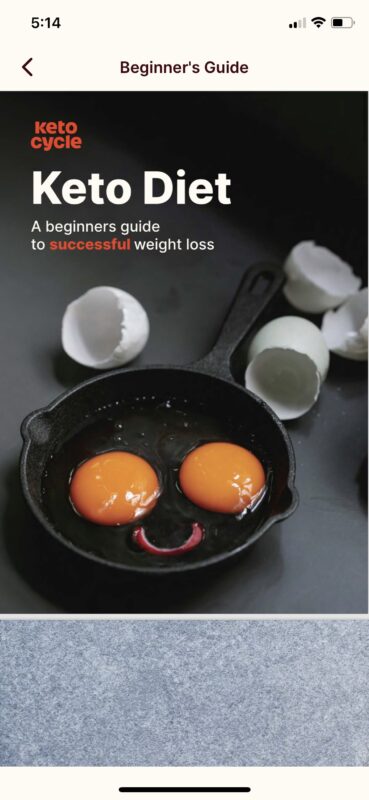 ONE-ON-ONE NUTRITIONIST SUPPORT
If you ever have personal questions requiring an expert's advice, you can contact Keto Cycle nutritionists for $29.99. While I've yet to use this feature, it can come in handy when I can't find the right answers for my situation. To use this feature, members must pay and then will receive their nutritionist's contact information. They can send an email whenever they need and count on a reply within three business days.
PRIVATE COMMUNITY
A new challenge is always easier when you have other people by your side. Keto Cycle's private community is one of the app's standout features that made me feel less alone as my body entered ketosis. If you are experiencing any symptoms, such as the infamous keto flu, or if you aren't sure your keto diet is working, there's a strong chance that someone in the Keto Cycle community has been there once before, too. This inspirational community helps by sharing recipes, success stories, and advice.
PROGRESS TRACKER AND CALENDAR
One of the most rewarding things about the keto diet is tracking your progress and seeing how far you've come. Consistently meeting your goals week after week is also a powerful motivator to keep pushing forward. Keto Cycle's progress tracker and calendar will provide daily goals and weekly progress summaries.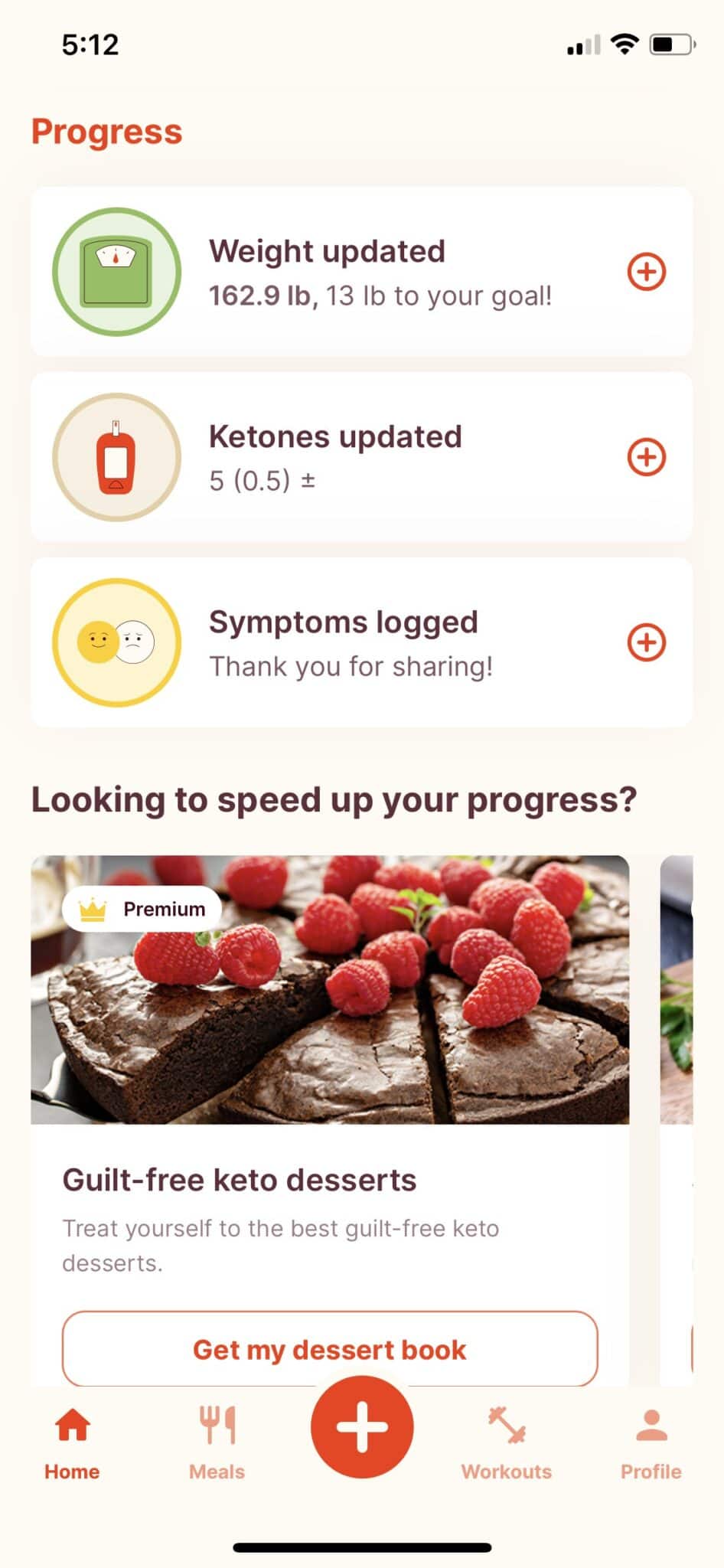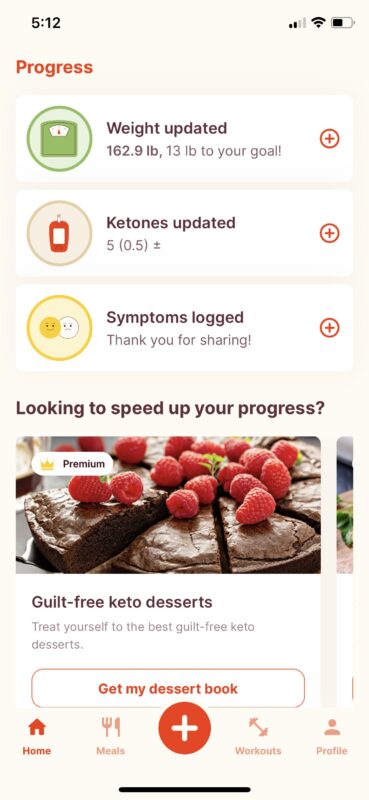 These regular updates also include insights from the Keto Diets UAB team. If there's something that you are excelling at or if there is something that you could improve upon, this information will be included in Keto Cycle's smart reports and insights.
KETO 2.0 STAPLE RECIPES AND GUILT-FREE DESSERTS
While my personalized meal automatically came with hundreds of recipes, I can access Keto Cycle's "Staple recipes of keto 2.0" and "Guilt-free keto desserts" virtual recipe books. They cost $14.99 and $9.99, respectively, and contain over 80 recipes combined, which are great resources for those who plan on going on and off the keto diet throughout the year.
WHO IS THE KETO CYCLE APP FOR?
If you are going through the keto diet and need an extra resource in your toolbox, the Keto Cycle diet app is for you. This app is designed for keto dieters who want to avoid the hassle of counting calories and net carbs and monitoring their food intake.
The Keto Cycle follows a diet plan that does not require weight loss pills, expensive dietary products, pricey fitness equipment, or unique treatments. It's a safe and personalized way to lose weight based on your ideal macronutrient ranges.
KETO CYCLE VS DIET APP ALTERNATIVES
When your health and finances are on the line, you want to opt for the best keto app available. To help weigh the pros and cons of the Keto Cycle, let's compare this top-notch app to two of the other best Keto Cycle apps on the market.
TOTAL KETO DIET
The main standout feature of Total Keto Diet is its extensive recipe collection. The app has thousands of tasty recipes that keep your carb count under 25 grams daily and help you increase your protein consumption. Created by Tasteaholics, this app also shares features with Keto Cycle, including a keto calculator, macro tracker, food database, and guide for keto beginners. While Total Keto Diet's food database is fairly large, it includes less than one million foods, smaller than food databases in most other keto diet apps.
If you opt for the Total Keto Diet, you should be aware of a few downsides to the app. Firstly, some functionality issues may occur with the Total Keto Diet. Sometimes, the barcode tracker can make the wrong selections, and the app sometimes glitches.
CARB MANAGER
Like Keto Cycle, Carb Manager offers a holistic approach to wellness. Aside from just focusing on your diet, Carb Manager allows users to track other lifestyle habits, including water intake, exercise, and sleep.
The app also allows users to track many key keto metrics, including macronutrients, blood sugar levels, ketones, and more. Users also are given multiple ways to log their food intake. Users can use the voice command function, take photos, or use the barcode scanner. A yearly premium subscription costs $40.
Carb Manager and Total Keto Diet share similar flaws. Carb Manager also has a relatively smaller food database than other apps, which other users enter, meaning it's not always the most accurate.
WHAT IS THE KETOGENIC DIET?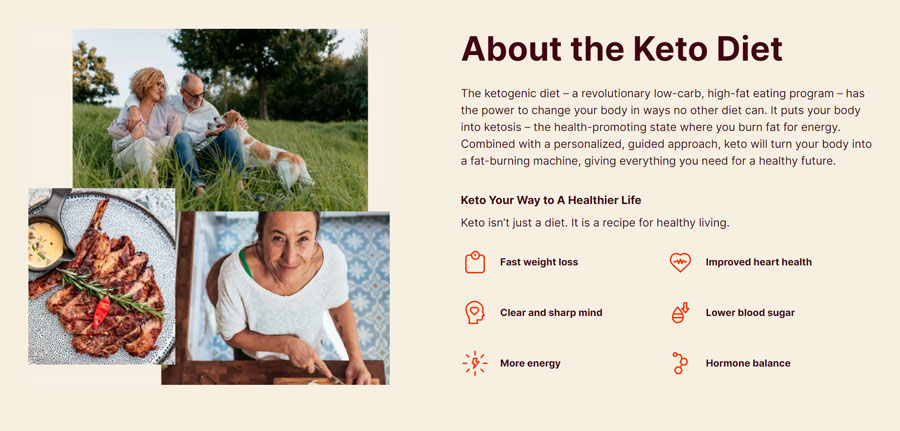 A ketogenic diet, also known as a keto diet, is a low-carb, high-fat, moderate-protein diet. Like the Atkins diet, a keto diet aims to force your body into a state of ketosis by following a strict low-carb diet. This diet may help people lose weight.
When we consume carbs, our bodies use glucose from carbohydrates for energy. But when we stop consuming carbs, a process known as ketosis begins. When your body has no glucose to convert into energy, it starts burning fat as its primary energy source. Burned fat ultimately forms molecules called ketones.
WHAT ARE THE POSSIBLE BENEFITS OF A KETO DIET?
The keto diet has been a popular topic of discussion in the nutrition and dietary community for its potential health advantages. Here are some research-backed benefits of following the keto diet:
WEIGHT MANAGEMENT
Characterized by its low-carbohydrate and high-fat intake, the keto diet has become a common strategy for individuals seeking to lose weight. Recent studies on low-carb, high-fat (LCHF) diets like the keto diet suggest its potential to help people reach their weight loss goals and may even reverse certain signs of metabolic syndrome.
By reducing carbohydrate intake, the body enters a state of ketosis, where it burns fat for energy instead of glucose. Eventually, likely within a few days, this shift can lead to reduced appetite and increased fat burning.
However, while some report significant weight loss, especially in the initial stages, it's essential to note that individual results can vary and depend on factors related to your health, exercise, and existing medical conditions.
ATHLETIC PERFORMANCE
Athletes have shown interest in the keto diet for its potential to enhance performance. The sustained energy derived from fat metabolism might reduce the reliance on glycogen stores, which may lead to prolonged endurance in some individuals. Nonetheless, the transition to ketosis can be challenging, and its impact on high-intensity activities remains a topic of debate.
SKIN HEALTH
The connection between diet and skin is already well-established, but the keto diet has been explored for its potential benefits for skin conditions, particularly acne. In theory, by reducing carbohydrate intake, there's a decrease in insulin spikes, which can influence sebum production and inflammation–two factors related to acne development. However, consulting with a dermatologist or nutritionist is best to determine the proper diet and treatment for acne.
IS THE KETOGENIC DIET HEALTHY AND SAFE?
While the ketogenic diet is safe for most people with the right planning, there are few dietary risks to be aware of. A keto diet has the potential to cause low blood pressure, constipation, nutrient deficiencies, and an increased risk of heart disease. That said, keto is not meant to be a long-term diet. Most people stick to this diet for three to six months or cycle in and out of the diet throughout the year.
If you suffer from specific health conditions, particularly with your pancreas, liver, thyroid, or gallbladder, it might be wise to consult your doctor before starting a keto diet.
HOW DO YOU START A KETOGENIC DIET?
Knowing how the keto diet works is essential before you begin the process. Do not assume you know everything about the diet after researching online. Using a ketogenic diet app or another resource to support you through this process is highly advised. Many keto diet apps will include beginner guides and advice to help you transition from your regular diet to a keto diet.
Once you gradually reduce your carb intake to less than 50 grams of carbs daily, your body will slowly run out of blood sugar to convert into energy. This process generally takes three to four days. Once your body is depleted of carbohydrates, it will burn stored fat and produce ketones.
FINAL VERDICT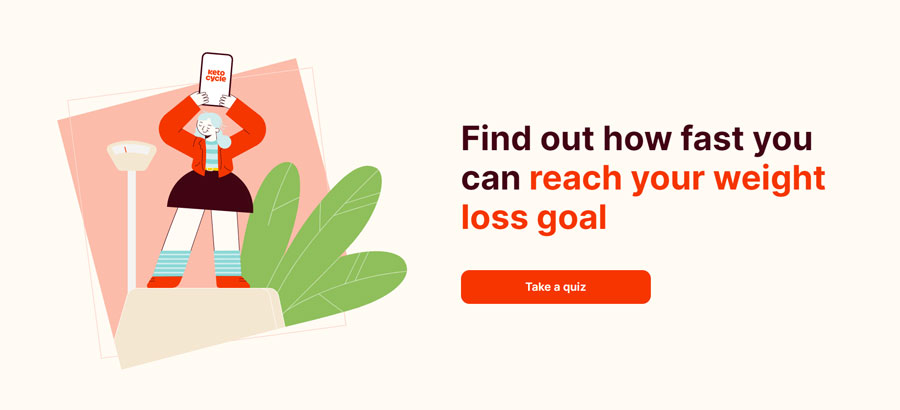 If you are going to take on the keto diet challenge, it is extremely wise to do so with the help of a keto diet app. Based on my experience, you can't do better than Keto Cycle. This app equips you with every tool you need to tackle the keto diet, including calorie counters and trackers, and supports you through this journey from start to finish.
Members will receive tips on fighting cravings, increasing motivation, and equipping up easy-to-follow recipes that strike the perfect balance between healthy and delicious. Affordable, motivational, and educational, Keto Cycle equips you with everything you need to make it through ketosis successfully. When ready, head to Keto Cycle's website to take the initial health assessment and receive your personalized meal plan.
FREQUENTLY ASKED QUESTIONS ABOUT KETO CYCLE
Still have questions about Keto Cycle or the keto diet? Below, you'll find answers to some of the most common inquiries about the diet app.
DOES KETO CYCLE WORK?
Yes, the Keto Cycle app is an effective ally for anyone trying the keto diet. It accurately calculates ideal macronutrient ranges and only recommends daily meals based on your food preferences. While following Keto Cycle's plan and making progress is ultimately up to the user, Keto Cycle works.
IS KETO CYCLE WORTH IT?
Yes. Like most keto apps, Keto Cycle provides users with tools to help make keto easier and more efficient, including calorie and macronutrient trackers, calculations of optimal calorie intake, and progress trackers with daily goals and weekly summaries.
IS KETO CYCLE LEGIT?
Yes, Keto Cycle is legit and can help anyone work through the keto diet journey. It comes with everything it advertises and makes the keto diet more manageable, incorporating different recipes and snacks that align with your target nutrition goals.
DOES KETO CYCLE ASSIST WITH VARIOUS DIETARY NEEDS?
Yes. When users fill out their questionnaire, they can choose their food preferences. If you are a vegetarian or do not eat certain meats, this is something that you can highlight in the survey. This is also a good place to mention any food allergies.
IF I HAVE A MEDICAL CONDITION, CAN I TRY KETO CYCLE?
If you have any severe medical condition or health issue, it might be wise to consult with your doctor before you begin a keto diet. People with health issues related to the pancreas, liver, thyroid, or gallbladder should be particularly cautious.
HOW MUCH DOES THE KETO CYCLE APP COST?
Users can choose between a 3, 6, or 12-month subscription. A 3-month subscription is $2.75 a week, a 6-month subscription is $1.92 a week, and a 12-month subscription is $1.25 a week. However, prices are subject to change based on available discounts and promotions; there is no Keto Cycle app free version.
DO THE PAYMENTS FOR THE KETO CYCLE APP RENEW AUTOMATICALLY?
Yes. The Keto Cycle app gets renewed automatically. You must cancel your subscription if you want to stop paying for the app.
HOW LONG DOES IT TAKE TO RECEIVE A KETO CYCLE PLAN?
Generally, it takes a couple of minutes for customers to receive their personalized plan in the app. However, If you still haven't received your plan after 24 hours, try reaching out to customer support via email.
IS THE KETO CYCLE APP OFFERED IN OTHER LANGUAGES?
Keto Cycle supports over 12 different languages, including English, Arabic, Czech, Danish, Dutch, Finnish, French, German, Hebrew, Hindi, Hungarian, Indonesian, Italian, Japanese, Korean, Malay, Norwegian Bokmål, Polish, Portuguese, Romanian, Russian, Simplified Chinese, Slovak, Spanish, Swedish, Thai, Traditional Chinese, Turkish, and Vietnamese.