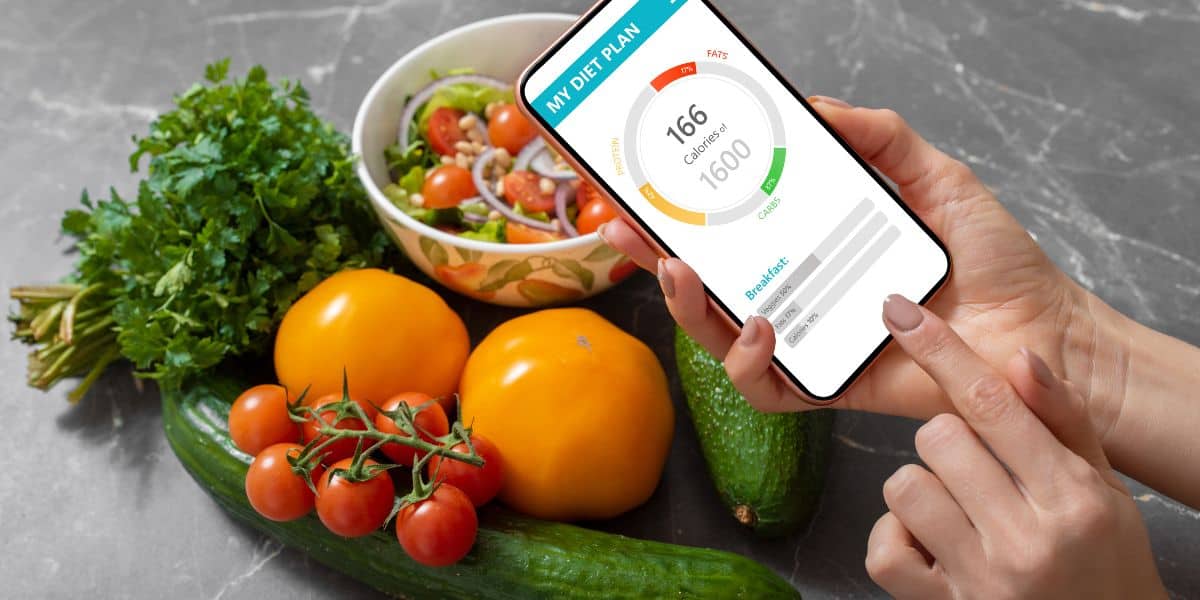 While committing to keto has the potential to deliver incredible results, it certainly isn't the easiest diet plan. Going through ketosis takes hard work, determination, and grit. But who said you needed to get there on your own?
Not only do keto diet apps offer help and support throughout your journey with ketosis, but they also provide you with the tools you need to make this process easier and more convenient. The best keto apps will make it easy for you to track your daily intake of things like carbs, fiber, and fats, and also suggest recipes or exercise that will help you meet your health goals. With so many keto apps on the market, it can be hard to know which one is most suited for your needs. But if you are looking for an app that is affordable, educational, and easy to use, you can't go wrong with Keto Cycle.
Bottom Line:
What is Keto Cycle? – by combining education, tracking, and support into a single app, Keto Cycle has everything you need to safely and efficiently embark on your low-carb diet.
How does the Keto Cycle app work? – Users start by filling out a questionnaire, which allows the Keto Cycle UAB team to assess you based on demographics, lifestyle choices, preferences, and nutritional needs. You will then receive a personalized plan from Keto Cycle
Keto Cycle Features that We Love – Some of the standout features of the Keto Cycle app include the personalized meal plan, fitness features, daily nutritionist support, private community, and a progress tracker
Keto Cycle
Geared towards beginners and experts alike, Keto Cycle takes all the guesswork out of your diet and allows you to follow a personalized keto meal plan based on your taste preferences, fitness level, and previous experience. By providing users with exact calculations of optimal calorie intake, personalized workout regimens, and a complete keto diet guide for beginners, Keto Cycle helps users stay accountable and track their progress.
While Keto Cycle provides users with all of the key tools they need to maintain their diet, this app also equips users with additional educational and motivational resources. Users have access to a private community support group where they can receive support and ask nutritionists questions. The app also provides users with research-backed advice at any time of the day.
Pros
Personalized meal plans
Data consistent with scientific research
Motivational and educational tips
Access to a private community
Inexpensive
Cons
Slightly confusing pricing plan
A lot of meal plans to choose between
Key Features
10,000 delicious and easy keto recipes
Customizable grocery lists
Private keto community
Personalized workout videos and timer
Progress tracker and calendar
Cheatsheet with keto-friendly snacks
Keto Guide for beginners
What is Keto Cycle?
Keto Cycle lives up to its mission of having created a "think-free, ultra-personalized, and easy-to-use keto program." By combining education, tracking, and support into a single app, Keto Cycle has everything you need to safely and efficiently embark on your low-carb diet.
This app was designed to help users through the entire keto process, from start to finish. Not only does Keto Cycle help make ketosis manageable with tracking tools, calorie counters, and keto calculators, but it also makes ketosis enjoyable. Users are given thousands of tasty and easy-to-prepare recipes to meet their dietary requirements. To top that off, Keto Cycle even provides users with printable grocery lists to help with meal prep and a cheat sheet with snacks they can safely consume to meet their health goals. Through their daily motivational tips and private keto community, Keto Cycle also offers moral support to users who need an extra boost of encouragement on hard days.
How does the Keto Cycle App work?
One of the things that the Keto Cycle app prides itself on is its highly customized meal plans. A keto diet is very specifically catered to a person's unique body composition. There is not a one-size-fits-all plan for keto and it's not enough to read a few articles about the diet online. Users need to strictly follow a plan that has been specifically altered for them.
Keto Cycle App understands the importance of a highly personalized meal plan, which is why this is the first place that they start. When you begin your journey with the Keto Cycle app, users start by filling out a questionnaire. This will allow the Keto Cycle UAB team to assess you based on demographics, lifestyle choices, preferences, and nutritional needs. After selecting your gender, the Keto Diets UAB team will ask you questions about your knowledge of the ketogenic diet, availability in the kitchen, desired types of protein (vegetarian or not), five must-have food items, physical activity levels, existing health conditions, and body measurements (age, height, weight, target weight, etc).
After you complete your assessment, Keto Cycle will then provide you with a general summary. This summary will include information such as the rate at which you might begin to see results, BMI assessments, your estimated daily calorie intake, and where your body will experience the most significant changes. You will then be taken to the payment page and your Keto Cycle journey will officially begin!
What are the benefits of Keto Cycle?
Ketosis can be beneficial to many people experiencing various health issues such as epilepsy, Type 2 diabetes, Alzheimer's, and Parkinson's. However, there are also further benefits of ketosis that can be experienced when using this ketogenic diet app.
Supports Weight Loss
One of the main reasons that many people choose to partake in keto is to lose weight. This low-carb diet supports weight loss in several ways by boosting metabolism, reducing appetite, and increasing the burning of stored fat.
While the process of ketosis will be explained in further detail down below, at its core, ketosis is a low-carb, high-fat diet. Removing carbs from your diet is one of the easiest and most effective ways to begin losing weight. Low-carb diets remove excess water from your body, lower insulin levels, and lead to rapid weight loss in the first week or two.
Enhanced Athletic performance
While this benefit may not occur instantly, many people who are on the keto diet experience boost of energy. By providing you with a long-lasting feel supply, ketosis can help enhance athletic performance in both professional sports and recreational exercise.
Improves Acne
While acne can be caused by excess oil or bacteria, it has also been linked to diet and blood sugar. A high-carb diet can alter the balance of gut bacteria and cause blood sugar to rise and fall significantly, both of which can affect skin health. According to a 2012 study, reducing your carbohydrate intake on a ketogenic diet can also reduce acne symptoms in some people.
Reduced Blood Sugar and Insulin Levels
Low-carb diets are an effective way to lower blood sugar, which should prevent the onset of certain health conditions and help you live longer. Also known as hypertension, elevated blood sugar is a risk factor that can cause many diseases, including heart disease, stroke, and kidney failure. For this reason, being in ketosis can be particularly beneficial for individuals with type 2 diabetes or prediabetes. Ketosis has been known to normalize blood sugar and improve insulin sensitivity to the point where some diabetics have even discontinued their diabetes medication.
What does the Keto Cycle plan comprise of?
All Keto Cycle plans include a customized keto meal plan summarizing exactly what individuals want to consider eating three times a day. In addition, the meal plans support the consumption of keto snacks and desserts and also include simple, convenient, and filling keto recipes. Users can take advantage of the provided grocery lists, which can be customized and printed, as well as 24/7 nutritionist support. If you are new to this diet, the meal plans also come with a complete keto guide for beginners to help keto newbies transition from their regular diet to their keto diet.
Keto Cycle Features that We Love
While Keto Cycle app offers numerous benefits for keto dieters, here are some of the standout features that set it apart from other ketogenic diet apps.
Personalized Keto Meal Plan
Based on your lifestyle, body measurements, fitness regime, Keto Cycle provides you with information on what you should eat for breakfast, lunch, and dinner every day of the week. These plans guarantee that consumers are staying on track and doing everything they should be to meet their health goals. That said, Keto Cycle also incorporates healthy snacks and desserts into its meal plans to help make keto more fun and rewarding.
As a part of the personalized keto meal plan, the app will recommend hundreds of recipes that are tailored to your dietary preferences. After picking what meals you want for the week, the app will generate a shopping list for you. If you like to plan, you can also generate a shopping list for weeks ahead and do your grocery shopping all at once. These weekly shopping lists have multiple benefits. These lists help you save money, cut back on food waste, and prevent you from buying necessary comfort foods at the grocery store.
Personalized Workout Regimen
Who needs a personal trainer when you have Keto Cycle? This well-rounded app helps users prioritize their fitness goals along with their health goals. Based on your initial quiz answers, the ketocycle diet app will create a workout program that is tailored to your exercise habits and fitness goals. Developed by fitness experts, Keto Cycle offers users both visual and written exercise instructions and videos. The workouts range from 15-45 minutes and maximize weight and fat loss results. One of the best parts about these workouts is that they don't involve expensive equipment and users don't need access to a gym.
Daily Nutritionist Support
When it comes to your keto journey, Keto Cycle is always there for you. 24 hours a day, 7 days a week, nutritionists are available to provide support for users who have any questions or concerns about their health or keto progress. Users also have access to the Keto Academy, where they will be introduced to practical daily tips and mental keto hacks.
Private Community
Facing a new challenge is always easier when you have other people by your side. Keto Cycle's private community is one of the app's stand-out features that will help you feel less alone as your body is in ketosis. If you are experiencing any unfamiliar symptoms or if you aren't sure your keto diet is working, there's a strong chance that someone in the Keto Cycle community has been there once before, too.
This inspirational community supports users by sharing recipes, success stories, and advice. If you have any specific questions that can only be answered by an expert, Keto Cycle has also got you covered. Users will also have access to Q&A sessions with Keto Cycle nutritionists.
Progress Tracker and Calendar
One of the most rewarding things about the keto diet is tracking your progress and seeing how far you've come. Consistently meeting your goals week after week is also a powerful motivator to keep pushing forward. Keto Cycle's progress tracker and calendar will provide you with daily goals, along with weekly summaries of your progress. These regular updates also include insights from the Keto Diets UAB team. If there's something that you are excelling at or if there is something that you could improve upon, this information will be included in Keto Cycle's smart reports and insights.
Who is the Keto Cycle App for?
If you are going through the keto diet and need an extra resource in your toolbox, the Keto Cycle diet app is for you. This app is designed for keto dieters who do not want to experience the hassle of counting calories and net carbs, as well as monitoring their food intake. The Keto Cycle follows a diet plan that does not require any weight loss pills, expensive dietary products, pricey fitness equipment, or special treatments. It's an extremely safe and natural way to lose weight that leaves your body feeling strong and nourished.
How Much Does the Keto Cycle App Cost?
After you fill out the initial questionnaire, users will then have the choice between a 3, 6, or 12-month subscription. Individuals should take a few things into account when they choose a plan. For one, how long do you want to be on the keto diet? Secondly, how often do you want to be billed for this keto program?
Thankfully, all of Keto Cycle's plans are more affordable than most other keto diet apps. A 3-month subscription is $2.75 a week, a 6-month subscription is $1.92 a week, and a 12-month subscription is $1.25 a week.
Keto Cycle vs Alternatives
When your health and finances are on the line, you want to ensure that you are opting for the best keto app available. To help weigh the pros and cons of the Keto Cycle, let's compare this top-notch app to two of the other best Keto Cycle apps on the market.
Keto Cycle vs. Total Keto Diet
The main standout feature of Total Keto Diet is its extensive recipe collection. The app has thousands of tasty recipes available that keep your carb count under 25 grams daily and help you increase your protein consumption. Created by Tasteaholics, this app also shares many of the same features as Keto Cycle including a keto calculator, macro tracker, food database, and guide for keto beginners. While Total Keto Diet's food database is fairly large, it includes less than one million foods, which is smaller than food databases in most other keto diet apps.
If you choose to opt for the Total Keto Diet, there are a few downsides to the app that you should be aware of. Firstly, some functionality issues commonly occur with the Total Keto Diet. The barcode tracker is not the most reliable and will sometimes make the wrong selection. Also, once the app has been updated and a new version is available, the app tends to get a little glitchy.
Keto Cycle vs. Carb Manager
Like Keto Cycle, Carb Manager also has a holistic approach to wellness. Aside from just focusing on your diet, Carb Manager allows users to track other lifestyle habits including water intake, exercise, and sleep. The app also allows users to track many key keto metrics including macronutrients, blood sugar levels, ketones, and more. Users also are given multiple ways to log their food intake. Users can use the voice command function, take photos, or use the bar code scanner. A yearly premium subscription costs $40.
Carb Manager and Total Keto Diet share similar flaws. Carb Manager also has a relatively smaller food database compared to other apps. There are also several reliability issues when it comes to using the app. Like Total Keto Diet, Carb Manager's bar code scanner is not always accurate. In addition, the nutrient data in the food base is entered by other users, meaning it's not always the most accurate.
What is the Ketogenic Diet?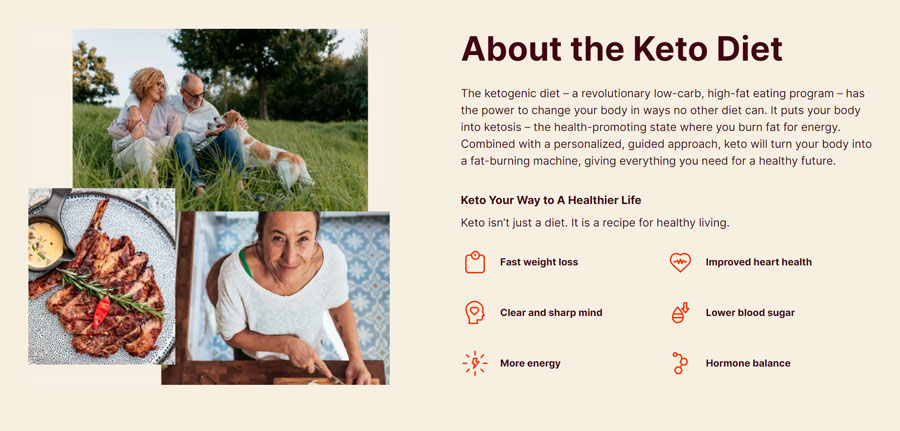 A ketogenic diet, also known as a keto diet, is a low carb, high fat, moderate protein diet. Similar to the Atkins diet, the goal of a keto diet is to force your body into a state of ketosis by following a strict low-carb diet. This diet causes people to lose weight.
When we consume carbs, our bodies use glucose from carbohydrates for energy. But when we stop consuming carbs, a process known as ketosis begins to take place. When your body has no glucose to convert into energy, it starts burning fat as its primary energy source. Burned fat ultimately forms molecules called ketones.
Is a Ketogenic Diet Safe?
There are several risks to be aware of when it comes to a keto diet. A keto diet has the potential to cause low blood pressure, constipation, nutrient deficiencies, and an increased risk of heart disease. That said, keto is not meant to be a long-term diet. For the most part, people will stick to this diet for three to six months, or cycle in and out of the diet throughout the year.
If you suffer from any specific health conditions, particularly with your pancreas, liver, thyroid, or gallbladder, it might be wise to consult your doctor before embarking on a keto diet.
How Do You Start a Ketogenic Diet?
It's important to be aware of how the keto diet works before you begin the process. Do not assume that you know everything about the diet after doing research online. It's highly advised that you use a keto diet app or another resource to support you through this process. Many keto diet apps will include beginner guides and advice to help you transition from your regular diet to a keto diet.
Once you gradually begin to reduce your carb intake to less than 50 grams of carbs a day, your body will slowly run out of blood sugar to convert into energy. This process generally takes three to four days. Once your body is depleted of carbohydrates, it will start to burn stored fat and produce ketones.
Is a Ketogenic Diet Healthy?
One of the main reasons people partake in a keto diet is to lose weight. However, a ketogenic diet also offers a handful of other health benefits. A keto diet can help with medical conditions such as epilepsy. It can also help people with heart disease, certain brain diseases, and even acne.
Final Verdict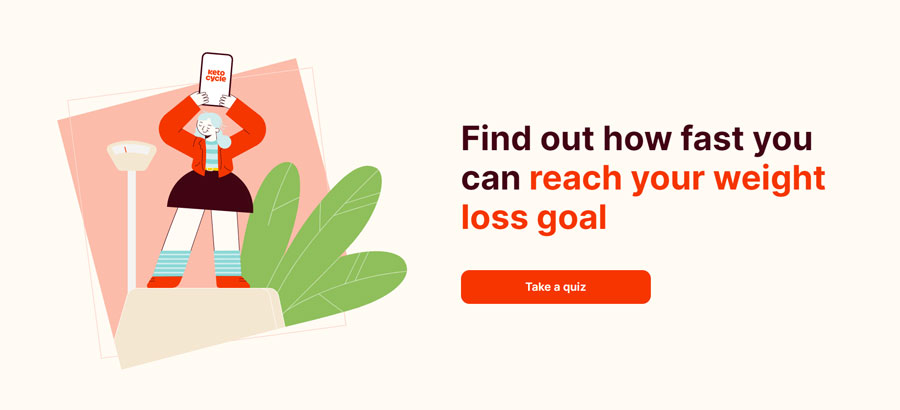 If you are going to take on the keto diet challenge, it is extremely wise for you to do so with the help of a keto diet app. When it comes to apps, you can't do better than Keto Cycle. Not only does this app equip you with every tool you need to tackle the keto diet including calorie counters and trackers, but it also supports you through this journey from start to finish.
Users will receive tips on how to fight off cravings, how to increase motivation, and how to whip up easy-to-follow recipes that strike the perfect balance between healthy and delicious. Affordable, motivational, and educational, Keto Cycle equips you with everything you need to successfully make it through ketosis.
Is Keto Cycle worth it?
Yes. Like most keto apps, Keto Cycle provides users with tools to help make keto easier and more efficient, including calorie and macronutrient trackers, calculations of optimal calorie intake, and progress trackers with daily goals and weekly summaries. But what makes Keto Cycle worth it are all of its added bonuses, including its private community, highly personalized meal plans, 24/7 access to nutritionists, and more.
Is Keto Cycle legit?
Yes. Numerous Keto Cycle customers have successfully taken on the keto diet and met their weight loss goals.
Does Keto Cycle assist with various dietary needs?
Yes. When users fill out their questionnaire, they can choose what their food preferences are. If you are a vegetarian or do not eat certain meats, this is something that you can highlight in the survey. This is also a good place to mention any food allergies.
If I have a medical condition can I try Keto Cycle?
If you have any severe medical condition or health issue, it might be wise to consult with your doctor before you begin a keto diet. People with health issues related to the pancreas, liver, thyroid, or gallbladder should be particularly cautious.
Is Keto Cycle app free?
No. While it is extremely affordable, users do have to pay a small amount for a three, six, or twelve-month subscription.
Do the payments for the Keto Cycle app renew automatically?
Yes. The Keto Cycle app gets renewed automatically. If you want to stop paying for the app, you will need to cancel your subscription.
Once I've placed my order for Keto Cycle, what happens?
After you have subscribed to Keto Cycle and made your payment, the Keto Diets UAB team will begin to create your personalized meal plan. These plans are checked and verified by multiple members of the team to make sure that each Keto Cycle customer is receiving the best of the best.
How long does it take to receive a Keto Cycle plan?
Generally, it takes around two hours for customers to receive their personalized plan via email. However, if it's been a little longer than that, don't panic. If you still haven't received your plan after 24 hours, then you are advised to reach out to the customer service team.
Why should I choose Keto Cycle over other apps?
Keto Cycle provides keto dieters with all of the tools they need and then some. For users who want to focus on other areas of their lifestyle including hydration and exercise, Keto Cycle has tools for those lifestyle factors as well.
What are some of Keto Cycle's newest features?
Some of the latest Keto Cycle updates include a keto quiz streak game and a symptoms tracker. The symptoms tracker is designed to help users figure out if they are suffering from keto-flu. Keto-flu occurs from the body's lack of carbohydrates, but the symptoms are short-lived.
Can I still use Keto Cycle if I change my lifestyle habits?
If you change your lifestyle habits, such as your fitness regimen or your food preferences, while you are using Keto Cycle, you may want to request a new personalized plan. This may cost an additional fee, but it may also receive a reduced rate.
Is the Keto Cycle app offered in other languages?
Keto Cycle can be used in over 12 different languages including English, Arabic, Czech, Danish, Dutch, Finnish, French, German, Hebrew, Hindi, Hungarian, Indonesian, Italian, Japanese, Korean, Malay, Norwegian Bokmål, Polish, Portuguese, Romanian, Russian, Simplified Chinese, Slovak, Spanish, Swedish, Thai, Traditional Chinese, Turkish, and Vietnamese.
Is there a refund policy for Keto Cycle?
Users can request a refund from Keto Cycle if their Keto Cycle plan is either "not as described" or faulty. Users must also request a refund within 14 days.
How can I get learn more about the Keto Cycle app?
If you wish to learn more about the Keto Cycle app, check out their website or other reviews online.
How do I cancel my Keto Cycle subscription?
Users can cancel their subscription by managing their account through this link: https://ketocycle.diet/clients/login