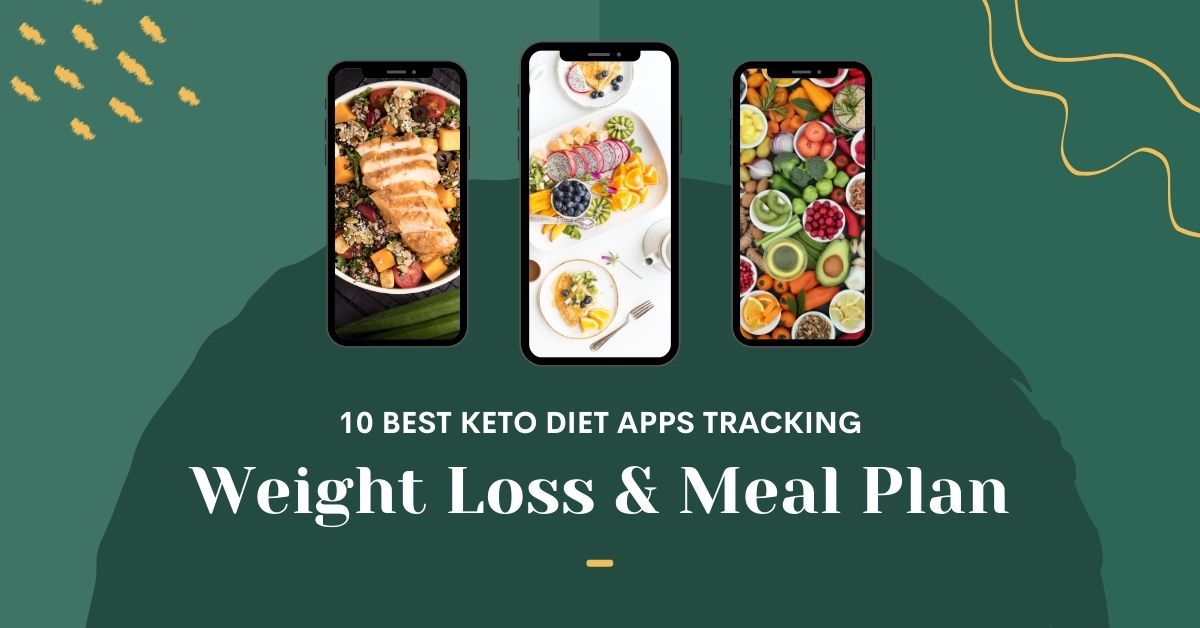 Hi, I'm Kristin! I'm a mother of four living in Michigan. One of my favorite things to do is experiment with cooking sugar-free and keto recipes that not only work but also taste delicious. I believe that meals should never be about eating just because you are hungry — every breakfast, lunch, and dinner should be enjoyed.
Does the idea of being on a ketogenic diet seem overwhelming? Well, you aren't alone. Tracking your daily macros and ensuring that you are consuming the right amount of protein, fat, and carbs for your body is no small feat. The best, and easiest way to make sure you are tracking everything correctly? Using a keto diet app.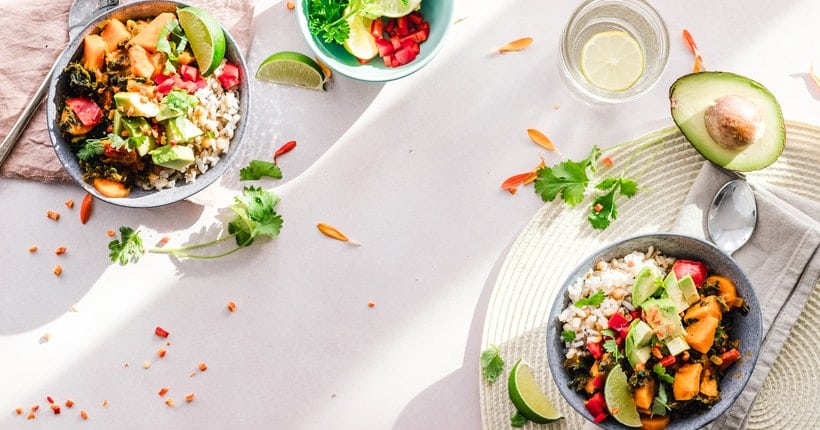 But with so many keto diet apps and programs out there, how do we truly know which ones are the best keto apps for a healthy lifestyle? As someone who has gone through and experimented with numerous programs, I'll tell you about my top choice, along with the pros and cons of some of the other best keto diet apps out there. Let's get started.
Bottom Line
As someone who has been an avid keto fan for a while now, Keto Cycle is undoubtedly the best keto diet app that I've come across. Fantastic for beginners and veterans alike, the wellness community has been raving about Keto Cycle ever since its conception, and for good reason. To begin your journey with Keto Cycle, users begin by filling out a survey. This simple questionnaire will ask you questions about your diet, schedule, and favorite foods to get a feel for your lifestyle and preferences.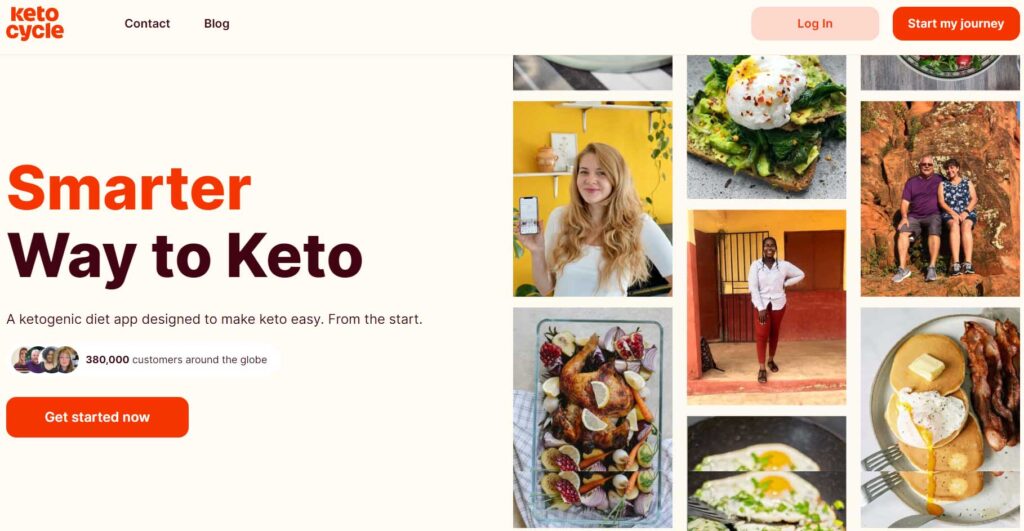 As I was searching for the perfect Keto app, I wanted to find something that struck the perfect balance between informative and motivational. This highly affordable app provides guidance on how to maintain and push through the challenges that come with ketosis by providing users with simple, actionable, and approachable tips and tricks. Keto Cycle even has a cheat sheet that lists tasty, keto-friendly snacks for you to enjoy in moderation. The app also gives users access to a private community that supports users through their low-carb lifestyle by sharing recipes, success stories, and advice. Keto Cycle also provides informational guides with scientific data about the keto lifestyle.
When it comes to tracking your goals, Keto Cycle makes it easy with its progress tracker and calendar with daily goals and weekly summaries. Other standout features of this app include a calorie tracker, a customizable grocery list, and thousands of keto-friendly and vegetarian-friendly recipes.
Pros:
Highly personalized meal plans
Thousands of keto and vegetarian-friendly recipes
Customizable grocery lists
Motivational tips and tricks
Affordable
Cons:
So many meal plan options to choose from
May need to wait to receive customer service responses
Key Features:
Built-in community
Weekly grocery lists
Informational guides
Progress tracker and calendar with daily workout goals and weekly summaries
Workout videos and regimens
Bottom Line: Not only does Keto Cycle make ketosis as easy as possible, but it also strikes the perfect balance between informative and inspirational. With its built-in community, motivational tips and tricks, and educational guides, Keto Cycle is an unparalleled keto diet app.
2. Best for Beginners: Senza
This user-friendly app is suitable for keto diet beginners but is especially catered towards those who are new to keto dieting. Senza includes a "5 days to keto" guide for beginners, which helps ease the transition for keto newbies as they slowly move away from their regular diet. This really helps make this difficult process feel less overwhelming and disheartening. Not to mention, Senza also teaches you about macros and electrolytes along the way.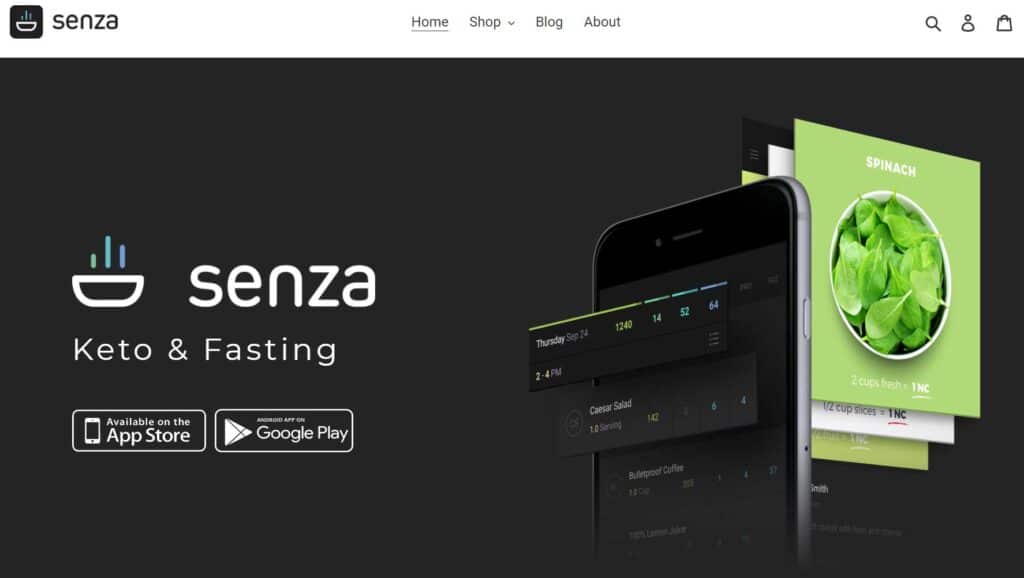 Looking for a food journal that fits in your pocket? You can find that with Senza. In your Senza food journal, users can log food, track their carbs, and monitor their glucose, ketones, and insulin load. This app includes bar code scanning with 200,000 food records, restaurant menus, and more than 5,000 keto recipes. To top that off, users can also track other aspects of their health journey, including mood and sleep, using this app. Users can also connect Senza to their FitBit or Apple Watch.
If you are constantly on the go, Senza also strongly caters to avid travelers. This beginner-friendly app will make keto-friendly restaurant suggestions, saving you the headache of sifting through dozens of restaurants in an unfamiliar area.
Pros:
Free, with in-app purchases
Simple to use for beginners
Tracks additional health factors including sleep
Recommends keto-friendly restaurants while traveling
Cons:
Not the most user friendly
Previous customers have experienced issues with logging foods
Nutrient data is entered by users and is sometimes inaccurate
Key Features:
More than 5,000 Keto Recipes
Provides connections to nutritionists and online coaches
Online shop
Food Journal
Information for Beginners
Bottom line: If you are new to the Keto diet, Senza includes informative sources as well as a five-day guide to help you ease into your new diet. There are a few key functionality issues, regarding logging foods and inaccurate nutrient data.
3. Best for Customizing Meals: Keto.app
If you are looking for an app where you can customize meals to suit your health goals, Keto.app can make that happen. Also known as Keto Diet Tracker, this app allows you to personalize goals based on weight loss, maintenance, or gain so that you can eat the best ratio of carbs, fats, and protein that you need for each. Once you create a meal, users can then save the dish and come back to it later. As an added bonus, the app's food library features the carb count for foods that you may want to avoid, which keeps you from accidentally eating carb-rich foods.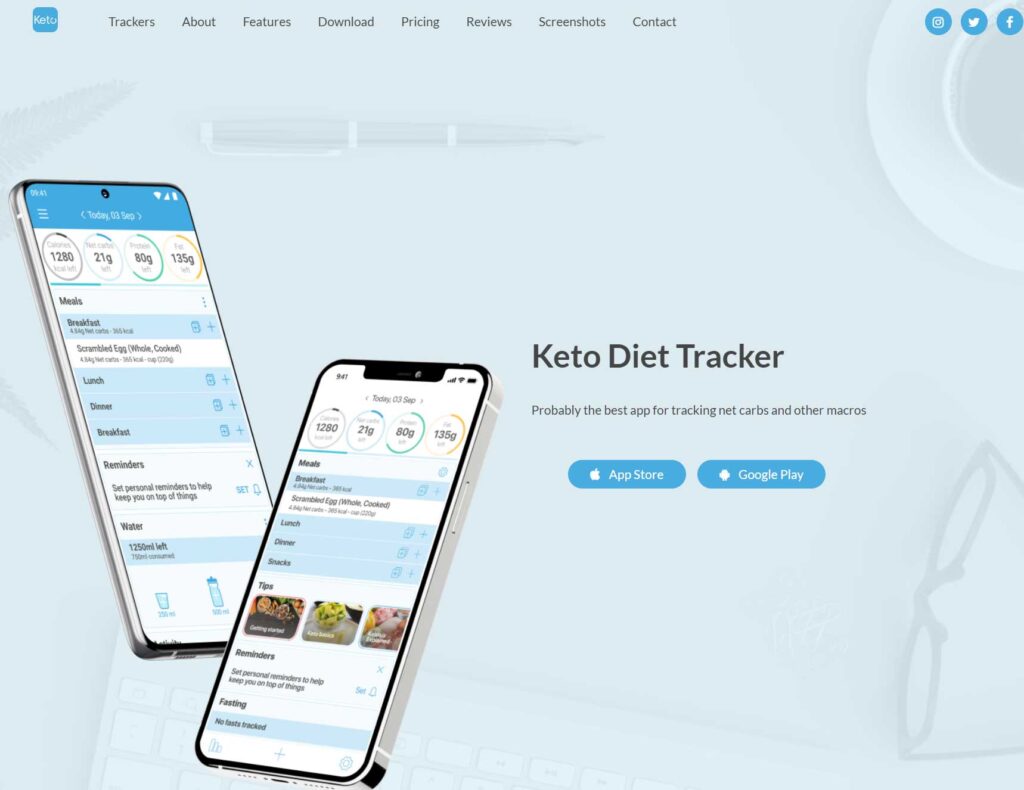 One of the downsides of Keto.app is that the free version of the app only allows people to track five food items per day. For that reason, it's wise to invest in the paid version if you want to take full advantage of Keto.app. Users can either choose between the monthly subscription option or make a one-time payment of $30. This app also allows you to track meals with a barcode scanner, create grocery lists, and organize logged data by macro count so you always know exactly where you are at on your health journey.
Pros:
Can save customized meals for later use
Provides accurate carb counts for food
User-friendly
Cons:
The free version of the app offers the bare minimum
Relatively expensive
Key Features:
Bar code scanner
A database with specific foods, drinks, and restaurant ideas
Custom meal creation
Water and macros tracking
Bottom Line: Keto.app allows you to personalize goals based on weight loss, maintenance, or gain so that you can eat the best meals that suit your diet needs. To take full advantage of this app, you do need to pay a relatively expensive fee.
Often, the last thing we want to do in our free time is a menu plan, but the Total Keto Diet app makes meal prepping fun! Created by Tasteaholics, the mission of this app is to provide recipes that help keep your net carb count under 25 grams every day, help you increase your protein intake, and help you create meals that are healthy and delicious. Through this app's recipe library, users can access thousands of keto recipes. Users can also customize keto meal plans and tailor these plans to appeal to their taste buds.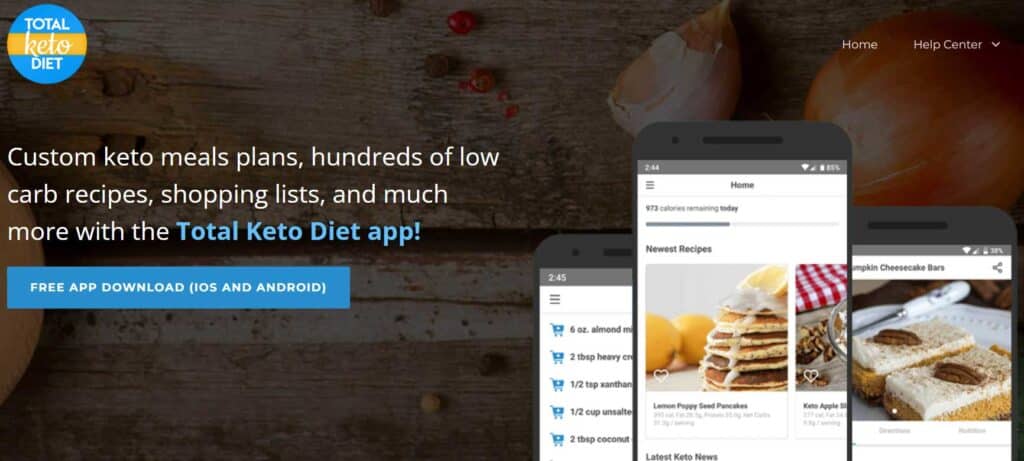 In an addition to an extensive recipe library, Total Keto Diet's library also includes educational resources that provide keto newbies with everything they need to know about ketosis. One of these resources is a beginner's keto diet guide to help people understand the concept and get started right away. Users can also take advantage of the keto calculator, weekly grocery list creator, and macro tracker.
While this app does include a food database, it is relatively smaller than other apps. Another issue that I ran into while using Total Keto Diet is the that app is not the most stable and is prone to freezing and shutting down unexpectedly. If you plan on using the bar code tracker on a daily basis, keep in mind that Total Keto Diet's app tracker is not always accurate.
Pros:
Free
Weekly grocery list creator
The library is filled with thousands of recipes and educational resources
Cons:
Poor app functionality
The food database is relatively small
Inaccurate bar coder
Key Features:
Includes thousands of keto recipes in its database
Users can save favorite recipes
Users can create shopping lists
Users can find out the total and net carbohydrates of foods and meals
Calorie calculator
Bottom Line: With thousands of recipes in its library, Total Keto Diet is a great app for menu planning. Unfortunately, the app is unreliable in more ways than one.
5. Best for Fitness: 8fit
For those looking to incorporate fitness into their keto journey, 8fit can help you do so. With a focus on whole-body wellness, 8fit believes that exercise is a cornerstone of any weight loss plan. This makes 8fit ideal for keeping track of your fitness and health goals in one place. Along with meal planning and macro tracking, 8fit also provides users with efficient workouts. The best part? Most of these workouts do not require users to purchase any additional equipment.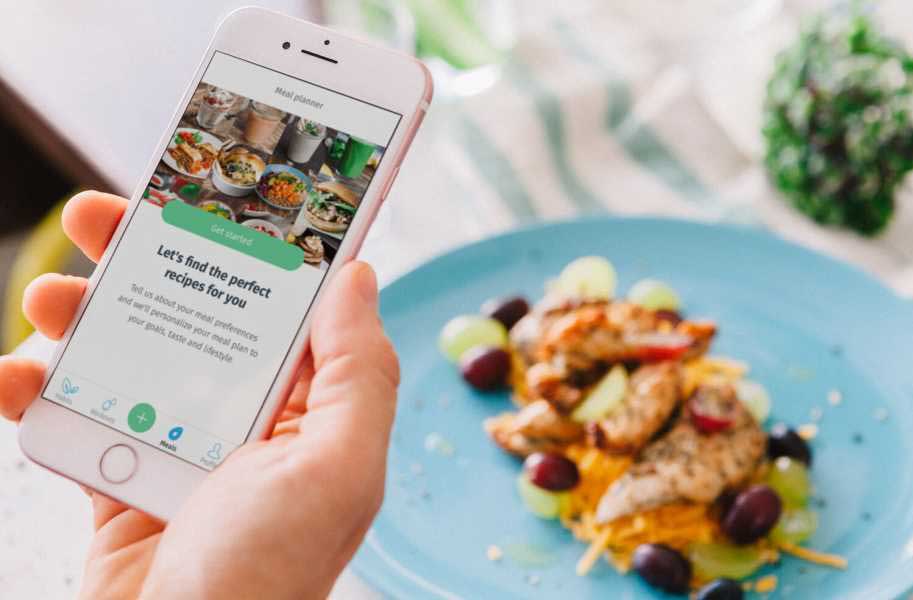 While 8fit is not a traditional keto app, it does allow users to track macronutrients, including carbohydrates and net carbs. This fitness-focused app also has nearly one thousand nutritionist-approved recipes. Two standout features of 8fit are the diet filter, which helps users build out a healthy keto meal plan, and the shopping list feature, which helps users plan an efficient trip to the grocery store. Users can also access tips and tricks on nutrition and fitness, workout plans, meal plan templates, and instructional videos. When it comes to keto apps, MyMacros+ falls on the more expensive end of the spectrum. A yearly plan costs $60.
Pros:
Features equipment-free workouts
Provides meal plans
Includes a shopping list feature
Cons:
Not strictly a keto app
Relatively expensive
Not all recipes are geared towards a keto diet
Key Features:
Workout plans for every type of user
Custom healthy meals and diet plans
Calculate daily calories
Educational resources
Bottom Line: While you may have to pay an expensive yearly fee, 8fit is a great app for those looking to integrate fitness into their keto journey.
6. Best for Building Community: Keto Diet
Whoever said ketosis was easy, has never been on a keto diet. If you are struggling with your new diet, the KetoDiet app provides users with a community that can offer help and support. Some of the standout features of this community-focused app are its Facebook support group and its KetoDiet Challenges. If you are a competitive person and competition fuels your motivation, then the KetoDiet Challenges is a great tool to take advantage of.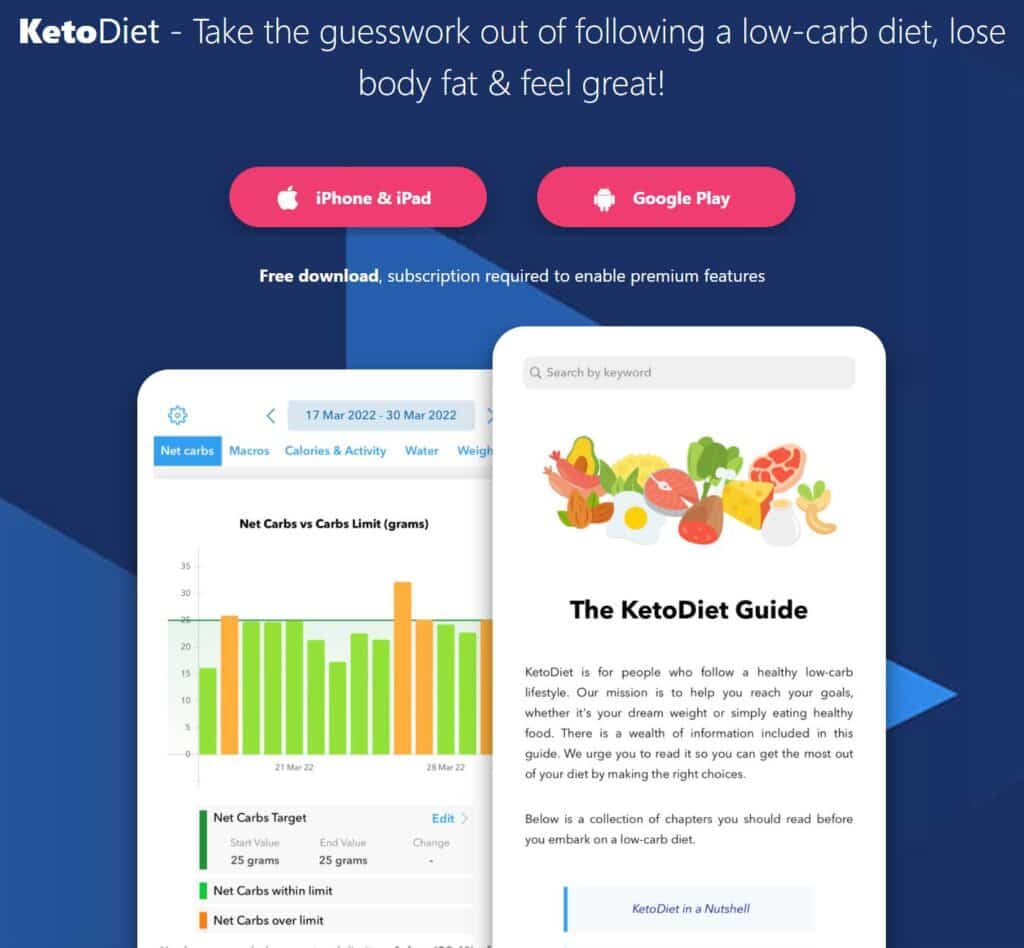 Aside from its built-in community, Keto Diet also offers all of the basics of a keto app, including carb and net carb tracking, macro tracking, body weight, and body fat tracking. Created by Martina Slajerova, the author of the "KetoDiet Cookbook" and "Keto Slow Cooker & One-Pot Meals," this app also includes 300 recipes. Users can also find nutritional information on foods, products, and restaurant meals to help your track your keto meals on your phone. The app also includes a keto starter guide, articles, and a calculator. The app costs $8.99.
While there are so many things to love about Keto Diet, it is lacking in the customer service department. If you are experiencing any issues with the app, it's almost impossible to receive any personalized help and assistance. If you like to customize your meal plans, this also might not be the app for you.
Pros:
Built-in community
Accurate nutrient data
Easy-to-use
Cons:
Bad customer service
No option to customize meal plans
Key Features:
Uploads free daily content
Keeps your data private
Sets your health goals
Bottom Line: Keto Diet is a great app to use if you are seeking help and support from others who are grappling with ketosis.
7. Best For Tracking: MyMacros+
Everyone who has gone through ketosis knows that precise tracking is the key to success. When it comes to nutrient tracking, MyMacros+ has helped set a high standard for keto apps. A big reason for this? Its huge database includes more than 5 million foods! That said, the database isn't the most user-friendly and it can be difficult finding the foods that you are looking for.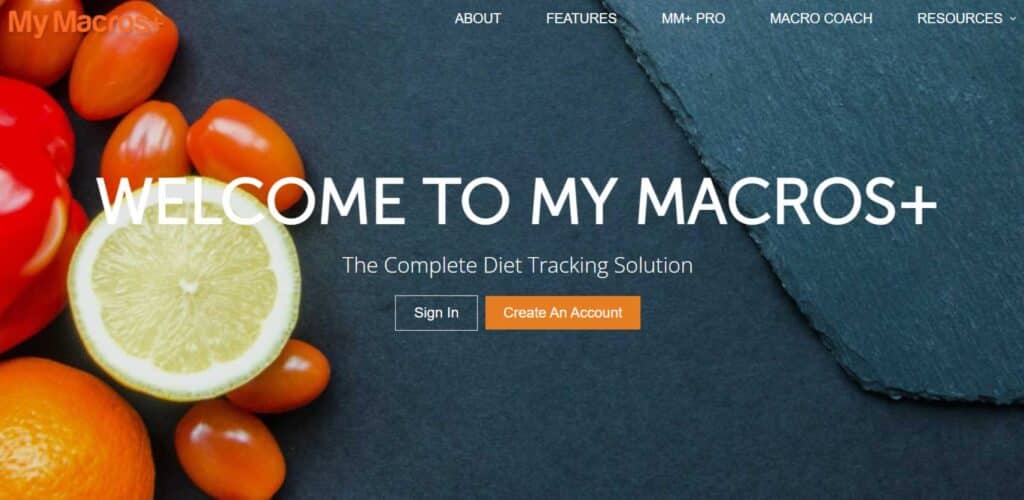 Created by a fitness professional, MyMacros+ is not purely catered towards ketosis, but it does include most features a keto follower would need. Users can input unlimited meals into the app and see how these dietary decisions impact their goals. MyMacros+ also breaks down your nutrient consumption in different ways; users can look at the breakdown by ingredient, meal, or day. If you happen to be logging your meal in a place without WiFi or internet access, rest assured, this logging feature can be used offline. Another standout element of MyMacros+ is its MyCircle feature. MyCircle allows users to connect with their friends, who are also on keto diets, using an instant messenger-like function.
Keep in mind, this app does cost a small fee. Users must pay to download the app, and then pay an additional sum to unlock all of the app's features.
Pros:
Provides users with offline accessibility
The database includes 5 million foods
Cons:
Costs money to download the app and unlock all the features
The food database is not always user-friendly
Key Features:
Offline accessibility
MyCircle
Extensive database
Body Fat Estimation calculator
Macro Coach
Bottom Line: When it comes to nutrient tracking, MyMacros+ has helped set a high standard for keto apps. It has an extensive database with over 5 million foods, but the database is not the most user-friendly.
8. Best for Maintaining Weight Loss Goals: FatSecret
Journaling? Push notifications? Community Support? Check, check, check. With these three features, FatSecret helps its users maintain both their long and short-term weight loss goals.
Users can set overarching goals, such as losing weight, or smaller goals, geared towards keeping up with ketosis on a daily basis. FatSecret includes a food diary that helps users track their daily food consumption. There's also a built-in community platform that can be a great source of support and motivation during your keto journey. If you ever start to veer off ketosis, the app will consistently keep you in check through push notifications.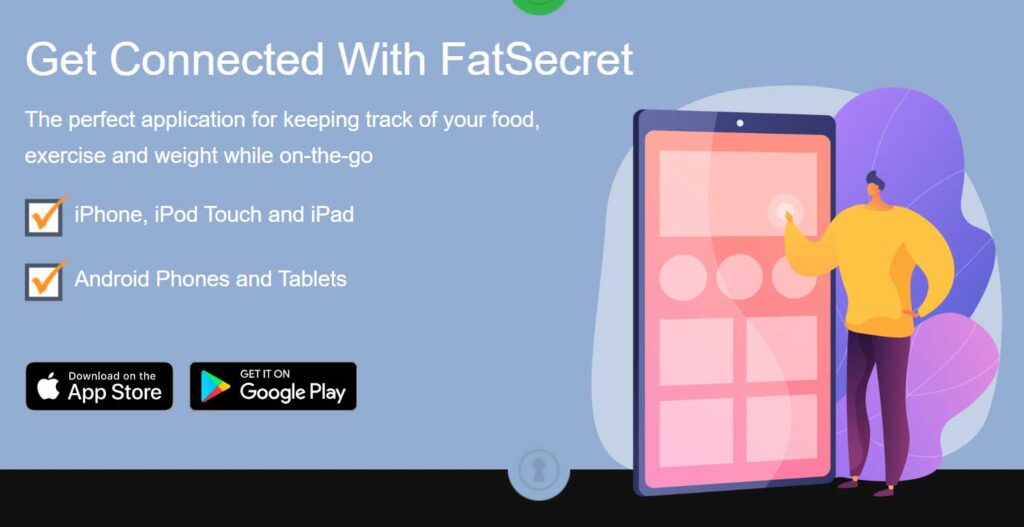 As this app is primarily geared towards weight loss, FatSecret also features an exercise diary, which allows users to record their workouts, how many calories they burned, and their fitness-specific goals. While this weight loss app does include a large repertoire of healthy recipes, users must pay an additional fee to unlock this feature. This app also includes a weight chart that allows users to see how they are progressing on losing weight over time.
Pros:
Many of the features are free
Offers kind, non-judgmental support
Great goal-setting tool
Cons:
Must pay to unlock recipes and other features
Nutritional info is difficult to edit
Key Features:
Image recognition to help with food tracking
Built-in community
Consistent push notifications
Food Diary and Exercise Diary
Bottom Line: Through push notifications, journaling, and a built-in community, FatSecret helps users stay on top of their health and fitness goals.
9. Best for Meal Prepping and Planning: Plate Joy
As the name suggests, Plate Joy brings health and happiness to your daily meals. As everyone going through ketosis knows, it can be hard to find ways to spice up the dishes that you eat day after day. If you are looking for new recipe ideas, Plate Joy has some creative (and tasty) solutions for you.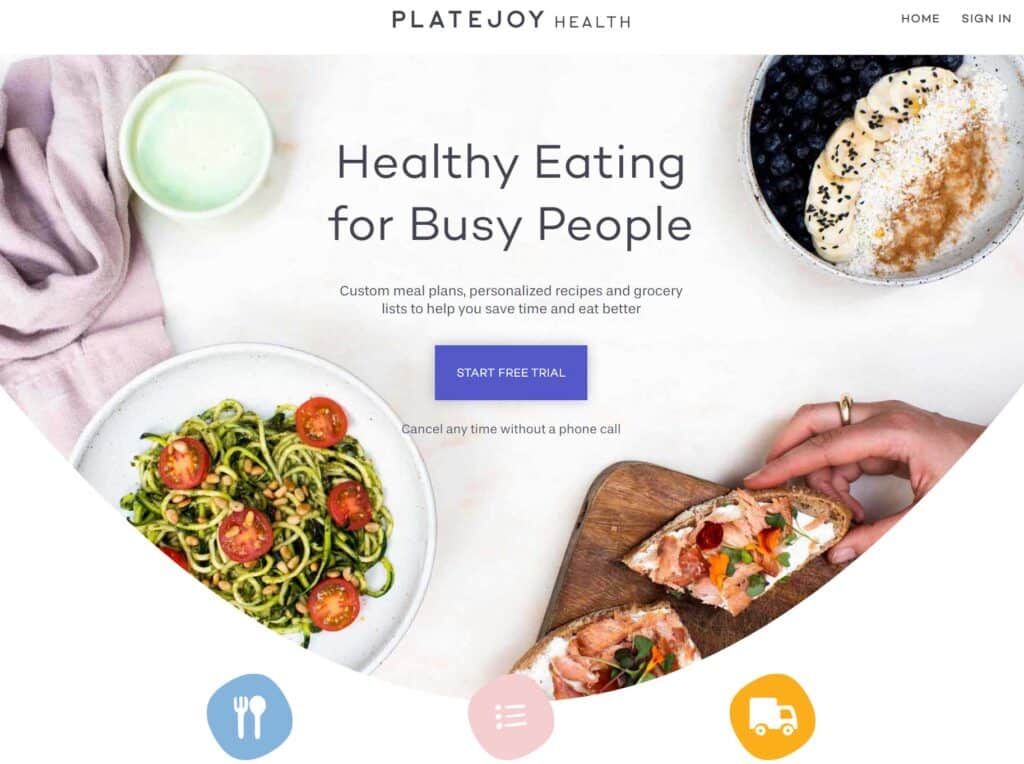 While Plate Joy is not a keto-specific app, it does provide users with nutritionist-developed keto meal plans, recipes, and grocery lists, making meal prepping and planning a whole lot easier. As always, convenience comes at a cost. The pricing plan starts at $8 a month, but can quickly get a lot more expensive.
To begin the process with Plate Joy, users begin by taking a lifestyle survey. You will answer questions about your dietary restrictions, allergies, health and fitness ambitions, and daily schedule. If you are looking to follow a strictly keto diet, you can outline this by referring to "carbohydrate intake" as a dietary restriction. For a keto meal plan, you will get hundreds of low-carb or zero-carb recipes for breakfast, lunch, and dinner.
Pros:
Meal planning and grocery lists help reduce food waste
Informative and educational video content
Accommodates most dietary restrictions
Cons:
Not geared towards vegans or vegetarians
Pricey
Key Features:
The menu can be synced with google calendar
Meal plans grocery lists
Customized meal plans based on schedule and taste buds
Bottom Line: If you are looking for keto meal planning and prepping guidance, Plate Joy offers a host of creative solutions.
10. Best for Healthy Living: Carb Manager
When it comes to keto apps, the Carb Manager app has a little bit of everything. This comprehensive app has a wide range of features, some of which are free. Carb Manager not only allows people to track their macros and net carbohydrates but also alerts users when they go over their limits on specific macros. If you are focusing on other aspects of your health, aside from your diet, this app allows you to track your weight, exercise, calories, sleep, and water intake. It even supports users who are interested in intermittent fasting.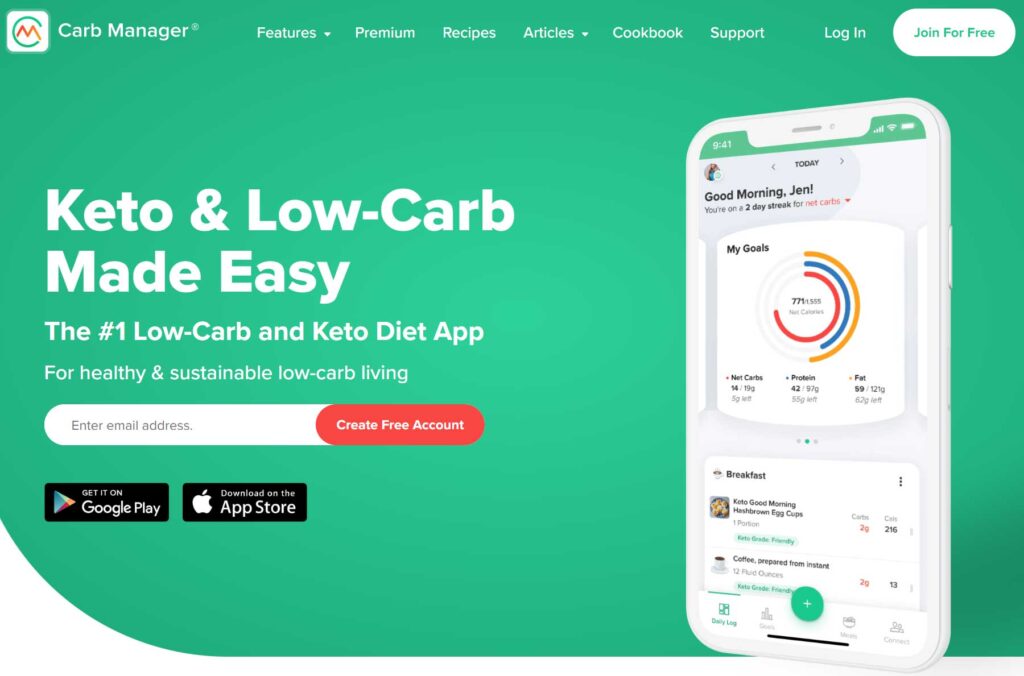 Another standout feature of Carb Manager is its food database, which includes over a million foods. While it may not be as large as other app databases, you have the option to use nifty features such as barcode scanning, photo logging, and voice command logging, when inputting your foods.
While the app can be downloaded for free, the premium version costs $40 per year. Additional features include diet articles, forums, weekly challenges, educational content, grocery list building, a community platform, and over 350,000 recipes.
Pros:
Over 350,000 recipes
Focuses on aspects of your health other than diet
Various methods to track food
Cons:
Premium version is expensive
Bar code scanner is sometimes inaccurate
Nutrient data is input by other users and sometimes inaccurate
Key Features:
Keto calculator, macronutrient calculator, calorie counter
Multiple tracking features
Keto Community and forum
Weekly challenges
Bottom Line: If you are taking a holistic approach to your health journey, Carb Manager helps with factors aside from such as exercise, sleep, and water intake.
What is a Keto Diet?
Similar to the Atkins diet, the ketogenic diet is a low-carb, high-fat diet. Most of the time, our bodies use glucose from carbohydrate foods for energy. But when we stop eating glucose, a process called ketosis occurs. When your body is in ketosis, it begins burning fat instead of carbohydrates as its main fuel source. When we don't eat carbs, the liver breaks down fat stores to produce energy and produces keystones to be used as energy.
The bottom line? The goal of the ketogenic diet is to send the body into a state of 'ketosis' by using a very strict low-carb diet. The end goal is to force your body into a metabolic state by reducing your intake of carbohydrates.
What to eat on a Keto Diet?
When it comes to the keto diet, the main rule of thumb to follow is to avoid carbohydrates. You will want to limit your consumption of grains, sugar, fruits, and tubers. Foods such as avocado, star fruit, and berries can be consumed in moderation.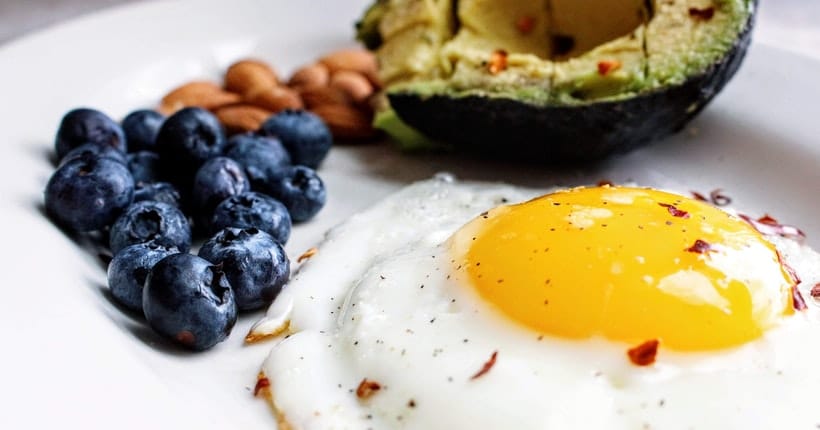 When preparing your daily meals, you will want to utilize ingredients such as meats, leafy greens, above-ground vegetables, high-fat dairy, nuts and seeds, sweeteners, and other fats.
Is the Keto Diet Healthy?
While the Keto Diet is most often used to lose weight, it can help with other medical conditions, as well. A ketogenic diet can benefit those who suffer from epilepsy, heart disease, brain diseases, and even acne. That said, most people can benefit from a low-carb, high-fat diet. Aside from helping you lose weight, a ketogenic diet can increase energy levels and mental focus and control blood sugar levels.