This vegan Lentil Bolognese makes a great weeknight or Sunday dinner. Switching in lentils as the protein in the bolognese makes the sauce vegan yet still hearty. Spaghetti squash substitutes for regular spaghetti to keep the dish whole foods based.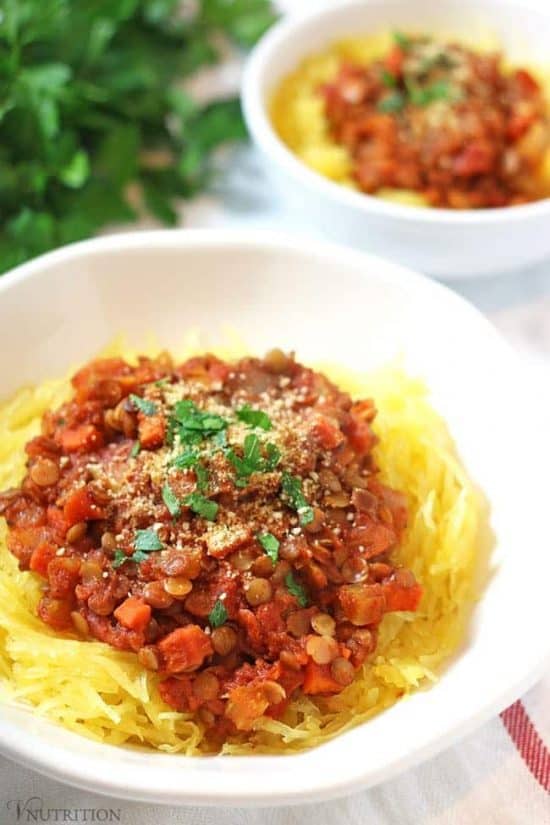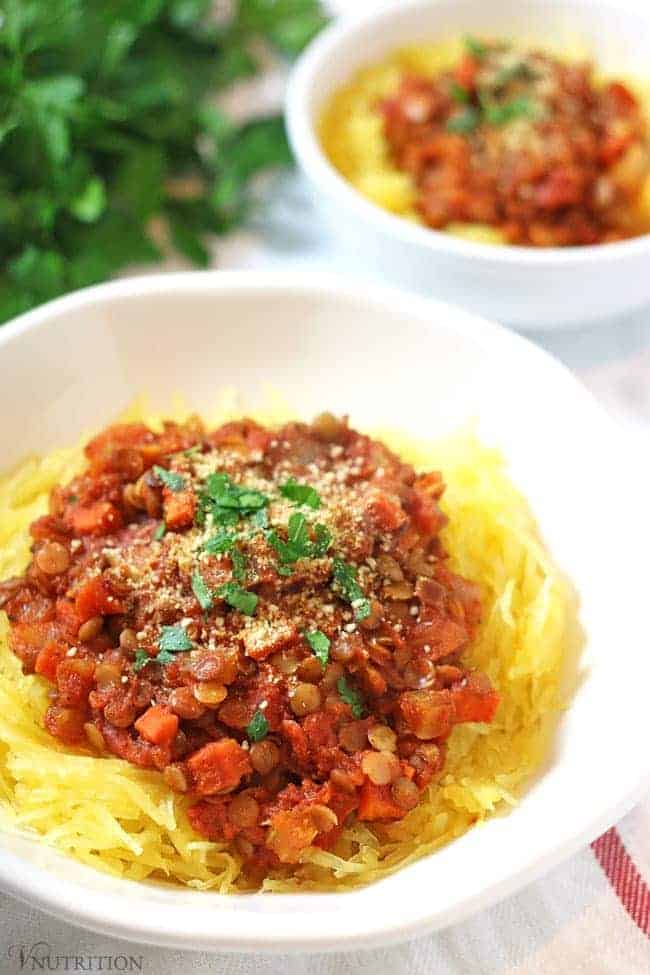 I'll be honest, although I'm a pasta freak, I'm surprised that I even thought to make a vegan bolognese because I never tried a regular bolognese before going veg. I saw some vegan versions of bolognese on Pinterest using meatless crumbles as the meat substitute and thought I might try it that way but I love lentils so much that I figured I'd switch things up a bit and use beans.
I really liked the way the lentils worked with the sauce, plus the beans add a nice serving of protein, fiber, potassium (lacking in most people's diets), B-6, and iron.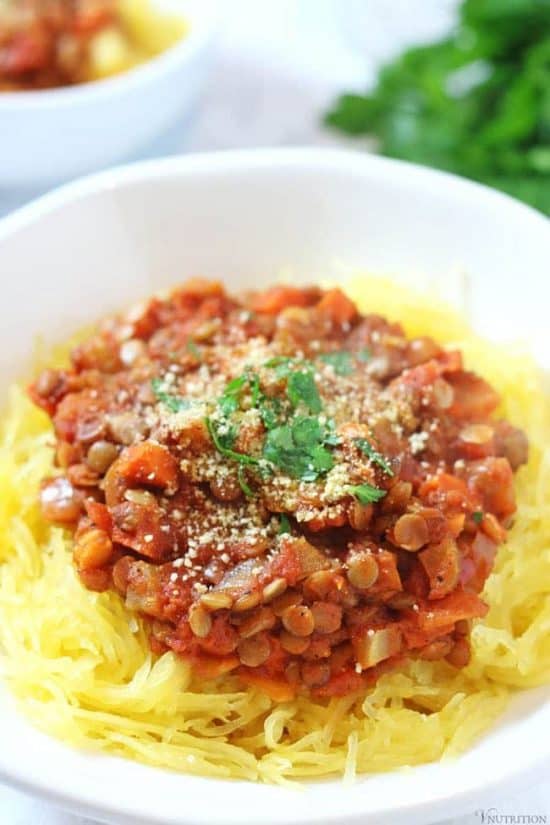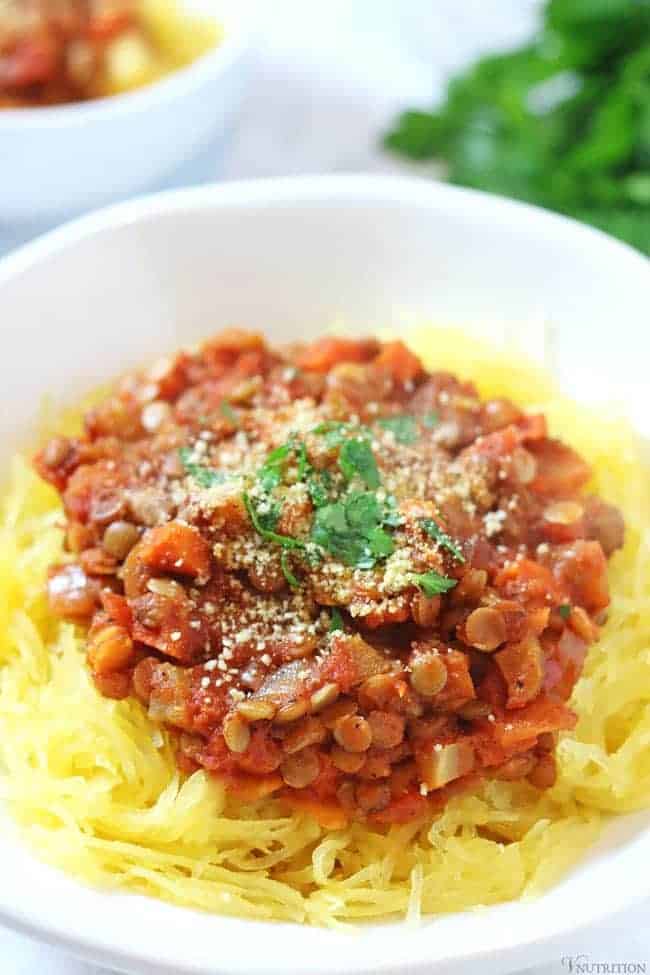 Lentil Bolognese
I was going to throw the Lentil Bolognese on some spaghetti because that's how I've usually seen the dish served at restaurants but I try not to go overboard with pasta too often (no matter how much I love it). By using spaghetti squash the meal is fully whole food based which is always a plus in my book.
If you're not into spaghetti squash, feel free to use regular spaghetti or any other kind of pasta. I think this would also be a great topping on a baked potato.
In case you were wondering, my Lentil Bolognese isn't one of those vegan recipes that you can give to an omnivore where they *might* think it's the original version (you can definitely tell it is lentils) but I don't think anyone would mind because it tastes so good!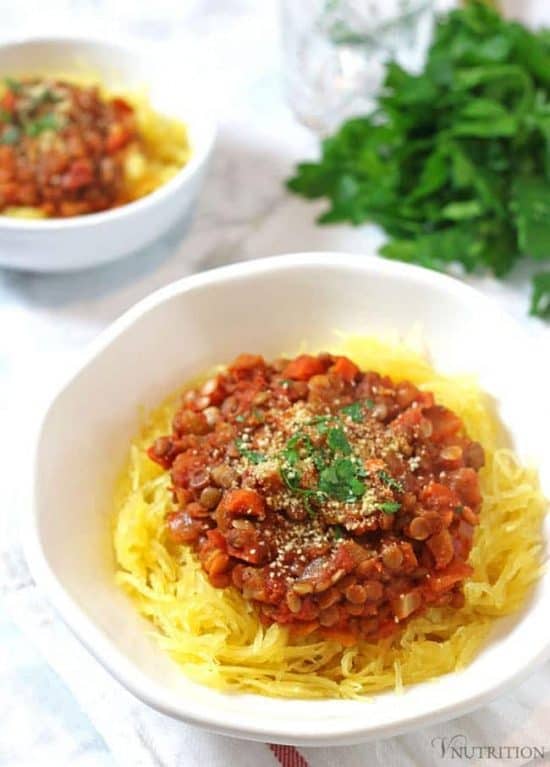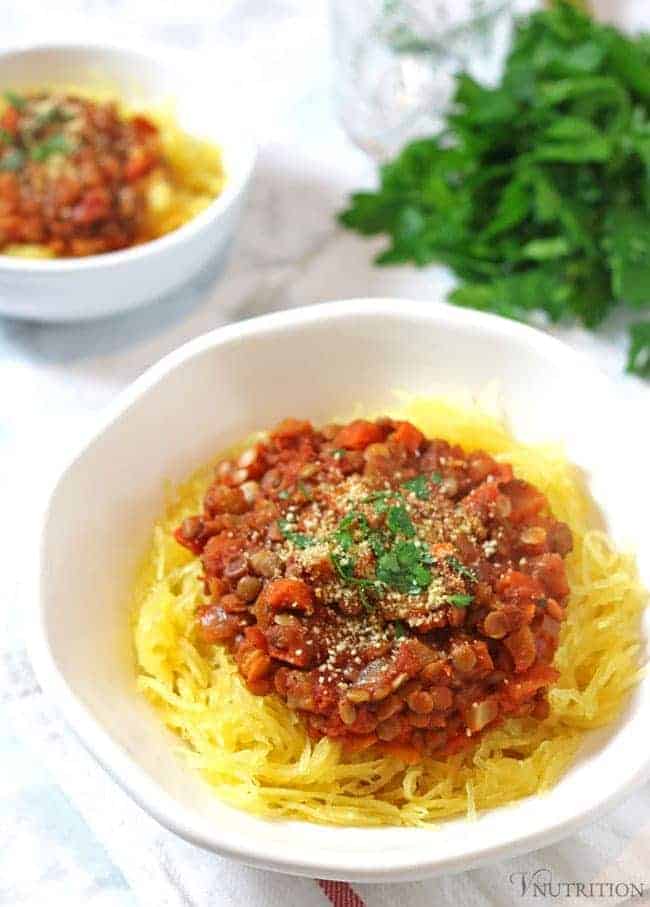 This #vegan Lentil Bolognese with spaghetti squash is a hearty dinner for the whole family!
Click To Tweet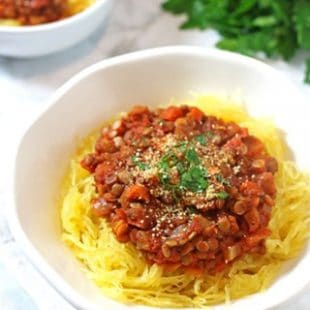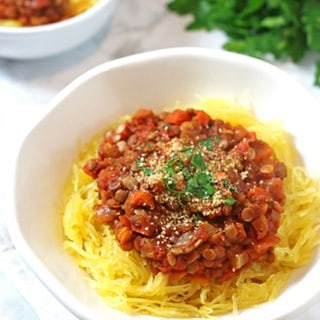 Lentil Bolognese with Spaghetti Squash
This vegan Lentil Bolognese makes a great weeknight or Sunday dinner. Switching in lentils as the protein in the bolognese makes the sauce vegan yet still hearty.
Ingredients
1

medium spaghetti squash

1

cup

lentils

3

cup

water

2

TB

olive oil

1

onion

chopped

3

cloves

garlic

minced

2

carrots

grated

2

stalks of celery

chopped

28

oz

can of crushed tomatoes

1/2

tsp

paprika

1

TB

apple cider vinegar

1

tsp

vegan worcheshire sauce

(optional but tasty)

salt and pepper to taste
Instructions
For the Spaghetti Squash
Pre-heat oven to 400 degrees.

Cut spaghetti squash in half (not lengthwise) so you have basically 2 cup shapes and cut out the seeds.

Place the halves cut-side down in a roasting pan..

Bake for about 35-45 minutes or until you can easily pierce a fork through the flesh all the way to the peel.

Gently pull out strands of squash so they resemble spaghetti.
For the Sauce:
While the spaghetti squash is baking, add 1 cup of lentils to a pot with 3 cups of water. Cook until lentils are tender (about 15-20 mins). Drain lentils and discard any extra water left in the pot.

Heat oil, onion, garlic in large pan/pot for 5 minutes until onion is translucent.

Add carrots, celery, tomatoes, paprika, apple cider vinegar, vegan worcheshire sauce, salt & pepper and cook for about 10 mins.

Add lentils and cook 5 more minutes or until carrots are fully tender.

Add spaghetti squash to bowls, top with lentil bolognese, parsley and some

Vegan Parmesan
Nutrition Facts
Lentil Bolognese with Spaghetti Squash
Amount Per Serving
Calories 282.8
Calories from Fat 59
% Daily Value*
Total Fat 6.6g 10%
Total Carbohydrates 47.2g 16%
Protein 13g 26%
* Percent Daily Values are based on a 2000 calorie diet.
You may also enjoy…
Like my Lentil Bolognese recipe? It would be so wonderful if you could give it some love by sharing!
Mary Ellen Valverde MS, a functional medicine nutritionist, received her Master's degree in Human Nutrition from the University of Bridgeport. Dedicated to helping fight chronic disease through a plant-based diet, she creates lasting lifestyle changes that aid clients in a life of wellness.