These Quick Curry Noodles are a great introduction to curry flavors for those that have never tried a curry before. If you already love curries, these noodles would be a perfect quick weeknight meal that will be on the table in about 15 minutes!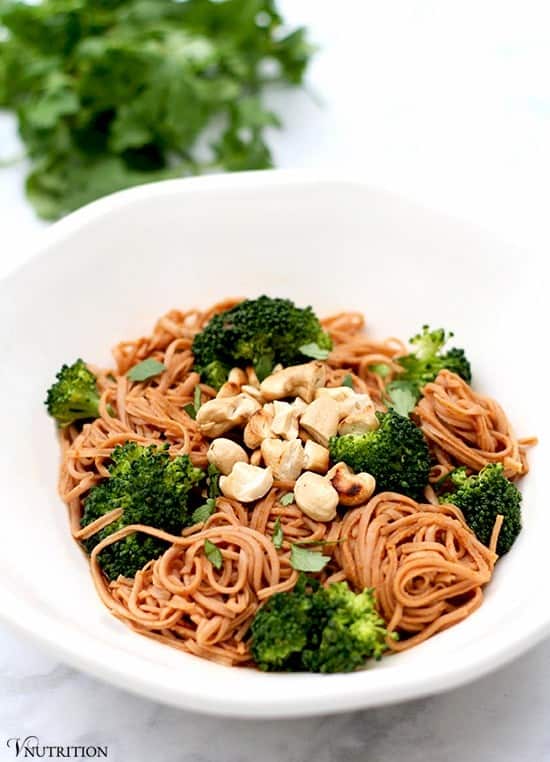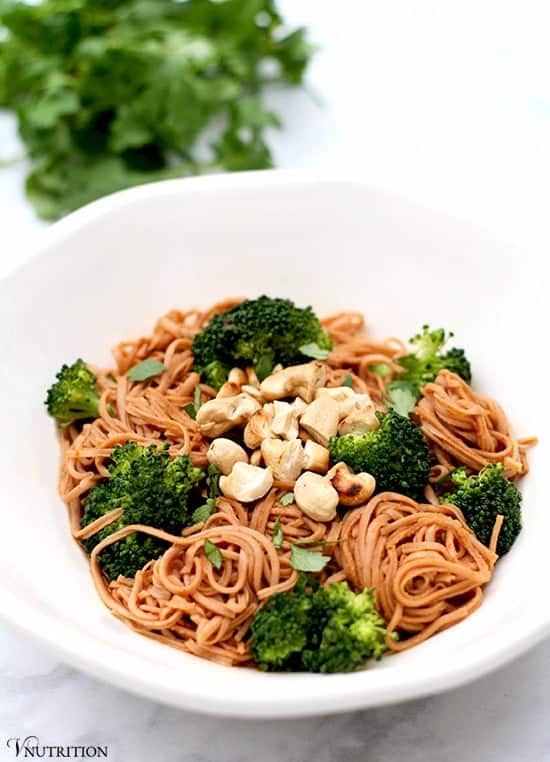 For the longest time I was scared of trying curries. It must have been because they seemed so different than other things I ate growing up. My apprehension of trying new foods started at a young age because my family was always fearful of anything but our "norm". We ate the Standard American Diet – mostly pasta,  a little chicken, lots of processed foods and no veggies because my mom doesn't didn't like them (as you may have read previously). Take-out Chinese food was a stretch for them for a long time.
Luckily I've grown out of my fear of trying new foods (and so has most of my family – I'm proud of you mommy!). Since going vegan I have been experimenting with all sorts of ingredients and traveling around the world has opened my eyes to a wide variety of flavors from different cultures.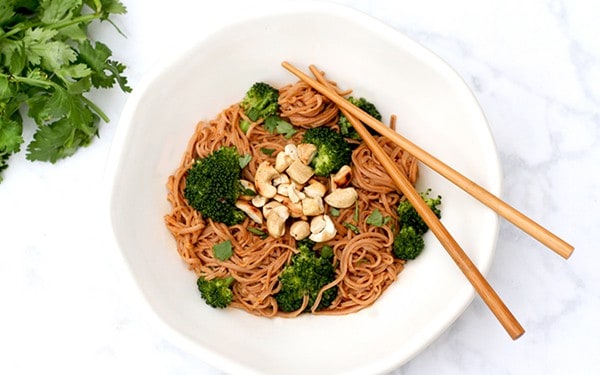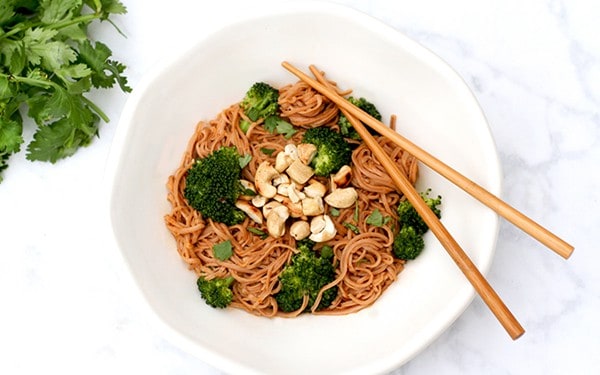 One of my new obsessions to come out of my vegan diet is curries. After giving one a try I  couldn't believe that I was hesitant to taste them!
I thought I'd do a "pre-curry" dish of quick curry noodles that have the basic flavors of a curry for anyone out there that might be hesitant to try a traditional curry.
The recipe only takes about 15 minutes to make so there's not a whole lot of prep time and the only new ingredient that you will probably need is a jar of red curry.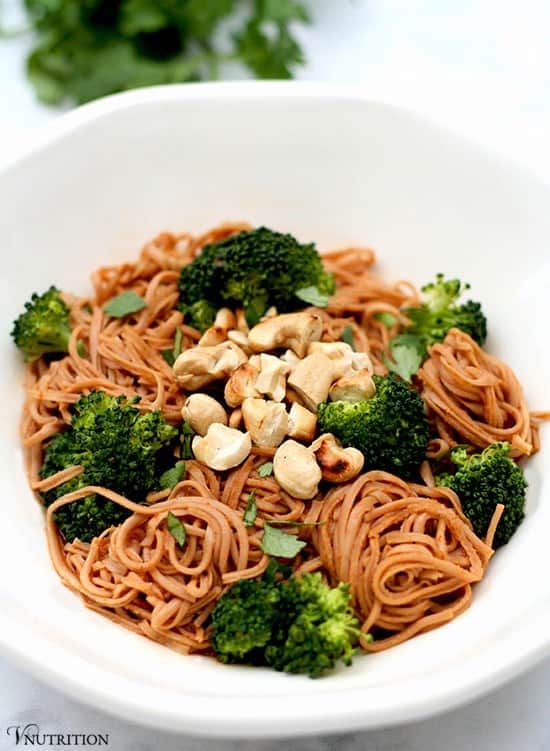 This dish is gluten free if you use any gluten-free pasta. For my noodles, I used Explore Asian adzuki bean spaghetti for an extra punch of protein but feel free to use any noodles you like. Although I love Explore Asian noodles, the texture is not exactly like regular pasta so they do take some time to get used to.
I also added some steamed broccoli for some fiber and vitamin C. Cashews also add protein as well as healthy fat and magnesium.
Try these curry noodles with broccoli and cashews for a quick and tasty meal!
Click To Tweet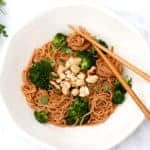 Quick Curry Noodles with Toasted Cashews
Ingredients
5

oz

pasta

(gluten-free or regular)

1.5

C

chopped broccoli

1

C

chopped cashews

Cilantro

, chopped

Sauce Ingredients:

1/2

cup

non-dairy milk

2

TB

red curry paste

4

TB

tamari or soy sauce

1

Tsp

garlic powder

1

Tsp

onion powder

1/2

Tsp

ginger powder

1/4-1/2

Tsp

of Sriracha

, Sambal Oelek, or other hot sauce
Instructions
Cook pasta to package directions.

Steam broccoli for 3-5 minutes.

Add all sauce ingredients to saucepan. Bring to a boil then let simmer until pasta is done.

While pasta and sauce are cooking, heat a pan and toast cashews until toasted 1-2 mins.

Keep stirring the cashews so they do not burn.

Add cooked pasta and broccoli to bowls. Top with curry sauce, toasted cashews, and scallions.
You may also enjoy... 


Like my Quick Curry Noodles recipe? It would be so wonderful if you could give it some love by sharing it!