This one-pot Vegan Southwest Quinoa is a 20-minute weeknight wonder meal, showcasing my favorite Tex-Mex flavors in style. Naturally gluten-free, made without oil and absolutely bursting with flavor from the sweet corn, creamy black beans and zesty chili lime dressing, this is a grain bowl you'll be serving on repeat.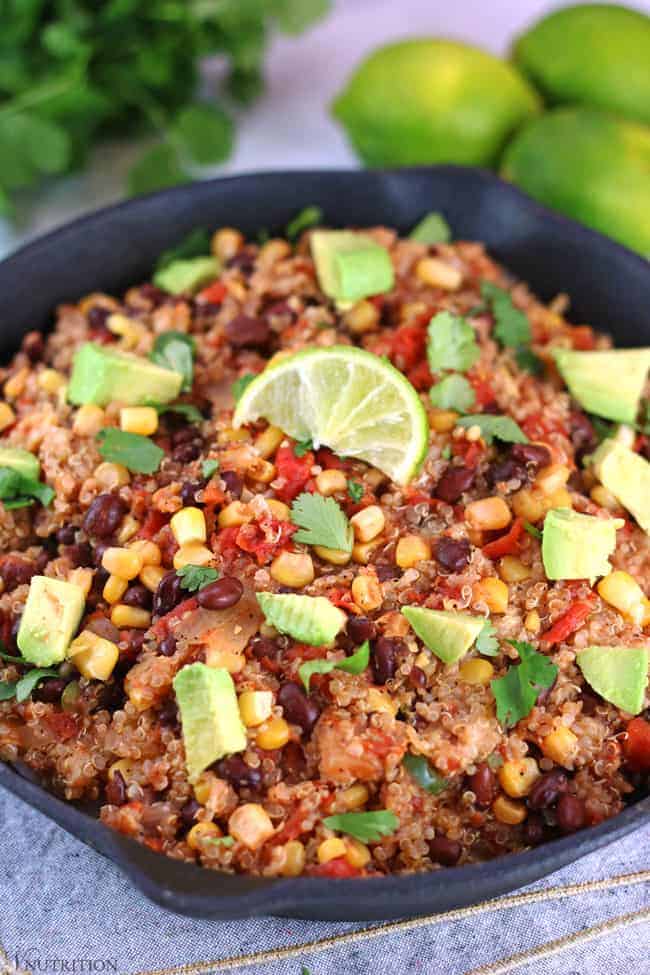 If your Taco Tuesdays are looking a little bland lately, I'm here to rescue you with some delicious vegan taco-inspired quinoa bowls. Filled with classic Tex-Mex ingredients like tomatoes, chiles, black beans and corn, this is a meal the whole family will love.
I've always loved Mexican food so I've revamped a few of my old favorites to make them vegan-friendly. (Do yourself a favor and check out my Vegan Chipotle Queso after this recipe. You'll be very happy you did.)
This quick and easy southwest quinoa has all of my favorite Mexican flavors, and it's healthy, filling and energizing to boot!
Jump to:
Why I Love This Recipe
I've always loved Tex-Mex, Southwestern, and Mexican flavors, but often they were laden with cheese and creamy sauces.
This vegan southwestern quinoa bowl is completely free of dairy. As an added bonus, I also made it completely oil-free! That means you can heap on the heart-healthy avocado without an iota of guilt about it. You're welcome!
I also engineered this recipe to make it perfectly easy for those busy weeknights. This hearty, satisfying meal cooks up in ONE pan and is ready to eat in just 20 minutes. You seriously can't beat that!
What's in Southwest Quinoa Bowls?
This simple recipe is jam-packed with flavor. Here's everything you'll need:
Vegetable Broth - Vegetable broth is a super easy way to add flavor to your meals without any extra effort. In fact, consider cooking your grains (e.g. quinoa or rice) in veggie broth instead of water for an instant upgrade! Making your own from kitchen scraps couldn't be easier - just keep a gallon bag in your freezer and toss in your onion tops/skins, carrot roots, herb stems, etc. When the bag is full, add the contents to a pot, cover with water, simmer for a few hours and strain.
Onion - Red, white or yellow will work just fine here. To make your life even easier, grab a bag of frozen, pre-chopped onions instead.
Garlic - Fresh is always best when it comes to garlic, but you can swap in ¼ teaspoon for every clove in a pinch.
Tomatoes with Chile Peppers - Canned tomatoes with chile peppers are a godsend. This one can packs a big Tex Mex punch, and all you have to do is open it! In a pinch, swap in a can of plain diced tomatoes and add a single, seeded and chopped jalapeño to your list.
Black Beans - Canned black beans are another time saver for this simple southwest quinoa recipe. Drain and rinse them to get rid of any excess sodium. You can also make your own black beans from dried; just note that they will take awhile to cook.
Zucchini - This thin skinned squash is not only beautiful, it's also mildly sweet and delicious. Feel free to swap in yellow summer squash instead, as they have an almost identical flavor profile.
Corn - During the summer (which is peak corn season), I recommend reaching for fresh organic kernels. Otherwise, you're better off reaching for about 1 cup of frozen corn which was flash frozen during peak freshness.
Chili Powder - Not to be confused with chili seasoning, chili powder is just dried and pulverized chilis. Depending on your heat preferences, you can opt to swap in cayenne powder instead. I'd recommend you start with no more than half chili and half cayenne to start, though!
Paprika - While many people think of paprika as simply a garnishing powder to make your holiday mashed potatoes look more festive, this dried pepper actually packs quite a flavor punch. It comes in several varieties like sweet, hot or smoked. Smoked is my favorite for this recipe.
Pepper - Do yourself a favor and switch to using only fresh ground peppercorn from now on. The flavor is far superior to the pre-ground stuff!
Quinoa - To make this recipe super speedy, I recommend pre-cooking a big batch of quinoa on the weekend to add to your meals throughout the week. Any color of quinoa will do, just be sure to rinse it thoroughly before cooking! This will eliminate any bitter flavor from the grain.
Avocado - There's almost nothing as satisfying as cutting into a perfectly ripe avocado. Here are some tips to pick the perfect one!
Cilantro - Cilantro is easily one of my favorite fresh herbs. If you're one of the people who think cilantro tastes "soapy," feel free to swap in some flat leafed parsley instead.
Lime - Definitely grab a fresh lime for this recipe. The bottle stuff just can't hold a candle to the real deal, and limes are generally very cheap. To get the most juice out of the fruit, give it a firm roll on the countertop for about 10 seconds before slicing.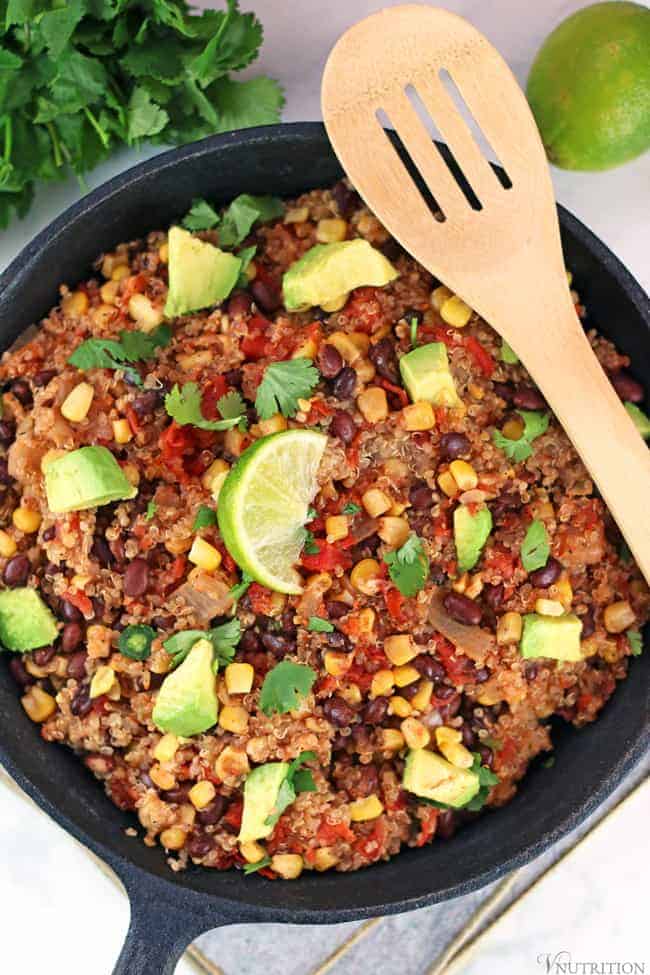 Quinoa Nutrition
Quinoa can be used in so many ways, from breakfast porridge to these delicious southwest quinoa bowls. You can also use it in place of rice in any dish for an easy way to increase your protein and fiber consumption.
Aside from being delicious, quinoa is also extremely healthy. One cup of quinoa contains over 8g of protein and 21% of the recommended amount of dietary fiber. Quinoa is a good source of iron as well as whole-"grain" carbohydrates (though *technically* it isn't a grain - it's a pseudocereal).
This delightfully nutty superfood is also pretty low in calories for how high it is in vitamins, minerals, and antioxidants. It also happens to be entirely gluten-free, making it a wonderful choice for people with gluten allergies or sensitivities.
The nutrition facts for a 3.5 ounce serving of cooked quinoa are :
Calories: 120
Protein: 4.4 grams
Carbs: 21.3 grams
Sugar: 0.9 grams
Fiber: 2.8 grams
Fat: 1.9 grams
Now that you know how healthy quinoa is, let's get down to how we cook it!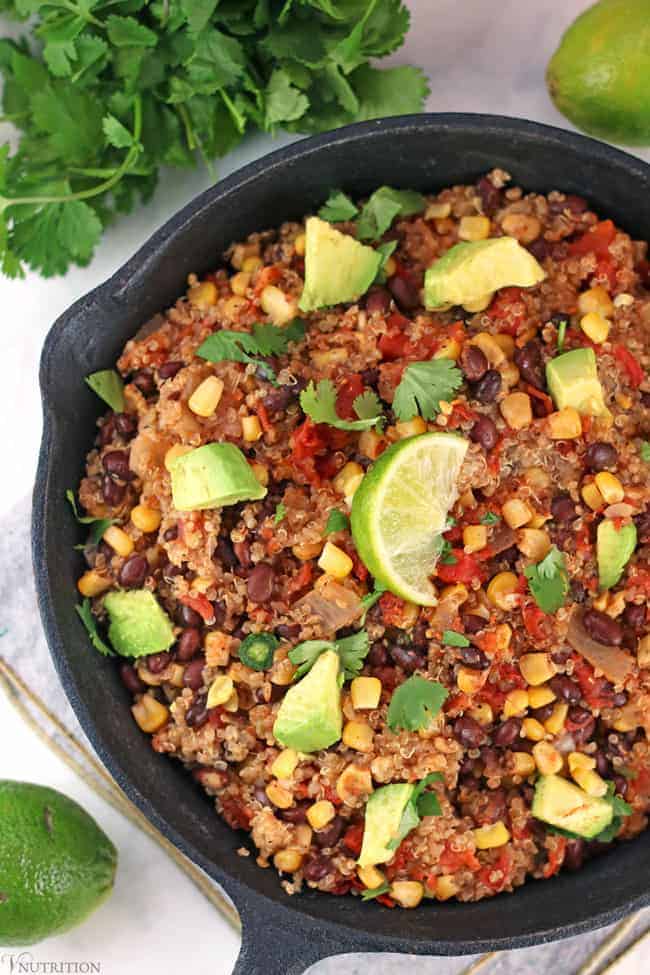 How to Make My Quick & Easy Southwest Quinoa
I love my Southwest Quinoa because it's so easy to make. For this dish, you seriously only have to heat a pan, cut up some veggies, and toss in your already cooked quinoa.
Like I said above, this dish only takes about 20 minutes to make in total (which includes all the prep work) if you pre-cook the quinoa on the weekend. And don't worry, I'm not asking you to devote your whole weekend to cooking. Quinoa cooks up in just 15 minutes!
To make this simple dish, start by prepping your veggies. Chop the onion, grate or mince the garlic, dice the zucchini and remove the corn from the cob.
TIP: If you have a bundt pan on hand, use it for stripping your corn! Place the corn on the center tube and run your knife down the sides. The kernels will fall into the cake pan with nary an errant piece escaping to the floor.
In a large skillet, heat vegetable broth, onion, and garlic and cook until for 3 mins.
Add corn and zucchini and cook for another 2-3 mins.
Add beans, tomatoes, chili powder, paprika, and pepper and cook for about 5 minutes. If you need more liquid, you can add some of the tomato juice or some veggie broth/water.
Turn off heat and add in cooked quinoa to skillet and fluff with fork until quinoa is heated through.
Remove from heat and top with avocado, cilantro, and lime juice. Enjoy!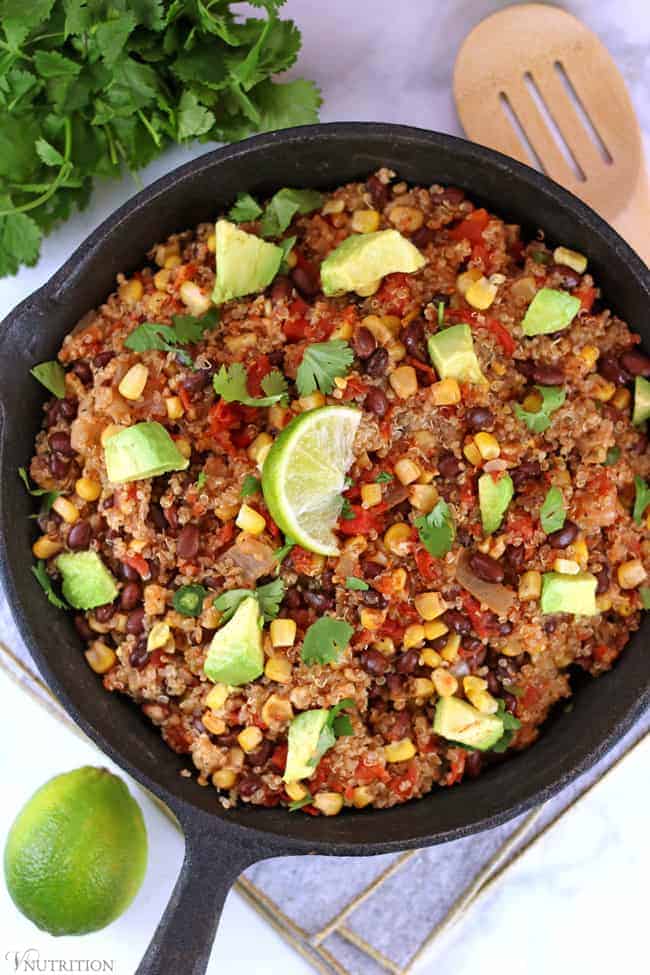 Tips & Tricks
If you're using fresh corn on the cob, reach for a bundt pan. It's a lifesaver when it comes to removing corn kernels without a mess!
If you want a little boost of flavor, reach for some Mexican-style hot sauce! Vinegar-based hot sauces add a ton of flavor without a bunch of calories. You can also reach for some salsa, which adds extra tomato and pepper goodness!
Have leftovers? Switch things up by turning the Southwest quinoa into the base for burritos! Bonus points if you freeze some for healthy grab-and-go lunches.
Want more toppings? Go nuts! Try a touch of nut-based vegan sour cream or cheese. Add more freshness and crunch with freshly sliced scallions, pickled red onions, or chopped bell peppers. Add salsa or hot sauce for spice.
Meal Prep Secrets
To get yourself ready for the week, try prepping a big batch of grains on your meal prep day. Brown rice, wild rice or quinoa are all great options. This will not only save you anywhere from 15-45 minutes of cook time at night, it'll also keep you from having an extra pot to clean up.
TIP: When it comes to cooking your grains, add a boost of flavor by cooking them in vegetable broth instead of water!
Once you know what your grain for the week will be, plan your meals around it. (This southwest quinoa is only the tip of the quinoa iceberg. Read on below for more delicious quinoa based suppers!)
If you want to prep this meal to completion, I recommend dishing out individual portions for easy grab and go lunches. Just keep the avocado and lime separate, tossing them in right when you're ready to eat.
For more info on how to meal prep like a boss, check out my Vegan Meal Prep Tips.
Frequently Asked Questions
Can I make this southwestern quinoa ahead of time?
Sure! It's delicious eaten hot or cold, making it ideal for packed lunches. The only caveat here is to keep the avocado out of the equation until you're ready to eat. Avocado is prone to oxidation, which makes it turn an ugly brown color when exposed to air. Nobody wants that!
Can I use this recipe to make other meals?
Sure! This southwestern quinoa can easily become a casserole if you top it with some vegan cheese and broil it. It also does a great job getting wrapped as burritos. Finally, feel free to eat this cold like a salad. It's delicious no matter what.
Can I freeze this southwestern quinoa?
Sure! Just be sure to keep the avocado separate, for reasons listed above. I recommend portioning it into individual containers for easy grab and go lunches. Let it defrost overnight in the fridge, then reheat in the microwave if you so choose!
More yummy quinoa recipes:
If you tried this quick and easy recipe for my Vegan Southwestern Quinoa, please be sure to rate and review it below!
📖 Recipe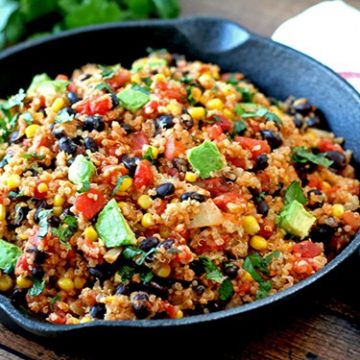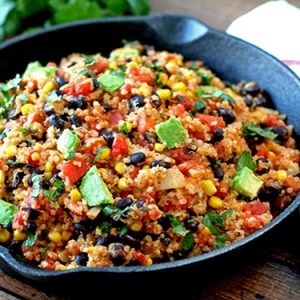 Southwest Quinoa
This southwest quinoa captures the flavors of Southwestern food by adding corn, tomatoes, and avocado and leaving out the dairy.
Email Recipe & Ingredients
Ingredients
½

cup

vegetable broth

1

small

onion

chopped

2

cloves

garlic

grated/minced

10

oz

tomatoes with chile peppers

drained (but save liquid)

15.5

oz

can black beans

drained and rinsed

1

zucchini

diced

2

ears of fresh organic corn kernels

(or about 1 cup frozen)

1

teaspoon

chili powder

½

teaspoon

paprika

(the smoked kind is my favorite for this)

¼

teaspoon

pepper

1.5

cups

pre-cooked quinoa

1

avocado

diced

3

Tablespoons

cilantro leaves

chopped

1

lime

juiced
Instructions
In a large skillet, heat vegetable broth, onion, and garlic and cook until for 3 mins.

Add corn and zucchini and cook for another 2-3 mins.

Add beans, tomatoes, chili powder, paprika, and pepper and cook for about 5 minutes. If you need more liquid, you can add some of the tomato juice or some veggie broth/water.

Turn off heat and add in cooked quinoa to skillet and fluff with fork until quinoa is heated through.

Remove from heat top with add the avocado, cilantro, and lime juice.
Notes
When I use this recipe for meal prep, I make it everything but the avocado. When I'm ready to eat, I slice and add the avocado then so it doesn't get brown in the fridge.
Nutrition
Calories:
317
kcal
Carbohydrates:
53
g
Protein:
13
g
Fat:
8
g
Fiber:
14.5
g
Vitamin A:
1300
IU
Vitamin C:
28.9
mg
Calcium:
80
mg
Iron:
7.9
mg
PLEASE NOTE: Nutritional information data is computer generated and only an estimate so it should be used only as a guide.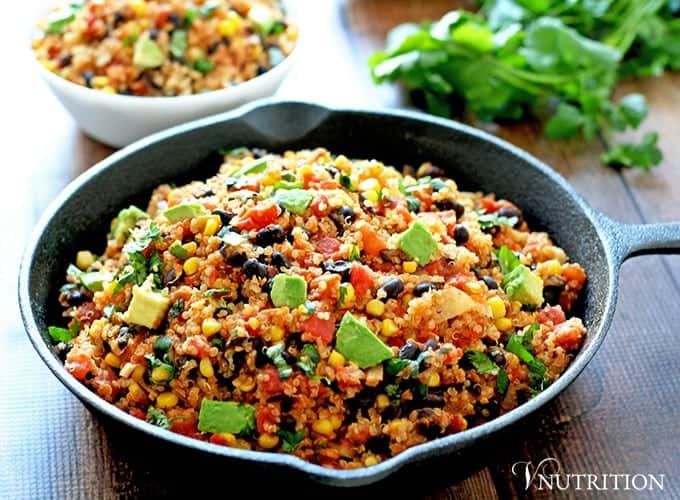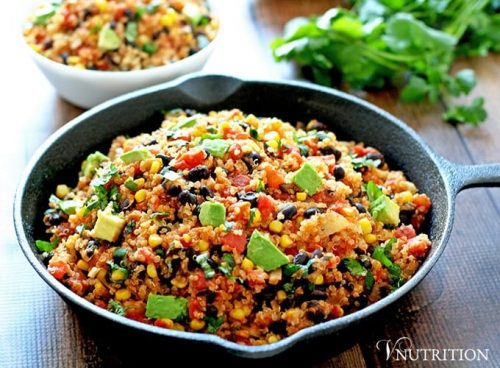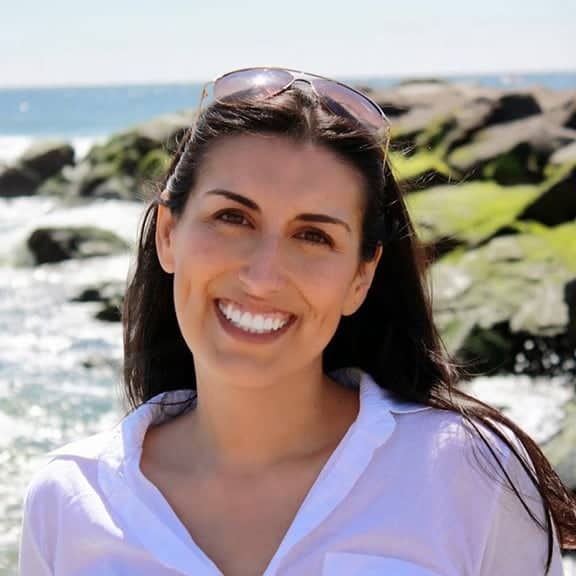 Mary Ellen Valverde MS, CNS, LDN is a Licensed Nutritionist and Certified Nutrition Specialist who empowers vegans to feel clear and confident about what is uniquely nourishing to them. Mary Ellen's recipes and nutrition information have been featured on Yahoo News, Parade, VegNews, LIVESTRONG, Dr. Axe, Greatist, LIVEKINDLY, Brit+Co, Well+Good, and more.