These vegan pantry meals are can be made with staples you find in your kitchen. The recipes use mostly shelf-stable ingredients but are still very delicious!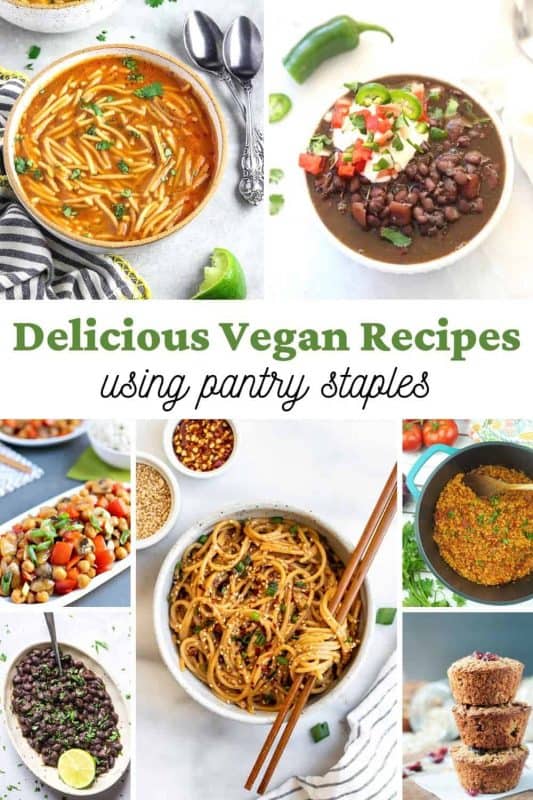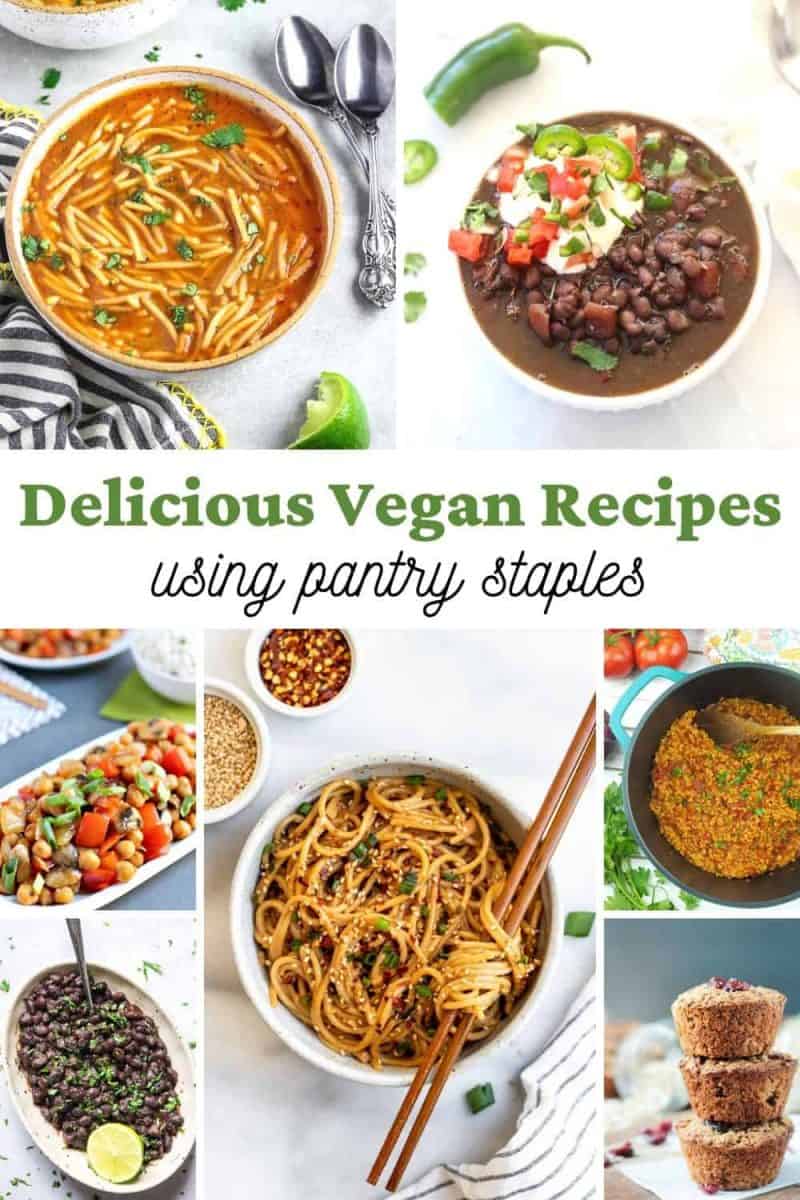 In times of need or when you are running low on supplies and you need to put something on the table quickly, vegan pantry staples can be real life-savers.
Even if you are used to having a wider assortment of ingredients on hand, cooking with non-perishables can produce amazing results. On top of that, it's a great way to feed a crowd when you don't have enough fresh food available.
If you've been searching for easy to make recipes using vegan pantry staples you'll find some delicious and budget-friendly meals below. From healthy dinner ideas to quick snacks and comforting breakfasts, be sure to try at least some of these vegan recipes using pantry staples anytime grocery shopping is not an option.
Jump to:
Easy Substitutions
When fresh ingredients aren't always available, it's easy to make some substitutions.
Here are a few easy ways to sub out some specific foods:
1 onion = 1 tablespoon onion powder
1 clove of garlic = ⅛ teaspoon of garlic powder
Non-perishable plant-based milk for refrigerated milk
Frozen veggies for fresh
Jarred or canned veggies for fresh - I especially like to have these on hand:

canned tomatoes
canned pureed pumpkin
jarred or canned artichokes
jarred red peppers (roasted or not)
jarred olive
canned or jarred chili peppers
salsa
apple sauce
Breakfasts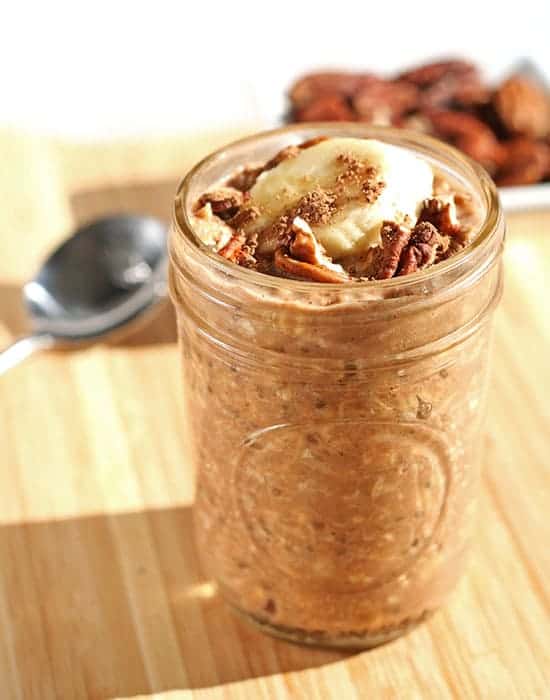 Peanut Butter Chocolate Overnight Oats from VNutriton (that's me!)
These peanut butter chocolate overnight oats combine two delicious flavors and are made of all pantry ingredients. They're a tasty breakfast but also great for an afternoon or after dinner snack!
Baked Oatmeal Muffins with Cranberries from Veggie Inspired
Baked oatmeal snacks have a fabulous crunch and are super satisfying. This recipe includes dried cranberries but I am sure it would be just as amazing with other dried fruits.
Homestyle Vegan Pancakes & Blueberry Syrup from Bohemian Vegan Kitchen
Don't hesitate to make a batch of these mouthwatering pancakes for breakfast. They taste amazing and are made with all pantry ingredients except for the blueberries. Try frozen blueberries or switch out the syrup for another favorite!
Spiced Apple Instant Pot Steel Cut Oatmeal from Glue And Glitter
A bowl of warm oatmeal makes a comforting breakfast but it's also a delicious treat any time of the day. Apples are last a long time so this oatmeal is perfect when short on fresh ingredients.
Oil-Free and Whole Grain Blueberry Oat Bars from A Plantiful Path
Who says you can't satisfy your sweet tooth without compromising your health? These blueberry oat bars are free of oil and refined sugar and kids will adore them. Just sub out frozen for fresh blueberries.
Soups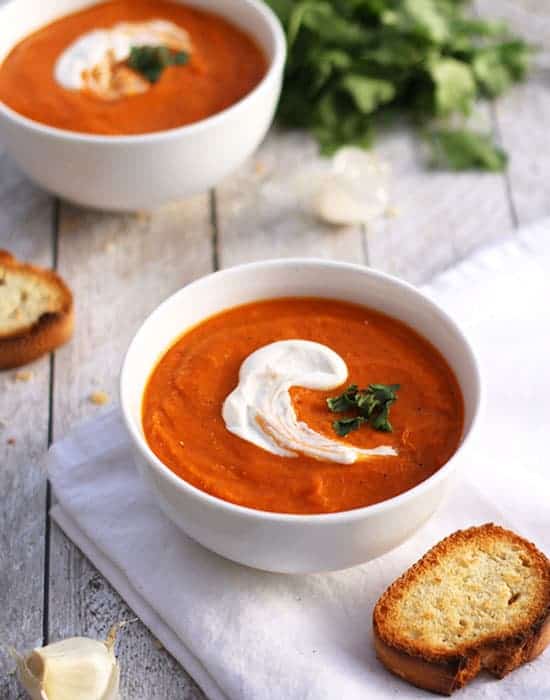 My Roasted Tomato Chickpea Soup
This Roasted Tomato Chickpea Soup is the perfect healthy soup for when pantry staples are needed. It's made with canned tomatoes, beans, and coconut milk. Just sub in onion powder for onions and you're all set!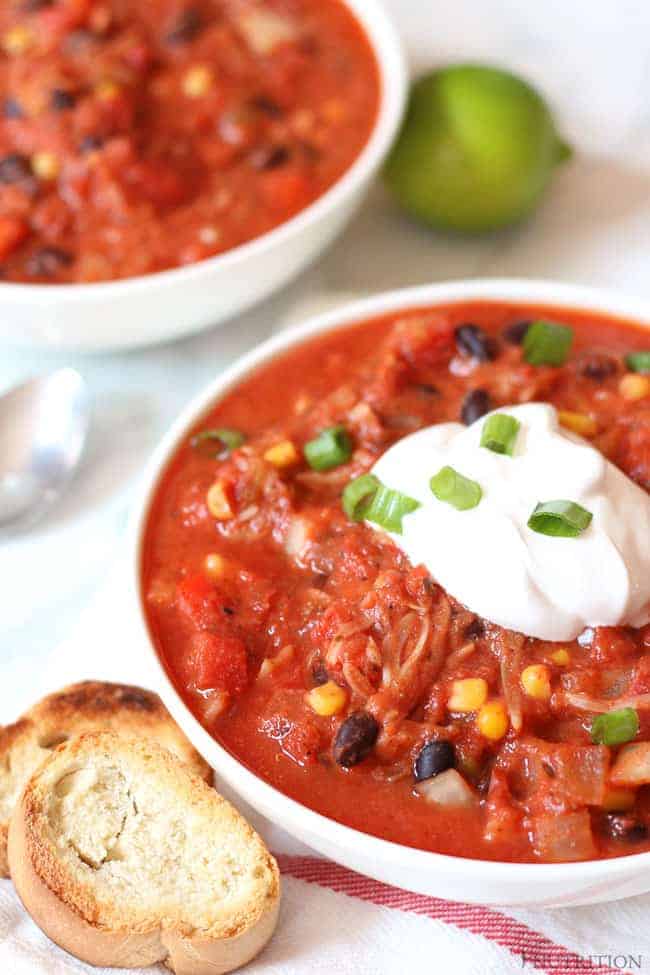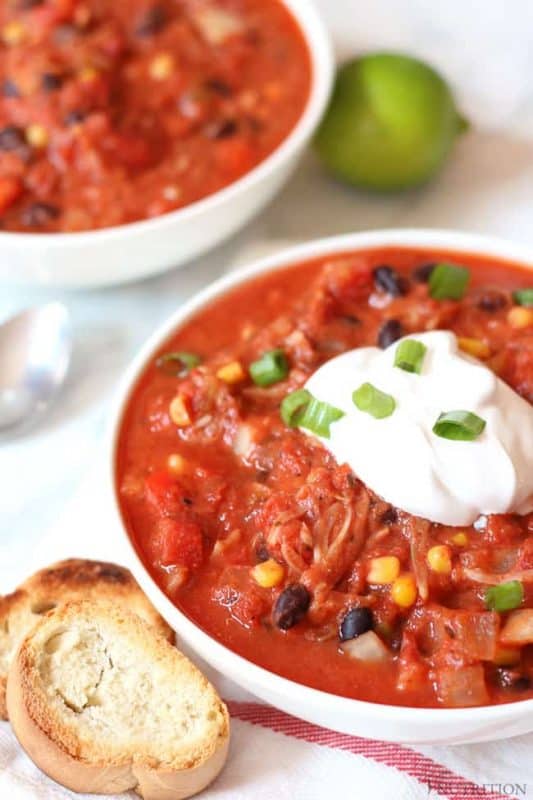 Jackfruit Chili (from me!)
Jackfruit takes the place of meat in this plant-based vegan chili. It uses mostly canned items that are cooked in a crockpot to bring out all of its delicious flavors.
Vegan Red Lentil Spinach Soup from The Vegan 8
This vegan pantry meal is incredibly rich in protein and also oil-free and gluten-free. You can use green or red lentils depending on what you have on hand.
Sopa de Fideo (Mexican Noodle Soup) from Vegan Huggs
Toasted noodles add a deep, rich flavor to this tomato-based Mexican soup. A hearty meal perfect for feeding a crowd made with all vegan pantry staple ingredients.
Vegan Black Bean Soup (Instant Pot) from Vegan Blueberry
Black beans are an excellent vegan pantry staple and this hearty soup can be made on the stovetop, in the pressure cooker or slow cooker!
Vegan Curry Lentil Soup from It Doesn't Taste Like Chicken
Here's another vegan lentil soup recipe that requires minimal effort. It gets even better the next day so it's perfect as a make-ahead option.
Main Dishes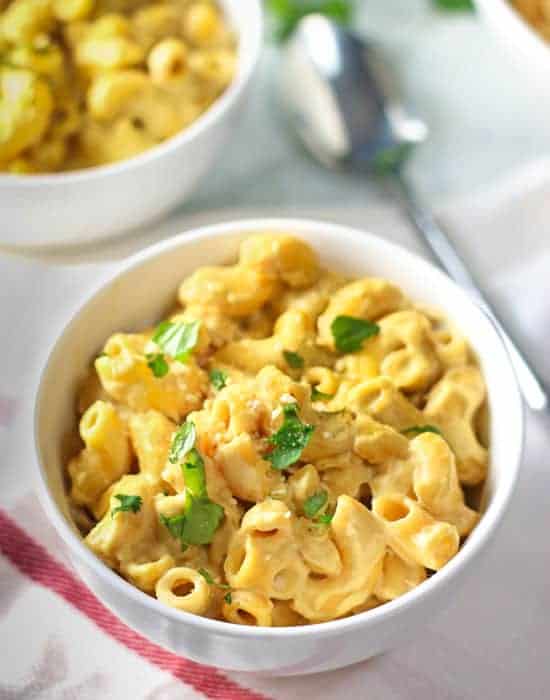 Creamy Vegan Mac and Cheese from VNurition (that's me!)
You won't miss the dairy in this creamy vegan pantry staple mac and cheese. Cashews make this sauce velvety and perfect for a tasty meal.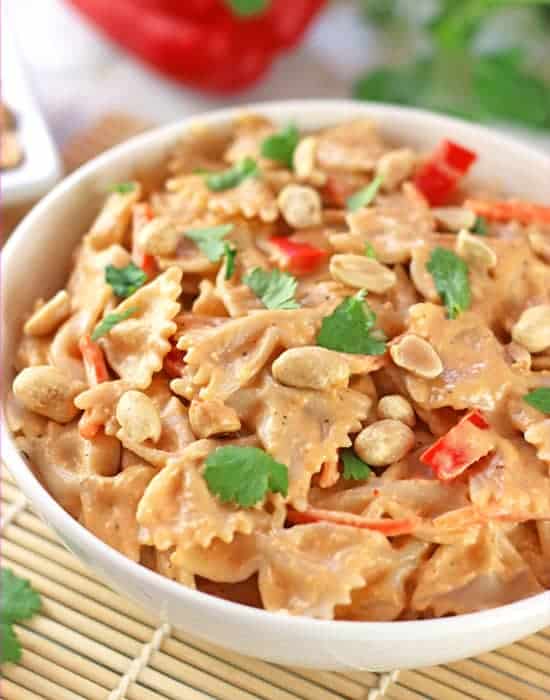 Vegan Thai Red Curry Mac and Cheese from VNutrition (that's me!)
This Vegan Thai Red Curry Mac and Cheese is the ultimate comforting fusion dish! The dairy-free creamy sauce, made from pantry staples like cashews & coconut milk, includes Thai red curry paste for a new twist on vegan mac and cheese. Feel free to add any frozen veggies you have on hand.
Chickpea Stir Fry (Oil-Free) from Veggies Save The Day
I love how versatile this chickpea stir fry is. You can use whatever veggies you have on hand (fresh, frozen or jarred) and it will come out delicious.
15 Minute Garlic Sesame Noodles from Eat With Clarity
How about a super easy and speedy meal idea using noodles? Just swap out the garlic for garlic powder and you're all set! This recipe looks wonderful and can also be served cold.
Mexican Black Beans from Know Your Produce
These Mexican Black Beans are a pantry staple and make for a delicious meal. This quick and easy recipe is vegan, gluten-free, and can be added to so many other dishes!
Vegan Spanish Rice from Dianne's Vegan Kitchen
The homemade Spanish rice recipe is so much better than the boxed version and you only need a few staples to make it.
Snacks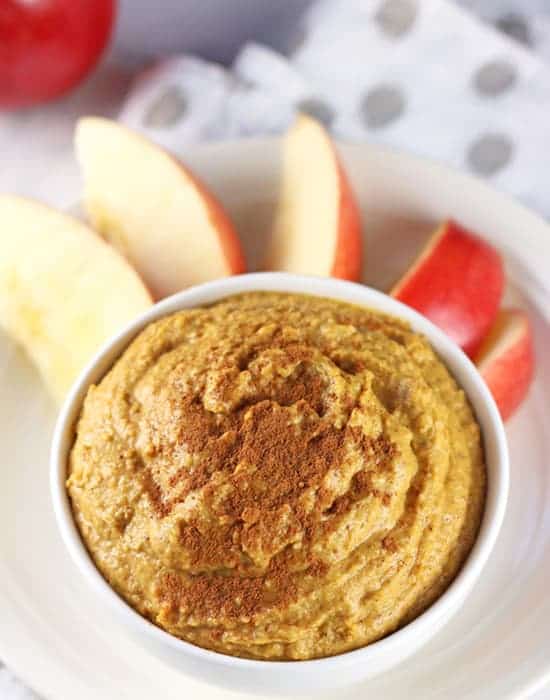 Sweet Pumpkin Hummus from VNutriton (that's me!)
This hummus is the perfect healthy treat when because it's dairy, gluten, and refined sugar-free. This dip uses all pantry staples and so tasty!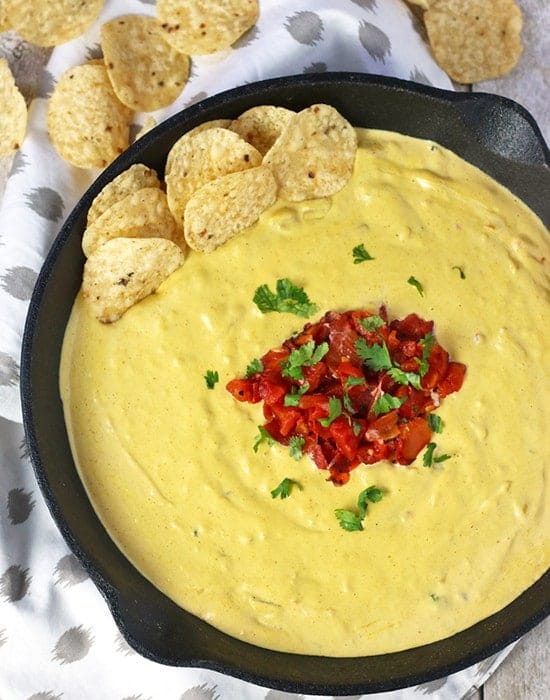 Vegan Chipotle Queso from VNutrition (that's me!)
This amazing Vegan Chipotle Queso is made from all pantry ingredients (except lime juice) and will satisfy any cheesy craving. It's made with cashews and tastes just like the queso dip at Mexican restaurants but it's dairy-free!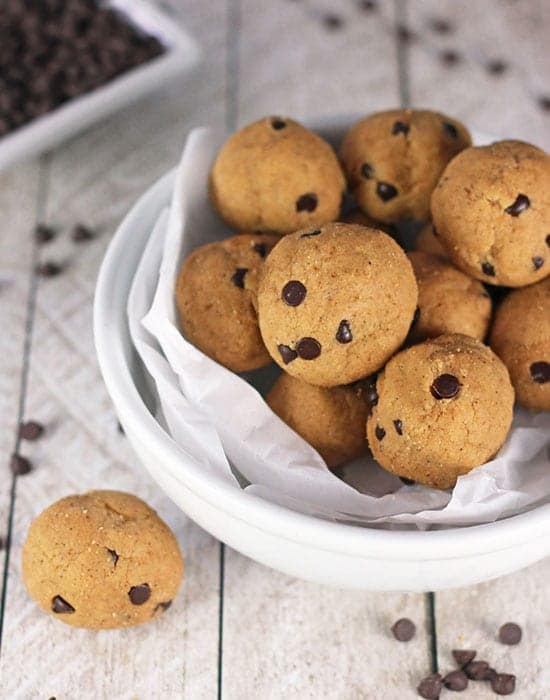 Vegan Cookie Dough Protein Balls from VNutrition
A healthy cookie dough? That's right! My Vegan Cookie Dough Protein Balls are a delicious snack when a sweet craving hits. They're made of pantry staple and low in sugar for a tasty treat the whole family will love.
Vegan Chocolate Chip Coconut Muffins Recipe from Go Dairy Free
These muffins use everyday ingredients, straight from the pantry. No specialty ingredients are required! They're even healthy, whole grain, and plant-based, making them ideal for a snack, dessert or even breakfast.
Vegan Pepperoni from Vegan Dollhouse
This vegan pepperoni looks so tempting and it only takes 30 minutes to prepare. You'll also find some recipes to use it in the post.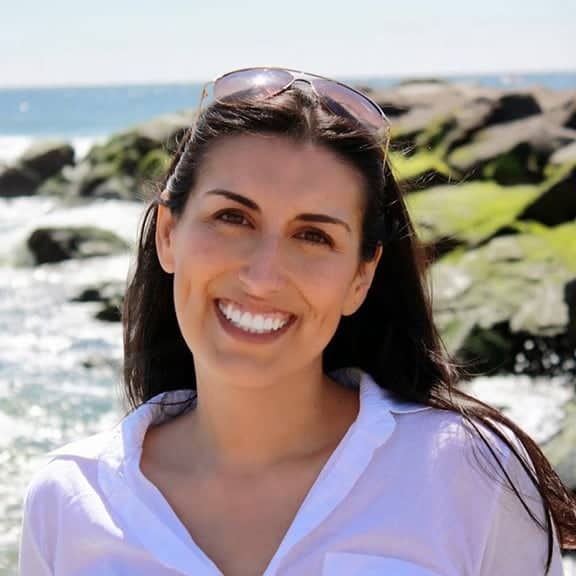 Mary Ellen Valverde MS, CNS, LDN is a Licensed Nutritionist and Certified Nutrition Specialist who empowers vegans to feel clear and confident about what is uniquely nourishing to them. Mary Ellen's recipes and nutrition information have been featured on Yahoo News, Parade, VegNews, LIVESTRONG, Dr. Axe, Greatist, LIVEKINDLY, Brit+Co, Well+Good, and more.