In need of a little fast & easy vegan pasta inspiration? Wondering how to make delicious vegan pasta recipes? Here's a list of over 35 amazing meals that are centered around plant-based pasta.
Oh pasta, how I love thee! Let me count the ways... When life gets hectic and cooking seems imPASTAble (sorry, couldn't help myself lol), I often turn to noodles. They're a wonder food!
And before you ask: Yes, I am a Licensed Nutritionist, and yes, I still stand behind that statement. Pasta (in moderation) can be enjoyed on a healthy vegan diet. (See the Making it a Healthy Meal section below for tips on this).
What else is kid-friendly, shelf-stable, quick to make, inexpensive, AND versatile enough to be sauced or baked, twirled or scooped, served hot or cold, and work equally well in soups and salads? Oh, and is also vegan and can be made gluten-free? If you come up with an answer that isn't pasta, ping me in the comments below!
If you're in need of a little fast & easy vegan noodle inspiration, you are in the right place. Here's a looooong list of over 35 of my favorite simple meals that are centered around plant-based pasta.
Don't worry, I've categorized them for you so you can easily click to the header that fits most closely with your mood below.
Jump to:
How to Cook Pasta
The most common method for cooking pasta is in a large pot of generously salted boiling water. That said, there are a bunch of other ways to cook noodles, including:
baking
stir-frying
making one-pot pasta on the stove, slow cooker, or Instantpot (where the sauce and the noodles cook at the same time in the same pan)
and even microwaving (though I don't really recommend that unless you have to - which I totally did in my college dorm)
In an ideal world, no matter what method you choose, you should end up with al dente noodles. This literally translates to "to the tooth," which is a fun Italian way of saying the noodle is cooked but still has a little bite.
TIP: Making a long noodle dish (e.g. spaghetti) for dinner with the kiddos? A fun way to teach them when pasta is done is to throw it at the fridge. If it sticks, it's cooked!
Substitutions for Vegans
If you feel like your favorite kinds of pasta are off-limits because they're creamy, cheesy, or meaty, think again! There are a ton of smart ways to swap ingredients to make vegan versions of your favorite dishes.
While you'll learn many of these tricks as you follow along with the recipes below, here are a few fun facts to titillate your tastebuds:
Creamy sauces can be replicated using nuts (like cashews) that are soaked and puréed.
Cheesy flavors can be emulated using one of my favorite vegan pantry items - nutritional yeast, a.k.a. "nooch."
Umami flavor can be added with miso paste
Meaty consistencies can be replicated using things like mushrooms, tofu, lentils, or vegan meat subsitutes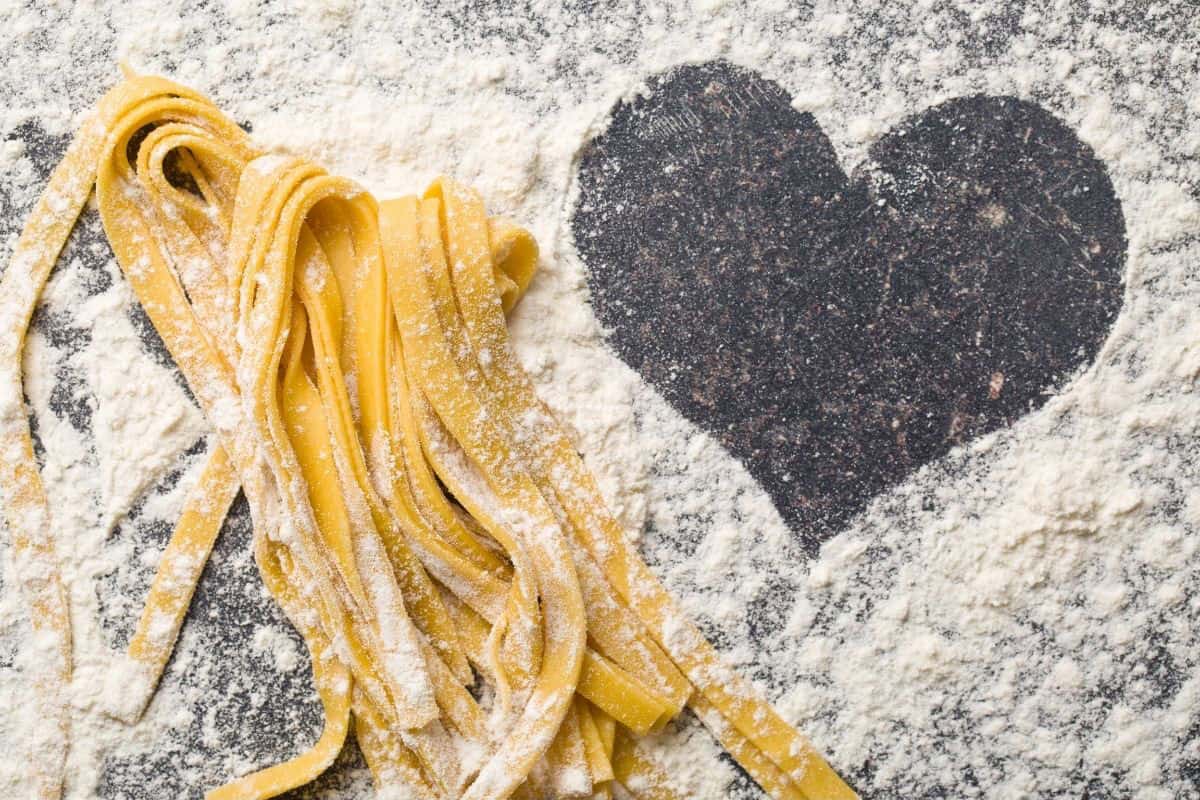 What Kind of Pasta Can a Vegan Eat?
As long as you are reaching for a package of vegan noodles (just check the label), then you can make just about any pasta dish a vegan one. NOTE: Unless you're reaching for a bag of egg noodles or some fresh pasta (found in the refrigerated section), most of the packaged noodles at the store *should* be vegan.
So whether you're craving a creamy alfredo, cheesy lasagna, umami ramen, or a "meaty" bolognese, there's something vegan for everyone. Don't believe me? I literally have over 35 vegan pasta dishes outlined below!
What Pastas Are Plant-Based?
Many pasta dishes in the world are naturally plant-based, like the much-beloved spaghetti and marinara of my youth. Others - like cheesy lasagna or meaty bolognese - require some thoughtful ingredient substitutions.
Don't worry though; I've got your back! For the pasta recipes I've listed below, you can rest assured that ALL of them are completely vegan and all of them are super delicious.
The bottom line is that just about any pasta dish you can think of - from ravioli to pad thai - can be made deliciously plant-based.
Is Dry Pasta Vegan?
Unless you're reaching for a filled pasta (like ravioli) or egg noodles, most of the commercially available dried noodles are naturally vegan. Just be sure to check the label.
Are you also gluten free? Don't fret! Not only can you swap in actual plants for long noodles (like spaghetti squash or zoodles), but there are plenty of boxed brands you can find at the store nowadays. I myself love chickpea, lentil, and brown rice pasta. Here's a helpful article from VegOut magazine listing their favorite gluten-free and vegan pasta brands.
Kinds of Noodles
While it might be a *bit* hyperbolic to say there are as many kinds of noodles as there are leaves on a tree, I have to believe that it's somewhere in the ballpark.
I mean, there are noodles that are shaped like everything from the alphabet to angel hair; wagon wheels to wavy ribbons; and seemingly everything between. Heck, there are even NEW shapes of pasta being invented in the 2020s!
And that isn't even considering the ingredients that can go into making your perfect pasta. I've seen noodles made from wheat flour (duh), but also beans, rice, quinoa, millet, zucchini, hearts of palm, tofu, and even seaweed.
So if you're in need of a true deep-dive into the wide world of noodles, let me just direct you to the Encyclopedia of Pasta. I'm not even joking. It's a thing. Because pasta is awesome and the whole world should know it.
Making it a Healthy Meal
As a nutritionist, I often get asked: "Why do you eat pasta? Isn't it unhealthy?" And I always answer, "well that depends".
Honestly, it's really all about the ingredients. The kind of pasta you use, the veggies you include, the type of sauce you use, and any plant-based protein that can be added.
Here are a few things to think about when making a healthy vegan pasta recipe:
What kind of pasta can you use to make it healthier? Basic white pasta (the kind more widly used) offers no nutritional benefit and can spike blood sugar. So no matter what the recipe calls for, I often sub in a gluten-free bean-based noodle for a extra boost of nutrients. Or sub in veggie-based noodles like zucchini noodles aka zoodles.
How can I add more veggies? I always add vegetables to my meals. Whether that's having a big salad before enjoying my pasta or adding roasted, sauted, or steamed veggies to my dish, I'm always thinking of ways to up my nutrient intake.
How can I add some plant-based protein to my meal? Some marinated tofu, tempeh crumbles, tofu crumbles, or a tofu steak will add some extra plant-based protein any of these recipes. I also love adding beans. White beans and chickpeas work well in creamy pasta recipes while lentils, kidney beans, and black beans work better in tomato-based sauces.
For the recipes that I list below, feel free to make any additions or substitutions that align with your eating habits.
Creamy Pasta Dishes
Veggie-Based Pasta & Sauces
Baked Pasta
Oodles of Noodles
One-Pot Pasta
"Meaty" Plant-Based Pasta
Pasta Salads
Tomato-Based
Herb & Pesto Pasta Dishes