This Vegan Zucchini Pasta Alfredo is perfect for summer or want something lower carb or paleo. The zucchini noodles are lighter than pasta but still tasty when you're craving something creamy but don't want the too many carbs.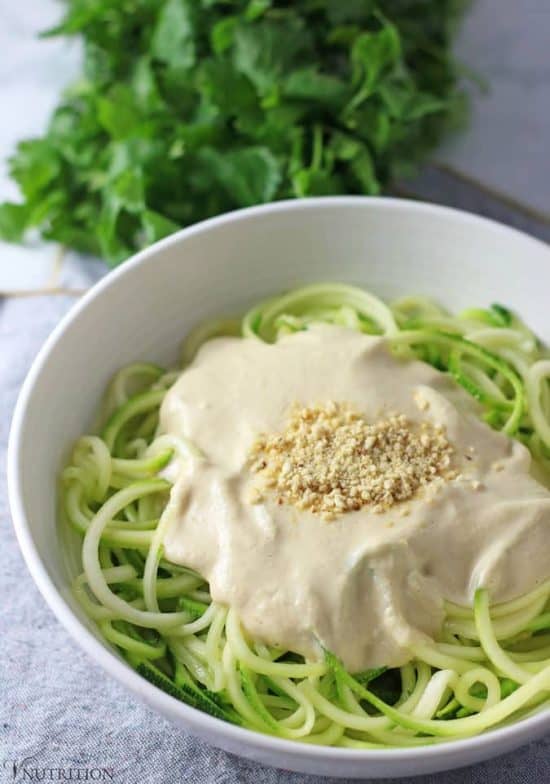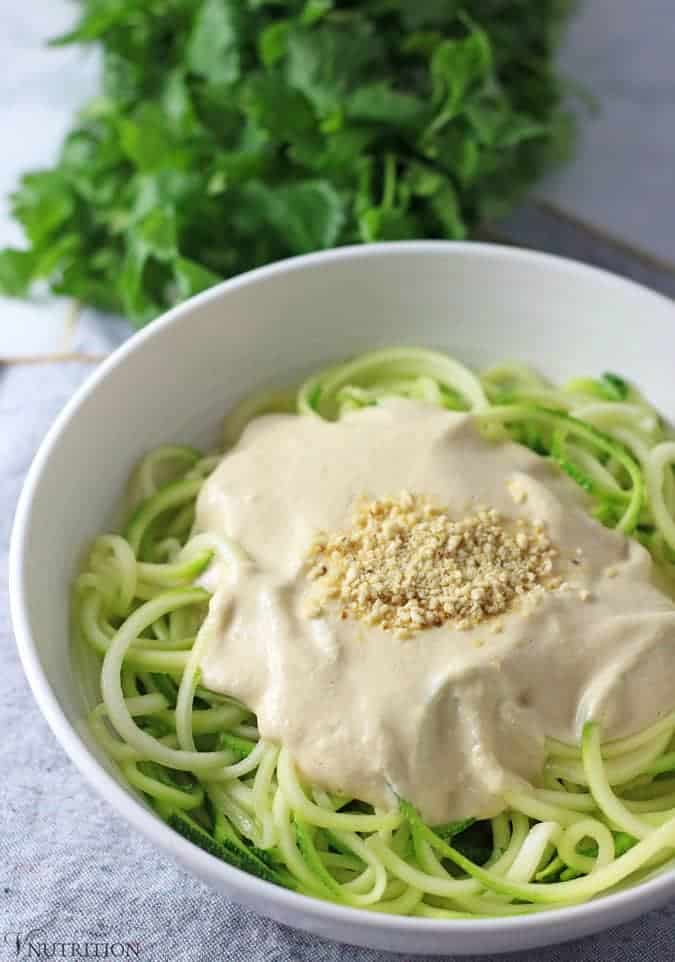 Let me just start by saying I'm a pasta freak. I LOVE me some pasta. You name it, I want all kinds of pasta: Thai, ranch, lemon, ramen, pumpkin, spicy and of course, mac & cheese.
BUT every once in a while I like to switch things up and sub in some zucchini noodles (aka zoodles) for my regular pasta so I made a vegan zucchini pasta alfredo to share with you!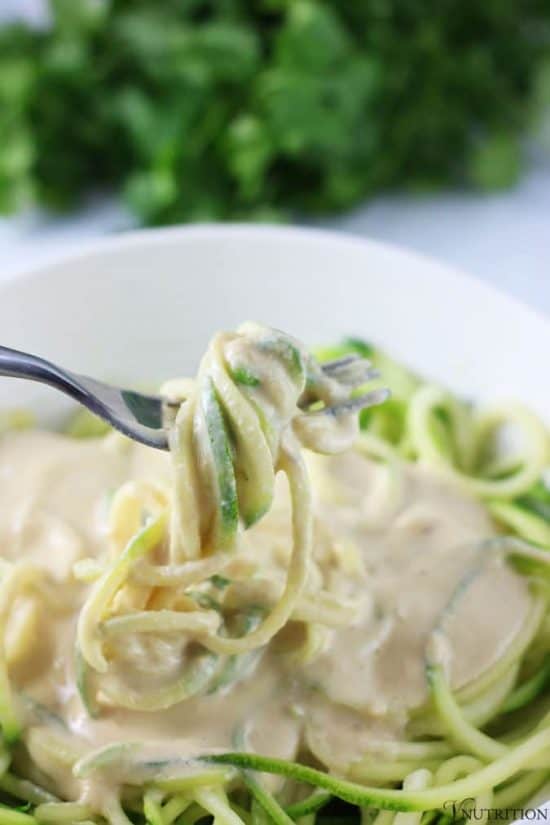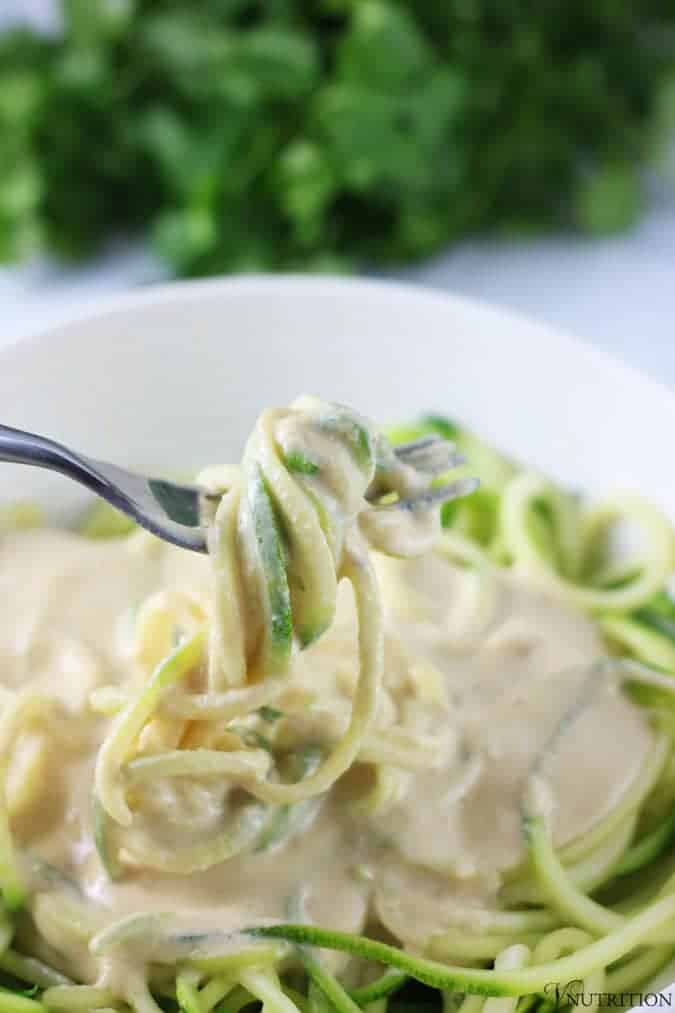 Low Carb Zoodles
I usually make some zoodles if I've had my share of carbs for the day or am craving something more raw and veggie centric. Making the zoodles is so easy with my spiralizer.
If you want to know a little more about spiralizing, check out my How to Make Zucchini Noodles post. While I love zoodles in the summer, I'll partake in the winter as well, cook the noodles instead of leaving them raw and add warming sauces to make a cozier meal.
Nutrition-wise, zucchini is high in vitamin C, contains vitamin B-6 and potassium, and also will give you a nice dose of fiber.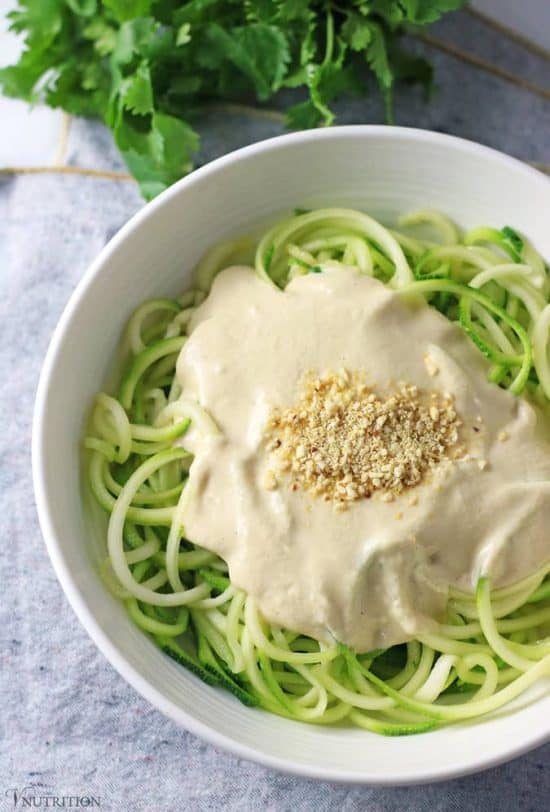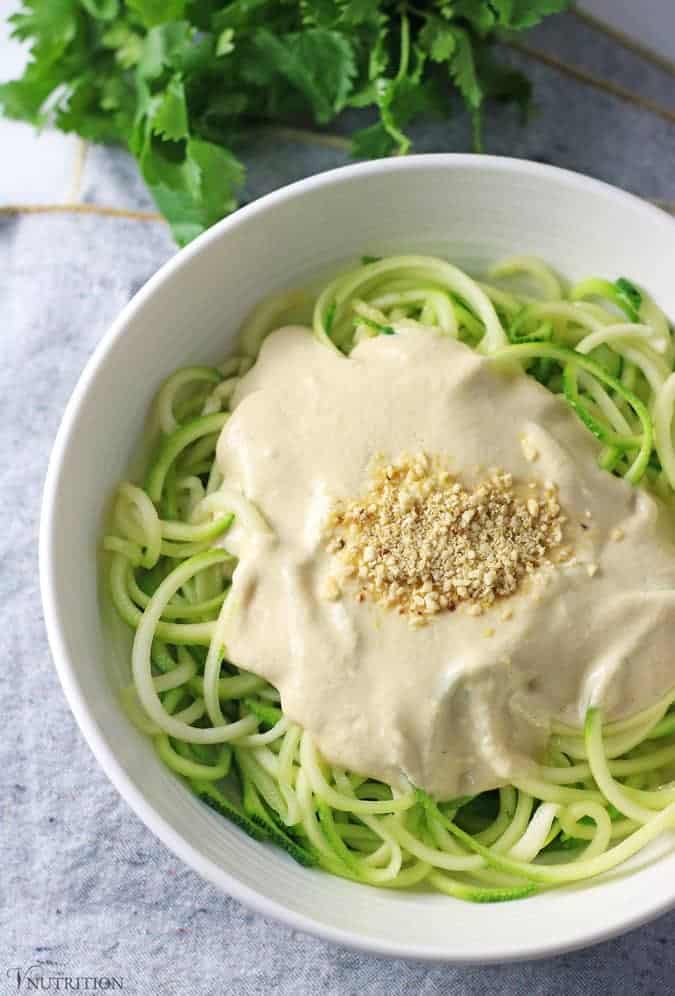 Vegan Zucchini Pasta Alfredo
One of my favorite sauces before going plant-based was alfredo sauce. It was comforting to me and I still crave the creaminess of it sometimes.
Luckily there are lots of ways to have a just-as-tasty plant-based alfredo sauce.
For my vegan alfredo sauce, I used a base of cashews for that velvety texture. Because I wanted to keep this a very quick sauce, I used mostly pantry staples for flavor: garlic powder, onion powder, nutritional yeast. The cheesy tang is thanks to some miso and lemon juice.
If you make my vegan zucchini pasta alfredo recipe, let me know what you think by ★ star rating it and leaving a comment below.
Share your pictures of any of my recipes on Instagram and use #vnutrition or tag @maryellenvalverde so I won't miss it!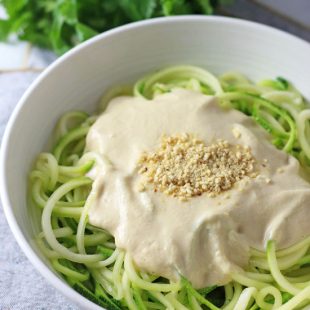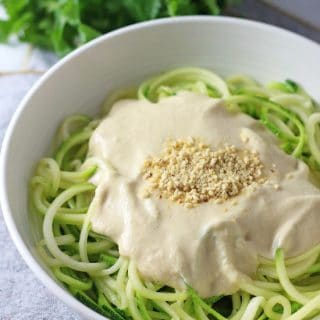 Vegan Zucchini Pasta Alfredo
This Vegan Zucchini Pasta Alfredo is perfect for summer. The zucchini noodles are lighter than pasta but still tasty when you're craving something creamy but don't want the too many carbs.
Instructions
Spiralize zucchini noodles.*

Add all alfredo ingredients to a high-speed blender (starting with 1/4 cup of water) and blend until smooth. If your sauce is too thick, add more water a tablespoon at a time until you get the consistency you're looking for.

Top zucchini noodles with alfredo sauce and if you'd like, some vegan parm.
Recipe Notes
 If you do not want the zucchini noodles raw you can cook them in a large pan with a little olive oil for a few minutes.
Nutrition Facts
Vegan Zucchini Pasta Alfredo
Amount Per Serving
Calories 225
Calories from Fat 144
% Daily Value*
Fat 16g25%
Carbohydrates 19g6%
Protein 14g28%
Vitamin A 450IU9%
Vitamin C 19.8mg24%
Iron 3.2mg18%
* Percent Daily Values are based on a 2000 calorie diet.
You may also enjoy...
What are some of your favorite sauces for zoodles?
Mary Ellen Valverde MS, CNS, LDN is a Licensed Nutritionist and Certified Nutrition Specialist who helps clients regain their energy, confidence and health by adapting and enjoying a plant-based diet. By uniting her functional nutrition education with her passion for plants and mindfulness, Mary Ellen offers a completely holistic and science-based approach to designing a healthy, plant-based life. When she's not reading up on the latest nutrition research, you can find Mary Ellen doting on her two rescue shih tzus, creating the perfect vegan mac & cheese, or exploring the world with her husband.