This Vegan Zucchini Noodles Recipe with Alfredo Sauce is the perfect meal for when you're craving something naughty but want to be nice. This delicious dinner is not only healthy, filling AND gluten-free, but also takes just about 20 minutes to get on the table. You're welcome!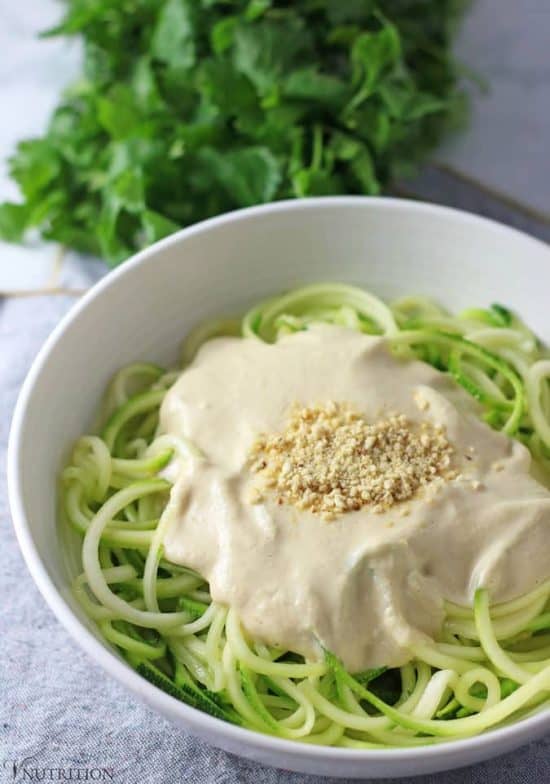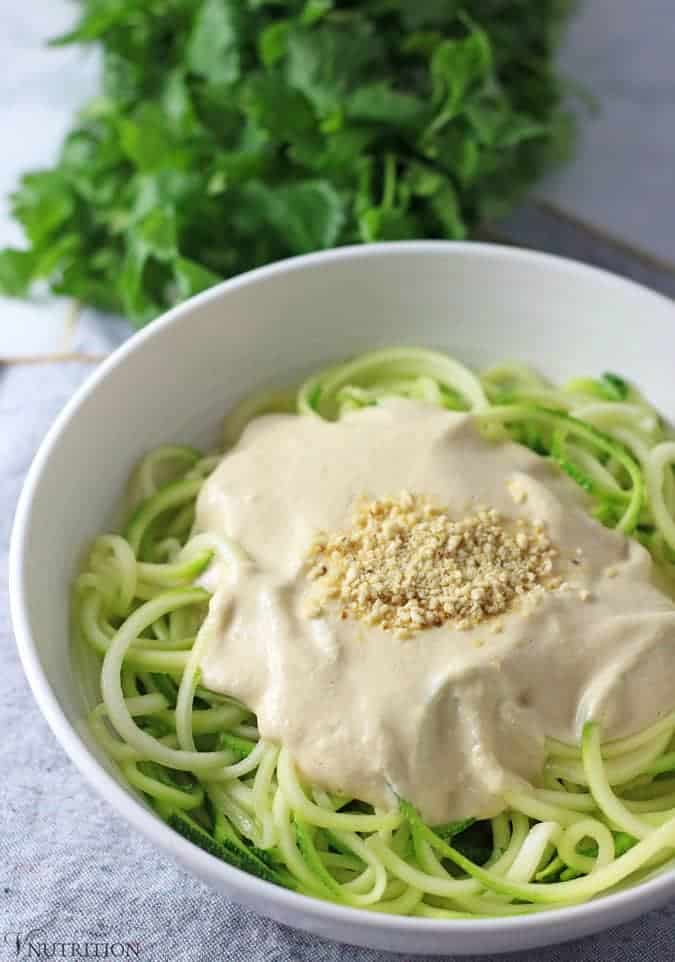 This decadent vegan alfredo sauce is a dead ringer for your favorite pasta dish. While it might taste sinful, it's actually quite healthy! When you pair it with zoodles instead of carb-y fettuccine, this Italian-inspired supper is downright angelic.
Let me just start by saying I'm a pasta freak. I LOVE me some pasta. You name it, I want it: Thai Basil Noodles, Lemon One Pot Pasta, Healthy Ramen Noodles, & Spicy Sesame Noodles are all in my flavor wheelhouse.
That said, every once in a while I like to switch things up and sub in some zucchini noodles (aka zoodles) for regular pasta to curb my cravings while sneaking in a little extra nutrition.
Before my plant-based days, pasta alfredo was one of my favorite things to eat, but it always left me feeling weighed down. Luckily, I came up with this vegan version that is just as tasty and unctuous as the restaurant version, but it's made without any gluten or dairy!
The other night I made this vegan zucchini pasta alfredo, and it was so good I just HAD to share it with you. Not only do the zoodles hit the mark in the twirl and texture departments, they also pair beautifully with this creamy, dreamy sauce.
Jump to:
Low Carb Zucchini "Pasta"
Zucchini noodles, also affectionately known as "zoodles," are one of the best inventions of the 21st century if you ask me. Made from just one ingredient - zucchini - these long strands of veggies do an excellent job of acting like pasta.
You can eat them raw or sauté them before use, and the mild flavor of the squash pairs well with just about everything. I use zoodles for making "spaghetti" with marinara & vegan meatballs, pad thai, or this creamy pasta dish.
This vegan zucchini noodles recipe is a great option for days when I've already had my fair share of refined carbs, or on those days when my body is craving something raw and veggie-centric.
They're also naturally gluten-free and so easy to make with my spiralizer that I sometimes prefer them to gluten-free packaged noodles.
Nutrition-wise, zucchini is high in vitamin C, contains vitamin B-6 and potassium, and also will give you a nice dose of fiber. If you're looking for even more reasons to love zoodles, check out these other health benefits of zucchini.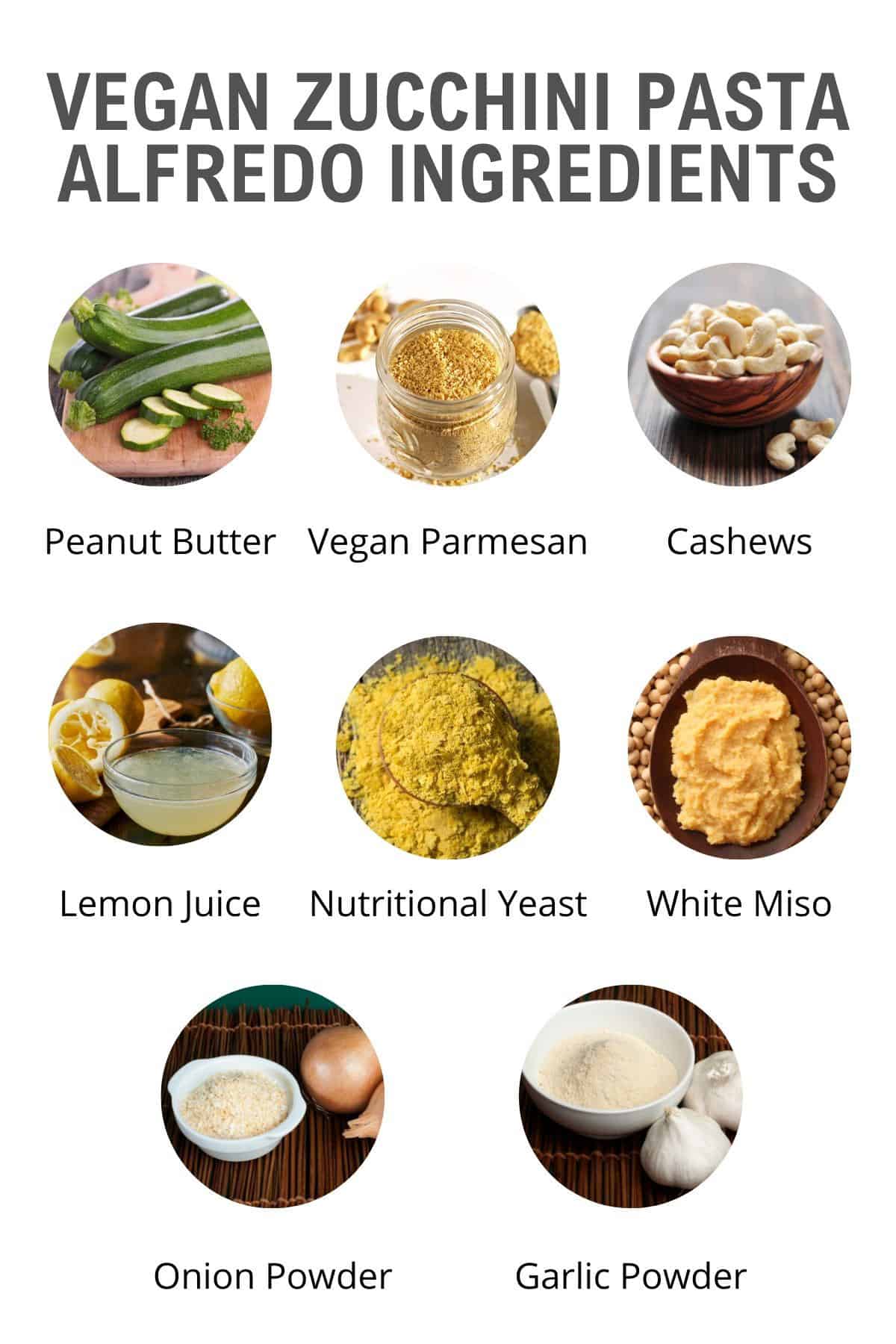 What's in this dish?
For my alfredo sauce recipe, I used a base of cashews to give it a velvety texture. I also wanted to keep this a very quick sauce, so I used mostly pantry staples for flavor. In just about 5 minutes of active time, you'll have creamy, delicious, and healthy creamy sauce!
Garlic powder, onion powder, and nutritional yeast lend a ton of seasoning and are all completely shelf-stable. The cheesy tang is thanks to some miso and lemon juice.
In terms of making the vegan zucchini noodles, all you need is (big shocker here) ZUCCHINI! That's right, friends. Zoodles are a 1-ingredient wonder that will completely revolutionize how you approach pasta dinners.
While you can find zucchini in most stores year round, it is a summer crop. As the weather gets warmer, look to your farmer's markets and produce departments to find great deals on this tender-skinned squash.
Oh, and if you have kiddos who are not super into the color green? Simply swap in some yellow summer squash for a near perfect substitution for zucchini.
And don't feel like you have to stop there! Once you have a spiralizer, you can play with all kinds of veggie "noodles." Beets, carrots, cucumbers, kohlrabi, sweet potatoes, butternut squash and daikon are all excellent candidates for your new kitchen toy.
How to Make Vegan Zucchini Noodles (a.k.a. Zoodles)
I thought that I would have to play around with the spiralizer for a while to get the hang of it, but I couldn't believe how easy it was to use!
Step 1: Choose your blade. Most spiralizers will have a thin, thick, and ribbon blade, so feel free to play with the different textures you can achieve. For an authentic "fettuccini" alfredo feel, I used the thick noodle attachment.
Step 2: Secure the zucchini (or another sturdy veg) to the mechanism, and turn the knob. You'll have your veggie "pasta" in no time!
TIP: Research indicates that getting kids involved in the process of cooking makes them more open to trying new foods. Once you get the veggie secured to the spiralizer, try letting your kiddo turn the knob and make the pasta! I bet they'll be tickled at the magical transformation.
Step 3: Dry the Zucchini. Pat zucchini noodles dry with paper towels after spiralizing them to absorb any excess water. Feel free to either serve them raw, or cook them instead.
Step 4 (Optional): Cook the noodles. If you opt for cooked zoodles, heat just about a teaspoon of oil in a sauté pan and toss them in. Only cook them for about 2-3 minutes to prevent them from becoming soggy. You'll be shocked how much they'll remind you of perfectly al dente noodles when you cook them this way!
If you still want to know a little more about spiralizing, check out my How to Make Zucchini Noodles post.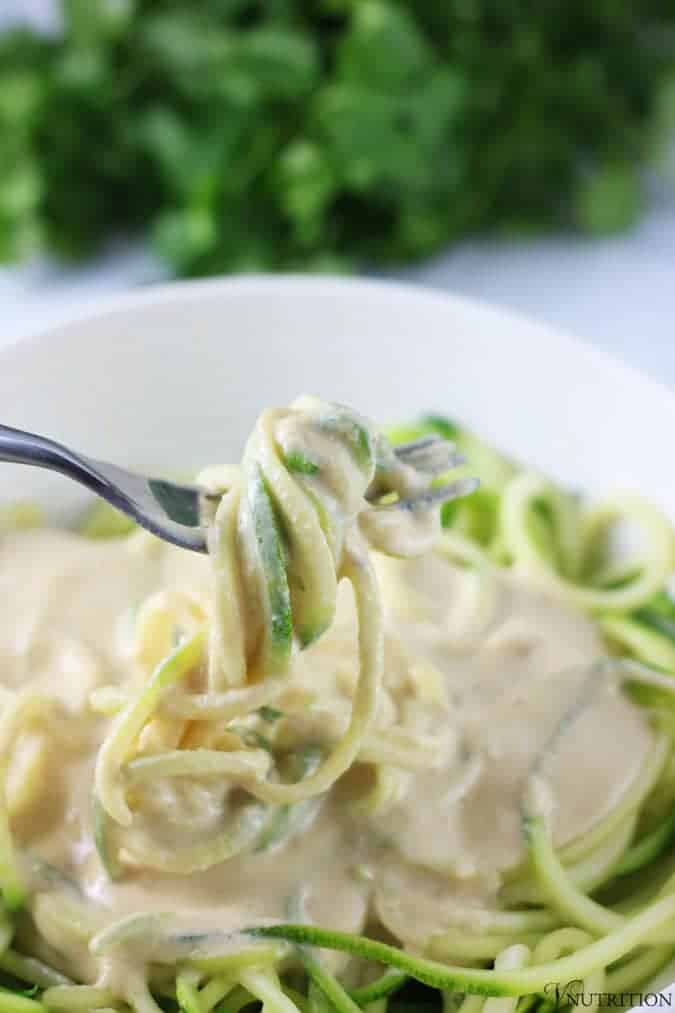 How to Make the Sauce
This deliciously creamy pasta sauce is a dead ringer for the "real thing," but is free from gluten and dairy. And don't feel like just because it's healthy it'll take forever to make! This recipe comes together with just about 5 minutes of prep work.
Step 1: Soak the cashews. This is the most important step, so don't skip it! Your sauce will turn out a little gritty if you do, and nobody wants that.
Simply cover raw cashews with water and let them sit for a few hours. If you forgot to do that on your lunch break, don't fret! You can achieve the same results much faster by topping them with boiling water and letting them sit for 10 minutes.
Step 2: Add all alfredo ingredients to a high-speed blender. Start with ¼ cup of water and blend until smooth. If your sauce is too thick, add more water a tablespoon at a time until you get the consistency you're looking for.
How easy was that?!? Now all you have to do is pour some tasty vegan alfredo over your gluten free veggie noodles and chow down. Fast and healthy weeknight dinner FTW!
Tips for Customizing
While I love this vegan zucchini pasta recipe as is, don't feel limited to just what's on the recipe card. There are plenty of ways to customize this plant-based dinner to make it all yours!
Here are some ideas to get you started:
Add in extra veggies to make it a vegan alfredo primavera! Try broccoli or cauliflower florets, sliced bell peppers, chopped asparagus or snap peas.
Add a protein like my grilled tofu steaks, tempeh crumbles, or tofu crumbles to make it even more filling.
Top with my vegan parmesan to feel extra special!
Swap zucchini for another veggie like summer squash, butternut squash or sweet potato.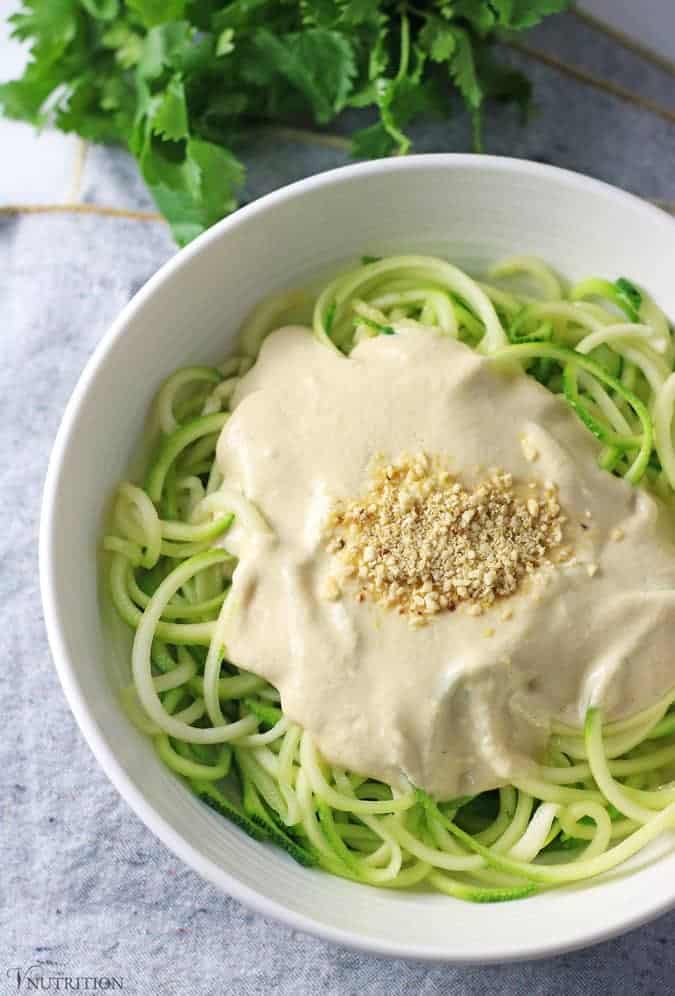 Frequently Asked Questions
Can the vegan alfredo sauce be made ahead of time?
Yes! Once made, it can be kept in the fridge for up to 5 days. Meal prep = done!
How do you make zucchini noodles not watery or soggy?
You can pat zucchini noodles dry with paper towels after spiralizing to absorb any excess liquid.
If you cook your zoodles, only cook for 2-3 minutes to avoid overcooking them. Also, be sure not to add salt if you opt to cook your zoodles. The salt draws out the water!
Is zoodles Primavera vegan?
If you use my vegan alfredo sauce it is!
Do you have to peel zucchini for zoodles?
Nope! The peel actually helps to hold the shape, so don't even bother.
Can you eat zucchini raw?
Heck yeah you can! Just like most veggies, zucchini is delicious raw. It also has a naturally softer consistency, making it a perfect stand in for noodles even if you opt not to cook them.
Other Creamy Vegan Pasta Recipes
If you tried this vegan zucchini noodles recipe (and love it) and are interested in getting more delicious and easy vegan recipes delivered straight to your inbox, be sure to sign up for my email list in the box below and get your FREE GUIDE for Vegan Eating Made Easy! You'll get first access to all of my new recipes.
[mv_video doNotAutoplayNorOptimizePlacement="false" doNotOptimizePlacement="false" jsonLd="true" key="lpr1astyowen8yvxv8el" ratio="16:9" thumbnail="https://mediavine-res.cloudinary.com/v1515506032/kv4g1o1jjmlp1yfculfg.jpg" title="Vegan Zucchini Pasta Alfredo" volume="70"]
If you make this recipe and LOVE IT, please give it 5 stars ⭐⭐⭐⭐⭐!
📖 Recipe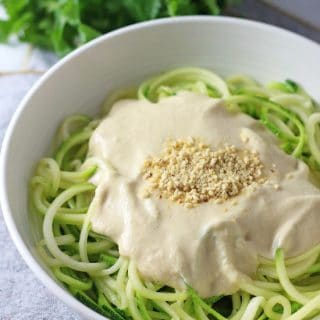 Vegan Zucchini Noodles with Alfredo Sauce
My recipe for Vegan Zucchini Noodles with Alfredo Sauce is the perfect meal for when you're craving something naughty but want to be nice. This delicious dinner is not only healthy, filling AND gluten free, but also takes just about 20 minutes to get on the table. You're welcome!
Email Recipe & Ingredients
Instructions
Spiralize zucchini noodles and pat dry.

Add all alfredo ingredients to a high-speed blender (starting with ¼ cup of water) and blend until smooth. If your sauce is too thick, add more water a tablespoon at a time until you get the consistency you're looking for.

Leave the zucchini raw or heat them in a pan with a little olive oil for 2-3 minutes. NOTE: Do not overcook because the zoodles will get soggy.

Top zucchini noodles with alfredo sauce and if you'd like, some vegan parm.
Nutrition
Calories:
225
kcal
Carbohydrates:
19
g
Protein:
14
g
Fat:
16
g
Fiber:
6
g
Vitamin A:
450
IU
Vitamin C:
19.8
mg
Iron:
3.2
mg
PLEASE NOTE: Nutritional information data is computer generated and only an estimate so it should be used only as a guide.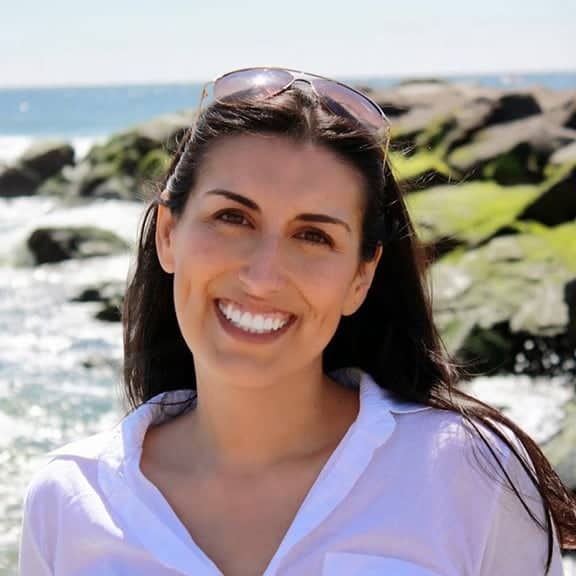 Mary Ellen Valverde MS, CNS, LDN is a Licensed Nutritionist and Certified Nutrition Specialist who empowers vegans to feel clear and confident about what is uniquely nourishing to them. Mary Ellen's recipes and nutrition information have been featured on Yahoo News, Parade, VegNews, LIVESTRONG, Dr. Axe, Greatist, LIVEKINDLY, Brit+Co, Well+Good, and more.