These 10 easy to prepare vegan lunches are great ideas to bring to work or school.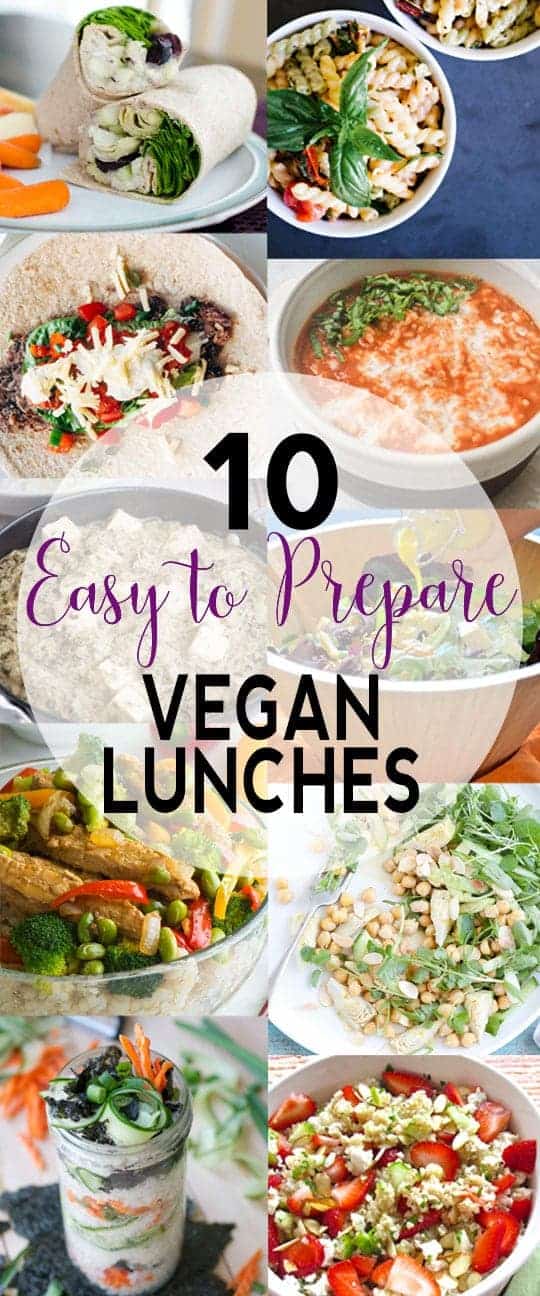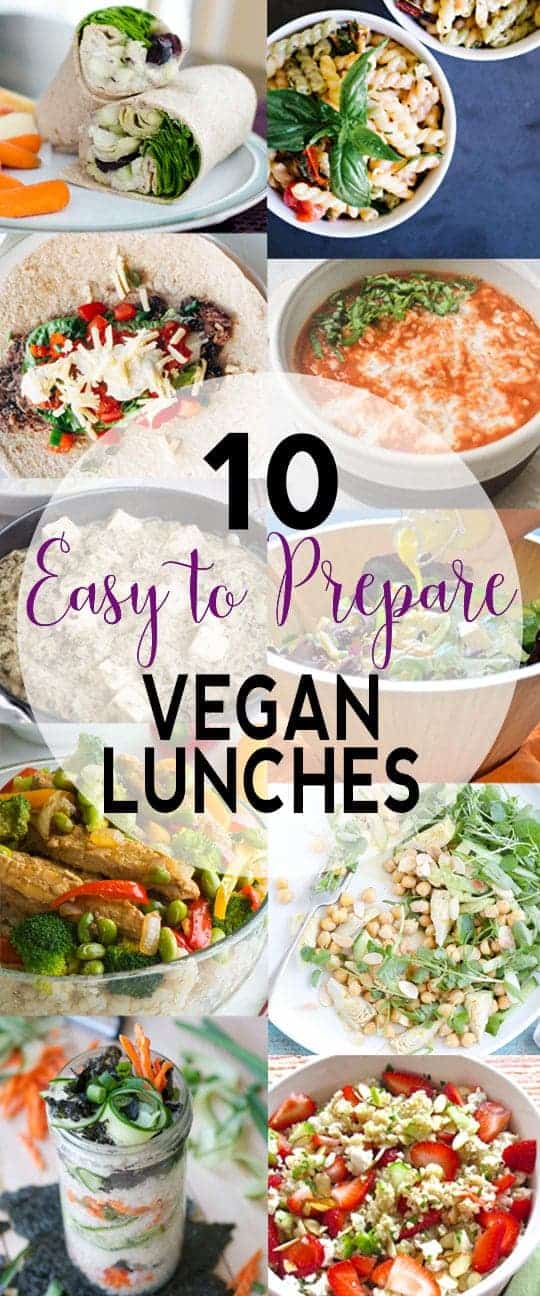 I find that lunch is sometimes the hardest meal to prepare or eat because we're such busy people. We need something to eat to bring to work or when we're on the go. Even thinking about what to bring for lunch can be stressful at times!
Because I feel your lunchtime meal pain, I rounded up 10 of my favorite easy to prepare vegan lunches from some amazing food bloggers.  If you need a snack to fight off those mid-day cravings check out my Vanilla Almond Balls which are so easy to make too!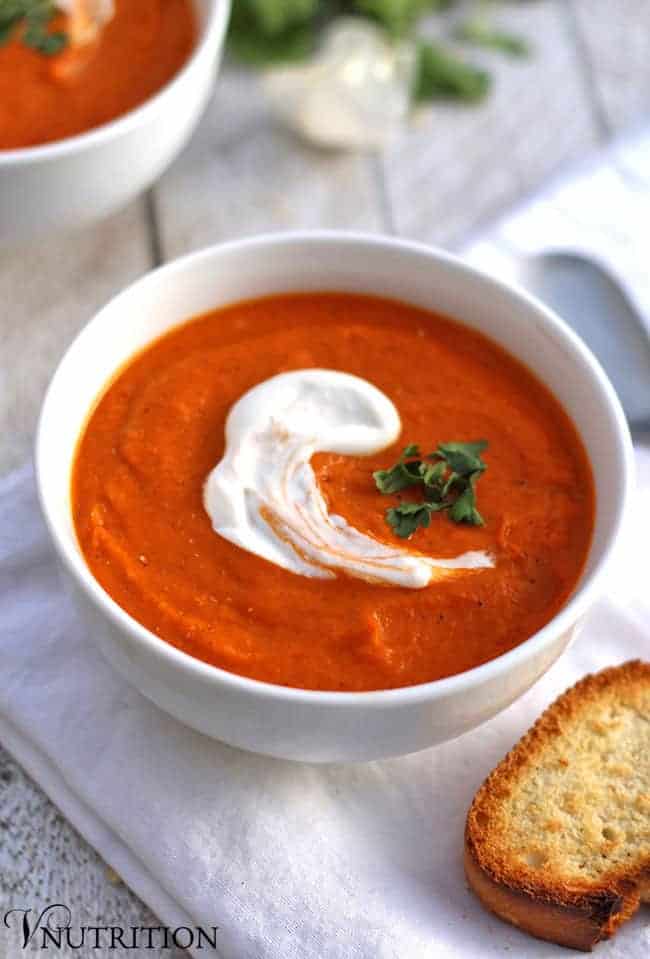 1. I'll start off the list with my own favorite lunch. My Roasted Tomato and Chickpea Soup is warming, filling, AND good for you! I make a batch on Sundays and bring the rest to work.
2. This Sushi In A Jar from Feasting on Fruit is such a cool idea! It would be so easy to pre-make a few of these and take them to work during the week.
3. Burritos do not always equal healthy but these Quick and Healthy Bean Burritos  from Wallflower kitchen sure are with lots of veggies and beans!
4. A Virtual Vegan's Smoked Tofu Apricot Salad would be so easy to throw together at lunch and sounds so tasty!
5. Spice and Sprout's delicious-looking
Roasted Vegetable Pasta
can be eaten hot or cold so leftovers would be perfect for lunch!
6. How pretty is this Artichoke Salad with Chickpeas from Delicious Everyday? This salad is wonderfully fresh and light lunch that can be thrown together in 10 minutes.
7. Tasting Page's Quinoa Salad with Strawberries can be made ahead of time for a tasty lunch – just throw the strawberries in right before eating!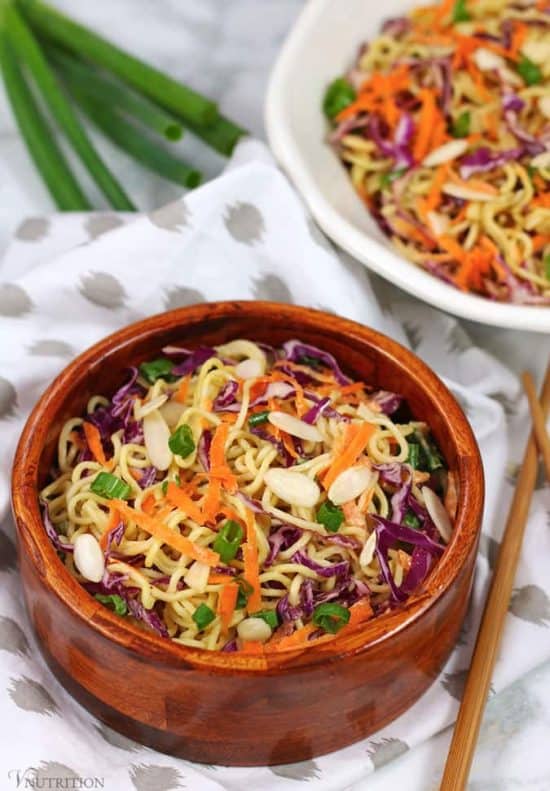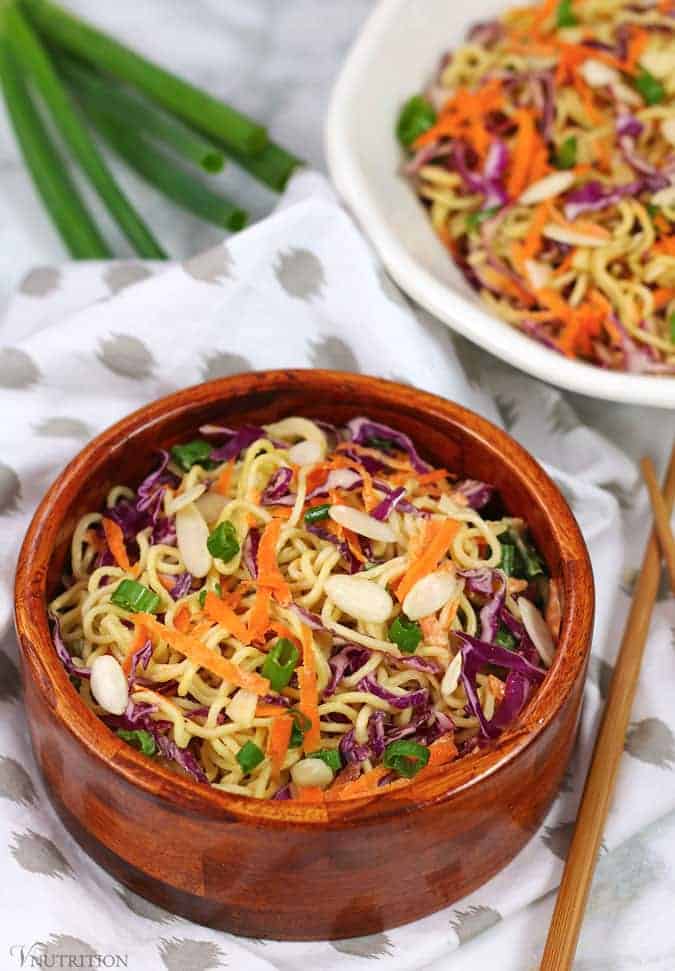 8.  Another favorite of mine is my Vegan Ramen Noodle Salad. So easy to make – it's ready in about 10 minutes.
9. This Quick and Dirty Vegan Palak Tofu from Elephantastic Vegan is a veganized version of the traditional Palak Paneer, which is a Indian Cheese in a spinach gravy. This looks so tasty and can be made in about 15 minutes!
10. Namely Marly's Vegan Teriyaki Chicken and Edamame Rice Bowls would be so easy to heat up at work. I love Asian flavors plus these bowls look so easy to make.
You may also enjoy…