Want some tasty and fun vegan Halloween recipes? I got you covered! I'm sharing my favorite spooky vegan Halloween treats!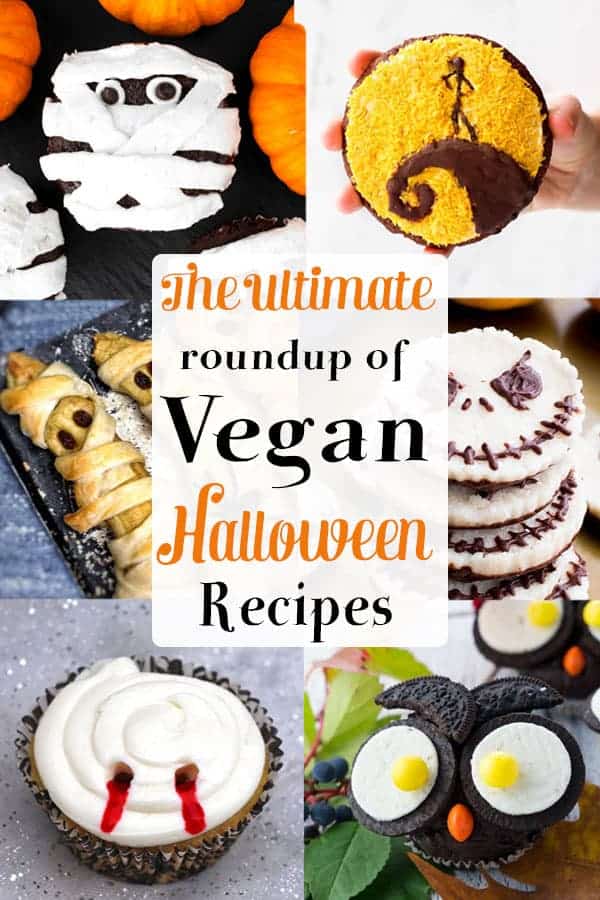 Halloween can be a more difficult holiday than others if you're vegan. All around us, there's milk chocolate, caramel, and other non-vegan treats.
A vegan can get a little disheartened…but don't worry, I've got you covered with some delicious vegan Halloween recipes from myself and my amazing blogger friends including:
vegan Halloween cookies & cupcakes
vegan Halloween cakes
vegan Halloween snacks and appetizers
I hope these fun Halloween recipes help you celebrate a very vegan Halloween!
Spooky & Fun Vegan Halloween Recipes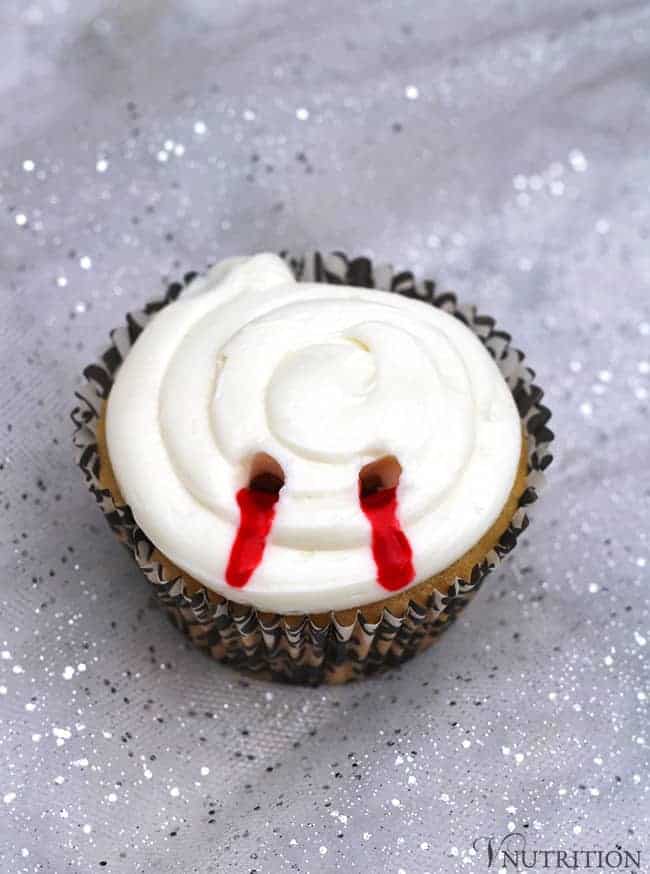 1. Vampire Bite Cupcakes from VNutrition (me!)
These Vampire Bite Cupcakes are perfect for Halloween or watching your favorite scary movies! They're also filled with strawberry jam to scare everyone that takes a bite! It's my favorite vegan Halloween treat!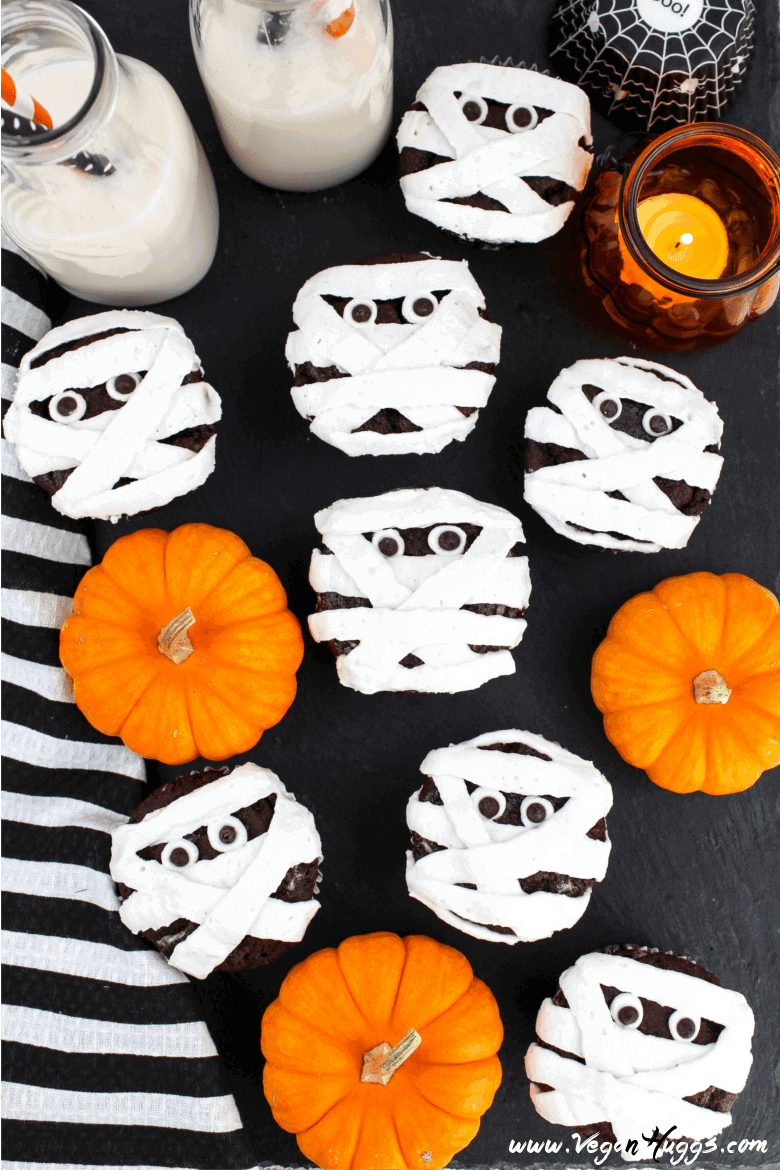 2. Mummy Cupcakes from Vegan Huggs
These vegan Mummy Cupcakes would be a hit at your next Halloween bash. They are kid-friendly & completely adorable. Also, they are gluten-free, chemical-free and delicious!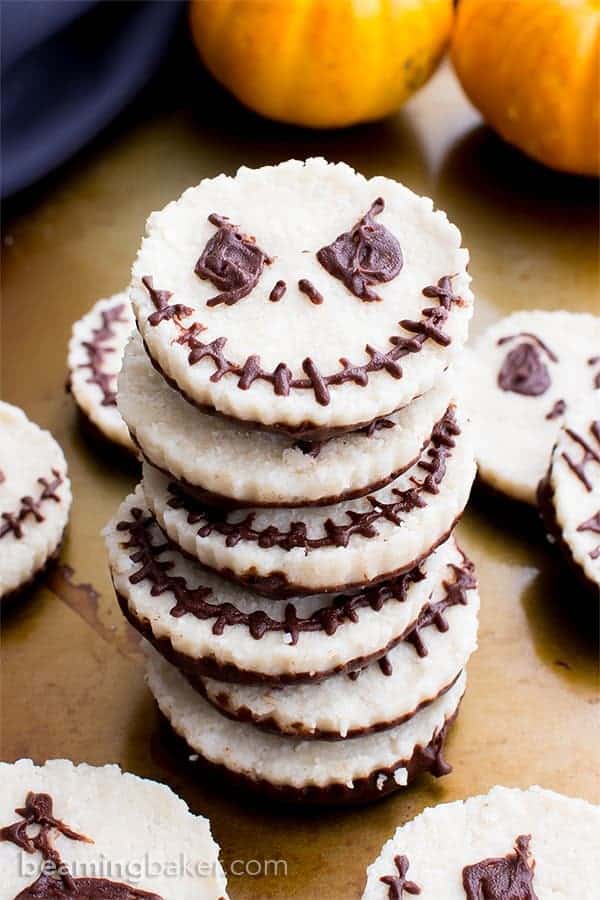 3. Jack Skellington Mounds Cups from The beaming Baker
These Jack Skellington Mounds Cups are gluten free, vegan, and a spooktacular 4-ingredient recipe inspired by The Nightmare Before Christmas.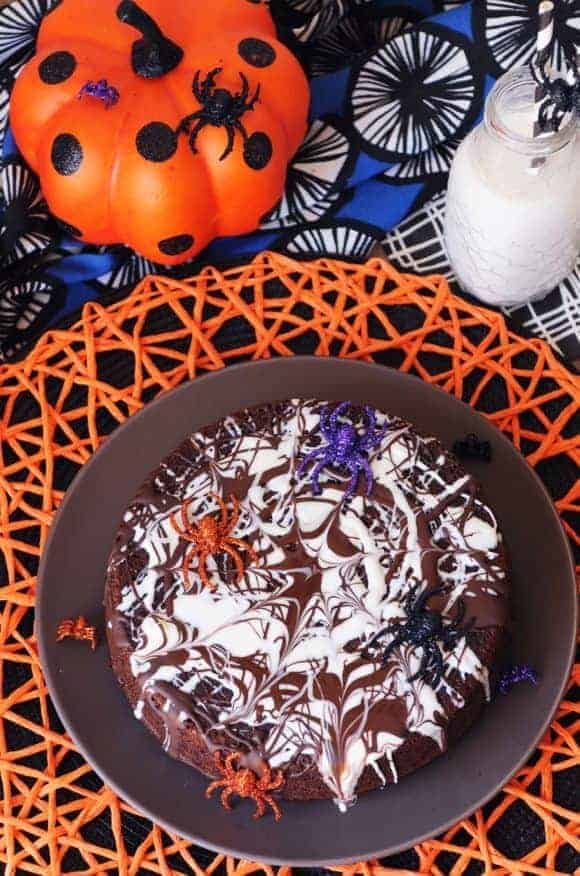 4. Pumpkin Chocolate Cake with Ginger from Fried Dandelions
This festive Halloween cake is drizzled with white chocolate in a spider web design and top with a few plastic spiders to give it a spooky feel. Yum!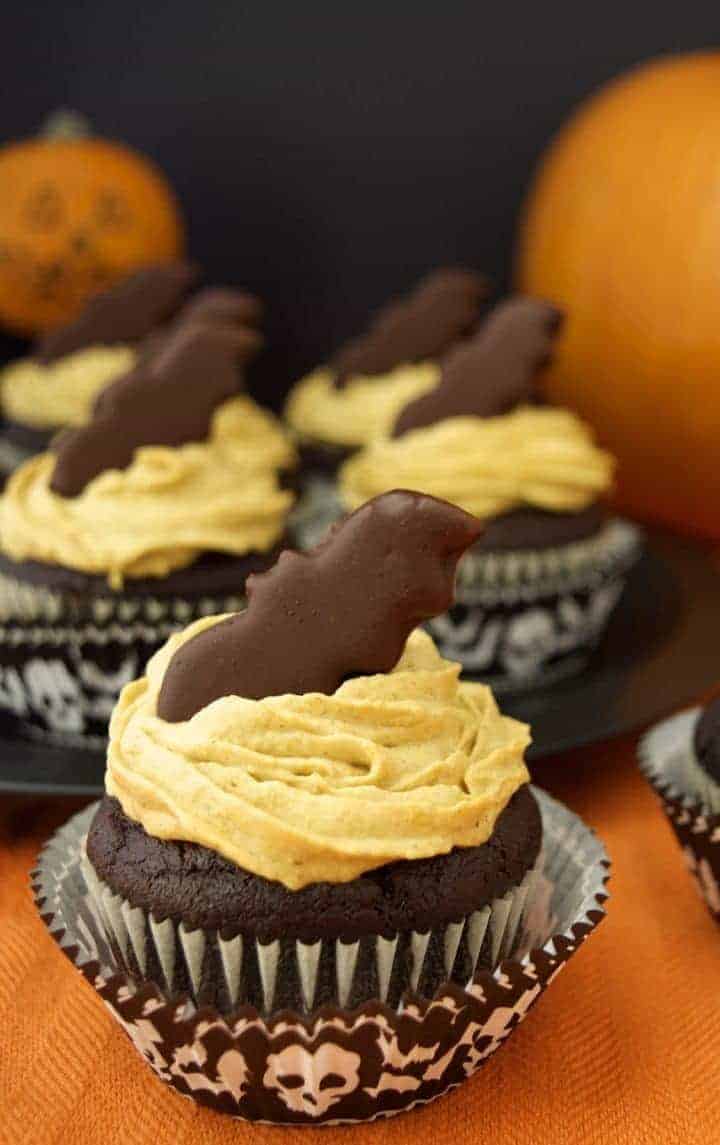 5. Pumpkin Frosting Chocolate Cupcakes with Bat Bites – Where do You get Your Protein?
These Pumpkin Frosted Chocolate Cupcakes with Bat Bites are a healthier, vegan halloween-inspired dessert. The pumpkin spiced frosting is made from whipped coconut cream and real pumpkin purée!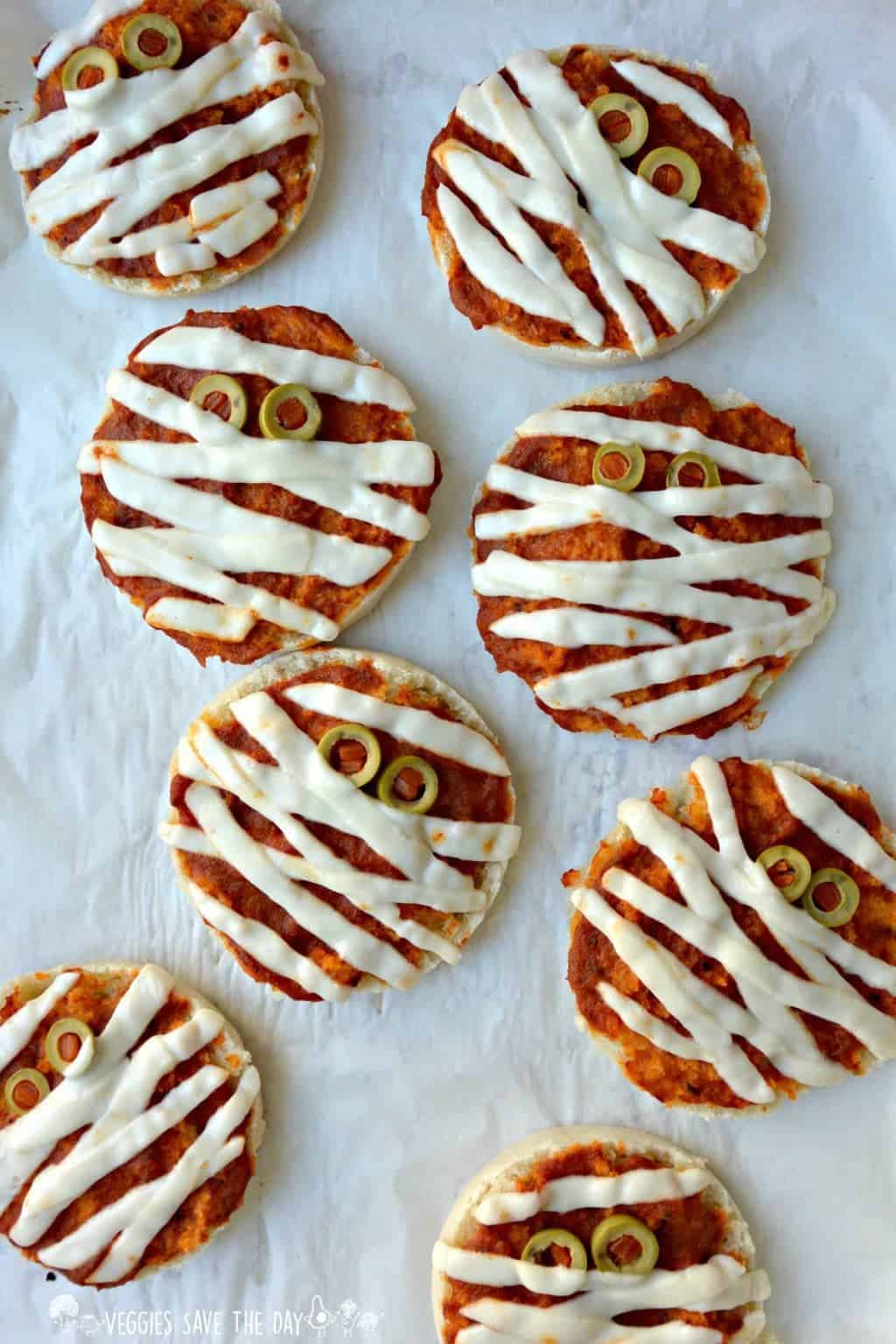 English Muffin Pizzas are easy to make and fun to eat. For Halloween, I like to get into the holiday spirit and make mini mummy pizzas. They are just so cute, plus they are vegan and gluten free!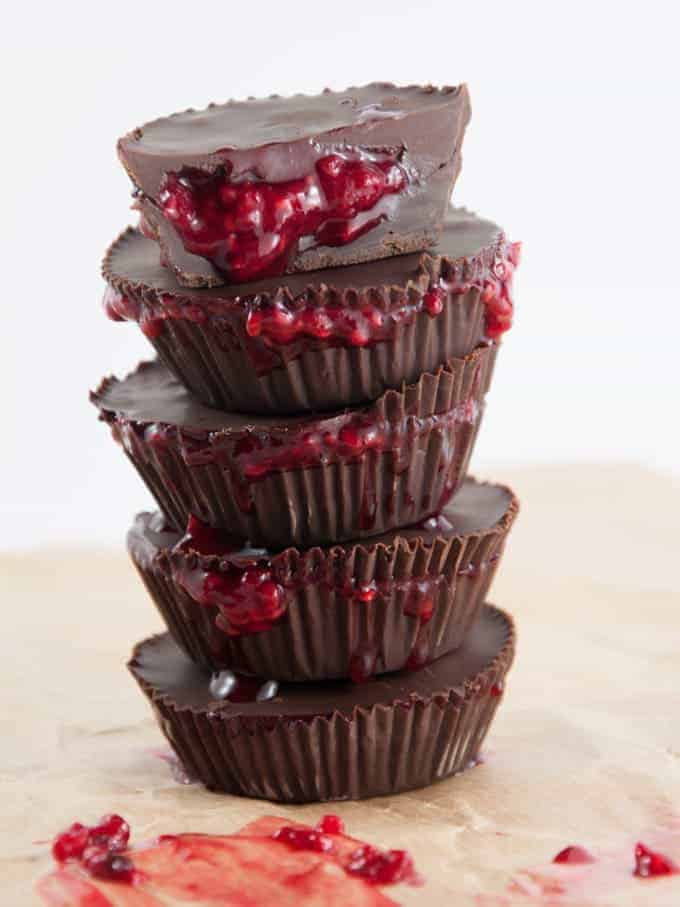 8. Bloody Cups from Elephantastic Vegan
These Bloody Cups are filled with a raspberry sauce – making it the perfect treat for Halloween! They are vegan, gluten-free and only need 3 ingredients!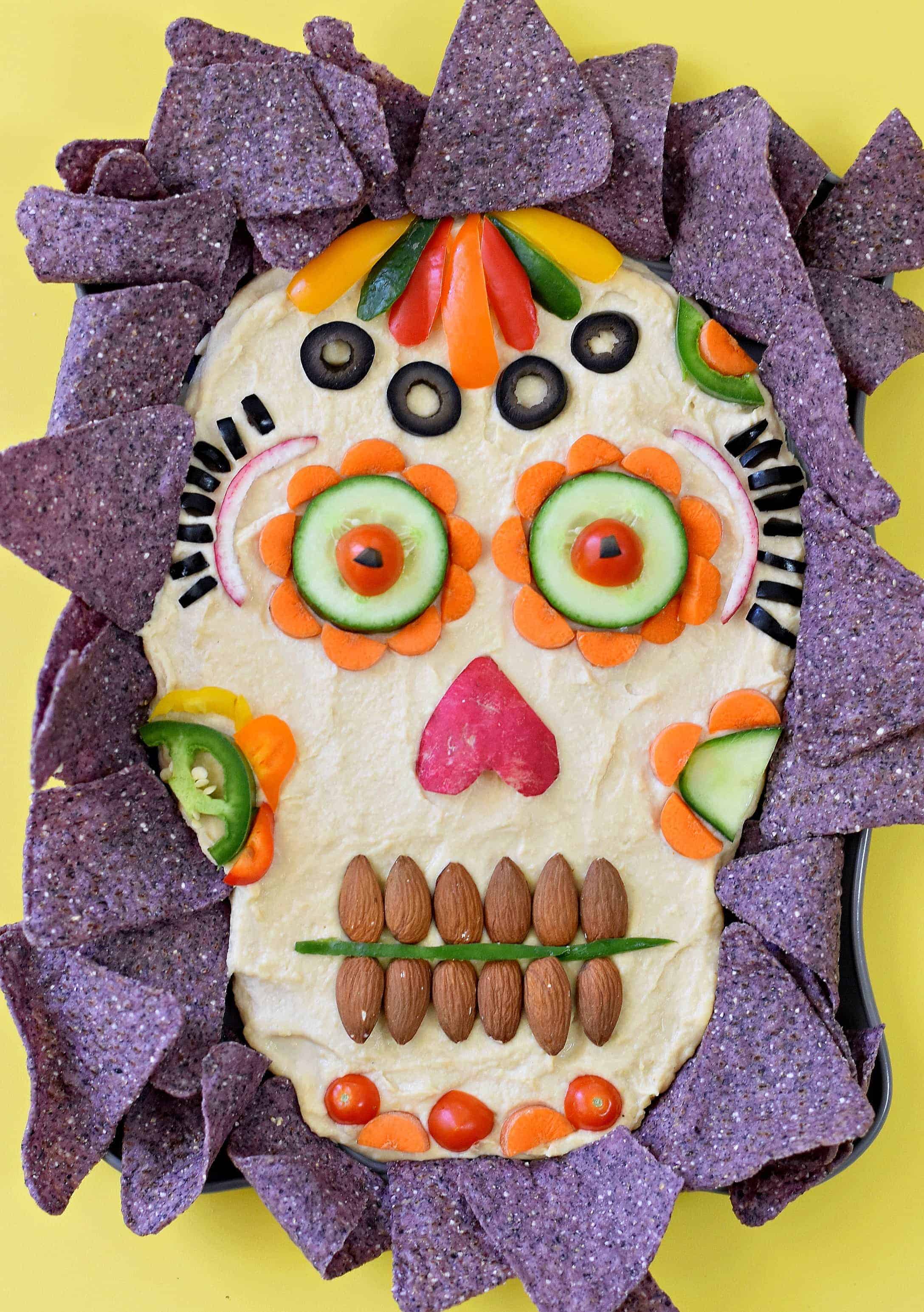 9. Dia de los Muertos Hummus Dip from Fork & Beans
This dip would be a hit for your next Halloween party. Guests would be so impressed by how cute it is…PLUS it's healthy too!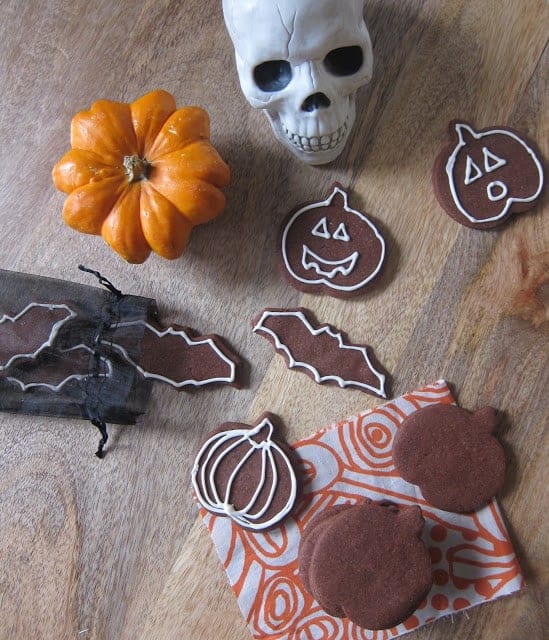 10. One Bowl Vegan Chocolate Sugar Cookies – Cupcakes and Kale
With only 7 ingredients and one bowl, these cookies are only 30 minutes from being in your tummy. They're chocolatey, with a subtle hint of orange, and not too sweet, but a treat to eat, especially with a little vegan royal icing!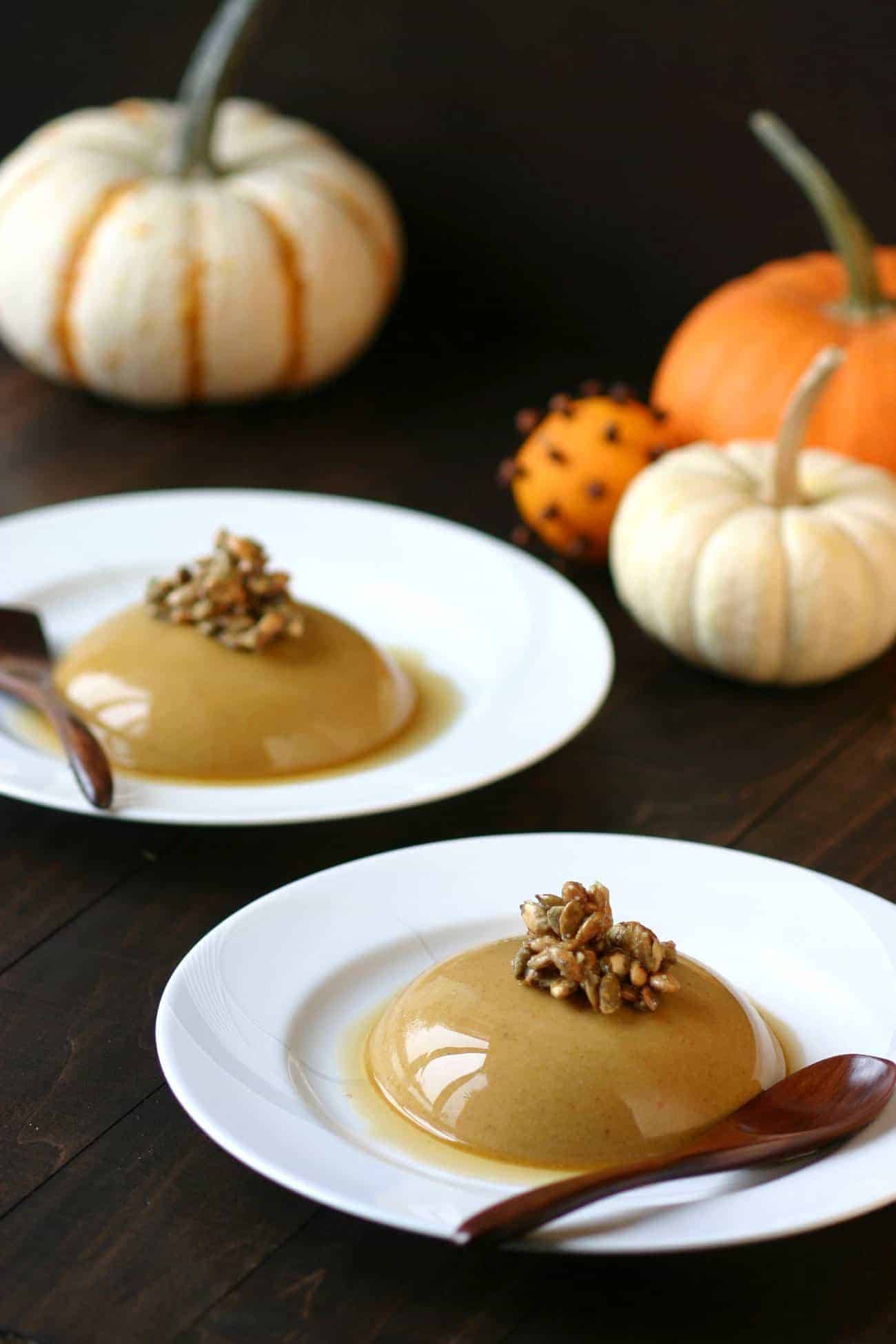 11. Vegan Pumpkin Pana Cotta – Lands & Flavors
This pumpkin panna cotta is silky, delicate, and yes, vegan! Perfect for a festive Halloween or autumn treat.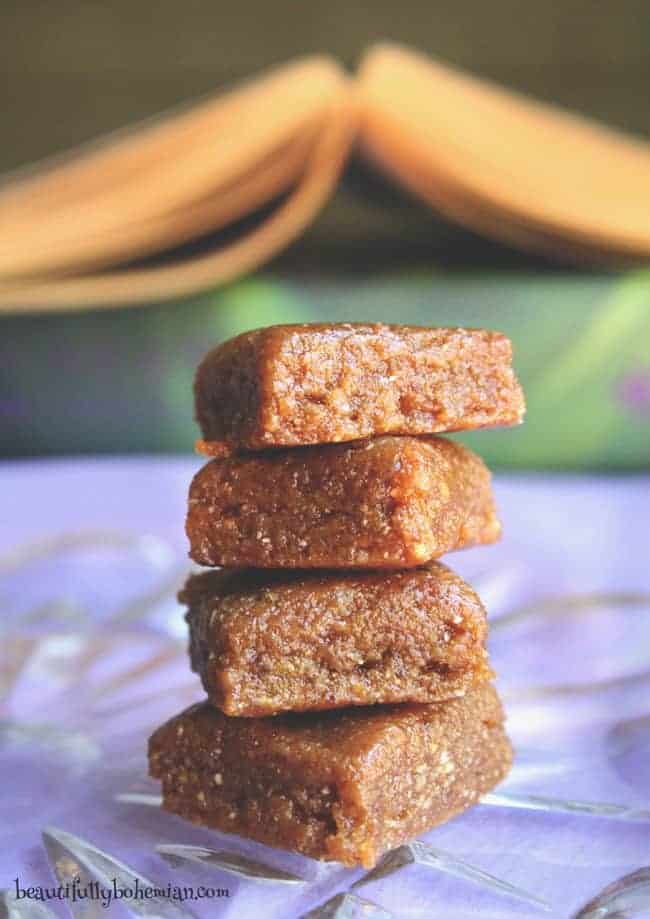 12. Harry Potter Healthy Vegan Treacle Fudge – Bohemian Vegan Kitchen
Who says you can't enjoy a healthy treat while celebrating one of the best holidays of the year, Halloween? This Healthy Vegan Treacle Fudge inspired by the Harry Potter books is cruelty-free, gluten-free, and void of all those pesky dyes and preservatives- making you guilt-free while you munch!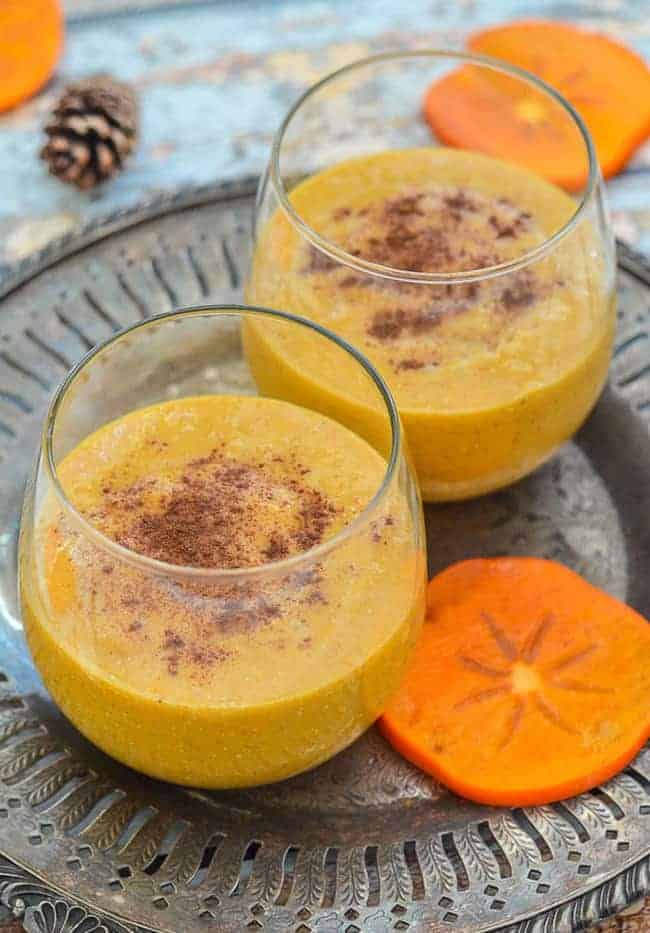 13. Persimmon Cinnamon Smoothie – A Virtual Vegan
This Persimmon Cinnamon Smoothie is quick & easy to make, naturally gluten-free, and full of warming cinnamon & delicious sweet flavors that remind me of Halloween!
14. Creep Crawly Vegan Sugar Cookies – My Darling Vegan
Celebrate the holiday with these Halloween Sugar Cookies. Rich and buttery with a soft center and a crispy outside, you're going to love these creepy crawly sugar cookies.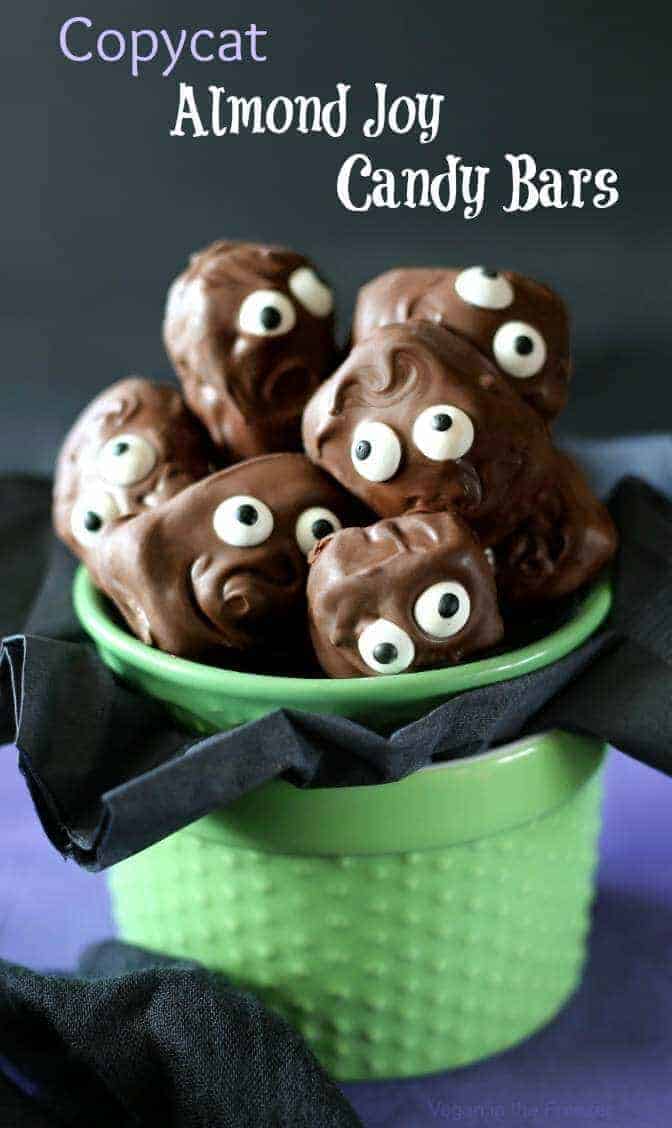 15. Almond Joys Copycat Recipe – Vegan in the Freezer
These copycat Almond Joy Candy Bars taste exactly like the original but totally vegan! They're easy to make and fully of Halloween goodness!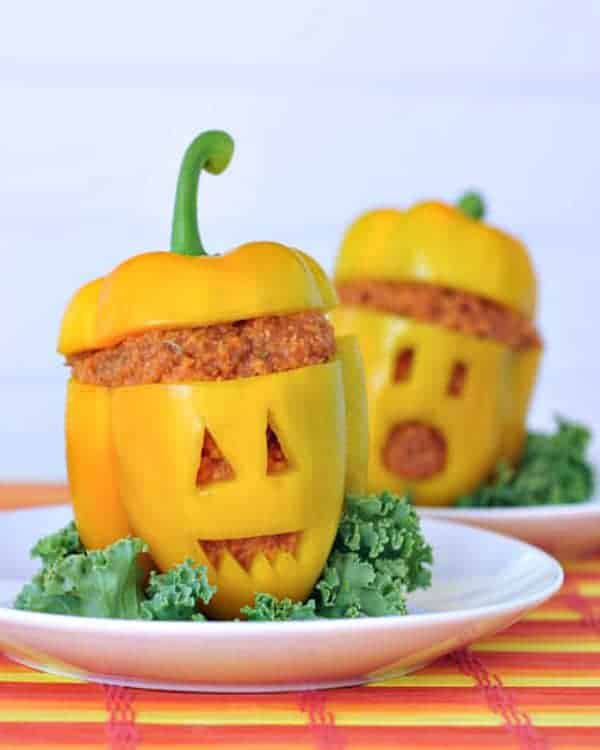 16. Stuffed Pepper Jacks – Spabettie
How can do a roundup of vegan halloween recipes without an entree?
These Stuffed Pepper Jacks are famous – they quickly went viral with the help of PeeWee Herman! Kristina has a number of pepper jack recipes so be sure to check them out this Halloween!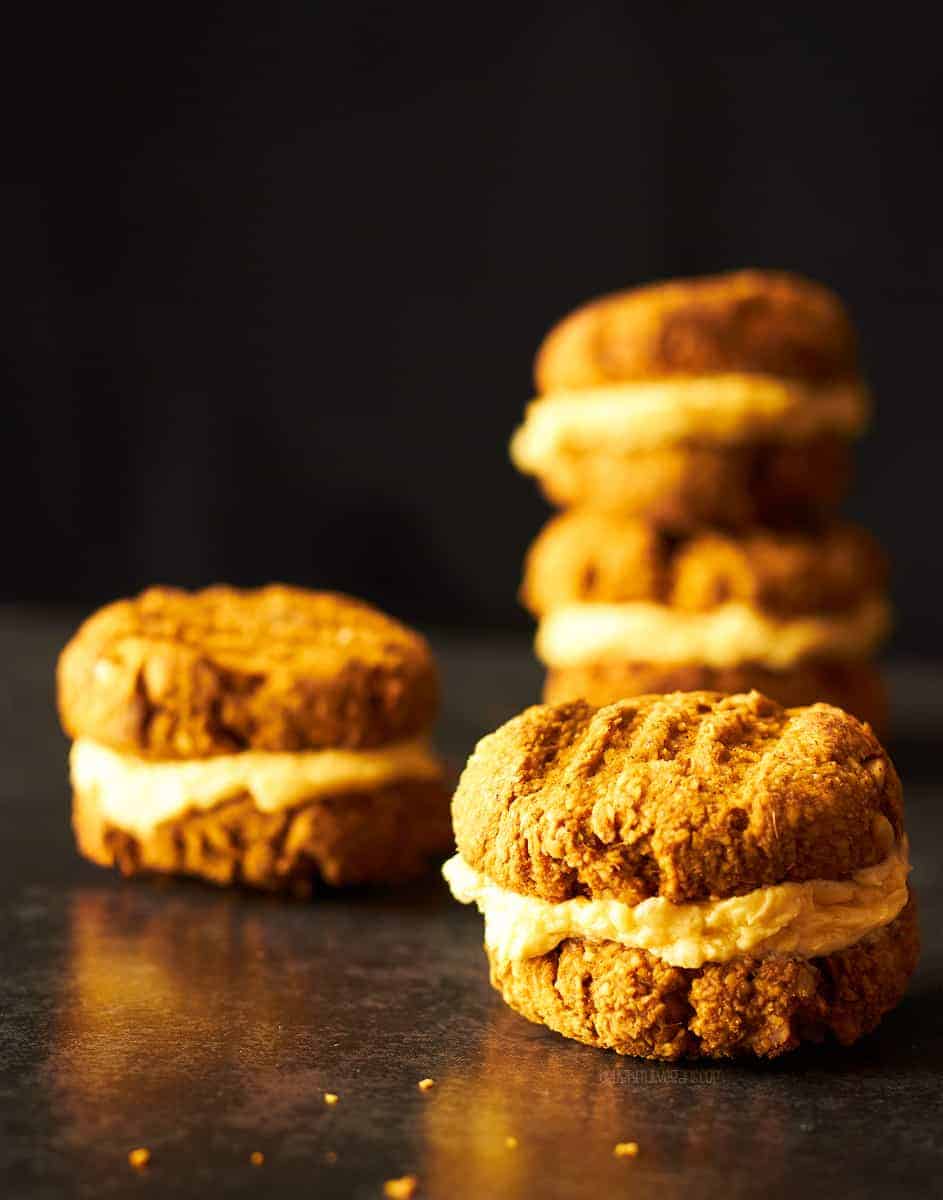 17. Peanut Butter Pumpkin Spice YoYo Cookies – Delightful Vegans
Spice up your Halloween with these Gluten Free Peanut Pumpkin Spice Yo-Yo Cookies! You won't regret making a batch of these!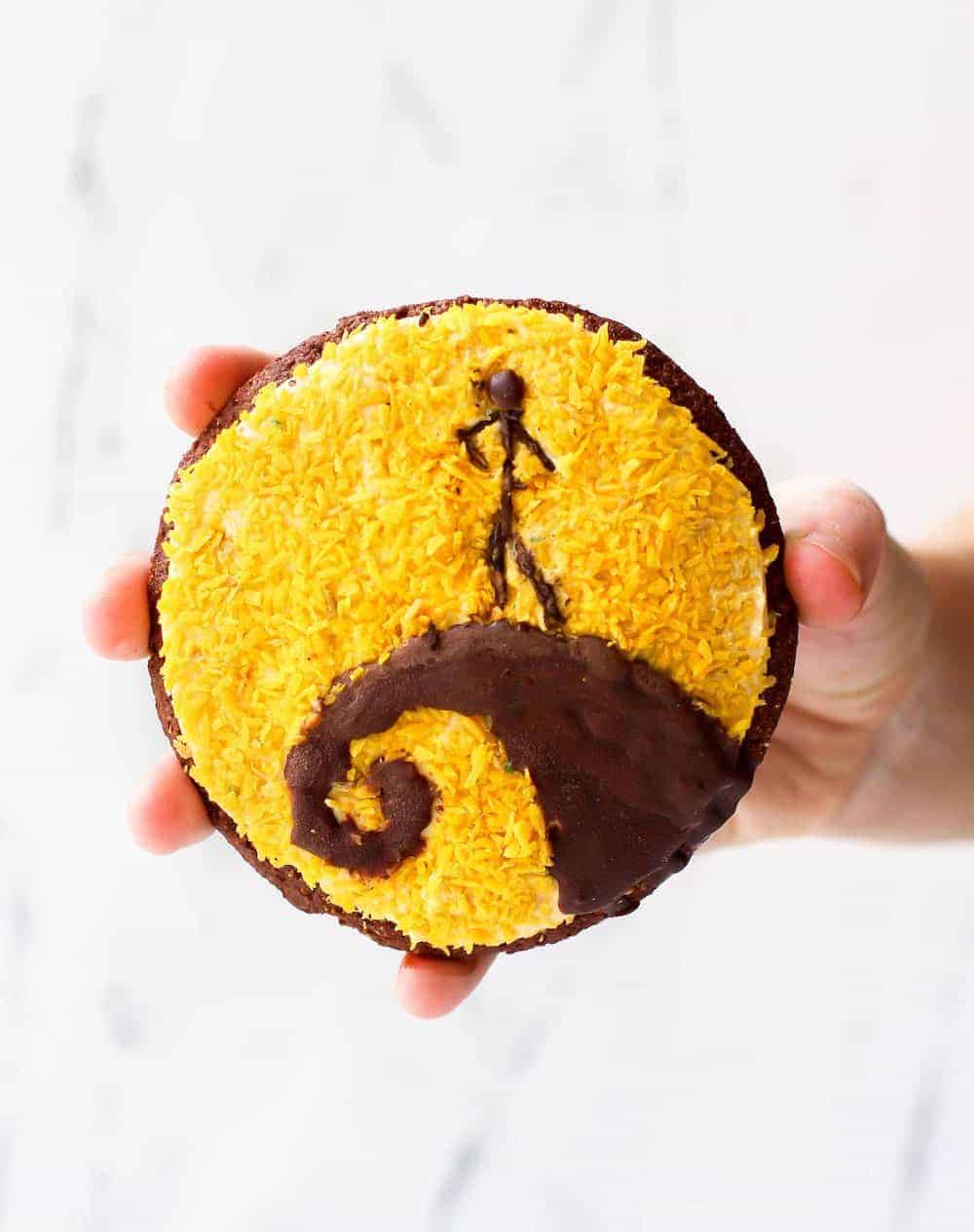 18. The Nightmare Before Christmas Cookie – Feasting on Fruit
These beautiful cookies are inspired by the movie A Nightmare Before Christmas. They're like a work of art that would be a hit at any Halloween party!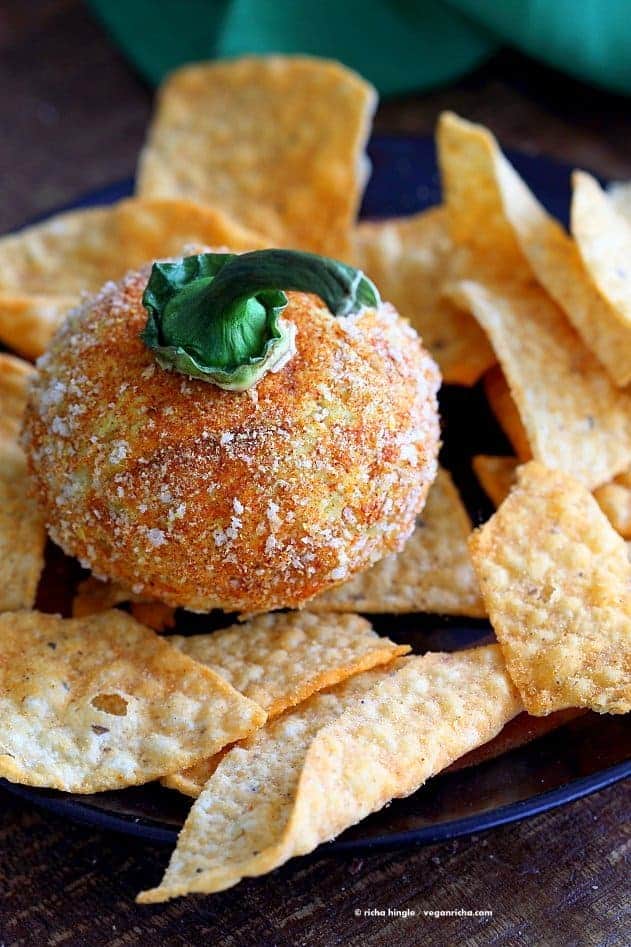 19 Vegan Cheese Ball for Halloween – Vegan Richa
This super easy Cheddar Cheese ball is shaped into a pumpkin for Halloween. It's nut-free, allergy friendly and fabulous!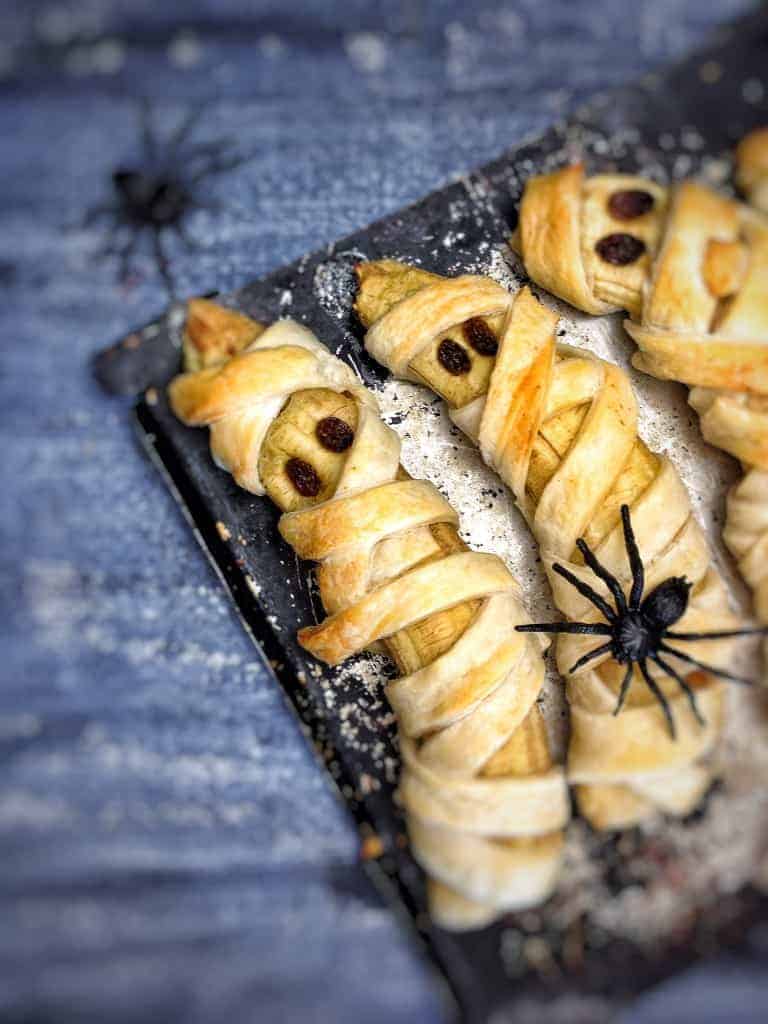 20. Mummied Bananas – Vie de La Vegan
These mummied bananas are an easy and healthy dessert with just 3 ingredients (and 2 of the ingredients are fruit!). And it's something the kids can make too!
[clickToTweet tweet="Want some tasty and fun #vegan Halloween recipes? I'm sharing my favorite treats! " quote="Want some tasty and fun vegan Halloween recipes? I'm sharing my 20 favorite treats! "]
Want more vegan Halloween recipes ? Check out my Vegan Halloween Pinterest Board!
Like the roundup? It would be wonderful if you could give it some love by sharing!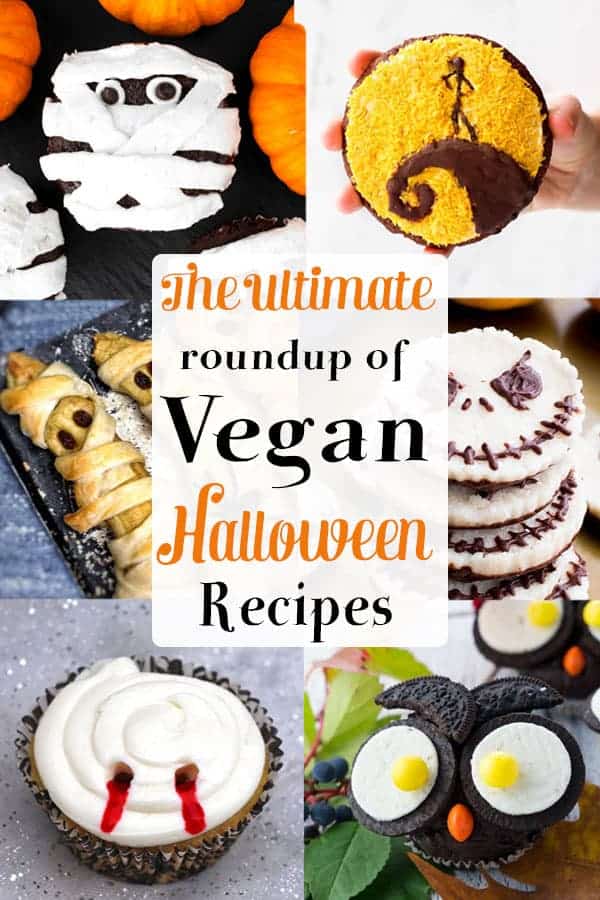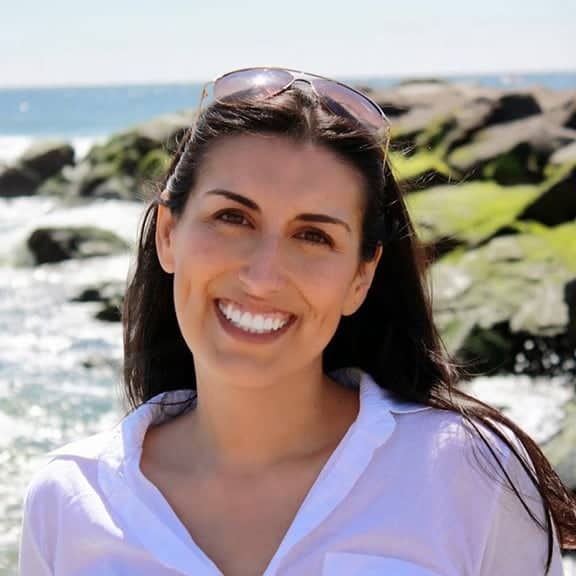 Mary Ellen Valverde MS, CNS, LDN is a Licensed Nutritionist and Certified Nutrition Specialist who helps vegans find ways to make mealtimes easier (and healthier).
When she's not creating new recipes for her blog, you can find Mary Ellen doting on her two shih tzus or exploring the world with her husband.