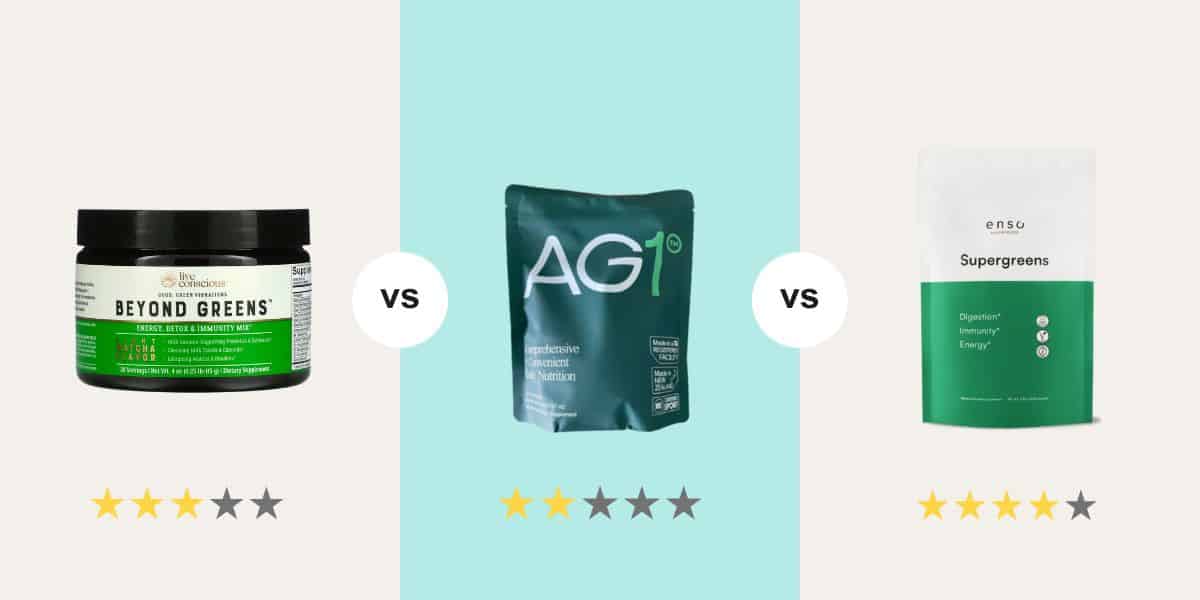 Recent medical reports agree that taking a greens powder can be a beneficial way to supplement your diet and reach your daily recommended intake of vitamins and minerals. With dozens of greens powder supplements on the market, you're probably wondering which is right for your lifestyle. Popular brands for everyday use claim to support similar health benefits, but each product has unique formulas and components, so how will you know which is the best greens powder for you?
In this review of Beyond Greens vs. Athletic Greens vs. Ensō Supergreens, we'll analyze each product and how their benefits, ingredients, taste, and cost compare. Overall, Ensō Supergreens stands out in this comparison with its unique blend of nutrient-rich ingredients and high value. Discover a breakdown of our research and what makes this super greens powder a top contender.
Beyond Greens contains natural ingredients and helps add more nutrients to your daily routine. It can support energy, immunity, and detoxification in a concentrated serving under four grams.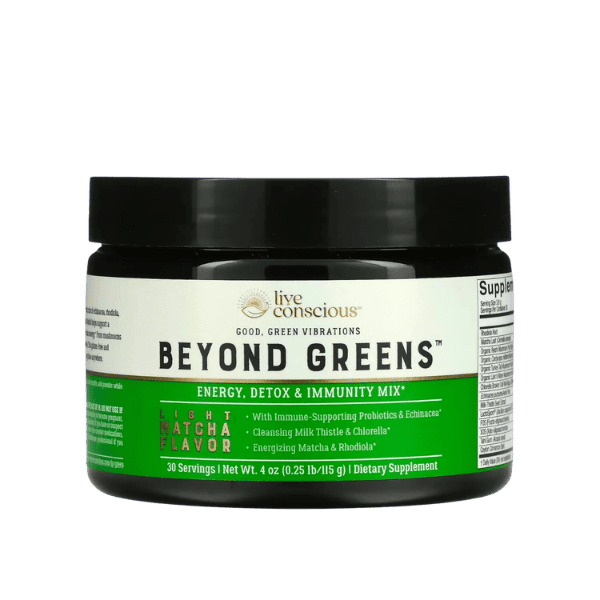 Beyond Greens is a mix of adaptogenic herbs, mushrooms, and other unique ingredients, like milk thistle and matcha. While it has fewer ingredients than the other brands, it still delivers powerful nutrients that support your overall health. Beyond Greens is also vegan, soy-free, and gluten-free.
A jar of Beyond Greens only weighs 4 ounces but contains 30 servings, and Live Conscious offers discounts if you set up a monthly subscription for multiple jars. With a 365-day money-back guarantee, Beyond Greens is a favorable option for those who want a generous return policy if they're unsatisfied.
Pros
Subject to third-party testing and manufactured in the USA
Contains powerful ingredients that support energy, immunity, and detoxification 
Long satisfaction guarantee
Cons
Lacks some ingredients compared to other brands
Contains stevia and artificial additives
Some customers say it's hard to measure the correct serving due to the small size
Bottom Line: Beyond Greens' mix of mushrooms, greens, and nutritious ingredients make it a worthy daily greens powder. However, its small serving size and ingredient list could be improved.
AG1, or Athletic Greens, is one of the most popular greens powders on the market. With over 75 ingredients, AG1 can boost energy, immunity, and gut health. Athletic Greens is a premium product for those with very active lifestyles, but it's one of the more expensive options.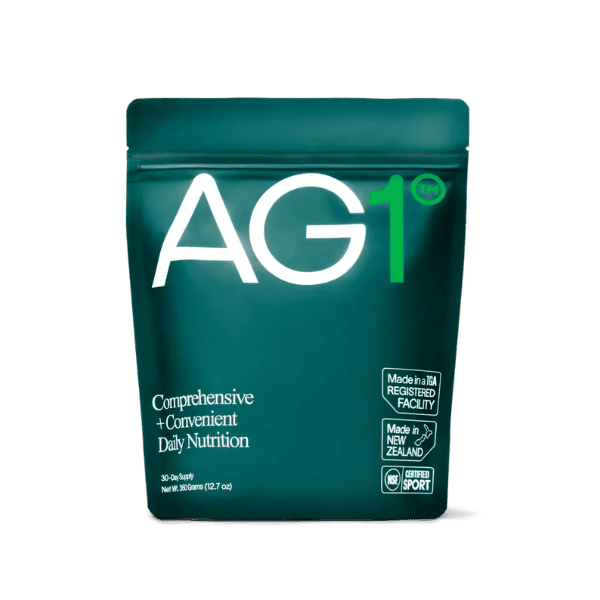 As its name implies, Athletic Greens was designed for athletes who need optimal nutrition. With a comprehensive ingredient list featuring foods like alfalfa, spinach, and various nutrients, only a few products can match what AG1 offers. Still, it's worth noting some of its ingredients aren't organic.
Athletic Greens also contains digestive enzymes, probiotics, and adaptogenic herbs. It supports plant-based, gluten-free, and peanut-free preferences but contains stevia for extra sweetness. 
AG1 is available in travel packs or a container, and you can sign up for a monthly subscription with a discount. If you're unsatisfied, Athletic Greens offers a 90-day money-back guarantee. 
Pros
Wide variety of whole foods, vitamins, and minerals
Contains adaptogens for stress relief
Positive customer reviews and brand reputation
Offers travel packs 
Cons
High price point
Contains stevia and other artificial ingredients
Some users complain about the texture and mixability 
Bottom Line: Athletic Greens has an impressive ingredient list and supports various aspects of your health. Although AG1 is one of the most popular greens powders, other brands can deliver comparable or better results at a fraction of the price.
Ensō Supergreens is an everyday greens powder that enhances energy, gut health, and immunity. With only 31 calories per serving and no added sugars or artificial sweeteners, it has a surprisingly great taste and mixes well with water on its own.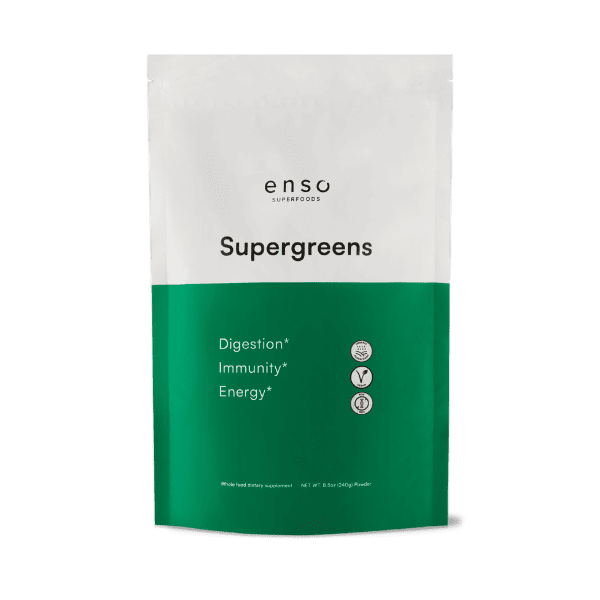 Ensō Supergreens is a unique blend of 20+ all-natural, organic ingredients like kale, ginger root, and dandelion. It makes it easier to bridge nutritional gaps and caters to plant-based, gluten-free, and nut-free dietary restrictions.
In addition to its greens blend, Ensō Supergreens contains 5 billion CFUs of probiotics and a digestive enzyme complex. This comprehensive formula supports various aspects of your health, and most users report positive results and feel better daily.
Ensō Supergreens is made in GMP-Certified facilities in the United States and undergoes third-party testing, which ensures its nutritional value and purity. With a 30-day money-back guarantee, free shipping, and discounted monthly subscriptions, Supergreens is an excellent value without sacrificing quality.
Pros
Organic and nutrient-dense superfood ingredients
Supports various dietary preferences
No synthetic or artificial ingredients
Enhances gut health, energy, and immunity
Made in the USA and subject to third-party testing
Cons
Only available online
Doesn't contain much fiber
Bottom Line: With nutrient-dense superfoods, probiotics, and digestive enzymes, Ensō Supergreens makes it easy to pack in more greens and enhance your healthy diet. Ensō Supergreens is arguably the best value for what's included if you want a high-quality and organic greens powder at an affordable daily price.
Health Benefits Comparison
These greens powder brands offer various health benefits due to their unique formulas. Here's how they compare: 
Beyond Greens Benefits
Beyond Greens still delivers powerful health benefits despite its small size. The company behind this greens powder, Live Conscious, claims it does the following:
Detoxifies the body
Beyond Greens has ingredients that can help detoxify the body and support liver health. Like Ensō Supergreens, it has superfoods like chlorella and spirulina that boost the body's natural detoxification process. 
Keeps the immune system healthy
Due to its natural and nutrient-dense ingredients, Beyond Greens may support the immune system's defense against illnesses. 
Increases energy
Beyond Greens contains mushrooms and natural ingredients that may heighten energy levels. However, it has matcha, so it also has some caffeine.
Promotes Gut Health
Beyond Greens may support gut health due to its probiotic content, but it lacks digestive enzymes and may not be as effective as the other brands. 
Athletic Greens Benefits
Athletic Greens offers a range of benefits due to its blend of over 75 ingredients. Although AG1 is designed for athletes, it may have the following effects on the average user:
Boosts Energy
In addition to the vitamins and minerals that elevate energy levels, Athletic Greens contains whole foods with natural energizing properties. 
Strengthens Immunity
AG1 contains mushrooms and antioxidants that help your immune system function at its best. 
Promotes Gut Health
The included enzymes, prebiotics, and probiotics in AG1 promote nutrient absorption and support the digestive system.
Athletes may also experience accelerated recovery times, but several other factors beyond nutrition cause this. Overall, AG1 offers similar benefits to other top greens powder brands but comes at a higher price. 
Ensō Supergreens Benefits
Ensō Supergreens' most notable benefit is enhancing overall health by bridging nutritional gaps in your daily lifestyle. Additionally, this greens powder can do the following:
Supports Gut Health and Digestion
With over 5 billion CFUs of vegan-friendly probiotics and its special blend of digestive enzymes, Ensō Supergreens promotes a healthy gut microbiome. These ingredients help the body process food and extract vital nutrients. 
Enhances Energy Levels
When our bodies have adequate nutrients, staying focused and energized throughout the day is easier. Ensō Supergreens' mix of ingredients delivers natural energy without caffeine or added sugars. 
Boosts the Immune System
Ensō Supergreens contains immune-boosting antioxidants like vitamin A and amino acids that help your body combat infections and illnesses. 
Relieves Bloating
Ensō Supergreens can naturally relieve bloating and stomach discomfort due to its probiotics and enzymes. Instead of only addressing the symptoms of bloating, the formula helps prevent it by equipping the body with the nutrients it needs. 
Over 90% of Ensō Supergreens customers report feeling healthier when they drink it every day. While everyone will experience different results depending on their health, Supergreens offers several benefits that match, if not exceed, the other greens powder brands. 
Taste Review
Taste is one of the most important factors when choosing a greens powder. Here's how the brands' flavor profiles compare: 
Beyond Greens Taste
Compared to the other brands, Beyond Greens has an average taste. Some customers dislike the mushroom and earthy flavor, but others don't mind it. It has some sweetness, likely caused by the matcha, but overall, it has an organic flavor that takes some getting used to. It's not unbearable to drink, but it helps to add other ingredients or blend them in a smoothie. 
Athletic Greens Taste
Athletic Greens has an acquired taste that's hard to describe. It has a primarily earthy and green flavor, but none of the ingredients particularly stand out. The powder doesn't fully dissolve and mix as well as the other brands, so it's better to use a shaker bottle or blender. However, some customers enjoy the taste and think it's easy to drink on its own. 
Ensō Supergreens Taste
Ensō Supergreens has a pleasant taste despite not having sugar or artificial sweeteners. Due to the peppermint leaf, it has a slightly minty kick that's not overwhelmingly strong. It still has the classic leafy greens taste, but it's far more enjoyable and fresh. Ensō Supergreens mixes and dissolves well; the thin consistency also works with cooking recipes or for homemade green smoothies. 
Ingredients Comparison
Each greens powder features a mix of unique ingredients, including fruits, vegetables, and unique superfoods. Here's a look at each brand's ingredient list: 
Beyond Greens Ingredients
Beyond Greens only contains 14 main ingredients, not including additional additives like sodium copper, stevia, and natural flavors. Some of its primary ingredients include:
Milk thistle: Known for its ability to protect the liver, it contains powerful antioxidants that assist the body's detoxification process. 
Matcha: A popular tea flavor that gives Beyond Greens a distinct taste. Matcha can also enhance energy levels and cognitive function, making it valuable for sustained focus.  
Mushrooms: Beyond Greens contains mushrooms like lion's mane and reishi, which have adaptogenic properties and can help the body manage stress levels. In addition, the mushroom blend may strengthen the immune system, 
Echinacea: A traditional herbal remedy, echinacea has been used for centuries to treat upper respiratory infections and cold-like symptoms.
Beyond Greens has a rather small ingredient list compared to the other greens powder brands. The nutrition label doesn't list the vitamin and mineral daily values either, so it's not entirely clear how much of each ingredient it contains. 
Athletic Greens Ingredients 
With over 75 ingredients, Athletic Greens has the most of the three brands. Here's a glimpse into a few of them:
Carrots: This popular root vegetable is packed with essential nutrients like vitamins A, C, K, and beta-carotene. 
Eleuthero root: Also known as Siberian ginseng, eleuthero root is an adaptogenic herb that can help the body manage stress. It also can support the immune system and increase energy. 
Bilberry: A dark blue relative of the blueberry, Bilberry is rich in antioxidants that support eye health and reduce inflammation.
Some ingredients are not organic, and the Athletic Greens formula contains stevia as a sweetener. AG1 also has digestive enzymes and probiotics to support gut health. While it has an impressive ingredient list, the other brands achieve similar results with less. 
Ensō Supergreens Ingredients
Ensō Supergreens contains over 20 organic, non-GMO superfoods and nutrients. All ingredients are mindfully sourced, manufactured in local GMP-certified facilities, and must pass third-party testing. Some of its notable ingredients include: 
Burdock root: This ingredient promotes healthy digestion and skin by supporting the liver, which helps the body's natural detoxification process. Burdock root also has antibacterial and anti-inflammatory properties. 
Barley grass: Rich in vitamins, minerals, and amino acids, barley grass helps the body fight short-term infections and foster a healthy immune system. It also contains chlorophyll, an antioxidant with detoxifying properties similar to burdock root. 
Dandelion: Some think of them as pesky weeds, but dandelions are a great source of vitamins A, B, and C. The plant can help manage blood sugar levels and reduce inflammation, making it a versatile superfood. 
Alfalfa: This herb is abundant in antioxidants that help balance blood sugar and cholesterol levels. It's also a great source of calcium, iron, and potassium, among other minerals. 
Additionally, Ensō Supergreens is free of added sugars, artificial ingredients, gluten, dairy, nuts, and caffeine. Although it has fewer ingredients than Athletic Greens, it delivers comparable nutritional value and health benefits. 
Cost Analysis
Budgeting for a greens powder is essential, especially if you use it daily. Here's how each brand compares in cost, shipping, and subscriptions. 
Beyond Greens Cost
Beyond Greens comes in a 4-ounce jar with 30 servings. A one-time purchase costs $39.99 ($1.33 per serving) plus $5 to $10 for domestic shipping. Subscriptions save between 20% to 38% depending on how many jars you order, with prices ranging from $24.99 to $31.99 per jar. Subscribers also get free shipping on all orders. 
Athletic Greens Cost
Athletic Greens offers a 30-serving pouch for $99 ($3.30 per serving) and travel packs for $109 ($3.63 per serving) if purchased without a subscription. For a single subscription, the price drops $20 for each product, and customers can save more with a double subscription. However, Athletic Greens does not offer free shipping for any orders, including subscriptions. 
Ensō Supergreens Cost
For a one-time purchase, Ensō Supergreens costs $59.99 and comes with free shipping. One pouch contains 30 servings, which equates to $1.33 per serving. With a subscription, the price drops 33% to $39.99 per month. And if you want 60 servings monthly, subscribing costs $69.99 and saves 42%. 
Why Choose Ensō Supergreens
Out of the three greens powders, Ensō Supergreens is our pick for a top nutrition supplement. Its formula stands out with superfood ingredients like spirulina, burdock root, and barley grass, similar to Athletic Greens and better than Beyond Greens. And like Athletic Greens, Ensō Supergreens has digestive enzymes and probiotics, but Beyond Greens only contains the latter. However, Ensō Supergreens has the same cost per serving as a jar of Beyond Greens and is a bargain compared to Athletic Greens.
Ensō Supergreens is also more reliable with third-party testing, GMP manufacturing practices, and local operations in the United States. It is free of gluten, animal byproducts, sugar, nuts, and caffeine, which makes it an accessible option for more people.
While it doesn't have as long of a satisfaction guarantee, Ensō Supergreens' organic superfoods and fair value make it the best choice of the three brands.
Final Thoughts
If you're looking for green powder supplements to add to your routine, all three brands we reviewed are good options, each with unique benefits and drawbacks. Be sure to consider your health goals, taste preferences, and budget before choosing one.
The V Nutrition Editorial Team, consisting of experts in vegan nutrition and health, focuses on providing accurate and helpful information. With backgrounds in nutrition science and a shared commitment to plant-based living, we ensure that every piece of content not only educates but also empowers our readers to make informed lifestyle choices.