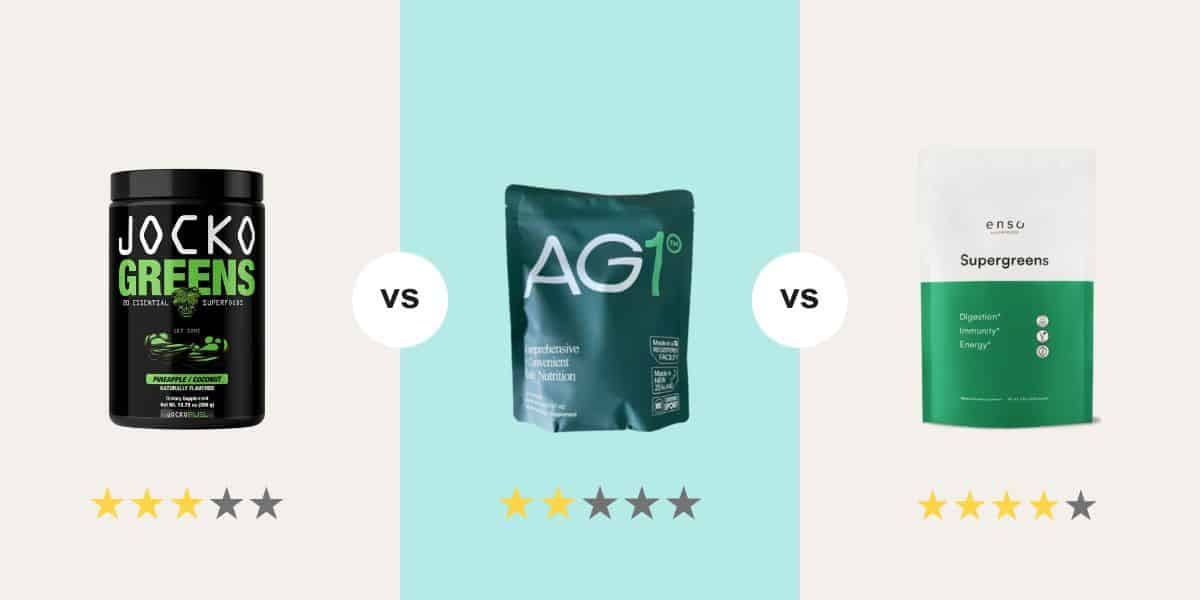 Today's greens powders make meeting your daily nutrition needs easier, but which dietary supplement is right for you? Drawing on extensive research and analysis, we've compared Jocko Greens, Athletic Greens, and Ensō Supergreens to help you find the best greens powder for your health.
We'll cover each product's benefits, ingredients, cost, and other key considerations, giving you a clear picture of what to expect with each greens powder. And though we recommend Ensō Supergreens overall for its superior nutrition formula, taste, and value, we're confident you'll find the right product to suit your needs. So, how do they all compare?
Jocko Greens is a greens superfood powder created by former Navy SEAL Jocko Willink. It's designed for athletes and active individuals, supporting optimal performance, recovery, and nutrient absorption.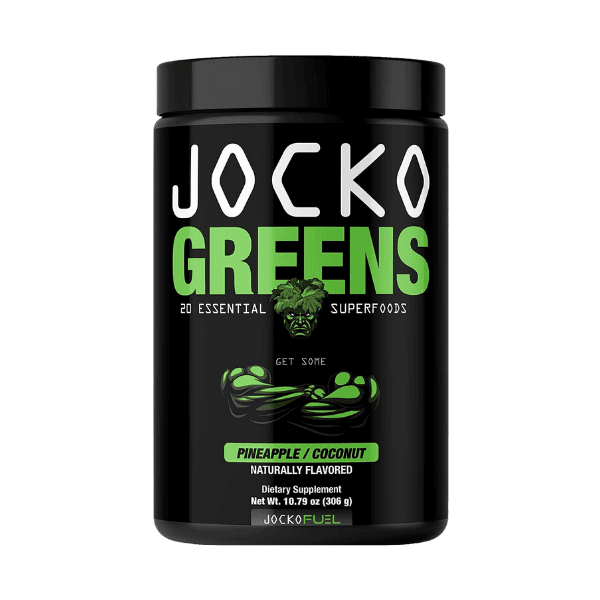 Jocko Greens features 20 greens like organic sweet potato, organic cranberry fruit extract, and organic banana powder. It also contains probiotics for gut health and adaptogens, which help the body manage stress levels. Together, these ingredients help promote better digestion and immunity.
Jocko Greens is available in peach or pineapple coconut flavors, which is a plus for those who want more variety. Both flavors are sweetened with monk fruit and Reb-M, a zero-calorie sweetener that comes from fermented sugar cane.
Although Jocko Greens has an impressive ingredient list, it only specifies some nutritional values, so it's unclear how many total vitamins and minerals it contains. However, it is a GMP-compliant product and is subject to third-party testing.
Pros
Contains superfoods, probiotics, and adaptogens
Uses organic superfood ingredients
Comes in two flavors
Cons
Doesn't contain digestive enzymes
Subscription only saves 10%
The supplement label doesn't list the daily nutritional values
Bottom Line: Jocko Greens offers a rich blend of organic superfoods, probiotics, and adaptogens, but comparable greens superfood powders provide similar results with better nutritional transparency.
Athletic Greens is among the most popular greens powders, frequently endorsed by celebrities and influencers. Also called AG1, this product contains over 75 ingredients that boost energy, immunity, and gut health.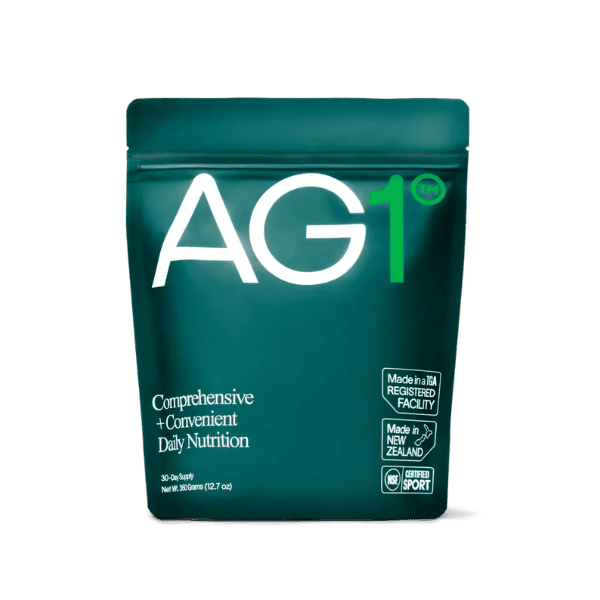 Athletic Greens is designed for athletes who want a more convenient way to meet their daily nutritional requirements. Despite its name, anyone can use it for the same goal or one of its intended health benefits. It caters to plant-based, peanut-free, and gluten-free needs but contains stevia.
Athletic Greens has a robust ingredient list featuring whole foods like Lycium berries, broccoli flower, and milk thistle extract. It also contains probiotics, enzymes, and adaptogens, not to mention extra vitamins and minerals.
While it has a nutritious blend, not all ingredients are organic or 100% natural, and it overloads more vitamins and minerals than the average person needs for their daily intake. It's also one of the more expensive options on the market, but it has a 90-day satisfaction guarantee.
Pros
Available in a container or travel packs
Over 75 whole foods and nutrients
Recognizable brand with positive customer reviews
Cons
Expensive to use daily
Contains stevia and non-organic ingredients
Earthy flavor with a gritty texture
Bottom Line: Athletic Greens has a well-rounded ingredient profile and is one of the few greens powders with travel packs. While it has the right formula to support overall health for athletes, other greens powders offer similar benefits without the premium price tag or overloading on nutrients.
Ensō Supergreens is a 100% natural greens powder that can improve energy levels, immunity, and digestion. This low-calorie formula, free from added sugars and artificial sweeteners, has an exceptional taste and an even better value.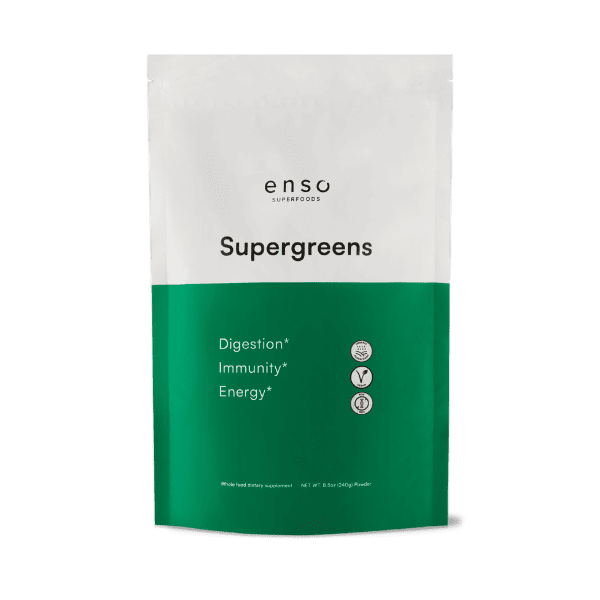 Ensō Supergreens is one of three superfood powders offered by Ensō Superfoods, the company's most popular product. It contains over 20 naturally-sourced greens such as organic kale, broccoli, and barley grass. This greens blend also has a mix of 5 billion CFUs of probiotics and a digestive enzyme complex that support gut health and immunity.
Manufactured in GMP-certified facilities within the United States, Ensō Supergreens undergoes rigorous third-party testing to uphold its nutritional integrity. Ensō Supergreens accommodates plant-based, gluten-free, and nut-free dietary restrictions and doesn't contain caffeine or GMOs. Ensō Supergreens comes with free shipping on all orders, with or without a subscription, and a 30-day money-back guarantee.
Pros
Only contains natural, organic ingredients
Made and tested in the United States
Valuable price, subscription savings, and satisfaction guarantee
Can improve digestion, immunity, and energy levels
Accommodates several dietary restrictions
Cons
No travel packs
Only available through their website
Bottom Line: Ensō Supergreens shines with its nutrient-rich superfoods, probiotics, and digestive enzymes, simplifying the daily need to incorporate organic greens into your diet. If you're seeking a nutrient-dense greens supplement offering excellent value and a palatable taste, Ensō Supergreens is a compelling choice.
Ingredients Review
For you to determine the quality of these greens powders, it's essential to look at their ingredients and manufacturing standards. Here's how the greens powders' ingredients stack up:
Organic Superfoods
All three brands use various organic superfoods in their formulas, but only Ensō Supergreens and Jocko Greens feature 100% organic superfoods. Athletic Greens has some, like organic spirulina, chlorella, and alfalfa, but other ingredients are not organic.
Ingredient Variety
Each brand offers a unique blend of superfoods, vitamins, and minerals, but Athletic Greens has the best variety. It contains over 75 total ingredients, while Ensō Supergreens and Jocko Greens each have 20 primary ingredients. Jocko Greens also contains milk, which isn't compatible with plant-based diets.
Probiotics and Digestive Enzymes
Jocko Greens, Athletic Greens, and Ensō Supergreens contain probiotics, but Jocko Greens doesn't have digestive enzymes. While all of them will support gut health, Athletic Greens and Ensō Supergreens are best suited to support digestion and nutrient absorption.
No Sugar or Stevia
None of the brands contain added sugar, but they may have a few grams of sugar naturally found in some ingredients. However, Ensō Supergreens is the only product that doesn't use stevia or added sweeteners. Athletic Greens contains stevia, and Jocko Greens uses Reb-M, which is derived from cane sugar.
Caffeine-Free
All three greens powders are caffeine-free. However, Athletic Greens may have a small amount because it contains green tea extract.
Nut-Free
Jocko Greens doesn't claim to be nut-free, and Athletic Greens is only peanut-free. Ensō Supergreens is the only product that is 100% nut-free.
Non-GMO
None of the three products contain GMOs.
Manufacturing and Sourcing
Ensō Supergreens specifically mentions that it uses 100% organically sourced ingredients from only the highest quality farmers worldwide. On the other hand, Jocko Greens and Athletic Greens don't indicate how or where they source their ingredients.
Athletic Greens is also manufactured in New Zealand, while Ensō Supergreens and Jocko Greens are made in the United States.
NSF Good Manufacturing Practice (GMP) Registered Facilities
All three greens powder brands adhere to GMP regulations and are made in certified facilities.
Greens Powder Health Benefits
When selecting a greens powder, it's crucial that the product meets your intended health goals. Here's how the three brands compare when it comes to promoting various health benefits:
Improves Digestion
Jocko Greens, Athletic Greens, and Ensō Supergreens contain probiotics, which are beneficial bacteria that help mitigate gastrointestinal conditions and regulate digestion. All three brands offer small amounts of fiber with less than two grams per serving.
However, Jocko Greens doesn't have digestive enzymes, which play a similar role in promoting optimal gut and digestive health, making Athletic Greens and Ensō Supergreens the better supplements overall to improve digestion.
Boosts Energy Levels
Athletic Greens and Ensō Supergreens specifically target energy levels with their formulas, unlike Jocko Greens. However, all three products contain various vitamins and minerals, like vitamins B6 and C, that naturally support your ability to focus and sustain energy throughout the day.
None of the greens powders contain instant energy boosters like caffeine, so it's best to use them daily according to the directions to improve your daily energy gradually. Even though caffeine is not added to Athletic Greens' product, it's worth noting it has small amounts from matcha.
Promotes Weight Loss
None of the greens powders are specifically meant to be weight-loss supplements, but their nutrient-dense ingredients and ability to enhance gut health may support healthy weight management.
Although all three brands offer extensive blends of greens and nutrients, Ensō Supergreens and Jocko Greens have the lowest calories per serving (31 and 30, respectively) without sugar or artificial sweeteners like stevia.
Builds Immunity
All three brands can support a healthy immune system with their blends of superfoods and antioxidants. Their probiotic blends also help the gut, which makes up most of the immune system. While none of the products will supply all of your necessary daily nutrients, they make it easier to bridge the gaps, which naturally allows your body to fight illnesses with its own defenses.
Taste Comparison
When researching greens powders' taste, you want to find one with a flavor you enjoy so that you'll take it consistently. Here's how the of each brand compares:
Texture and Mixability
Jocko Greens and Ensō Supergreens have fine powders with a smooth texture. As long as you use enough water, at least eight to ten ounces, it dissolves without leaving behind a sandy mouth feel.
Athletic Greens does a decent job, but some customers have said it has a grainy texture even if they mix it well.
Versatility
All three brands mix well with several liquids, including water, juice, or smoothies. Some customers have tried using greens powder in recipes, such as salad dressing or baked goods, and enjoy the added nutrients without sacrificing the original flavor.
Chalky Taste
None of the brands have a notable chalky taste, but each has unique flavor profiles. Jocko Greens has a peach and pineapple coconut flavor that most customers enjoy.
Athletic Greens has more of an earthy and green taste, but it's still drinkable and doesn't leave a chalky aftertaste.
Ensō Supergreens is the sweetest and has notes of mint, which covers up the taste of greens quite well without being overly sweet.
Overall Taste Satisfaction
Overall, Ensō Supergreens has the best taste and drinking experience out of the three greens powders. It mixes and dissolves well without leaving behind clumps, and its flavor pairs well with smoothies and shakes. While everyone has different taste preferences, we think Ensō Supergreens is the easiest to drink by itself.
Jocko Greens vs. Athletic Greens vs. Ensō Supergreens Costs
Cost is a critical factor when choosing a greens powder, especially if you plan on using it daily. Here's how each brand compares in pricing, subscriptions, and savings:
Jocko Greens Cost
Jocko Greens costs $52.99 for a one-time purchase of 30 servings, or $1.77 per serving. If you opt for a subscription, the price drops slightly to $47.69, but it's worth noting that Jocko Greens does not offer free shipping.
They do have a 30-day return policy, but it only applies to new, unopened items, which might not suit those who want to try the product before fully committing.
Athletic Greens Cost
Athletic Greens is the most expensive of the three greens powders. A one-time purchase of their pouch is $99 for 30 servings, while the travel packs cost $109. A subscription costs $79 for the pouch and $89 for the travel packs.
Like Jocko Greens, Athletic Greens doesn't provide free shipping, but they offer a generous 90-day money-back guarantee.
Ensō Supergreens Cost
On the other hand, Ensō Supergreens is the most cost-friendly green powder. A one-time purchase costs $59.99 for 30 servings, and a subscription reduces the price to $39.99, or approximately $1.33 per serving.
They also offer free shipping on all orders, with or without a subscription, and a fair 30-day money-back guarantee.
Why Choose Ensō Supergreens
Out of all three brands, Ensō Supergreens offers the best value for superior nutrition. While it doesn't have as many ingredients as Athletic Greens, it still has a potent organic blend of 20 organic superfoods, probiotics, and digestive enzymes, which promote comparable health benefits at a better price. Some of its notable organic greens include:
Alfalfa
Barley grass
Burdock root
Chlorella
Moringa
Unlike the alternatives, Ensō Supergreens doesn't contain sweeteners or artificial ingredients, making it a clean and pure addition to your daily routine. It also caters to numerous diets, including vegan, vegetarian, gluten-free, and nut-free preferences.
At only $1.33 per serving with a subscription, Ensō Supergreens is an affordable way to improve your energy, gut health, and immunity with quality ingredients. It also has a great taste that mixes well, making it an all-around excellent choice for those wanting to boost their nutrient intake with a green superfood powder.
Final Thoughts
When choosing the right superfood supplement, remember that your best choice depends on personal preference, lifestyle, and health goals. Whether it's Ensō Supergreens, Jocko Greens, or Athletic Greens, each product offers a unique set of benefits. However, for value and comprehensive nutrition, Ensō Supergreens stands out. Try Ensō Supergreens today and experience the benefits of a nutrient-dense, organic greens blend you'll enjoy taking every day.