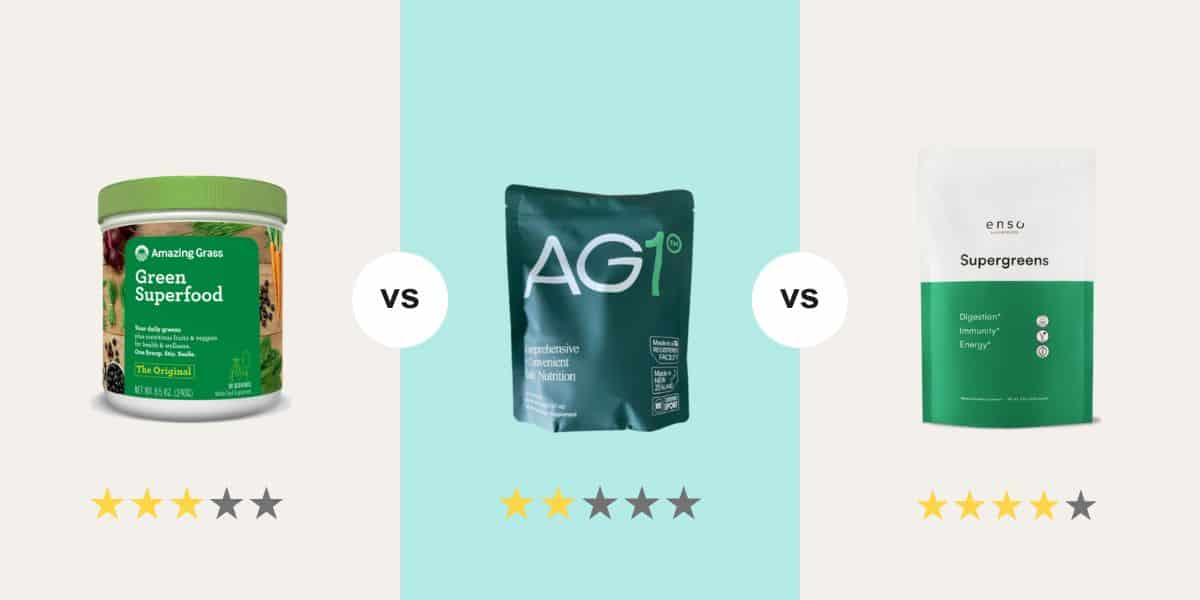 Whether you are a fan of veggies or not, it's important to find key ways to incorporate them into your diet and get the core vitamins and minerals your body needs. According to the Centers for Disease Control and Prevention (CDC), only 9% of U.S. adults consume enough greens daily. That's where greens powders come in. These potent blends are one of the most convenient ways to consume more vegetables daily and boost your nutrient intake.
Supergreens powders offer numerous health benefits, from lowering the risk of cardiovascular disease to improving digestion. One of the few downsides of these supplements is that they often come with a hefty price tag. To help kick-start your supergreens journey, we reviewed three popular products from premier brands that we think are worth investing in and analyzed their core elements and advantages. While Ensō Supergreens was ultimately our overall winner, both other products have several benefits you may want to consider. Whether it's Amazing Grass vs. Athletic Greens vs. Ensō Supergreens, we're confident you'll find the best supergreens powder for you.
The Amazing Grass Greens Blend contains seven types of nutritious greens, two servings of fruits and vegetables per scoop, and vitamins C and K. This makes this supplement great for situations where you might struggle to get your recommended daily intake of greens, such as traveling or on the go. This nutritious blend also contains digestive enzymes, probiotics, and fiber, which the company claims can support and improve digestion.
The Amazing Greens Blend is available in multiple flavors, including original, berry, and chocolate. Customers pay $39.99 for 30 servings of the Amazing Grass Green Superfood Blend ($0.72 per serving) but can subscribe and save.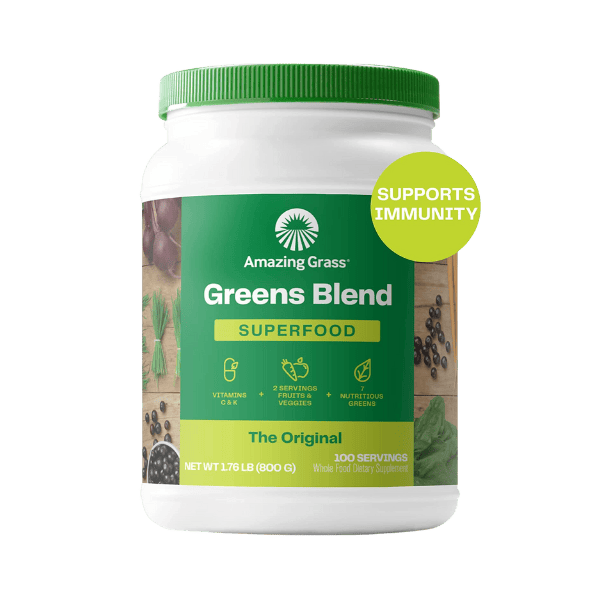 Amazing Grass was founded over two decades ago by long-time friends Brandon Bert and Todd Habermehl. Together, the co-founders create nourishing powders with high-quality greens and plant-based ingredients at a family farm in Kansas. Amazing Grass partners with farmers worldwide to create certified organic, Non-GMO products that provide you with the whole food nutrition your body needs. The company prides itself on growing its products outdoors, even during cold winters. 
Pros
Available in original, chocolate, and berry flavor
Allergen-friendly
Non-GMO and free of added sugars
Certified organic products
Made in the USA
Cons
Not tailored toward those who are pregnant, nursing, have digestive conditions, or who take medications that prevent blood clotting
Has a strong grassy taste that some customers don't enjoy
Added sugar
Bottom Line: Amazing Grass Greens Blend contains two servings of fruits and vegetables per scoop, making it perfect for those who are constantly on the go. Though available in three different flavors, this certified organic product still has a dominating grassy taste that may not be preferable for some.
Athletic Greens is one of the most renowned supergreens powders on the market and the premier choice for athletes. Its flagship product AG1 contains 75 ingredients that help support energy levels, exercise recovery, and immunity.
 The blend also includes 7.2 billion CFU of probiotics and digestive enzymes. Like many other greens powders, the taste is often described as sweet and earthy but slightly bitter. AG1 is vegan, free of artificial ingredients and pesticides, and allergen-friendly, and it does contain stevia. 
If you are looking for a greens powder that is packed full of ingredients, Athletic Greens could be a good fit. However, because this supplement is designed for athletes, it may not be the best formula for those who don't play sports, as it might over-supplement their diets. One pouch of 30 servings costs a whopping $99 ($3.33 per serving), but customers can subscribe and save.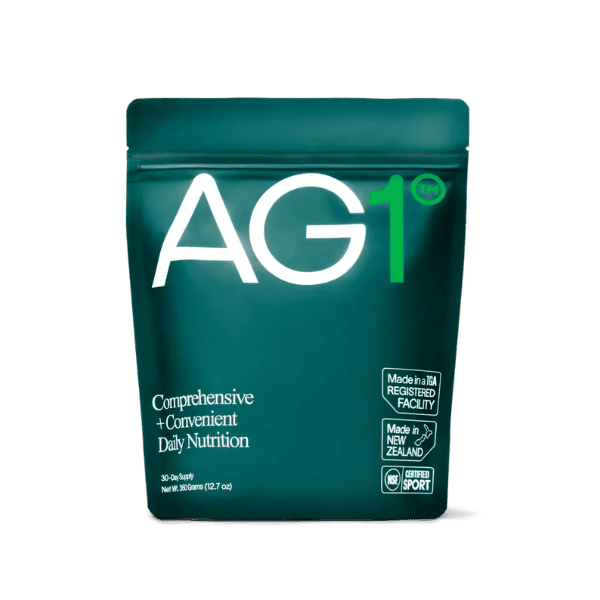 Founded over a decade ago, Athletic Greens is a brand known for its thorough testing and transparency. Every batch is NSF Certified for Sport, which is a third-party certification that verifies the product only contains the ingredients listed on the ingredient list and does not contain any substances that competitive sports organizations have banned. Unlike some supergreens brands, which sell multiple health products, Athletic Greens' philosophy is that less is more. The company occasionally offers new products, but its priority is to use the latest science to create core products essential to human health. 
Pros
NSF Certified for Sport and GMP Certified
Transparent ingredient list
Allergen-friendly and caffeine-free
Includes probiotics and enzymes to support digestion
Cons
Only a small portion of the ingredients are organic
Not recommended for people who are pregnant, nursing, taking certain blood thinner medications, or birth control
Expensive
Not made in the USA
Bottom Line: Tailored toward athletes, Athletic Greens AG1 is an NSF Certified for Sport formula packed with 75 ingredients. However, those who don't play sports should consult a health professional before consuming this greens powder on a regular basis.
Ensō Supergreens is Ensō Superfoods' flagship product. This powerhouse greens formula comprises 20 superfoods—including cereal grasses, leafy greens, and nutritious algae—that help improve digestion, support the immune system, and boost overall energy, among other health benefits. Aside from its organic superfoods, Ensō Supergreens also contains digestive enzymes and 5 billion CFUs of probiotics.
Things that it does not contain? Added sugars, artificial sweeteners, gluten, dairy, nuts, caffeine, GMOs, herbicides, preservatives, synthetic sweeteners, and fillers. Ensō Supergreens is third-party tested for quality and safety, and one dose of this blend helps fulfill your recommended daily greens servings, making this another top contender to add to your collection of vegan pantry staples.
Ensō Supergreens is renowned for its unique and delicious taste. Despite the fact that it is sugar- and sweetener-free, it tastes clean and fresh, with a hint of sweetness and mint. One 30-serving pack costs $59.99 ($1.99 per serving), but customers can subscribe and save.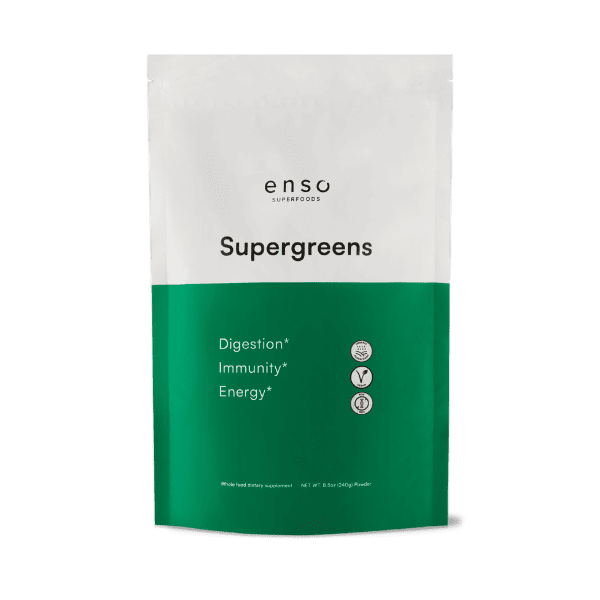 Even though Ensō Superfoods is a relatively new brand to enter the space, it has quickly made a name for itself. The brand was founded by Brazilian native Haim Nigri, who grew up always having access to fresh food. After moving to the United States, Haim combined his passion for nature and nutrition with his entrepreneurial experiences at MIT and Amazon to found Ensō Superfoods. By doing so, his mission was to make healthy eating the default in the United States.
Aside from supergreens powder, which was Insider's top pick in 2023, Ensō also offers a Power Beets formula and a Golden Milk Latte. All of its products are made in the USA and "made in nature, not in a lab."
Pros
Organic, allergen-friendly, and vegan
Tastes delicious
GMP Certified
Free shipping
Non-GMO, no added sugar or sweeteners, caffeine-free
Made in the USA
Cons
Fresh ingredients mean a relatively shorter shelf-life
Currently only one available flavor (until mid-2023)
Bottom Line: With its powerhouse formula, customer benefits, essential nutrients, and lack of added sugar, Ensō Supergreens is an excellent supplement to incorporate into your daily routine. Positive reviews also seem to indicate customers love the lightly sweet, minty flavor, which lacks the usual bitterness and earthy taste in other greens powders.
Benefits Comparison
While each supergreens powder boasts a distinct formula designed to deliver specific health benefits, they all share the goal of enhancing daily nutrition and promoting digestive wellness. Let's take a closer dive into how effective they are at these goals.
Boost Daily Nutrition
With a whopping 75 ingredients, AG1 is, unsurprisingly, a good source of vitamins and minerals. That said, because this formula is designed for athletes, there may be almost too many nutrients included in each serving for the average individual. If you already supplement your plant-based diet with multivitamins, you should consult a healthcare professional to ensure you are not overdosing on certain nutrients. 
Amazing Grass Greens can help you reach the recommended two cups of fruits and three cups of vegetables per day, boosting your daily nutrient consumption. This product provides 58% daily value (DV) of vitamin K and 18% DV of vitamin C, as well as vitamin A, calcium, and potassium. Keep in mind that only three grams of fiber are included in each serving, which is far less than what you would consume from eating your recommended daily intake of fresh fruits and vegetables. 
Ensō Supergreens includes 20+ organic superfoods, each offering a wealth of nutrients. Large doses of spirulina and chlorella are included in the blend, both highly nutritious algae packed with essential nutrients such as vitamins, minerals, and antioxidants that support overall health. Some other particularly beneficial ingredients include kale, a good source of antioxidants, and wheatgrass, which can help support detoxification processes in the body. 
Support Digestive Health
Each of these three products contains digestive enzymes and probiotics. While probiotics help improve the balance of beneficial bacteria in the gut, digestive enzymes help break food down into smaller molecules that the body can absorb. Improved digestion and gut health increase nutrient absorption and energy levels in the body, help you feel fuller, and prevent cravings that could lead to overeating. 
AG1 delivers 7.2 billion colony-forming units (CFUs) of probiotics per serving, while Ensō Supergreens contains 5 billion CFUs per serving. The exact amount of CFUs in Amazing Grass' supergreens blend is undisclosed. 
Ingredients Comparison
While each of these three formulas contains superfoods, they are all vastly different blends. Here's what you need to know about the ingredient makeup of each supergreens powder: 
Organic Superfoods
Amazing Grass and Ensō Supergreens include only organic superfoods. Only some of Athletic Greens' ingredients are organic. 
Probiotics and Digestive Enzymes
All three greens powders contain probiotics and digestive enzymes.
Wide Variety of Superfoods
AG1 contains an astounding 75 superfoods, while Amazing Grass contains a mere seven. Ensō Supergreens falls somewhere in the middle with 20+ organic superfoods. It's important to note that not all of AG1's ingredients are organic. 
Local Sourcing
All Athletic Greens products are made in New Zealand. This product is NSF Certified for Sport, meaning it has to adhere to strict sourcing policies and quality standards. Amazing Grass sources its greens from a family-owned farm in Kansas. Ensō Superfoods sources its products from trusted organic farms worldwide and uses only the highest quality ingredients.
Manufactured in the U.S.
AG1 is made in New Zealand, while Amazing Grass and Ensō Supergreens are both made in the USA.
NSF Good Manufacturing Practice (GMP) Registered Facilities
AG1 is made in a TGA-registered, NSF-certified facility. The Therapeutic Goods Administration (TGA) is an Australian-based company that regulates supplements and health products. 
Amazing Grass is not NSF certified but adheres to GMP guidelines. All of its products are made in an FDA-registered facility. Ensō Supergreens is GMP Certified. 
Third-party Tested
All three greens powders are third-party tested. 
Sugar-free
Ensō Supergreens is the only product in this comparison with a 100% sugar-free blend. AG1 and Amazing Grass both have sugar, but Amazing Grass Greens Blend contains less than 1 gram of sugar. 
No Stevia
Ensō Supergreens and Amazing Grass are both stevia free, while AG1 contains stevia. 
Caffeine-free
All three greens powders are caffeine-free.
Non-GMO
All three greens powders are non-GMO.
Nut-free
All three greens powders are nut-free.
Taste Comparison
We understand that if a supergreens powder doesn't appeal to your taste buds, it's highly unlikely that you will continue to use this product over time. Therefore, it's important for you to select a product that you enjoy consuming on a daily basis. 
Overall Taste Satisfaction
Because AG1 contains added sweeteners, the Athletic Greens taste is slightly sweet but still relatively earthy and bitter. Some customers have reported an unpleasant aftertaste as well. Even though Ensō Supergreens is 100% sugar and sweetener free, this blend is naturally fresh, minty, and sweet.
Amazing Grass is offered in various flavors, including original, berry, and chocolate. That said, all of the flavors have received mixed reviews. Even the berry and chocolate flavors fail to mask an overpoweringly grassy taste. 
Texture
Many customers have reported that both Amazing Grass and AG1 have gritty textures. Ensō Supergreens has a smooth texture, but it is relatively thin. If it tastes too diluted when mixed with water, try mixing it with milk or a smoothie. 
Mixing with Liquid
Both AG1 and Ensō Supergreens mix relatively well with liquid, whereas customers have reported that Amazing Grass does not easily dissolve in liquid. 
Chalky Taste
Customers have had no issues with chalkiness in either Ensō Supergreens or Amazing Grass; however, some customers have reported that AG1 does have a relatively chalky taste to it. 
Cost Comparison
When it comes to budgeting for a supplement you intend to take for a long time, there's more to consider than the mere first-time price tag. Below we've considered the average price breakdown, subscription savings, perks, and refunds you can expect when buying any of these three products.
Price Breakdown
A one-time purchase of Amazing Grass's Greens Blend costs $39.99 for 30 servings ($1.33 per serving). Customers can also purchase packages in bulk. Free shipping is not included.
Athletic Greens customers can purchase either a 30-serving pouch or opt to purchase 30 individual travel packs. The pouch starts at a hefty $99 ($3.30 per serving), and the travel packs start at $109 ($3.63 per serving). Free shipping is not included.
Customers can purchase a 30-serving pack of Ensō Supergreens for $59.99 ($1.99 per serving). Ensō Superfoods does have free shipping. 
Subscriptions and Perks
By subscribing to Amazing Grass, you receive 20% off on your greens, whereas you receive 33% off on your greens when you subscribe to Ensō Supergreens. You can cancel your Ensō Supergreens subscription at any time, but with Amazing Grass, you must cancel your subscription 72 hours before your next scheduled delivery. 
Customers get a 20% discount when they subscribe to Athletic Greens, which they can cancel at any time. Athletic Greens also gives all subscribers a free starter kit, including a canister, shaker, and five travel packs. You will receive additional benefits if you sign up for a double subscription of 60 servings per month. 
Refund Policies
Both Amazing Grass and Ensō Supergreens offer a 30-day money-back guarantee. Athletic Greens offers a 90-day money-back guarantee. 
Why Choose Ensō Supergreens
Amazing Grass, Athletic Greens, and Ensō Supergreens are three of the top greens supplements on the market for a reason. Each nutrient-dense formula offers various health benefits while prioritizing customer satisfaction. That said, our top pick is undeniably Ensō Supergreens. 
AG1 is a 75-ingredient powerhouse, but it can be overpowering for non-athletes who don't want to increase their nutritional intake drastically. Meanwhile, Amazing Grass' simpler formula offers decent health benefits but doesn't deliver a relatively strong dose of vitamins or other nutrients, especially for the price. With its 20-ingredient formula, Ensō Supergreens falls perfectly in the middle. This blend includes potent organic superfoods, such as spirulina, chlorella, kale, barley grass, wheatgrass, broccoli, and probiotics and digestive enzymes that help enhance digestion, immunity, and energy levels. 
While all of these brands prioritize customer experience, none do so more than Ensō Supergreens. Ensō Superfoods offers the greatest subscription discount at 33% and is the only brand that offers free shipping for its products. Customers can also rest assured knowing they have a full satisfaction guarantee. 
Lastly, Ensō Supergreens sets itself apart from the crowd with its unique and delightful taste. Although taste might not be the biggest concern for most individuals when choosing a supergreens powder, it can significantly impact whether you use this product long-term and actually gain the essential nutrients you need consistently. Ensō Supergreens is sweet and fresh and does not have the bitter and grassy taste that you get with most green powders, including AG1 and Amazing Grass. 
Final Thoughts
Purchasing any greens powder to supercharge your nutrition is an investment, so you want to ensure you get as much out of your product as possible. While the jury may still be out on Athletic Greens vs. Amazing Grass, Ensō Supergreens checked all of our boxes. Not only does this 20-ingredient formula offer a wealth of benefits at a reasonable price, but it also lacks added sugar and sweeteners with a taste that will keep you coming back daily.
The V Nutrition Editorial Team, consisting of experts in vegan nutrition and health, focuses on providing accurate and helpful information. With backgrounds in nutrition science and a shared commitment to plant-based living, we ensure that every piece of content not only educates but also empowers our readers to make informed lifestyle choices.