This tasty chocolate buckwheat granola is low in sugar and a great topping for yogurt and smoothie bowls!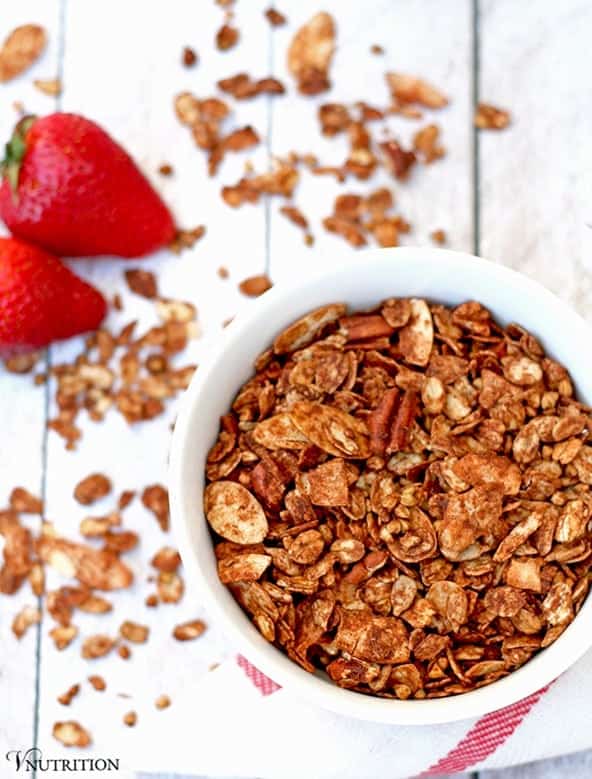 My chocolate buckwheat granola came about because I wanted something tasty, yet healthy, to add to my breakfast routine. Although I love it, granola can be a bit tricky health-wise.
Some people think they are eating extra healthy when having a breakfast of yogurt topped with granola but what they don't realize is how much added sugar they're ingesting in that meal.
Besides the sugars added to yogurt, commercial granola brands can contain well over the recommended serving of added sugar per day.
So what's a girl (or guy) to do? -> Make your own granola!
Jump to: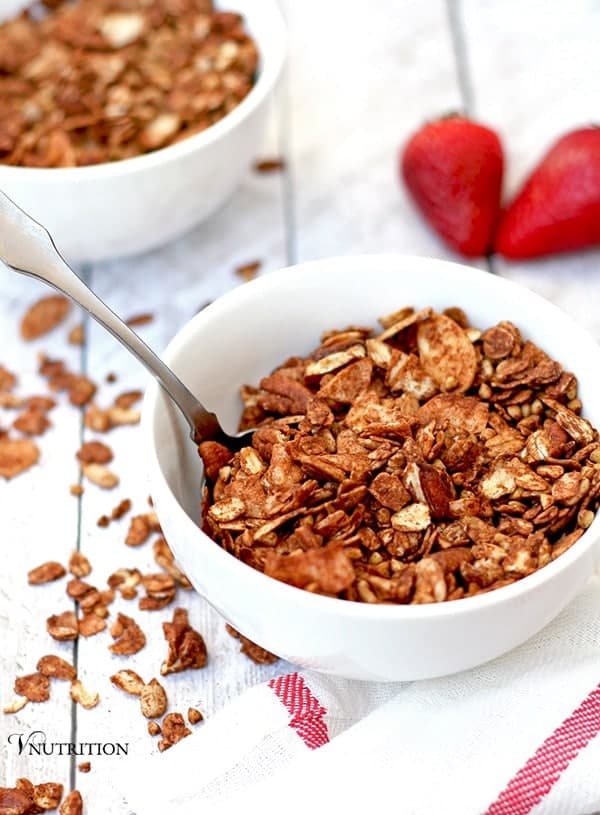 A Healthy Granola
I added the buckwheat to my granola to give me some protein, carbs, and dietary fiber. The nuts and seeds you add with also add protein while the rolled oats add fiber, carbs, and protein as well as iron.
The good thing about making your own granola is you know exactly how much sugar you're eating. My chocolate buckwheat granola recipe makes about 5 cups and only uses ¼ cup of maple syrup.
Even if you have ½ a cup at a time that's 10 divided by ¼ a cup which equals...well I tried doing the math but it started getting too small so I stopped but basically, it's not a lot of extra sugar.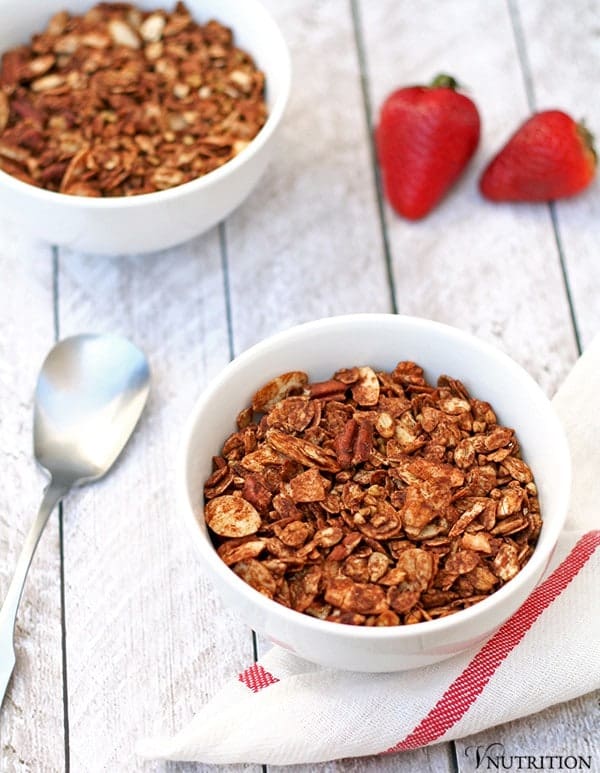 Gluten-Free Granola!
Those of you that are gluten-free can enjoy this granola as well. Despite its name, buckwheat is not actually a wheat - it's more of a pseudo-grain.
To ensure this granola is gluten-free, just make sure you're using gluten-free oats (not that oats themselves contain gluten, but many facilities cannot guarantee theirs will not be contaminated with gluten unless they specifically say so on the package).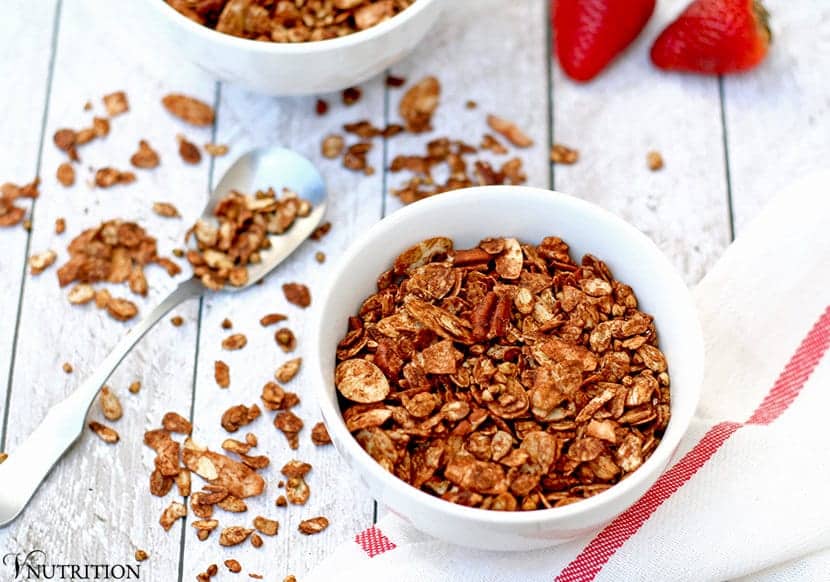 I have granola a few times a week on top of my smoothie bowls (as you may have seen on my Instagram account) or if I treat myself to some yogurt. It's also tasty as a snack on its own.
📖 Recipe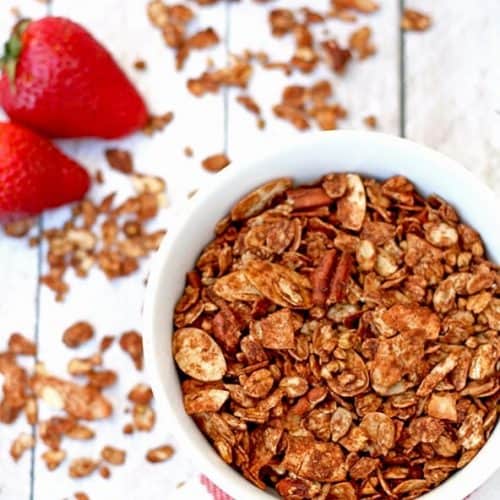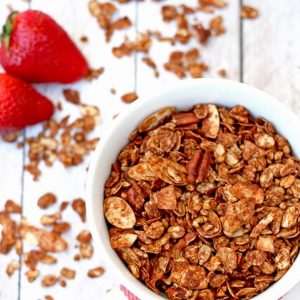 Chocolate Buckwheat Granola (gluten-free)
Email Recipe & Ingredients
Instructions
Preheat oven to 350 degrees

Combine oats, buckwheat, nuts, seeds and coconut flakes in a large bowl. Roughly chop nuts and add them to the mix.

Coconut oil will be hard at room temp unless its over 75 degrees. If it's not melted, heat it a small saucepan over low heat until melted and turn off heat. Add maple syrup, vanilla, salt, cinnamon, and cocoa powder. Whisk until smooth.

Pour liquid ingredients into dry ingredients and coat.

Spread mixture onto a baking sheet and bake for 15 minutes. Take it out of the oven and flip the granola a bit so it all gets toasted. Put it back in oven to bake for another 10 minutes - be sure to check it and flip it once more at the 5 min mark.
PLEASE NOTE: Nutritional information data is computer generated and only an estimate so it should be used only as a guide.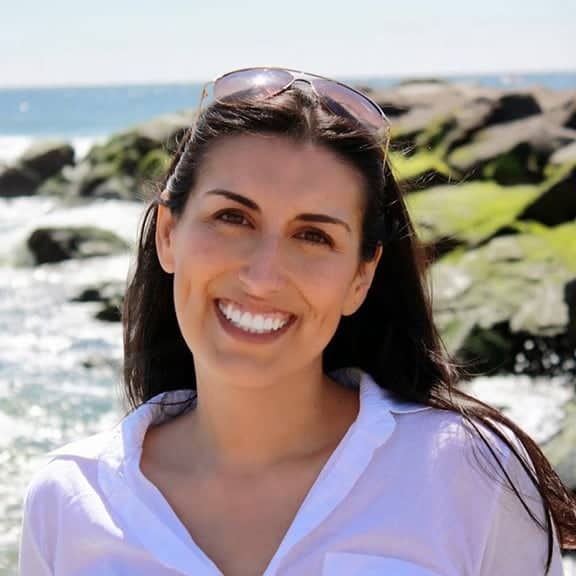 Mary Ellen Valverde MS, CNS, LDN is a Licensed Nutritionist and Certified Nutrition Specialist who empowers vegans to feel clear and confident about what is uniquely nourishing to them. Mary Ellen's recipes and nutrition information have been featured on Yahoo News, Parade, VegNews, LIVESTRONG, Dr. Axe, Greatist, LIVEKINDLY, Brit+Co, Well+Good, and more.