These Christmas Pinwheels are a festive appetizer for any meal or party. Pesto and sun-dried tomatoes are featured as the red and green ingredients to really bring out holidays!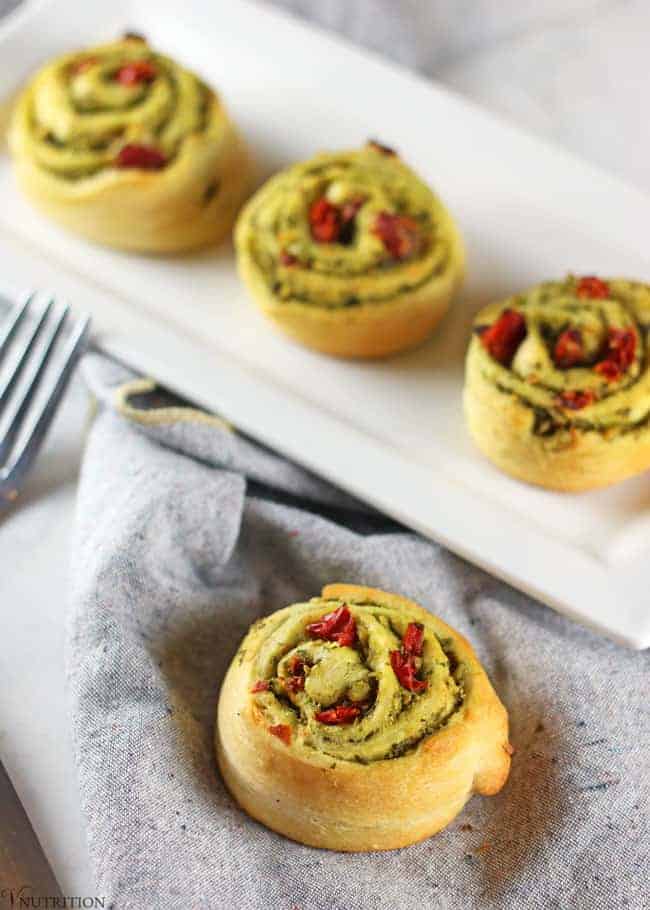 Christmas is my jam. The day after Thanksgiving, Matt and I start our decorating. The whole house gets decked out in green and red.
Hopefully, you're like me and are really into a good holiday-themed snack. I have shared a few of my Christmas treats before like my Snickerdoodle Cookie Dip and Gingerbread Hot Chocolate but I wanted something people could pick up and savor as they are walking around a party or while tree decorating.
I think I have the perfect snack for you enjoy this holiday season – my Christmas Pinwheels.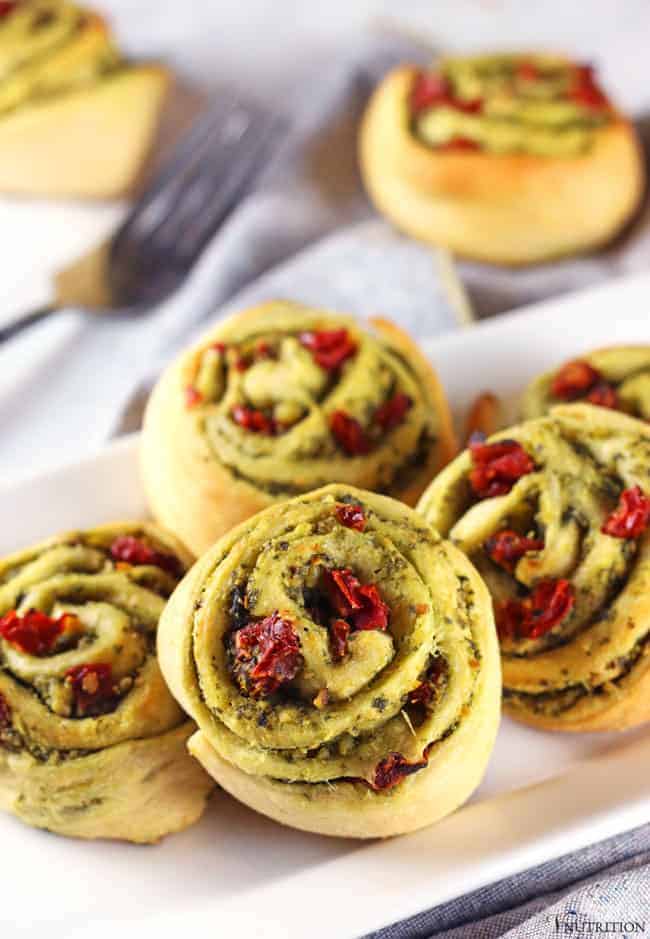 A Festive Holiday Appetizer
This time of year everyone is looking for festive ways to celebrate the season. Red and green are always a hit so I knew those colors would be entwined in the recipe somehow.
Biscuits make a great appetizer but I wanted something more playful so as a fun twist on biscuits, I decided to make biscuit pinwheels and that's when the idea of Christmas Pinwheels came to me.
Some ideas I was thinking of to be added to the pinwheels were:
spinach
broccoli
kale
red and/or green peppers
tomatoes
cranberries
While they all sounded good, I ultimately went with what I had in my fridge at the time of recipe testing – leftover pesto and some sun-dried tomatoes. I knew they'd work well together because I make sun-dried tomato pesto often and it is de-licious.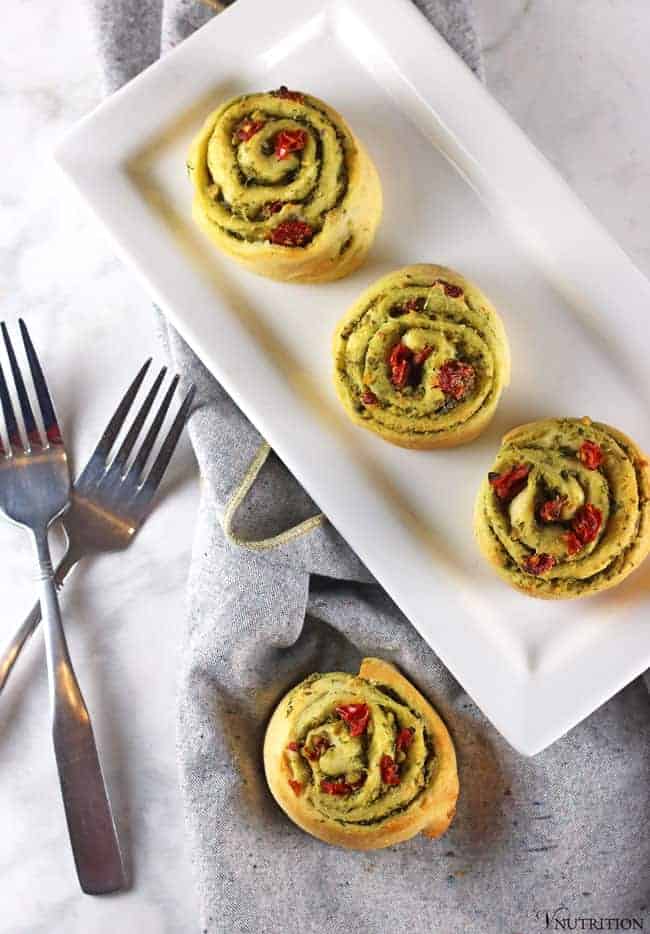 Easy to Make Christmas Snack
Once I had my filling decided on, I went about figuring out how to actually make pinwheels. I used the Pillsbury Crescent Dough Sheet (excited it was actually vegan) and rolled it out being careful to not pull it apart and pinching together any of the perforations to make sure it was one long sheet of dough before really starting on the pinwheels.
Pinwheels are fun to make for kids of all ages. I know I had a good time slathering on the pesto, adding the tomatoes and rolling them up. I think this would be a great recipe for the whole family.
To make these even more festive, you could stack the baked pinwheels into a Chrismas tree form when serving them. I wanted to do that for these pictures but Matt and I were too busy eating these babies right out of the oven.
I realized too late that I wouldn't have enough to stack them – poor planning on my part but it does say something about how tasty the pinwheels are.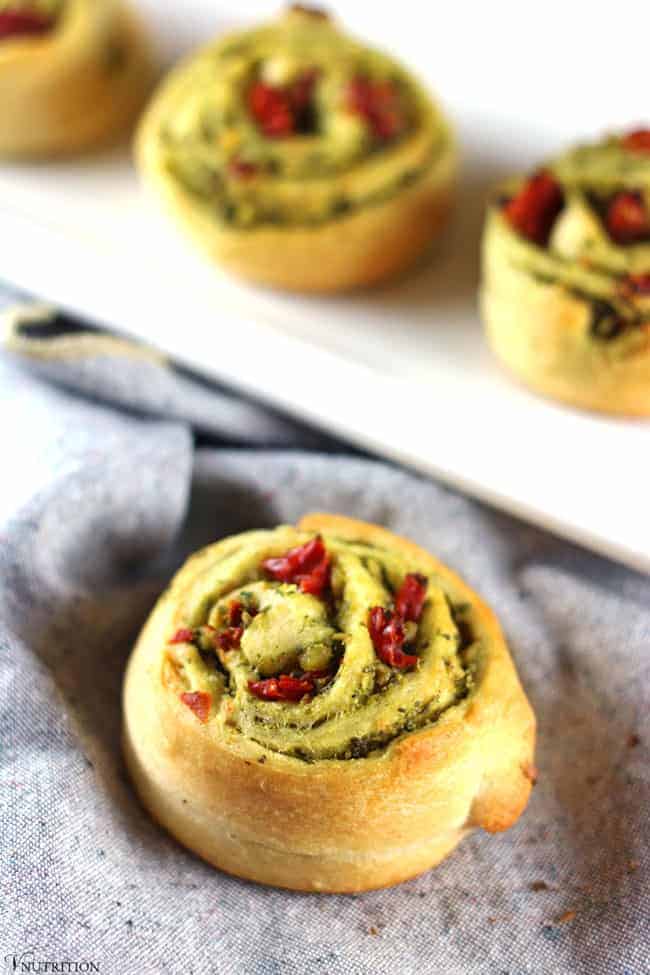 Christmas Pinwheels
For the Christmas Pinwheels, I use my Pistachio Pesto which I think adds a little more holiday sparkle with the extra green in the pistachios. I also use the fresh sun-dried tomatoes. I noticed cutting up sun-dried tomatoes can be a bit challenging (is it just me?) so as a shortcut, I actually cut them with scissors. I was amazed how well that worked.
Another shortcut I used was pre-making the pesto. I made a big batch for recipe testing after my first pinwheel trial with puff pastry did not go as well as I planned. The pesto still tasted just as good in the pinwheels on the following day of testing.
I think the pesto and sun-dried tomato combo really give these pinwheels a kick of flavor. Your guests will be impressed by how fancy they look but you'll know how easy it was to make.
I hope you enjoy my Christmas Pinwheels! Have a wonderful holiday season!
Christmas Pinwheels feature green pesto and red sun-dried tomatoes to make them extra festive!
Click To Tweet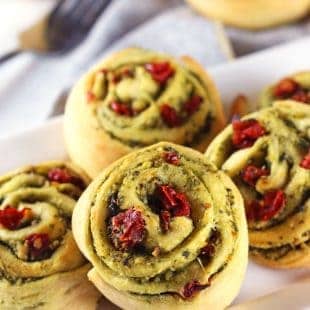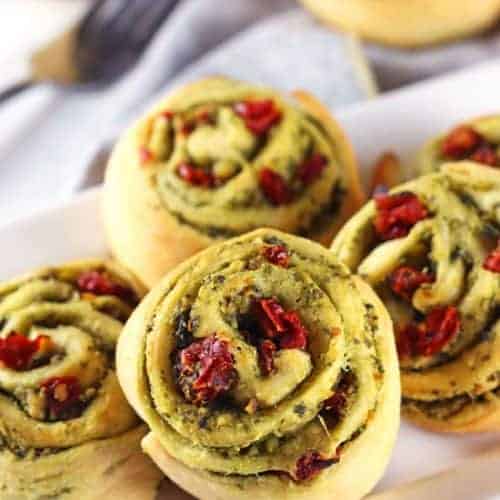 Christmas Pinwheels
These Christmas Pinwheels are a festive appetizer for any meal or party. Pesto and sun-dried tomatoes are featured as the red and green ingredients to really bring out holidays!
Ingredients
1

package (8 oz)

Pillsbury Original Crescent Roll Sheet

1

batch

Vegan Pistachio Pesto

(or 1 cup of any pesto)

8

sun-dried tomatoes

(chopped/cut)
Instructions
Sprinkle some flour on your working surface and roll out the Pillsbury Crescent Dough Sheet, being careful to not pull it apart. Pinch together any of the perforations, making sure it is one continuous sheet of dough.


Spread the pesto over the whole sheet and sprinkle sun-dried tomatoes.

Take the shorter side and roll up the sheet of dough being sure that the end is pinched together so nothing falls out.

Cut off the sad looking ends that might not be exactly perfect, then cut the roll into 8 pieces.

Bake at 375 degrees for 12-16 minutes or until the edges get a golden brown.

Enjoy with your festivities!
Nutrition Facts
Christmas Pinwheels
Amount Per Serving
Calories 234
Calories from Fat 153
% Daily Value*
Total Fat 17g 26%
Total Carbohydrates 16g 5%
Protein 5g 10%
* Percent Daily Values are based on a 2000 calorie diet.
Share your pictures of any of my recipes on Instagram and use #vnutrition or tag @v.nutrition so I won't miss it! Post your photos on the VNutrition Facebook Page as well!
You may also like…
Mary Ellen Valverde MS CNS LDN received her Master's degree in Human Nutrition from the University of Bridgeport. As a Certified Nutrition Specialist, Mary Ellen helps her clients regain their health through a plant-based diet.