Game day is not only for sports, it's also for eating! This delicious Vegan Game Day Food is perfect for vegans looking to enjoy tasty snacks to rival any omnivore fare!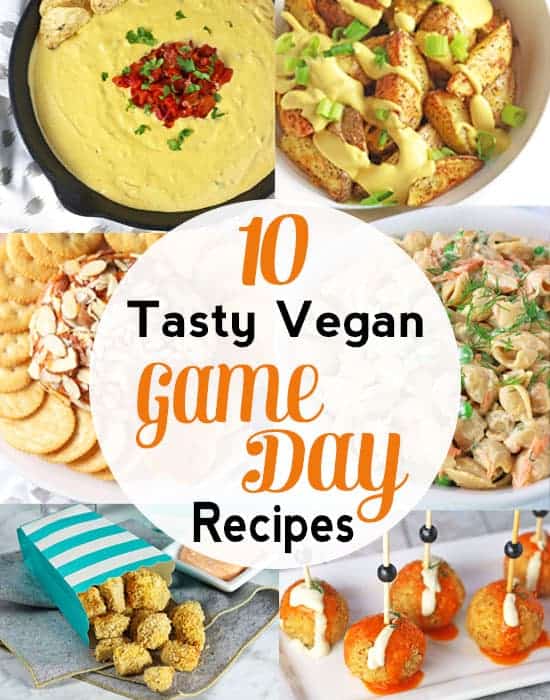 Are you as obsessed with sports as I am? Or are you only in it for the tasty food? Either way, I know you're doing to love to partake in all of this amazing vegan game day food.
Whether it's football, basketball, soccer or almost any other sport, who doesn't love a good game and a tasty spread of food?
Whether you're watching your home, bringing food to a "big game" party, or tailgating at your home team's sport's event, these recipes will empress everyone - not just vegans.
Jump to:
The Tastiest Vegan Recipes for Sports Fans
Just because vegans don't eat "traditional" game-time foods, doesn't mean we can't have some snacks that are just as tasty. Heck, this food is even better because it's tasty as well as delicious and animal-friendly.
From hot sauce to cheesy dips - I've got you covered!
Vegan Game Day Appetizers
When people think of what to eat when watching sports, they think of cheesy, crispy, and spicy appetizer recipes. Dishes like nachos, buffalo wings, and chicken tenders.
Well, vegans want that type of food too - only the plant-based kind. These recipes are full of flavor and can rival any omnivore snacks.
Quinoa Buffalo Balls
If you're as obsessed with buffalo-flavored anything as I am, these Buffalo Quinoa Balls with ranch dipping sauce are for you. Instead of having wings, this appetizer gives you that spicy kick without any meat. You might want to make a double batch because this tasty appetizer goes quickly at any party I bring them to!
Check out this recipe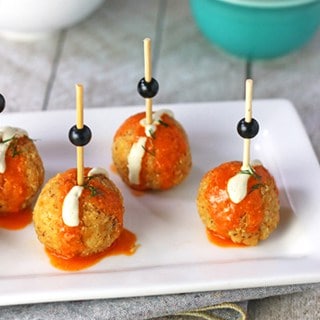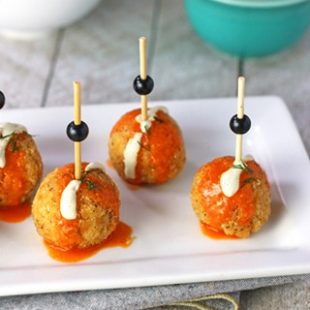 Creamy Vegan Queso
This Vegan Queso is so delicious that people won't even know it's made with cashews instead of cheese. Serve this as a dip with pretzels bites or chips. No matter how you use it, this cheese is soooo good, it will go fast!
Check out this recipe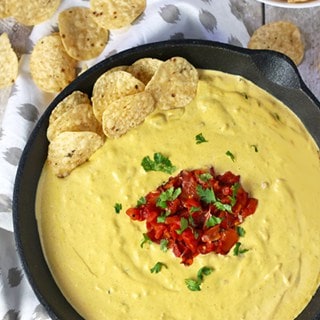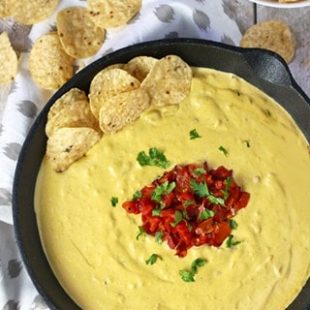 Popcorn Tofu
Who needs popcorn chicken when you can have something that tastes just as good without the meat? This crispy Popcorn Tofu is delicious and both adult and kid-approved. I love serving these nuggets with lots of dipping sauces - BBQ, ranch, vegan "honey" mustard, or my favorite sriracha mayo. Or toss them in some buffalo sauce for some chick'n buffalo bites - aw yeah!
Check out this recipe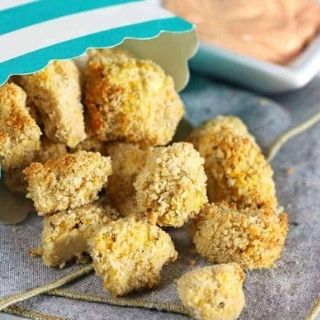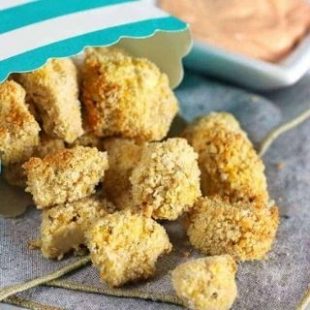 The BEST Vegan Nacho Sauce
This cheesy sauce (with a kick of spice) is a different than my Vegan Queso (above) because it's thinner and can be poured on nachos, tacos, or anything you would like to make a little cheesier!
Check out this recipe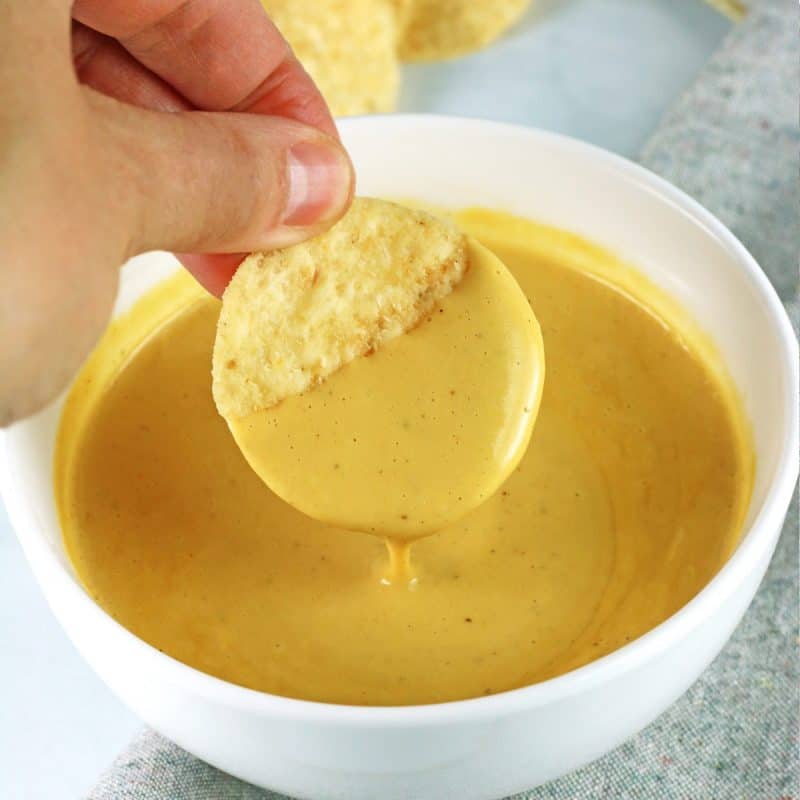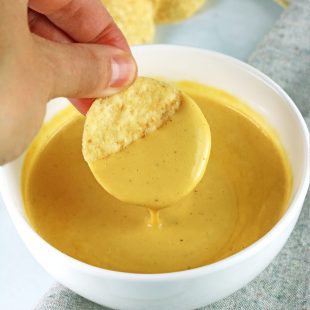 Vegan Cheesy Potatoes
Two things that people love to eat when watching sports are cheese and potatoes so these Cheesy Potatoes are always requested on game day. The potato wedges can be baked or air fried for extra crispiness then they're topped with a tasty cheese sauce. I've also used my Vegan Nacho Cheese (above) on these and made nacho-style potato wedges - yum!
Check out this recipe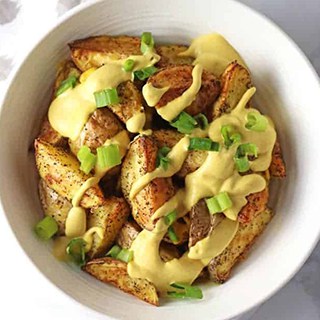 Vegan Port Wine Cheese Ball
This Vegan Port Wine Cheese Ball was such a hit at holiday parties, that I now bring it out for game day feasts too. It's another one of my cheese recipes that no one knows is vegan until you tell them. This cheeseball is seriously good I'd think about making 2 so that you have some for yourself after your guests eat the first one!
Check out this recipe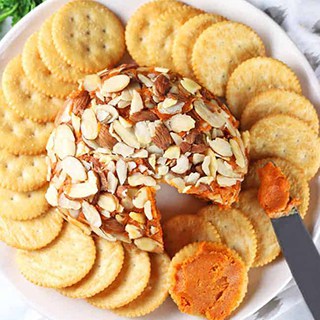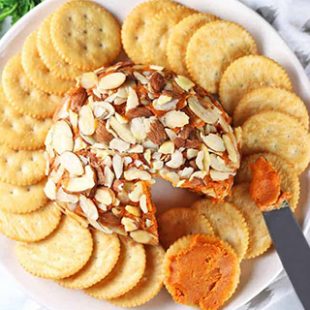 Vegan Game Day Entrees
Sometimes you need a bit more than just appetizers for your game day feast. These entrees will keep you satisfied all day!
Buffalo Cauliflower Mac & Cheese
How could I have a list of vegan game day food without a few buffalo recipes? This Buffalo Cauliflower Mac and Cheese is creamy, delicious, and healthier than your average mac & cheese because it includes cauliflower and spinach. And don't worry about picky eaters, they won't mind eating veggies with that tasty sauce all over them.
Check out this recipe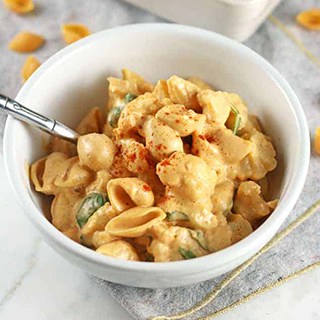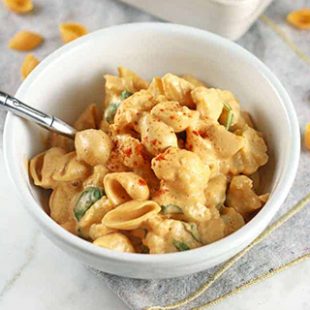 Walnut Meat Tacos
These Walnut Meat Tacos are one of the most popular recipes on my site - for good reason. Omnivores and vegans alike go back for 3rd helpings. These tacos would be a perfect vegan game day meal if you're looking for something "meaty" without the meat.
Check out this recipe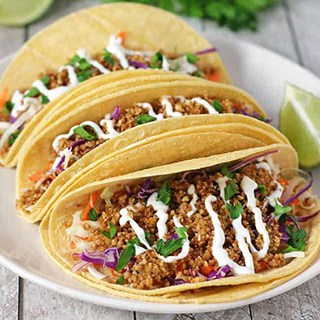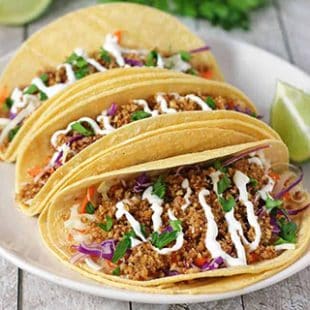 Jackfruit Chili
Chili is a staple at a lot of football games so I thought I'd add my Jackfruit Chili to the list. It's a savory meal that is really easy to make - just throw all the ingredients into a crockpot in the morning and you'll be good to go by game time!
Check out this recipe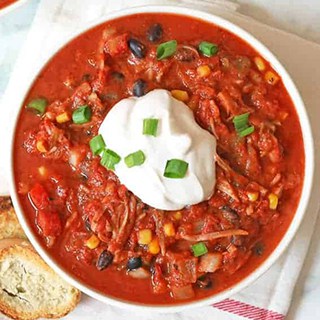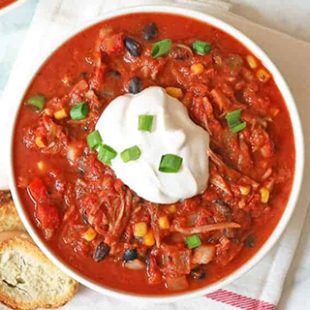 Vegan Ranch Pasta Salad
I usually make a pasta salad during the summer for all my gatherings but it's a great idea as a game day meal as well. My creamy Vegan Ranch Pasta Salad is yummy, easy to make, and a perfect side dish for any sporting event.
Check out this recipe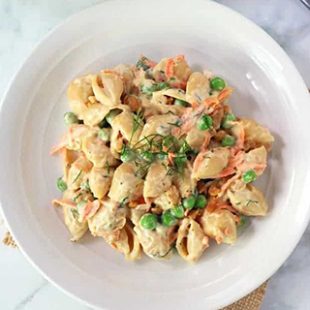 Vegan Pizza
Vegan pizza + sports is a no-brainer. My vegan mozzarella cheese melts just like regular cheese and can be made in advance of your big game. Use it on a make your own pizza. Or for easy grab-and-go snacks, put it on some English muffins or matza squares for mini personal pizzas!
Check out this recipe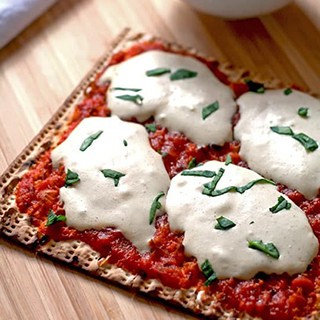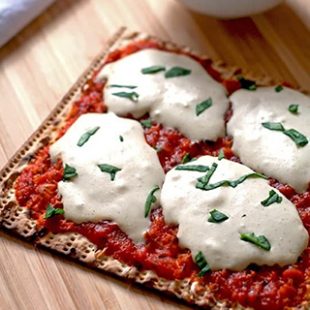 So tell me, what are your favorite vegan game day snacks?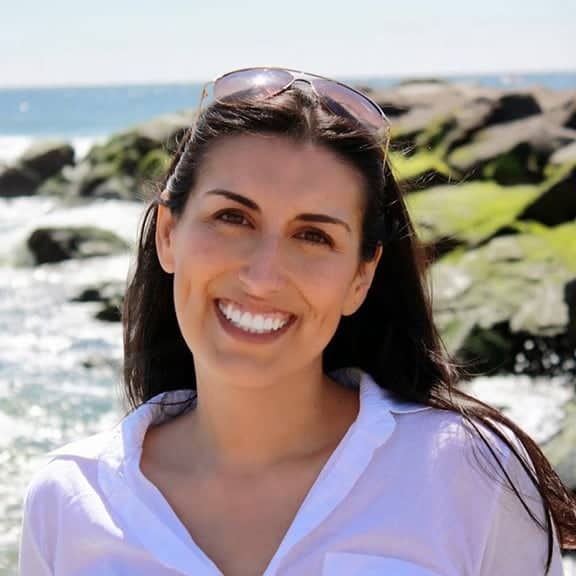 Mary Ellen Valverde MS, CNS, LDN is a Licensed Nutritionist and Certified Nutrition Specialist who empowers vegans to feel clear and confident about what is uniquely nourishing to them. Mary Ellen's recipes and nutrition information have been featured on Yahoo News, Parade, VegNews, LIVESTRONG, Dr. Axe, Greatist, LIVEKINDLY, Brit+Co, Well+Good, and more.