This Taco Bell Copycat Recipe for Vegan Nacho Cheese Sauce is pretty much the BEST ever! Creamy and cheesy with a kick of spice, it adds so much flavor to nachos, tacos, and more. It's ready in 20 minutes, easy to make ahead of time, and freezer-friendly.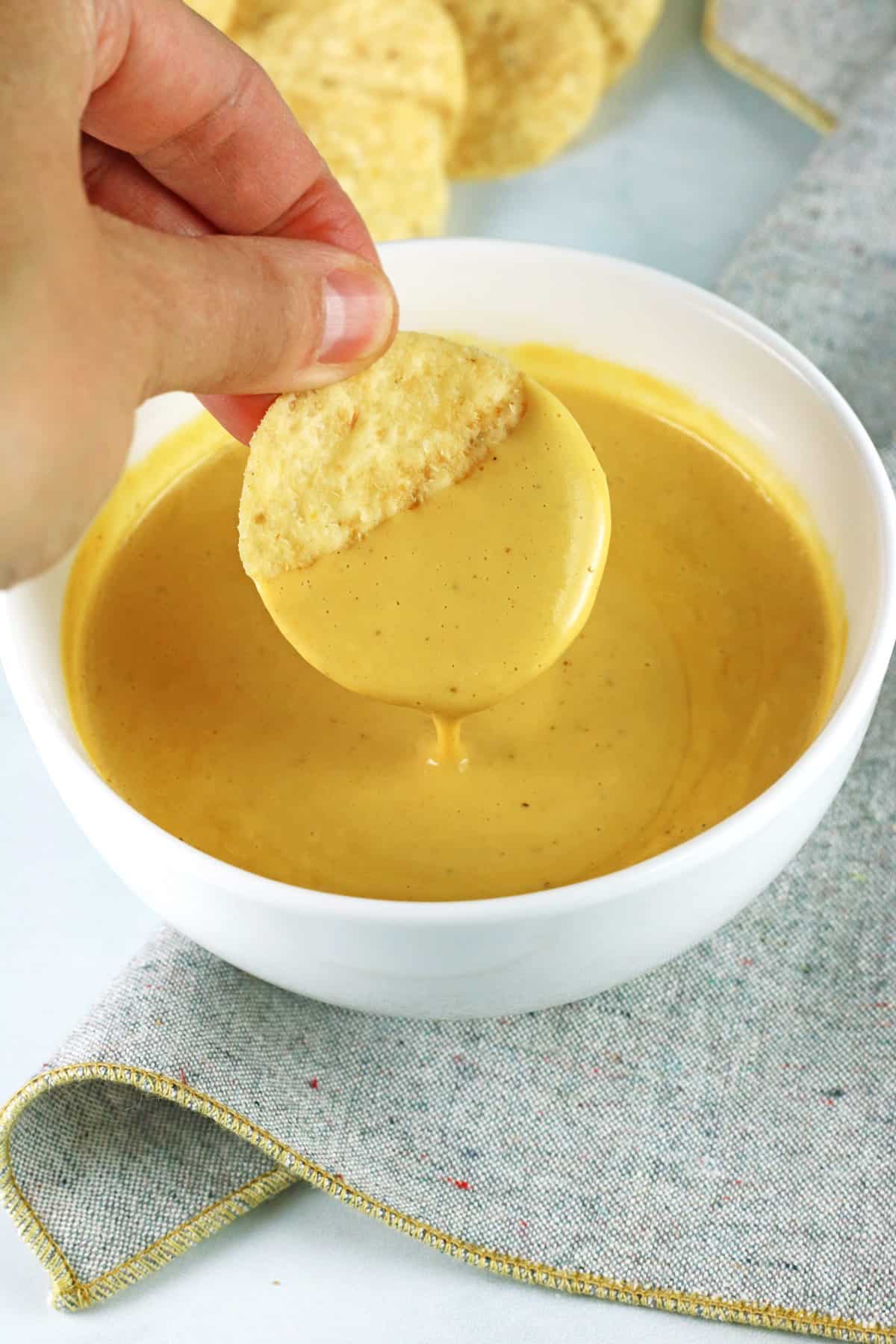 Jump to:
Why You'll Love This Recipe
Whether you drizzle it on top of nachos, mac and cheese, or tacos, this Copcat Taco Bell Nacho Cheese Sauce is sure to take your vegan Mexican meals up a notch. This recipe is:
A Believable Dupe For Taco Bell's Nacho Cheese. Before my plant-based days, Taco Bell and I were quite close. Those Nachos Bell Grande were my JAM! With this fast and simple vegan copycat recipe, I can recreate all my old snack-attack favorites with zero guilt.
Quick & Easy. All you need is a blender and about 20 minutes to make this ridiculously cheesy vegan sauce.
Super Versatile. It's seriously so rich and creamy, you'll want to pour this stuff over everything. Read on below for lots of ideas!
What does vegan nacho cheese taste like?
This recipe is a play on my Vegan Cashew Cheese Sauce and Vegan Queso Dip, but with a distinctly Taco Bell-ish flair. This version is velvety smooth and rich and it kicks it up a notch by infusing some spice!
It's a sauce you can pour over nachos, vegan hamburger helper, or eat with tortilla chips for an at-home version of Nachos Bell Grande. It's also a touch less rich than traditional cheese sauce made from dairy, meaning you can eat a big portion without it feeling too heavy in your stomach.
Ingredients & Substitutions
You don't need much to make this surprisingly convincing Taco Bell copycat recipe for vegan nacho cheese. Here's your grocery list: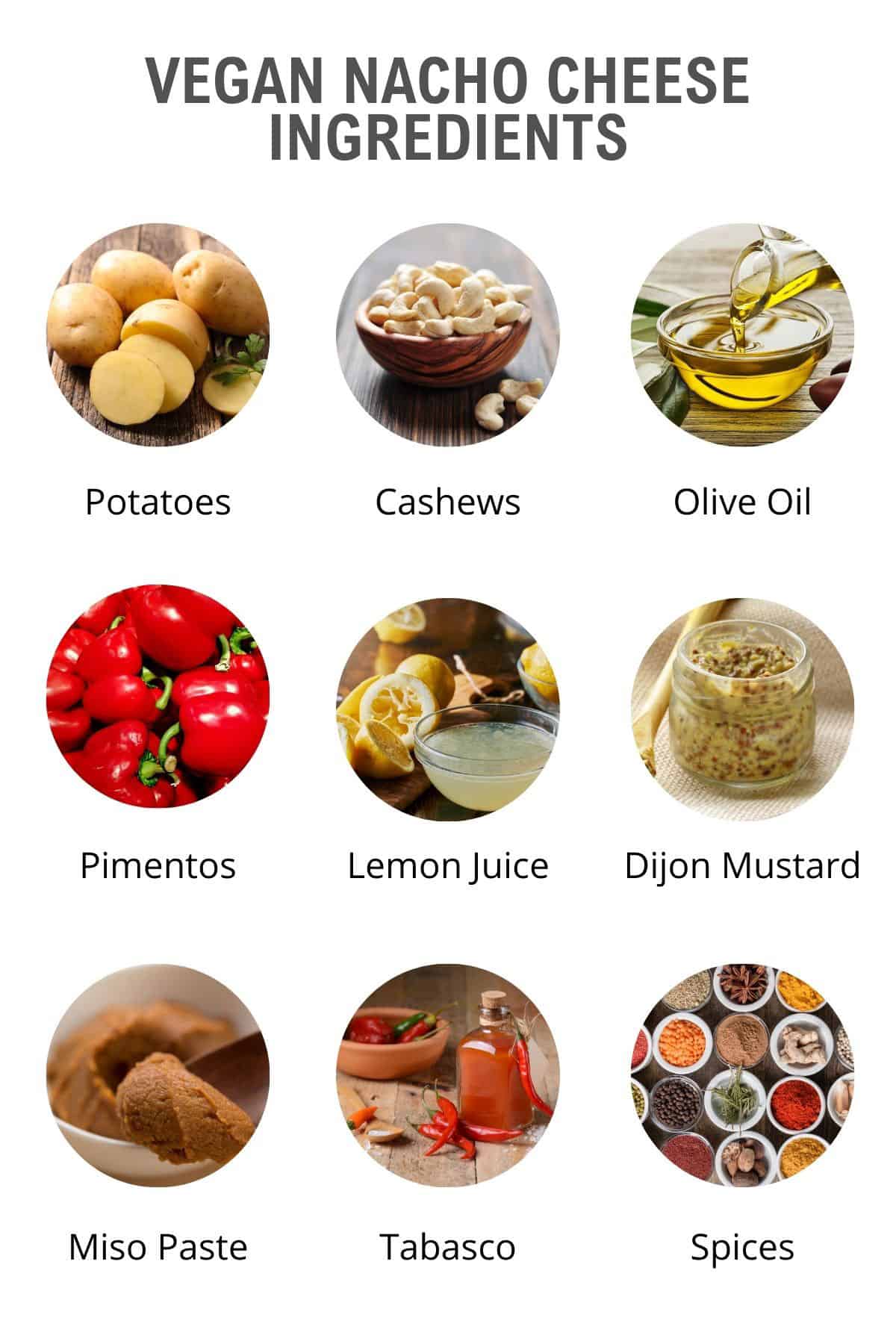 This sauce has a white potato and cashew base. With a few extra ingredients, it transforms into a creamy, cheesy, spicy sauce that seriously tastes just like Taco Bell! These are the ingredients you need:
Potatoes - Blending cooked potatoes into a cashew cheese sauce will make it even smoother and more hearty. I like using peeled Russet potatoes but Yukon Golds or any other white potato will work.
Cashews - When blended on their own, soaked cashews turn into a creamy sauce. Adding some spices into the mix only makes it better!
Pimentos - Any red pepper should do if you don't have pimentos. The blended peppers give the sauce an orange color while helping it taste slightly sweet.
Extra virgin olive oil - A few tablespoons of oil will help all of the ingredients blend easily.
Lemon juice - The citrus will help round out the flavors and give the sauce balance. If possible, opt for fresh lemon over bottled juice.
Dijon mustard - For a bit of tang and color. Feel free to swap in
Miso paste - To infuse a little saltiness and an umami flavor. If you don't have miso, either leave it out or replace it with soy sauce or tamari.
Tabasco - For spice! Feel free to use any hot sauce you have at home.
Spices - Blending the cheese sauce with nutritional yeast, garlic, onion, and chili powder will make it extra cheesy and give it an authentic Taco Bell flavor.

Equipment Note
I highly recommend using a high-powered blender, like a Vitamix, to help make this cheese sauce as smooth as possible. If you only have a food processor or a regular blender, just blend the mixture longer.
How To Make
Step 1: Chop the potatoes. Cut into small bite-sized pieces.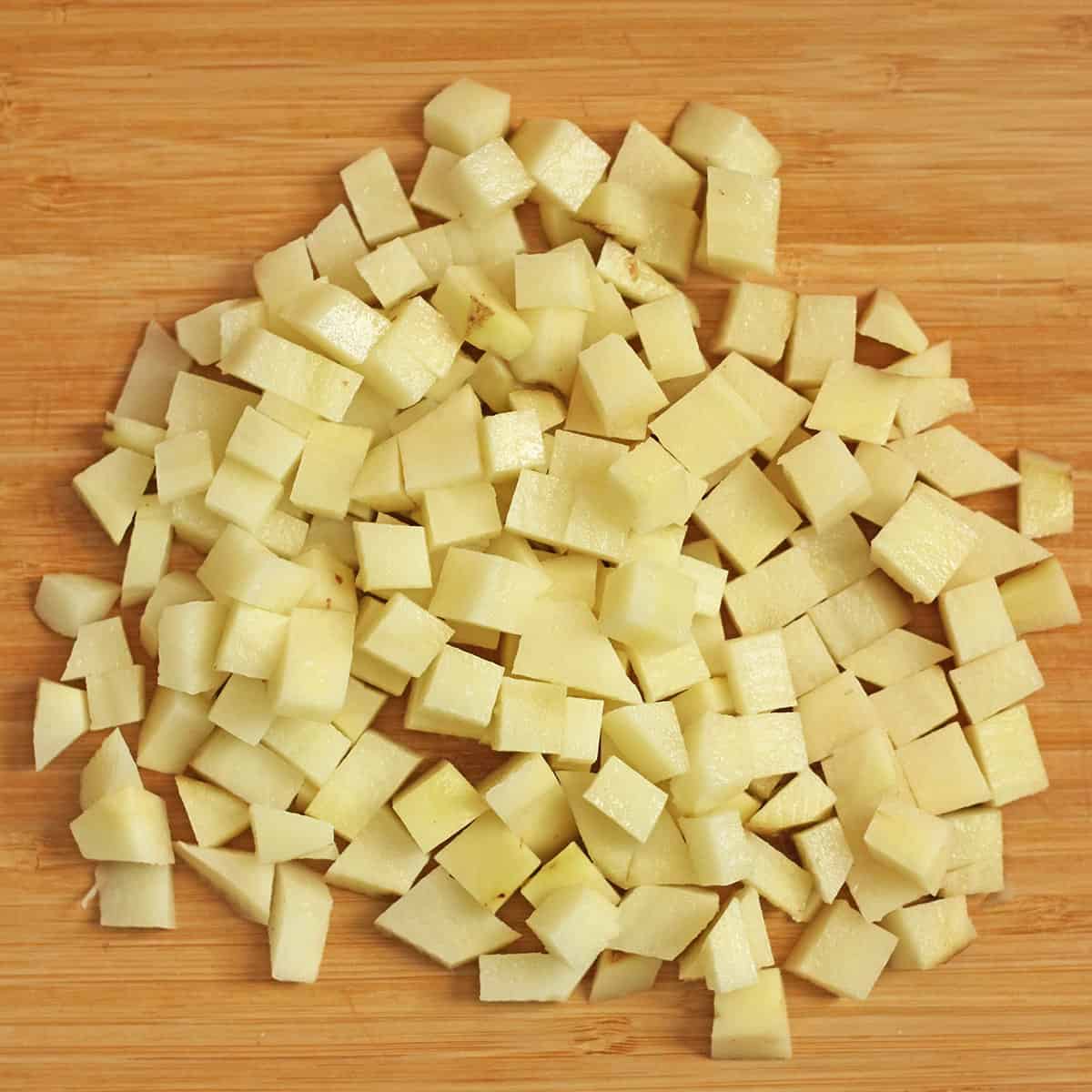 Step 2: Soften the potatoes and cashews. Boil the potatoes and cashews in a pot of water until the potatoes are fork-tender.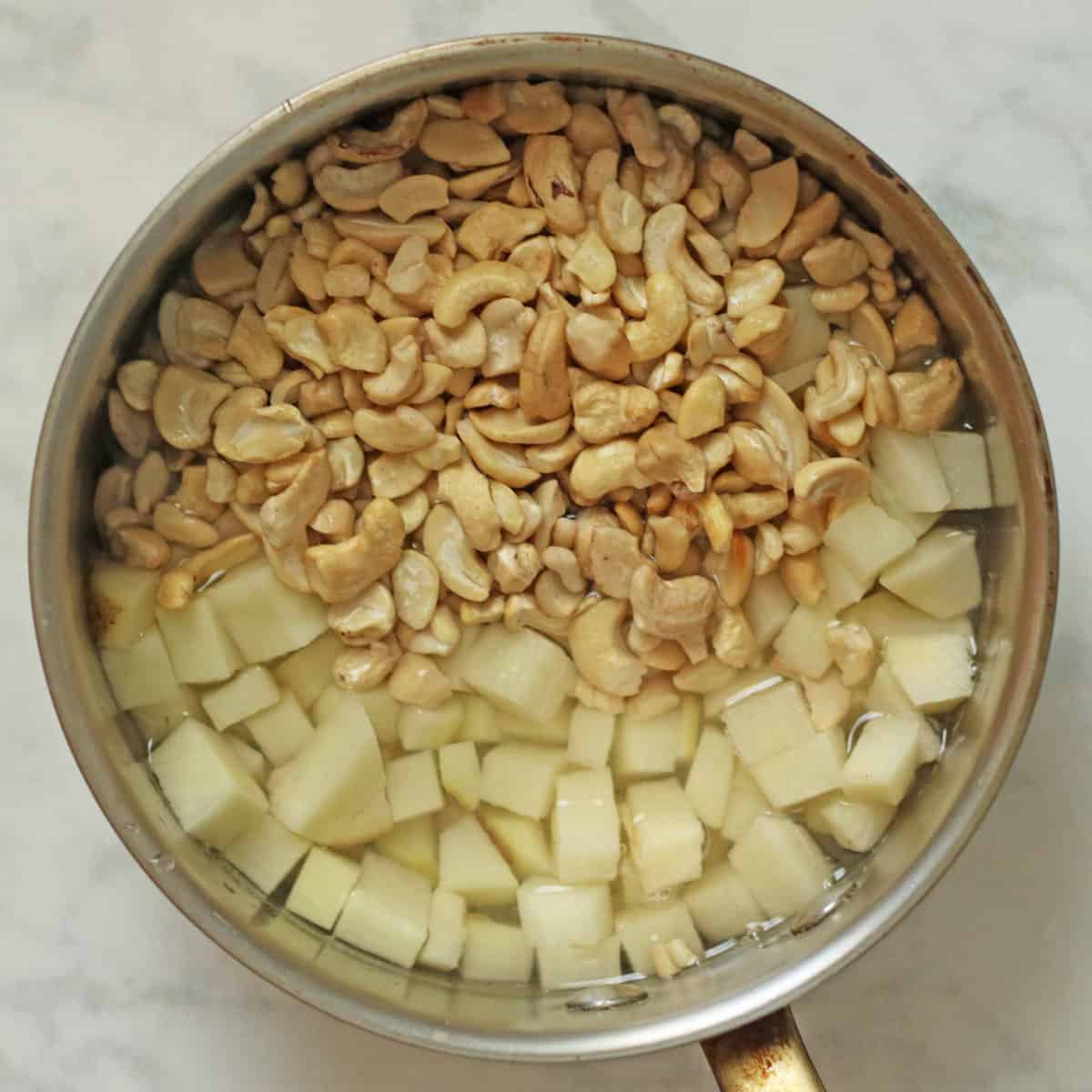 Step 3: Blend it all up. Add the potatoes, cashews, and the rest of the ingredients to a blender and blend until smooth. Feel free to add more water if it's too thick.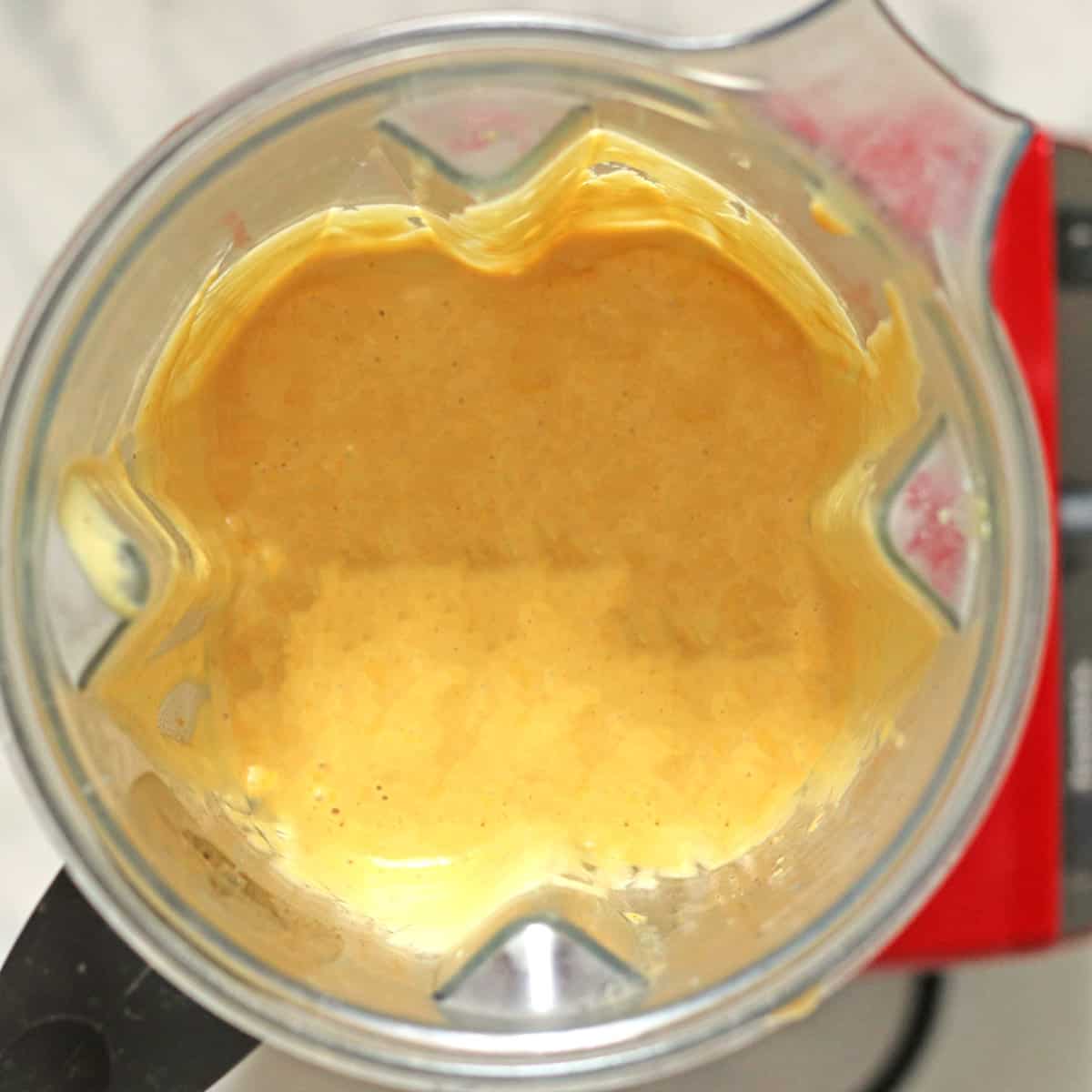 Step 4: Enjoy! Your vegan nacho cheese sauce is ready for eating. How easy was that?!?
Optional Variations
As far as I'm concerned, this vegan Taco Bell nacho cheese is perfect just the way it is. That said, I'm all about giving you all the options to customize every recipe to your preferences! Here are a few ideas to get your wheels turning:
Nut-Free. If you'd rather make vegan nacho cheese sauce with no nuts, replace the cashews with 1 cup of peeled and chopped carrots.
Oil-Free. To make an oil-free vegan cheese sauce, omit the oil entirely and add a little extra water to thin it out.
Extra Spicy. Add a few tablespoons of pickled jalapeños to bring the tangy heat. YUM!
Serving Suggestions
One of the best and most simple ways to enjoy vegan nacho cheese dip is with tortilla chips! Garnish a bowl with pickled jalapenos, cilantro, or salsa on top for an impressive presentation on game day or at parties.
If you don't have chips for dipping, serve the sauce on the side of quesadillas, burritos, taco wraps, or french fries.
Drizzle the cheese sauce on almost anything to add loads of flavor. It's delicious on vegan nachos with tofu crumbles, tacos, street fair corn, chili fries, and potato wedges. A batch mixed into buffalo mac and cheese or vegan hamburger helper will also add a welcome hit of spice.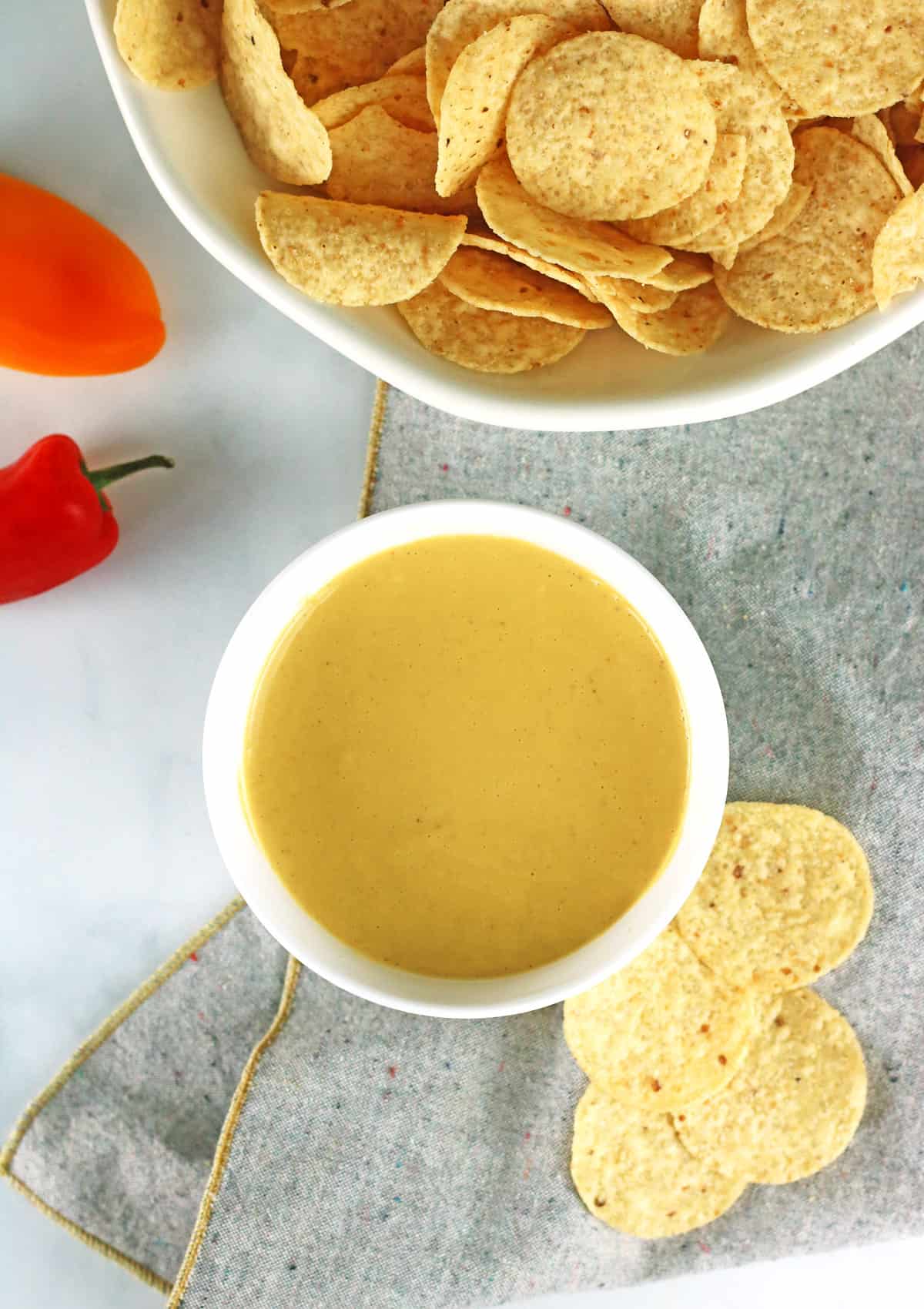 Expert Tips
This recipe is pretty easy to follow, but I do have a few extra tips up my sleeve:
Make sure you get raw, unsalted cashews. If they've already been roasted, they won't turn into the creamy, dreamy sauce we need.
Keep your nutritional yeast in the fridge. If you store it in a cool, dark place like your refrigerator, nooch can last for up to 2 years!
Serve warm for the best flavor. While you're welcome to eat this nacho cheese at room temp, I find it hits its peak flavor potential when it's nice and steamy.
Nacho cheese too thick? Add a few tablespoons of your favorite unflavored, unsweetened non-dairy milk.
Frequently Asked Questions
Can it be made ahead of time?
To make the cheese sauce ahead of time, blend it all up and store the batch in an airtight container for up to 1 week. Because it's so easy to make in advance, it's a great excuse to double or triple the batch so you always have leftovers!
How do you reheat vegan cheese sauce?
Heat the cheese in a pot on the stove over low heat. Stir it constantly, adding a little water or dairy-free milk if it's too thick. Alternatively, you can microwave the cheese in 20-second increments, stirring in between.
Can you freeze nacho cheese sauce?
You can! To freeze the cheese sauce, pour it into a freezer-safe container and place a piece of plastic wrap on top so it's touching the surface. Seal the container with a lid and freeze for months at a time.
The texture will be a little thick upon defrosting, but just whisk it well in a pot over low heat (adding some water or dairy-free milk if needed) and it will return back to normal.
How can you make this sauce even spicier?
Blend in a few slices of raw or pickled jalapenos to make it even spicier. Add a little at a time until you reach the desired level of spiciness.
How do you make vegan cheese taste like cheese?
The secret to a cheesy tasting vegan cheese is the nutritional yeast and spices. Miso is used to infuse a little umami flavor that cheese has. The sauce is made extra creamy thanks to the potatoes and cashews as well.
Is vegan cheese healthier than regular cheese?
Vegan cheese is an excellent alternative if you're avoiding dairy, however, not all vegan cheeses are created equally. Some store-bought brands are healthy while others have lots of additives and preservatives to extend their shelf life. The healthiest option is to make your own homemade vegan cheese using whole plant-based foods, like this recipe!
More vegan cheeses to try
Who needs dairy cheese when you have these creamy and delicious vegan alternatives?
If you make this recipe and LOVE IT, please give it 5 stars ⭐⭐⭐⭐⭐!
📖 Recipe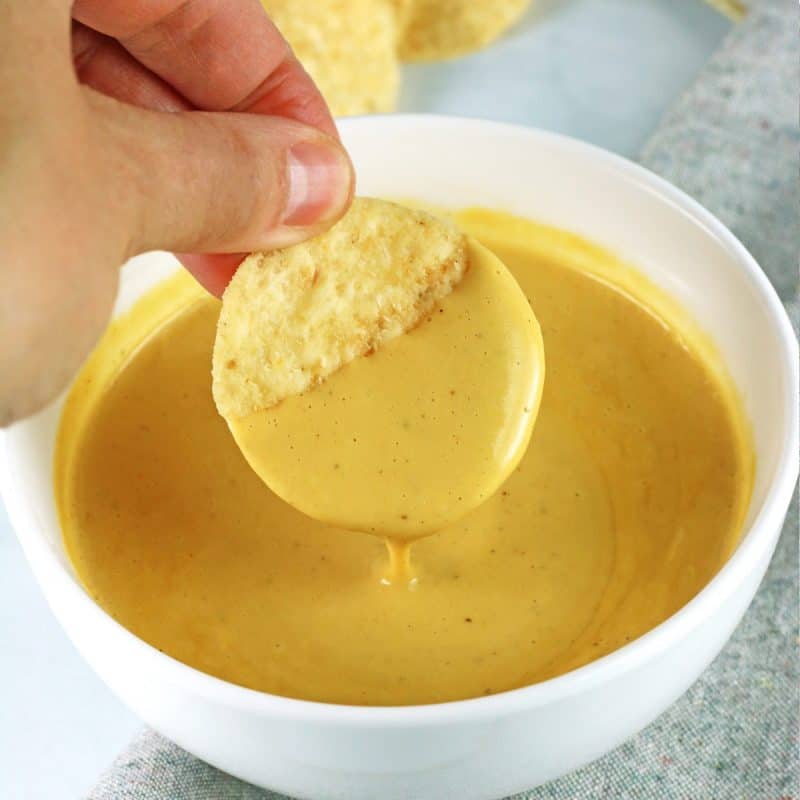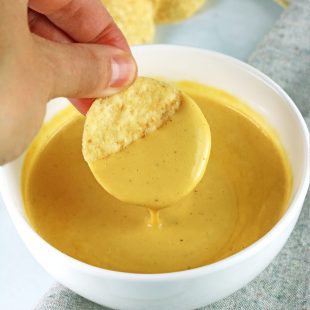 Vegan Nacho Cheese Sauce
This is the best Vegan Nacho Cheese Sauce ever! Creamy and cheesy with a kick of spice, it adds so much flavor to nachos, tacos, and more. It's easy to make ahead of time and freezer-friendly.
Email Recipe & Ingredients
Instructions
Add potatoes and cashews into a pot with water and bring to a boil, then simmer for 10 minutes.

Add potato, cashews and water, along with the rest of the ingredients to a blender and blend until smooth. Add more water if needed.

Add to nachos, veggies, pasta, or dip right in!
Notes
Can be kept in the fridge for 1 week.
Heat on stove on low stirring constantly, adding a little water or dairy-free milk if it thickens. You can also microwave in 20-second increments stirring between.
Double the recipe and have leftovers!
Nutrition
Calories:
112
kcal
Carbohydrates:
6
g
Protein:
3
g
Fat:
9
g
Saturated Fat:
1
g
Sodium:
52
mg
Potassium:
158
mg
Fiber:
1
g
Sugar:
1
g
Vitamin A:
70
IU
Vitamin C:
4
mg
Calcium:
7
mg
Iron:
1
mg
PLEASE NOTE: Nutritional information data is computer generated and only an estimate so it should be used only as a guide.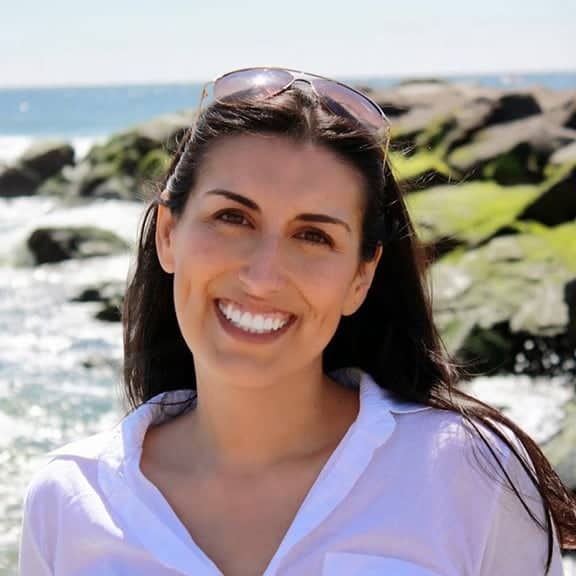 Mary Ellen Valverde MS, CNS, LDN is a Licensed Nutritionist and Certified Nutrition Specialist who empowers vegans to feel clear and confident about what is uniquely nourishing to them. Mary Ellen's recipes and nutrition information have been featured on Yahoo News, Parade, VegNews, LIVESTRONG, Dr. Axe, Greatist, LIVEKINDLY, Brit+Co, Well+Good, and more.