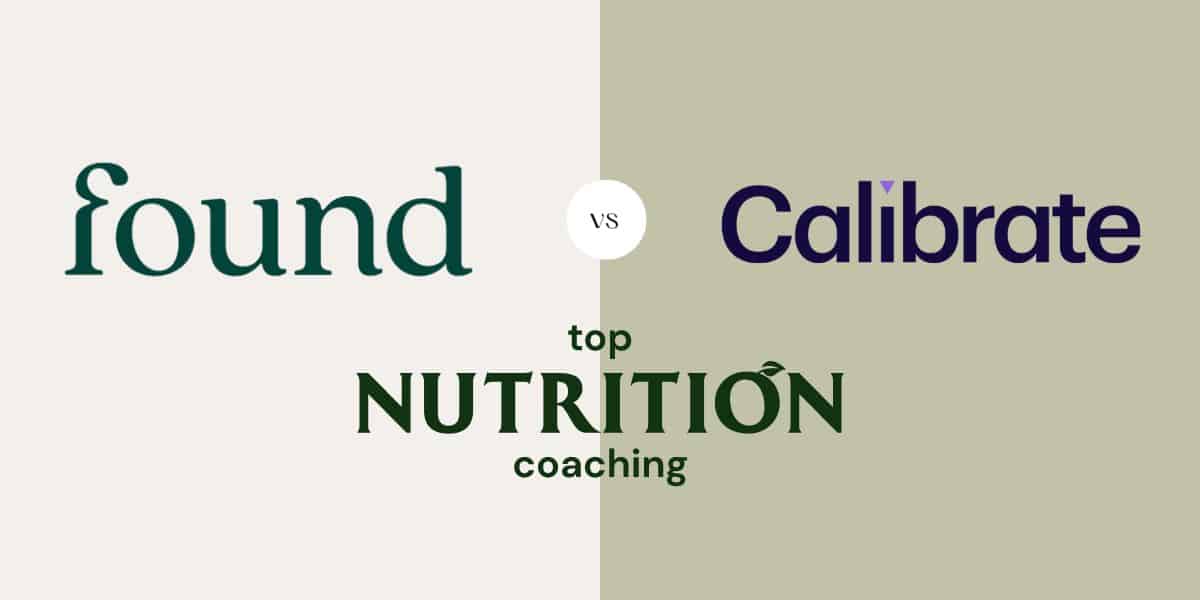 When trying to lose weight, it's common to experience frustration from seemingly insurmountable hurdles and setbacks. Worse, the confusion surrounding how to even begin a weight loss program can often deter individuals from trying at all. This combination of factors is so challenging, in fact, that some experts have concluded that traditional dieting doesn't work at all.
Fortunately, those findings only relate to personal weight loss efforts by untrained individuals. Conversely, dieters who used the services of a qualified weight loss program like Found, Calibrate, or Top Nutrition Coaching found much greater success in their efforts to shed pounds and slim waists.
So, if you're looking to lose weight but have questions about how to begin, why not seek help from a professional weight loss program? Today, we'll explore the various pros and cons of three different weight loss programs: Found, Calibrate, and Top Nutrition Coaching. While each of these programs is designed to work with you and your specific goals, each provides different features, services, and advantages compared to others in the weight loss industry.
By the end of this article, you'll have all the information and resources you need to determine which weight loss program is best for you, what services to look out for, and what to expect when starting your weight loss journey.
Found vs. Calibrate vs. Top Nutrition Coaching at a Glance
Before we dive into the nitty gritty comparing the two weight loss programs, have a look at an overview comparison of Found and Calibrate below.
Found
Calibrate
Top Nutrition Coaching
How it Works
When you join, you schedule a virtual consultation with a board-certified physician to set you up on a treatment and medication plan according to your needs and long-term weight loss goals.
After a consultation with a doctor, Calibrate will set you up with a personalized plan and continual coaching. In addition to coaching and a plan, Calibrate will prescribe you a GLP-1 medication to help you lose weight.
A matching specialist guides you through an intake assessment to determine the best coach for your needs. Then, you meet with that coach as often as you'd like to build step-by-step plans for weight loss and better health.
Food Tracking
The Found app lets you track goals like food intake.
Holistic curriculum covers food intake and meal planning.
Custom meal plans help build a better relationship with food.
Support
With Found, users are able to chat with board-certified physicians specially trained in weight loss.
Guided programming is also available for those who prefer support continuously.
Collaborate and communicate with the Found user community.
One-on-one bi-weekly conversations with your Calibrate coach.
Support navigating medication for any medical questions or concerns you may have.

Flexible scheduling and session frequency lets you plan around life.
Additionally, matching specialists and on-call customer support help with any non-nutrition questions or needs.

Education
Available on the Found website and app.
Available on the Calibrate app.
Direct education via expert nutritionists.
Cost
$49+ per month.
$138+ per month
$60+ per session.
App
Available on Apple and Android devices
Available on Apple and Android devices
Available on Apple and Android devices
Online Reviews
3.5
3.4
4.9
Found is a weight loss program that is designed uniquely for each member. The program offers users a personalized treatment plan and direct contact with board-certified physicians to make your weight loss journey easier and more achievable.
This practice addresses a common flaw in most traditional diets, which primarily treat symptoms without fixing underlying issues.
Additionally, Found's website offers a custom phone app that gives users access to useful tools for tracking progress and medications.
Pros
Aid from a board-certified physician.
Offers access to prescription medication to benefit weight loss and overall health.
Community chat lets you interact and get support from others on a similar weight loss journey.
Cons
Customer service can be hard to contact.
Prescription medication is limited in some states.
Does not offer a trial period.
Bottom Line: Found takes the guesswork out of battling weight gain. With a personalized treatment plan, the potential for prescription weight loss medications, and an intuitive platform, Found makes it easy to start and maintain weight loss.
How Found Works
When you decide to begin your weight loss journey with Found, you will set up an initial medical consultation to speak with a board-certified physician specializing in weight loss. This physician gathers your medical history information, discusses goals such as how much weight you'd like to lose, and suggests various lifestyle changes to help achieve those goals.
With each additional session, your assigned physician refines and improves your personalized treatment plan. After it has been fully established, this plan will generally consist of a custom meal plan, a fitness routine, and any relevant prescription medications they deem necessary to promote sustainable weight loss.
How Much Does Found Cost?
Found's membership packages use monthly fees, which range between $49 and $149. This price fluctuates depending on your program length, any prescribed weight loss medication, and coaching services. The cheapest plan that Found offers is its wellness plan, which gives you access to the app, education, and community but limited access to the more premium features of the program.
What We Like About Found
Found offers a solid, well-built prescription weight loss program for those seeking help on their weight loss journey, but our research identified the following features as particularly valuable:
Access to a board-certified physician who specializes in weight loss.
A combination of consultations, medications, and information surrounding best wellness practices.
Flexible pricing for various budgets.
Calibrate's weight loss program combines a holistic curriculum with medications and one-on-one coaching to help individuals meet their weight loss goals and sustain their weight loss into the future. Specifically, Calibrate bases its services on a so-called "metabolic reset." This philosophy prioritizes a careful balance between food, sleep, exercise, and emotional health to achieve results.
Calibrate requires membership and pairs users with a personal health coach and Calibrate doctor to facilitate education about maintaining a healthy lifestyle. In some cases, Calibrate also prescribes prescription weight-loss medication to users to help them lose weight from the get-go.
Pros
Combines different wellness practices to ensure users achieve their goals and sustain weight loss.
Offers a 10% weight loss or your money-back guarantee.
Advertises an average of 15% weight loss.
Cons
Expensive compared to some competitors.
A high turnover of physicians does not guarantee users a consistent coaching experience.
Only offers a select amount of medications.
Bottom Line: Calibrate combines aspects of different proven wellness practices to help users lose weight and maintain weight loss. By focusing its efforts on promoting a strong metabolism, this program provides the tools necessary for lifelong health.
How Calibrate Works
Similar to Found, Calibrate pairs individuals with a physician for an initial consultation about their weight loss goals, time frame, and medical history. Unlike Found, however, the Calibrate program focuses on a specialized metabolic health assessment to gauge the strength and efficiency of each customer's metabolism. From there, the physician works with the individual to set them up with a GLP-1 medication, such as Ozempic or Wegovy, depending on what insurance will or can cover.
By pairing FDA-approved medication with holistic meal planning and one-on-one coaching, Calibrate helps users achieve and sustain their ideal weights.
How Much Does Calibrate Cost?
The cost of Calibrate varies, but customers opting for the monthly membership can expect to pay around $138 monthly. Customers who instead choose to pay upfront for the company's one-year Metabolic Reset package will be charged $1,649, plus any required lab work or additional medication co-pays.
Although Calibrate works with insurance to reduce the cost of medications, users can reasonably expect to pay about $25 per month for their prescription.
What We Like About Calibrate
Appropriate, given its name, Calibrate carefully balances modern weight loss medications with holistic emotional health and wellness practices to create results. While every weight loss program has its pros and cons, we find these attributes the most appealing:
The holistic curriculum makes maintaining a healthy diet and lifestyle easy.
Bi-weekly coaching keeps you informed and up-to-date with progress.
Works with insurance to keep medication costs down.
Focuses on improving each patient's metabolism.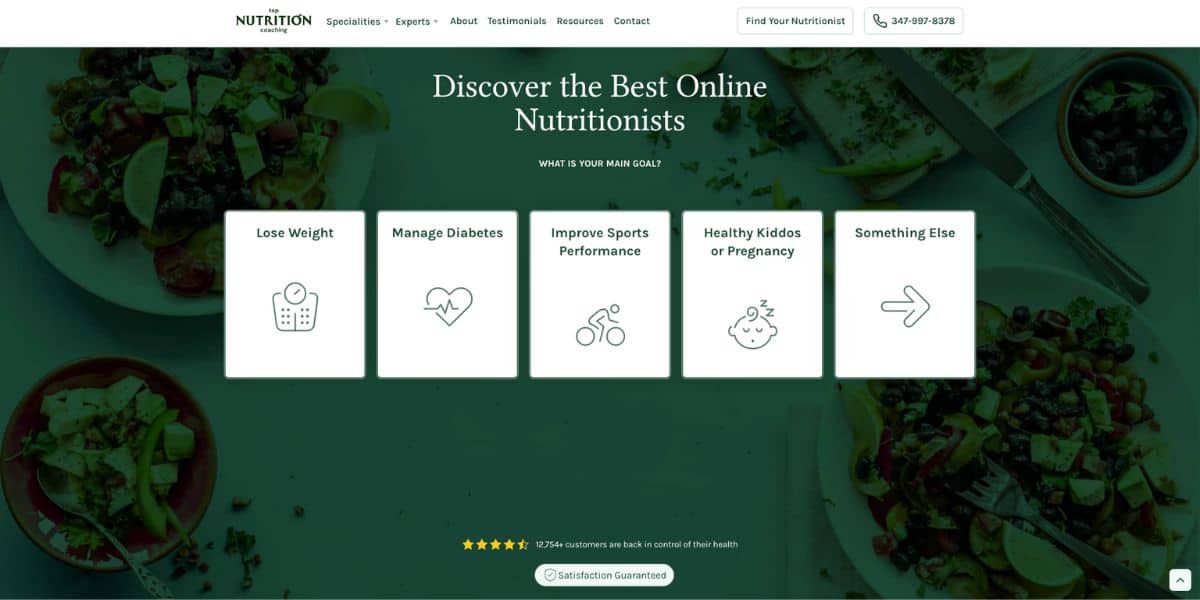 Unlike other weight loss programs, Top Nutrition Coaching provides specialized support and guidance for a range of health goals, from traditional weight loss to help with common issues like high blood sugar or compromised gut health. To achieve results, customers pair with a registered dietitian to build meal plans, fitness routines, and lifestyle changes customized to their needs.
Because customers work with the same registered dietitian each week, Top Nutrition Coaching's program gives those customers a strong foundation of knowledge and empowers them to build habits for long-term success. Unlike Found and Calibrate, Top Nutrition Coaching focuses less on prescription medication, though their experts may coordinate with a customer's doctors to supply relevant medications.
Pros
Well-rounded approach to better nutrition and weight loss.
Assigns dedicated specialists based on each customer's needs.
Flexible scheduling and pricing.
Maintains a diverse pool of registered dietitians and nutritionists.
Cons
Appointments are only available online.
Is not as specifically weight-loss-focused as some competitors.
Bottom Line: With a broad selection of options and a strong focus on long-term success, Top Nutrition Coaching looks to make each customer an expert in their own health. Unlike other weight loss services which simply promise to shed pounds, Top Nutrition Coaching also helps build full-body wellness for health in every aspect of life.
How Top Nutrition Coaching Works
One of Top Nutrition Coaching's most valuable features is its specially-trained matching team, which works to pair each customer with the registered dietitian best equipped to address their needs. Rather than assigning a personal health coach or doctor without customer input, this team conducts an intake survey designed to establish goals, health values, and preferred style of coaching.
Once complete, Top Nutrition Coaching customers meet with their potential coach to determine whether the right match has been made. From there, the customer and their coach work as a team to develop meal plans, fitness routines, and lifestyle adjustments to achieve maximum results. For most, these results take the form of weight loss. Top Nutrition Coaching also supplies trained specialists for clients needing help with chronic illnesses, disordered eating, or other special circumstances.
How Much Does Top Nutrition Coaching Cost?
Top Nutrition Coaching's sessions start at $60.00-$75.00 each but can decrease for customers who purchase multiple sessions in advance. This price gets you one-on-one coaching from registered dietitians specializing in your specific needs, as well as advice on meal plans and fitness routines. Customers may purchase as many sessions as they'd like, but most opt for a weekly or bi-weekly schedule.
Additionally, some health insurance providers may cover part or all of Top Nutrition Coaching's services, so we suggest contacting your provider and asking to speak with a representative.
What We Like About Top Nutrition Coaching
Unlike other weight loss programs and apps designed to make you dependent on their services, Top Nutrition Coaching's goal is to make you an independent expert by teaching you all the tools you need to lose weight and build health. Some of the most valuable features they use to accomplish this are:
Dedicated matching service meant to provide the ideal personal health coach.
Focus on sustainable, long-term results.
Provides weight loss and improved health metrics in other areas.
Two week risk-free trial.
Found vs. Calibrate vs. Top Nutrition Coaching: Key Differences
While Found and Calibrate have the same intention, to help individuals lose weight healthily and sustainably through a combination of best wellness practices, they differ in a few ways. These differences include:
Medications: Found offers many medications that not only aid in weight loss but in general well-being, from appetite suppressants to heart medications. Calibrate, however, only offers a select few GLP-1 medications, a type of Diabetes 2 medication to help with weight loss. While Top Nutrition Coaching's nutritionists may collaborate with your doctors to identify useful medications, they focus primarily on other methods of weight loss.
Cost: While both weight loss programs come at a price, Calibrate tends to cost a bit more than Found or Top Nutrition Coaching because it is a set price for membership, not including medications. Found, on the other hand, offers various membership levels to better suit your budget, and Top Nutrition Coaching allows customers to schedule as many sessions as they'd like with discounts for larger amounts.
Support: With Calibrate, users get access to one-on-one chats with a coach to discuss goals and best wellness practices. Found connects you with a board-certified physician and gives you access to a network of other users to discuss and support. Top Nutrition Coaching adds value by matching you with the ideal registered dietitian for your situation, then facilitates regular access to that specialist.
What Real Customers Are Saying
While we've dug into each weight loss program, how they work, and their differences, take a look at what real users have to say about each program and their experience with them below.
Found
"Found has helped me lose weight and gain my confidence back. I'm getting back to my old self again. Going through cancer treatments actually made me gain 30 pounds because of the steroids and bed rest. I'm feeling great now." -Tabitha B.
"I have been consistently losing weight. The MD that I work with is friendly and helpful. My medications are working well. I have lost 40 lbs. and have been able to keep it off. I have recommended Found to my family and friends who struggle with weight." -Trustpilot
"The found program has been a lifesaver...I have lost 25+ pounds and for the first time in my life-long struggle with food and portion size, I am successful. I never have cravings and the coaches are always available and checking in with me. If you struggle with every aspect of maintaining a healthy weight, then this program is for you." -Trustpilot
Calibrate
"Calibrate has given me my life back. I have rheumatoid arthritis so carrying around extra weight only made my situation worse. I have lost 20% of my body weight with Calibrate and I feel amazing! The best part about Calibrate is that they help you build skills to sustain the weight loss." -Avery
"My coach has been the best part of the program. I have learned quite a bit and I like that it's in small chunks over time. It gives you time to practice each thing before moving it. I also like that I get to choose my goal every two weeks and it doesn't have to relate to the current topic. It can be anything I'm struggling with or am worried about." -Trustpilot
"The program itself is a great balance between changing habits and medication. I feel less guilt and self-shame [less] thanks to my coaches and the learnings throughout the program. The only reason I put 4 stars instead of 5 is that I had fairly high turnover in coaches in my last few months of year one, and the transition into the masters program has been a bit clunky." -Trustpilot
Top Nutrition Coaching
"I had such a great experience. My dietitian took the time to understand what I wanted and took a very whole-body approach to health. At no point was I told to try a certain lifestyle or diet, it focused on being the healthiest version of me, and I started feeling great shortly after working together." - Heidi
"The whole process was easy and the support you get is outstanding. The portal they use is easy to navigate and your dietitian is more than qualified. Kim was amazing not only with problem-solving my diet issues but in helping me understand the "why". I highly recommend their service it is extremely helpful." - Cynthia
"I have really enjoyed my experience with Jordan in the short amount of time I have been working with her. She is someone who I feel comfortable opening up to about my struggles with and I get no sense of judgment from her. She is a good listener and she gives relatable advice! Every meeting I have with Jordan I have her undivided attention and she is fully engaged. She's challenged me and has helped me improve my relationship with food." - Elena
Found vs. Calibrate vs. Top Nutrition Coaching: Which is Better?
When it comes to weight loss, you don't want to join a program on a whim. Rather, you want to join a program that aligns with your goals, will work with you to achieve those goals, and fits your budget.
While Found and Calibrate share many attributes, such as medication treatment and doctor consultations, Found is more affordable and offers better support for those wanting a prescription weight loss program.For a more well-rounded, comprehensive approach to weight loss and health, Top Nutrition Coaching stands out as the best of the three. And, while medication can be powerful (and may still be suggested by Top Nutrition Coaching's experts), knowledge and experience are more powerful still. By partnering with a nutrition expert experienced in their specific circumstances, individuals are more likely to build sustainable, long-term results that last well beyond their time with Top Nutrition Coaching's team.