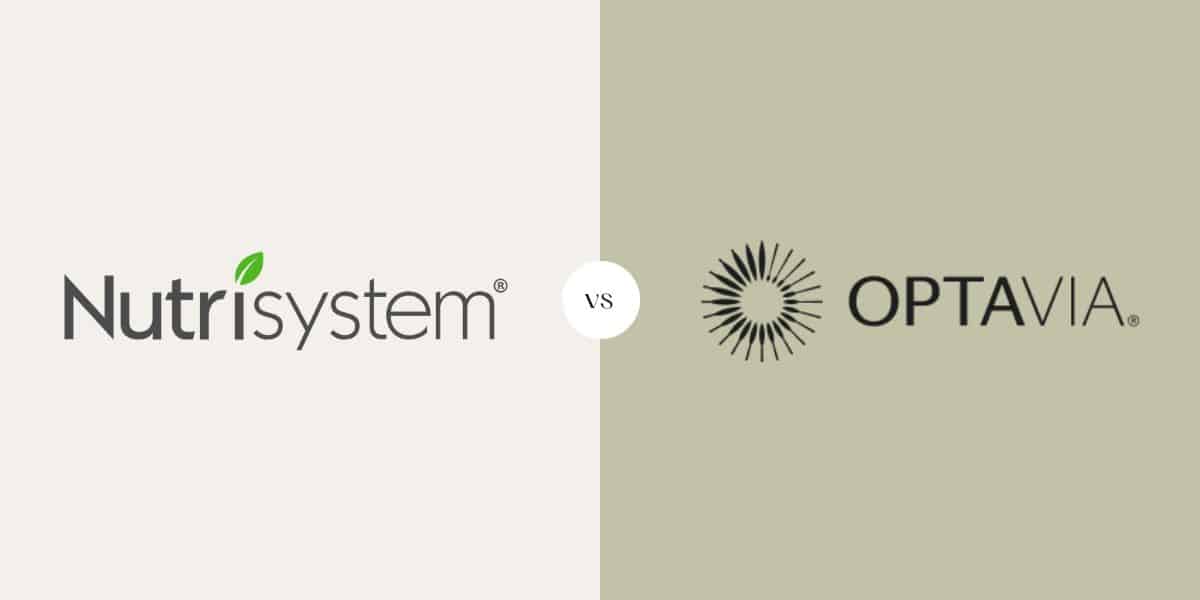 Nutrisystem and Optavia are both meal plans and diet strategies that use prepackaged foods to help individuals make smarter food decisions, lose weight, and curb hunger pangs. But which plan is the best? Let's look at the core benefits of each plan, who should choose each one, and the potential drawbacks of following Nutrisystem or Optavia.
Overview of Nutrisystem
Nutrisystem is a diet and eating plan that uses portion control and prepackaged foods to take the guesswork out of preparing meals. Nutrisystem also divides its meals into those with a low glycemic index, those with whole grains, those with lean proteins, and those with complex carbs.
Pros of Nutrisystem
Convenient for those who do not want to cook or people who are always on-the-go
Weight loss is easier through low-calorie meals and pre-packaged snacks/shakes
Offers transitional support to maintain your weight after the initial weight loss
You can eat additional food along with the Nutrisystem meals and snacks
You can have two servings of alcohol per week, which allows for lifestyle flexibility
Provides simple and easy grocery lists
Cons of Nutrisystem
Expensive — This eating plan and diet costs upwards of $350 per month for meals, snacks, and other food.
Unhealthy options — Some foods on the menu are processed, high-fat, and high-carb foods, such as cookies, cakes, pastas, and breads, making it hard to transition back to your everyday lifestyle.
Metabolic syndrome — Consistently eating frozen and pre-packaged foods can be a detriment to long-term health, since it includes high sodium levels.
Processed foods – Nutrisystem consists of mainly processed foods, which include high levels of GMOs.
Bottom Line: Nutrisystem can be a good choice for those who need to lose weight initially due to poor food choices or overeating, but it is not consistent enough for a long-term solution.
How Nutrisystem Works
The first 7-day diet plan from Nutrisystem helps a person reset their eating habits and internal system. This 7-day plan includes pre-packaged foods and products to eat for every meal of the day, including Nutrisystem shakes and snacks. During this initial week, people should eat more than four servings of vegetables and 64 ounces of water.
After the first week, people are free to choose how to proceed with the diet. Nutrisystem allows lean protein, vegetables, and carbohydrates, along with pre-packaged snacks, shakes, and meals. The meals included by Nutrisystem are only around 200 calories, so some people may find they need to add Nutrisystem "PowerFuels" snacks, Nutrisystem shakes (Turbo Shakes and Nutri Crush), and "SmartCarbs" during their subsequent weeks.
People who use Nutrisystem are also told to eat four servings of non-starchy vegetables like peppers, broccoli, tomatoes, asparagus, green beans, or lettuce every day.
Furthermore, Nutrisystem allows followers to eat condiments containing very few or no calories, such as mustard or ginger. People can also eat other condiments and cooking oils in moderation, such as sunflower or honey. The only beverages you can drink on this diet are black coffee, unsweetened tea, seltzer, and water. Lastly, people are allowed two servings of alcohol per week on the Nutrisystem diet.
How Much Does Nutrisystem Cost?
Nutrisystem costs $250 to $350 monthly, depending on the additional snacks, shakes, and meals consumed. If you purchase extra food, the grocery bill can be even higher.
What We Like About Nutrisystem
There are a few key benefits to Nutrisystem that make it a practical choice for a healthy lifestyle:
Convenient — You do not have to prepare meals, snacks, or drinks with the pre-packaged food from Nutrisystem, which is suitable for taking the guesswork out of cooking and for those who lead a fast lifestyle.
Variety — There are different types of meals and snacks that can keep you satiated and happy during the diet.
Transitional help — Transitioning from a strict diet back to your regular life can be challenging. However, Nutrisystem makes it easy to maintain weight by offering meal plans and snacks to coincide with your weight and daily life goals.
Weight loss — If you want to lose weight through healthy eating strategies and a calorie deficit, Nutrisystem can help you through its low-calorie meals and snacks.
Overview of Optavia
Optavia is a diet with pre-packaged meals and "fuelings," or snacks, that features meals, customized coaching, packaged foods, and healthy snacks. The purpose of this program is to encourage a low-calorie and low-carbohydrate diet.
Pros
Easy adherence initially — This diet plan is easy to follow due to the packaged Fuelings, ability to incorporate your lean meals, and personalized coaching. Despite the commitment potentially wearing off over time due to restriction and food avoidance, the initial adherence is usually easy for those who do not want to consider food choices.
Supportive coaches — The Optavia coaches are always there to help customers with questions or concerns during their programs.
Lowers blood pressure — The low-sodium Fuelings and meal options can help lower blood pressure for those who frequently eat high sodium levels.
Cons
Low-calorie diet — The low-calorie Fuelings and lean meals are very low calorie. This diet is not sustainable for long-term health or weight loss. Rapid weight loss can also contribute to unwanted muscle loss, slower metabolism, and lack of essential nutrients.
Difficult adherence — After the initial phase and collaboration with personalized coaches, it may be hard to stick with this low-calorie diet for long due to the restriction, lifestyle changes, and frequent cravings for other foods.
Expensive — Spending hundreds of dollars on Feelings, low-calorie snacks, and lean meals can be too expensive for multiple months.
Highly-processed foods — All Fuelings snacks and meals are processed, containing less fiber, processed oils, and fewer nutrients than whole foods, organic items, and vegetables.
Bottom line: Optavia is a highly restrictive diet that may not lead to long-term adherence or weight loss. Since the diet features processed foods, an extremely low-calorie intake, and expensive products, it can be challenging to follow for a long time.
How Optavia Works
The Octavia diet allows people to eat processed foods, called "fuelings," and homemade meals. The program lets people eat six pre-measured meals a day, and there are more than 60 options to give them more freedom and variety.
During the Optavia diet, people can eat 'Fuelings,' which are savory snacks, shakes, smoothies, cookies, grains, and other processed foods, along with lean meals that include cooked lean protein, non-starchy vegetables, and two servings of healthy fats.
Lean protein — Chicken breast, white fish, egg whites, lean turkey
Non-starchy vegetables — Lettuce, celery, tomatoes, cucumbers, broccoli
Healthy fats — Avocado, olive oil
While following the Optavia diet, people can eat every 2-3 hours, depending on the specific plan. The three plans are:
Optimal health 3 and 3 plan — Three fuelings and three lean meals
Optimal weight 4 & 2 & 1 — Four fuelings, two lean meals, and one snack
Optimal weight 5 & 1 — Five Fuelings and one meal
How Much Does Optavia Cost?
Optavia offers three different pricing plans, all with different prices. The 5&1 plan costs $379 for 119 servings, the 4 & 2 & 1 Plan costs $423 for 140 servings, and the 3 & 3 Plan costs $21 for seven servings. The average price of groceries per month comes to around $243, which shows that this diet plan is costly.
What We Like About Optavia
There are a few potential benefits of Optavia that can make it a desirable option for those who need to lose weight:
Easy to understand and follow — Optavia is easy to follow and understand for people new to dieting. Since you are going to be mainly eating Fuelings, especially on the 5 & 1 Plan, you will not need to plan or think about what meal you are going to eat next. Plus, even when you do make your lean meals, the simple recipes are suitable for people who are not adept at cooking.
Ongoing coaching and support — Optavia offers personalized coaching and 1-to-1 support to help you stay motivated and adhere to your diet plan. The coaches are available for you to speak with throughout every one of your programs, increasing the likelihood of adherence and motivation.
Lowers blood pressure — If you have high blood pressure, consuming less sodium can help lower your blood pressure and cholesterol levels. Every meal from Optavia is a low-sodium meal that offers less than 2,300 per day.
Nutrisystem vs. Optavia: Key Differences
There are a few critical differences between Nutrisystem and Optavia:
Nutrisystem has more variety (6 diet plans)
Nutrisystem is cheaper per serving
Nutrisystem offers more menu variety with over 160 options per week
Optavia still requires buying your groceries and cooking
Nutrisystem offers unique diet plans
What Real Customers are Saying About
Below, let's look at some reviews from real customers for both Nutrisystem and Optavia.
Nutrisystem Reviews
Client 1 — "The food was awful. The snack and meal bars were so hard… everything they sent had chocolate… when I canceled my second order, they charged me a $125 cancellation fee."
Client 2 — "It is truly miserable to cancel. I called to cancel and was told I had to wait until the second order was in my possession… I say avoid this company."
Client 3 — We have been on the Partner plan for a week. We both love it. We don't get hungry and are already experiencing weight loss. We think the food is quite good considering its diet."
Customers have some complaints regarding the cancellation policy. Still, they agree that the meals and snacks are satisfying for diet food.
Optavia Reviews
Client 1 — "I started the program about nine weeks ago and have lost 35 pounds… the food is good, and there are many, many choices."
Client 2 — "They are always out of stock on items, and delivery could take up to 3 weeks. Coaches aren't helpful; they tell you to read a book… the customer service is useless."
Client 3 — "They sell overpriced meal bars… they don't answer their phones… they assigned a "coach," but I have emailed or called her 5 or 6 times, and she does not respond."
Overall, customers like the taste of the food and the variety, but they don't like how slow the service is and how little they care about them.
Nutrisystem vs. Optavia: Which Is Better?
It is vital to consider pricing, menu selections, and dietary limitations while choosing between Nutrisystem and Optavia. While both programs provide pre-packaged meals and individualized diet regimens, Nutrisystem may be a better alternative for people seeking more economical options or a larger selection of menu items. In addition to accommodating certain food intolerances, Nutrisystem is an excellent alternative for those with dietary limitations. Optavia, on the other hand, offers a coaching program that gives assistance and responsibility for weight loss objectives, which may appeal to some individuals. In the end, all regimens offer advantages, and it's crucial to consider the pros and downsides to choose which one would best suit your lifestyle and objectives.
Why We Recommend Top Nutrition Coaching Instead
Top Nutrition Coaching says that people can't reach their health and wellness goals if they don't have access to good nutrition information. Their strict screening process makes sure that only the most knowledgeable and experienced Registered Dietitians are part of their network. This makes them the best online nutritionist service.
Top Nutrition Coaching's philosophy is based on clinical competence, coaching skill, and personalized care to make sure that each client gets the results they want. The team works hard to improve the long-term success of its clients by giving them health solutions that will last.
By choosing Top Nutrition Coaching, people can start on the road to a better and happier life, knowing that they are getting help and advice from the best-certified nutritionists and registered dietitians.
If you're ready to regain control of your health, complete their quiz today to be matched with a nutritionist.