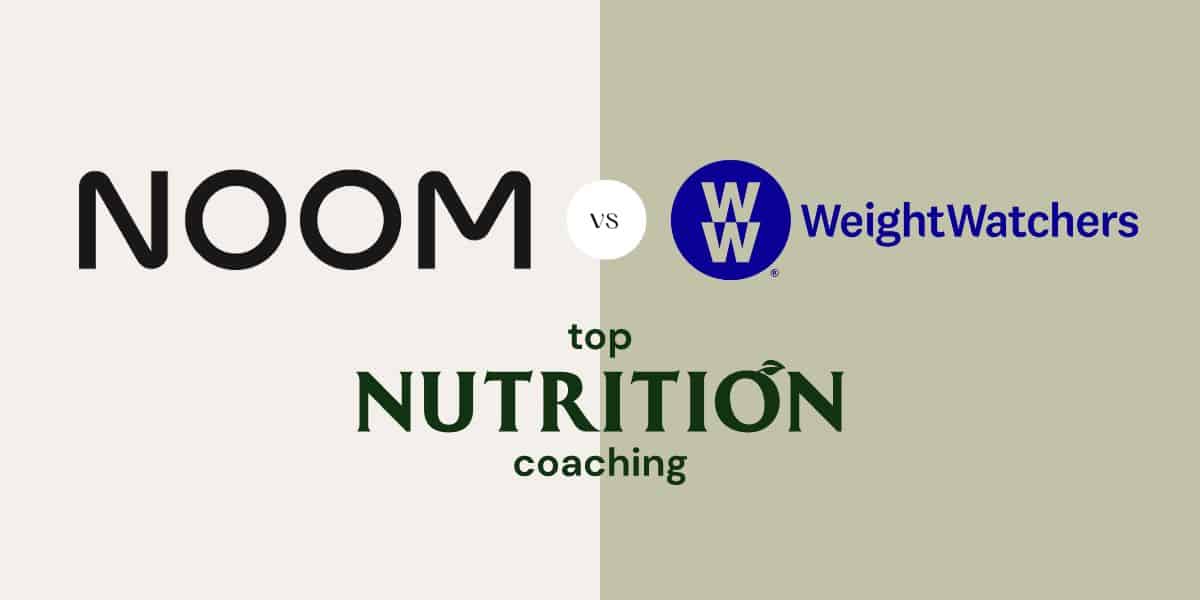 Bar none, weight loss is one of the largest and most lucrative industries in the United States. With more than $224billion in worldwide revenue throughout 2022, countless people have trusted weight loss companies like Noom, Weight Watchers, and Top Nutrition Coaching with their time, money and–most importantly–their health.
Still, the question remains as to whether these companies deserve your business. And, with many studies indicating that most traditional diets do not work, it's more important than ever to understand a weight loss program before signing on. To help ensure that you get the most for your money, we've taken the time to research Noom, Weight Watchers, and Top Nutrition Coaching.
In this article, we'll give you a comprehensive breakdown on each company's pros, cons, costs, and other factors you may not have considered. That way, you can take the next step of your fitness journey armed with the facts–not just what the weight loss industry wants you to know.
At A Glance
| | | | |
| --- | --- | --- | --- |
| | Noom | Weight Watchers | Top Nutrition Coaching |
| How It Works | Noom works by helping you set goals and track your food through its online system. It is effective for short-term weight loss goals. | Weight Watchers, or WW, works by using a point system. It is also effective for short-term weight loss goals. | Top Nutrition Coaching pairs each client with a custom-chosen nutritionist to guide them through their weight loss. |
| Food Tracking | Color-coded system | Food points system | Custom meal plans and fitness routines |
| Support | Virtual weekly check-ins with a coach through the app. | Access to a virtual coach. Unlimited access to in-person support groups is available for an additional fee. | Regular one-on-one sessions with a trained nutrition expert. Excellent customer support and online resources. |
| Education | Daily prompts through the app to complete lessons | Available on the WW app and website | Available in coaching sessions and digital resources. |
| Weight Loss | Effective for short-term weight loss, it also offers psychological help for long-term weight loss through informed decision-making | Effective for short-term weight loss. | Effective for short-term and long-term weight loss, with a primary focus on education and habit-building. |
| Cost | $17+ per month | $23+ per month | $65+ per session |
| App | Available on Android and Apple devices | Available on Apple and Android devices | Available on Apple and Android devices |
| Trustpilot Score | 4.2 out of 5 stars | 3.3 out of 5 stars | 4.8 |
Since Noom was founded in 2008, the company has reportedly helped more than 45 million people worldwide achieve their fitness goals, whether in losing weight or improving athleticism. While it provides many of the same benefits as other fitness tracking subscriptions, the company's philosophy is to teach its users how to better understand and take control of their own health.
By subscribing to Noom's program and paying a monthly fee, customers gain access to a diverse selection of membership benefits. These include a custom Noom app to track health and diet, features for counting calories, and information about common nutrients to help inform food choices. Additionally, members can communicate with one of Noom's health coaches to learn more about nutrition and receive daily lessons on how to improve their health and eating habits using behavioral science techniques.
Pros
Uses behavioral therapy techniques to build healthy habits
Access to online health coaching
Helpful courses that increase your awareness and education about your health and well-being
Less restrictive dietary rules than some competitors
Cons
Monthly fee ($59.00) is higher than some similar competitors
No specific meal plans or food options for purchase
Tracking food intake with the Noom app can be time-consuming
Bottom Line: Noom approaches the issue of weight management from a different angle than most other nutrition-tracking companies by leveraging psychological techniques to build long-term habits. While its health coaching is less comprehensive than a true nutrition coaching service, it nonetheless provides more guidance and education opportunities than simple meal trackers.
How Noom Works
Rather than focusing on calorie density or the latest trends in diet culture, Noom takes a more holistic approach to weight management by helping users build healthier behaviors and habits.
To get started, users take a quick demographic and goals quiz when they first log in. Based on their responses, Noom provides personalized recommendations to help each customer lose weight and improve their overall fitness. While, in our experience, these recommendations are both intuitive and practical, the app also allows a high degree of customization depending on a user's preferences.
Additionally, this information is used to customize a list of so-called red, yellow, and green foods. Green foods are things like whole grains, fresh produce, and berries, yellow refers to lean meats and other protein sources, and red foods are typically "unhealthy" options like pizza or nut butters.
Each month, users log the foods they eat and the exercises they do. This tracking allows Noom to provide tailored coaching related to nutrition and exercise but also suggests behavioral techniques to simplify each user's health journey. Although Noom includes direct health coaching in every membership, this service is optional for customers who would prefer a solo approach.
Still, what sets Noom apart from other weight loss apps is its unique approach to changing behavior. By addressing the underlying thoughts and emotions that drive food-related behaviors, Noom aims to help users establish healthier habits to last a lifetime. This focus on long-term results makes the company a better choice for those who have struggled with dieting in the past.
How Much Does Noom Cost?
Noom offers a free 14-day trial to start. Then, you choose a plan that ranges from $16 to $59 a month or an up-front fee of $199 for the entire year. It's important to note, however, that the program is designed to last 16 weeks, so you might not need an annual membership.
What We Like About Noom
We like that Noom puts the individual in the driver's seat. There is no set meal plan nor a list of foods to eat each day or week, but rather an easy-to-follow guide of green foods, yellow foods, and red foods. The individual has accountability and support from online health coaches, and it has worked for millions of users worldwide thus far. We also love that the price is comparable with other weight-loss programs and that the app is user-friendly.
Key Benefits of Noom
Accountability and support from online health coaches
No set diet or eating schedule
Color-coding system simplifies food choices
Educational tools that are rooted in psychology
For the past six decades, Weight Watchers has reigned as one of the most famous and long-running diet programs of the modern era, with records, accolades, and recommendations from the likes of Oprah Winfrey and Jennifer Hudson. Though the company has recently rebranded to be called WW, it maintains many of the same values and principles upon which it was first founded.
Alongside this name change came a significant shift in WW's diet program. While the company previously used a traditional diet-based weight-loss program, the new WW brand focuses more on building sustainable, healthy habits. Even so, the company still uses a point-based system to simplify dieting and help users make better food choices.
The company claims that WW members lose twice as much weight using their program than they would have on their own, and doctors frequently recommend the program for patients seeking weight loss options.
Pros
Point-based system provides clarity and simplicity
60 years of proven results
Support from health coaches
Recommended by licensed physicians
Cons
Less one-on-one support than dedicated nutrition counseling
Tracking system requires daily input
Users may lose results after stopping the program
Bottom Line: With an impressive six decades of experience helping customers lose weight, Weight Watchers is one of the most trustworthy companies in the industry. Their crystal-clear point system removes the confusion from dieting and provides realistic, achievable goals.
How Weight Watchers Works
WW's basic premise--and the one that made it famous in the first place--is its point system. Using scientific evidence and extensive research, the company assigns each food in its system a specific point value based on factors of its nutritional profile, such as caloric density or saturated fat content. Some foods, like fruits, non-starchy vegetables, and tofu, have zero points and can be eaten as much as you'd like.
When you get started, you answer many questions about your height, weight, gender, and lifestyle. Then, WW uses this information to calculate a points budget to "spend" on foods throughout the week. Although this point system basically replaces the need for calorie counting, it also helps you make healthier choices overall by simplifying the dieting process.
Additionally, WW customers can pay for in-person group consultations with health coaches to build a greater sense of community and accountability. These lessons, as well as WW's point tracking system, are all included in the company's custom phone app.
How Much Does Weight Watchers Cost?
WW offers two membership options. The Core membership is $15 per month and includes everything the app has to offer, including 24/7 support and online communication with a health coach.
The Premium membership is $30 per month and comes with everything offered by the Core Membership, plus in-person workshops and coaching sessions. These sessions provide the opportunity for users to learn habit-building techniques and form a healthier relationship with food.
What We Like About Weight Watchers
We like that there are in-person options with Weight Watchers. Going at something like this alone can be challenging and isolating, so finding an in-person community can improve confidence and keep you on track. We also like that there is more structure to the types of foods you can eat while on the Weight Watchers program, which takes the guesswork out of dieting.
Key Benefits of WW
Community-building group classes
Clear, common sense points system
Well-structured digital resources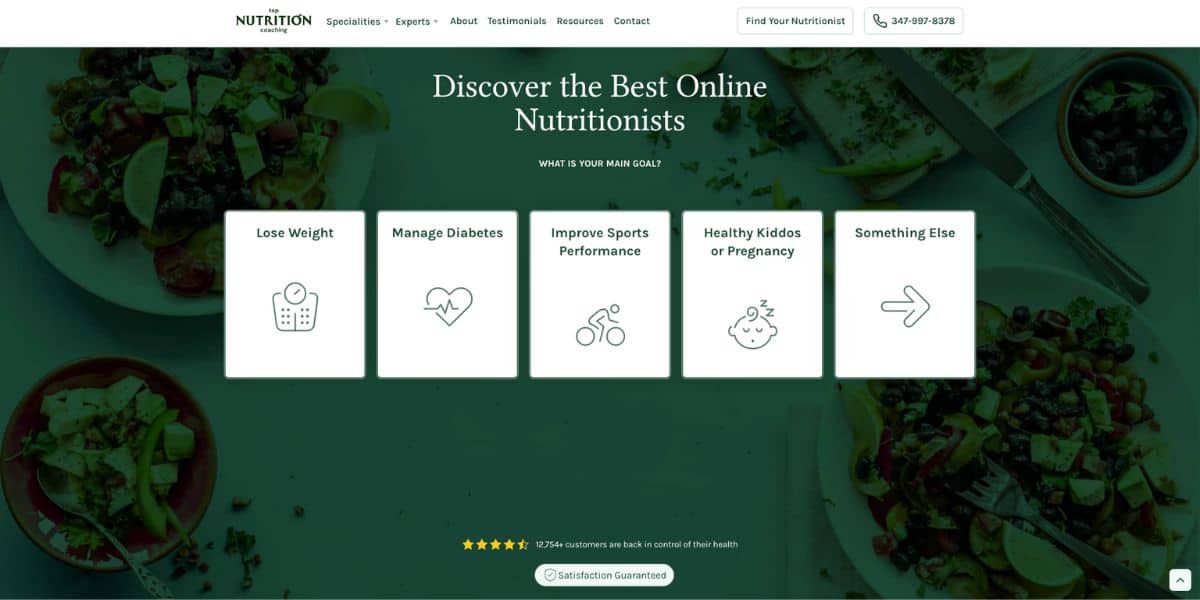 Unlike casual fitness trackers, Top Nutrition Coaching takes a more professional, no-nonsense approach to help users achieve a healthy weight. As a nutrition coaching platform, the company connects individuals with registered dietitians who have undergone special training and education to make them experts in the field of nutrition.
Rather than relying on a predetermined, one-size-fits-all system, this means that each customer receives a personalized plan of action to help them reach their goals.
Although Top Nutrition Coaching offers extensive weight loss counseling, it also offers registered dietitians with backgrounds in diabetes nutrition, GI issues, sports and fitness training, and countless other specialties.
No matter which niches you choose, Top Nutrition Coaching collaborates with only the top 1.7% of registered dietitians worldwide. These uncompromising standards ensure a level of coaching quality unseen in traditional weight loss programs such as WW and Noom.
Pros
Only associates with world-class registered dietitians
Builds personalized plans for each customer
Can help with many health needs beyond weight loss
Two-week free trial period
Cons
Program takes more personal effort from customers
High demand may limit scheduling flexibility
Bottom line: Unlike either WW or Noom, Top Nutrition Coaching has clients take a more active role in their own weight loss journey. Instead of making you dependent on continued membership to maintain results, the company's registered dietitians work with you to build the tools and knowledge necessary for long-term results--with or without their help. While this may require slightly more effort up-front, it also offers a more sustainable approach to weight management.
How Top Nutrition Coaching Works
When you first reach out to Top Nutrition Coaching, you have two main options. First, the company's website provides an intelligent, well-designed quiz to gauge your needs, goals, and health history. Those who still have doubts about nutrition coaching can take this quiz to get a better feel for the company and its services.
Second, Top Nutrition Coaching maintains an excellent staff of matching specialists to help pair each customer with the ideal registered dietitian. Although these specialists often use information from your intake quiz to make this decision, they also ask for your direct input and preferences. And, while many nutrition coaching services simply assign a dietitian, Top Nutrition Coaching believes that taking more time to find the perfect match can improve results.
After you've been paired with your dietitian, the two of you will schedule sessions each month to talk about your goals, successes, and any potential roadblocks you may have encountered since the last session. Additionally, this dietitian provides tailored meal plans, fitness routines, and lesson plans to guide your weight loss journey and empower you to make healthier choices.
Unlike typical fitness applications, which aim to keep you dependent on their services to promote longer memberships and greater fees, Top Nutrition Coaching designs its services to give you the most independence possible. Eventually, the end goal is to make you the expert regarding your own health, with all the tools and techniques you need to reach your goals without the need for any external help.
How Much Does Top Nutrition Coaching Cost?
Rather than charging a monthly subscription, Top Nutrition Coaching allows clients to schedule sessions throughout the month, with prices per session starting around $65.00. This fee includes not only the expertise and guidance offered during the session but also meal plans and fitness routines for you to use throughout the month.
Depending on your reasons for seeking nutrition coaching, your health insurance may cover part or all of these costs. Importantly, most insurance providers require you to have been referred by a licensed physician to receive coverage on nutrition coaching, so speak with your doctor before signing up with Top Nutrition Coaching or any similar companies.
What We Like About Top Nutrition Coaching
We like that Top Nutrition Coaching works to build lifelong health, rather than temporarily reducing the number on your scale. We also love the relationships that each dietitian develops with their clients and how they treat them like complex, unique individuals.
Key Benefits of Top Nutrition Coaching
Expert guidance and support
Thorough dietitian matching system
Free two-week trial period
Noom vs. Weight Watchers vs. Top Nutrition Coaching: Key Differences
Although all three of these companies promise to help with healthy weight loss, each takes a significantly different approach. When deciding which program is right for you, consider the following differences:
Weight Watchers and Noom use a monthly subscription format, whereas Top Nutrition Coaching charges by session.
Weight Watchers can tend to discourage most fat consumption, including healthy fats, while Noom allows people to essentially eat what they want without restrictions. Top Nutrition Coaching develops a personalized eating plan based on the client's specific needs.
Weight Watchers offers in-person group meetings to build community. Neither Noom nor Top Nutrition Coaching has in-person sessions.
Both Weight Watchers and Noom offer basic, limited coaching, whereas Top Nutrition Coaching prioritizes expert one-on-one sessions for all clients.
What Real Customers Are Saying About Each Program
Here is what real customers had to say about Noom, Top Nutrition Coaching, and Weight Watchers:
Despite the more limited nature of its coaching services, many customer reviews mentioned Noom's educational resources and the inviting nature of its coaches.
"I love the lessons about why I eat and when I eat" - Customer Review on Trustpilot
"Motivated. I'm so happy the app is working. I love how the steps are increased in realistic steps." - Customer Review on Trustpilot
"My 1 on 1 coach has been so helpful and never let me give up, and kept me on track. She has been a joy to deal with." - Customer Review on Trustpilot
Weight Watchers
Overall, most of WW's customer reviews mention the convenience and simplicity of the company's platform.
"Great app from WW. I can find things quite easily." - Customer Review on Trustpilot
"WW has made things easy to follow, and all the guesswork is taken out. Great with the zero point foods, and the tracking system is fun to do." - Customer Review on Trustpilot
"Loving the simplicity of the app, it's helping me make better choices, track my weight, and is helping me lose weight in a controlled way. My blood sugar control is also improving." - Customer Review on Trustpilot
Top Nutrition Coaching
While most customer reviews highlighted the efforts of individual coaches, the overall impression was that Top Nutrition Coaching provides compassionate, personalized coaching for every client.
"Jordan has helped me change my mindset about food and is always positive and never tries to eliminate any foods in the diet, which is a nice change. She is very responsive and always has useful information." - Tai
"Michelle was absolutely amazing, she is very knowledgeable within her field and a breath of fresh air. I felt very comfortable speaking with her about food, exercising, health, etc. What I loved most was that the conversation wasn't just around food and weight, we talked about health and how nutrition can help with certain issues that you may have. She knows it all, very impressed and very happy with everything that I received from working with Michelle." - Lindsey
"Emma has been fantastic to work with. My work life is nothing but stressful deadlines which played a role in my diet. She has taught me the importance of prepping ahead and to be mindful what I eat. I love the apps she recommended to help manage my schedule and track my eating habits without calorie counting." - Savannah
Noom vs. Weight Watchers vs. Top Nutrition Coaching: Which Is Better?
Any weight loss journey is an intensely personal undertaking. And, because you are a unique person with unique needs and goals, it's likely that your ideal weight loss program may look different from someone else's. To that end, any of the three programs we outlined in this article may help you achieve results.
If you're looking for rigid structure and simplicity, Weight Watchers have honed their services over the past 60 years to take almost all of the guesswork out of dieting. While this may mean less customization than either Noom or Top Nutrition Coaching, it still may be the best bet for those who value convenience over independence.
For a behavioral approach to weight loss that promises more long-term results than simple calorie counting, Noom brings a fresh perspective to the nutrition industry. Between their daily lessons, psychological techniques, and basic coaching sessions, this company can make better nutrition a habit--not a chore.
Finally, those willing to put in slightly more personal effort for substantially better results may favor Top Nutrition Coaching. By partnering with one of their registered dietitians, you learn the "how" and "why" behind better nutrition--not just the "what." By doing so, you set yourself up for a lifetime of better health without the need for endless memberships or subscriptions. Additionally, Top Nutrition Coaching's team of specialists can guide you through any other concerns you have, such as chronic illnesses or athletic goals.
If you're curious about the ways a nutrition coaching company might serve you, consider taking Top Nutrition Coaching's complimentary quiz or scheduling a free informational session with their team. Even if you decide to go in a different direction, clarifying your goals and needs can help you make the right choice in the long run.