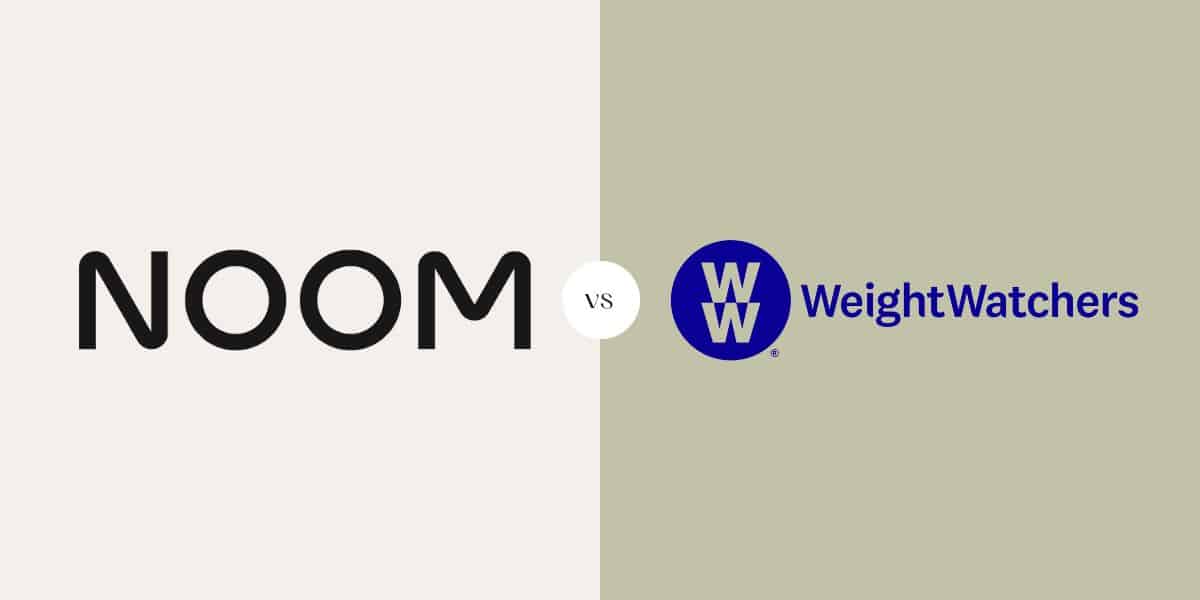 Noom and Weight Watchers are two popular programs designed to help people lose weight and become a healthier version of themselves. Noom is an app and web-based program, while Weight Watchers has in-person meeting options in certain areas in addition to their online programs.
We have looked at each program and determined the pros and cons of each, which we will share here. First, check out our quick overview tables of the two programs below, then continue reading for a more in-depth look at both services.
| | | |
| --- | --- | --- |
| | Noom | Weight Watchers |
| How It Works | Noom works by helping you set goals and track your food through its online system. It is effective for short-term weight loss goals. | Weight Watchers, or WW, works by using a point system. It is also effective for short-term weight loss goals. |
| Food Tracking | Color-coded system | Food points system |
| Support | Virtual weekly check-ins with a coach through the app. | Access to a virtual coach. Unlimited access to in-person support groups is available for an additional fee |
| Education | Daily prompts through the app to complete lessons | Available on the WW app and website |
| Weight Loss | Effective for short-term weight loss, it also offers psychological help for long-term weight loss through informed decision-making | Effective for short-term weight loss. |
| Cost | $17+ per month | $23+ per month |
| App | Available on Android and Apple devices | Available on Apple and Android devices |
| Trustpilot Score | 4.2 out of 5 stars | 3.3 out of 5 stars |
Overview of Noom
Noom was founded in 2008. Since then, it has reportedly helped many people achieve their weight-loss goals. The company claims to exist to help people better understand and control their health.
Noom is a subscription-based program where users pay a monthly fee to get all the benefits of being a member, such as tracking their health and diet, getting a health coach, and getting daily lessons on how to improve their health using behavioral science and psychology.
Pros
A great tool to help you change your diet and health habits at your pace
Access to online health coaching
Helpful courses that increase your awareness and education about your health and well-being
No food rules besides the red, green, or yellow indicators
Cons
It has a monthly fee
No specific meal plans or food options for purchase
Is not a long-term solution
Bottom Line: Noom is a great tool for people who want to improve their overall health without completely changing their diet and lifestyle and do not mind paying a monthly fee. It is best for those who approach weight loss from a behavioral change standpoint.
How Noom Works
Noom does not focus on good or bad foods. Instead, they help users make informed decisions about the types of foods and behaviors they are adding to their lives.
Health coaching is available for users that want it, but it is not an integrated part of the program, so if you prefer not to have a coach work with you, that is okay. With its flexible approach to weight loss, Noom is a great choice for anyone who wants to start making healthier choices.
To get started, you simply take a quick demographic and goals quiz when you first log in. Based on your responses, Noom will provide you with personalized recommendations. However, the app is highly customizable based on your preferences. You can log the foods you eat and the exercises you do, which allows Noom to provide tailored coaching on nutrition, exercise, and behavior change.
What sets Noom apart from other weight loss apps is its unique approach to behavior change. By addressing the underlying thoughts and emotions that drive behaviors, Noom aims to help users establish healthier habits that will last a lifetime.
How Much Does Noom Cost?
Noom offers a free 14-day trial to start. Then, you choose a plan that ranges from $16 to $59 a month. You can also pay $199 annually if you prefer. The program is designed for 16 weeks, so you might not need an annual membership.
What We Like About Noom
We like that Noom puts the individual in the driver's seat. There is no set meal plan nor a list of foods to eat each day or week, but rather an easy-to-follow guide of green foods, yellow foods, and red foods. The individual has accountability and support from online health coaches, and it has worked for millions of users worldwide thus far. We also love that the price is comparable with other weight-loss programs and that the app is user-friendly.
Key Benefits of Noom
Accountability and support from online health coaches
No set diet or eating schedule
Comparable price with others on the market
An easy-to-follow guide on which foods to eat
Educational tools that are rooted in psychology to help users stay on track after the program ends
Overview of Weight Watchers
Weight Watchers is one of the most famous and long-running diet programs. It is now called WW, and it operates both online and in person.
Its rebranding as WW comes after many years of Weight Watchers being a solely diet-based weight-loss program. The new WW brand also gives advice on how to change your habits to lose more weight.
With Weight Watchers, users are given meals and foods worth certain points, and the point system helps keep them accountable for how much a given food type or food group eats per day. It is intended to assist you in keeping track of the types of food you consume each day.
The company claims that WW members lose twice as much weight using their program than they would have on their own. They are also highly recommended by doctors who believe in recommending weight loss programs to their patients.
How Weight Watchers Works
The premise of Weight Watchers is the point system. When you get started, you answer many questions about your height, weight, gender, and lifestyle. Then you are presented with the amount of food you need to eat to obtain your goal weight by shedding one to two pounds per week.
You will be assigned a certain number of points to stick to per week. The points are a stand-in for calorie counting, so each food is assigned a certain amount of points, and you have to stick to a certain amount for the day or week.
You can pay for in-person group consultations with health coaches to create an accountable community during your journey, or you can pay for the version that is available online only. Regardless of the plan you choose, you will be able to easily track your daily points in the app.
How Much Does Weight Watchers Cost?
There are two membership options with WW. The Core membership is $15 per month, and users can get everything the app has to offer, including 24/7 support and health coach online chat.
The Premium membership is $30 per month and comes with everything the Core membership has to offer, plus in-person workshops and sessions and more educational opportunities to learn how to use behavioral changes to help lose weight in the future.
What We Like About Weight Watchers
We like that there are in-person options with Weight Watchers. Going at something like this alone can be challenging and isolating, so finding an in-person community can help with those feelings.
We also like that there is more structure to the types of foods you can eat while on the Weight Watchers program. It takes the guesswork out of dieting. We also like that there is an in-person option to help build community and accountability.
Noom vs. Weight Watchers: Key Differences
The key differences lie in their prices, their point systems, and the opportunity for in-person or online meetings. Below are a few notable differences to know about Noom vs. Weight Watchers.
Weight Watchers offers in-app rewards for completing tasks that can be used for various rewards, while Noom does not.
Weight Watchers can tend to discourage most fat consumption, including healthy fats, while Noom allows people to essentially eat what they want without restrictions.
Noom does not offer in-person meetings or workshops, whereas Weight Watchers does.
Noom is more expensive per month than Weight Watchers if you do not do the yearly plan.
What Real Customers Are Saying About the Programs
Here is what real customers had to say about Noom and Weight Watchers:
Noom
"I love the lessons about why I eat and when I eat" - Customer Review on Trustpilot
"Motivated. I'm so happy the app is working. I love how the steps are increased in realistic steps." - Customer Review on Trustpilot
"My 1 on 1 coach has been so helpful and never let me give up, and kept me on track. She has been a joy to deal with." - Customer Review on Trustpilot
Weight Watchers
"Great app from WW. I can find things quite easily." - Customer Review on Trustpilot
"WW has made things easy to follow, and all the guesswork is taken out. Great with the zero point foods, and the tracking system is fun to do." - Customer Review on Trustpilot
"Loving the simplicity of the app, it's helping me make better choices, track my weight, and is helping me lose weight in a controlled way. My blood sugar control is also improving." - Customer Review on Trustpilot
Noom vs. Weight Watchers: Which Is Better?
When it comes to weight loss, it is essential to select a program that meets your budget and lifestyle. Weight Watchers is an excellent choice for individuals who prefer a more structured approach to weight loss, whilst Noom is good for those who prefer a more flexible approach.
Although both programs have happy client success stories over the years, picking one of them is preferable than having none. Yet, Noom stands out as the superior option due to its extensive instructional material and emphasis on adaptability. Instead of just following a set of rules, members of Noom are equipped with the information and skills necessary to create meaningful lifestyle changes.
In addition to individual coaching and support, Noom's collection of healthy recipes and its innovative approach to behavior modification make it the best option for anybody seeking to create better habits and achieve long-term weight reduction success. Ultimately, if you're searching for a program that caters to your specific requirements and encourages sustainable lifestyle changes, you should try Noom.
Why We Recommend Top Nutrition Coaching Instead
According to Top Nutrition Coaching, the key to attaining one's health and wellness objectives is having access to the greatest nutrition experts available. Their strict screening process makes sure that only the most qualified and experienced Registered Dietitians join their network. This makes them the best online nutritionist service provider.
Top Nutrition Coaching puts a lot of emphasis on clinical expertise, coaching skills, and personalized care. This makes sure that each client gets the help they need to get the results they want. The team is dedicated to making solutions that will last and help its clients succeed in the long run.
By choosing Top Nutrition Coaching, consumers may embark on the path to a better and happier life with the assurance that they are receiving professional counseling from the most qualified certified nutritionists and registered dietitians.
Take charge of your health by taking their quiz and getting matched with a nutritionist immediately.