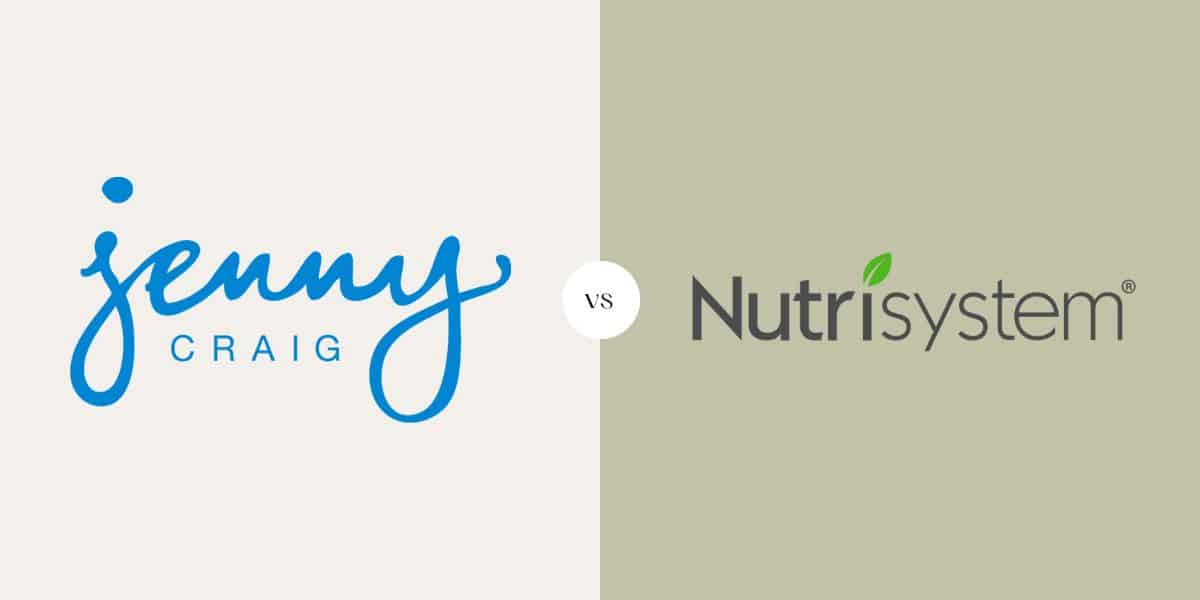 Every year, nearly 45 million go on a diet in the US. Of these 45 million, studies suggest that almost 80% will ultimately "fail" those diets, either by failing to lose the intended amount of weight or by gaining back a significant portion of the pounds lost. Experts believe that this staggering statistic is largely due to a misunderstanding of the factors that go into successful weight loss.
Don't let statistics dishearten you, though: experts also say that change is on the way. Specifically, weight loss programs focusing on building healthy eating habits rather than strict, inflexible diets have begun to gain popularity. For these programs, losing weight is a byproduct of lifestyle changes and healthier overall choices--not draconian food restrictions or calorie counting.
To build these better habits, different companies take different approaches, with meal delivery services representing one of the most effective. Jenny Craig and Nutrisystem are two such companies, and they help customers achieve healthy weight loss and improve diets by delivering healthy, pre-prepared meals.Our question, however, is how effective this type of meal delivery service is at promoting lasting change. To find an answer, we'll compare Jenny Craig and Nutrisystem to one another, then compare both to Top Nutrition Coaching, one of the nutrition coaching industry's most trustworthy companies. Then, we'll give our advice on how to choose a weight loss program that actually works, red flags to look out for in a potential service, and other options you might consider.
Quick Overview
| | Jenny Craig | Nutrisystem | Top Nutrition Coaching |
| --- | --- | --- | --- |
| How It Works | Heat-and-eat meals shipped to home | Heat-and-eat meals shipped to home | Guidance from registered dietitians |
| Food Tracking | Users choose one breakfast, lunch, dinner, and snack each day | The app guides users on when/what to eat | Dietitians build meal plans and use custom apps to track them |
| Support | One-on-one coaching with the Max Up plan | One-on-one chat and phone support | One-on-one coaching with nutrition experts |
| Education | Health info on website | Health info on the website and app | Extensive educational sessions and online resources |
| Weight Loss | Short-term | Short-term | Long-term |
| Cost | $13.99+ per day | $9.99+ per day | $65+ per session |
| App | Available on App Store and Google Play | Available on App Store and Google Play | Available on App Store and Google Play |
| Customer Reviews | 3.7 stars | 1.5 stars | 4.8 stars |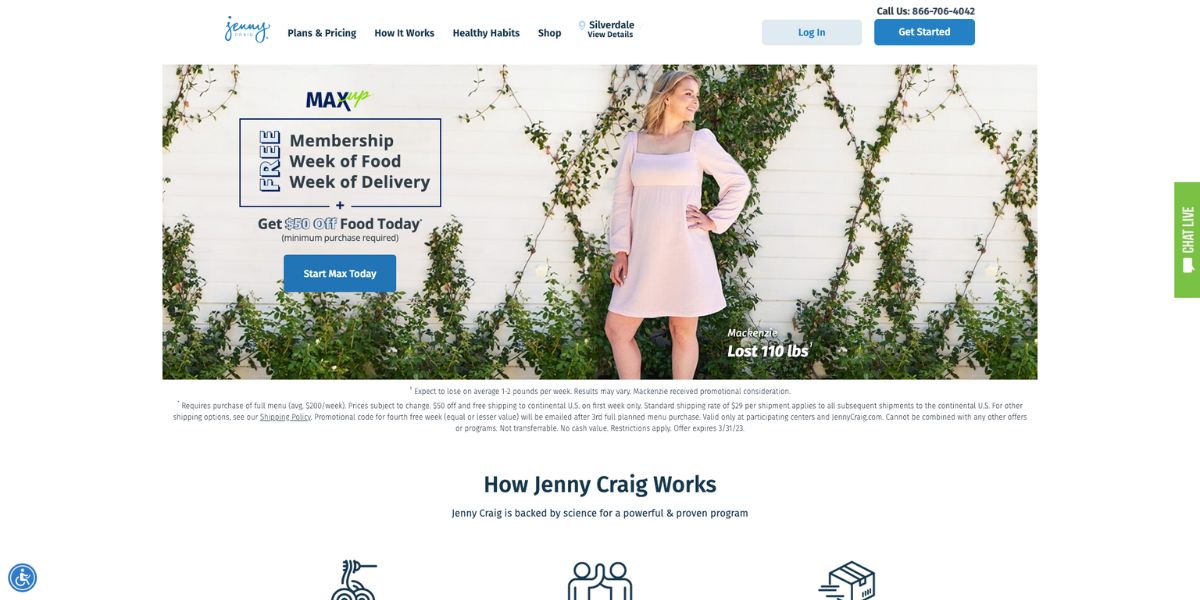 Jenny Craig is a meal-plan delivery service designed to help its customers lose weight. Most meals are frozen, with the occasional inclusion of pantry-stable items, and you can either have deliveries shipped to your home or to a local pickup center.
According to the company's website, customers experience an average weight loss of one to two pounds per week, which falls in line with many experts' recommendations for an ideal weight loss plan. To supplement this weight loss, some plans include access to one-on-one coaching intended to keep you motivated and on track.
Although the Jenny Craig program uses pre-packaged foods with minimal variation to drive weight loss, the company nonetheless works hard to ensure each meal contains a complete nutritional profile. To achieve this feat, it works with weight loss counselors and nutritionists to help develop meal plans that meet your dietary needs while helping you lose weight. Additionally, the company uses a specific system of meal timing known as intermittent fasting to promote greater weight loss.
Pros
Plans include a week's worth of meal and snack options
All plans (other than Basic) allow access to all foods
Recharge bars help reduce cravings and maintain energy levels
Cons
Menu items do not rotate
Not as much variety as some competitors
Bottom line: Overall, Jenny Craig offers a reliable, time-tested service to help customers lose weight at a healthy rate of one to two pounds per week. Even so, limited meal variety means that some users may find it difficult to maintain the diet, and a lack of secondary resources may result in a loss of progress once ending Jenny Craig's services.
How Jenny Craig Works
Through Jenny Craig's system, you'll choose a meal plan that fits your budget and lifestyle. Each week, you'll receive a set number of meals and snacks that you choose from a rotating menu. Unlike some competitors, Jenny Craig supplies enough prepared meals to fit all of your weekly nutritional meals, meaning you'll never have to cook your own meals if you'd prefer not to.
Customers who upgrade to the company's Max+ plan will be given the opportunity to meet with a weight loss coach, either online or in person, to discuss their health goals and strategize the best menus and activities to promote weight loss.
Each week, Jenny Craig delivers food from local and national distribution centers. From these deliveries, members can choose their preferred assortment of breakfasts, lunches, dinners, and snacks based on their plans. For preparation, customers must simply take the frozen or refrigerated meals and heat them however they choose. While these meals provide balanced daily nutrition to meet each customer's needs, Jenny Craig still suggests supplementing with fresh produce from time to time.
How Much Does Jenny Craig Cost?
Jenny Craig offers a variety of plans to fit your budget. For the duration of your program, you'll work with your assigned coach to choose meals you enjoy. While the program doesn't rotate like some other meal replacement services, Jenny Craig constantly adds new recipes to provide variety and keep their menu in line with current food trends. Most plans include seven days' worth of breakfasts, lunches, and snacks.
Simple Meal Plan
The Simple Meal Plan includes a whole week of breakfasts and lunches. It costs $13.99 per day.
Essential Meal Plan
The Essential Meal Plan costs $21.99 per day and comes with three meals per day.
Max Up Weight Loss Meal Plan
With the Max Up Weight Loss Meal Plan, you get the Essential Plan plus seven snacks or desserts and seven recharge bars.
The plan also comes with one-on-one coaching sessions, during which your coach will help you choose the best meals for your weight-loss journey and offer motivation. It costs $24.99 per day, making it an excellent addition of value for only $3.00 more than the Essential Meal Plan.
7 Meal Bundle
The 7-Meal Bundle provides seven pre-selected dinners for $79.99. It can be purchased alone or used to supplement another meal plan.
What We Like About Jenny Craig
Our favorite Jenny Craig features include:
Affordable, easy-to-follow plans
Room to add fresh fruits and vegetables
Clear, transparent pricing
Like Jenny Craig, Nutrisystem's weight loss program delivers ready-to-eat meals to your doorstep to help simplify dieting and ensure a healthy balance between macronutrients, vitamins, and calories. These meals are broken down into six servings per day, each with a careful mix of lean proteins, vegetables, and carbohydrates.
Unlike Jenny Craig, Nutrisystem offers a varied menu that rotates each week to add variety and reduce the monotony of a diet program. Despite this regular turnover of menu items, Nutrisystem does lack customization options for customers with food allergies or dietary restrictions, which is something to consider before signing up for their services.
All Nutrisystem plans include access to the Numi app, which helps with tracking food intake and guides you toward what foods to eat and when. This is done due to the fact that eating certain foods at specific times each day can help boost your metabolism.
Pros
Wide variety of foods and recipes to prevent burnout
Offers plans for people with special needs, like seniors and people with diabetes
Includes basic personal coaching with all plans
Cons
Some plans only cover five days' worth of meals
Must purchase a premium plan to access certain meals
Bottom line: Though it may be more expensive than some competitors, Nutrisystem meals contain high-quality ingredients and are relatively more varied than the standard fare of meal replacement services. Combined with the guidance of their custom app, these features provide a considerable boost to weight loss efforts. Even so, the limited nature of Nutrisystem's coaching and lack of substantial nutrition education may cause confusion for some users.
How Nutrisystem Works
Nutrisystem has different meal plans for women, men, couples, and people over 55 years old with different needs. After choosing a plan, you'll select the meals you want online from more than 130 menu options.
Next, Nutrisystem ships your food at regular intervals of four to six weeks. Once you receive your food, you'll use the Nutrisystem app to help you determine what to eat and when to eat it. This careful tracking and meal timing, combined with Nutrisystem's high protein and low glycemic index meals, helps maximize your metabolism and burn fat.
For the first week, Nutrisystem has a specific plan to help you jumpstart your weight loss progress. After the first week, you'll move into a more regular schedule. Throughout your weight loss program, you'll also have "flex days" and budgeted calories to supplement your diet with fresh fruits and vegetables outside of pre-packaged meals.
How Much Does Nutrisystem Cost?
Nutrisystem has different plans to fit your budget and way of life, as well as plans designed for people with special nutrition needs. For the same price, the Basic, Uniquely Yours, and Uniquely Yours Max+ plans also have menus made specifically for people with diabetes. All plans include basic coaching.
Basic
The Basic Plan includes five days of breakfasts, lunches, dinners, and snacks each week, and all meals are pantry-stable. It costs $9.99 per day for women and $11.61 per day for men.
Uniquely Yours
The Uniquely Yours comes with five days' worth of meals per week, including flash-frozen options to seal in maximum nutrition. The cost is $12.14 per day for women and $13.39 per day for men.
Uniquely Yours Max+
This plan allows for five to seven days of meals, including restaurant-inspired favorites and high-protein meals. It costs $13.57 per day for women and $15.18 per day for men.
Partner Plans
Nutrisystem offers partner programs for people who live in the same home. The plans start at $9.99 per day and increase based on gender and chosen optional features.
Complete 55 / Max Vitality
Nutrisystem designed the Complete 55/Max Vitality Plans specifically for men and women over 50 to help them lose weight despite a slower metabolism. It costs $13.92 per day for women and $15.41 per day for men.
What We Like About Nutrisystem
Overall, our favorite Nutrisystem features include:
Large variety of rotating meals
Separate plans formulated for women, men, older customers, and special dietary needs
Restaurant-inspired foods for more premium plans
Rather than providing an automatic food delivery service, Top Nutrition Coaching provides customized education, meal plans, and guidance from a registered dietitian to help customers achieve a range of health goals. Though this means that individuals still need to shop for groceries and prepare their own meals, it can often promote long-lasting, sustainable weight loss in a way that meal services cannot.
Although Top Nutrition Coaching's weight loss counselors are most relevant to this article, it's important to note that the company also offers registered dietitians with experience in a variety of health niches, such as prenatal nutrition, diabetes management, and disordered eating recovery. No matter which niche you choose, Top Nutrition Coaching accepts only the top 1.7% of registered dietitians who apply to work with their platform.
Additionally, the company provides extensive resources such as a custom phone app, an online recipe library, and unlimited messaging with your partnered dietitian.
Pros
Education and expert guidance build long-term results
Extensive set of digital tools and resources
Accepts only the most experienced, qualified dietitians
Offers support for a wide range of health niches
Cons
Does not offer pre-packaged meals
High demand may limit scheduling flexibility
Bottom line: While Top Nutrition Coaching does not offer the convenience of pre-packaged meals like Jenny Craig or Nutrisystem, they do offer exceptional guidance and support to promote lasting, sustainable weight loss. For those who care more about a successful diet than frozen meals, nutrition counseling like that offered by Top Nutrition Coaching may be your best option for real results.
How Top Nutrition Coaching Works
In order to reassure potential customers, Top Nutrition Coaching offers a complimentary informational session with one of their specially-trained professionals. During this session, you and a Top Nutrition Coaching representative will discuss your goals, history, and what type of coach you'd prefer to work with.
If you decide to move forward after this session, Top Nutrition Coaching will use this information to pair you with your ideal registered dietitian. This dietitian will have an extensive background in a specialty related to your goals and a coaching approach suited to your personality.
From there, you and your coach will meet as often as you'd like to check your progress, continue education, or update meal plans and fitness routines as needed. Throughout this process, you'll have access to unlimited messaging and digital resources to simplify your weight loss journey.
How Much Does Top Nutrition Coaching Cost?
Because they do not offer daily meals, Top Nutrition Coaching structures its pricing based on the number of sessions each customer desires. These sessions start at $65.00 per, which varies depending on number of sessions scheduled and packaging options.
Additionally, customers who receive a referral from their physician can submit receipts from Top Nutrition Coaching to their insurance provider to receive full or partial coverage.
What We Like About Top Nutrition Coaching
Overall, our favorite Top Nutrition Coaching features include:
World-class registered dietitians
Individualized plans built for each customer
Services focus on sustainable, long-term results
Jenny Craig vs. Nutrisystem vs. Top Nutrition Coaching: Key Differences
While both Jenny Craig and Nutrisystem offer meal plans that can potentially help users lose weight, there are a few key differences to consider. Additionally, Top Nutrition Coaching offers some similar features to both services, but several important differences, such as:
Jenny Craig
Offered meals are the same for every plan
You choose what to eat for each meal
Focuses on intermittent fasting
Nutrisystem
Specially formulated plans for different needs
The app guides you through what to eat and when
Focuses on high-protein, low-glycemic foods
Top Nutrition Coaching
Dedicated dietitians offer step-by-step guidance
Suggests recipes and meal plans to suit your preferences
Focuses on specializing services based on each customer's needs
What Real Customers Are Saying About Each Company
Below are some real customer reviews of all three programs.
Jenny Craig
Overall, customers seem pleased with the variety of foods offered and the flavors they offer. Most find the program easy to use and like the convenience of the shelf-stable meals.
While some had trouble trying to cancel the program, they were usually able to rectify the problem through customer service.
"My consultant, Lynette, really got to know me and always encouraged me every week, along with helping me be successful in this program. She always had the best advice and tips." - Kelly Cole Johnson
"There are tons of foods to choose from! Don't eat a week's worth of desserts in two days like I did. "The chocolate lava cake rivals any five-star restaurant." - Marie of Alpine, NJ
"The meals at Jenny Craig have a good variety. Some of them I love, and some of them could be better. I can't get 100% satisfaction on all the meals, but I do like the fact that we can change the stuff that we absolutely don't like." - Sueyanne of Mississauga, ON
Nutrisystem
Many customers have great things to say about Nutrisystem's customer service. The brand even makes attempts to reach out to dissatisfied customers.
Users seem to like the variety of foods offered, and many have experienced successful weight loss.
"It's been two weeks, and I have thus far lost five pounds. I am starting to work out now, so I am looking for the steady weight loss they say will (and is) happening." - Michelle G
"We have been on the "Partner" plan for a week. We both love it. We don't get hungry and are already experiencing weight loss. We think the food is good considering its diet." - AZ Customer
"I've lost 17 pounds on NutriSystem. I've struggled with my weight for several years and have trouble sticking to diets. The small portions have changed my approach to food, and I realize that I don't need to overeat to be satisfied." - Sarah Quane Smith
Top Nutrition Coaching
Though Top Nutrition Coaching earned high praise across the board from past and current customers, most reviews mentioned the compassionate, dedicated approach of their registered dietitian. Additionally, many reviews included stories about successful weight loss and, more importantly, keeping that weight off long after ending their program with Top Nutrition Coaching.
"I've loved my experience! My sessions definitely helped reduce my anxiety around food. I love having additional support." - Olivia A.
"Fantastic experience! I look forward to my coaching sessions so much. Krissy not only supports me in my meal planning and macro tracking but also takes the time to teach me about the science behind nutrition. I feel like I'm learning so much!" - Chelsea A.
"Annie is very knowledgeable regarding nutrition - but most importantly, she's realistic. She has given me many tips to better the food choices in our home! She has many times reiterated that this is a journey - it won't happen overnight! She is right, but the small changes are starting to make a difference!" - Donna A.
Jenny Craig vs. Nutrisystem vs. Top Nutrition Coaching: Which Is Better?
For customers intent on using a meal replacement service, both Jenny Craig and Nutrisystem provide simple and cost-effective weight loss plans. Between the two, however, Nutrisystem may be the superior choice due to its greater selection of nutritionally balanced meals. Users of Nutrisystem may pick from a variety of meal plans and a menu that includes frozen and shelf-stable choices.
Still, while Jenny Craig may not offer the same amount of flexibility and menu variety as Nutrisystem, it does offer individualized meal plans and basic coaching services.
If meal replacement matters less to you than the overall success of your weight loss efforts, you might consider choosing Top Nutrition Coaching or another registered dietitian platform instead. Although they don't offer the convenience of pre-packaged meals, they do offer a solid foundation of guidance, expert knowledge, and education to maximize the likelihood of sustained weight loss.Even if you're still unsure whether these services are right for you, consider taking Top Nutrition Coaching's complimentary intro session to answer any questions you may have.