Thinking about going vegan? Want to add some plant-based meals to your week? I've got some easy and helpful ways to go vegan without the stress.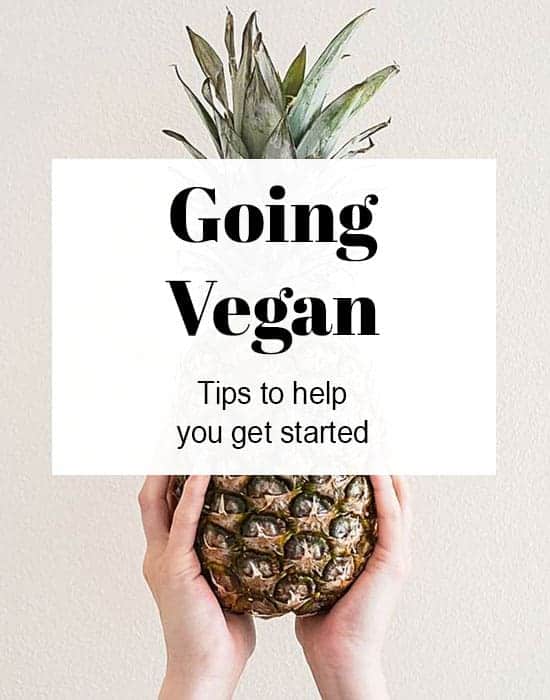 There are many reasons people are going vegan nowadays - your health, the animals, the environment, etc. Whatever your motivation I wanted to give you a starting off point and share some things that helped me or that I wish I knew when I began my journey.
I can talk endlessly about the subject so I will try to relay this information in a clear and concise manner (or as clear and concise as my frantic brain will allow).
Today I'm sharing some basics for those who are interested to see if going vegan is for them or want to add in more plant-based meals to their diet. This part will help you start slowly so you don't get overwhelmed.
Jump to: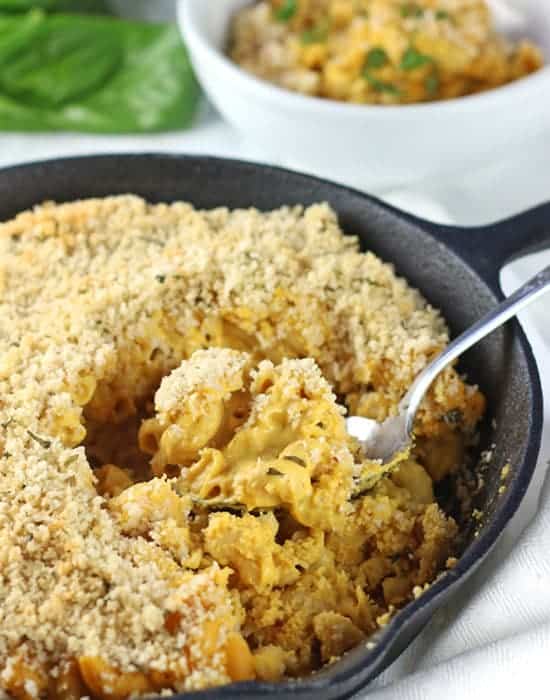 (my Vegan Pumpkin Mac & Cheese)
Going Vegan
Firstly, I'd like to point out I'm not one of those militant vegans who criticizes someone when I see them eating meat, cheese, etc. I try to teach veganism through positivity so you will not find negativity or the like anywhere on my website.
I believe that being too restrictive or putting people down kills motivation. I try not to push my beliefs on anyone but do my best to live a caring life and be supportive of those who are interested in determining if a vegan life is for them (and hopefully it will be!).
I'm happy when people cut out any toxic products and I encourage everyone to add more plants to their diet for their health.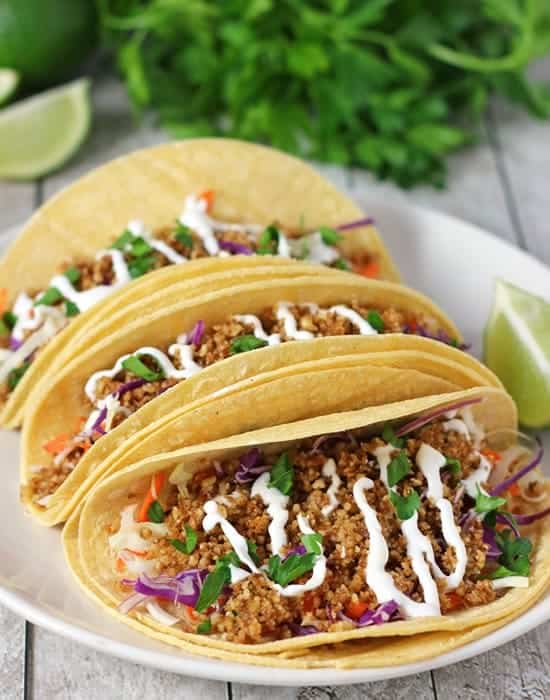 (my Walnut "Meat" Tacos)
Vegan or Plant-Based?
My sister pointed out that some folks may not know the difference between vegan and plant-based, so I will explain briefly what each means from my point of view:
A vegan is a person who does not consume or use any animal products. Therefore, in addition to not eating meat & dairy, a vegan would not buy products that contained leather, wool, etc.
Plant-based focuses on one's eating habits – usually eating only non-animal foods. Also, some people use plant-based as the "healthy" version of vegan. This use is due to plant-based eaters focusing on whole foods and veggies whereas someone who considers themselves a vegan may include processed foods in their diets.
It's Okay to Start Slow (and not be Perfect) When Going Vegan
I was vegetarian for a while before fully going vegan which helped transition me into my new lifestyle. Some people can go plant-based overnight but that can be overwhelming to others.
Transitions can take time and that's okay. Nothing has to happen immediately. It also doesn't matter if you "slip up" either (we all do), it only matters you're on the right path.
The key thing to remember is that we're all different and we have unique bodies and preferences. You may find things work for you right away or you may have to try a number of things to get into the groove.
It may take longer for some people to transition than others and that's okay. Just focus on your reasons to be vegan and be patient with yourself.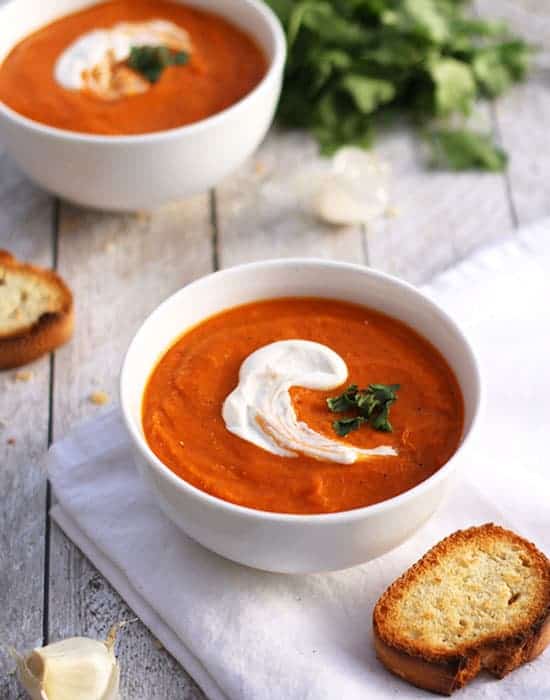 (my Roasted Tomato & Chickpea Soup)
Vegan Starter Meals
Depending on how comfortable you are, you can start with one meal a week or one meal a day. After you're comfortable with one meal a week or day, up your vegan meal intake.
If cheese seems too overwhelming to give up at first, start with meat and then once you're comfortable with those meals, move on from there. Chances are you are probably eating many plant-based foods already.
Easy meals to start with when going vegan are ones that you don't need cheese/meat substitutes for so you (and your family) won't feel like there's something missing.
Some meals that do not need to be centered around meat/cheese are:
Pasta: Use tomato sauce or garlic and oil and add all the veggies you like
Veggie based soups: minestrone, escarole & bean, tomato or veggie broth-based soups, etc.
Smoothies: Substitute a non-dairy based milk such as almond, cashew, soy, etc.
Salads: Use a vinaigrette based dressing and add your favorite veggies and nuts/seeds for protein
My most important advice is to "crowd out" animal-based foods at first. Crowding out means is to focus on filling your plate with plant-based foods and keeping any meat or cheese as an accompaniment.
For your meals that aren't fully plant-based yet, you "crowd" your plate with veggies and rice/pasta/beans so it leaves less room for non-vegan foods. This will get you started on making vegetables the main focus of your meal (which is best for your health too).
I know it's not always easy at first - it sure wasn't for me (as I never ate veggies before going vegan) but I have never felt better than I do now, so give it a try!
Check out my Recipes Page for lots of meal ideas and my 10 Essential Vegan Kitchen Staples for how to start stocking your pantry. You can also search for the hashtags #vegan and #plantbased on Twitter, Instagram, and other social media platforms. There are so many tasty plant-based foods out there for you to find!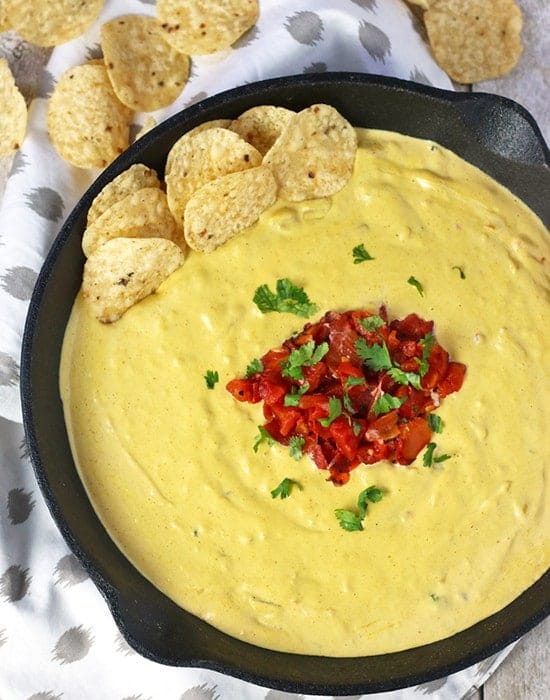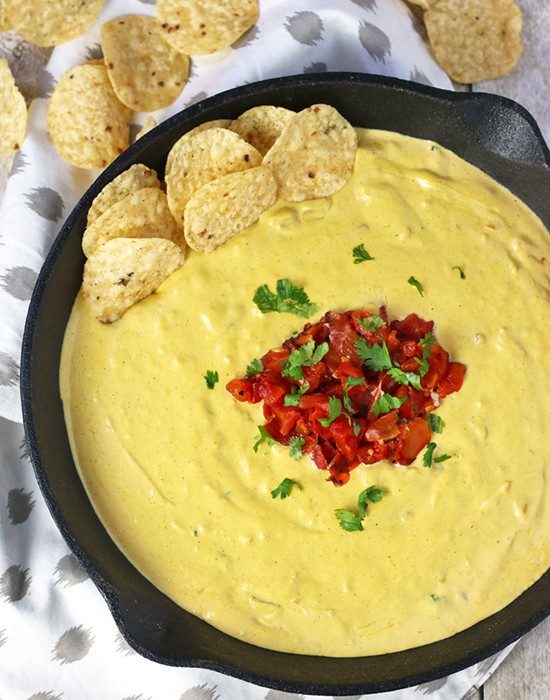 (my Vegan Chipotle Queso)
Vegan Replacements
Easy replacements for animal-based products that are not too overwhelming are:
Beans for meat (the easiest to digest are adzuki, lentil, and mung beans)
Mushrooms for meat (mushrooms give that kind of meaty texture to foods)
Any non-dairy milk for cow's milk
Vegetable broth for chicken broth
Earth Balance spread, coconut or olive oil for butter
Vegan chick'n, meatless crumbles, veggie burgers, etc., for their counterparts. Many don't taste as different as you might think
I share my favorite brands in this Vegan Shopping Post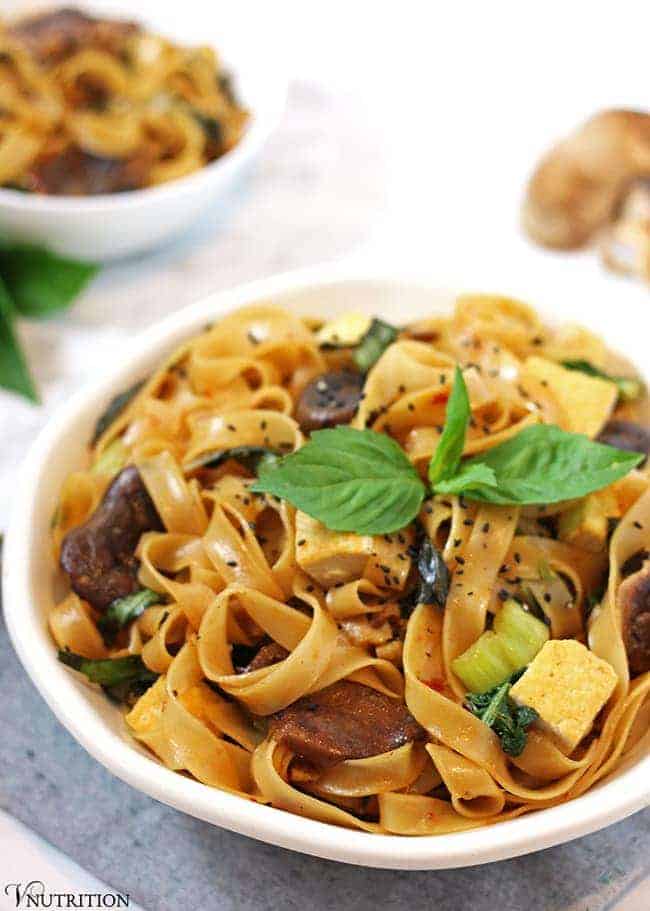 (my Thai Basil Noodles)
Veg-Friendly Cuisines
Something else to think about is different cuisines when you're going to dinner, getting takeout, or even looking for recipes.
I find that some cuisines can be more veg-friendly than others as they do not rely as heavily on meat or dairy or offer tofu or veggie options such as:
Chinese
Thai
Japanese
Vietnamese
Indian
Ethiopian
Other Info for New Vegans
Want more info? Check out these popular posts:
Vegan Grocery Shopping post!
Final Thoughts
We all have our hard days when starting something new. When I felt like giving up, I'd ask myself: Why am I doing this?
Remember to remember your "why". Your motivation for going vegan could be being healthy, losing weight, and/or helping our animal friends. Everyone's own reason is their greatest empowerment.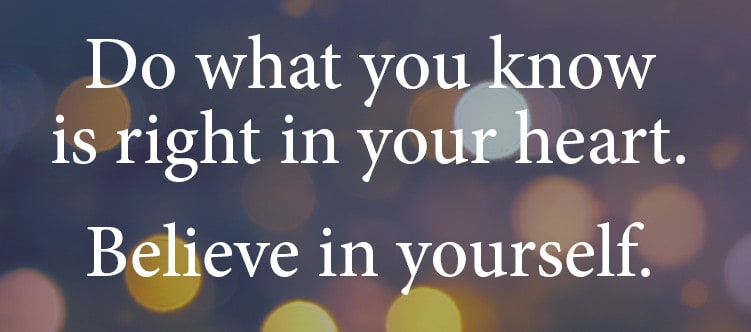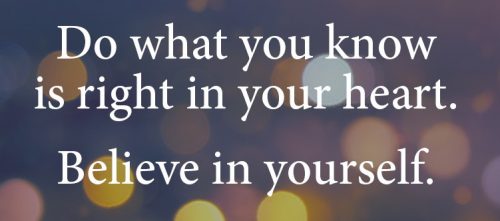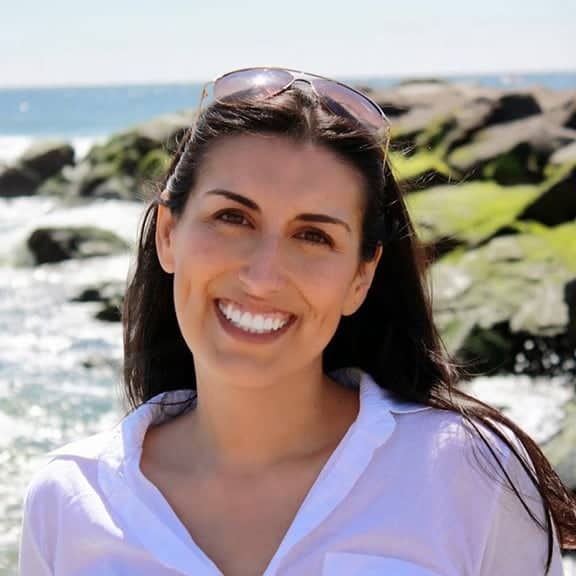 Mary Ellen Valverde MS, CNS, LDN is a Licensed Nutritionist and Certified Nutrition Specialist who empowers vegans to feel clear and confident about what is uniquely nourishing to them. Mary Ellen's recipes and nutrition information have been featured on Yahoo News, Parade, VegNews, LIVESTRONG, Dr. Axe, Greatist, LIVEKINDLY, Brit+Co, Well+Good, and more.