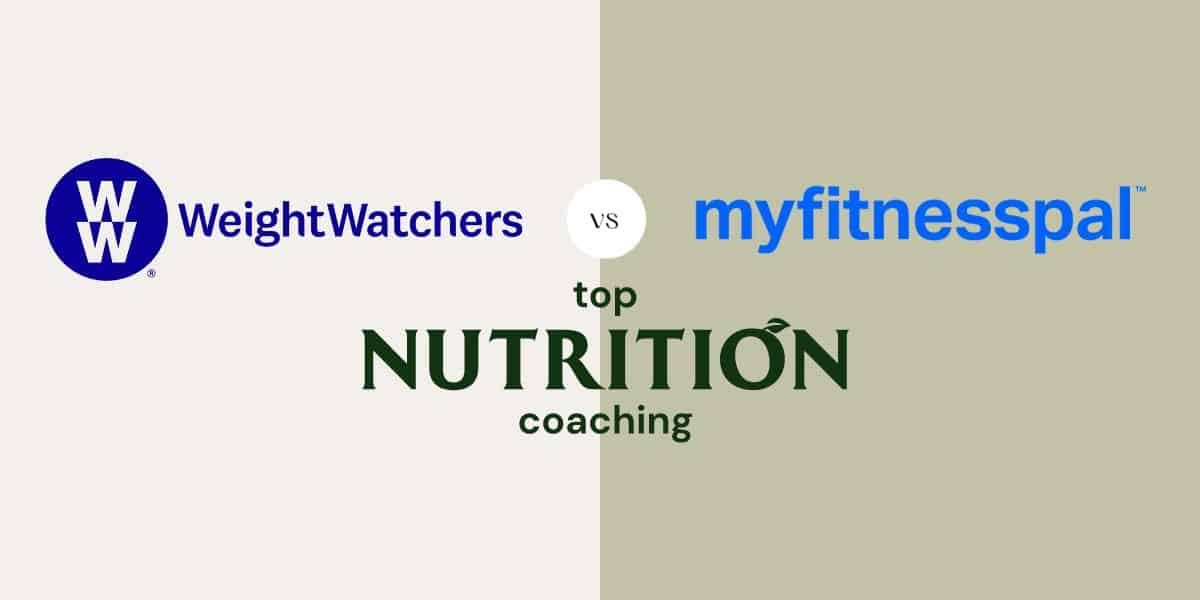 Like many people trying to make progress in their fitness journey, you may have bounced between weight loss plans without ever quite reaching your target weight. Even among those who do succeed, almost 80% will regain some portion of the weight lost within twelve months. For this reason, many people turn to fitness coaching companies for help shedding pounds–and keeping them off.
Of the countless such services available on the market today, Weight Watchers, MyFitnessPal, and Top Nutrition Coaching are three of the most reputable. Still, each company's services provide subtle differences with potentially enormous implications for your weight loss results.
Small differences have a way of adding up, however, so we're confident that by the end of this breakdown, you'll understand for yourself which of the three weight loss companies provides the most value and which is right for you.
| | Weight Watchers | MyFitnessPal | Top Nutrition Coaching |
| --- | --- | --- | --- |
| How It Works | Every food is assigned a point value | Users log meals and daily exercise | Expert dietitians develop personalized plans |
| Food Tracking | You have a weekly and daily points budget | Easy to log and count calories | Custom app and dietitian guidance to track diet |
| Support | Coaching is always available and one-on-one coaching is available for a higher price | Social media-style platform lets users connect with others | Coaching is at the center of all services, and is conducted by industry experts |
| Education | Healthy living blog, workshops, and other educational content in the app and on the website | Does not supply meaningful educational resources | Comprehensive education resources, recorded lessons, and in-person sessions |
| Weight Loss | The app aids short-term weight loss, and psychology insights set the foundation for informed decisions in the long run | Aids weight loss by clearly tracking caloric intake and exercise | Supports weight loss for many reasons as well as nutrition for chronic illnesses, pregnancy, and other situations |
| Cost | Free – $ | Free | $-$$ |
| App | On Android and Apple devices | On Android and Apple devices | On Android and Apple devices |
| Trustpilot Score | 1.7/5 | 1.9/5 | N/A |
Overview of Weight Watchers
Weight Watchers is a weight loss program that utilizes a point-based system to track food intake and build healthy eating habits. Rather than restricting or eliminating any one type of food, this system allows users to structure their diet according to their own preferences so long as the total number of points falls within a pre-set range. For many, this straightforward, numbered system helped to simplify the weight loss process and provide short-term improvements in overall health.
Despite its benefits, however, Weight Watchers does relatively little to teach users the "why" behind its points system or provide the well-rounded base of knowledge necessary for long-term results. Because of these failings, many users regain much of the weight lost after discontinuing Weight Watchers.
| PROS | CONS |
| --- | --- |
| Builds healthy habits | Lacks information about exercise |
| No food is off-limits | Time-consuming to input and track |
| Clear, numeric system | Services are difficult to cancel |
The Bottom Line: For its price-point, Weight Watchers is an effective educational tool for developing basic, healthy eating habits. Its tracking features are well-built and intuitive, but a lack of in-depth, customizable education requires users to remain dependent on its services rather than building a lifelong understanding of nutrition. 
How Weight Watchers Works
Weight Watchers bases its service on a personalized points system. When you sign up, you must enter personal information such as your age, weight, height, and gender. The program will then assign you a daily and weekly points budget to "spend" on different foods.
In the Weight Watchers app, each food is assigned a point value based on its nutritional value and impact on your weight loss journey. Some foods are zero points and can therefore be eaten as often as you'd like. Less "healthy" foods, such as those high in refined sugars or saturated fats, cost more points.
Throughout the day, Weight Watchers customers log each of their meals into their app. With each point spent, the application updates your "budget" and provides a clear readout of how many points you have left for the day. Additionally, Weight Watchers sets a weekly point budget at the beginning of each new week. This feature allows users to move points from one day to another for special occasions, such as a dinner out with family.
How Much Does Weight Watchers Cost?
As one of the more affordable programs on the market, Weight Watchers' core plan starts at just $10 per month. Customers wanting their premium plan, which supplies added support such as group workshops with a Weight Watchers coach, will need to pay $25 per month.
What We Like About Weight Watchers
Weight Watchers adds flexibility and clarity to any weight loss journey. And, because no food is off-limits, users can enjoy treats without feeling as though they've ruined their diet. This realistic approach to weight loss is what we like best about the platform: rather than restricting your diet, Weight Watchers promotes healthy habits by setting a reasonable points budget. 
If you want to enjoy a dessert with a high point value, you can focus on zero-point foods throughout the day to balance it out and stay within your budget. Plus, you can apply part of your weekly points budget to that day for extra wiggle room. 
We also love the social nature of Weight Watchers. It's challenging to lose weight, especially without a community to support your efforts. Luckily, Weight Watchers' premium subscription provides you with a personal coach and allows you to attend in-person or virtual workshops.
Overview of MyFitnessPal
MyFitnessPal is a free exercise- and nutrition-tracking program that incorporates elements of social media. Each time users eat or exercise, they log related details into the app's different pages. Although one of the most basic forms of weight loss tool available, MyFitnessPal's tracking app is both well-designed and easy to use, with a simple premise: by tracking your habits, you can see what you're doing well and where you need to improve.
The app's social media aspects also help promote community and accountability by connecting you to other fitness-minded people. By liking and commenting the way you would on any other social media platform, you can find tips and advice from other users.
| PROS | CONS |
| --- | --- |
| Helpful, inclusive community | Limited offline mode |
| Well-designed app | High number of advertisements |
| Straightforward tracking system | Free version has bare-bones features |
The Bottom Line: MyFitnessPal is a simple app that leverages the power of community to tackle both the nutrition and exercise aspects of healthy living. Its free version is well-built and convenient but lacks many features common to more effective, comprehensive services.
How MyFitnessPal Works
After you log personal information similar to that required by Weight Watchers, MyFitnessPal recommends a daily net calorie target to help you reach your target weight. 
After this short setup, users log their meals into the app each day. One of MyFitnessPal's most convenient features is its ability to remember meals from previous days, meaning that the longer you track, the easier it gets to add your favorite meals. Additionally, the app includes a section for tracking exercise, which it sorts by type and duration.
By tracking both the number of calories consumed and the amount of exercise performed each day, MyFitnessPal calculates your net calories for the day. This means that, unlike Weight Watchers' more rigid daily calorie limit, MyFitnessPal's calorie recommendations vary depending on your activity level each day.
Finally, MyFitnessPal recommends recording your weight weekly so your goals can accurately reflect your needs.
How Much Does MyFitnessPal Cost?
The basic version of MyFitnessPal is free, but the premium version is $19.99 per month.
Previously, those using MyFitnessPal for free could scan the barcodes of their food to log them with ease. However, you must subscribe to MyFitnessPal Premium if you wish to access this feature now.
What We Like About MyFitnessPal
We love that MyFitnessPal has a free option and seems genuinely dedicated to helping people build healthy eating habits. Although the free version of the app is relatively basic, its features allow you to test food and exercise tracking to determine whether it is useful for you without locking you into a subscription.
Plus, food tracking is simple with MyFitnessPal. After you log the same food repeatedly, the app will remember it and allow you to add it more quickly in the future. The premium version also allows you to scan an item's barcode to immediately input all necessary nutritional information.
Fitness tracking is even easier with an exercise tracker like an Apple Watch or Fitbit. You can connect these devices to your plan to automatically input your workouts and calories burned. 
Finally, social media networks are very beneficial. Users motivate each other to continue working toward their goals with online support and tips.
Overview of Top Nutrition Coaching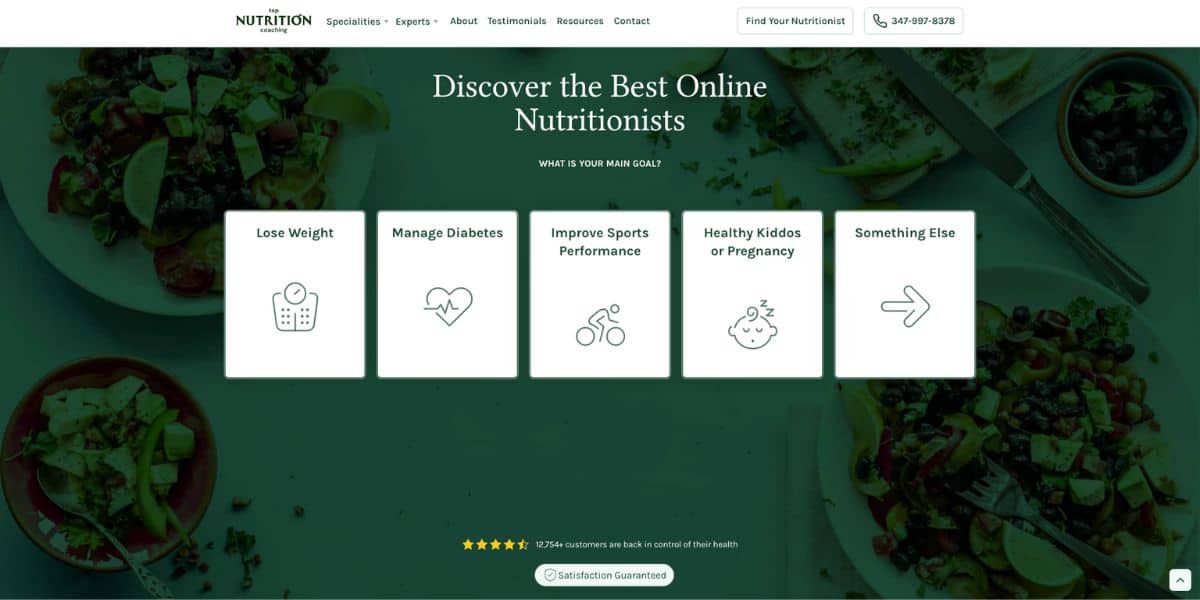 Unlike Weight Watchers or MyFitnessPal, Top Nutrition Coaching is a comprehensive program designed to radically improve your health through custom, expert assessments. Using a dedicated team of matching professionals, the service matches each customer to the registered dietitian and nutritionist best suited to their needs. By pairing the benefits of a tracking app with the consistent, high-quality advice of a nutrition expert, Top Nutrition Coaching teaches clients tools and techniques to build a better relationship with food.
Additionally, Top Nutrition Coaching maintains a diverse network of nutrition specialists. Because of this diversity, the company can help with specific issues such as chronic illness, pediatric nutrition, or meal plans to manage diabetes.
The Bottom Line: Although more expensive than Weight Watchers or MyFitnessPal, Top Nutrition Coaching's expert dietitians and invaluable resources make it the service most likely to give results.
How Top Nutrition Coaching Works
Top Nutrition Coaching offers a complimentary assessment for potential customers, during which you'll be paired with one of the company's matching specialists. During that meeting, your specialist will ask you questions about your health history, goals, and any special needs or considerations you have. Then, they'll identify a handful of registered dietitians from their roster that best fit your situation.
Once you decide on one dietitian from among these candidates, you'll meet with them to develop meal plans, learn techniques for building a healthier relationship with food, and check in about progress.
Because you have a trained professional to guide you, this method of weight loss is generally far more effective than self-driven methods. Not only do you have the information and experience needed to achieve results, but having an ally and partner to keep you on track can help avoid the pitfalls and backsliding all too common with other weight loss methods.
How Much Does Top Nutrition Coaching Cost
Top Nutrition Coaching offers different packages depending on a customer's needs and desired frequency of sessions. Those who purchase a bundled package also enjoy a reduced hourly rate. Also, many health insurance providers will partially or fully cover the cost of nutrition coaching for medical-related needs so long as the insured person submits receipts.
What We Like About Top Nutrition Coaching
We love that Top Nutrition Coaching takes a proven, experience-driven approach to health and weight loss. Rather than feeling their way through their weight loss journey alone, customers are paired with an expert registered dietitian to plan the best way forward. Also, because many of Top Nutrition Coaching's dietitians specialize in one or two areas, the service can help with more complicated situations such as diabetes or cancer nutrition.
While Top Nutrition Coaching may charge more than Weight Watchers or MyFitnessPal, it also offers far greater results. Because of this added value, users are more likely to see long-term results when using nutrition coaching compared to casual phone apps.
Weight Watchers vs. MyFitnessPal vs. Top Nutrition Coaching: Key Differences
Before choosing a weight loss service, examine these key differences:
Cost: Due to their bare-bones construction, both Weight Watchers and MyFitnessPal are relatively inexpensive, though only MyFitnessPal includes a free option. Because of its more advanced, premium nature, Top Nutrition Coaching charges more per month.
Nutritional information: MyFitnessPal focuses solely on the number of calories in each food, whereas Weight Watchers takes more nutrition data into account when designating each food with a point value. Top Nutrition Coaching takes this one step further by designing custom meal plans to achieve targeted goals.
Social features: MyFitnessPal includes a social media feed where users can communicate ideas, recipes, and tips and provide support. Conversely, Weight Watchers allows you to meet other subscribers in person and online. Top Nutrition Coaching outdoes both by allowing regular virtual meetings with a registered dietitian, as well as a communication app to ask questions.
Long-term weight loss capabilities: Weight Watchers is more sustainable and provides more guidance than MyFitnessPal, but it doesn't offer anywhere near the level of value included with Top Nutrition Coaching.
Research: Weight Watchers backs its services with scientific reviews, whereas MyFitnessPal makes no claims about its effectiveness. The benefits of coaching like that offered by Top Nutrition Coaching are thoroughly documented and far greater than those from an app-based service.
Coaching: Weight Watchers offers basic, occasional personal coaching, but MyFitnessPal offers no such service. As the name would suggest, Top Nutrition Coaching bases its services entirely on comprehensive coaching.
What Real Customers Are Saying About Weight Watchers vs. MyFitnessPal vs. Top Nutrition Coaching
Below, you will see how real customers reacted to each program.
Weight Watchers
Weight Watchers received a Trustpilot score of 1.7 out of 5 stars. Some customer reviews are:
5 stars: "I've lost 60 lbs on Weight Watchers and for someone that has struggled to lose weight all their life, for me this is a huge achievement. My WW coach and class are amazingly supportive. The app is very easy to use. I had a few issues with customer service when I first got set up, but this was a couple of years back now and I haven't had any issues since. I would honestly recommend it to anyone serious about losing weight"
2 stars: "So I'm reviewing the WW program (as opposed to those on here who are unhappy because of trouble canceling). So WW works ... you can lose as much as you want if you follow the program ... but it doesn't work because inevitably you gain it back. The first time I did WW I lost about 60 lbs. Once I stopped WW, I gained it all back, and then some within a year and a half or so. A few years went by. I tried again. I lost 80 lbs over about a year and a half, following the program exactly, and got to my goal. But my hair was falling out and I started fainting so I went to the Dr ... she said it was because I'd been restricting calories too much for so long. I stopped WW, and all of that weight plus 20 more came on -- my Dr says I hurt my metabolism by restricting my food for so long and that makes the weight come on faster. If I could go back in time, I would not do WW. I should have known better when I saw that my group leader was slowly climbing up to the point where she was close to obese again. I remember an adorable WW influencer who was at goal and had been for a while and had a blog, install, etc that was WW focused. This was when I was doing WW the last time. A few months after I started following her, she just disappeared. It turned out that she was gaining it all back and wasn't posting anymore. That is the thing. Most of us gain it all back. The yo-yo-ing has been terrible for my body."
1 star: "I rejoined and canceled in December of 2022 after losing 50 pounds in 2020 and regaining 70 in 2022. The ever-changing point system is not sustainable for the long term. They purposely give you no tools or resources to ensure your recommitment when you gain back. It's funny you gain the weight back and you're like well. WW worked and it became a cycle."
The two major complaints about Weight Watchers are the hidden fees and the unsustainable nature of the program. Many subscribers benefit from Weight Watchers initially but struggle to cancel the subscription and regain weight after canceling. 
MyFitnessPal
Trustpilot rated MyFitnessPal at 1.9 out of 5 stars. Customer reviews include:
5 stars: "I have been using this app, on and off for around 6 years. I have only ever used the free version, so have no experience with the premium service. I love this app and recommend it to everyone. I have lost weight twice using this app. I don't feel I would have achieved the same results without it. It helped re-educate me on what I had been consuming versus what I thought I had. Nothing too bad to say at all."
3 stars: "For the free version I'd give 3-4 stars, you can't complain when something is free, and helped me lose fat and keep myself accountable. If it wasn't for the constant begging to upgrade I'd score higher even though many items are incorrect. It is easy to correct them but I wish the verified items were more trustworthy.For the paid subscription I'd give zero! It is not needed so please don't be fooled or bombarded into subscribing to it."
1 star: "I have used this app for at least 6 years now and have seen increasing ad numbers (understandably to manage staff and fund new features). What I cannot understand or accept is the removal of free-to-use services within the app (barcode scanner) that have been there for YEARS and putting them behind a Paywall of close to £20 per month! Disgusting business practice. I have friends that have used this app to monitor their foods to assist with insulin balancing and now they're having to look for alternatives or pay £20 per month. Awful move, kill your app off."
Many users recommend MyFitnessPal due to the inexpensive fees and the results they experienced. However, people are less impressed by the premium version and are dissatisfied that barcode scanning is no longer available for free.
Top Nutrition Coaching
Top Nutrition Coaching does not currently have a Trustpilot score, though their average rating on Verified Reviews sits at 4.9/5. Some customer reviews are:
5 stars: "Andrea is an excellent nutritional coach. She meets you where you are and explores ways with you to improve your eating habits and lifestyle changes. She has had a very positive impact on my improved health. She is realistic and straightforward with her knowledge and information to support clients as they make changes that will last a lifetime. She is a true asset to Top Nutrition Coaching!!"
5 Stars: "I cannot eat anything with gluten, eggs, peanuts, hazelnuts, or dairy. I have been underweight, and having various digestive symptoms and fatigue. My mom found this company online and I was then introduced to Danielle Smith and it changed my life! She is EXCELLENT at helping me find healthy and adequate recipes that fit my body's food restrictions. She coaches me through difficulties I have eating at restaurants and on trips. She is a great listener and encourages my well-being. She always sends me recipes and a review of our sessions so I she them to reference back to. And the best part is she is always checking in on me and making sure I'm feeling well. After working with her for 2 months I have gained weight (which was the goal), drink 60oz of water a day (which before I drank up to 15oz), feel energized, and am so happy. Thank you so much for all the guidance!"
5 Stars: "Fantastic experience! I look forward to my coaching sessions so much. Krissy not only supports me in my meal planning and macro tracking but also takes the time to teach me about the science behind nutrition. I feel like I'm learning so much!"
Although we searched across multiple review sites, we couldn't find any ratings below 3 stars for Top Nutrition Coaching–and we only found one of those. Among five-star reviews, most referenced highlights with individual coaches and the personalized nature of Top Nutrition Coaching's services.
Weight Watchers vs. MyFitnessPal vs. Top Nutrition Coaching: Which Is Better?
Although both Weight Watchers and FitnessPal promote healthy lifestyles, Weight Watchers is more effective for a free service.
While both programs can aid short-term weight loss, Weight Watchers builds healthier habits that you can carry with you after canceling your subscription. With an emphasis on overall nutritional value rather than just calories, Weight Watchers provides more beneficial information for making informed decisions in the future. For individuals looking to make a more substantial, permanent improvement in their lifestyle and relationship to food, however, Top Nutrition Coaching is, by far, the most effective service of the three. Their expert registered dietitians, custom-built meal plans, and excellent customer service help maximize each client's chances for success–regardless of their individual health goals.
The V Nutrition Editorial Team, consisting of experts in vegan nutrition and health, focuses on providing accurate and helpful information. With backgrounds in nutrition science and a shared commitment to plant-based living, we ensure that every piece of content not only educates but also empowers our readers to make informed lifestyle choices.