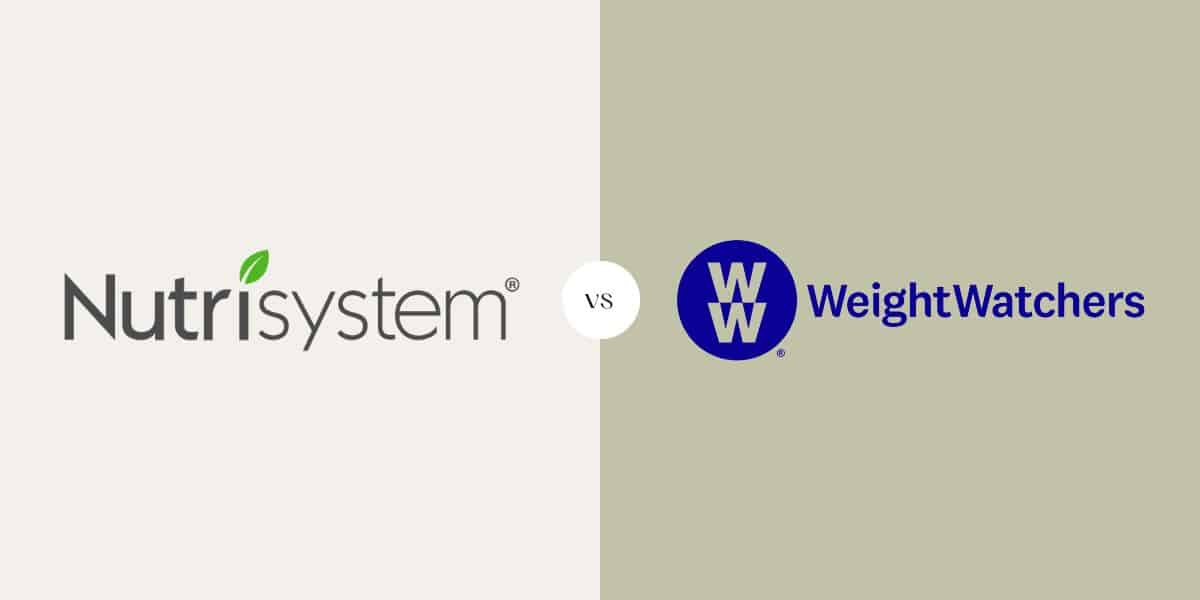 Many people wish to lose weight at some point, but only about five percent succeed. If you are serious about improving your health, you must choose the right weight loss program. Nutrisystem and Weight Watchers are popular choices, but which is the best?
Below, you see how the methods, cost, food choices, and customer reviews make one plan the clear choice. Once you find the right program, you will finally watch yourself progress toward your goal.
At a Glance
Before we dive into the details, here is an overview of the key differences between Nutrisystem and Weight Watchers.

| | Nutrisystem | Weight Watchers |
| --- | --- | --- |
| How It Works | A 4-week program with a set meal schedule | Each food item has a points value |
| Food Tracking | Log meals into the app | PersonalPoints budge system |
| Support | Personalized support is available with certain plans | Workshops, exclusive social networks, virtual access to a coach, in-app tools |
| Education | Available with forums and consultations | Healthy living blog, workshops, and other educational content in the app and on the site |
| Weight Loss | Can aid in short-term weight loss | The app aids short-term weight loss, psychology insights set the foundation for making informed decisions in the long run |
| Cost | Depends on the membership plan | Depends on the membership plan |
| App | Available on Google Play and Apple devices | Available on Google Play and Apple devices |
| Trustpilot Score | 1.5/5 | 1.7/5 |
About Nutrisystem
Nutrisystem is a portion-controlled eating plan, which includes specific meal plans to aid weight loss. Users receive pre-packaged and pre-portioned meals and snacks, which they can heat at their leisure.
This plan emphasizes high-protein food with low glycemic indexes. Aside from premade meals, Nutrisystem clients eat Flex Meals, fruits, vegetables, whole grains, low-fat dairy products, and lean proteins.
The first week on a Nutrisystem diet is very structured, while the following weeks allow you to customize your meals. After a week of jumping right into weight loss, you will learn to create healthy eating habits yourself.
Pros
Convenience
Transitional planning
Diverse foods
Cons
Cost
Heavily processed pre-packaged foods
Research is lacking
The Bottom Line: Nutrisystem is convenient, easy to follow, and ideal for those who struggle with portion control. However, it is not sustainable due to the price and reliance on meals delivered to your door.
How Nutrisystem Works
Clients prescribe to Nutrisystem every month. During the month, they receive a meal plan and meals that are pre-packaged and pre-portioned. They can also download the app "NuMi" for tips, reminders, and tracking.
Although several plans exist, most clients will spend a week jump-starting weight loss with predetermined meals. Over time, you plan your own meals, knowing that any food is an option. However, Nutrisystem provides valuable information about the most beneficial types of food to aid weight loss.
You will eat five or six meals daily, designed to control hunger with foods high in protein with low glycemic indexes. It emphasizes lowering your calorie intake over the quality of your diet, which is more effective for short-term weight loss than long-term weight maintenance.
How Much Does Nutrisystem Cost?
Nutrisystem plans range from $300 to $495 per month. While this is more expensive than many weight loss plans, it includes free delivery of premade meals and snacks. Thus, your grocery bill will be much lower after subscribing.
You may discover discounts or promotions and can purchase extra protein shakes whenever you choose.
What We Like About Nutrisystem
Our favorite aspects of Nutrisystem are:
Convenience and time efficiency: Nutrisystem allows those with busy lifestyles to stick to a diet. You will experience less stress without planning extra trips to the grocery store and scheduling time to cook every meal.
New food: Nutrisystem provides access to healthy snacks you would never try without becoming a member. For example, many members enjoy Nutrisystem shakes.
About Weight Watchers
Weight Watchers offers a unique take on weight loss. Rather than eliminating all unhealthy food, the program allows you to make informed decisions.
Each day, you have a points budget to spend on any food. If you decide to splurge with dessert, you can make up for the lost points by eating healthy, zero-point foods for your meal.
Depending on your plan, you can also access workshops and private coaching sessions.
Pros
Aids long-term weight maintenance
Plenty of support and resources
Encourages exercise
Cons
Tracking food is time-consuming
The amount of freedom causes problems for some
Requires weekly weigh-ins
The Bottom Line: Weight Watchers is a beneficial program for little money. Unfortunately, it can be time-consuming to track food and cook healthy meals.
How Weight Watchers Works
Weight Watchers is a personalized weight loss program. Before receiving a plan, you input your age, weight, height, and gender to find a health plan for you.
Through this program, each food is assigned a point value based on how it affects your weight loss. For example, zero-point foods are healthy and will not hinder weight loss. However, foods with higher point values may include high levels of saturated fats or sug
Each day, you have a points budget to spend as you wish. By focusing on foods with lower point values, you learn to make healthier choices. As you select food and drinks, you input them into your app to track the remaining points.
You also have a weekly points budget, which you can apply throughout the week to increase the points budget for any day.
How Much Does Weight Watchers Cost?
Weight Watchers plans cost between $10 and $28 per month. The exact price depends on the plan you select. These plans include:
Digital: Provides a personalized plan, Live Coaching over Messenger, and coaching audio
Unlimited Workshops + Digital: Also includes thousands of in-person and virtual workshops
1-on-1 Coaching + Digital: Also includes private coaching from a weight-loss expert
What We Like About Weight Watchers
The best features of Weight Watchers include:
Short-term and long-term results: Weight Watchers is a positive tool for short-term and long-term weight loss.
Inexpensive: Despite low monthly fees, members can access educational content and learn which foods aid or hinder weight loss.
Plenty of options: We also love that Weight Watchers does not require you to cut any food from your diet. It can be easier to stick to a diet when you can still enjoy your favorite meals on rare occasions.
Zero-point foods: Zero-point foods can help those who enjoy snacking during the day continue the habit without making unhealthy choices.
Builds healthy habits: Healthy habits enable you to choose healthy meals and enjoy treats in moderation. They will also help your decision-making after you cancel your subscription.
Nutrisystem vs. Weight Watchers: Key Differences
The key differences between Nutrisystem and Weight Watchers are:
Cost: Nutrisystem costs hundreds of dollars per month, while Weight Watchers can cost as little as $13.
Convenience: Nutrisystem delivers pre-packaged and pre-portioned meals to your home, and you will spend less time shopping and cooking. However, Weight Watchers guides your decisions between different foods to prepare yourself.
Food quality: Nutrisystem relies heavily on processed foods that can be delivered and stored, while Weight Watchers emphasizes cooking fresh foods.
Short-term results: Nutrisystem allows you to lose the most weight within one week by applying strict meal plans. On the other hand, Weight Watchers emphasizes slow and steady weight loss.
Long-term results: Nutrisystem includes some features to help weight maintenance, but they are lacking. Meanwhile, Weight Watchers promotes healthy eating by establishing which foods are or are not healthy. You can carry this knowledge with you long after your subscription ends.
What Real Customers Are Saying
These reviews from TrustPilot will show real experiences with each program.
Nutrisystem
Nutrisystem receives a rating of 1.5/5 stars on TrustPilot. Customer reviews stated the following:
5-star review: Nothing negative to say about Nutrisystem...: We have been on the "Partner" plan for a week. We both love it. We don't get hungry and are already experiencing weight loss. We think the food is quite good considering its diet. Both the shelf-stable and frozen food packages arrived in good condition and on time. Just amazed at the negative reviews. So far this plan is easy to follow and we are excited about it!
3-star review: Was somewhat disappointed. Being prepackaged food, for the most part it was ok. Pros - Receive shipments instead of grocery shopping, did not have to prepare meals; Cons - Expensive, a lot of fiber which did not do well with my digestive system, did not fill me up, customer service was pushy when I tried to cancel. Overall, if you can afford it and aren't a picky eater it might work for you.
1-star review: Horrible food! Very processed food that gave us indigestion and gas. You have to buy your own vegetables and fruit in addition to spending an outrageous amount on food and snacks. The frozen food was just okay. However, it was much better than unrefrigerated processed food. I could not eat any of that or many of their processed cookie snacks. Some of the frozen breakfasts were okay. Way too much money for what you get or can even eat. Absolutely dissatisfied and disappointed. I canceled immediately.
As with any diet, Nutrisystem is the perfect solution for some but a terrible investment for others. The pre-packaged food is decent, but not ideal for picky eaters or those with sensitive stomachs. It is easy to follow, but very expensive and can be difficult to cancel.
Weight Watchers
TrustPilot gave Weight Watchers a score of 1.7/5 stars. Some noteworthy customer reviews include:
5-star review: I've lost 60 lbs on Weight Watchers and for someone that has struggled to lose weight all their life, for me, this is a huge achievement. My WW coach and class are amazingly supportive. The app is very easy to use. I had a few issues with customer service when I first got set up, but this was a couple of years back now and I haven't had any issues since. I would honestly recommend it to anyone who is serious about losing weight
3-star review: This was the first weight loss program that I managed to ever stick to during the Smart Points system. I started losing weight and seeing the difference in my body. And then they switched the program to Flex which doesn't work for me. Since they changed the method they have put some foods on zero points. At the same time, they have lowered the daily points you can take, ASSUMING you will eat those zero foods during the day. Except... I don't eat any of those. I don't eat chicken or turkey breast, fish, or fat-free yogurt, and cannot eat eggs due to cholesterol. I just don't like them. I'm Mediterranean and cook mostly Mediterranean-based dishes with olive oil, Therefore I am just left with no choice but to FORCE myself to eat zero foods I don't like which didn't use to be the nature of the program. If I eat what I used to eat before, I am just left with fewer daily points which means I'm left hungry.
Since this change, I am not sure I want to keep my subscription. It doesn't work for me, I am hungry and don't enjoy this plan anymore. If it was just about eating healthy I could do it by myself without this subscription.
The beauty of WW was that you could eat enough foods you actually LIKE.
1-Star Review: They get you in with confusing terms and conditions--telling you you get so and so months free when it's all in fact billed to you. Apparently, if you sign up for 6 monthly memberships and get a month or two "free" you still have to pay for 6 billing periods because that's what you sign up for. And the operator was so rude and mean because I didn't read all the fine print.
Like Nutrisystem clients, Weight Watchers clients have varying experiences. Many rave about the supplemental materials, like the app, coaches, and classes. However, food choices can be limited, and many customers have complained about being surprised by terms and fees.
Nutrisystem vs. Weight Watchers: Which Is Better?
Weight Watchers is more sustainable and likely to promote long-term health, making it the better weight loss program. Although Nutrisystem is more convenient during your subscription, the high prices and lack of education can be detrimental over time.
With Nutrisystem, it is too easy to rely on others to select and prepare your meals. After your subscription ends, it is difficult to adjust to shopping and cooking for yourself. However, Weight Watchers teaches you which foods are the most beneficial through the points system.
Each person has unique needs for their weight loss journey, and Weight Watchers is better suited to personalize plans and build healthy habits.