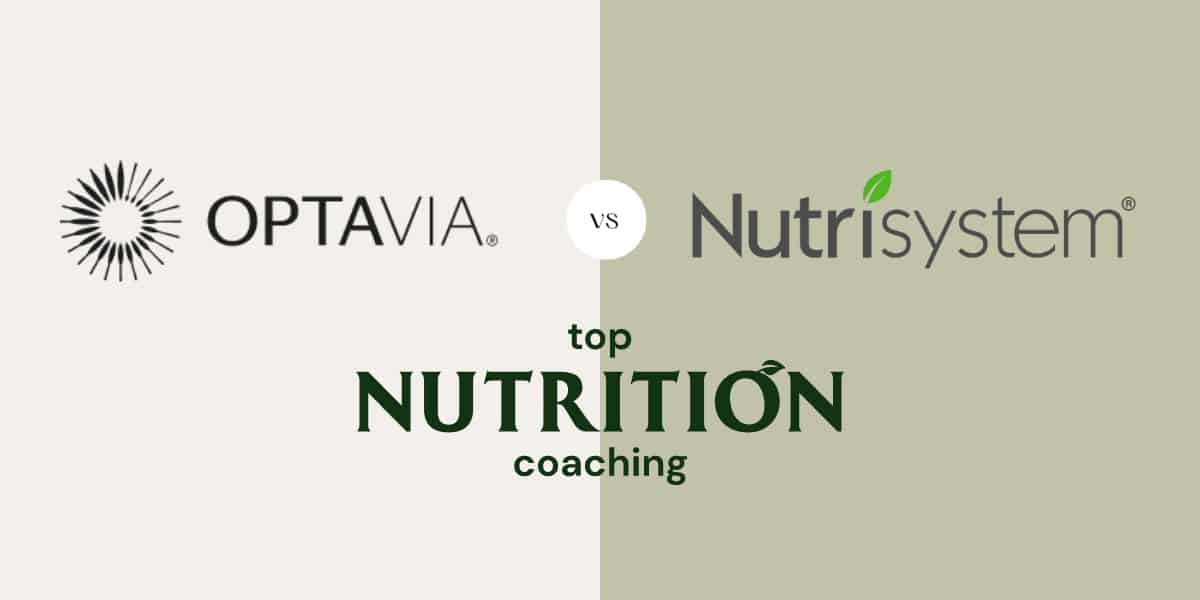 In today's fitness industry, countless companies offer weight loss programs promising to help individuals lose weight–and keep it off. All too often, however, this newfound abundance of options also means an abundance of confusion. To combat this, companies such as Optavia and Nutrisystem have begun offering systems based on prepared meals. While this may provide clarity and simplicity for those looking to lose weight, it can be challenging to balance the pros and cons of a diet-focused meal delivery service.
Conversely, other services offering a more holistic approach to nutrition have also become more available. These programs, like Top Nutrition Coaching, help customers develop healthy eating habits through one-on-one or group sessions with nutrition experts. While they rarely provide frozen foods or meal replacements, they instead offer healthy recipes and resources to teach customers how to build their own meals.
In this article, we'll break down both Nutrisystem and Octavia and identify the key characteristics–and differences–of both plans. Additionally, we'll compare the two meal services with Top Nutrition Coaching in order to determine which approach might be best for you.
| | | | |
| --- | --- | --- | --- |
| | Optavia | Nutrisystem | Top Nutrition Coaching |
| How it Works | Low calories, reduced carbs | Low glycemic index | Tailored education and guidance |
| Food Tracking | Pre-packaged Meals | Pre-packaged Meals | Custom meal plans |
| Support | Personalized coaches | Personalized coaches | Personalized coaches |
| Education | Online and app-based resources | Online and app-based resources | Online and app-based resources |
| Weight Loss | Yes | Yes | Yes |
| Cost | $17/day | $15/day | |
| App | Yes | Yes | Yes |
| Online Reviews | 3.5 Stars | 1.5 Stars | 4.8 |
The Optavia diet follows traditional methods such as counting calories and food restriction to drive its dieting approach. Specifically, Optavia's pre-packaged foods restrict carbohydrates and calories while focusing on healthy sources of lean protein to keep users in a fat-burning state. For many, this familiar approach comes as an advantage. For others who may have tried a similar carb-cutting approach and failed, however, Optavia's system may cause doubts. Regardless, the program's carefully-structured meal plans take the guesswork out of dieting, and personal coaching sessions help reinforce the "why" behind Optavia's food choices.
Like most other meal replacement services, Optavia allows customers to choose how many pre-packaged meals they receive each week. For customers who prefer to still do some of their own cooking, this could mean one or two lean meals per day. For others who would rather not cook at all, Optavia supplies options that cover every meal each week.
While all of Optavia's packages focus on weight as a metric of success, the platform offers several plans to choose from. Among these, the Optimal Weight 5&1 and 4&2&1 plans both focus on weight loss, while the Optimal Health 3&3 plan is designed for weight maintenance. Currently, Optavia offers limited options specifically designed for those looking to build muscle or attain other targeted health goals.
Pros
Option to choose number of meals each week.
Provides generally healthy meals with healthy protein sources.
Provides personal coaching options.
Cons
Personalized coaching is expensive compared to value offered.
Less expensive programs require customers to cook for many meals.
Bottom Line: Optavia provides a familiar, traditional method of weight loss for those looking to outsource meal prep and minimize the personal workload of losing weight. If convenience and simplicity matter to you, choosing one of Optavia's plans may help you achieve some amount of success. Even so, the expensive nature of their personal coaching–combined with the limited nature of that coaching–often leaves customers dependent on continued membership to maintain results.
How Optavia Works
The Optavia diet involves eating six times daily — three Optavia meals, two snacks, and one lean and green meal. To facilitate this method, Optavia provides low-calorie, pre-packaged foods in shakes, bars, and bowls that are delivered to your door on a regular basis. For the daily "lean and green" meals, Optavia recommends preparing your own by combining various lean proteins, non-starchy vegetables, and healthy fats.
The Optavia diet also includes sessions with Optavia Coaches to help you stay on track and achieve your weight loss goals. It is important to note, however, that many of these Optavia coaches are simply people who have completed the Optavia diet and are available to provide personalized advice. Unlike truly personalized nutrition coaching like that offered by Top Nutrition Coaching, Optavia's "coaches" rarely have extensive experience or expertise.
Even so, the coaches do provide a system of accountability and first-hand experience on how to positively interact with food.
How Much Does Optavia Cost?
Like many meal replacement services, Optavia's cost depends on the program you select. The Optimal Weight 5&1 plan is the most affordable option, costing about $350 for a one-month supply of meals. The Optimal Health 3&3 plan is the most expensive option at about $500 for a one-month supply of meals.

For all but the most comprehensive plans, however, customers will still need to purchase groceries and cook in order to supplement incomplete meal plans, which can add $150-200 per month.
What We Like About Optavia
Optavia's flexible programming and various options allow customers to pick and choose the best approach for their goals. Additionally, Optavia structures its meal plans on low-calorie, low-carbohydrate diets designed to deliver rapid weight loss for those wanting to shed pounds as soon as possible.
Overall, Optavia's diet programs offer a straightforward, uncomplicated approach to weight loss. While the company's coaching mostly consists of simple, first-hand experience, it can nonetheless reinforce healthier eating habits and promote longer-lasting results.
Like Optavia, the Nutrisystem diet program offers pre-made meals delivered to your doorstep at regular intervals. To better facilitate different diets, Nutrisystem's menu includes various ingredient and meal options, allowing users to construct a plan to suit both their weight loss goals and personal preferences. Rather than simply focusing on a low-calorie diet, the company also prioritizes balanced, nutritious meals with all the essential nutrients you need to keep you functioning at your best.
All of Nutrisystem's diet plans utilize frequent, smaller meals spaced throughout the day to manage cravings and stabilize blood sugar. While this approach may mean more work for those preparing their own meals, Nutrisystem's pre-packaged meals make following the diet much more accessible.
The program claims that women can lose up to 13 pounds, and men can lose up to 18 pounds in the first month.
Pros
Convenient pre-packaged meals.
Improves blood sugar regulation.
Prioritizes nutrient-dense foods.
Cons
More expensive than some other options.
Lack of coaching can make it difficult to sustain weight loss.
Limited customization for dietary restrictions.
Bottom Line: As a standard meal delivery program, Nutrisystem helps customers achieve results by providing pre-packaged food and eliminating confusion. Although it provides high-quality, nutrient-dense meals, the Nutrisystem menu also lacks sufficient customization for those with dietary restrictions or strong preferences. Finally, the lack of trained weight loss coaches means little education and an increased risk of weight gain after the Nutrisystem period ends.
How Nutrisystem Works
Nutrisystem uses a subscription-based system to deliver pre-packaged meals and snacks each month. Each of these meals contains a carefully-calculated balance of calories, carbohydrates, proteins, and fats for quick weight loss, and most options also prioritize essential micronutrient profiles. Additionally, the company's menu opts for low-glycemic index foods to help regulate blood sugar and sustain energy levels even when in a caloric deficit.
The program offers four unique meal plans tailored to fit different lifestyles: Nutrisystem Basic, Core, Uniquely Yours, and Vegan. Regardless of which plan you choose, Nutrisystem delivers its meals directly to your home, eliminating the need for grocery shopping or cooking.
Nutrisystem divides its program into four-week periods. During the first week, the Nutrisystem program prepares your body for weight loss by giving you three meals, one snack, and one shake daily. For the last three weeks of each period, the program includes six meals per day and one snack daily.
To better track results and food intake, Nutrisystem also provides access to their "NuMi" app. This app also has meal planning, exercise tracking, and grocery list features to help you stay on top of your diet.
How Much Does Nutrisystem Cost?
Like Optavia, Nutrisystem's pricing varies depending on your selected program. With the base program, customers can expect to pay about $300 for a one-month supply of meals. The program also offers discounts with more extended plans, ranging from $270 monthly for a two-month supply to $130 monthly for a six-month supply.
While the more comprehensive plans provide enough meals to fill all of your dietary needs, Nutrisystem's basic plans require you to do some shopping and prep work. You can expect to spend around $450-500 monthly if you want a plan that includes all the meals.
What We Like About Nutrisystem
Nutrisystem is convenient, easy to follow, and includes nutrient-dense options to meet both macro- and micro-nutrient needs. Additionally, Nutrisystem's heat-and-eat format eliminates the need for cooking or time-consuming prep work with its pre-packaged meals.
The Nutrisystem custom app, "NuMi," also simplifies the task of staying on track with your diet and progress by providing personalized meal plans, recipes, and grocery lists to help you plan.
Finally, Nutrisystem's inclusion of four unique plans allows customers a degree of flexibility in tailoring their services to different lifestyles. While this customizability does not extend to more specific dietary preferences, it still provides greater options than some competitors.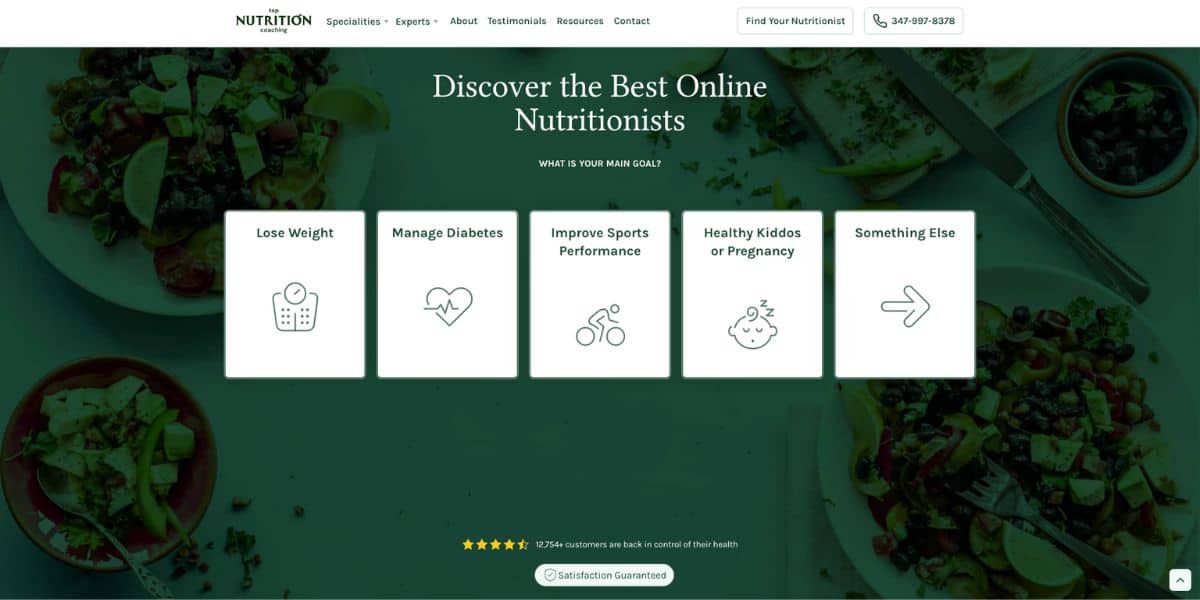 Unlike meal replacement programs such as Nutrisystem and Optavia, Top Nutrition Coaching pairs its customers with registered dietitians and nutritionists to build a healthier lifestyle and meet fitness goals. While this means no frozen meals, Top Nutrition Coaching's approach instead focuses on sustainable, long-term improvements to keep customers healthy long after they've finished with the company's services.
To achieve this goal, Top Nutrition Coaching maintains a pool of highly-trained nutritionists by accepting only 1.7% of specialists who apply to their service. While all of these health professionals can provide education and guidance for a weight loss diet, Top Nutrition Coaching also provides nutrition coaching for a range of specific goals, including prenatal nutrition, lowering blood pressure, the management of chronic illnesses, and more.
Pros
Personalized coaching helps build long-term results.
Impressive certification and experience standards for all nutritionists.
Provides more customizability than other services.
Some insurance providers may cover part of the costs.
Cons
Does not provide pre-packaged meals.
Bottom Line: Compared to meal replacement services like Nutrisystem or Optavia, Top Nutrition Coaching requires more personal effort from its customers. That said, the quality of its registered dietitians and the guidance they provide is miles ahead of that offered by most subscription-based services. By focusing on sustainable, ground-up improvements, Top Nutrition Coaching gives customers the tools they need to build lifelong success.
How Top Nutrition Coaching Works
When deciding whether to hire Top Nutrition Coaching for help with weight loss or other health goals, customers can use the site's complimentary intake assessment to establish goals, potential hurdles, and preferred style of coaching. Once they decide to begin sessions, Top Nutrition Coaching uses information from this quiz to match each client with the most suitable registered dietitian and personal coach from their pool of available specialists.
During your first meeting with your chosen specialist, the two of you will further discuss your values and goals and begin designing a step-by-step plan to achieve results. Typically, this process involves building a meal plan tailored to your dietary requirements and personal preferences, information about any supplements you may want to include, and a custom fitness routine.
In each following session, you and your coach will discuss progress and adjust your plan if necessary. Additionally, your registered dietitian will teach you about the reasoning behind each choice and technique they use to help you achieve your results. That way, you build a solid understanding of how to eventually drive your own success without the need for outside guidance.
How Much Does Top Nutrition Coaching Cost?
Unlike meal replacement programs which generally charge a monthly rate, Top Nutrition Coaching allows customers to schedule sessions with their registered dietitians throughout the month. Pricing for each session starts at $60-$75, though discounts are offered for longer term commitments.
Depending on your health insurance provider, some or all of Top Nutrition Coaching's services may be covered as medical or preventative care. Before signing up with Top Nutrition Coaching, we suggest calling your provider and asking about their rules. If coaching is covered, remember to keep receipts in order to submit them for reimbursement.
What We Like About Top Nutrition Coaching
Instead of focusing on the number on the scale, Top Nutrition Coaching treats each person as a unique, complex set of circumstances. Because of this philosophy, the company's specialists provide customized, intuitive support and guidance to meet even the most demanding needs. While this may require slightly more work from each client, it also means lasting results and better overall health.
One of our favorite aspects of Top Nutrition Coaching's services is its matching process, which pairs each client with the ideal nutrition coach based on their specific needs. Additionally, Top Nutrition Coaching's two-week trial period allows customers to experience their process with the option to part ways at any time if they feel it isn't for them.
Optavia vs. Nutrisystem vs. Top Nutrition Coaching: Key Differences
At first glance, Optavia and Nutrisystem may seem like near-identical services. Even so, the two programs offer some crucial differences upon further inspection. Top Nutrition Coaching's differences are clearer. We'll outline each below so you can judge for yourself which is best for your needs.
Cost
The most significant difference between Optavia and Nutrisystem is in the cost. Optavia has a more rigorous program that requires additional supplements, which can make it more expensive. In comparison, Nutrisystem is less expensive, more convenient, and requires less time and effort, though it may provide less comprehensive guidance.
Depending on how many sessions you schedule, Top Nutrition Coaching may be less expensive than either Optavia or Nutrisystem but requires more food prep.
Meal Plan Options
Another critical difference between Optavia and Nutrisystem is in the meal plan options. Optavia offers only three different plans, but only two are for weight loss, while Nutrisystem provides four. Still, Optavia tailors its plans to individuals and considers their goals, lifestyle, and food preferences.
Conversely, Nutrisystem's plans are more generalized, allowing customers to choose from a preliminary program focusing on calorie-controlled meals, a vegan strategy, and a plan providing higher protein or nutritionally balanced meals.
Top Nutrition Coaching provides far more customizability than either Optavia or Nutrisystem by pairing customers with a dedicated registered dietitian to provide tailored meal plans, healthy recipes, and feedback about challenges or roadblocks. Often, these dietitians will help identify problem foods and eliminate them from your diet to achieve optimal results.
What Real Customers Are Saying About Both Programs
These statements are what real customers are saying about these two diet programs, according to online reviews.
Optavia
Five Stars - "I started the program about nine weeks ago and have lost 35 pounds. I have positively interacted with my coach, and the reading materials are outstanding."
Three Stars - "They are always out of stock on items, and delivery could take up to three weeks. Huge supply chain failure."
One Star - "My coach was not responsive, and I had difficulty contacting her."
Overall the reviews for Optavia are mixed. Some people have had a great experience using this program and working with their coach, while others have had difficulty getting help, and the desired food items were not always in stock.
Nutrisystem
One Star - "I would give Nutrisystem 0 stars if I could. The food is not delicious, and the serving sizes are tiny. I am not losing weight as expected."
Two Stars - "The system works; if you follow it faithfully, you might succeed. A member of my family did. However, please do NOT buy their large packages. Their return policy is terrible, and you cannot get a refund."
One Star - "The packaging is poor, and the food is beyond bland. I would rather eat cardboard than the food they provide."
Overall the reviews for Nutrisystem are not great. Many customers have complained about the poor quality of the food and the small serving sizes. Others have had difficulty with their return policy, so it's essential to read their terms and conditions before signing up.
Top Nutrition Coaching
Three Stars - "Got some good ideas about what to eat. I really think I want to go to an nutritionist in my own area. I'd think a person to person would give me more insight on my health and know exactly what to really do to getting there."
Four Stars - "I wanted a plant-based renal nutritionist and found their site. The initial phone consultation was very good and I was paired with someone who was an excellent fit. I have worked with Lauren for over 2 months and she is smart, upbeat, down to earth, is a world class nutritionist, and really listens."
Five Stars - "This program has been amazing ! It is the first time I have really utilized a professional nutriontist and I am so glad that I did! The zoom meetings are so informative and my nutritionist really tailors the nutrition specifically for me. It's the first time that I have really felt like I am gaining the knowledge and understanding of how to fuel my body for performance and results."
While researching reviews for Top Nutrition Coaching, we struggled to find any below three stars. For the positive reviews, customers most commonly mentioned how much they enjoyed the personal relationship they developed with their dietitians and how comfortable the process made them feel.
Nutrisystem vs. Optavia vs. Top Nutrition Coaching: Which Is Better?
Like most decisions, the answer to which service is better depends largely on your personal values. For convenience at the price of customization, Nutrisystem's pre-packaged meals drive weight loss by drastically simplifying the process. For those wanting slightly more choice, Optavia offers a more premium, tailored approach.
Ultimately, neither Nutrisystem nor Optavia succeeds in building the habits and practices necessary for long-term success. While customers may experience results while using these services, many will regress if and when they ever decide to end their subscription.For sustainable, well-rounded results, however, Top Nutrition Coaching's measured, educational approach to nutrition helps clients establish a better relationship with food. Rather than a temporary, strict diet, this approach aims to eventually remove the need for coaching at all and instead give customers the tools they need to guide their own weight loss journeys.