Tofu is one of my all-time favorite plant-based proteins, and with good reason! It's incredibly versatile, exceptionally healthy, and delicious to boot. Read on to find out why I'm totally obsessed with this tasty superfood and some simple tofu recipes to make.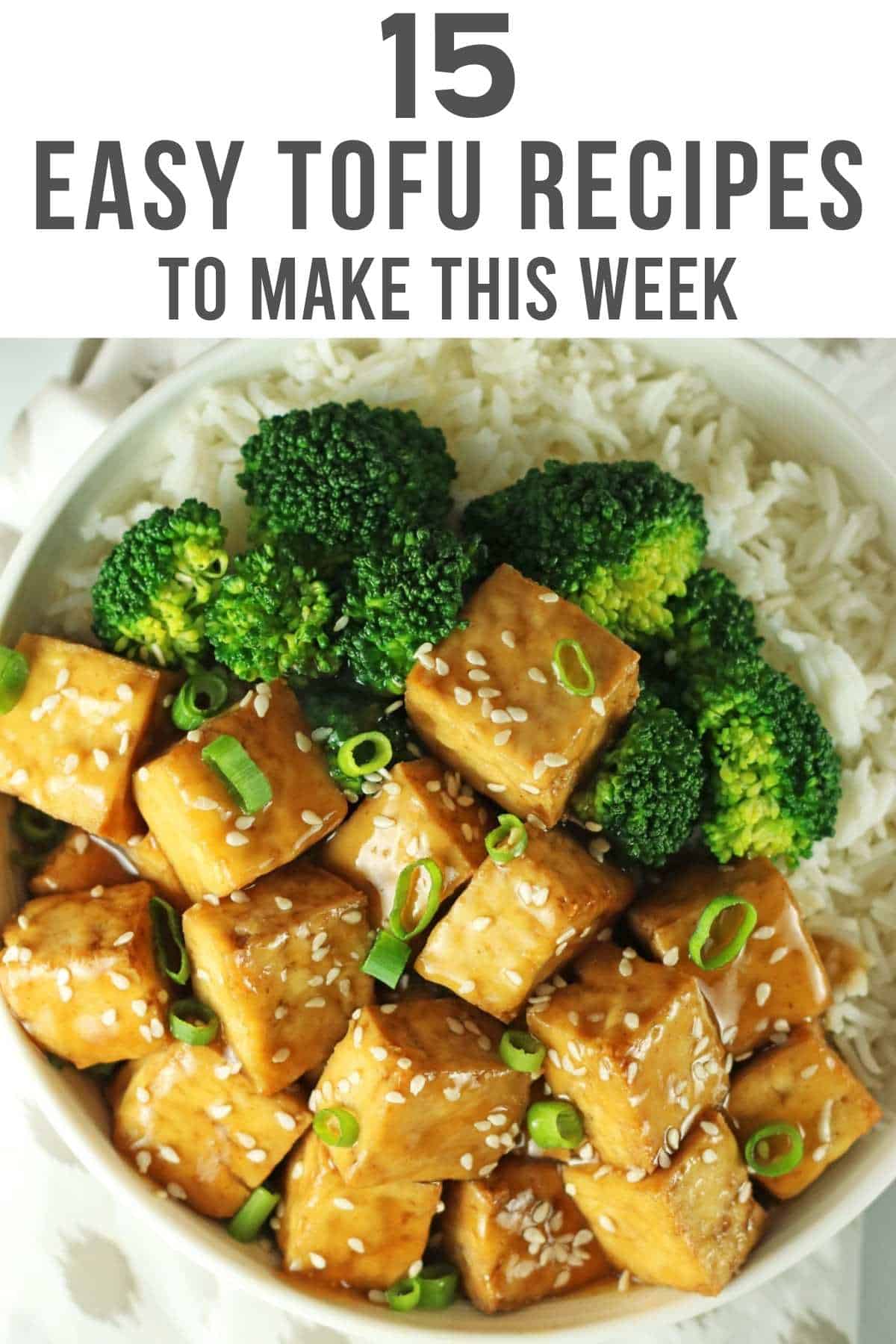 Jump to:
Why Cook With Tofu?
When it comes to the vegan kitchen, tofu is one of the most versatile ingredients around. It can be used for breakfast, lunch, dinner, and even dessert recipes!
If you're used to believing that eggs were the most adaptable ingredient in your kitchen arsenal, I'm about to blow your mind with what you can do with tofu instead while still maintaining a completely plant based lifestyle.
You can blend it, bake it, air-fry it, sauté it or grill it. You can scramble it like eggs, or top it off with broth. You can enjoy it soft or crispy, hot or cold, sweet or savory. It. Is. Incredible.
The variety of types of tofu that you can readily purchase at the store is quite astounding. Ranging from silken tofu (which is custardy, smooth and silky as the name implies) to extra firm means you can make everything from pudding to "chik'n" nuggets.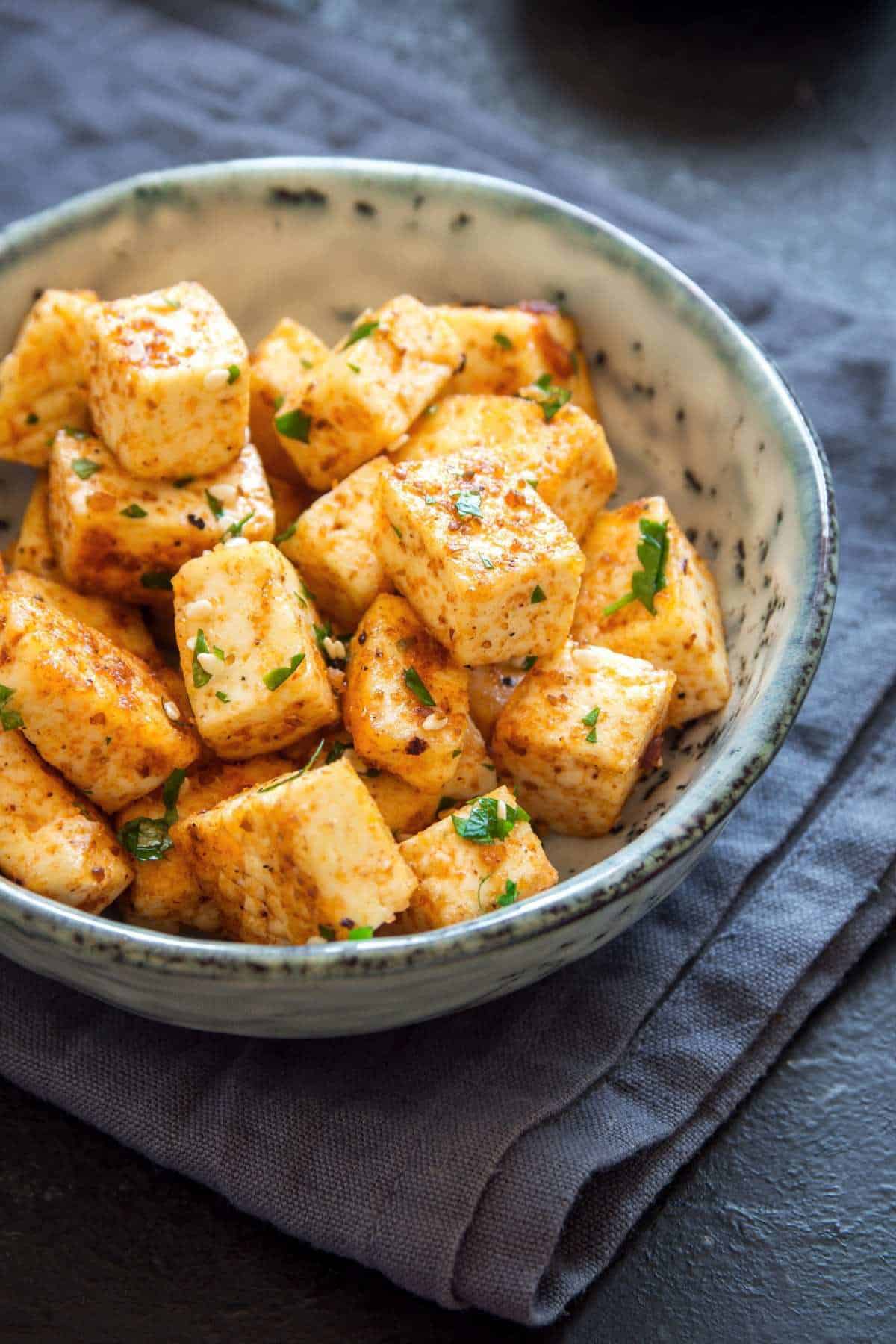 Tofu is King When it Comes to Quick and Cheap Meals!
Since tofu doesn't require cooking, it's a great option for simple and fast meals. I haven't met a single tofu recipe that requires more than 30 minutes of cook time, making it a weeknight savior.
Tofu also doesn't have a ton of flavor on its own. Rather, it acts as a sponge for whatever flavors you add to your dish. That makes it perfect for pairing with everything from chocolate to green curry.
I also love how inexpensive and long-lasting tofu is. At my local grocery, I can get a 14 oz block for around $2. Each block is 4 servings, making it highly economical to keep on hand.
Generally speaking, tofu can be kept in the refrigerator for up to 2-3 months past the production date, so long as it is in a sealed package. That means I can easily grab a few packs at a time to keep on hand for those nights when I need to get dinner on the table fast!
Do yourself a favor and grab a block ASAP so you can get around to making some of my favorite simple tofu recipes.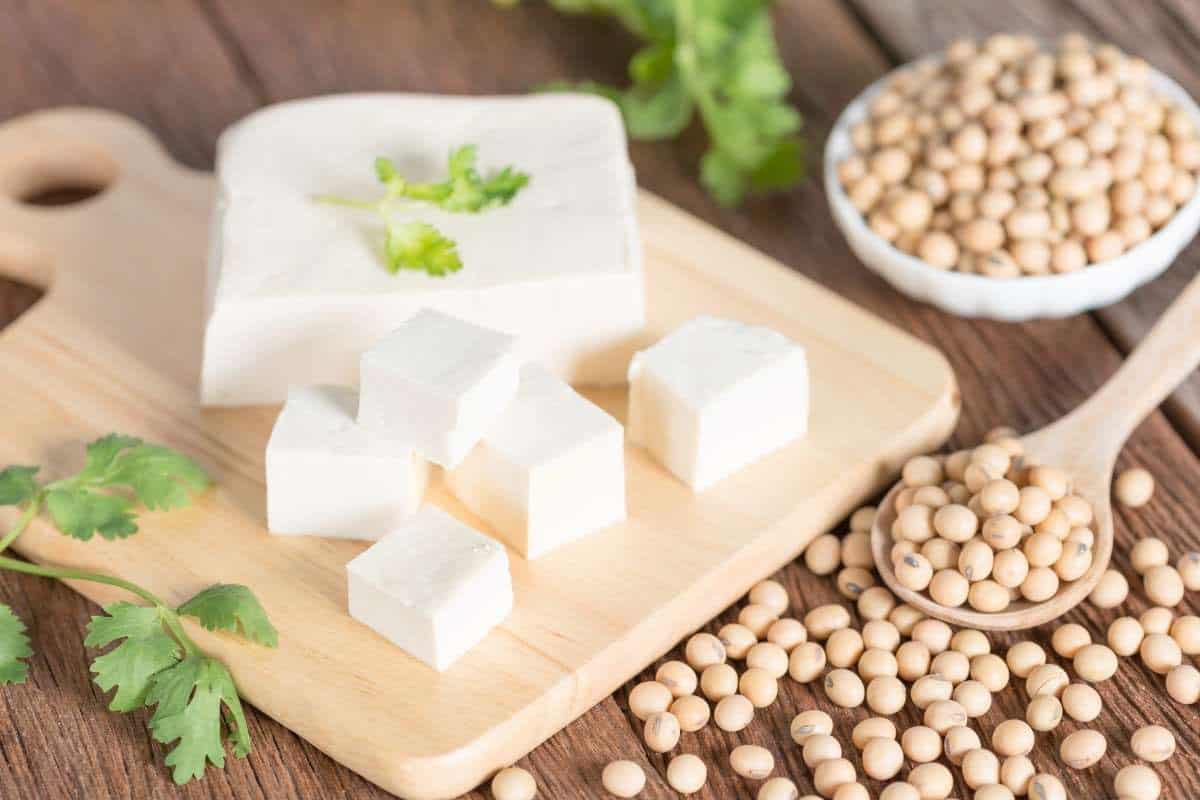 What is a Tofu Bean?
Tofu is most often produced using soy milk that has been fermented and pressed into blocks. The process is actually quite similar to cheesemaking.
As of relatively recently, non-soy tofus have become more commonplace at retailers. That said, non-soy tofu is a bit more of a specialty item and can command a higher price and be a bit more difficult to find.
If you are allergic to soy and are unable to find a non-soy alternative to tofu at your local grocery store, here's a great post on how to make your own tofu from any bean!
Is Tofu Healthy?
If you've yet to hear me wax poetic about the nutritious virtues of tofu, prepare yourself. It isn't one of my favorites without reason!
Aside from being delicious, tofu is also:
high in calcium & iron
relatively high in protein
high in other nutrients including manganese, phosphorous and magnesium
low in calories and low in fat
If you aren't yet convinced, check out my post on Tofu Nutrition to hear even more reasons why I love this 2,000 year old food.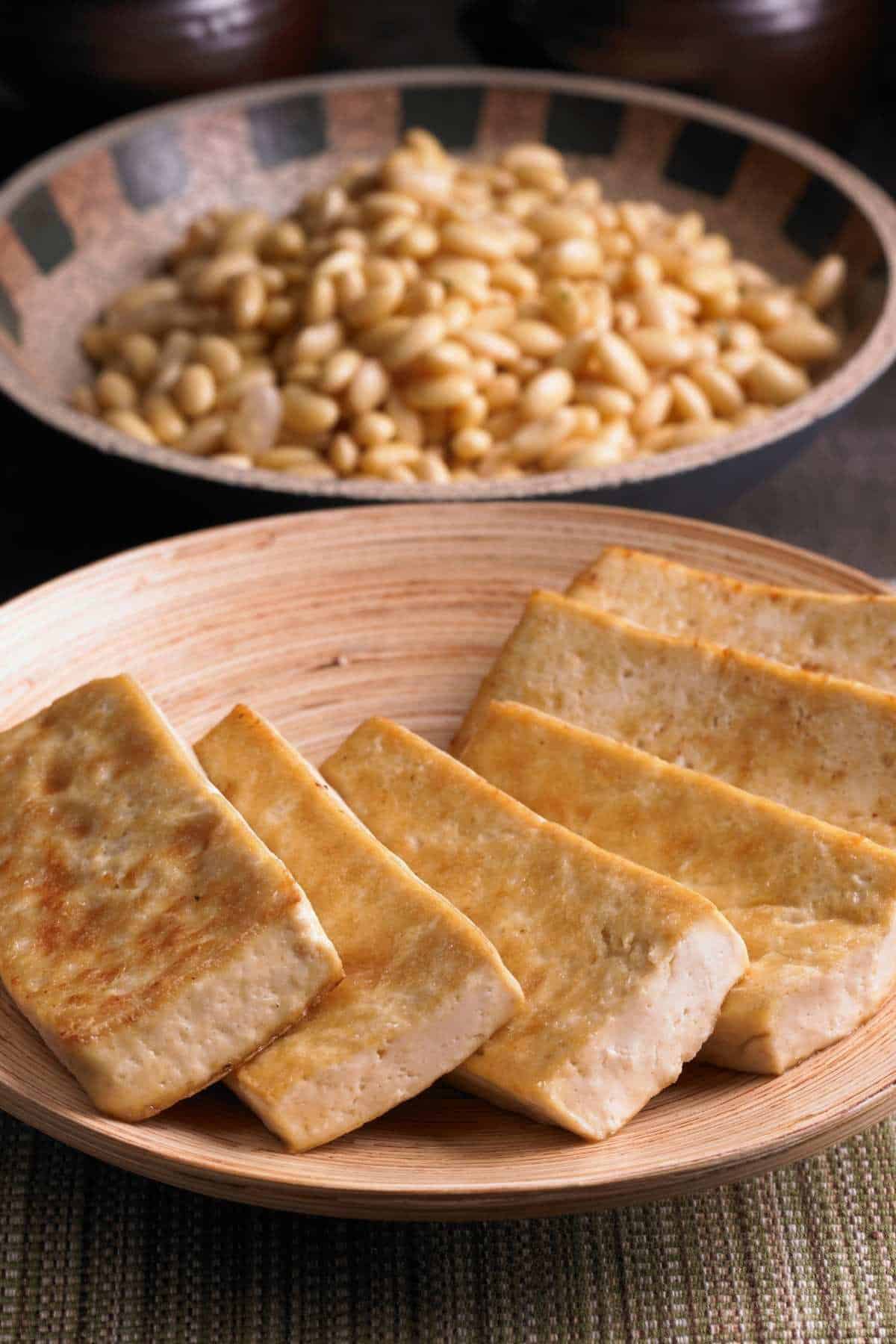 FAQs About Cooking With Tofu
How do I fry tofu without it sticking?
As with many things that annoyingly stick to the pan when cooking, one of the best ways to ensure a clean release is making sure the pan is good and hot before adding the tofu. This will help to establish a good crust quickly.
Also, be sure that you are choosing the right kind of tofu. Extra firm tofu is my favorite for frying, but you can also get away with using pressed firm tofu in a pinch. Silken tofu is far too delicate for pan frying and will stick every time.
What is the best way to drain tofu?
If you love tofu as much as I do, I highly recommend that you invest in a tofu press. That said, you can easily press a block of tofu by placing it on a paper towel-lined plate and weighing it down with a pan and some cans.
Do I have to cook tofu?
Nope! In fact, many recipes that call for silken tofu don't want it cooked at all, as the custardy texture is what you're after.
However, I most often use firm and extra firm versions of tofu, which I find are best for grilling, pan-frying/sautéing, and baking.
Also, since tofu doesn't have much flavor on its own, I recommend that you do some preparation, whether it's blending with other ingredients or marinating to ensure that it is delicious.
Need some easy and simple tofu recipes to get you started? Check out 15 of my favorites!
Plant-Based Staple Recipes
Tofu Crumbles
These Tofu Crumbles are a staple in any vegan household. They're versatile in both flavor and cooking methods. It's a great vegan and vegetarian meat substitute!
Check out this recipe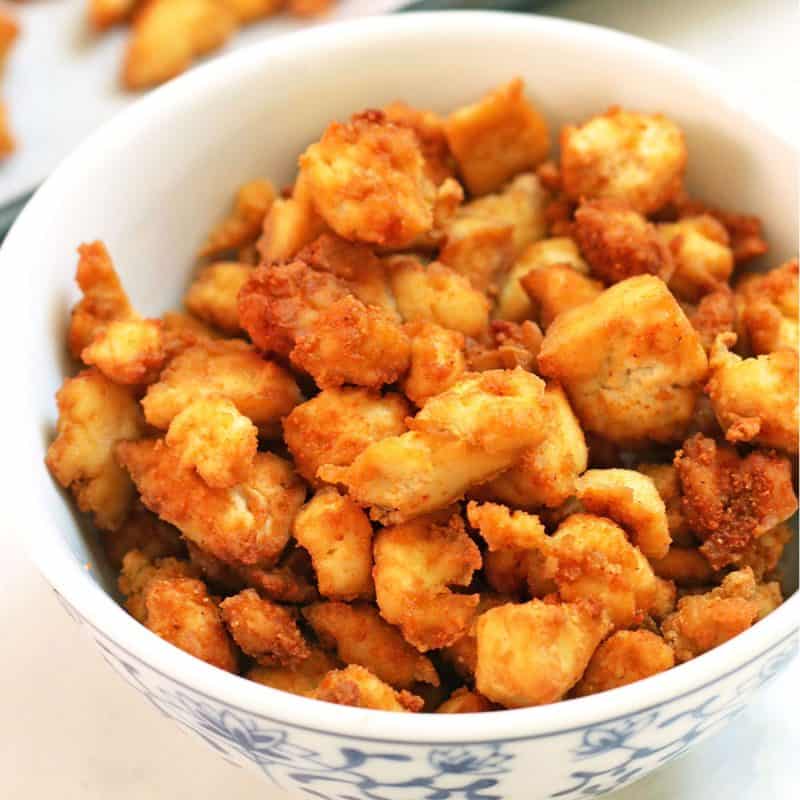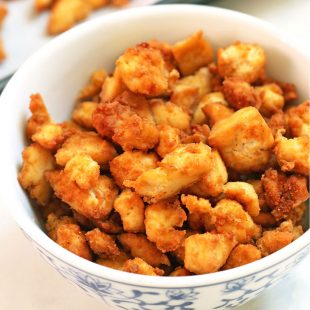 Marinated Tofu
I make this easy simple Marinated Tofu once a week. It's so versatile because it can be fried, baked, or air-fried. I love it for meal prep!
Check out this recipe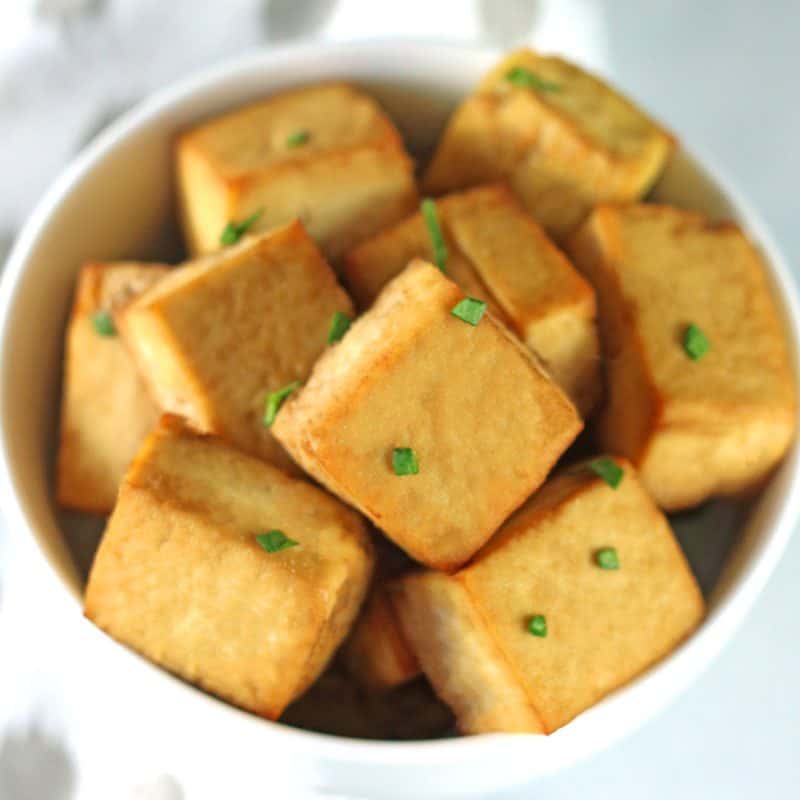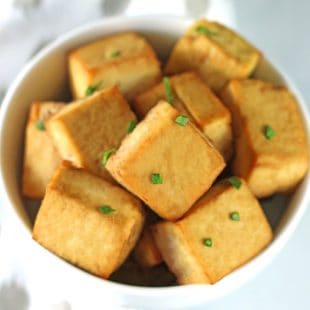 Grilled Tofu Steaks
These Grilled Tofu Steaks are a perfect way to get some vegan protein during BBQ season! The tofu is marinated and then grilled to your liking for a low-carb protein-packed meal.
Check out this recipe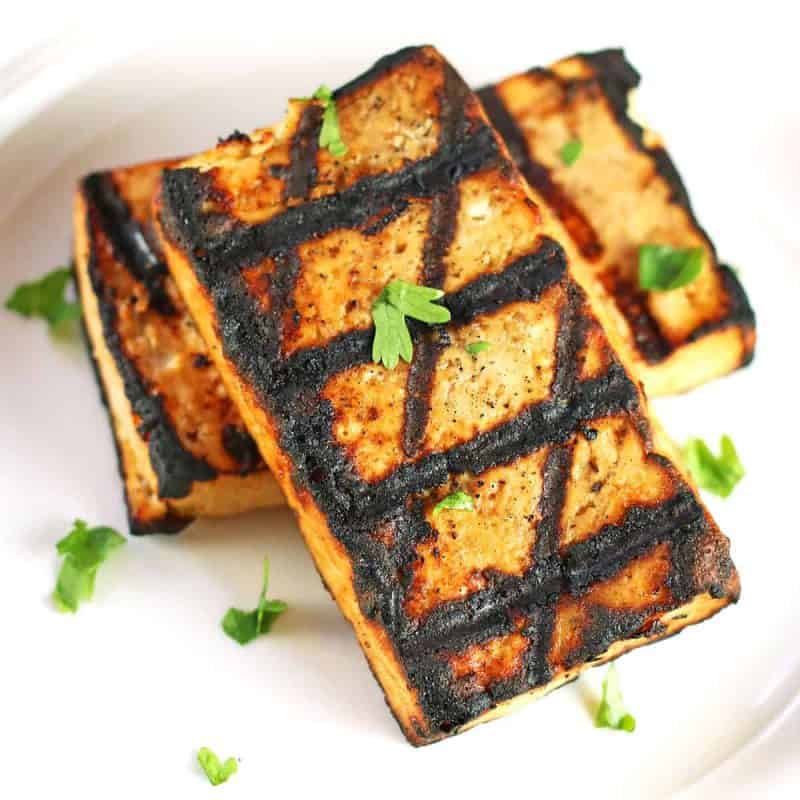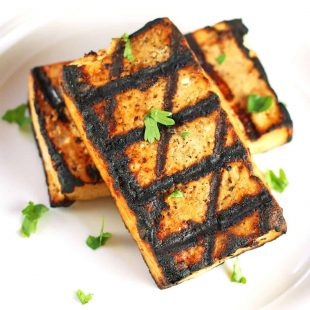 Popcorn Tofu Nuggets
This Popcorn Tofu is crispy, dippable, and downright delicious. This fun alternative to deep-fried nuggets is perfect when you're in a fast-food kind of mood but want something healthy. Although these are not a simple as my other tofu recipes, I had to include them because they really are tasty and so worth the time they take to make.
Check out this recipe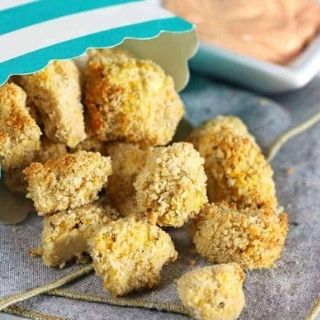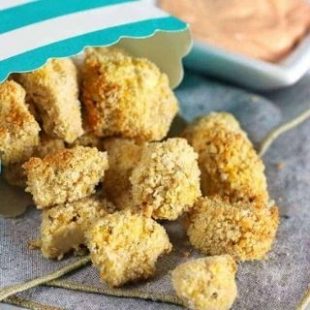 Fakeout Takeout Recipes
Tofu Green Bean Stir Fry
This simple Tofu Green Bean Stir Fry is easy to make, healthy, and delicious. It's vegan, gluten-free, and doesn't contain MSG like you'd get from many local takeout places. Have the takeout without the guilt!
Check out this recipe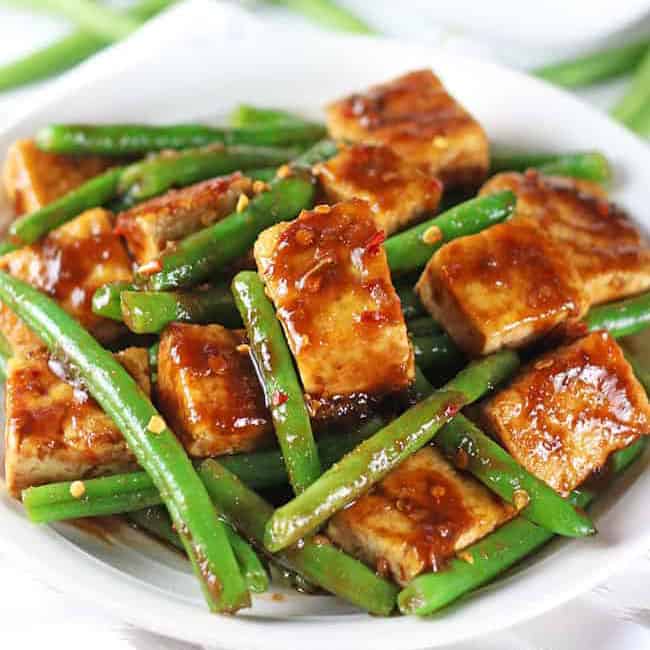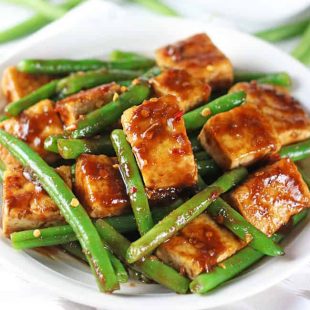 Kimchi "Fried" Rice
This easy Vegan Kimchi Fried Rice featuring tofu comes together in about 15 minutes. The rice is not actually fried and the recipe uses no oil so it's a healthy quick meal on busy nights.
Check out this recipe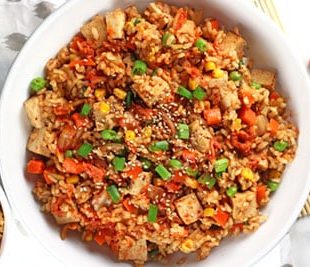 Teriyaki Tofu
This Vegan Teriyaki Tofu recipe is a healthy meal that's easy to prepare. Try making this takeout fake-out next time you have a hankering for delivery but want to save yourself a ton of calories and excess sodium.
Check out this recipe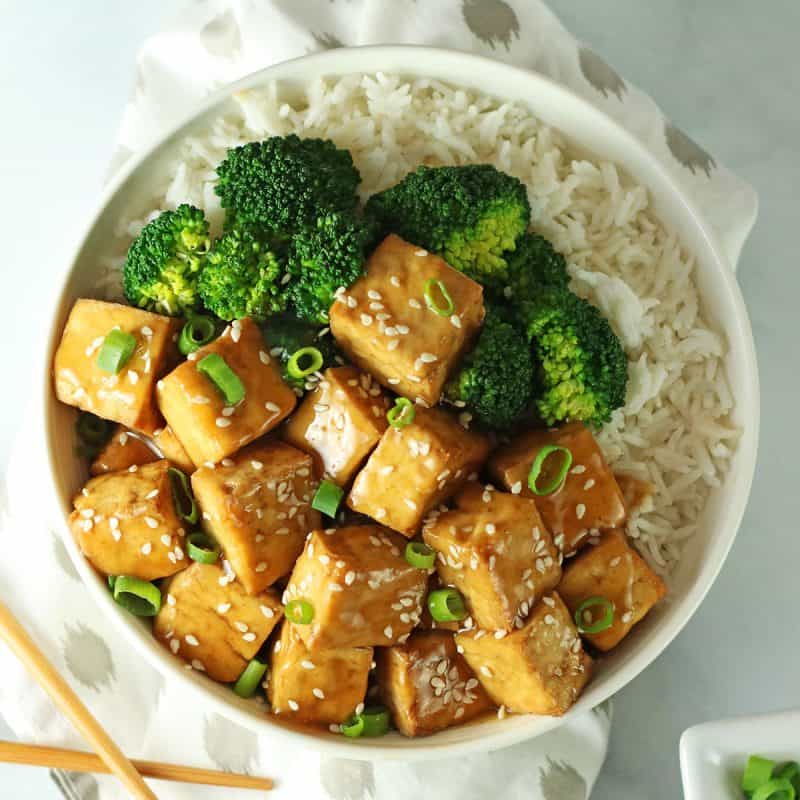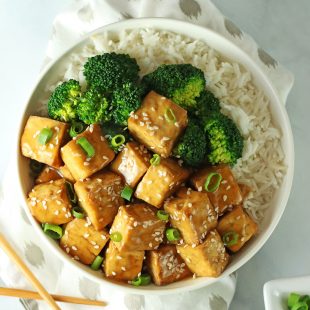 Green Curry Tofu
This Thai-Inspired Green Tofu Curry is rich, creamy, and delicious. It's a perfect comforting weeknight meal that's ready in under 30 minutes.
Check out this recipe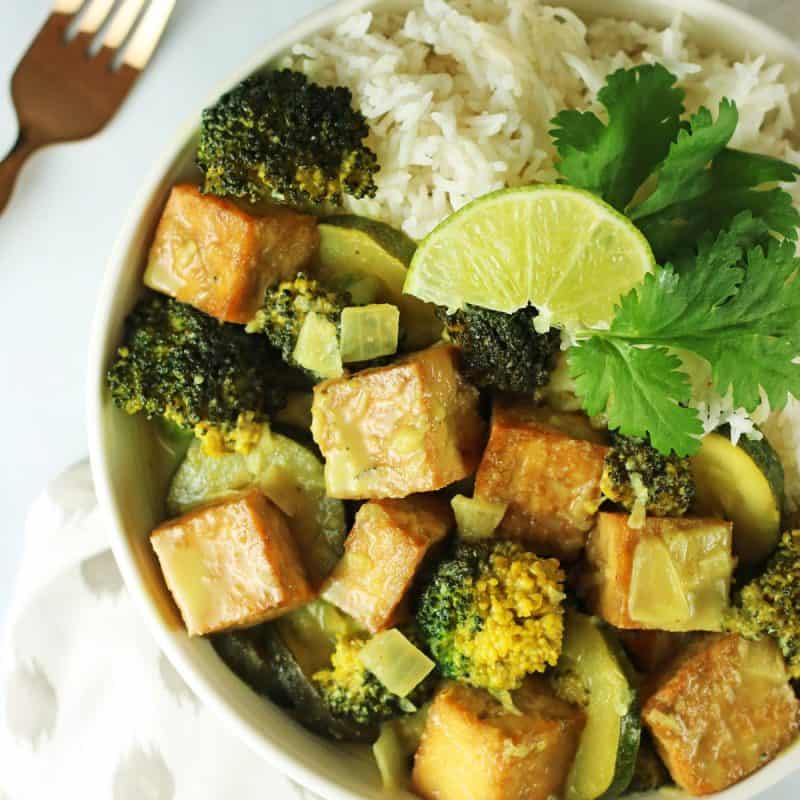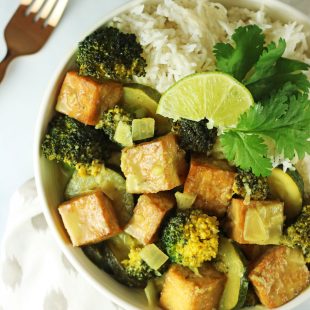 Easy Chili Garlic Tofu
Crank up the heat in your dinner tonight with this recipe for Chili Garlic Tofu! It's perfect for spice-lovers and it's so easy that you can have it on the table in just 15 minutes.
Check out this recipe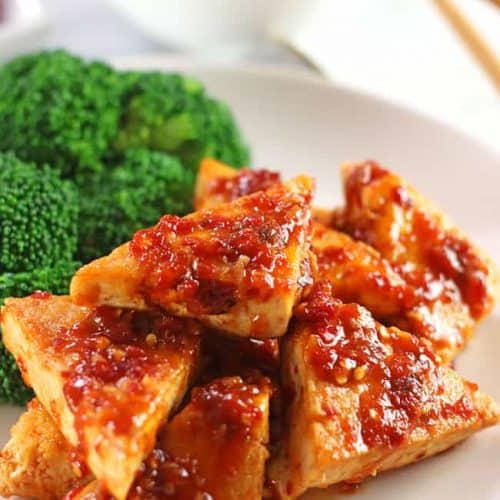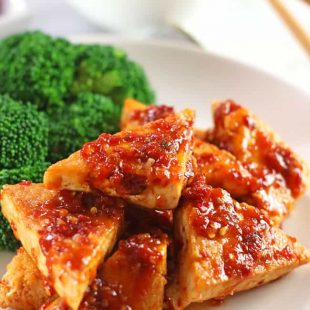 Breakfast/Brunch Recipes
Simple Tofu Scramble
Have yourself a quick and healthy breakfast with this simple tofu scramble which can be ready in about 10 minutes!
Check out this recipe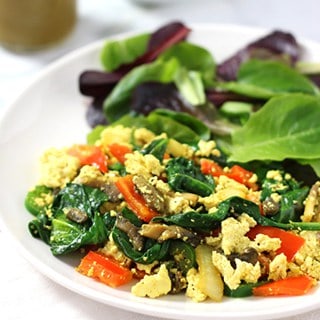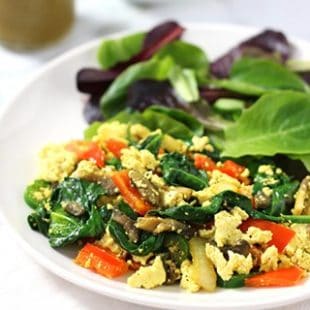 Easy Breakfast Tacos
These vegan Breakfast Tacos are a savory Mexican-inspired take on your morning meal. They're easy to make, gluten-free, and best of all, delicious!
Check out this recipe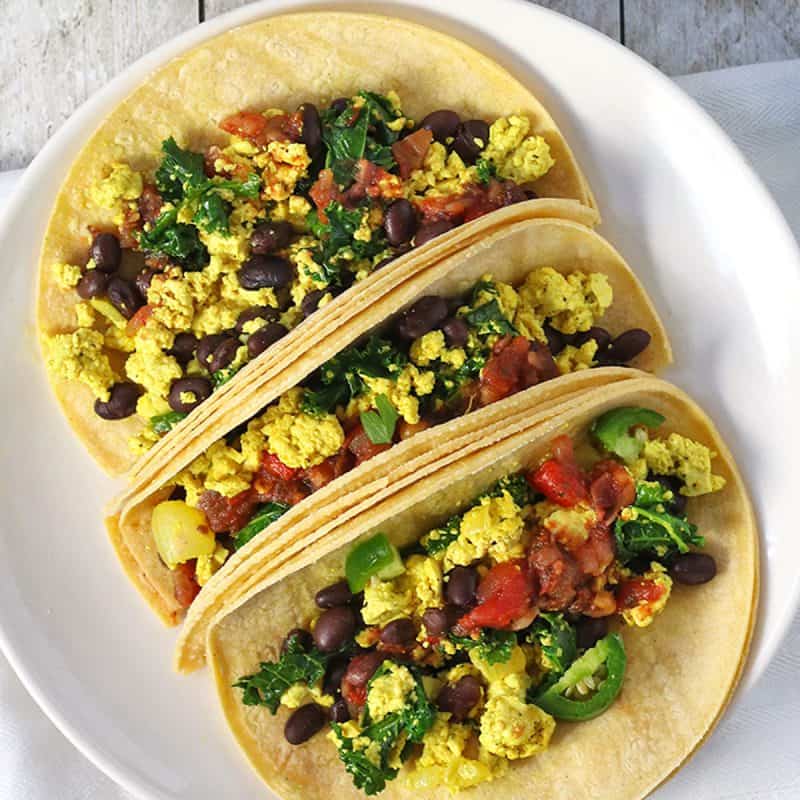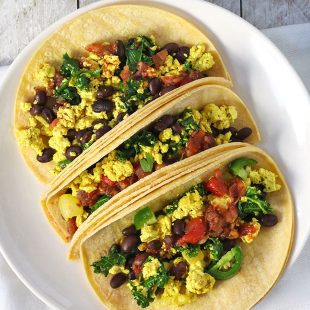 Spinach & Artichoke Quiche
This recipe might not look all that easy but believe me, it is! Cook some onions and throw the rest of the ingredients into a food processor, then bake. I use tortillas to make a quick crust which cuts down on the prep time for this tasty brunch dish.
Check out this recipe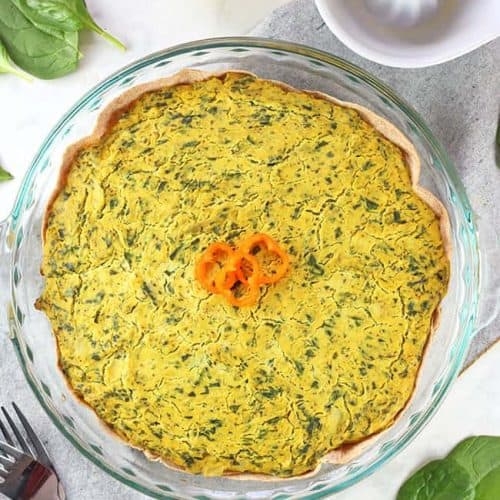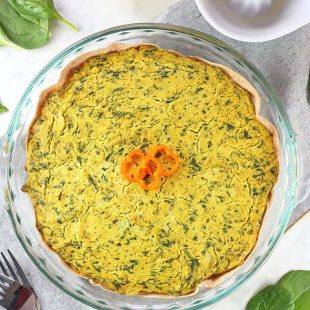 Noodle Dishes
Butternut Squash Noodle Bowl with Tofu
This easy Butternut Squash Noodle Bowl is gluten-free and creamy without any dairy. It's topped tofu for an extra punch of protein.
Check out this recipe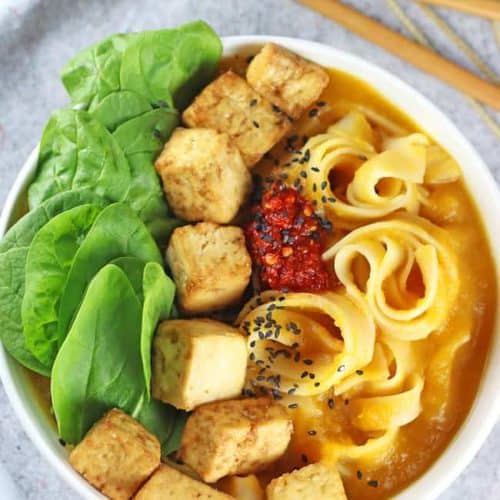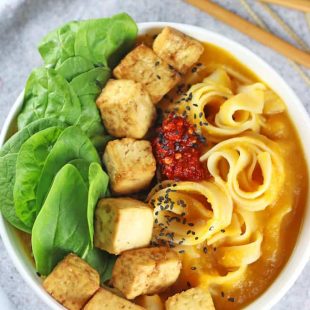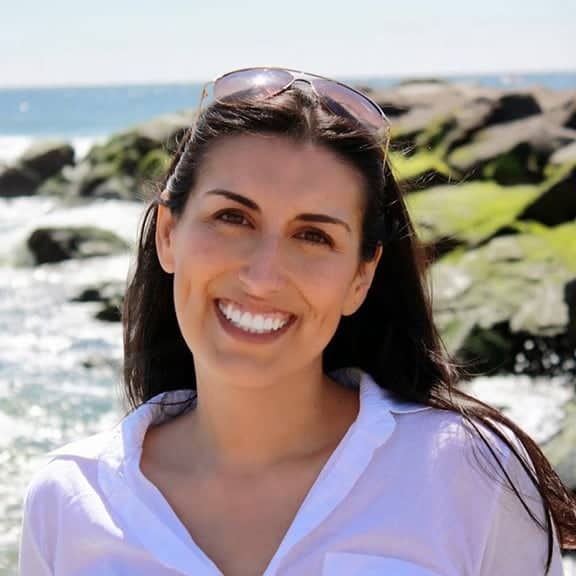 Mary Ellen Valverde MS, CNS, LDN is a Licensed Nutritionist and Certified Nutrition Specialist who empowers vegans to feel clear and confident about what is uniquely nourishing to them. Mary Ellen's recipes and nutrition information have been featured on Yahoo News, Parade, VegNews, LIVESTRONG, Dr. Axe, Greatist, LIVEKINDLY, Brit+Co, Well+Good, and more.