This easy recipe for Tofu Crumbles is a staple in any vegan household. You'll love the versatility of the flavor and it can be made in several different ways including in your air fryer. It's a great vegan and vegetarian meat substitute!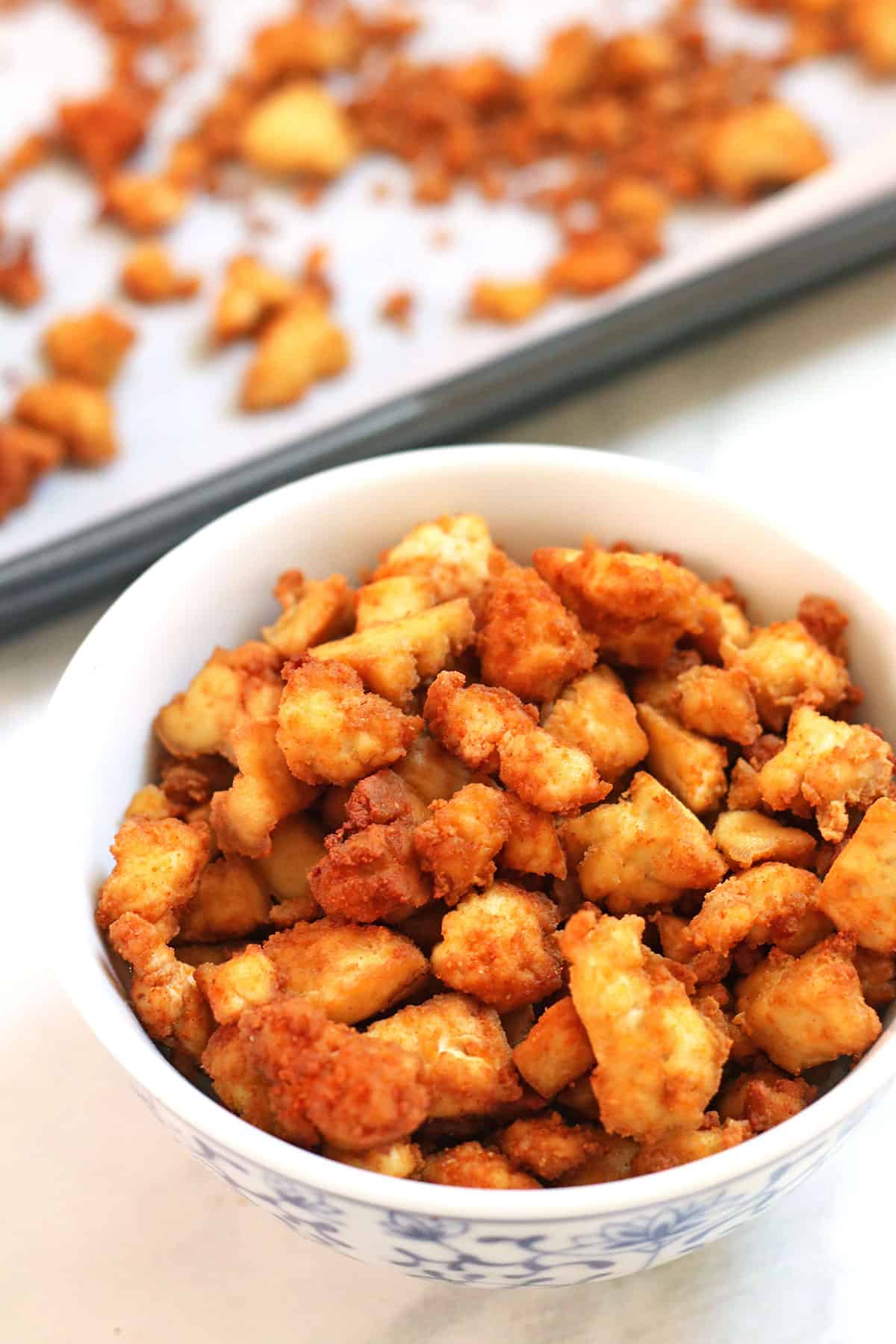 Tofu crumbles are one of the best ways to add ease and variety to your vegan meal plan. The best part is how simple they are to make. Crumbled tofu is transformed into a flavorful meat substitute thanks to the variety of seasonings and crunch. As a bonus, the crumbles can be cooked almost any way you like!
One of the best things about tofu crumbles is that they are able to take on whatever flavor you imagine. Prep them ahead of time for a money-saving addition to all of your meals.
Use them to add a little protein to some peanut noodles or fried rice.
Jump to:
[mv_video doNotAutoplayNorOptimizePlacement="false" doNotOptimizePlacement="false" jsonLd="true" key="ilzh5hcsttmqcqncyonu" ratio="16:9" thumbnail="https://mediavine-res.cloudinary.com/v1623264762/h5xbtf5knuix6geyzqh0.jpg" title="Tofu Crumbles" volume="70"]
What are tofu crumbles?
Tofu crumbles begin as a simple block of firm tofu before turning into small crumbles that have been seasoned to imitate bacon, taco meat, and more. They can be crumbled by hand or using a fork.
The crumbles need to be seasoned and then baked, air fried, or and on the stovetop until the moisture is released and they get nice and crispy.
They then can be used just like my tempeh crumbles in recipes like vegan tacos, soups, savory breakfast dishes, pastas, or even in a stir fry. There are so many possibilities for this household staple recipe.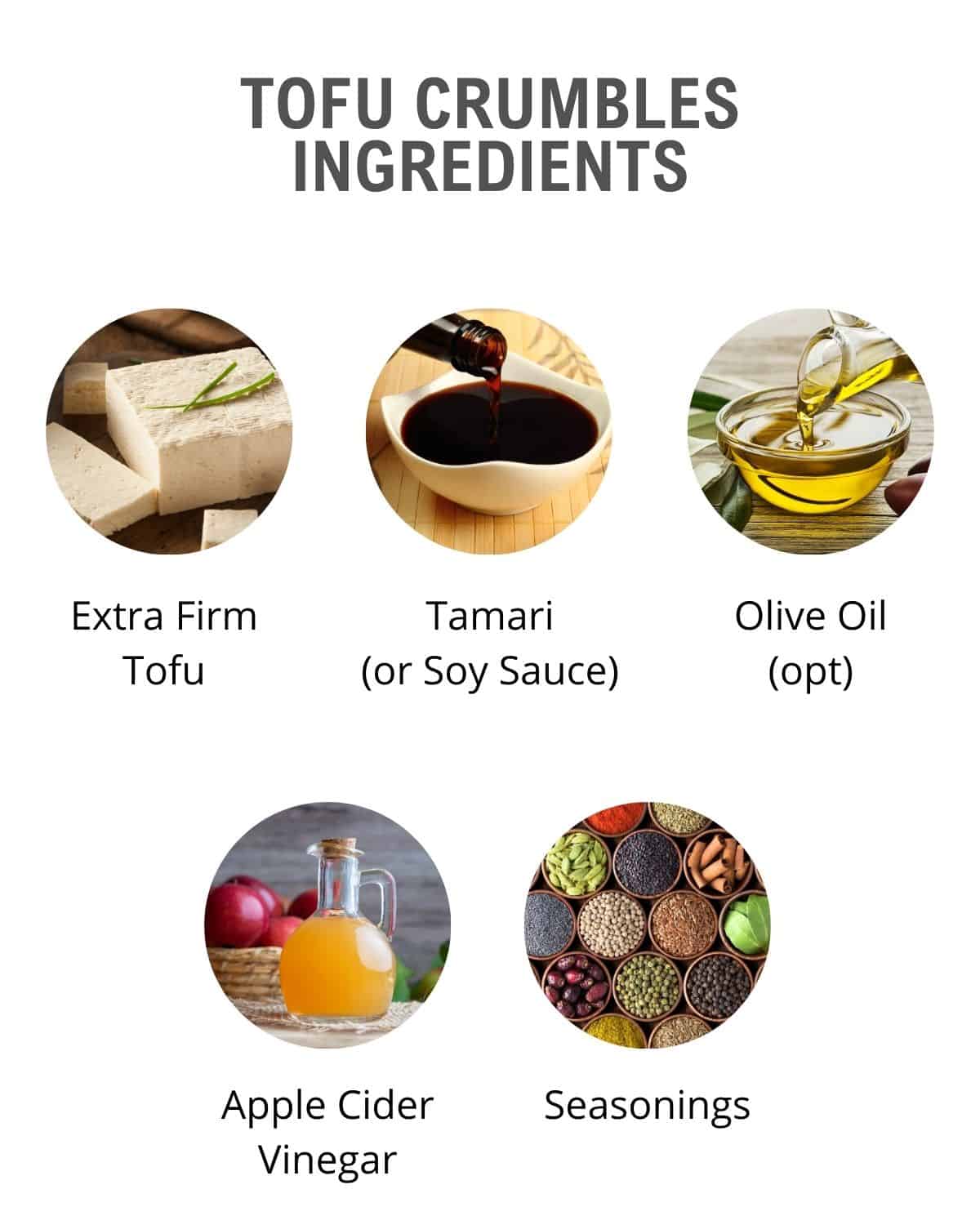 Ingredients and substitutions
These are the basic ingredients you need to make flavorful tofu crumbles:
Extra firm tofu - This is the best kind of tofu to use as it contains the least amount of moisture compared to other varieties. If you can't find extra firm, buy firm and press out as much moisture as you can using a tofu press or paper towels.
Olive oil - This will help the tofu brown and crisp up, however, it can be omitted to make it completely oil-free. Depending on the recipe flavor profile, you could also use coconut oil or melted vegan butter.
Tamari - Use soy sauce if you don't need the recipe to be gluten-free.
Apple cider vinegar - For a little tang and acidity.
Savory seasonings - Like garlic powder, onion powder, and paprika. This basic seasoning mix is savory, light, and pairs well with the other ingredients.
How to make tofu crumbles
One great thing about making tofu crumbles is that they can be cooked using a variety of different methods.
Step 1: Crumble the Tofu
After pressing the tofu, crumble it into ½" size pieces. You don't want them too small because the crumbles reduce in size when cooked.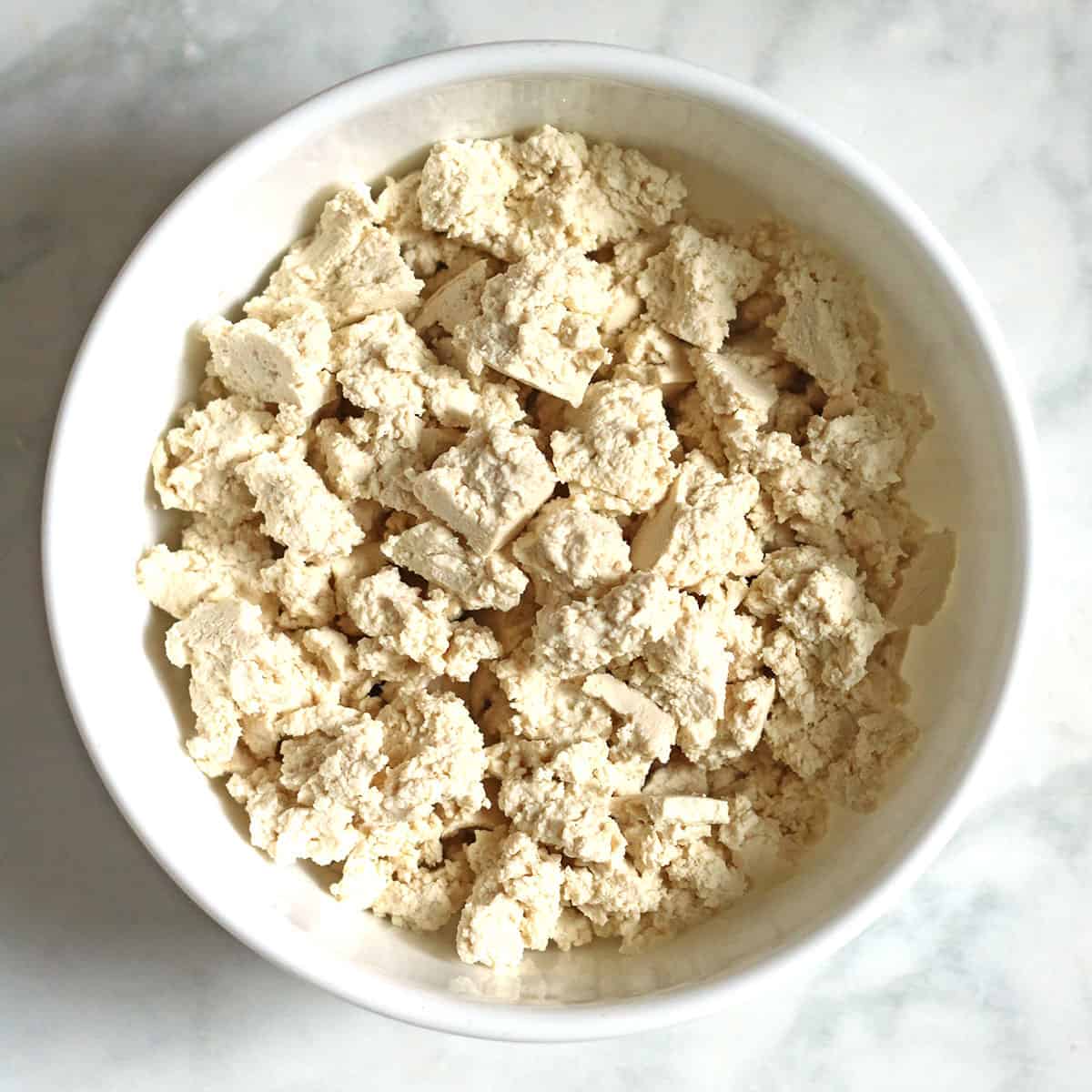 Step 2: Season the Tofu
Choose your seasoning of choice. I have options for basic, spicy, and taco crumbles. If using basic, mix ingredients in a bowl and add to tofu.
After seasoning, decide on how you're going to cook the crumbles.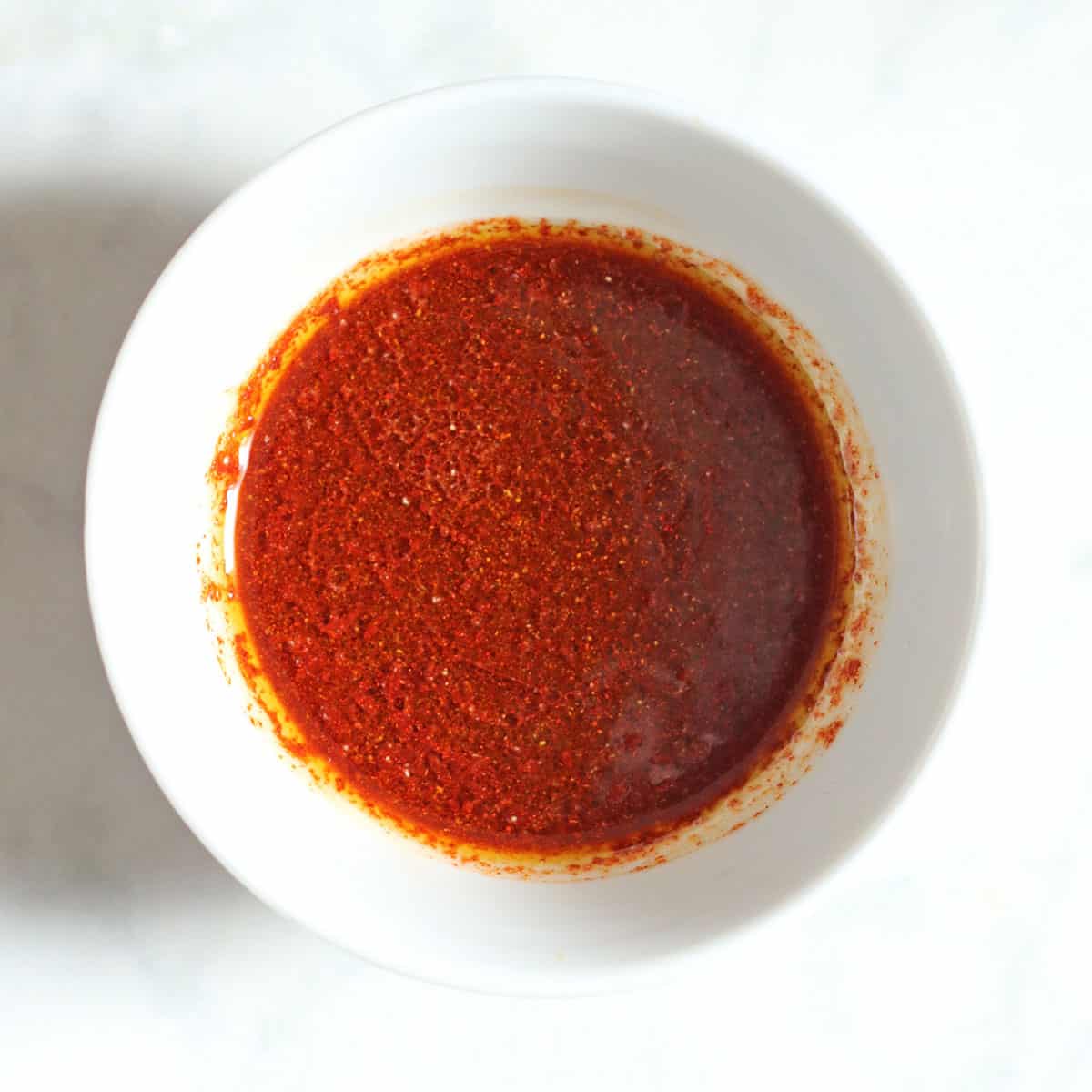 Step 3 (option 1): Air fryer tofu crumbles
Toss the crumbles together with your spice mixture and transfer it to your air fryer basket in a single layer. Cook for 6 minutes at 400ºF, shaking the basket halfway through. Cook for another 6 minutes and serve.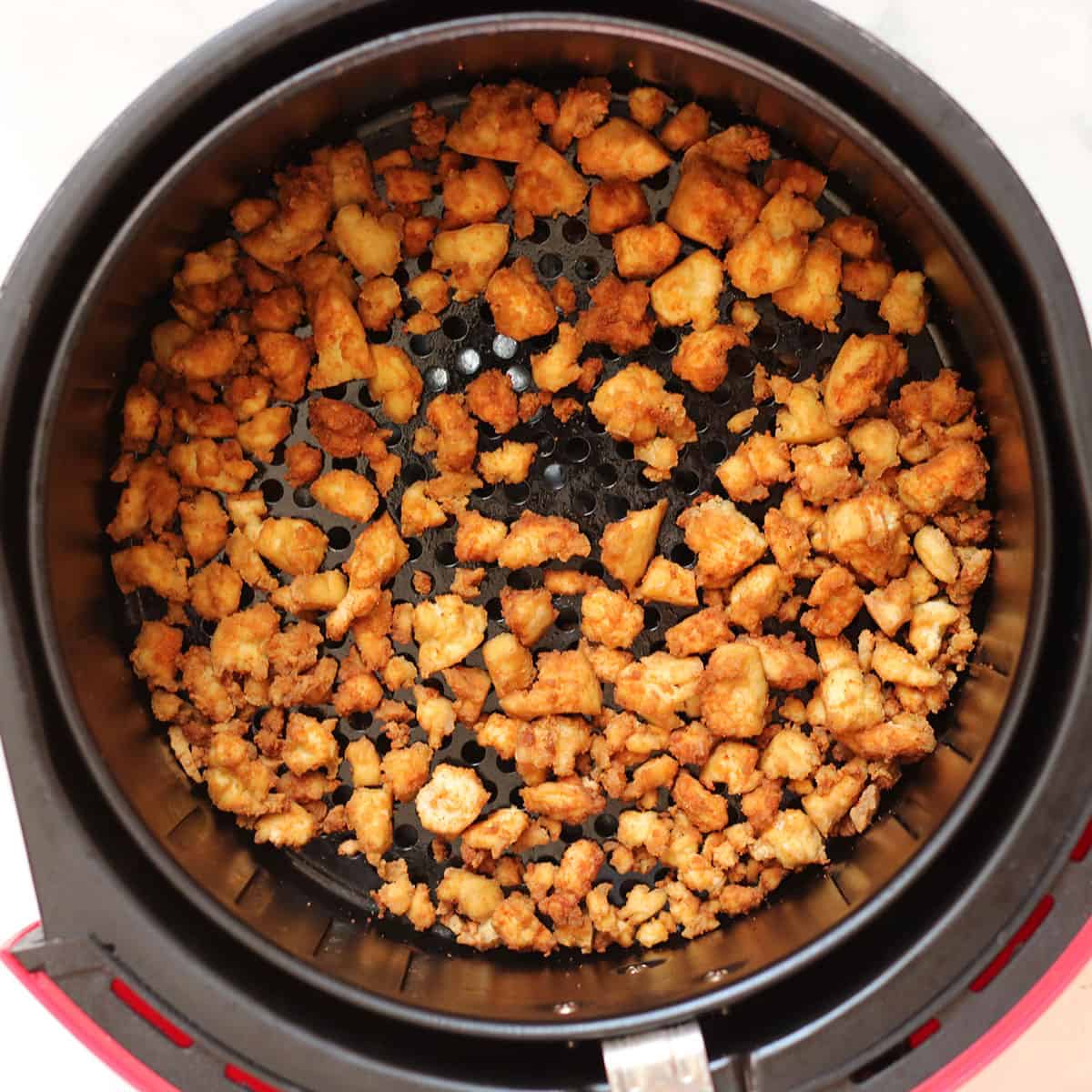 Step 3 (Option 2): Oven-baked tofu crumbles
Toss the crumbles together with your spice mixture and transfer it to a lined baking sheet. Bake for about 20 minutes at 400ºF, stirring the crumbles halfway through. Bake them for an additional 5 minutes if you like them extra crispy.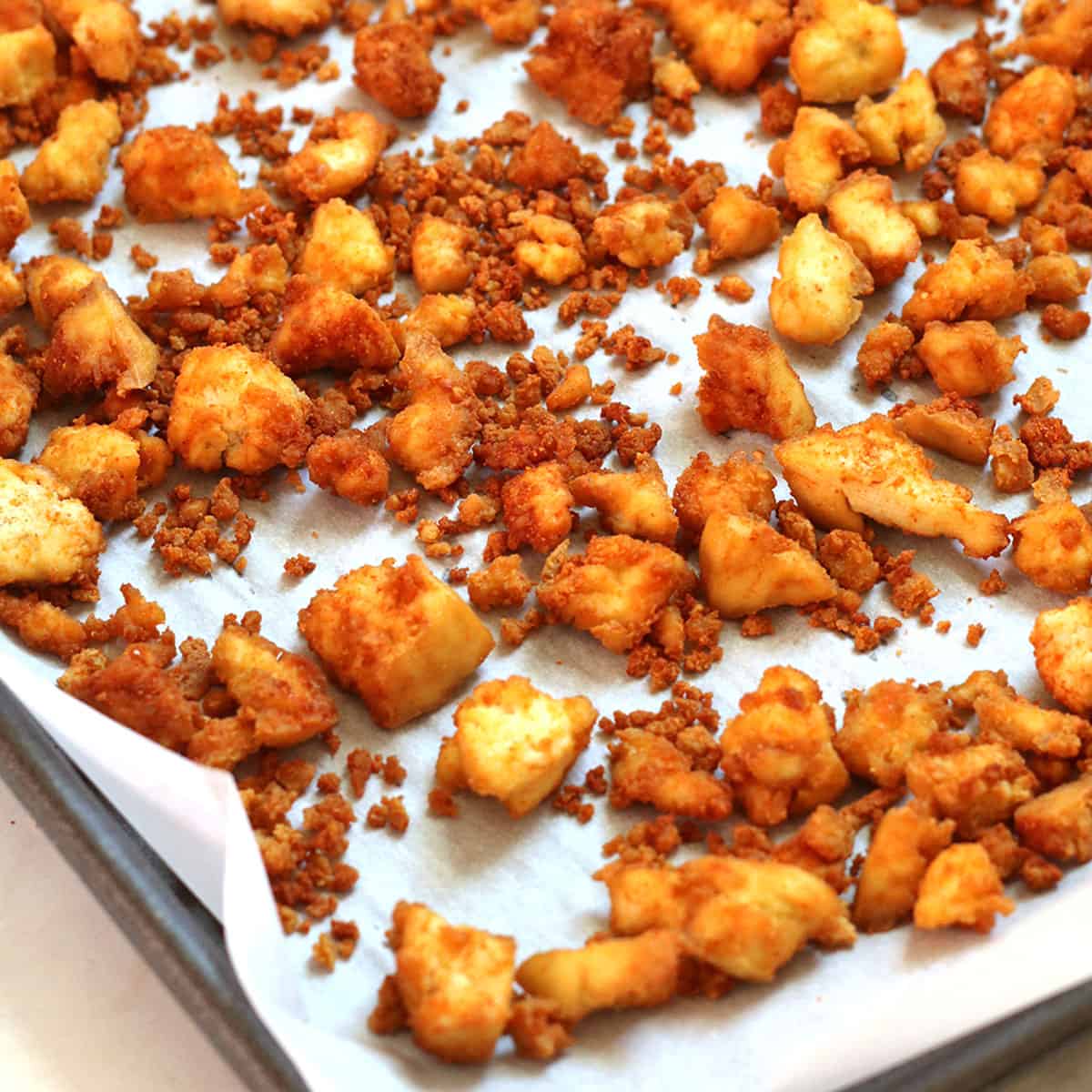 Step 3 (Option 3): Stovetop tofu crumbles
Heat some oil in a skillet and heat on medium-high heat. Brown the tofu for a few minutes before adding the spice mixture. Stir everything together and cook until the tofu is at your desired level of crispiness.
Customize the flavor
Tofu crumbles can be customized to fit almost any flavor profile or meal. Here's what I suggest doing:
If you like spicy tofu crumbles, add chili powder or sambal oelek to the recipe.
Swap the seasonings for taco seasoning or chili seasoning when you want to use tofu as a substitute for ground beef for Mexican dishes.
For a curry tofu crumble, use your favorite curry powder along with salt and pepper.
Use some chorizo seasoning to make a flavorful crumble with a spicy Cajun kick.
Want to make a tofu sausage crumble? Season it with sage, fennel, garlic, salt, and pepper.
Infuse Asian flavors by replacing the oil with sesame oil and adding powdered ginger.
Add a dash of liquid smoke to make a crumble that is slightly smoky.
How do you serve tofu crumbles?
A batch of tofu crumbles will serve you well in almost any meal you make! Keep a batch in your fridge at all times and use them in any way you can imagine:
As a vegan meat substitute for chorizo, ground beef, or bacon crumbles.
For taco meat in vegan tacos.
In a bolognese sauce for pasta or spaghetti squash.
Use seasoned tofu crumbles in a salad for additional protein.
Use it in a vegan hamburger helper.
In buddha bowls with plenty of veggies, greens, and grains.
Added to chili.
Flavor it sausage style for a vegan biscuits and sausage gravy.
Replace the soy curls with crumbles in this vegan Mongolian beef.
Season it buffalo style and add it to this vegan buffalo chicken skillet.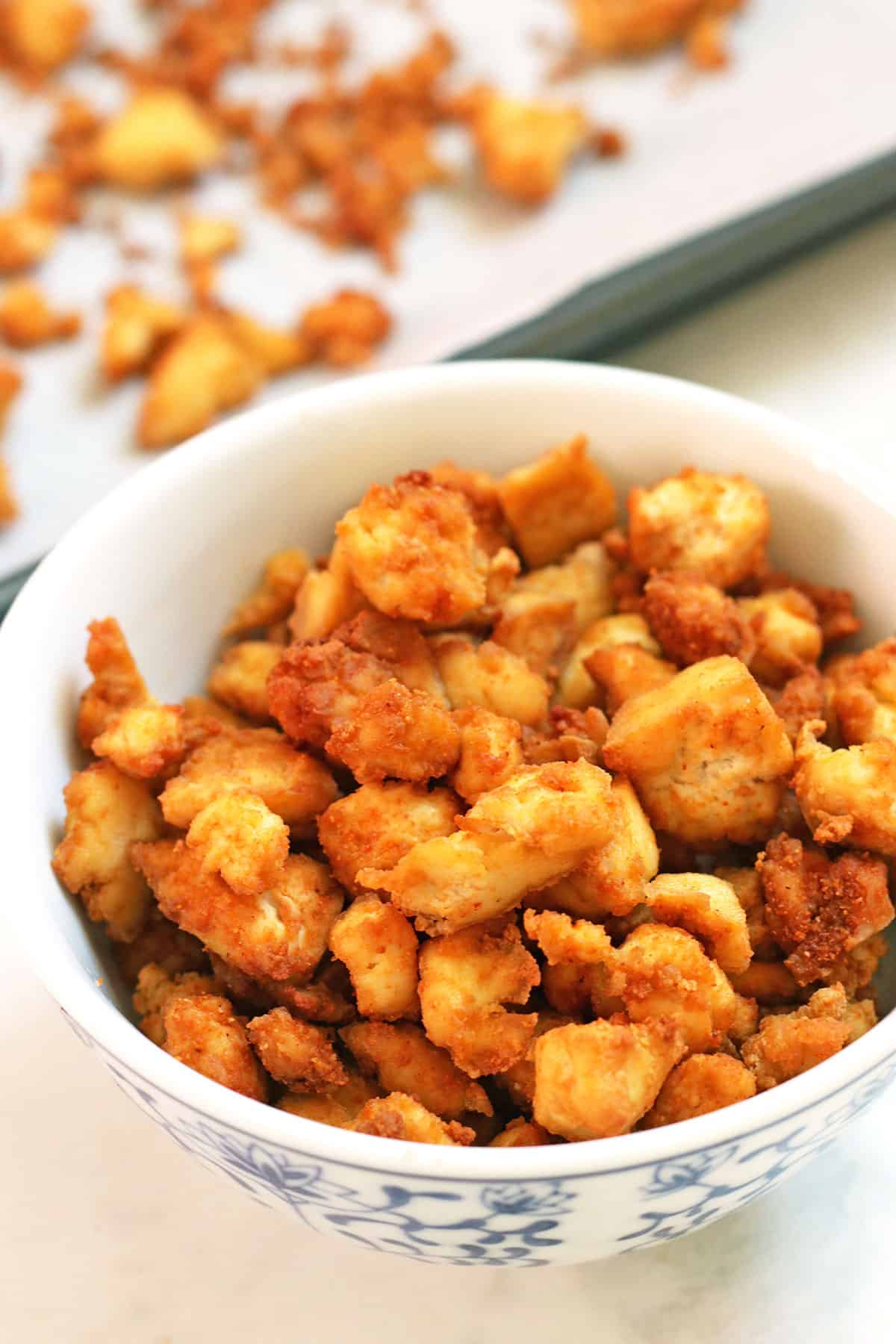 Tips and tricks
If using firm tofu, press it for a little longer to get the moisture out. You may need to cook for a little longer as well to get it as crispy.
If you use this recipe often, consider purchasing a tofu press to help remove as much moisture as possible.
Letting the tofu sit in the seasoning anywhere from 30 minutes to 24 hours will help maximize the flavor. Be sure to store it in an airtight container in the fridge while it marinates.
If your tofu isn't as crispy as you'd like it to be, add it to the stovetop or air fryer and cook it over high heat for a few minutes until the moisture is removed as best as possible.
How do you give tofu meat texture?
Crumbling is the secret to meat-like tofu. Instead of chopping it into cubes, like you might do for a stir fry, use your hands to pull and crumble the brick of tofu. From there, the tofu will crisp up easily and soak in all of the flavors.
By cooking the tofu using any of the methods above, it'll create a chewy and dense texture that is similar to ground meat.
Storing, freezing, and reheating
Storing: To store, place the tofu crumbles in an airtight container. Keep them in the refrigerator for up to 5 days.
Freezing: Freeze seasoned or unseasoned tofu crumbles in a sealed container or ziploc bag for up to 1 month. Let them thaw in the fridge overnight before reheating.
Reheating: Add the tofu crumbles to a skillet on the stovetop over medium heat with a little oil. You could also bake them for a few minutes in a 350ºF oven or microwave them for around 30 seconds.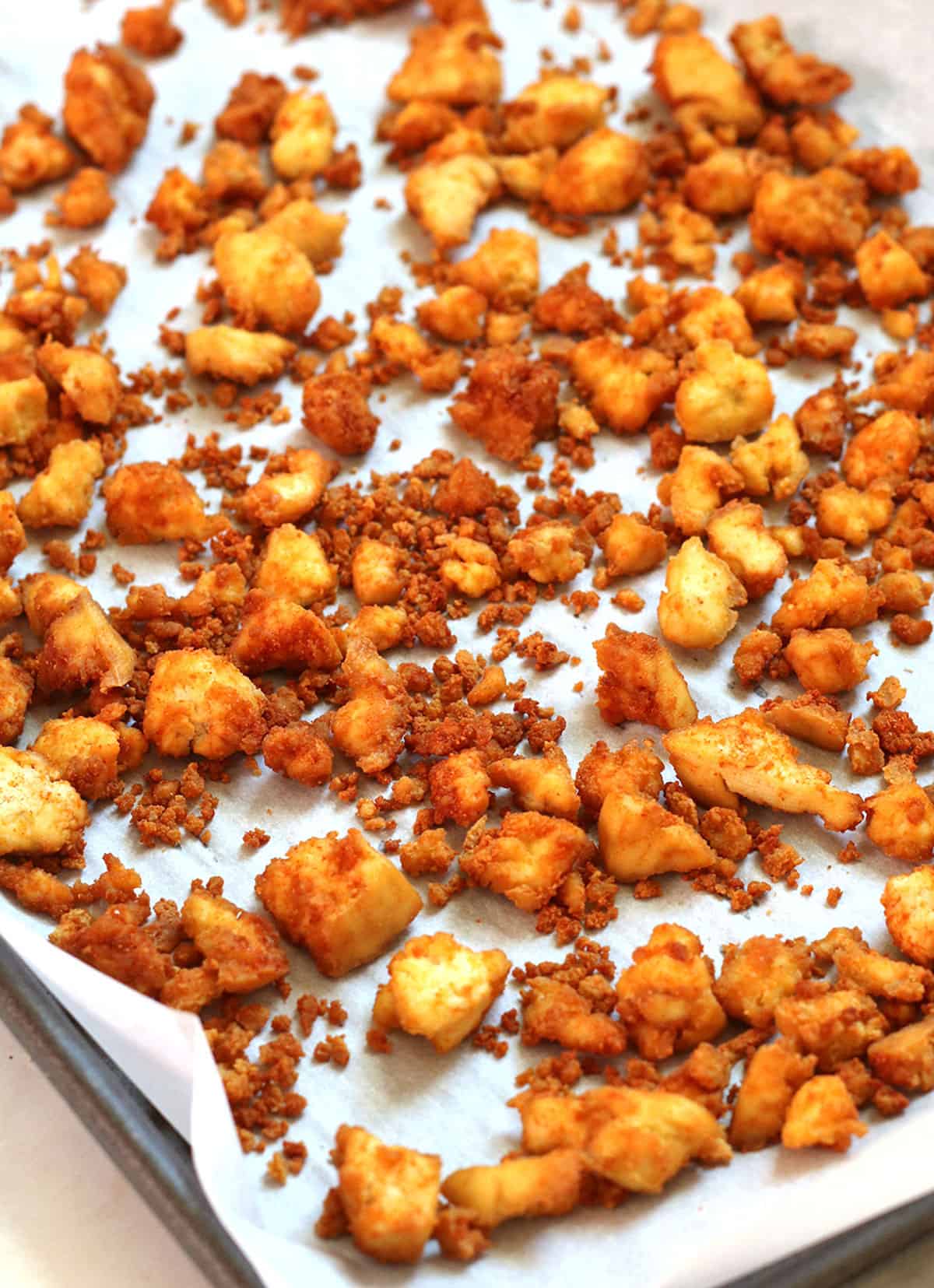 More tasty tofu recipes
If you're loving these tofu crumbles, you'll also enjoy these easy vegan recipes using tofu!
If you make this recipe and LOVE IT, please give it 5 stars ⭐⭐⭐⭐⭐!
📖 Recipe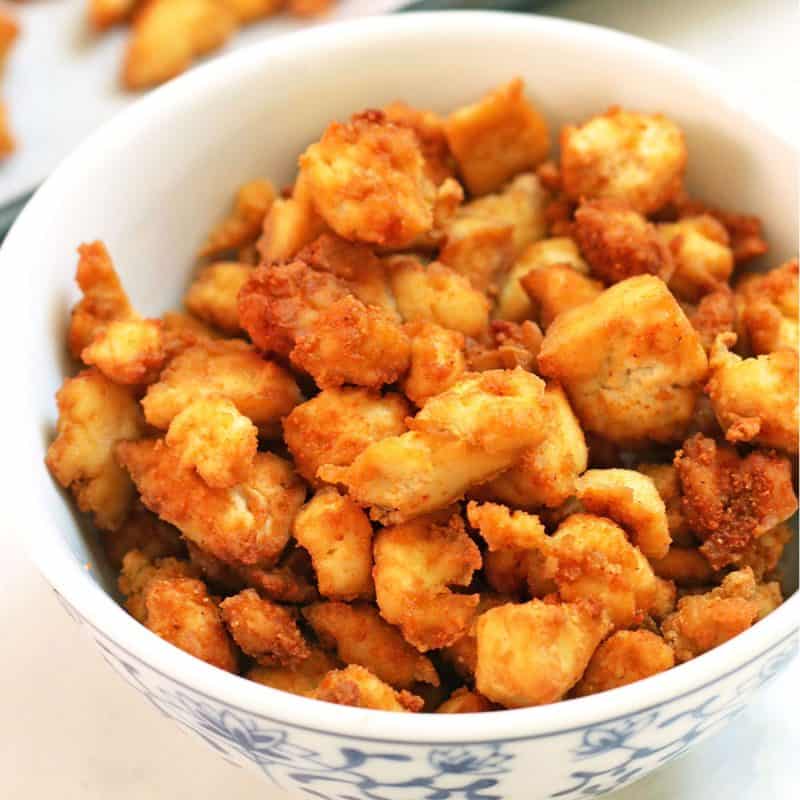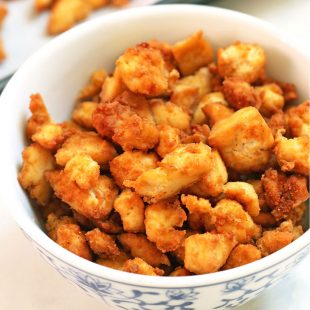 Tofu Crumbles
This easy recipe for tofu crumbles is a staple in any vegan household. You'll love the versatility of the flavor and it can be made in several different ways including in your air fryer. A great vegan and vegetarian meat substitute!
Email Recipe & Ingredients
Equipment
tofu press

air fryer (optional)

sheet pan (optional)

frying pan (optional)
Ingredients
Spicy Crumbles
1

block of extra firm tofu

can sub firm but it's better with extra firm

1

tablespoon

olive oil

optional

2

tablespoon

tamari

sub soy sauce

1

tablespoon

chili powder or 2 TB sambal oelek

½

teaspoon

garlic powder
Taco Crumbles
1

block of extra firm tofu

can sub firm but it's better with extra firm

1

tablespoon

olive oil

optional

1.5

tablespoon

taco seasoning
Instructions
Prep
Drain water from the tofu and press tofu for 5-10 minutes

While tofu is pressings, mix the rest of the seasoning ingredients of your choice in a bowl.

With your hands, crumble tofu into smaller pieces (about ½ an inch or so). The tofu will become smaller when cooked.
Air Fryer
Mix tofu with the spice mixture and stir to coat fully. You may want to pour half of the mixture on the tofu then mix and then pour the rest on.

Air fry for 6 mins at 400 then shake/stir so that the crumbles are not stuck together, air fry another 6 mins
Oven
Preheat to 400. Mix tofu with olive oil and then add the spice mixture of choice and coat fully.

Spread tofu mixture on a baking sheet that has been sprayed with oil or use parchment paper so the crumbles don't stick.

Bake for 20 minutes flipping halfway. Continue baking for another 5 minutes if you want it extra crispy.
Stovetop (will not get as crispy as air fryer or oven)
Heat 1-2 TB of oil in a large skillet/pan.

Add tofu and cook on medium-high heat for 1-2 minutes.

Add spice mixture to the pan and fry for another 4-6 minutes until you get the crispiness you would like.
Notes
*If using firm tofu, press for a little longer. You may need to cook for a little longer as well to get it as crispy.
The tofu crumbles can be kept in the fridge for 5 days or frozen for up to 1 month.
NOTE: the nutritional info is for the "Basic Crumbles" with no oil.
Nutrition
Calories:
147
kcal
Carbohydrates:
4
g
Protein:
18
g
Fat:
8
g
Sodium:
390
mg
Vitamin A:
186
IU
Calcium:
465
mg
Iron:
3.5
mg
PLEASE NOTE: Nutritional information data is computer generated and only an estimate so it should be used only as a guide.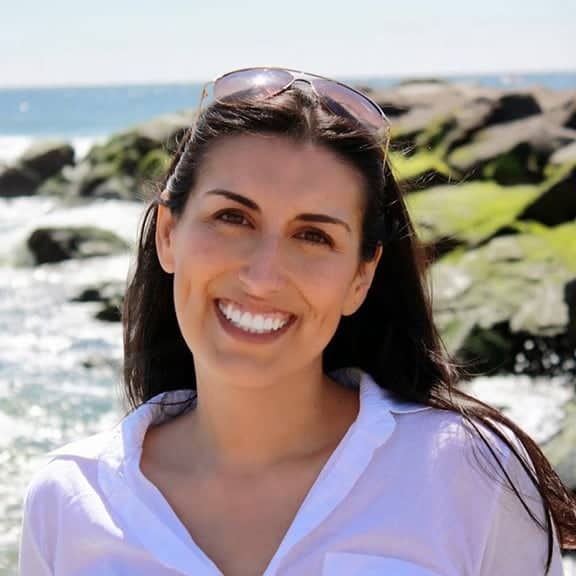 Mary Ellen Valverde MS, CNS, LDN is a Licensed Nutritionist and Certified Nutrition Specialist who empowers vegans to feel clear and confident about what is uniquely nourishing to them. Mary Ellen's recipes and nutrition information have been featured on Yahoo News, Parade, VegNews, LIVESTRONG, Dr. Axe, Greatist, LIVEKINDLY, Brit+Co, Well+Good, and more.