This vegan baked pumpkin oatmeal is a tasty and healthy breakfast option. Full of pumpkin-y goodness, it's a perfect for fall!
Yes, I'm one of those "pumpkin people". As soon as I feel a hint of fall in the air, all I think about is pumpkin; pumpkin pasta, pancakes, lattes (even though I don't really drink coffee), ice cream, risotto – basically anything that you can make pumpkin-flavored, I'm in. Anyone else with me?
So to start off my 3-month pumpkin obsession (it's only 3 months because the day after Thanksgiving, I'm totally pumpkin-ed out), I thought I'd share one of my favorite and simple breakfasts for fall: my vegan baked pumpkin oatmeal. I make this as soon as my pumpkin phase hits. And although I still love my smoothie bowls and overnight oats, sometimes I need a warm breakfast on a cool morning.
It's weird how much I like my baked pumpkin oatmeal because I'm actually not the biggest fan of regular oatmeal. I noticed that when I bake it though, I really enjoy it. My friend actually came up with this idea after I was complaining how much I wanted to like regular oatmeal but just couldn't get over the texture for some reason. She said, why not heat the oatmeal in a different way like baking it so it's not as liquid-y. What a perfect idea – and it worked for me! If you're not into regular oatmeal either, I hope you try this because it's more like a cake than oatmeal.
When I have extra time in the mornings before work, I'll mix my ingredients at home and then bring my little bowl to work and bake it in the toaster over so it's nice and warm. Some weeks, when I know I'm going to have busy mornings, I'll bake a few of these puppies Sunday afternoon (usually during halftime of my Dolphin's game) and then have them ready for the week. They would be great snacks for lunch boxes as well!
Nutritionally speaking, this is a very healthy breakfast. Oats are a good source of fiber as well as protein, carbohydrates, and iron. The pumpkin adds a nice hit of vitamin A and the nut butter protein and healthy fats.
This vegan baked pumpkin oatmeal is a delicious and healthy breakfast option for fall!
Click To Tweet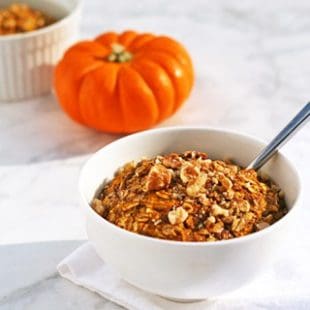 Vegan Pumpkin Baked Oatmeal
Servings
1
large or 2 small bowls
Ingredients
2/3

cup

old fashioned rolled oats

(can use gluten-free oats)

a pinch salt

a pinch baking powder

1/2

tsp

cinnamon

1

tsp

pumpkin pie spice

1/4

cup

of roasted pumpkin

, mashed or canned pumpkin puree

1

TB

of nut butter

(I like almond or cashew)

4

tbs

dairy free milk

1/ 2

a ripe banana

, mashed

1/4

tsp

of vanilla extract

Toppings: nuts

, nut butter, vegan chocolate chips, maple syrup
Instructions
Mix the dry ingredients (through pumpkin pie spice) together in small bowl and then add wet ingredients and mix again.

Add mixture to 2 small oven-safe ramekins for smaller portions or 1 larger oven-safe bowl.

Bake at 350 for about 20 minutes.

Top with your favorite toppings!
You may also like…
Like my Baked Pumpkin Oatmeal recipe? It would be so wonderful if you could give it some love by sharing!